Inspiration: What's So Great About Being A Photographer?
By , December 7, 2011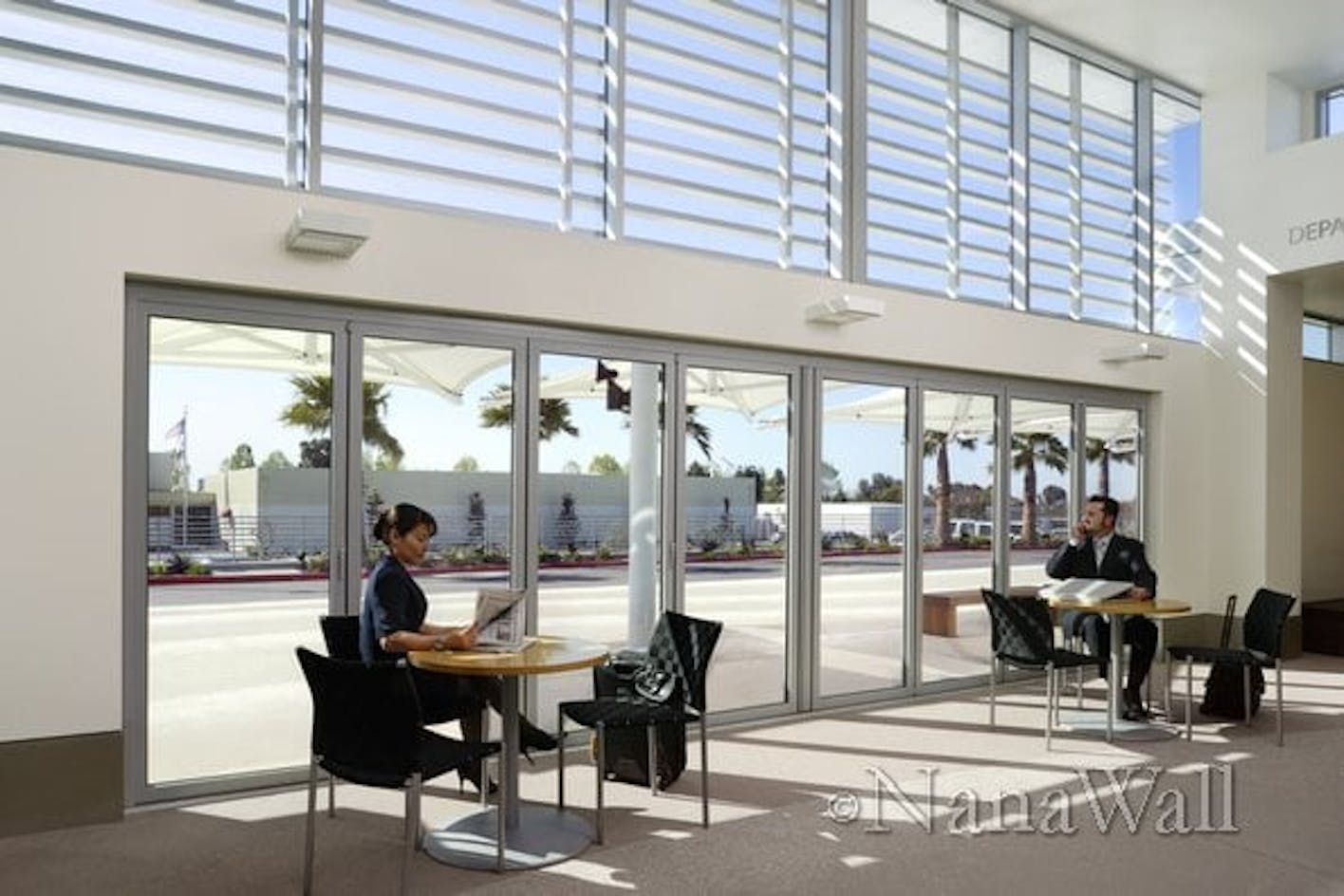 The Carslbad Airport project in Southern California, one of Lawrence Anderson's favorite NanaWall photo shoots
With over three hundred projects in our photo library, excellent photographers are an important resource. All of our gorgeous NanaWall shots with amazing views are taken by professional architectural photographers like Lawrence Anderson, who has been working with us for the past five years. Lawrence agreed to an interview with NanaWall, for a glimpse into the inspiration and motivation behind his work.
Asma: Can you tell me about your background and experience in photography? When did you realize you were interested in it?
Lawrence: My family has been in the building industry for multiple generations. My great-great grandfather emigrated from Denmark and started a construction company, which is now owned and operated by my father. I decided the construction industry is not for me, but I've had an acute awareness of buildings my entire life. When I was young, we had a neighbor who was a professional photographer. My mother would often go on photo shoots with him, and I would tag along as a child. Then in high school, when I needed a few more credits to graduate, the only class available was a photography class. I was only planning on being there for a week, but ended up loving it. I went to Brooks Institute of Photography in Santa Barbara, California and studied at a school in Florence, Italy for a year.
Asma: Where do you draw inspiration from?
Lawrence: Right now, my biggest inspiration is a National Geographic photographer named Sam Abell, a master of composition. I found out about him recently, but have been studying his past work from over 80 years. My earlier inspirations were photographers like Brassai and Eugene Atget. I moved from early century street photographers to compositional masters. Other sources of inspiration are architectural designers like LOHA Los Angeles, 2010 firm of the year. Also, my father is a huge source of inspiration because of his strong work ethic.
Asma: When did you start photographing for NanaWall? Can you tell me about your first impressions?
Lawrence: Roughly 2004 or 2006, can't remember the exact year! My first experience with NanaWall was exciting, because I'd never seen a product like this before. I've seen the product grow and develop over the years, with different tracks, pockets to store panels, etc. For my first photo shoot, I did three high end residences at Pacific Palisades in Malibu, CA. They went really well, and the funny thing is, one of the three residences was a house I had worked in previously, as a photo assistant years ago. NanaWall is one of my oldest clients, and working with them was a great introduction to becoming a photographer.
Asma: Do you prefer photographing a closed, partially open, or fully open NanaWall?
Lawrence: Photographing fully open is the easiest, hardest is when it is closed: hard to align so that the frame won't block any solid views. My favorite is half open because you see both options.
Asma: From an art/photographer's perspective, what do you like about photographing NanaWall projects?
Lawrence: The most exciting thing is, even though it's always the same regarding "left end, right end," the variables involved are always different: the location, the people, and the weather. Almost always, everyone is in love with them. Maybe 1% of the time there are maintenance issues, but most of the time, the client can't stop talking about them. I run off their good vibes and really enjoy working in an environment with that kind of enthusiasm! It makes me feel welcome to hear about the benefits of a Nanawall from clients, along with the people at NanaWall. It shows how cool of a product Nanawall is. For example, once I heard a car crashed into a building, and the NanaWall prevented it from going all the way through! Traveling for NanaWall is spectacular; I get to travel all over for photo shoots. And when I'm already going somewhere, I try to save NanaWall money by scheduling photo shoots while I'm there.
Asma: How have your views of NanaWall changed over the years?
Lawrence: Nanawall is continually improving. They've gotten better over the years and are constantly improving the product. At project locations, I've seen people who are not necessarily the owners show concern about the product and NanaWall seems to address any concerns really fast. They respect their customers, which is really important for me and my company as well. Over the years, we've developed a more efficient system for doing photo shoots, both on NanaWall's end and on my end. For example, it's hard to get the NanaWall completely clear to capture views, but now I know exactly which tool to grab to clean the glass.
Asma: Can you share one of your favorite NanaWall projects or best photo shoot experiences with us?
Lawrence: The Carlsbad airport project, it's from about 2 years ago. The photo shoot was at a small local airport in Carlsbad, CA, designed by Gensler Architects. This was a highly sustainable project, with regards to the materials they used and the layout of the project. NanaWall fit in perfectly. Used for all of the ground level windows and wall systems at front of the building, and in a lounge area opening onto the street, they improved and opened up the airflow. We discussed hiring models for the photo shoot, but we were able to use my friend, who is a flight attendant, and her husband. Afterwards, we all went to play go-kart racing across the street! Other projects that really wow me are the ones with amazing views, like every New York project that was shot last year. Last year, while shooting the UN elementary school in NY with 20 panels of NanaWall, one of the panels in the middle got stuck. Bill Leon [the local rep] called the installer and he was there in 30 min. To me, this shows the commitment and loyalty with which NanaWall treats everyone. The sales rep treated the situation in a very responsive, considerate, and efficient manner. We were still able to go through with the project!
Asma: What is an upcoming NanaWall project you are excited about?
Lawrence: I leave for Hawaii on December 1! I'm shooting three projects for another manufacturer and five for NanaWall. I'm bringing my wife, who is also photographer, with me. Although she is a wedding and portrait photographer, because she has worked with me on several NanaWall projects in the past, she understands the NanaWall systems and is able to help me out. We are photographing the Honua Kai resort in Lanai, Hawaii – stay tuned for photos!