New Nanawellness System Debuted at IBS!
By , February 6, 2014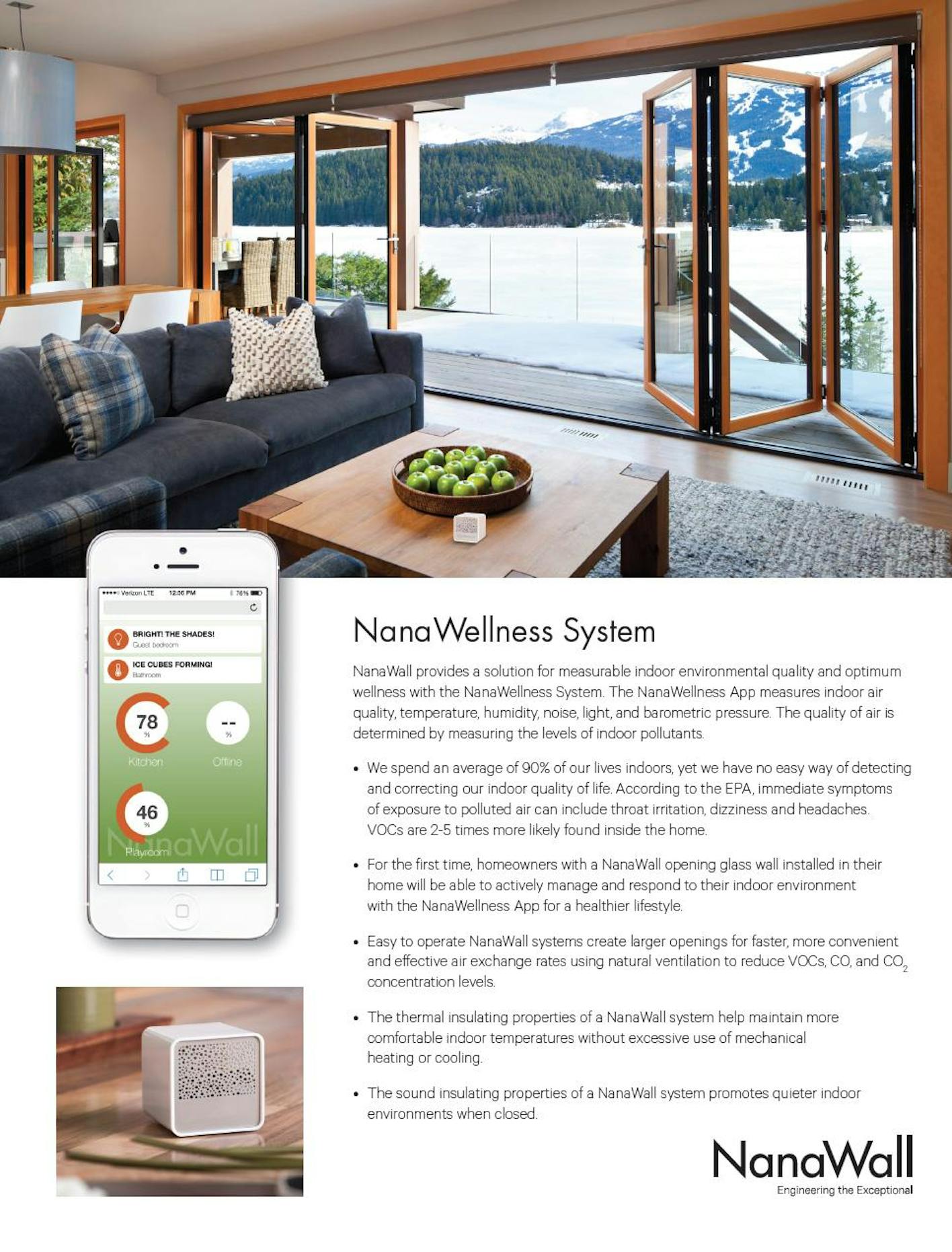 The first fenestration company to provide measurable, actionable insights to improve indoor environmental quality for optimum wellness.
In order to enhance homeowners' lives even more, we're proud to introduce the exclusive NanaWellness System, which continuously monitors indoor air quality in numerous dimensions, empowering the residential owner of a NanaWall system to know precisely when it's time to open the NanaWall and flush the interior with fresh air. In conjunction with CubeSensors, the new NanaWellness System, consists of two components: a compact and ingenious sensor cube that complements any décor, and an app that allows for remote monitoring from any smartphone or tablet. Together the cube and app provide unprecedented visibility into the air quality of a room, making it instantly clear when a fresh infusion of outdoor air is best. With easy to operate NanaWall systems, the large openings create faster, more convenient and effective air exchange to reduce indoor air pollutants. An average of 90 percent of the day is spent indoors, and yet there is no easy way of detecting and correcting the indoor quality of life. According to the EPA, volatile organic compounds (VOCs) are up to five times more likely to occur within the home than outside. To combat this health risk, when the NanaWall system is closed, the new NanaWellness System alerts the homeowner when it's necessary to open or safe to close his or her NanaWall System. "We are excited about connecting our products to the 'Internet of Things'. In addition to the exhilaration benefit when the NanaWall is open and the shelter benefit when the NanaWall is closed, we now offer a new dimension to our product by offering NanaWellness," notes NanaWall Systems CEO Ebrahim Nana. The NanaWellness System goes far beyond traditional CO2 monitors. It measures temperature, volatile organic compounds, humidity, noise, ambient light, and barometric pressure; and wirelessly transmits its findings to any Android, iOS, or Windows smartphone or tablet with an easy-to-read user interface. The NanaWellness System, unveiled at the NanaWall Systems booth #C3843 during the International Builders' Show in Las Vegas, is a huge hit with the attendees!
For more information about the NanaWellness System, click here: http://www.nanawall.com/wellness. Also, to keep up with our newest innovations, follow us on our Twitter page @NanaWall.