New Products: Window Shopping Redefined
By , September 23, 2011
Retailers face competitive pressures almost every moment of every day. Amidst constant advertisement and information overload, their storefronts must capture consumer attention at a single glance. Particularly for outdoor shopping venues, eye-catching window displays entice pedestrians to enter a store.
Successful companies, like Starbucks, mandate a design makeover for stores every five years
Unfortunately, retailers are usually limited to a fixed glass window display, due to its low cost and lack of complexity. This traditional storefront relies on signage and lighting to attract customers, and tends to restrict the visual nature of a window display. NanaWall presents a new design solution for retail storefronts, an upscale entrance system with the ability to slide the glass panels completely open and out-of sight. This allows a retailer's brand and products to directly connect with people walking by. Fixed glass walls are a barrier to entry; the NanaWalls offer a more attractive storefront, inviting people to walk in. A clear differentiation is established amongst other retailers fighting for the same customer attention.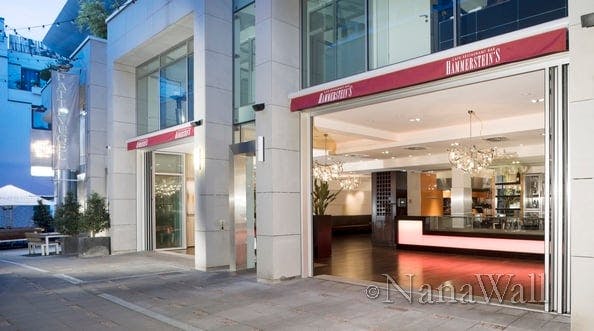 Fixed glass walls are replaced with NanaWalls - no barrier to entry!
NanaWalls at the Marks & Spencer Garden Center
In addition to driving more pedestrian traffic, the NanaWalls improve indoor air quality and virtually eliminate the need for mechanical HVAC. Fresh air makes the retail space more comfortable, for both the customers, who will shop longer, and the staff, who will experience a more satisfying work environment. NanaWall's HSW60 SingleTrack System won this year's 2011 Crystal Achievement Award for "most innovative storefront/entrance product," presented by Glass magazine. The HSW60 system, with its various options and design possibilities, allows architects and designers to create a more dynamic storefront. Author: Joe Rapolla
HSW60 won Crystal Achievement Award for most innovative storefront