Wall of Glass and a Winding Indoor Slide: Fun Eco-friendly Boulder Home
By Michelle Johnson , June 17, 2016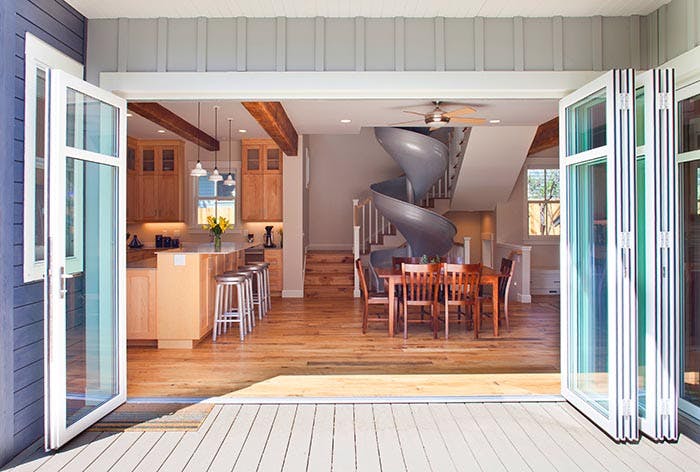 When Ashley and Robert Shires were planning to build a home for their active family of four on a quarter-acre lot in Boulder, they had three wishes: to meet environmentally conscious standards, maximize yard space, and have a little fun. Coburn Partners constructed an airy 4,700-square-foot space with beetle-kill pine siding, reclaimed barn-wood floors, railroad trestle beams, and geothermal heating and cooling, earning the home a LEED (Leadership in Energy and Environmental Design) Gold certification. A wall of glass doors opens to the backyard, blurring the line between inside and out, while a winding indoor steel slide adds a playful touch that daughters Sophie, 10, and Jacquie, 7, can't resist.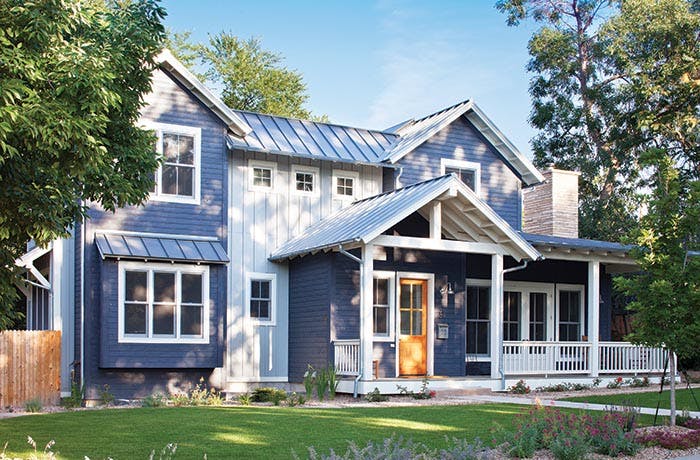 Located a half-mile from Pearl Street Mall and less than a mile from their daughters' school, the Shire family travels by foot or bike as much as possible. Beetle-kill pinewood siding stained gray and navy blue adorns the five-bedroom home's exterior. French doors open onto a large front porch, the perfect spot for morning coffee.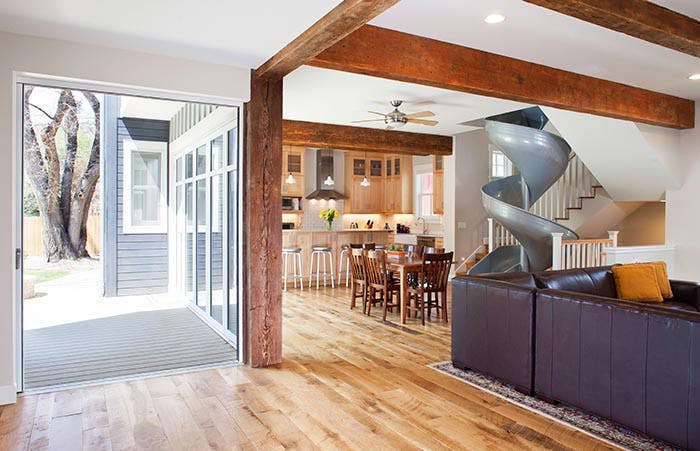 Robert originally wanted a firepole in the house, inspired by one that his stepfather installed in his childhood home. "But then he remembered how much he and his brothers hurt themselves on it," Ashley says. A playground slide, which doubles as a laundry chute, suffices.
The kitchen's sleek countertops are made of Neolith, a recyclable porcelain material. Reclaimed materials are found floor to ceiling in the lower-level living space: oak barnwood underfoot and repurposed railroad trestle beams found in Montrose overhead. The steel playground slide made moving into the home a challenge, says Ashley. "Every kid within a 2-mile radius was in the house playing on it."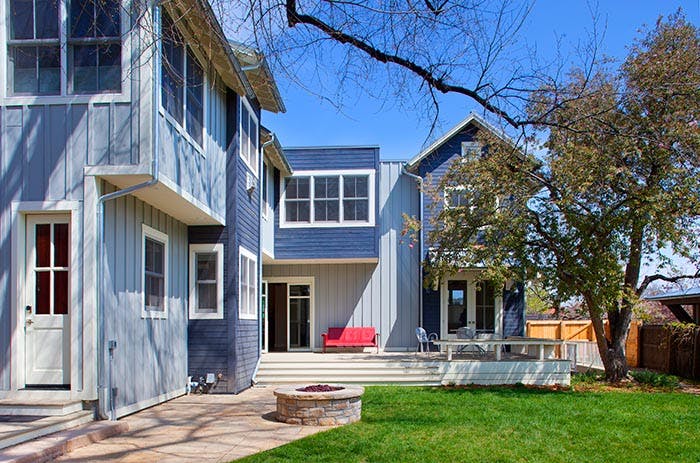 With views of the Mount Sanitas Ridge, ample seating on the porch (including a redCrosley Furniture patio glider), and a fire pit, the Shireses are well-equipped for their frequent summer barbecues with family and friends.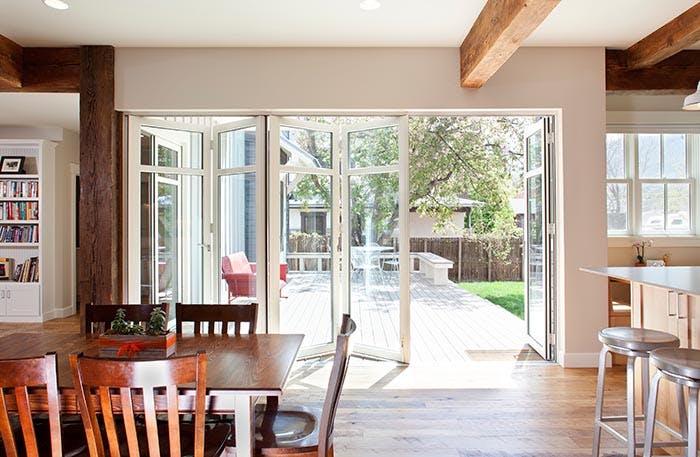 Adjustable glass doors by Nanawall create a breezeway into the dining space. "It really is like having another room,"Ashley says. A recently refinished walnut Room & Board table is used nightly for family dinners.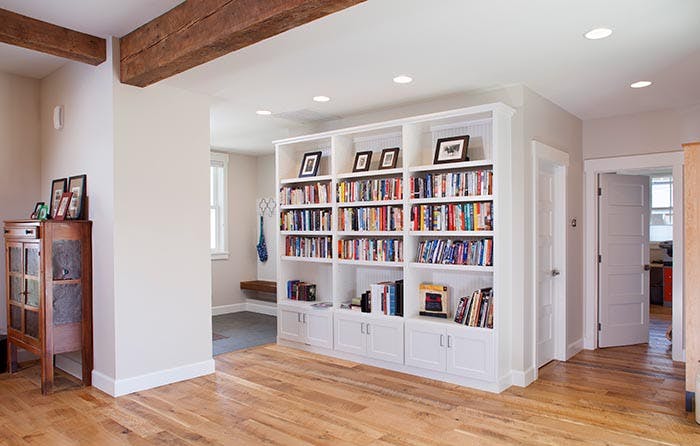 The entryway opens to floor-to-ceiling shelving that houses books and knickknacks. To the left, an antique pie safe originally used by Ashley's great-grandmother now serves as additional storage space.
DESIGN DETAILS
ARCHITECTURE Peter Weber and Danielle Lynn, Coburn Partners BUILDER Dan Flohrs, Coburn Partners COUNTERTOP Neolith (style/color: Beton) PAINT Benjamin Moore Pale Oak KITCHEN COUNTER LIGHTS Barn Light Electric BARSTOOLS Crate & Barrel KITCHEN TABLE & CHAIRS Room & Board LEATHER COUCH Room & Board ORIENTAL RUG Family heirloom FLOORING Reclaimed Designworks, Denver SLIDE steel with gray powder coat, Dunrite Playground Equipment
Original Article: Colorado Homes Magazine