5 Tips for Creating Indoor/Outdoor Living Spaces
By NanaWall Systems, November 4, 2019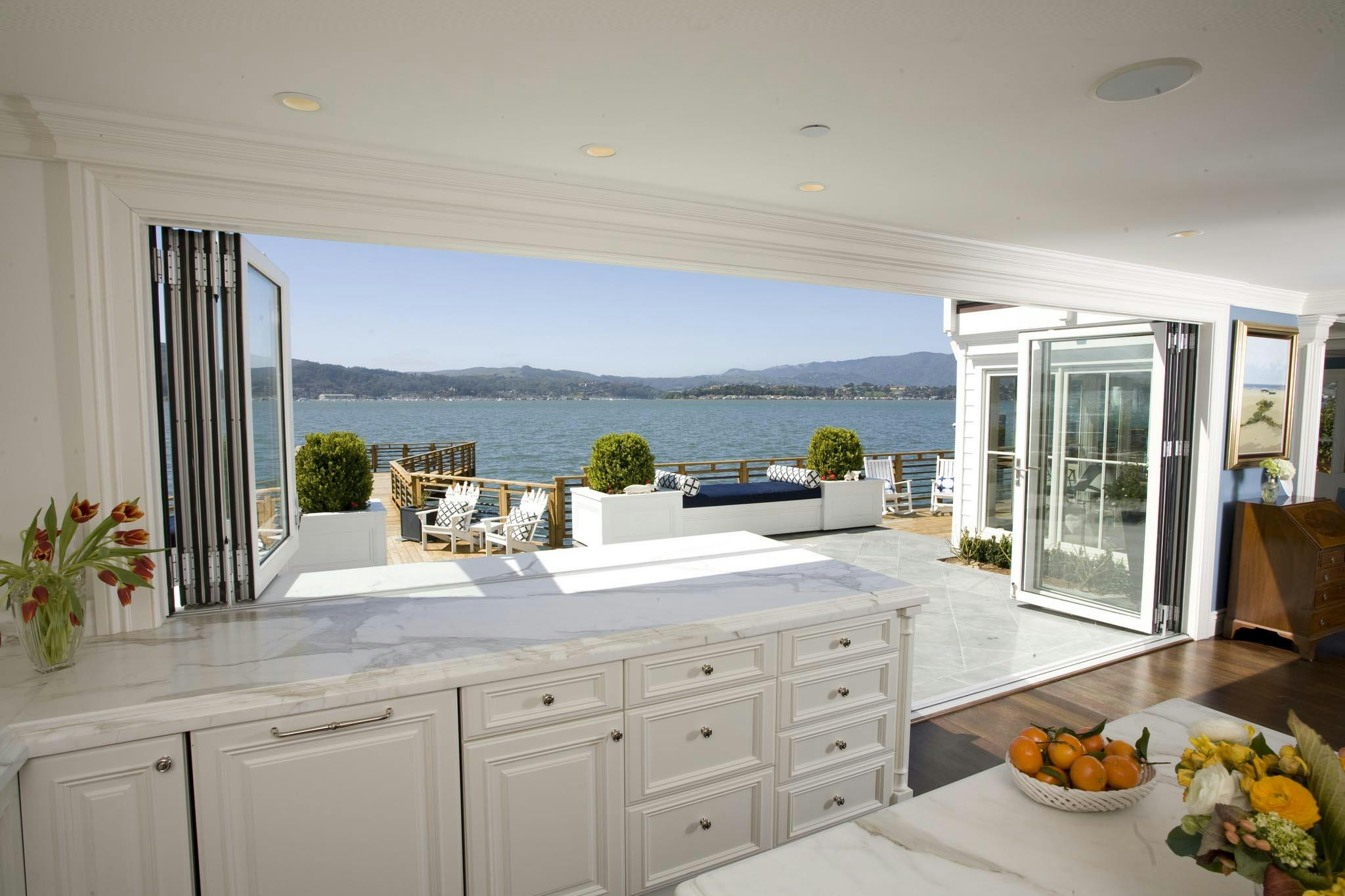 The popularity of indoor/outdoor living spaces is on the rise. Homeowners want to enjoy the outdoors as an extension of their interior living space. Given this desire, architects and designers are eager to come up with creative ways to make it a reality.
Homeowners often request outdoor kitchens and family rooms that allow them the same functionality as their indoor spaces. Plumbing and dedicated gas lines, heating, privacy, and transitions are a few of the elements that must be considered when integrating the two areas. Below are our top tips for creating seamless indoor/outdoor living spaces that not only look beautiful, but function as true extension of the indoors.
1. Make the Outdoor Space Functional
Homeowners want the indoor/outdoor living space to be a desirable place to recreate at their home. To provide value to outdoor spaces, it helps to begin with a clearly defined purpose for the area. Without a specific purpose, it's harder to define what elements to include whether it's décor, appliances, or furniture.
Extend Kitchen and Entertaining Space
Long gone are the days where cooking outdoors meant a grill, a table, and a few lawn chairs. With Kitchen Transitions, indoor and outdoor spaces are unified allowing for free-flowing movement from one space to the other. With ease of movement, homeowners can enjoy the features of their indoor kitchen while also enjoying extended living space.
With creative sliding and folding door systems, Kitchen Transitions can be more functional and geared towards entertaining and socializing. Options like swing doors, stackable doors, and folding windows allow for features like a walk-up bar.
Create an Outdoor Family Room
Outdoor family rooms are a great way to create additional entertaining space without the cost of an addition or renovation. With a bit of creativity, it is possible to design an outdoor room that is just as enjoyable as an indoor living room. As such, it is important to make the space extremely comfortable and inviting. Use outdoor furniture such as couches and chairs to create an intimate seating area. A television or inviting table may act as a focal point that draws people together. Fireplaces are also a great addition to a seating area that can be used in the colder months.
Define the Space
An indoor/outdoor space can serve more than one function. While the main function may be an indoor/outdoor kitchen, many homeowners also want a seating or conversation area to complement the space, such as a bar for added functionality. When designing, it's important to give each space a purpose. This creates a more appealing environment and helps plan for traffic flow through the area. Consider separating the spaces with plants, flower boxes, or rugs to clearly define between eating, living, and entertaining spaces.
2. How to Make a Seamless Transition Between Indoor/Outdoor Living Spaces
The outdoor/indoor space should be a true extension of the home, which is why it's important to create a seamless transition between the two. In that way, the spaces appear to be one rather two.
Sliding Glass Walls Open the Space to Possibilities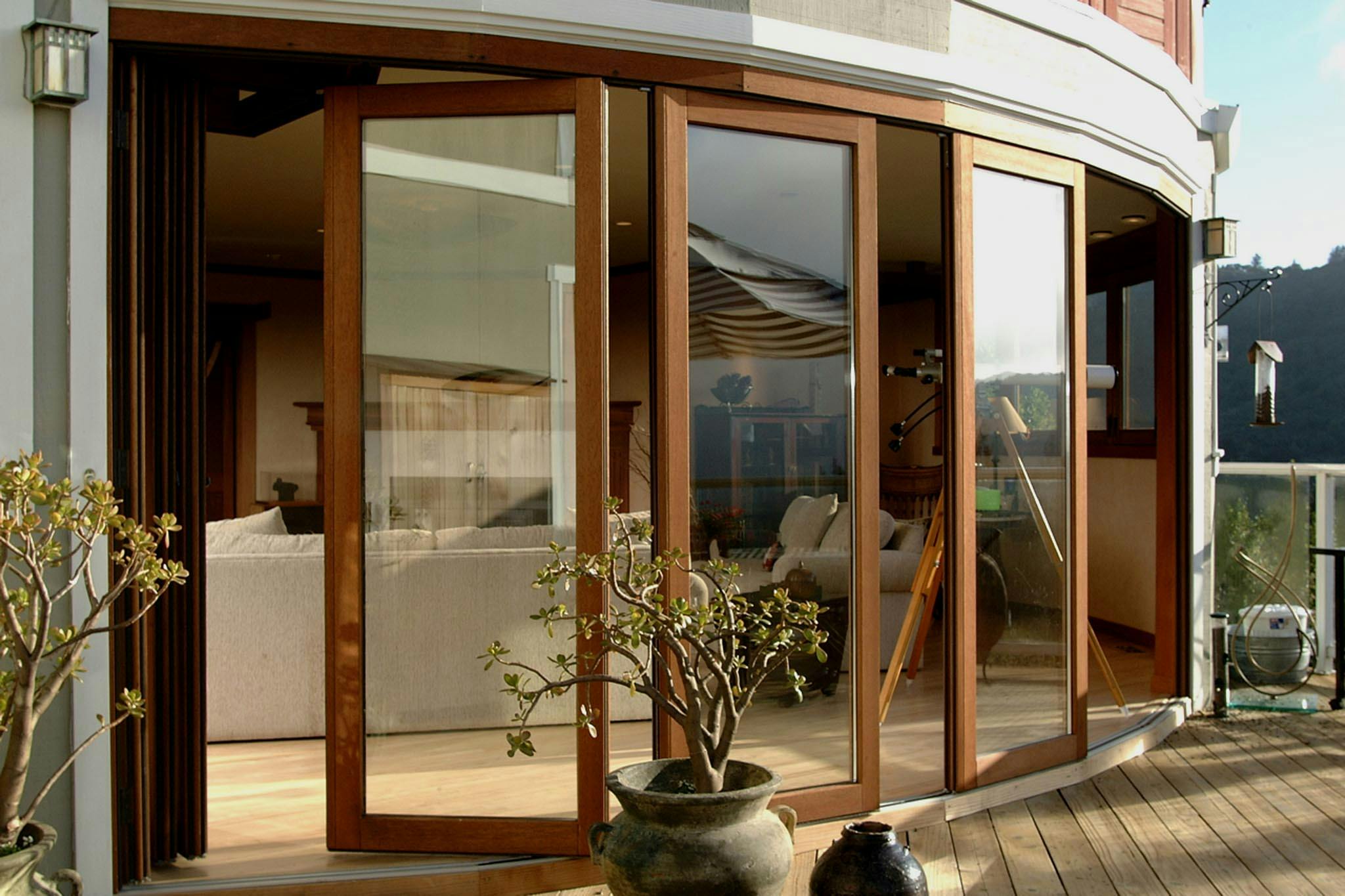 Sliding glass walls are a great way to create an exterior wall without sacrificing the view, while giving homeowners options for how to use the space. These beautiful walls slide open to create one large space for entertaining or can close to protect a home during harsher weather.
NanaWall Systems' custom sliding glass doors can be customized to suit a home's needs while integrating with the home's aesthetics. All NanaWall products come in a variety of colors and finishes to complement each space and the home's style.
Consistent Flooring Gives a Unified Look
Consistent flooring between indoor and outdoor living spaces gives the impression that the areas are one rather than two. Consider using tile as it is a durable material good for indoor and outdoor use.
Maintain a Consistent Design Theme
When integrating indoor and outdoor living spaces, keeping the design consistent is important. Maintaining a similar design helps create a cohesive look between the two areas making the visible transition more appealing to the eye. Similar accessories, color palette, and furniture style will enhance the space and making it an extension of the indoors.
3. Provide Adequate Covering for Indoor/Outdoor Living Spaces
The outdoor/indoor space should be a place that homeowners can enjoy regardless of the weather conditions. Typical solutions include awnings, pergolas, shades and umbrellas. Material may depend on climate zones and needs, but can range from wood, to metal, to durable fabrics. Shelter is also key to protecting outdoor furniture from weather damage.
Many homeowners want an open-air concept with the option to control shelter when needed. Motorized shades are a great way to accomplish this, allowing homeowners to cover the area when necessary. Shades can be closed as needed for protection from the elements.
4. Plan for Privacy
Lack of walls and curtains for privacy can make an outdoor/indoor space feel exposed and less inviting. There are plenty of ways to create privacy and intimacy without sacrificing the beauty of the area. Installing a privacy fence or landscape also provide aesthetically pleasing privacy solutions.
5. Plan for Temperature Changes
Year-round enjoyment is a requirement for many homeowners. For those that live in colder climates, it is important to consider heating requirements. Outdoor fireplaces and fire pit, chimineas, and gas patio heaters are popular options that also integrate well with design.
Indoor and outdoor living spaces are a great way to create extra entertaining and living space. They can serve many functions that make them just as enjoyable as any other area of the home. Visit our design gallery to see more great ideas for creating functional indoor/outdoor living spaces.