The future of folding glass walls is
here (and before long, everywhere).
Generation 4 Folding Glass Walls by NanaWall are a comprehensive solution to all design challenges. By unfolding new possibilities in exteriors and interiors, they transform commercial spaces and residences alike—elevating ground floors, while lifting penthouses to new heights.
​
Unique Technologies and Benefits That No One Else Has
In 1986, NanaWall redefined opening glass walls. Now, we've done it all over again. The fourth generation of our groundbreaking original reinvents every angle of the product, creating a vastly superior solution.
Thirty-Five Years Of Innovation In One Wall
What Makes Generation 4 Folding Glass Walls by NanaWall So Much Better?
Generation 4 walls are engineered with a host of features and benefits never before seen in our industry. Their next-level performance features effortless operation, and field-tested security that stands up to the harshest weather and use. Meanwhile, the industry's sleekest aesthetics inspire transformative design, featuring striking panels in solid wood, aluminum, or clad.
We Pushed Our Boundaries To Help You Challenge Yours
From the beginning, we've created not just walls, but innovations. And we've done so for clients who share our passion for perfection. Now that we've taken our walls further than ever before, we can't wait to see where they lead your design.
Explore Generation 4:
Our new Generation 4 Folding Glass Walls offer features that other products can't.
Click any spot on the elevation below to learn more.
+
+
+
+
+
+
+
Features and Benefits
Any glass wall can show you a horizon. But only Generation 4 lets you explore new ones. The innovations in our reinvented flagship product were put there to change the way you design.
Easier To Open, Year After Year
Relying on the same principle used by high-speed rail, the two-point contact of our Gothic Arch Roller Systems pairs with advanced sills (many of them ADA-compliant) to create panels that slide effortlessly. We've also tested those panels over 20,000 operational cycles—making it possible for Generation 4 walls to be opened and shut twice a day for 27 years, with no loss in performance. All of which makes the system ideal for restaurants, retail stores, office settings, and homes.
Our Sleekest, Most Contemporary Look Yet
Besides offering the slimmest frames in the industry, Generation 4 also minimizes exposed hardware. By concealing all visible frame to structure attachment points, our multipurpose frame insert creates a cleaner, more streamlined appearance.
Greater Security With Enhanced Energy Efficiency
Inside Generation 4 walls are innovations designed to meet the challenges of wind, water, extreme temperatures, forced entry, and structural load. Besides housing the system's locking rods, our Bionic Turtle®—a patented, single-piece insulbar design—provides an exceptional insulating thermal break between the frame profiles: adding energy efficiency and year-round comfort.
Maximized Convenience, With the Most Flexible Configuration Options
The panels of our Generation 4 product have the option of moving in stacks of four or six—unattached to the side jamb, and possessing the ability to stack to the left, right or center of the opening. Maximizing flexibility, these FourFold and SixFold Panel Sets enable unlimited system widths, and help to eliminate the chore of moving furniture when opening and closing walls.
Product Lineup
Whether the project is commercial or residential, Generation 4 Folding Glass Walls are ideal for every exterior and interior need.
Learn more about the individual products in our Generation 4 family.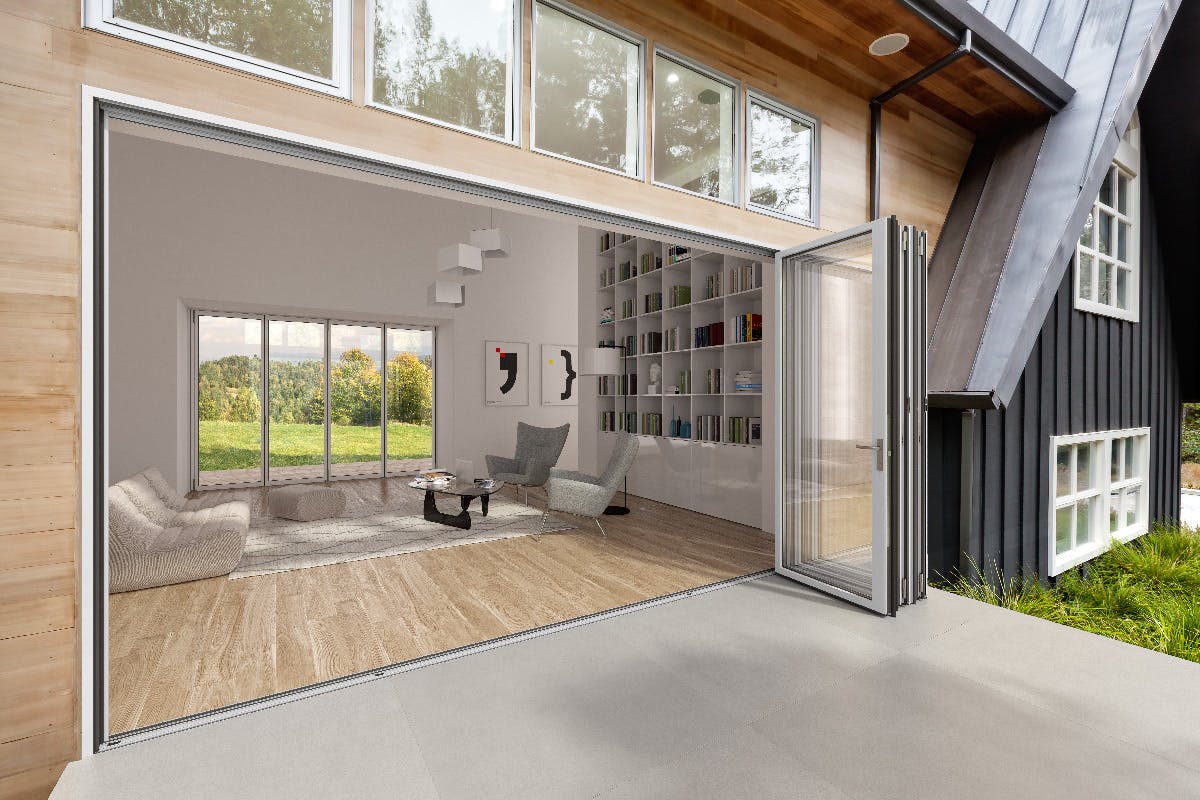 Our Most Thermally-Efficient Aluminum Framed Folding Glass Wall
Heights Up To 11′ 6″ (3500 mm)
Intersection of Two Folding Panels Is
3 7/8″ (99 mm)
Thermally Broken System Delivers Exceptional Energy Efficiency
Heights Up To 9′ 6″ (2900 mm)
Intersection of Two Folding Panels Is
3 7/8″ (99 mm)
First Floor Supported Folding Glass Wall
To Control Sound Up To STC 45
Heights Up To 11′ 6″ (3500 mm)
Intersection of Two Folding Panels Is
3 7/8″ (99 mm)
Slimmest Wood Frame In The Folding Door Industry
Heights Up To 9′ 10″ (3000 mm)
Intersection of Two Folding Panels Is
5 11/16″ (144 mm)
Wood Framed Interior System With Sound Control Up To STC 41
Heights Up To 9′ 10″ (3000 mm)
Intersection of Two Folding Panels Is 5 11/16″ (144 mm)
Slimmest Aluminum Clad Frame In The Folding Door Industry
Heights Up To 9′ 10″ (3000 mm)
Intersection of Two Folding Panels Is
5 13/16″ (148 mm)