9 Inspiring Alternatives to Glass Patio Doors
By NanaWall Systems, February 9, 2022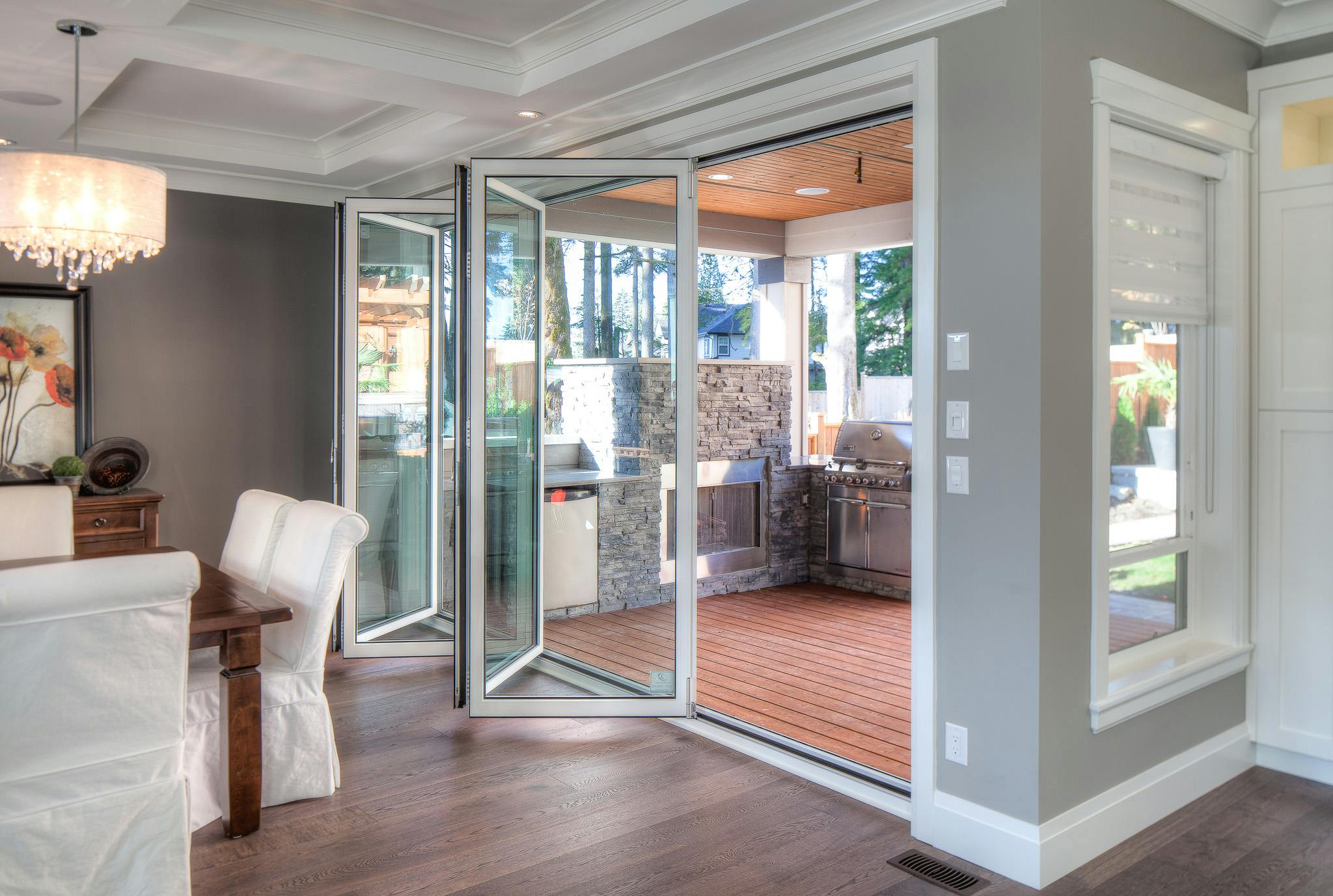 Renovation season is around the corner and perhaps, there is no better time to replace those old drafty patio doors for a more durable alternative. With warmer weather just around the corner, the prospect of comfortably opening out homes to fresh air and abundant daylight could not come soon enough. Moveable glass patio doors offer flexible and customizable design solutions for both small and large openings that seamlessly connect residential interiors to the outdoors. With drafty French doors that easily break down and traditional sliders that restrict half of the opening size, a bifold patio door seems like the ideal alternative. Let these nine homes show you how!
9 Residential Spaces Redefined by Glass Patio Doors
1. Chicago Greystone
This Chicago Greystone can offer a tip or two about indoor/outdoor living in the city. By opting for a more flexible patio door alternative, a four-panel bifold patio door, smaller openings are optimized with barely-there frames and panels that can be customized to stack on either side of the opening—something that cannot be achieved with traditional sliders. Inside, the modest living room is extended to the paved patio, visually enlarging the space both when the panels are open and closed.
2. Boulder Residence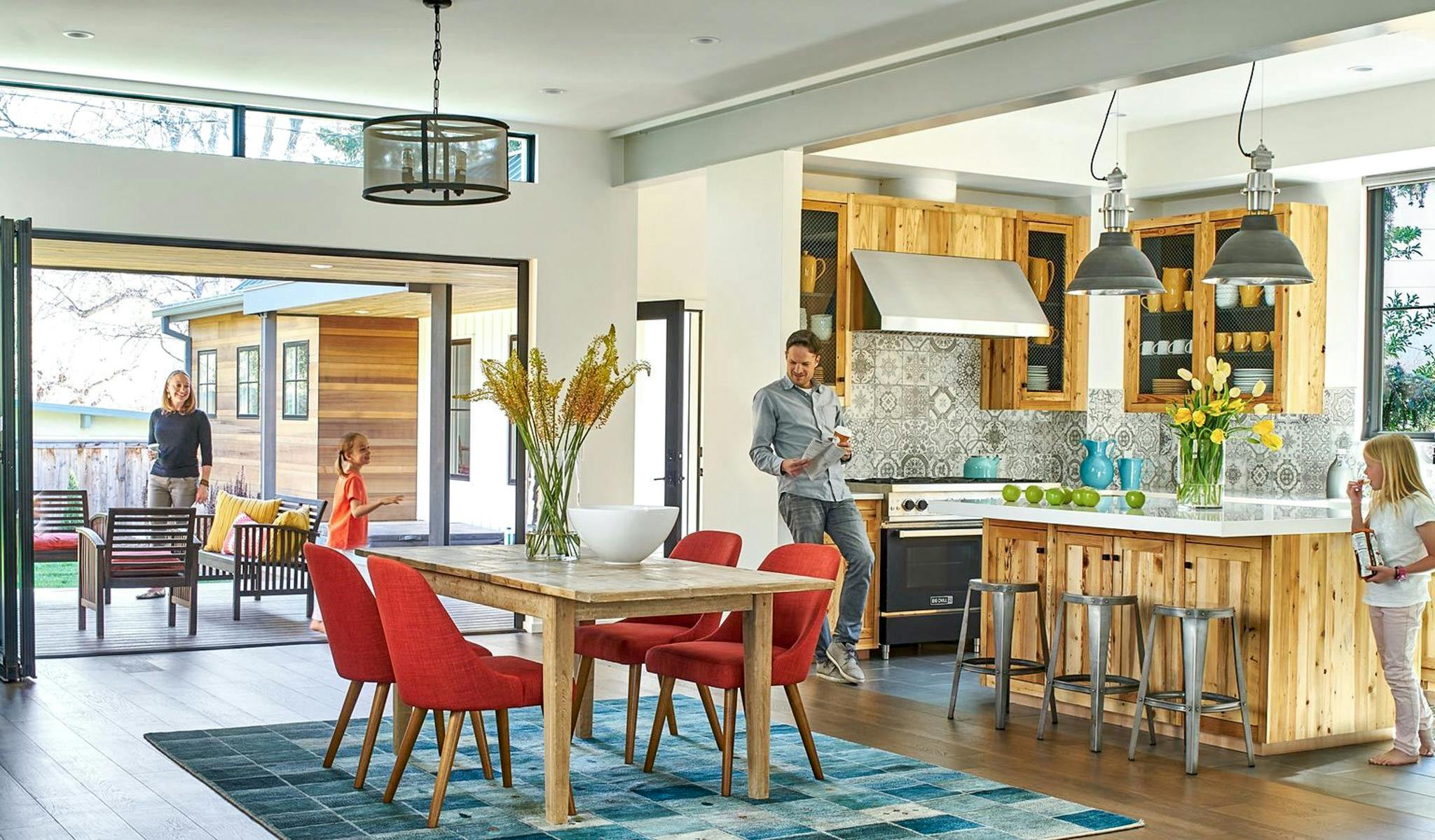 Photo courtesy of Dwell.
This bold and lively family home in Colorado is described as farmhouse style with a touch of industrial. The 4,100-square-foot dwelling was built with the homeowners' lifestyle in mind and to optimize an indoor/outdoor experience. According to the Dwell article, the homeowner "specified a NanaWall [system] off the dining room to flood the central space with natural light and open the kitchen up to the yard on warm summer nights." The easily operable glass patio doors neatly stack to the side to create a seamless transition, almost as if there was no wall there at all!
Explore the full house tour here.
3. Bethesda Residence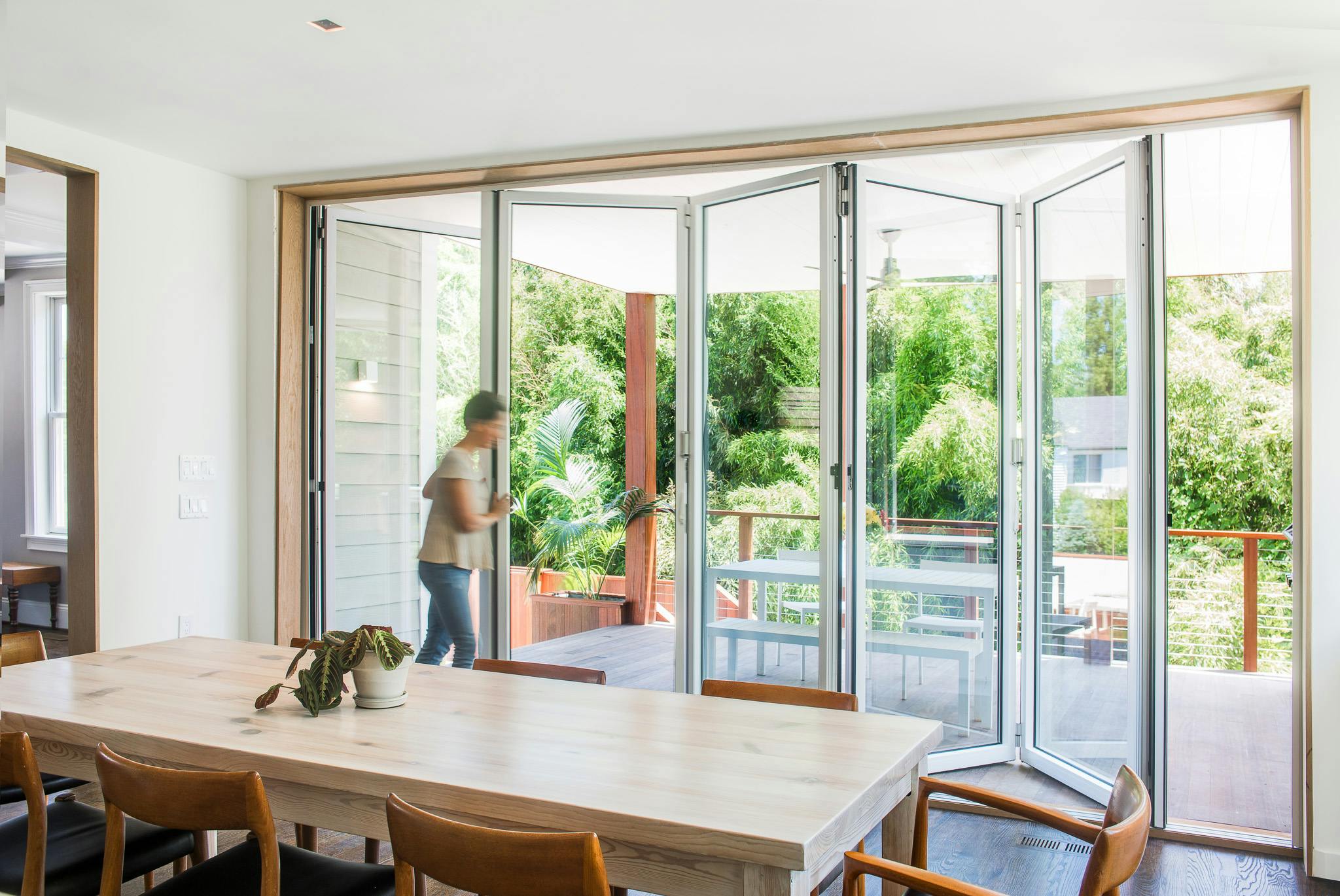 Extending the dining room and kitchen to the outdoors has never been easier. At this Maryland home, the dining room and the patio instantly become one unified area, optimizing space and the indoor/outdoor feel. Compared to traditional restrictive patio doors, the Generation 4 Folding Glass Wall, NW Aluminum 840, features a floating FourFold panel set that can move and stack to the left, right, or center of the opening. This allows for greater space flexibility and larger openings when necessary. Also, this project features a specified swing door at the jamb for a daily pass-through door for utmost functionality.
See more of this home here.
4. Brooklyn Residence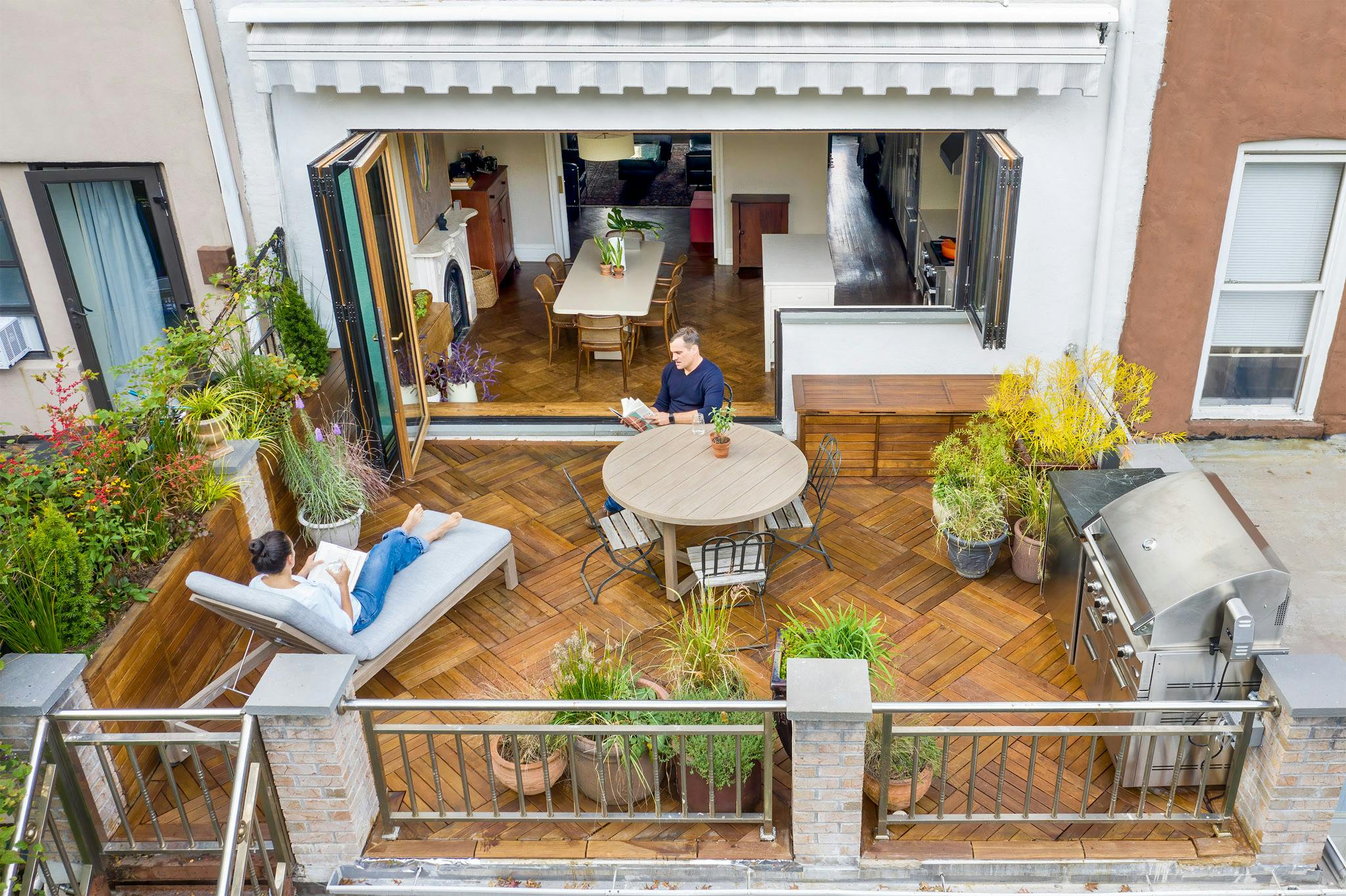 How do you reimagine a Brooklyn brownstone kitchen without tainting its traditional charm? For these homeowners, a NanaWall aluminum clad folding glass wall offered the solution that met both of their visions and complemented the home's traditional charm with meranti wood frames on the inside. A Kitchen Transition configuration offered the most flexibility and functionality with a folding pass-through window and a trio of bifold patio door panels. "While creating a seamless transition to the outdoor living area, the NanaWall brings light and air into the house and expands the floor space," says the homeowner. "It truly is an outdoor living space, serving a multitude of activities."
Learn more about this impressive transformation here.
5. Palo Alto Contemporary Home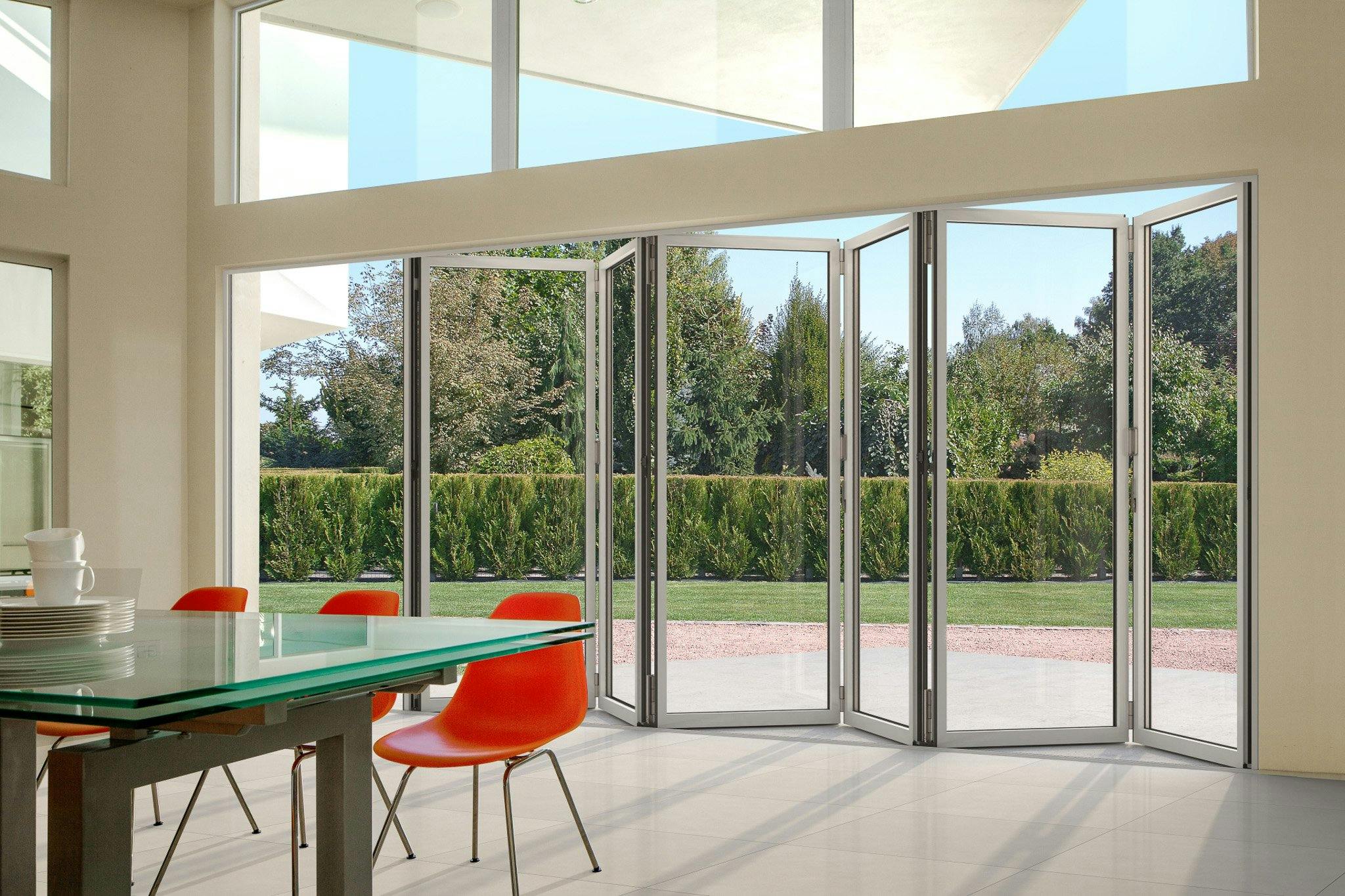 Loosely inspired by its surrounding Eichler homes, this contemporary Palo Alto residence stands out with its contemporary architectural shapes and unique design features. Adapting open floor plans, large windows, and a NanaWall bifold patio door, the home successfully connects with its surrounding outdoor spaces. The six-panel system extends the dining room to the outdoors, for an al fresco dining feel or to optimize space when entertaining. As a Generation 4 Folding Glass Wall, the NW Aluminum 640 offers the slimmest frames in the market, optimizing views to the outdoors even when the panels are closed.
See more of this residence here.
6. Willowbend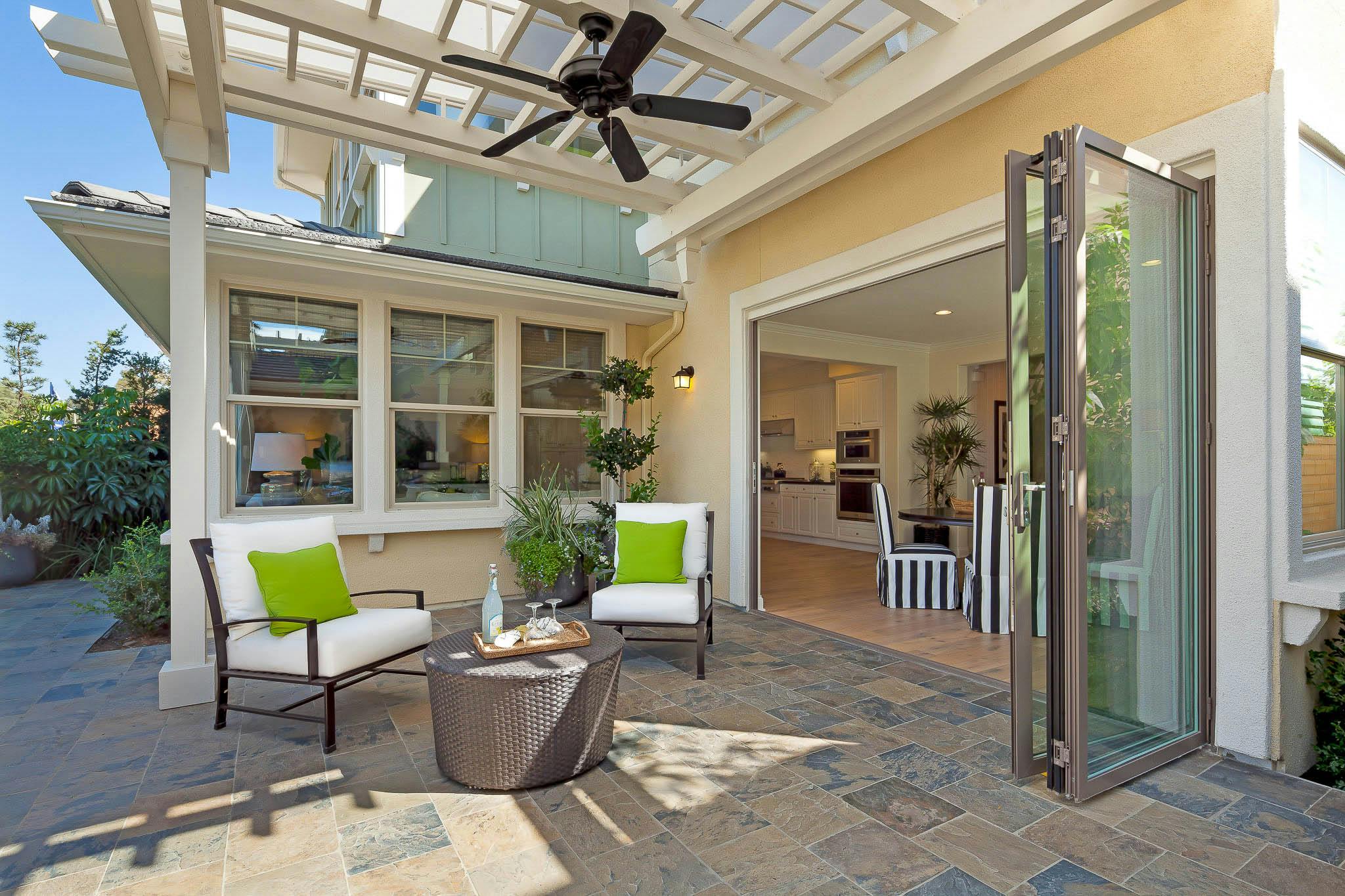 Personalizing your patio with comfortable furniture and some potted plants can create the ideal environment for lounging in the outdoors and even for a relaxing evening of al fresco dining. With operable glass patio doors, like the moveable system at this West Coast residence, the transition becomes seamless. When it comes to entertaining, these large openings are ideal for facilitating traffic flow instead of having an obstructive door, allowing you to never miss a conversation while prepping the appetizers inside.
See more of this residence here.
7. Tower Bridge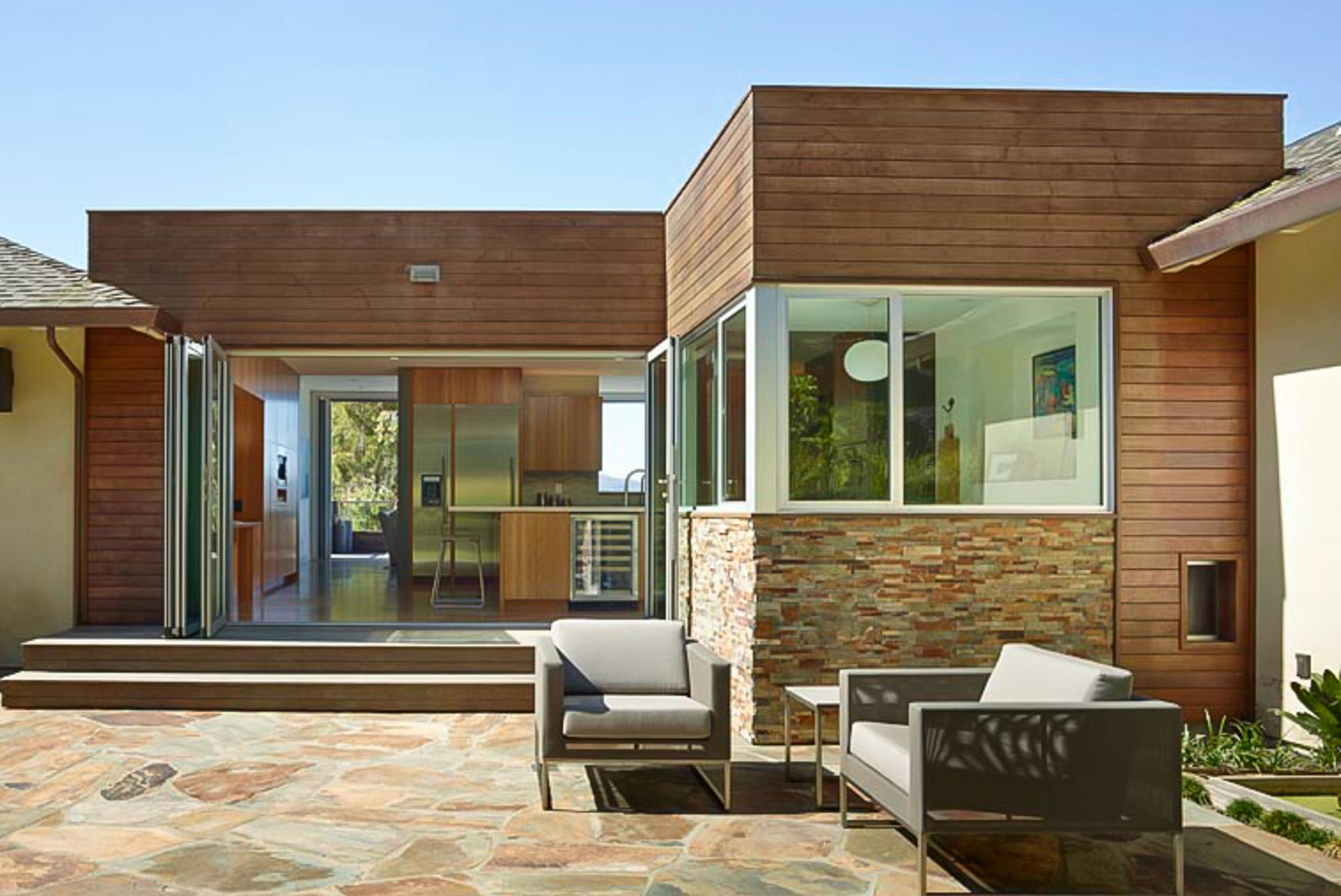 The latest trends in home design are shifting to prioritize an indoor/outdoor lifestyle and what better way to bring the outdoors inside than by replacing outdated patio doors with a more flexible alternative. This contemporary West Coast residence completely opens the kitchen to its extensive patio optimizing the interior with plenty of natural light and fresh air ventilation—cooking scents be gone! With an additional bifold patio door on the other side, the hallway connecting the two openings creates a breezehouse effect, allowing the passage of fresh air from one point of the house to the other.
See more of this home here.
8. Mid-Century Modern Eichler Home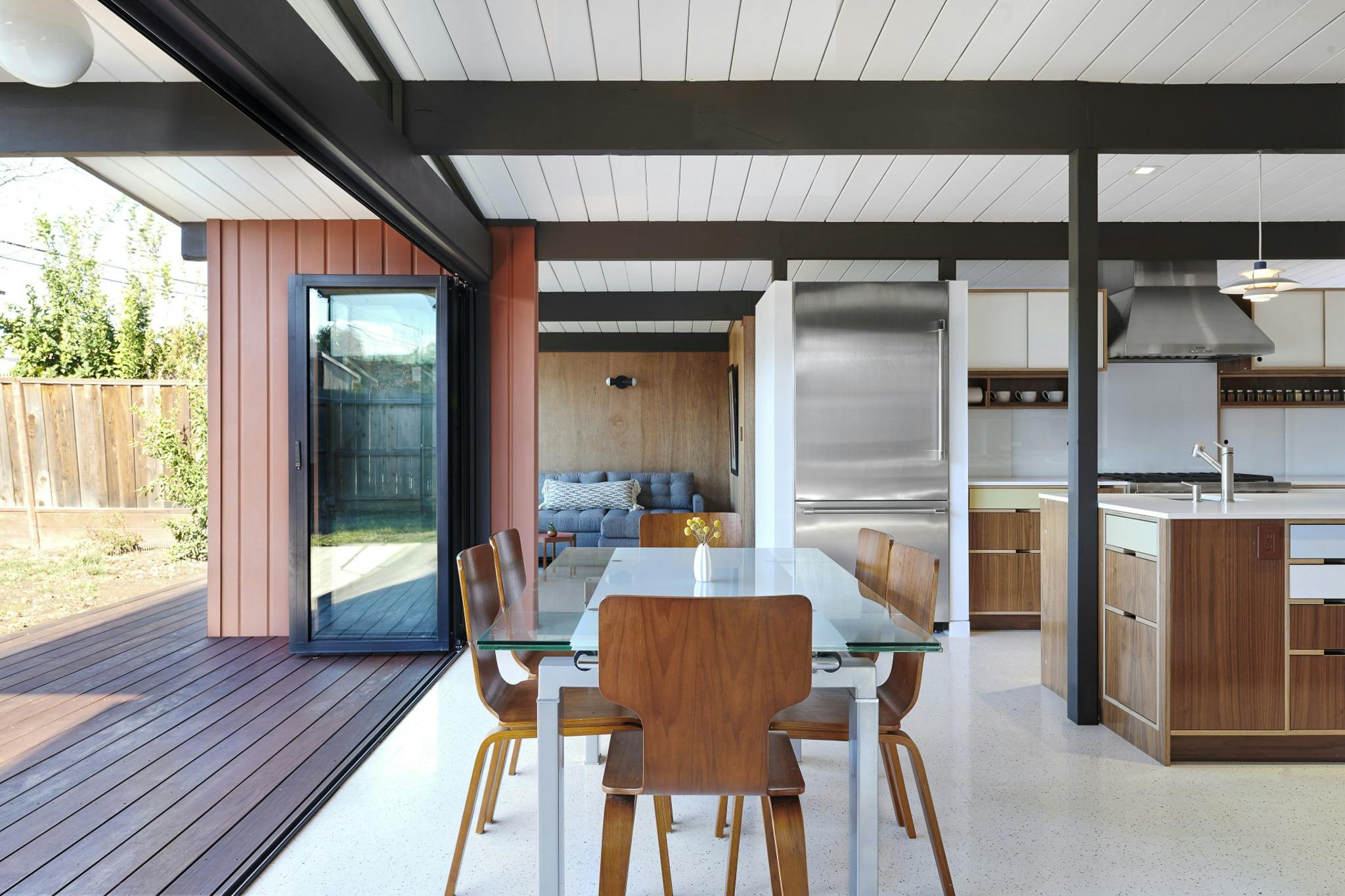 Large, fixed glass walls, post and beam structure, and exposed wood paneling are some of the design elements that characterize Eichler homes. At this Silicon Valley residence, a growing family reimagined the home to meet their new space needs and increase functionality while meeting local energy codes. Key to the renovation was replacing the fixed glass walls in the dining area and in the front of the house with NanaWall glass patio doors. The dining room now connects to the backyard through the bifold patio door that creates a seamless transition to the outdoor living spaces.
Read more about this home renovation here.
9. Bright and Airy New York Kitchen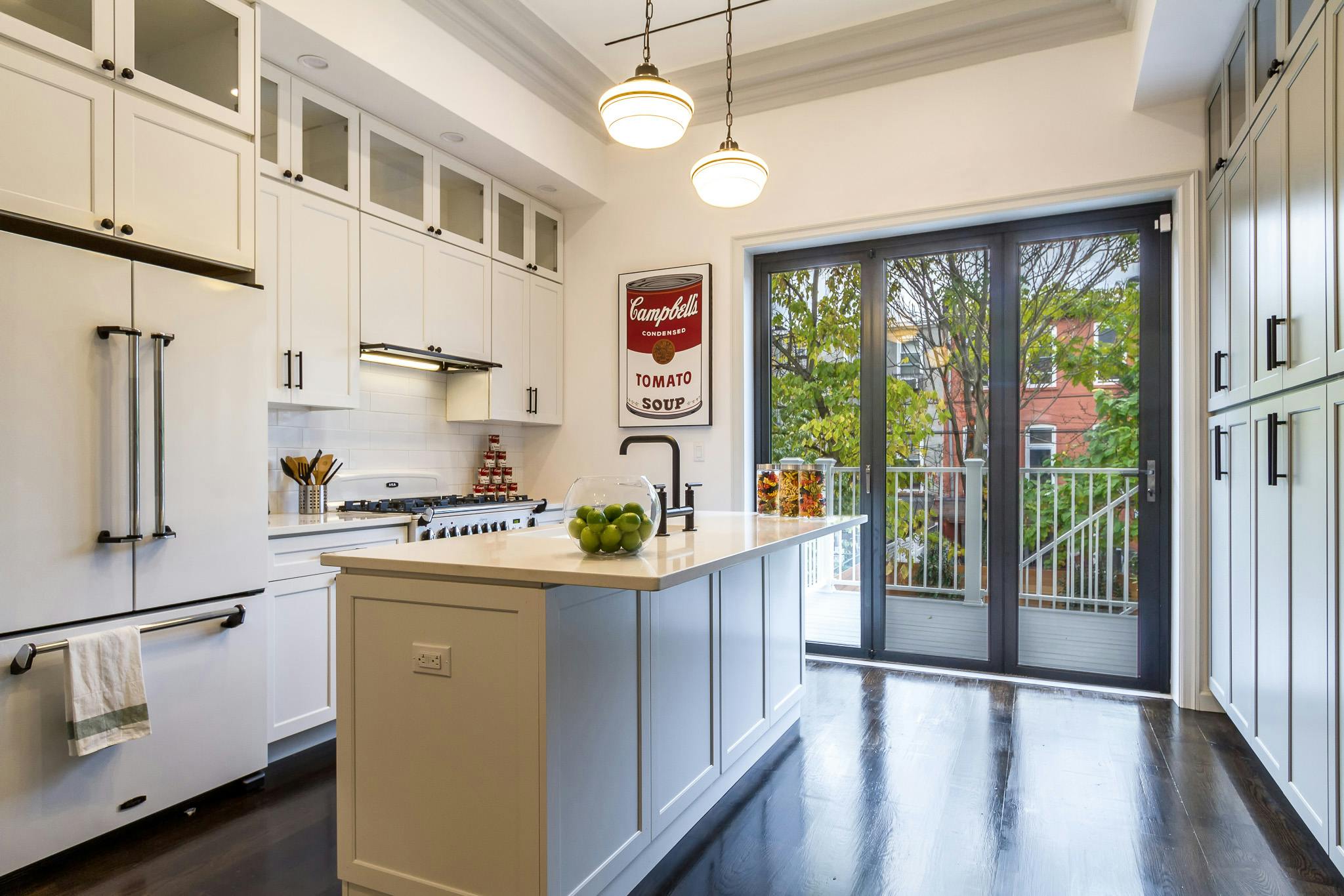 There are several advantages to installing a bifold patio door in the kitchen. As pictured in the New York brownstone kitchen above, large glass panels paired with thin frames allow daylight to naturally brighten interiors without the need for artificial lighting. The not-so-wide three-panel system perfectly fits the needs of the kitchen, proven that glass patio doors are not only applied to large wall openings in bigger homes. Swing doors can also be specified to facilitate transitions between the indoors and outdoors for utmost functionality.
Final Thoughts
Are you ready to replace your old, broken-down patio doors with a more flexible and durable alternative? NanaWall glass patio doors offer the utmost flexibility and functionality to optimize openings and elevate our homes with the indoor/outdoor experience. Compared to conventional doors, especially restrictive sliders, these operable systems allow 90% of the opening to be usable and can be customized with swing doors to facilitate transitions when the bifold patio door is kept closed. As exterior applications, advanced security mechanisms prevent break-ins and offer utmost security and peace of mind. Better yet, these doors can be customized to fit your desired needs with aluminum, wood, or clad frames and various energy efficiency options. So, when will you be starting your next renovation?
Learn more about how other homes leverage NanaWall glass patio doors in our extensive project gallery!