Commercial Glass Walls: 7 Post-Covid Design Solutions for Hotels
By NanaWall Systems, April 5, 2021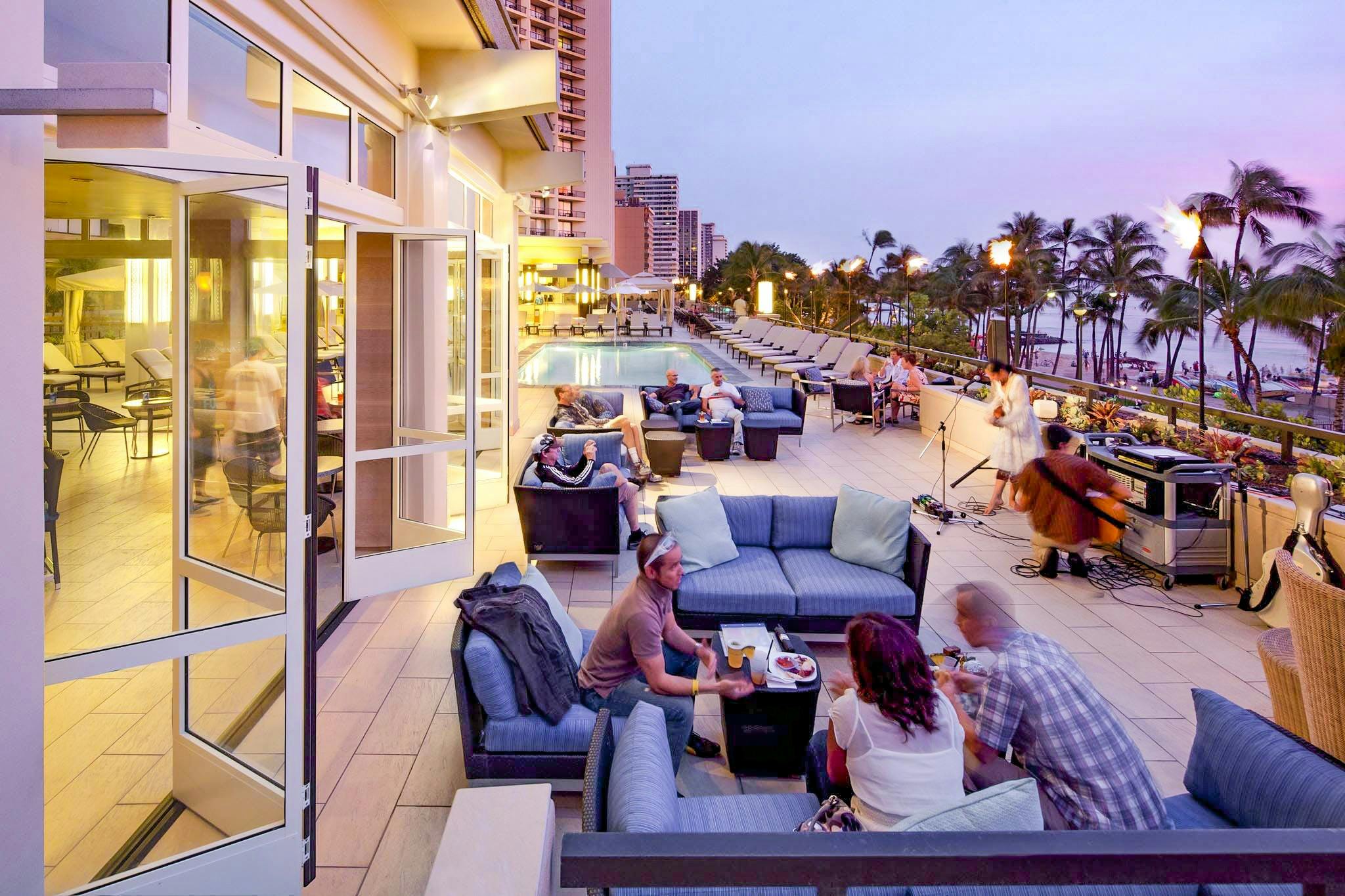 How can post-covid design leverage commercial glass walls to skyrocket the hospitality industry after the pandemic? The world is reopening, travel restrictions are lessening, and the hospitality industry is slowly rebounding with vacationers seeking to shake off months of pandemic stress. There is, however, still a lingering sense of caution. Creating welcoming, well-ventilated indoor spaces that ease occupant health and wellness concerns does not require costly renovations or adjustments. Aside from facilitating fresh air ventilation, NanaWall commercial glass door systems in hotel buildings promote social distancing, maximize views, and boost ROI in multipurpose event areas. Let's explore how these easily operable systems can improve the success of hotels post-pandemic.
1. Improve Ventilation with Commercial Glass Walls
Perhaps one of the most prominent health-oriented methods of post-covid design is efficient air ventilation. According to the Center for Disease Control (CDC), improved ventilation in buildings can increase the delivery of clean air and dilute potential contaminants. Aside from improving the performance of HVAC systems, the CDC encourages the opening of windows and doors to increase outdoor air ventilation—also the least expensive option. Where HVAC systems may need continuous repairs and adjustments, commercial glass walls present a long-lasting, durable, and cost-effective investment that elevates healthy interiors with natural cross ventilation and optimized daylight.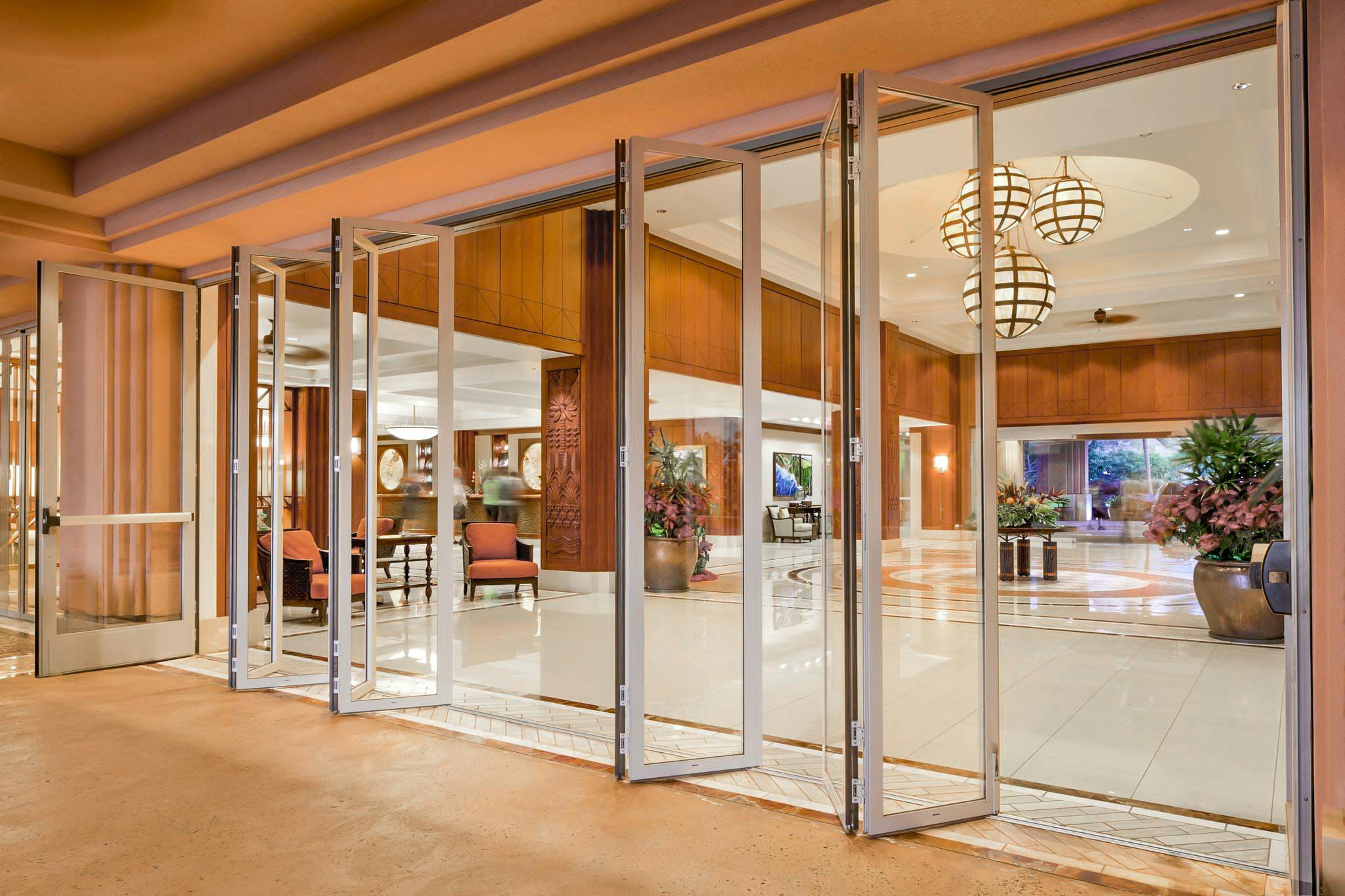 2. Promote Social Distancing with Wide Openings
Nothing makes a better first impression than a welcoming bright and airy entrance lobby. Commercial glass door systems enable wide wall openings that support social distancing efforts and healthy interiors. To reduce the spread of infection, many commercial spaces adopted a one-way traffic strategy to comply with the six-feet apart mandate, often leading to congested lines and impatient customers. Wide retractable openings, on the other hand, facilitate a more efficient two-way traffic flow while maintaining social distancing orders. When the systems are closed specifying one, two, or more swing doors as entry and exit points will yield a similar effect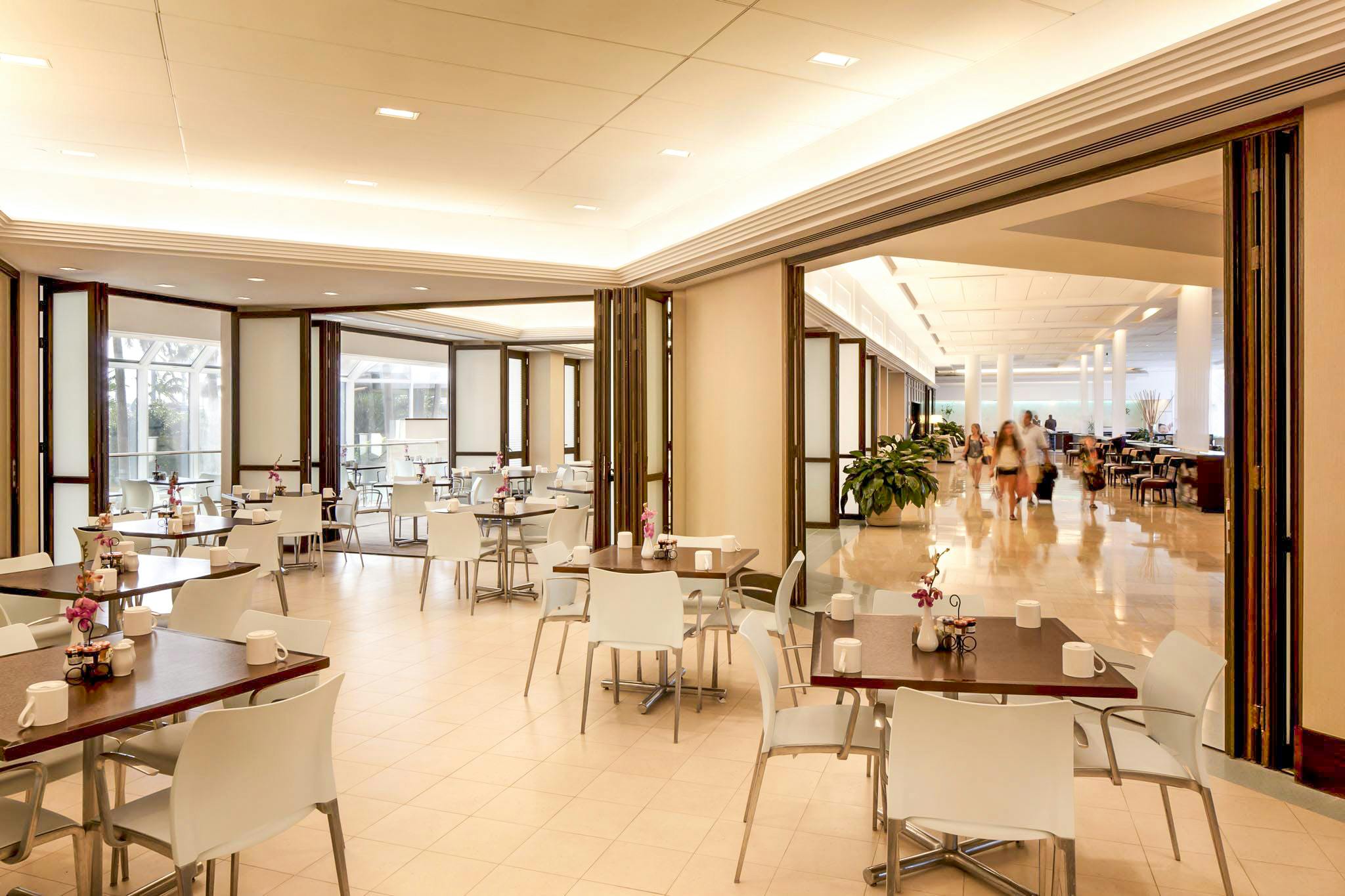 3. Maintain Health and Wellness in Amenities Floors
The services and amenities offered by a hotel play a significant role when selecting accommodations. Amenities areas are where lodgers go to relax and socialize and as health and wellness is prioritized, incorporating the outdoors is paramount. A memorable experience will ensure a guest's return and perhaps an influential five-star review to persuade future travelers. Commercial glass walls in amenities areas, allow guests to enjoy recreation safely and comfortably in a post-pandemic world, facilitating indoor/outdoor spaces while augmenting the benefits of natural elements—not to mention the views. The longer the guests stay and linger at these profitable spaces, the greater the ROI.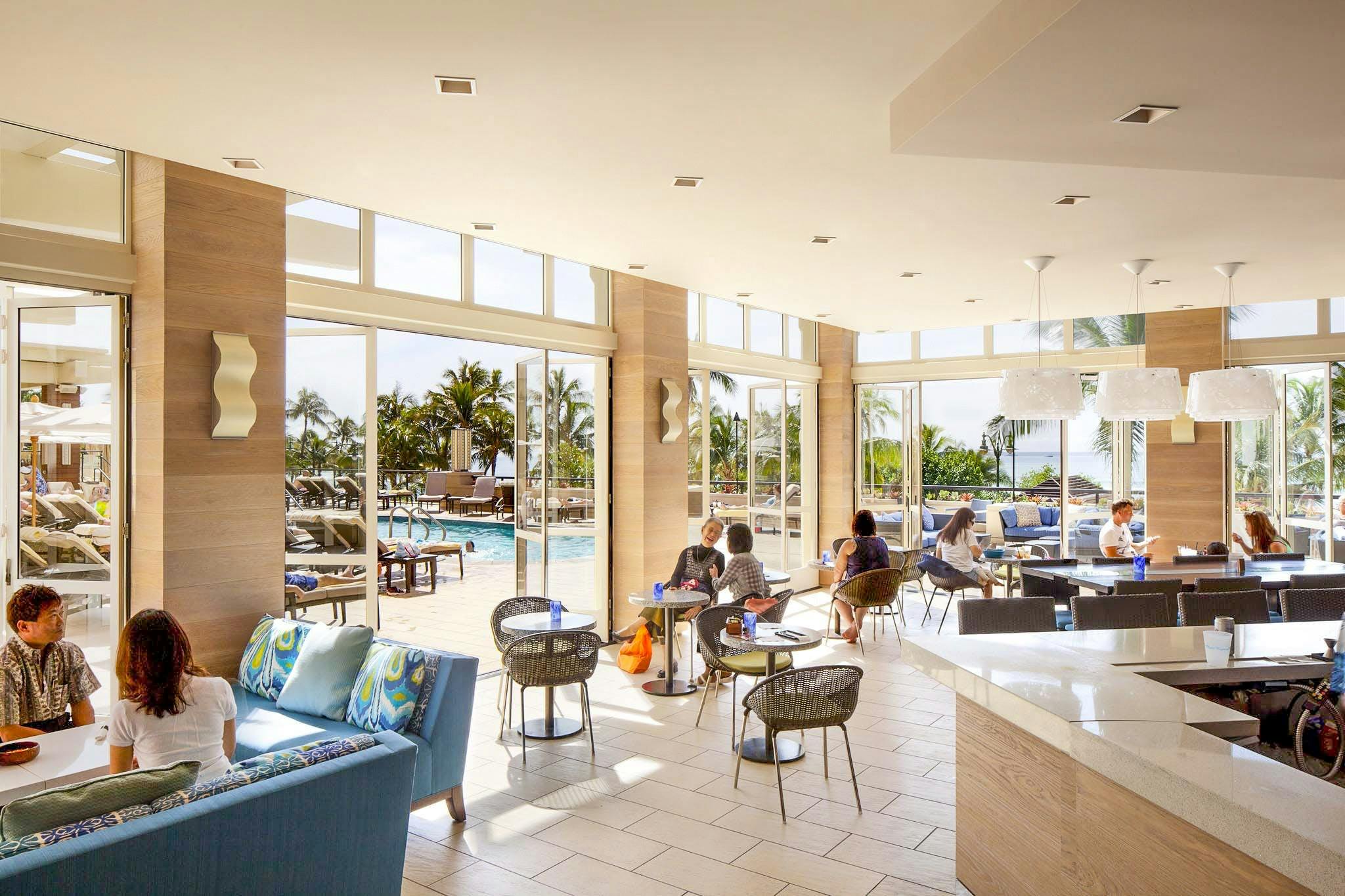 4. Create Bright and Airy Breakfast Areas
Breakfast areas are perhaps one of the most important amenities offered by hotels. In a post-covid world, these highly frequented areas will need to focus on providing more than just an appetizing menu. With commercial glass door systems indoor/outdoor breakfast areas can be optimized to host higher capacities while allowing tables to be comfortably spaced out. The visibility offered by transparent glass panels enhances the overall getaway experience by highlighting unique tropical landscapes, or whatever the hotel's location may be. The longer the guests linger in a relaxing indoor/outdoor eating space, the greater the ROI.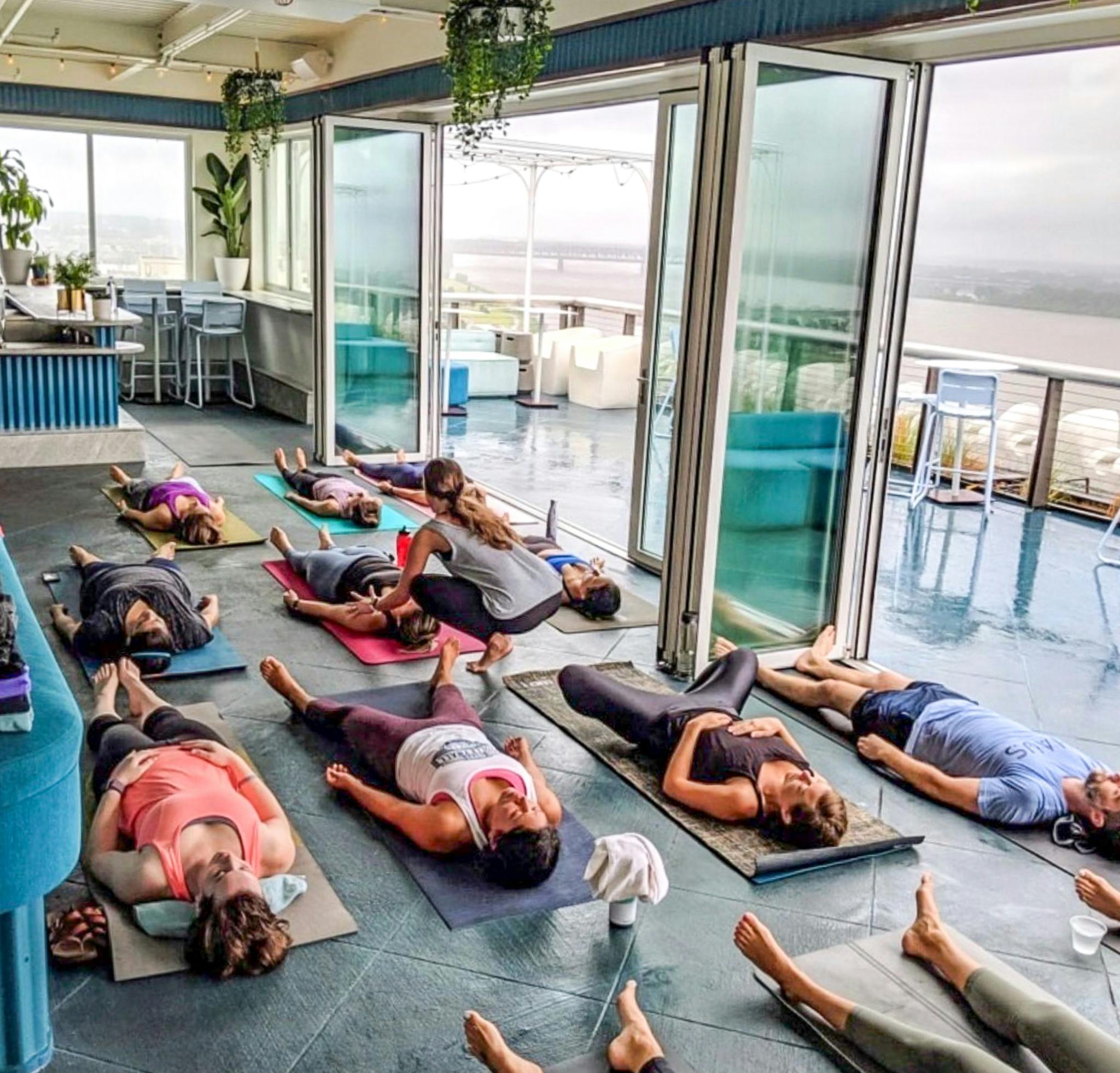 5. Improve Experience in Spas and Fitness Areas
Perhaps the second most popular amenity that influences guests in choosing a particular hotel is the spa. Already, we are seeing the adaptation of open-air spas where walls vanish to enhance comfort and relaxation with natural sounds like crashing waves or singing birds. Guests with prolonged stays may seek easily accessible fitness opportunities like decked-out gyms and fitness classes. Commercial glass walls present an easily operable solution to extend the available space and allow social distancing when needed. These retractable systems support healthy interiors by offering natural cross-ventilation rather than relying on HVAC systems that recycle the same air throughout the day.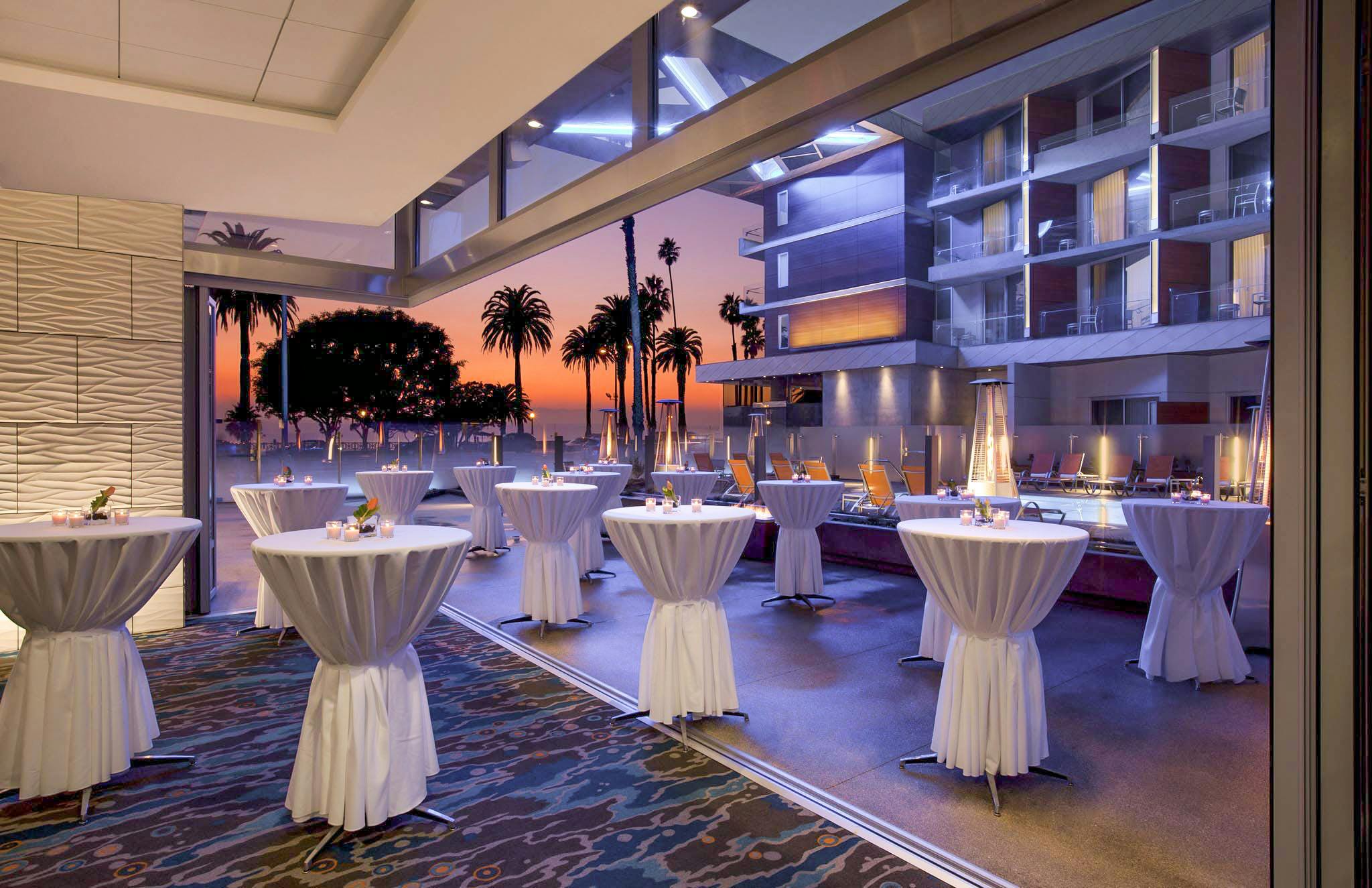 6. Boost Event Space with Post-Covid Design
Hotels with multipurpose floors dedicated to hosting private events highly benefit from flexible commercial glass walls. With interior glass wall dividers, these dedicated spaces can be separated to accommodate multiple events at once, successfully optimizing accessible space for a greater ROI. Following a post-covid design methodology, these retractable wall partitions promote social distancing by dividing large groups into smaller congregations. As an exterior application, commercial glass door systems incorporate the outdoors to maximize event space and maintain the fresh air ventilation needed to sustain healthy interiors.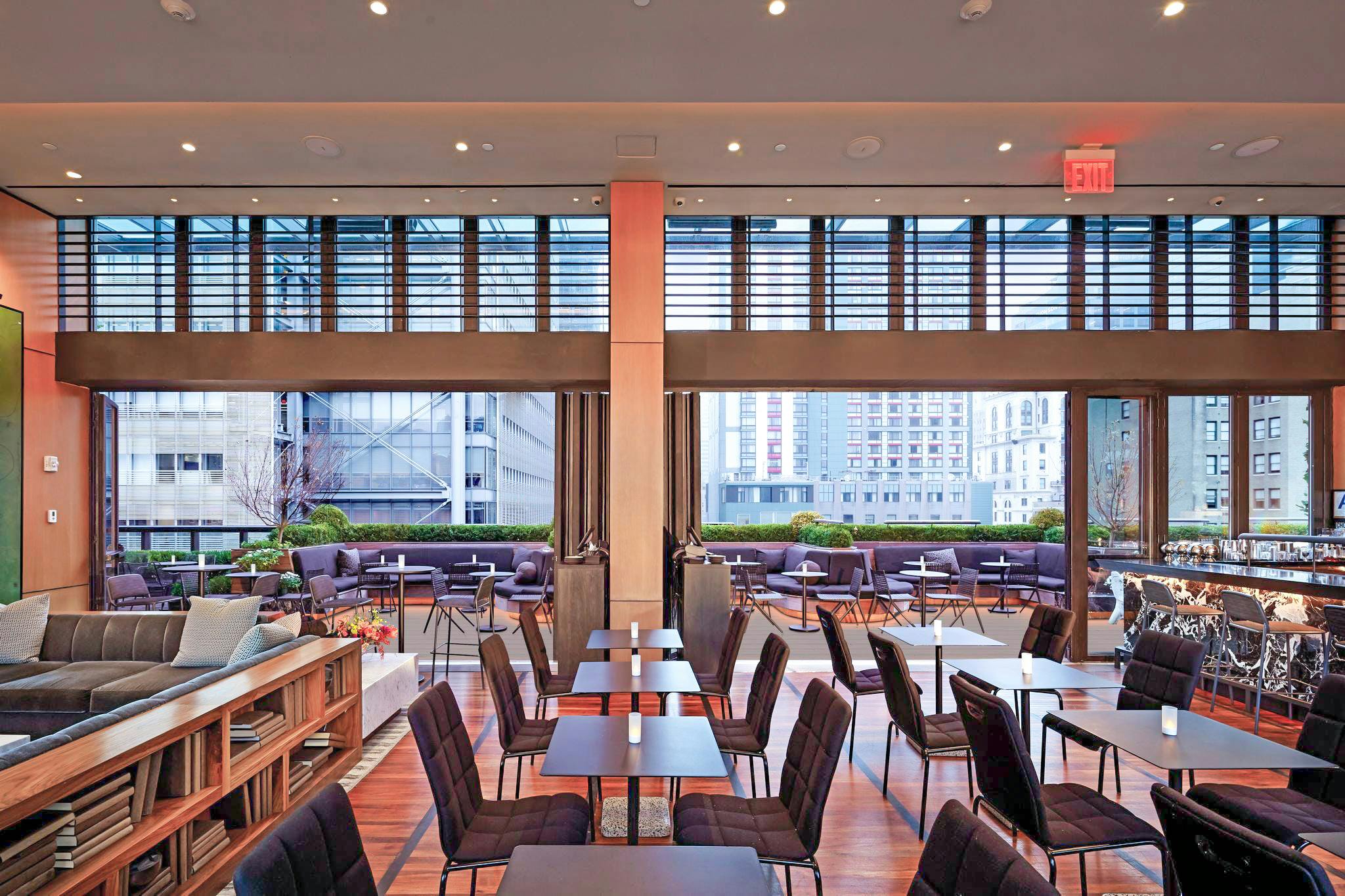 7. Reimagine Rooftops as Additional Amenities Space
Rooftop space is a prime ROI opportunity, especially when one considers the popularity of rooftop recreation. From open air lounges to large scale restaurants, the roof offers a whole different experience—especially with 360-degree skyline views. Commercial glass door systems facilitate multiuse rooftop areas through space maximization and limitless layout possibilities. In a post-pandemic world, these retractable glass systems optimize natural elements for the ultimate indoor/outdoor recreational space. Ensuring guests have an enjoyable stay by standing out from the rest with unique amenities and post-covid design solutions will result in customer loyalty, longer stays, and a greater return of investment.
Final Thoughts
The hospitality industry was one of the most heavily affected businesses during the pandemic. As the threat of infection begins to diminish and travel restrictions are lifted, hotels can greatly benefit from post-covid design elements rooted in health and wellness to attain and retain customers. NanaWall commercial glass door systems offer a long-lasting solution to facilitate bright and airy buildings by seamlessly blending hotel spaces with the outdoors—safeguarding the wellbeing of guests and ensuring their return for future stays.
Learn more about how other hotels leverage opening glass walls in our extensive Commercial Applications library!