Commercial Glass Walls in the Best Rooftop Bars in North America
By NanaWall Systems, July 28, 2022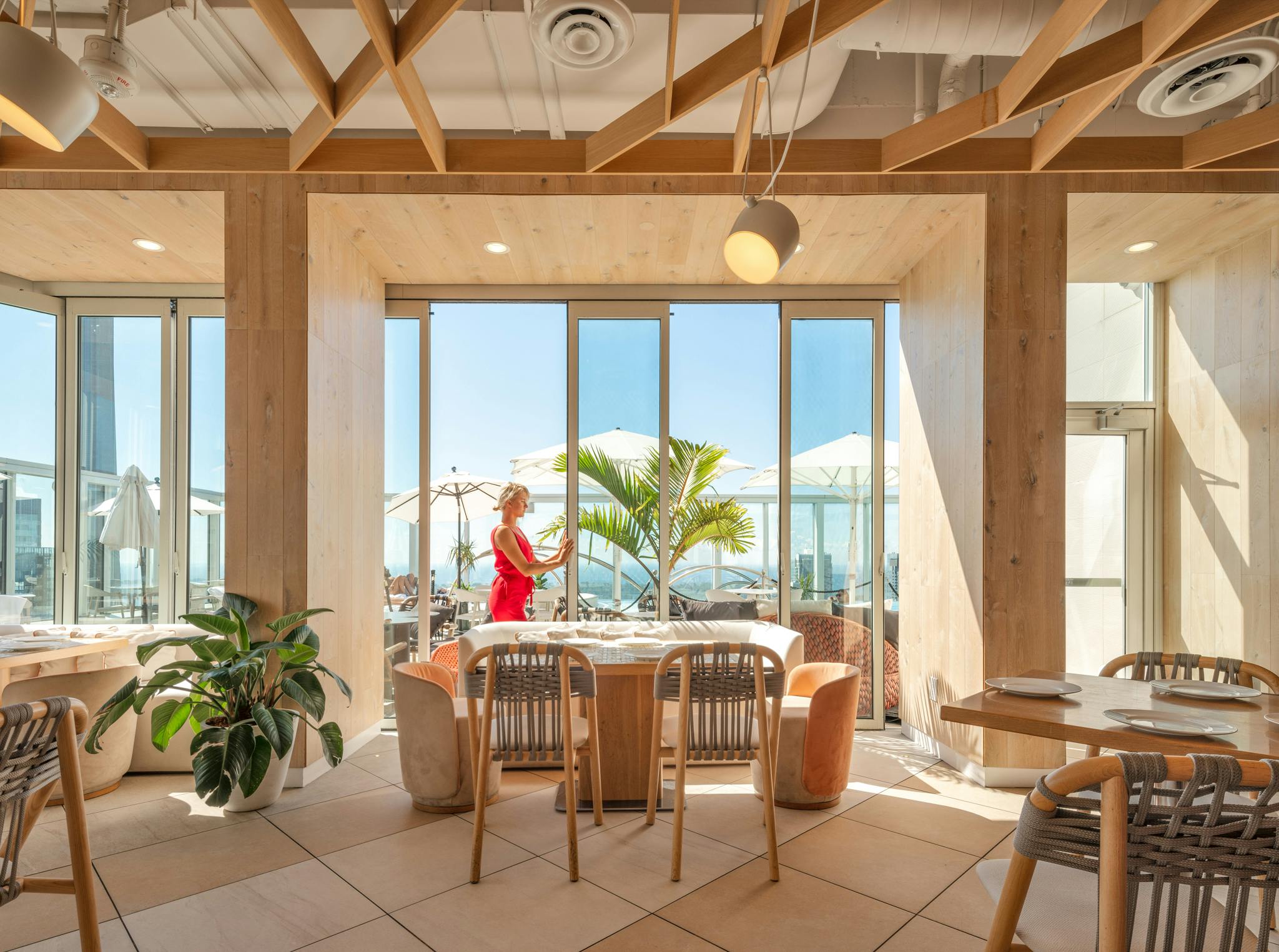 What do some of the best rooftop bars in the nation have in common? Appetizing menus, panoramic views, enticing amenities, and retractable commercial glass walls that capitalize on the indoor/outdoor experience year-round. The versatility of rooftop bars presents an exhilarating dining atmosphere that allures guests with a relaxed ambiance for casual drinks, socializing, and lounging at the peak of golden hour. For developers, rooftop bars present the opportunity to maximize real estate ROI by transforming an otherwise underutilized space into a revenue-making business. Think about it. What can be more invigorating than sipping cocktails on a lively rooftop venue with some of the best views in town?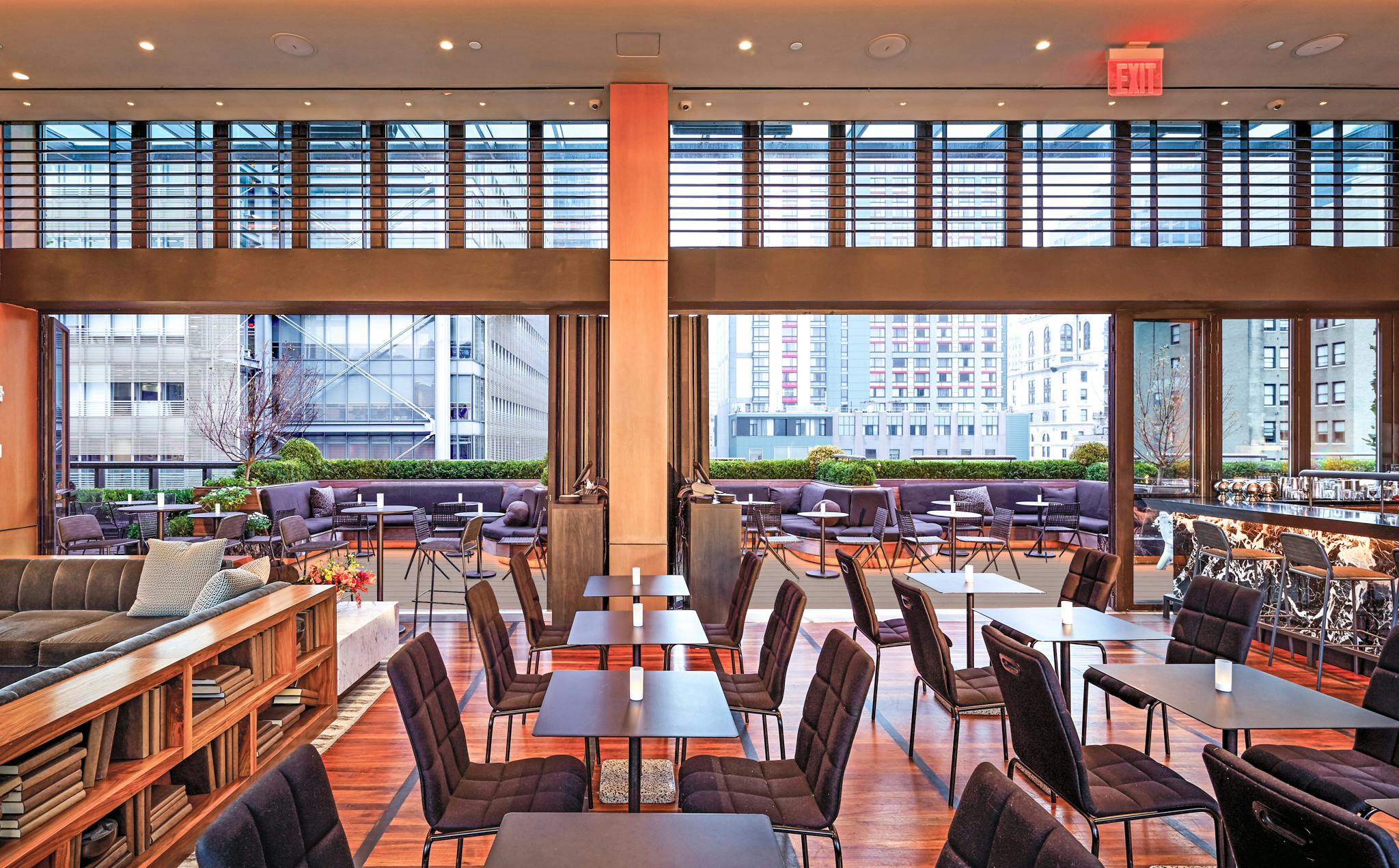 Castell Rooftop Lounge in New York offers awestriking views of Times Square.
Four Season Dining with Commercial Glass Walls
People are subconsciously attracted to the outdoors, especially in urban areas where it is scarce. It comes as no surprise that rooftop bars are increasingly popping up in major cities atop prominent buildings and enticing guests with their welcoming open-air atmospheres. But what happens when harsh climates make outdoor activities an impossibility? Weather-performing commercial glass walls like the NFRC certified NanaWall SL70 excel in high-rise applications where wind load and severe rain are of concern. Specifically engineered for harsh environments, this system incorporates a post between each door panel to add structural strength and to perform in larger sizes. One of many thermally efficient systems, the SL70 provides exceptional protection from the elements and comfort even when sitting right up against the wall. All this, without sacrificing enhanced views, ease of operation, durability, and year-round entertainment.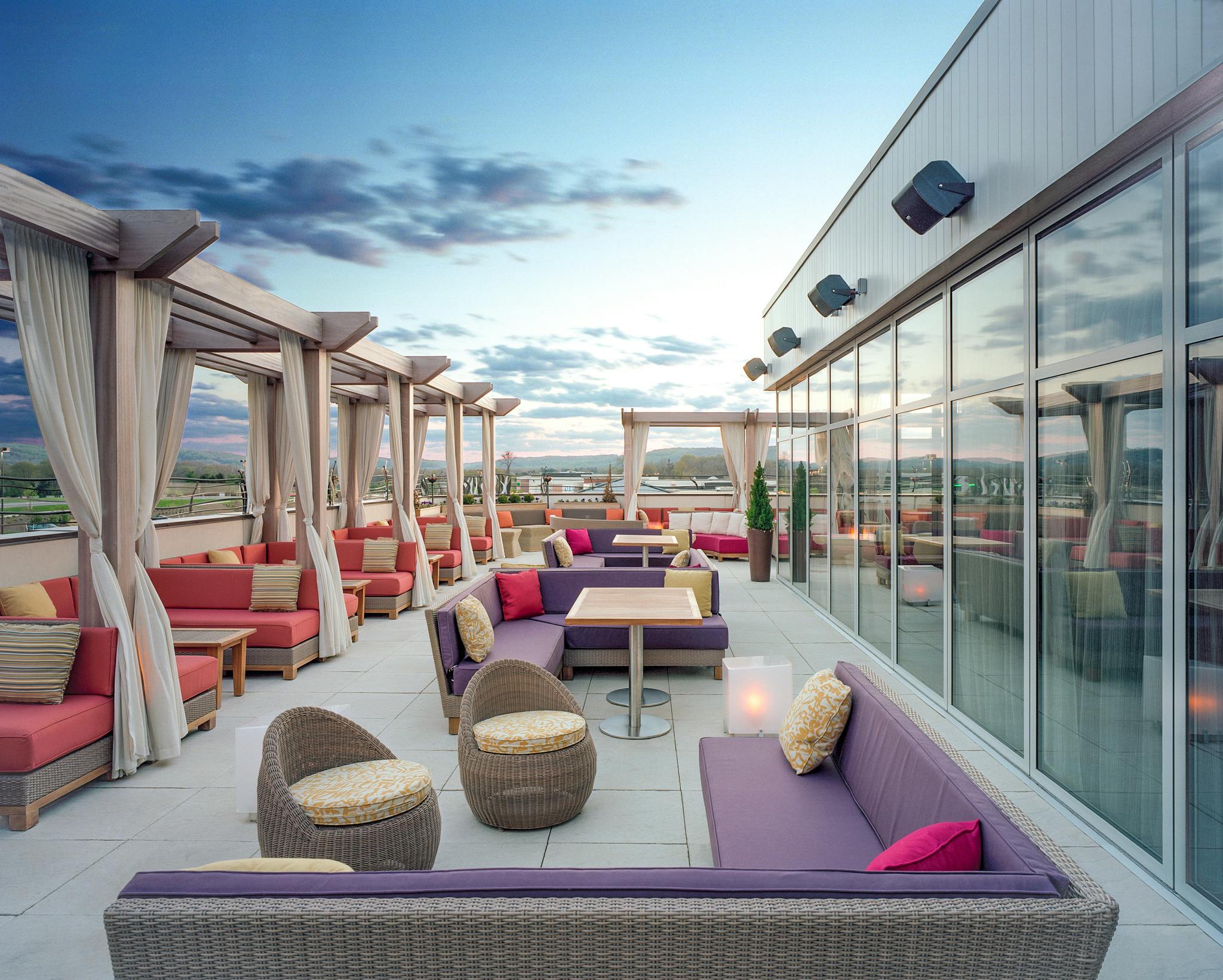 Melt in Pennsylvania offers an ideal indoor/outdoor lounge are paired with panoramic views and a tasty Italian menu.
Optimizing on Real Estate
Rooftops offer additional square footage and the ideal space for captivating indoor/outdoor entertainment, especially in hotels where attractive amenities are a key selling point. Capitalizing on this idea, developers and hotel managers have transformed these often-forgotten areas into popular and profitable destinations, especially in cities where open-air spaces are scarce. From firepits and lush greenery to comfortable furniture and infinity pools, creative ways to elevate the ambiance, not only to attract more clientele but to retain it, are key. The longer patrons linger the more they are likely to spend and the larger the profit. Retractable commercial glass walls maximize the space available and the overall appeal by extending seating into outdoor decks and offering framed views to picturesque skylines.
The Top 10 Best Rooftop Bars in North America
Let's take a look at how some of the best rooftop bars in the nation leverage NanaWall moveable commercial glass walls to enhance the guest experience throughout the seasons.
Spyglass Rooftop Bar, New York City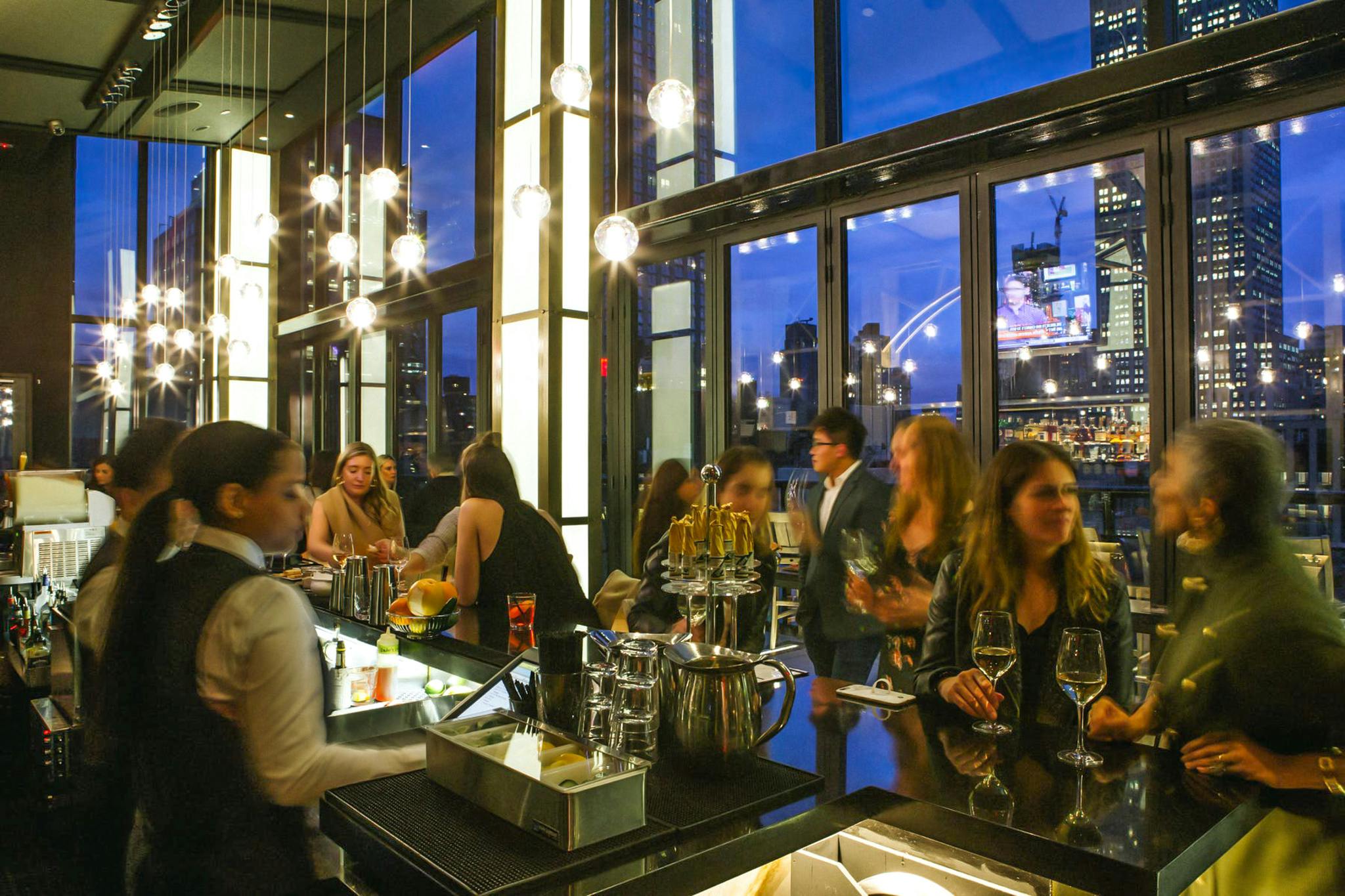 In the city of lights, there is no better place to take in breathtaking skyline views than high up in the sky. On the 22nd floor of New York City's Archer Hotel, Spyglass Rooftop Bar offers a welcoming atmosphere filled with craft cocktails and picture-perfect views of the Empire State Building. A 12-panel weather-performing folding glass wall offers an indoor/outdoor atmosphere year-round, extends the space to the outdoor terrace, and optimizes views throughout the seasons. Thermally efficient glass ensures guests remain comfortable in harsh weather even when standing right up against the wall.
Fahrenheit Charlotte, North Carolina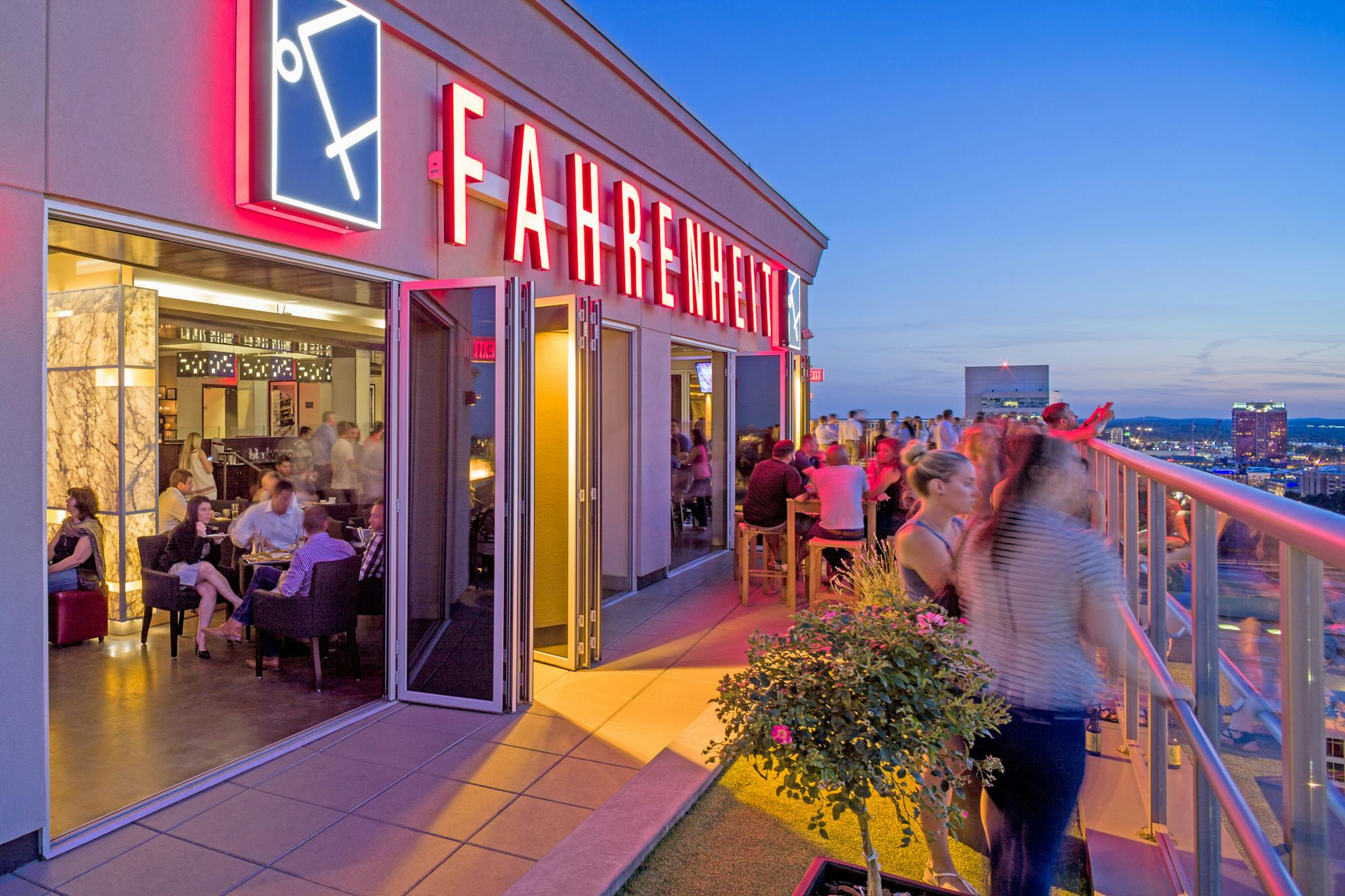 Established on the 21st floor of Hyatt Place hotel, this exhilarating rooftop venue capitalizes on a lively indoor/outdoor atmosphere and 180-degree skyline views of Queen City. The terrace boasts an array of linear fire pits, a social pool, seasonal greenery, a full-service bar, and six NanaWall SL70 commercial folding glass walls to create a free-flowing, high-energy ambiance amplified by fresh air, daylight, and the busy city below. Chef Rocco Whalen crafts an inventive American cuisine menu like nothing else you've ever tasted promising the finest, locally sourced ingredients in every dish. A must-see destination for locals and visitors alike!
Kōst Toronto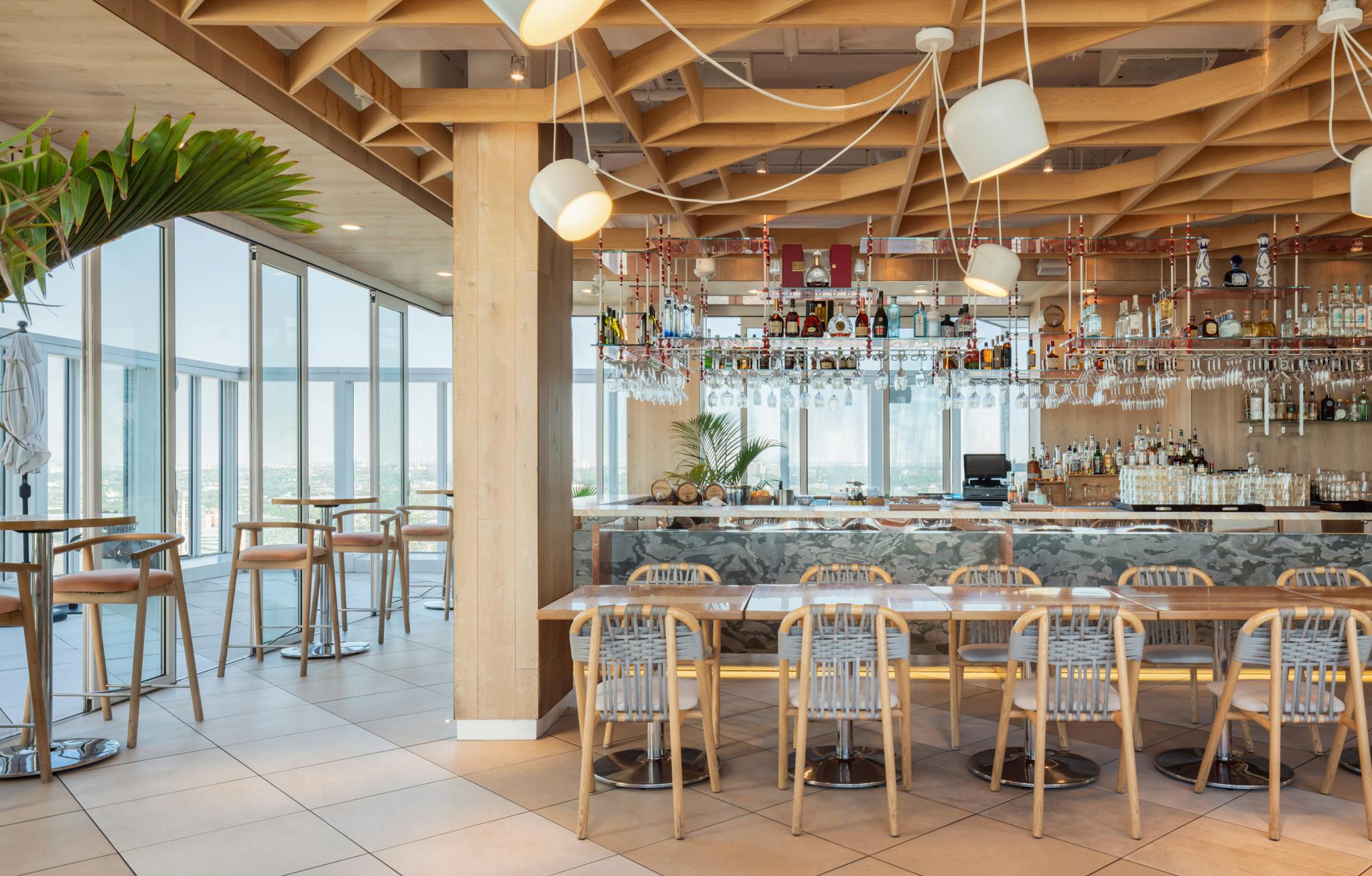 Talk about the ultimate rooftop destination! Kōst offers a lavish restaurant and lounge environment on the 44th floor atop the Bisha hotel in Toronto's bustling entertainment district. Featuring Instagram-worthy views of the city skyline and Toronto's famous CN Tower as well as a world-renowned infinity pool, this rooftop bar is a must-see attraction in the area. To maximize on views and square footage, Kōst leverages NanaWall HSW60 sliding glass walls that easily glide on an ADA compliant low profile saddle sill into a discreet parking bay. The perfect destination for both tourists and staycationers!
Offshore, The World's Largest Rooftop, Chicago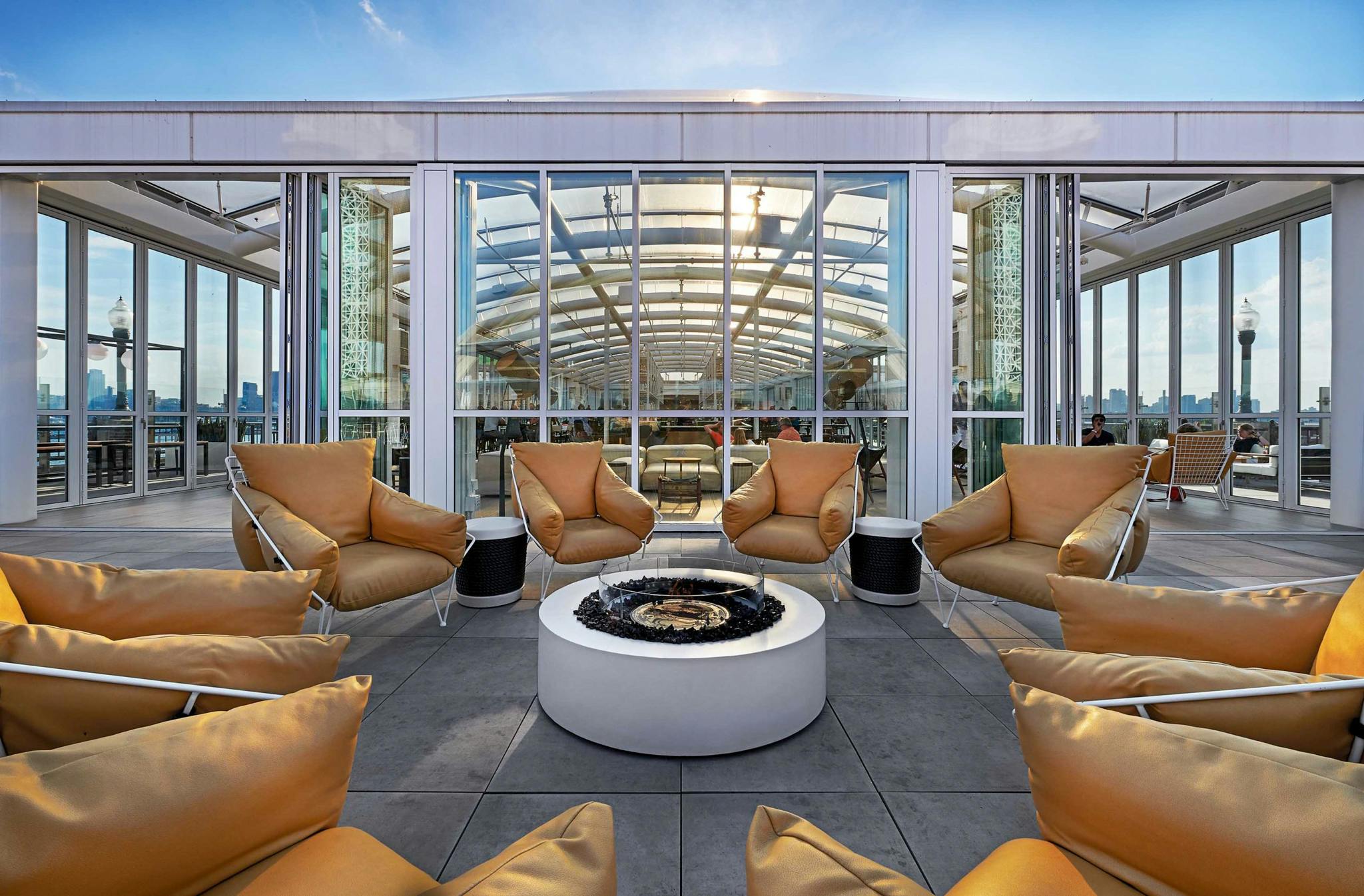 Photo courtesy of Great Lakes by Design
The largest rooftop in the world (certified by Guinness World Records) is a bright and airy gathering of panoramic views, appetizing food, and entertainment. The nearly all-glass building features a 20,000 square foot terrace, fire pits, a full bar, and numerous gathering spaces for private and social events. Multiple NanaWall SL70 commercial folding glass walls allow walls to disappear and optimize scenic views of Lake Michigan. In harsh climates, these weather-performing systems keep the elements out and ensure comfort indoors even when sitting right up against the glass, allowing this crowd-drawing venue to remain open year-round. Offshore rooftop and bar are sure to guarantee record-holding entertainment!
Castell Rooftop Lounge, New York
A classic all-season rooftop bar and lounge seated above glistening city lights, the Castell Lounge at the AC Marriott combines stellar views of New York City with a cozy, modern feel. Featuring the NanaWall SL70 folding glass wall system, Castell Lounge makes it easy for guests to enjoy the outdoors during warmer months and the views in the cooler months. The sophisticated yet comfortable atmosphere at Castell capitalizes on handcrafted cocktails, shareable plates, a cozy outdoor deck, and panoramic views of Times Square. The perfect backdrop for a casual night out or for hosting a lively private event!
Bourbon Steak, Nashville
It's like you're floating on air. Atop the 34th floor of Nashville's JW Marriott, renowned chef Michael Mina's Bourbon Steak offers a sophisticated blend of artfully crafted cocktails, a compelling menu, and 360-degree views of the Nashville skyline. Unlike any others in the area, this dining/lounge space offers the ideal indoor/outdoor rooftop atmosphere with vanishing walls that open the restaurant to fresh air and daylight. The segmented curve sliding glass wall system that wraps around the outdoor terrace is an attraction on its own. Thirty-four individual top-hung panels easily glide on a stainless steel track into two specified parking bays to facilitate a remarkable 90-foot opening that creates an exhilarating floating on-air feeling. It's like Bourbon Steak would describe: a rare experience, well done.
Assembly Rooftop Lounge, Philadelphia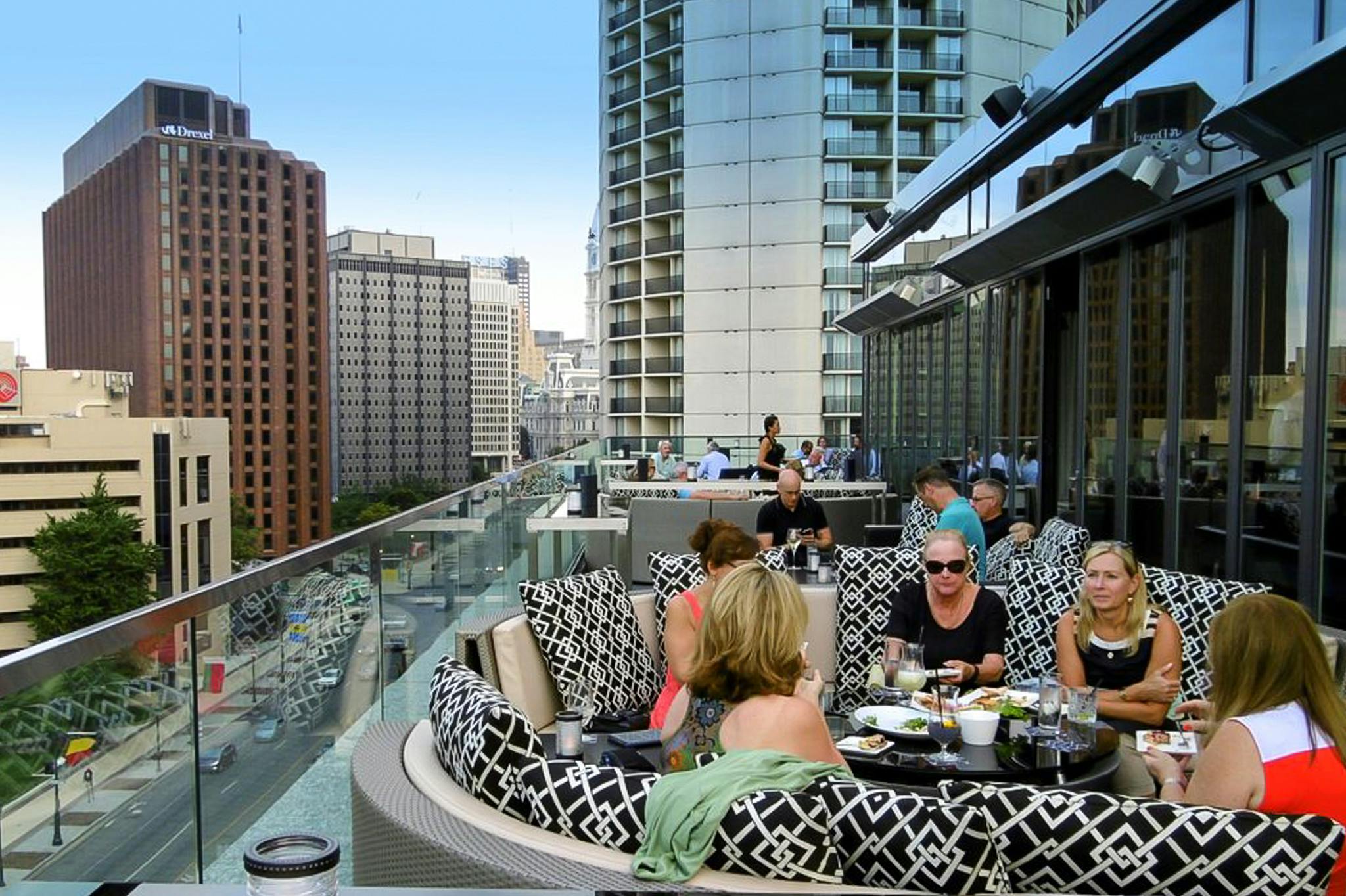 Located nine stories high above The Logan Philadelphia hotel, Assembly Rooftop Lounge offers panoramic views of Philadelphia's art and museum district. Comfortable sitting areas and firepits adorn the extensive terrace for lounging and socializing while multiple commercial folding glass doors seamlessly blend the indoor area with the outdoors. During harsh weather, the walls can easily close to provide protection from the elements and offer a comfortable year-round dining area. The NFRC certified NanaWall SL70 has been independently tested for air, water, structural, thermal, and operation with excellent results. This rooftop destination is the perfect spot to unwind after a long workday and enjoy the sunset as it vanishes down the horizon.
Ole Red, Nashville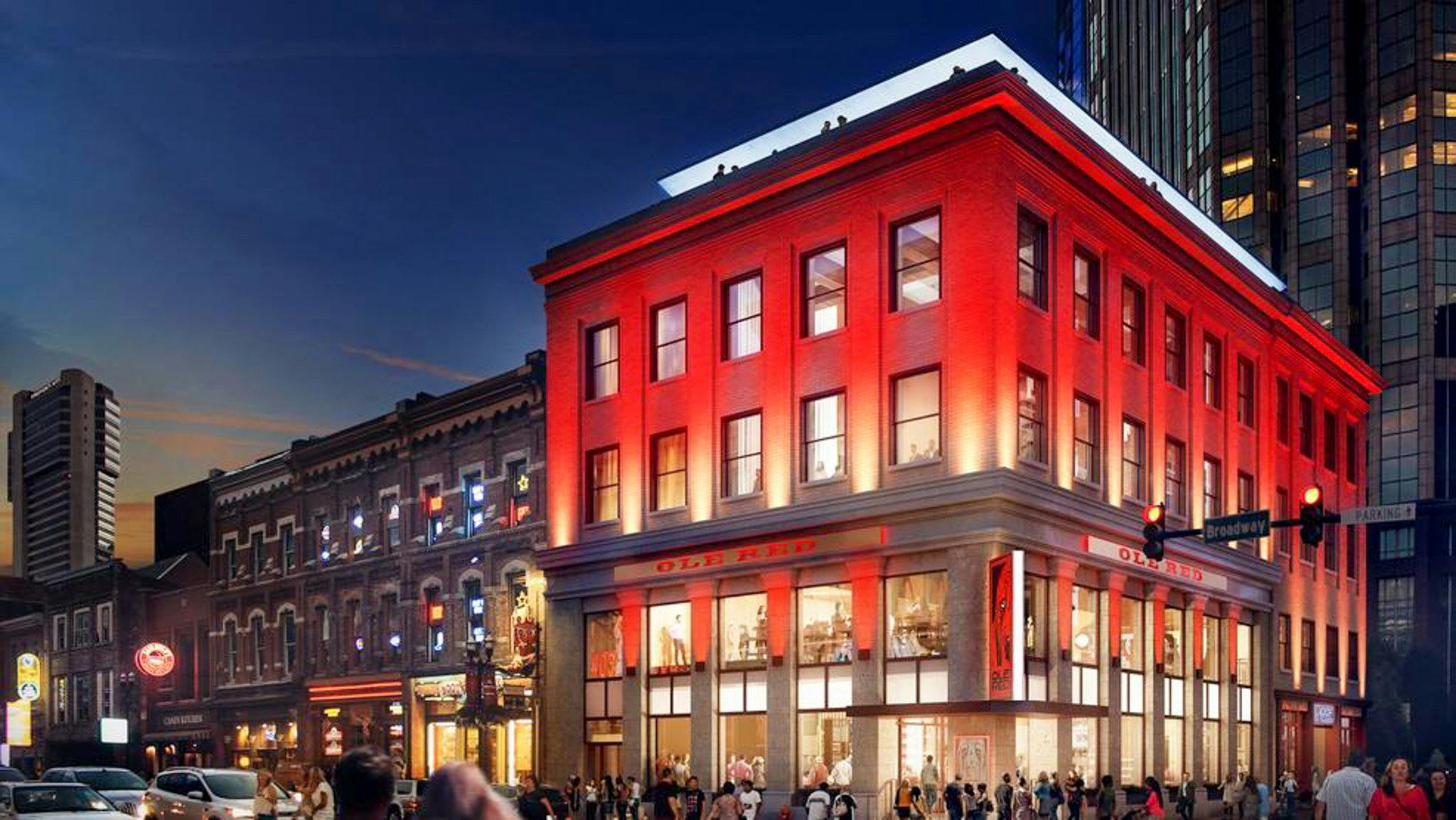 Blake Shelton's Ole Red restaurant is a vivacious Nashville destination filled with live music, traditional food, and an indoor/outdoor rooftop bar overlooking the city. The entire five-story building is dedicated to entertainment with a stage for live music, a mezzanine for lounging, a private event space, and of course, the rooftop bar. Retractable sliding glass walls open up the indoors to an extensive terrace overlooking the city's skyline and downtown area while also providing protection during cold winter months. This is the go-to place to enjoy the full country experience with authentic music, food, and atmosphere!
Zona de Cuba, New York City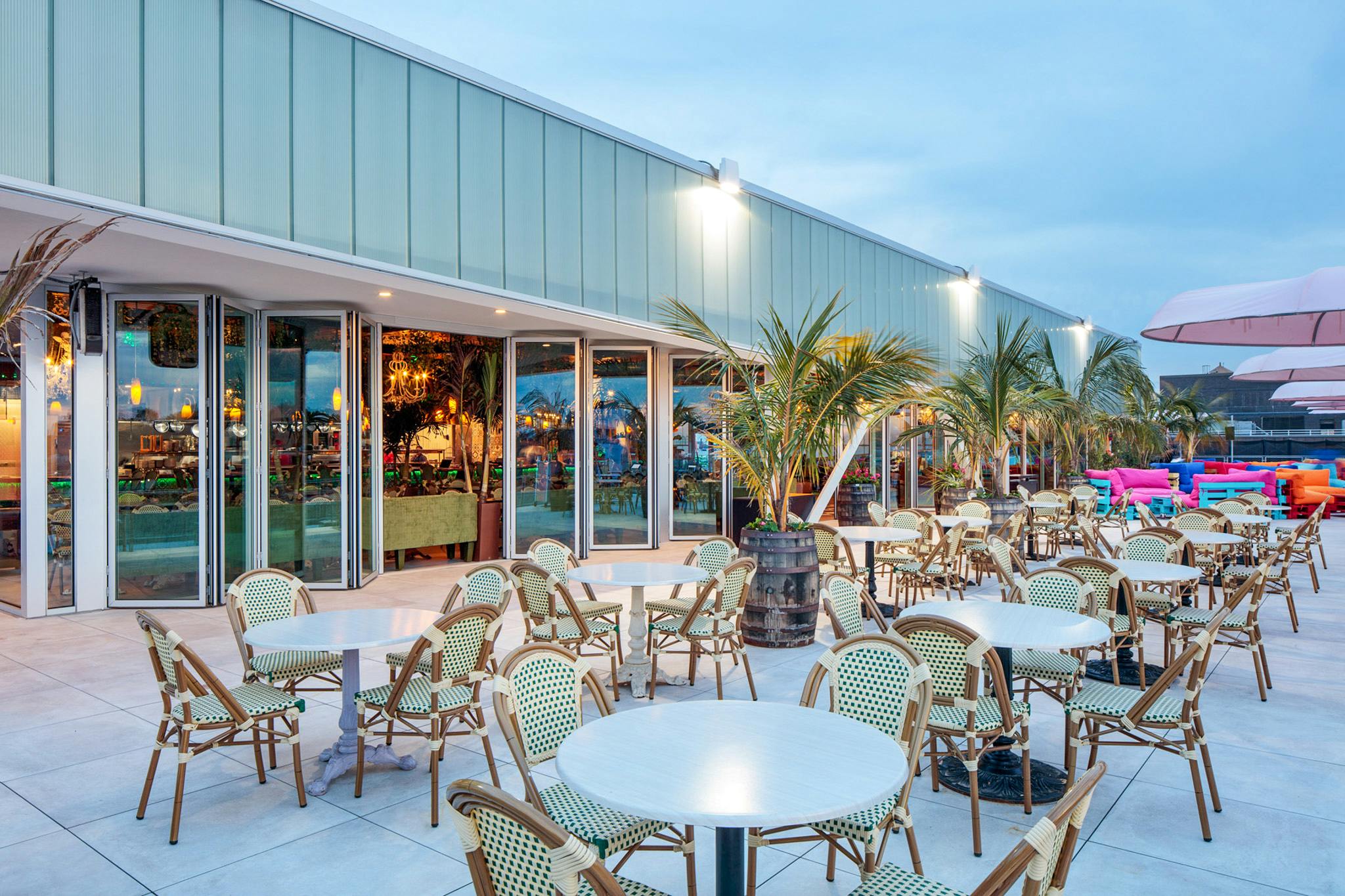 Atop a federal landmark building in NYC's South Bronx, there is a little slice of Havana. Zona de Cuba is a lively indoor/outdoor rooftop destination that optimizes on views of East River and Manhattan with three wide opening commercial glass walls. On the patio, the line of tables with broad umbrellas and rows of brightly colored lounge chairs gives the overall impression of a poolside deck at a Caribbean resort. The restaurant operates with the commercial folding glass walls folded open during much of the year, except in the presence of inclement climate when the systems' weather performance is leveraged to offer year-round entertainment.
The Lookout at the Pyramid, Memphis
The Pyramid is a renowned landmark in Memphis, Tennessee housing not only a Bass Pro Shop megastore but also Big Cypress Lodge and The Lookout at the Pyramid. This rooftop restaurant and bar can only be reached by taking the world's tallest freestanding elevator 28 floors up where you'll be met by appetizing American cuisine, a bar circling a large cylindrical aquarium, and 360-degree views of the surrounding Blues City. Two weather-performing commercial folding glass walls create a 39-foot opening that offers clean sightlines and protect from harsh weather year-round. Whether you're lodging in or simply enjoying a night about town, The Lookout is a must-see landmark that guarantees awestriking sunset views over the Mississippi River.
Final Thoughts
There is no doubt that rooftop bars will remain a popular destination for years to come. They offer guests an unconventional yet comfortable dining experience that capitalizes on the outdoors—not to mention picturesque locations. Around the country, some of the best rooftop bars offer four-season entertainment, even in the harshest of climates, with the help of moveable commercial glass walls. Specifically engineered for high-rise applications, these systems were built with weather performance, durability, and ease of operation in mind. Spend less time worrying about the weather and more time socializing at these sky-high destinations. Which rooftop bar will you be checking off the list!?
Learn more about how other rooftop bars and restaurants leverage retractable commercial glass walls to create year-round entertainment in our extensive applications library!