Design Inspiration 10 Dining Room Ideas with Folding Glass Patio Doors
By NanaWall Systems, March 2, 2022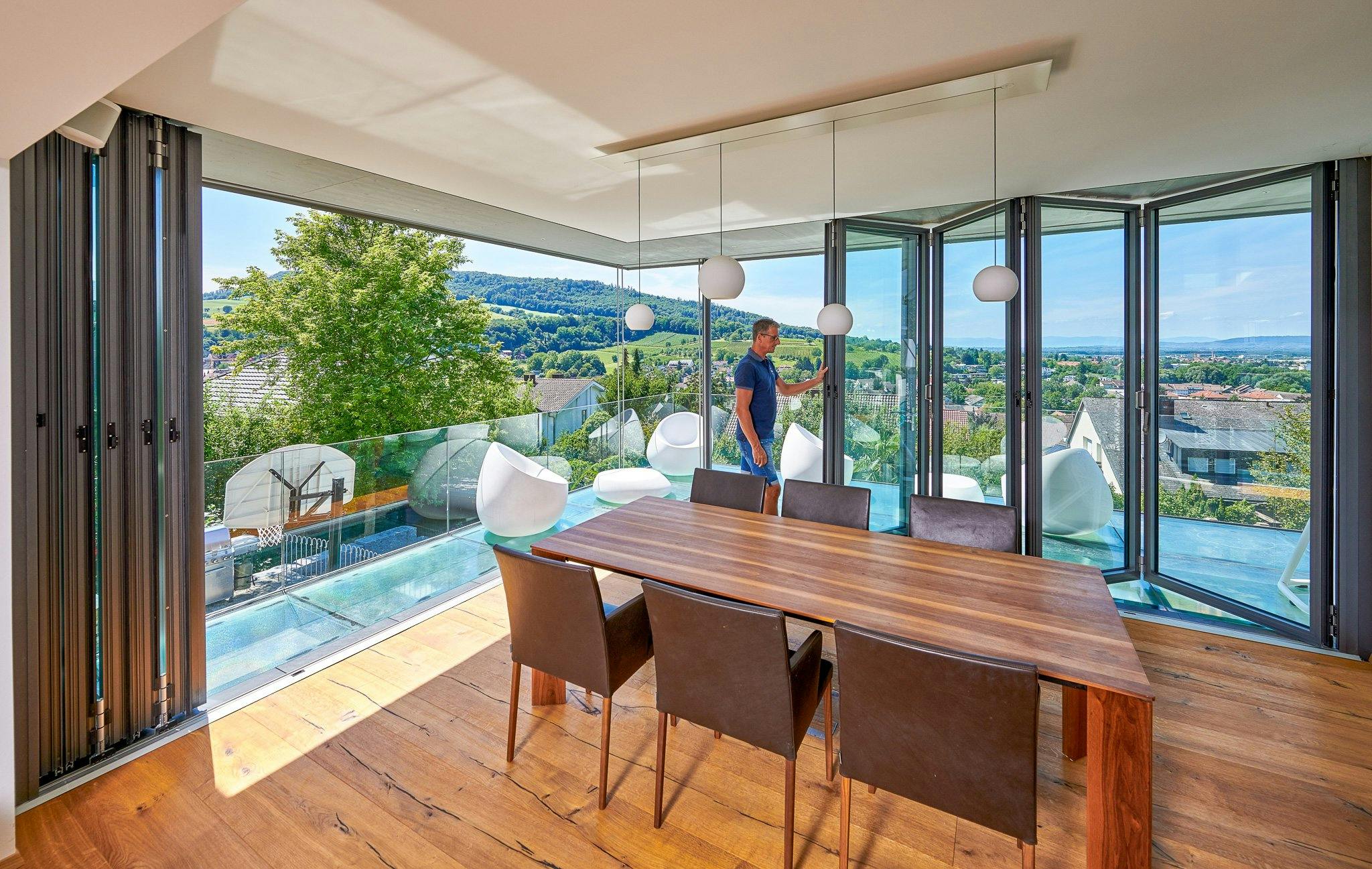 Imagine enjoying a relaxing night of eating alfresco without leaving the comfort of your dining room. Compared to conventional windows and doors, folding glass patio doors allow for large wall openings that seamlessly open interiors to the outdoors. So, if you want to elevate the home experience and give guests something to talk about, moveable glass doors would do the trick. Think you need more proof? Check out how these homeowners upgraded their dining rooms with the indoor/outdoor lifestyle for a relaxing yet luxurious dining experience.
10 Dining Room Designs with Folding Glass Patio Doors
1. Magical Sunsets and Changing Canopies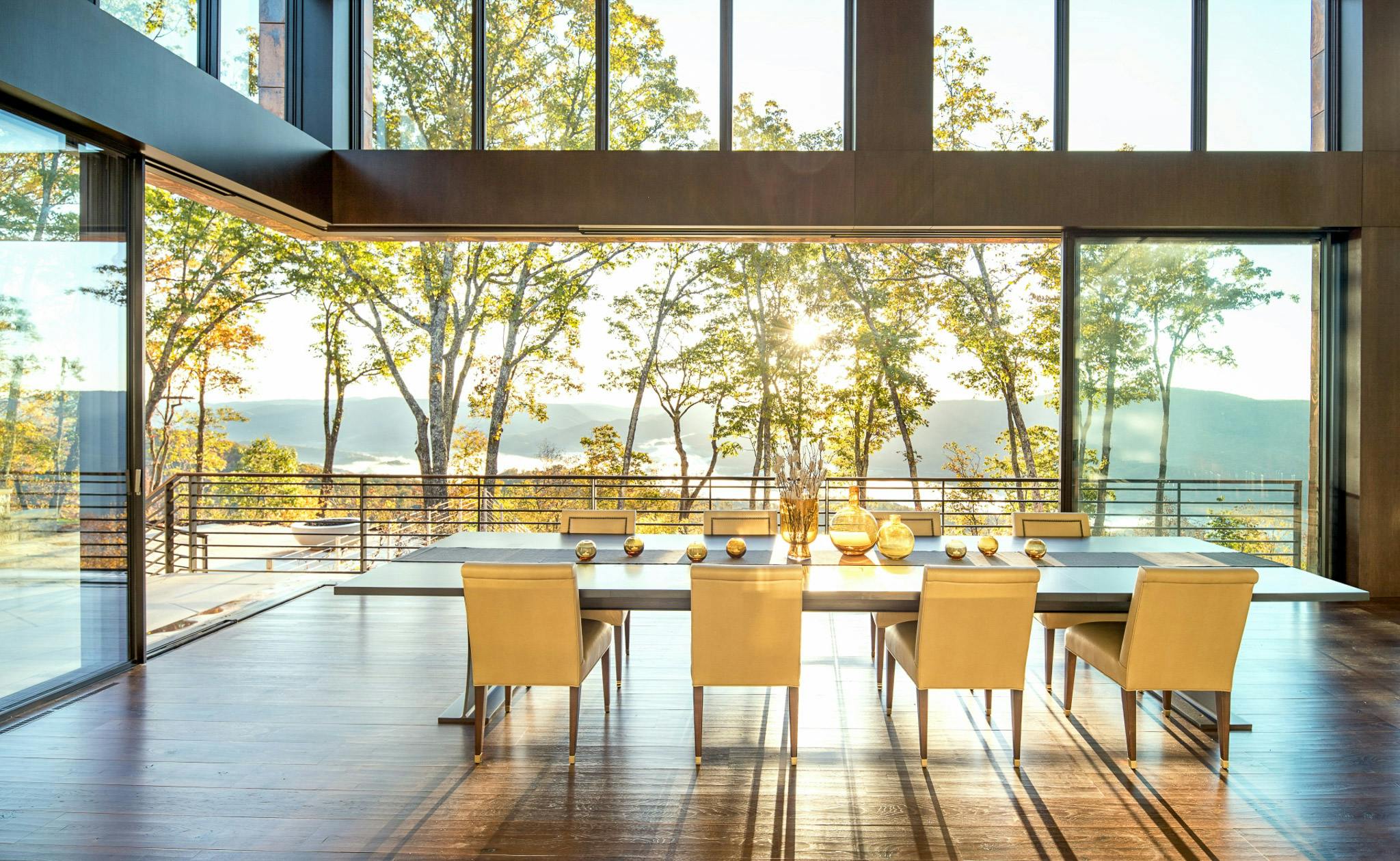 At this West Virginia residence, the views never fail to leave one awestruck. A floor-to-ceiling glass open corner specification cero by NanaWall minimal sliding glass walls completely open the space to the outdoors, almost as if there were no walls at all. The views are optimized throughout the year, and the homeowners can enjoy watching the changing colors of tree canopies through the seasons while enjoying a nice meal at the dinner table.
2. Edgewood Residence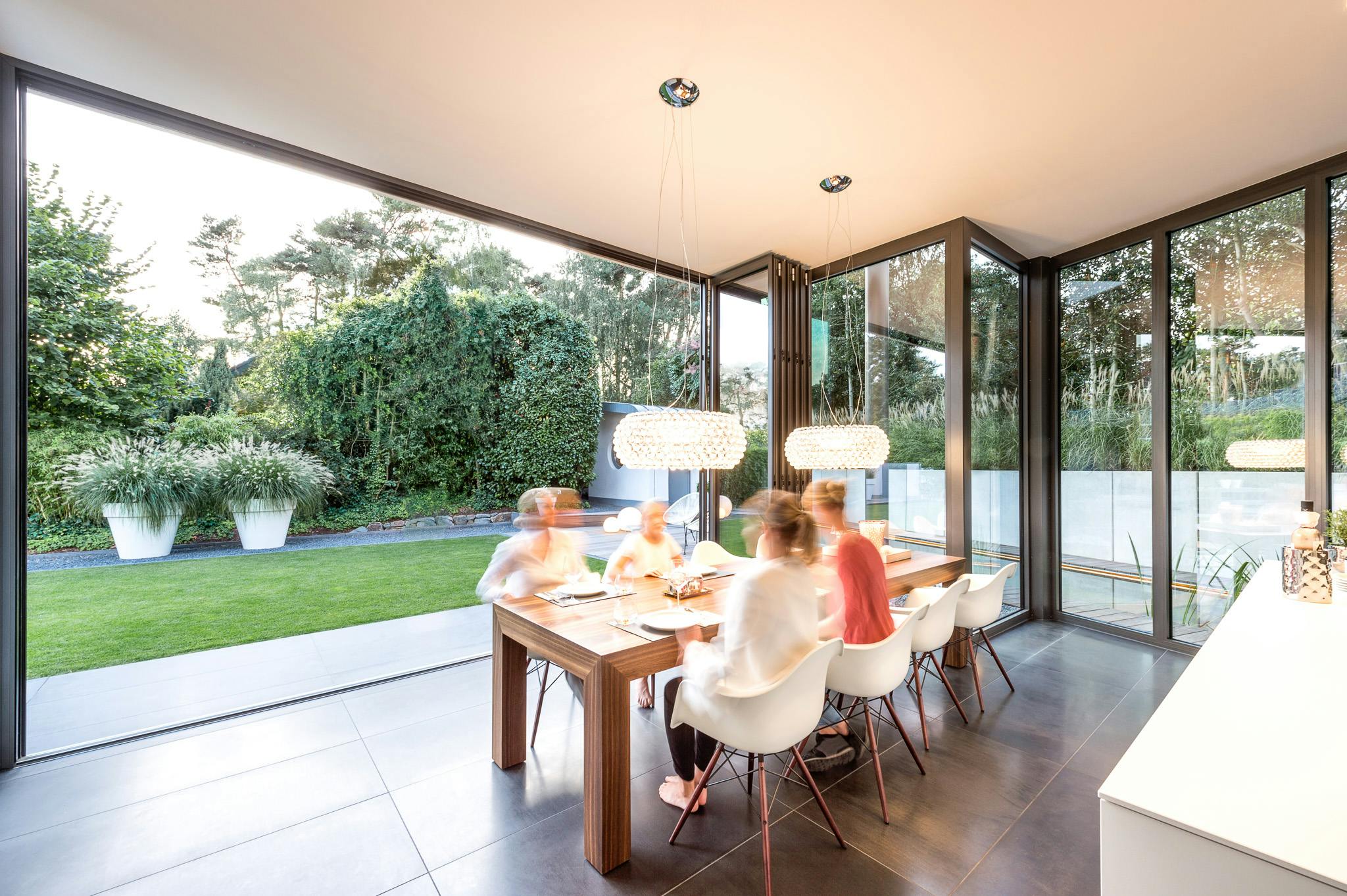 Make gatherings a breeze—quite literally. When entertaining guests and family, the homeowners at this residence can open the easily operable moveable glass doors to extend the fun to the outdoors. The customizable aluminum frames powder coated in black perfectly match the aesthetic of the fixed walls adjacent to it and elevate the contemporary feel of the home. Enjoy a nice night of alfresco dining before easily transitioning to the pool outside!
3. Intimate Dinners by the Fireplace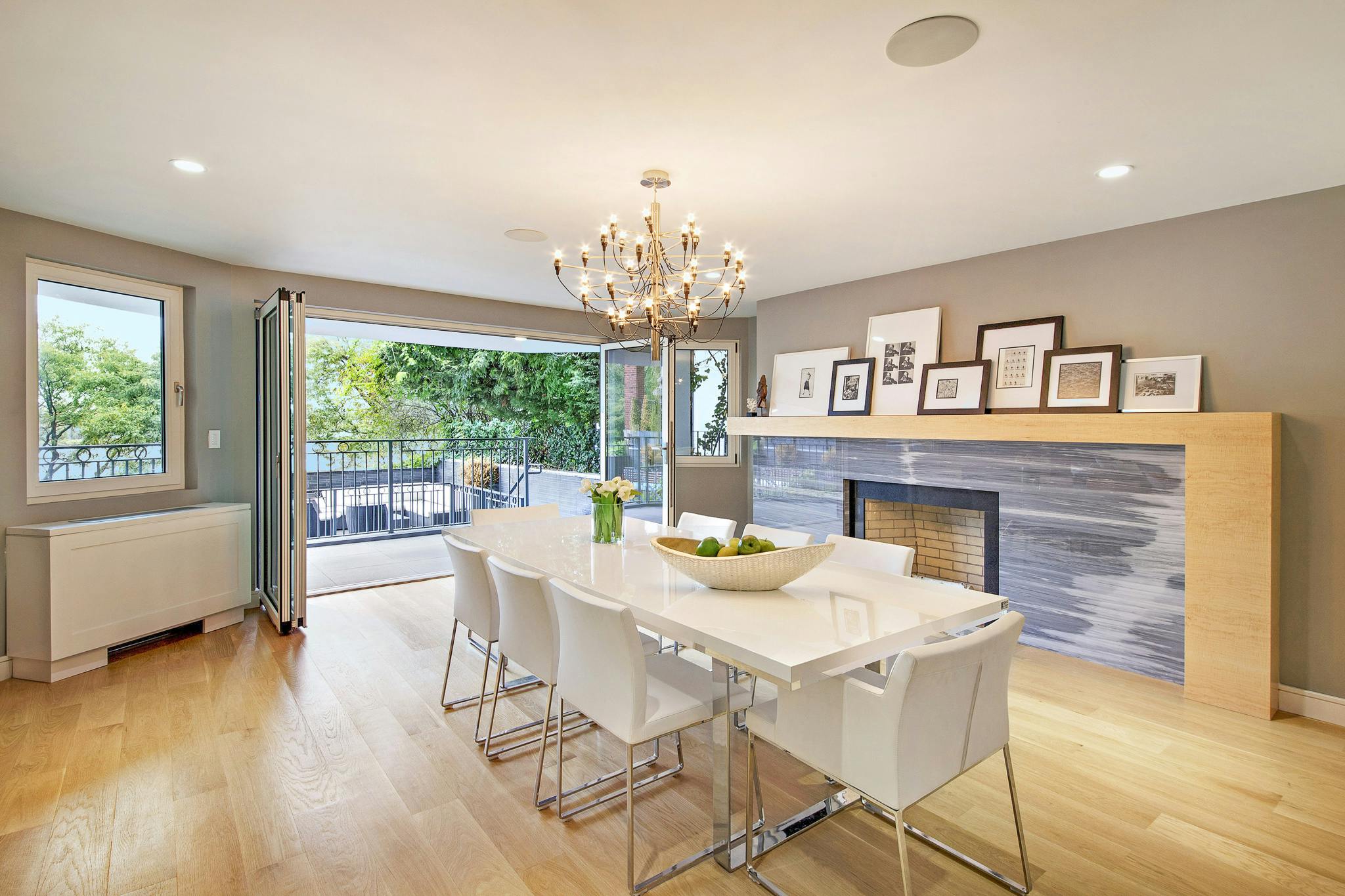 This dining room inside a New York City residence is the ideal backdrop for intimate family dinners. Imagine sitting by the fireplace as a nice warm summer wind blows through the folding glass patio doors. In the morning, when the sun is at its brightest, the transparent panels diffuse sunlight to naturally brighten the interior space without the need for artificial lighting. In the city where outdoor space is scarce, the indoor/outdoor experience becomes a prime luxury. We certainly wouldn't mind having breakfast here!
4. Soft Color Palettes and Wooden Frames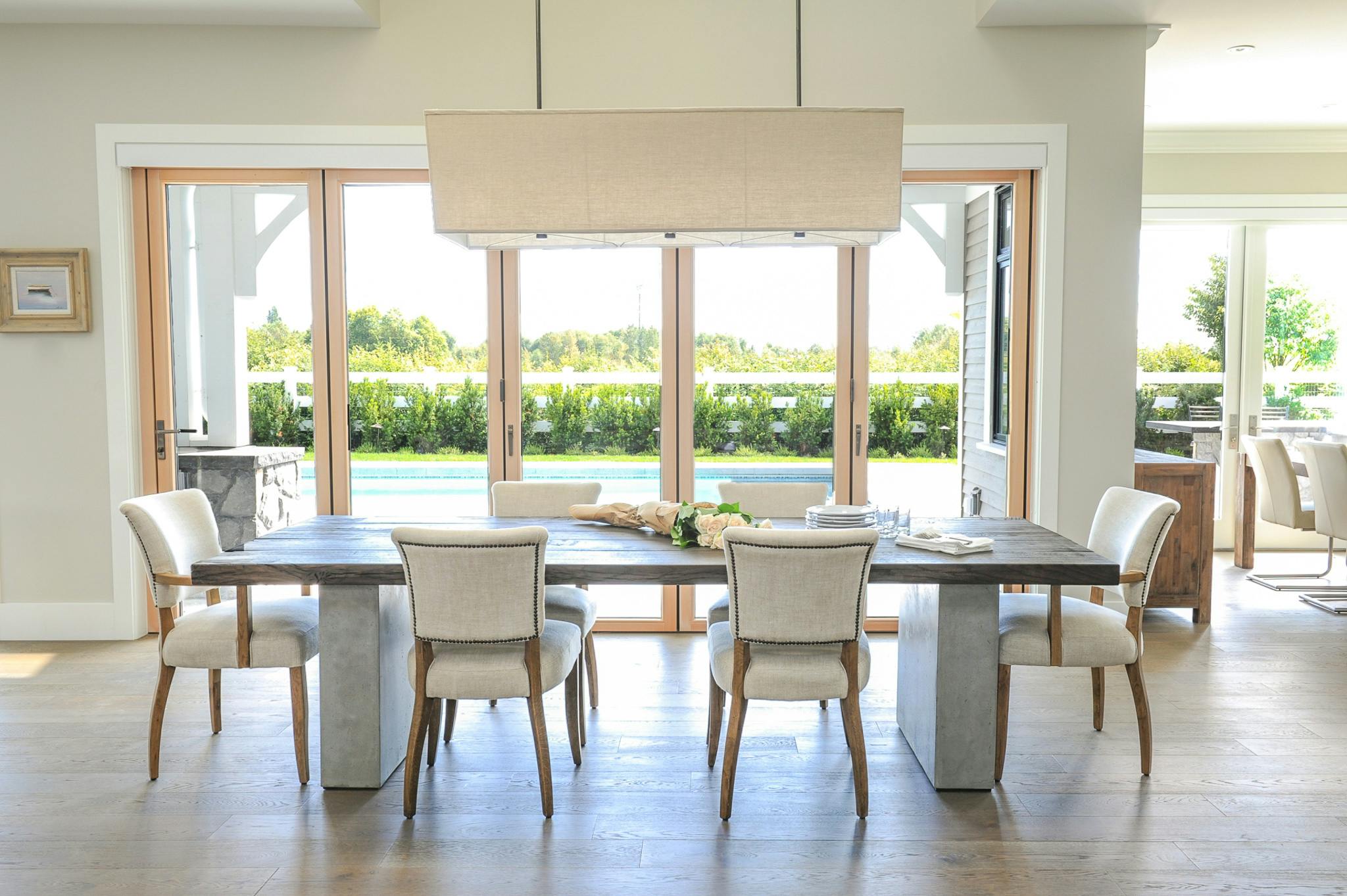 Looking to add a bit of conventional charm or to complement your home without tainting its traditional charm? Then wood framed moveable glass doors are the ones for you. This residence leverages aluminum clad glass patio doors, which means they enjoy the weather performance of aluminum on the outside while customizable wood frames on the inside complement the home's interior design aesthetic. The best of both worlds in one single system!
5. Cabin Vibes and Creekside Sounds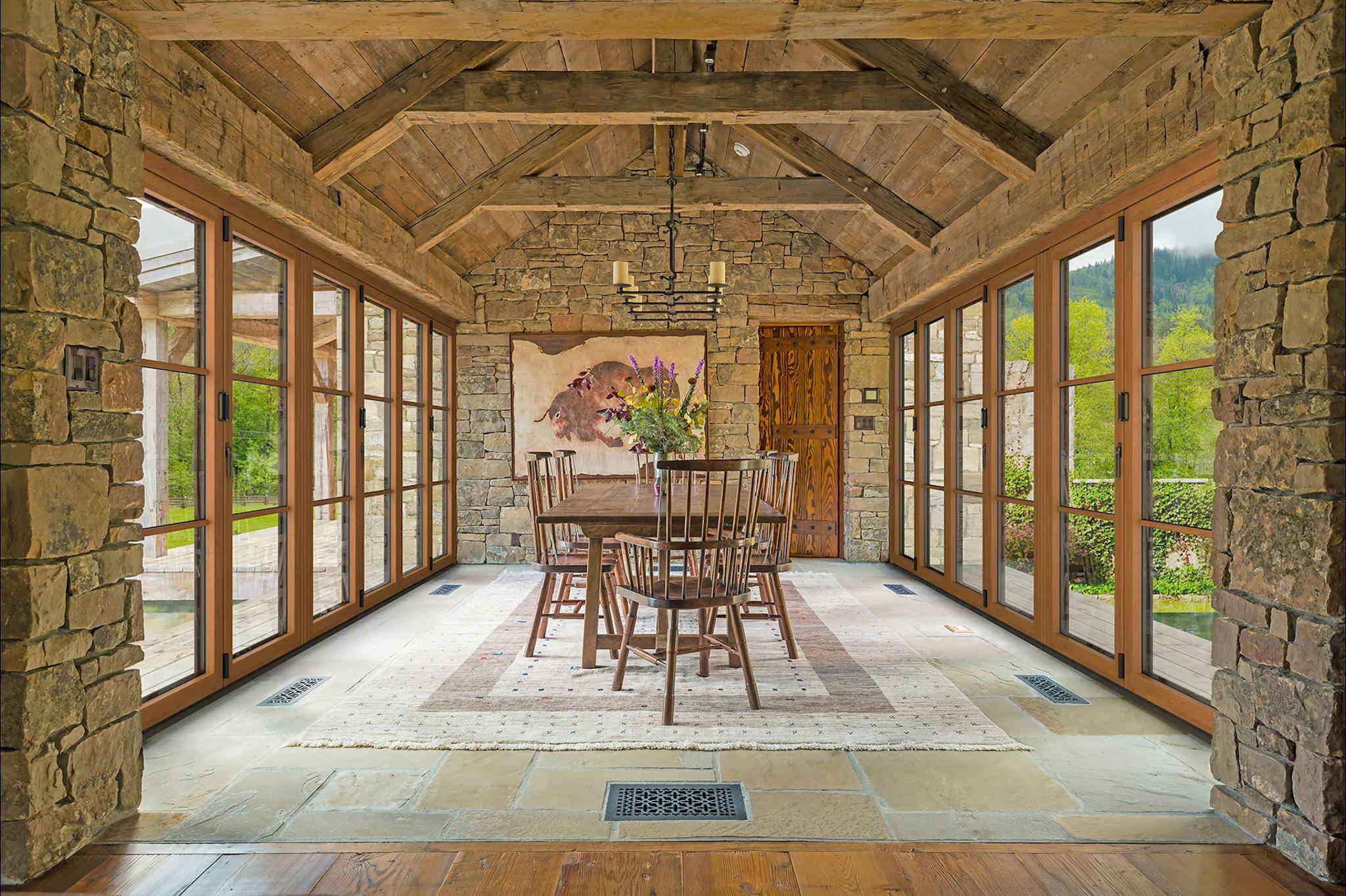 Doesn't everyone dream of owning a nice little cabin in the woods? For these homeowners, mountain living takes on another level with a dining room that opens to the woodland environment and a flowing creek right below! Two aluminum clad folding glass patio doors open both sides of the room for a full, authentic immersion with nature, its sounds, and its elements. The customized simulated divided lites add on a touch of charm and complement the rest of the home's fenestration. It's almost as if we could hear the birds and rushing water from here!
6. Minimal with a Touch of Bold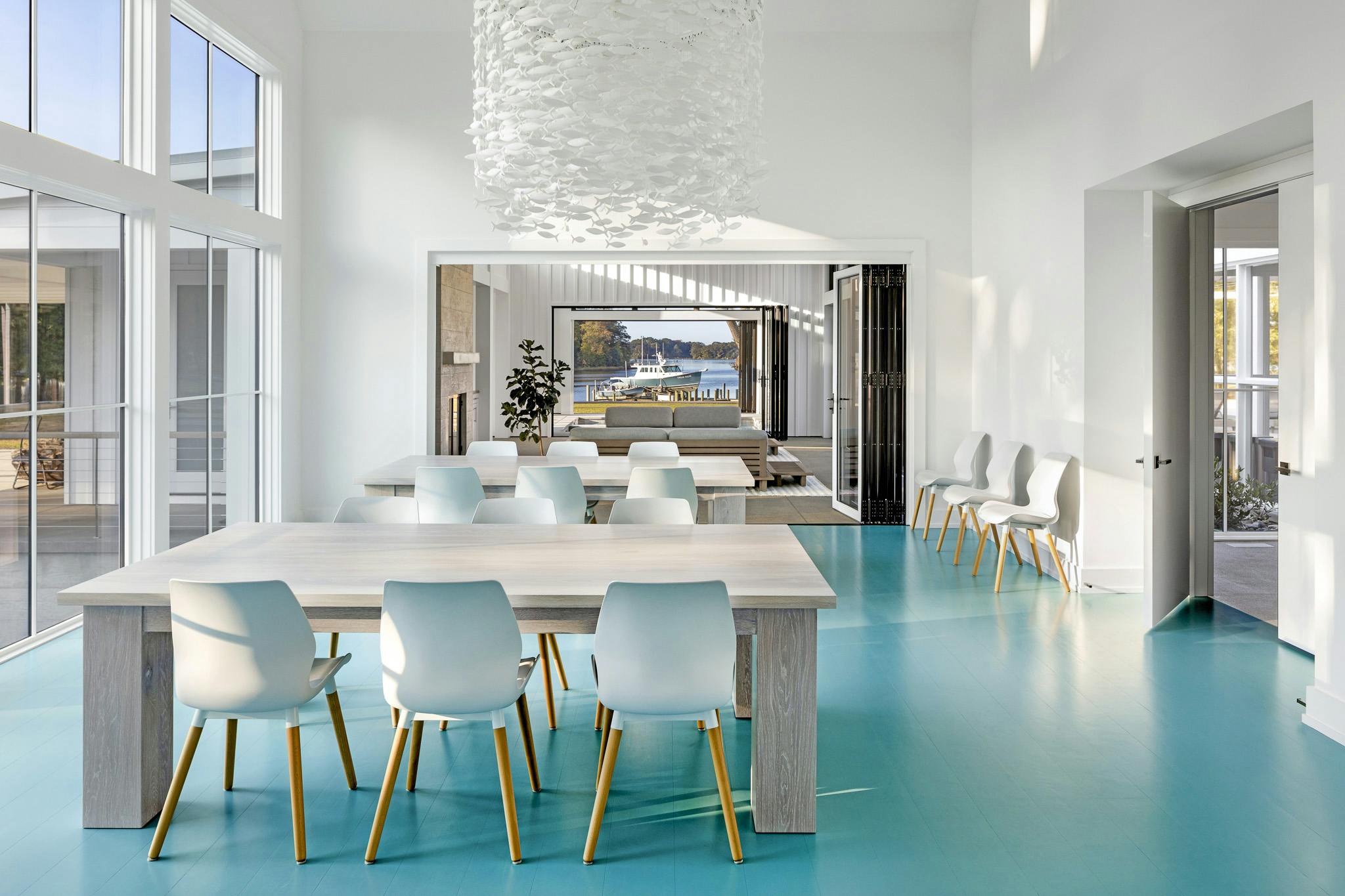 There are so many captivating elements in this contemporary Maryland estate. From the bold, aqua-colored floor to the tunnel-like effect of the moveable glass doors. What you can't see are the other four folding glass patio doors that connect the dining room to an indoor/outdoor living space and a covered "splash pool." The weather-performing systems open up all three spaces to the extensive property and limitless recreational possibilities. We can only imagine the gatherings that occur at this residence!
7. Views That Keep on Giving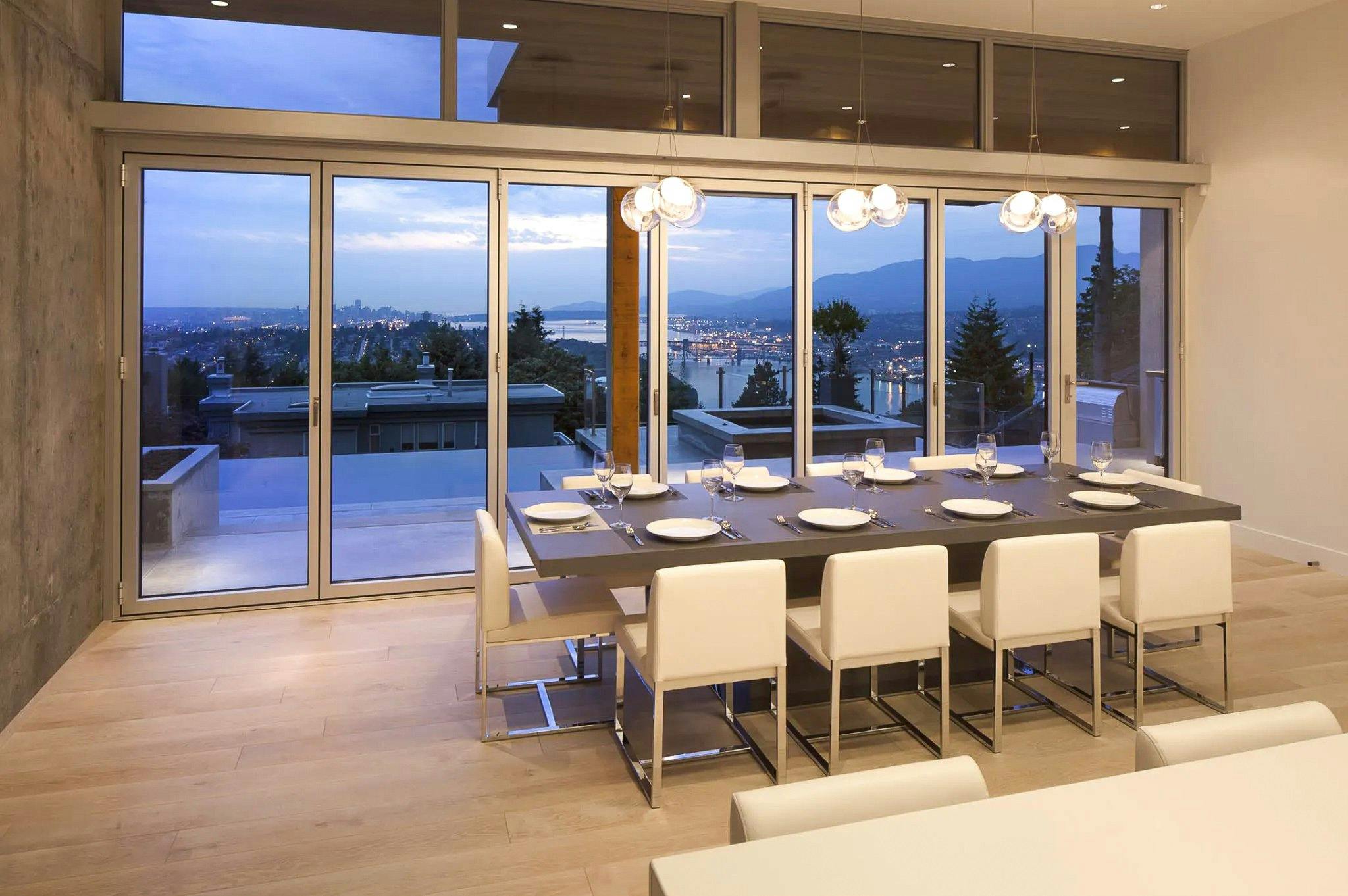 An elegant environment with views of Vancouver city lights and flowing waters make dinner time an occasion. At this contemporary home, the aluminum framed moveable glass doors create a wide opening that not only showcases the landscape but also offers a seamless transition to the large infinity pool just a few feet away—even when closed thanks to a specified swing panel. Better yet, the energy-efficient system protects from cold and inclement weather!
8. Take Dining Outside—In Hawaii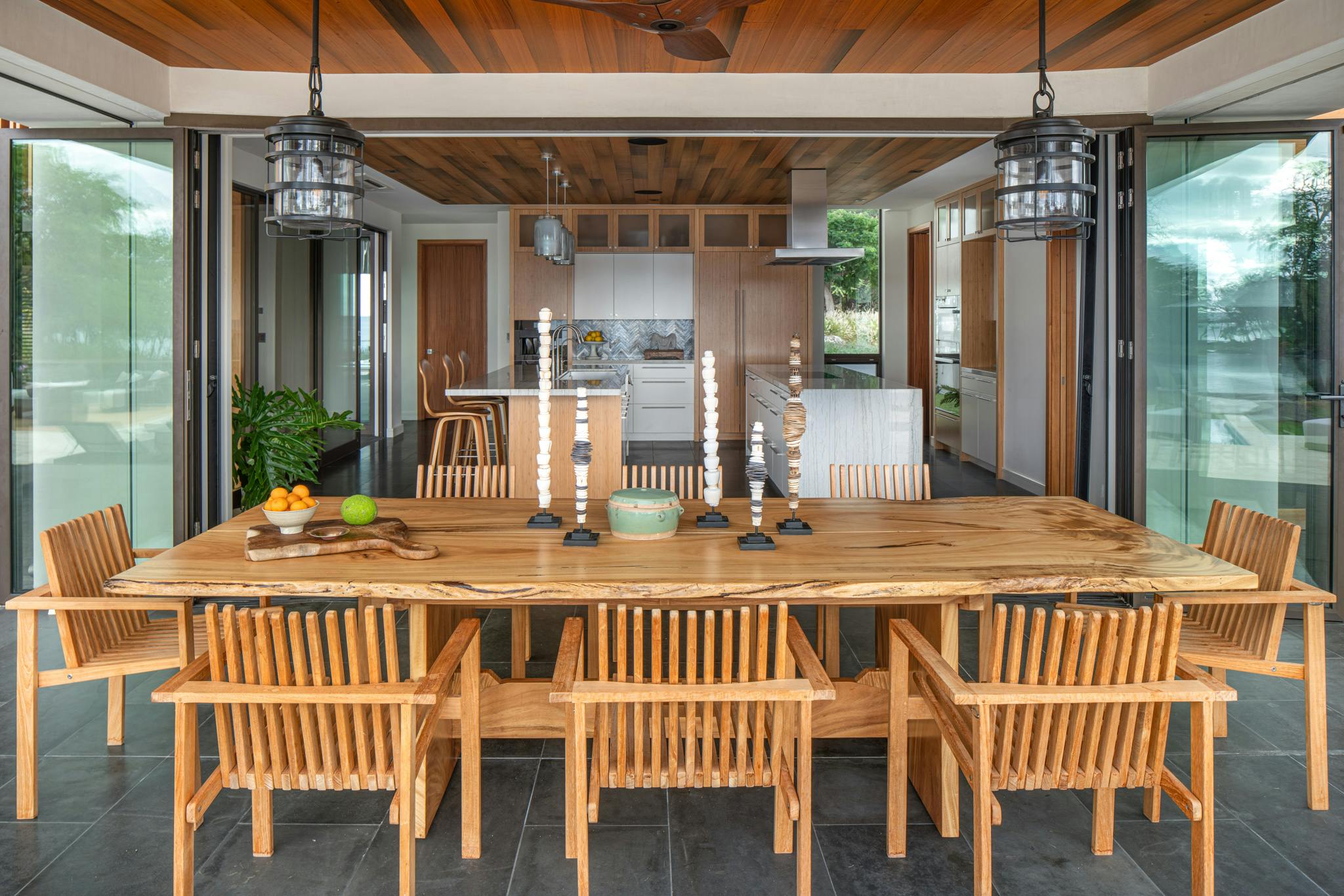 Vacationing in Hawaii just got a whole lot better, at least for those lucky enough to stay at this sprawling Airbnb vacation home. Every ocean-facing room was elevated with NanaWall folding glass walls to optimize the indoor/outdoor experience and offer guests an immersive stay with the local environment. The kitchen transforms via a FoldFlat® configuration that opens and folds all the way back to maximize the outdoor dining space for enjoying a meal with the sights and sounds of the ocean beyond!
9. Open Corners Enhance Views to San Francisco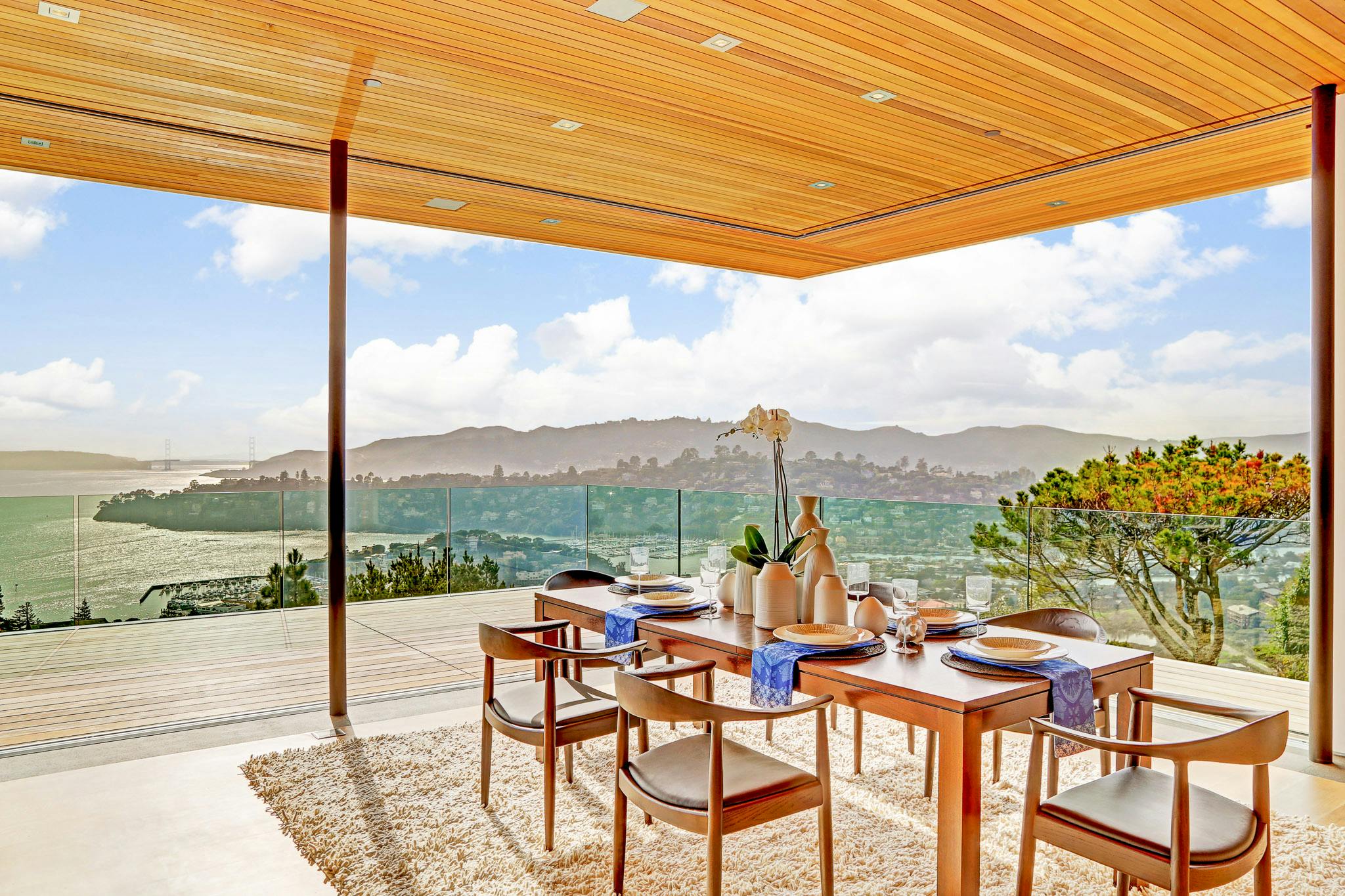 With views like that who wouldn't want to tear down the walls? Every room of this Tiburon residence opens to the awestriking views of the San Francisco Bay and its iconic bridge. Sliding glass walls capable of gliding around corners were the ideal design solution to eliminate fixed walls and deliver a truly one-of-a-kind indoor/outdoor living experience. With a barely-there single track, you would never know that walls existed at all!
10. Dining Room or Home Office?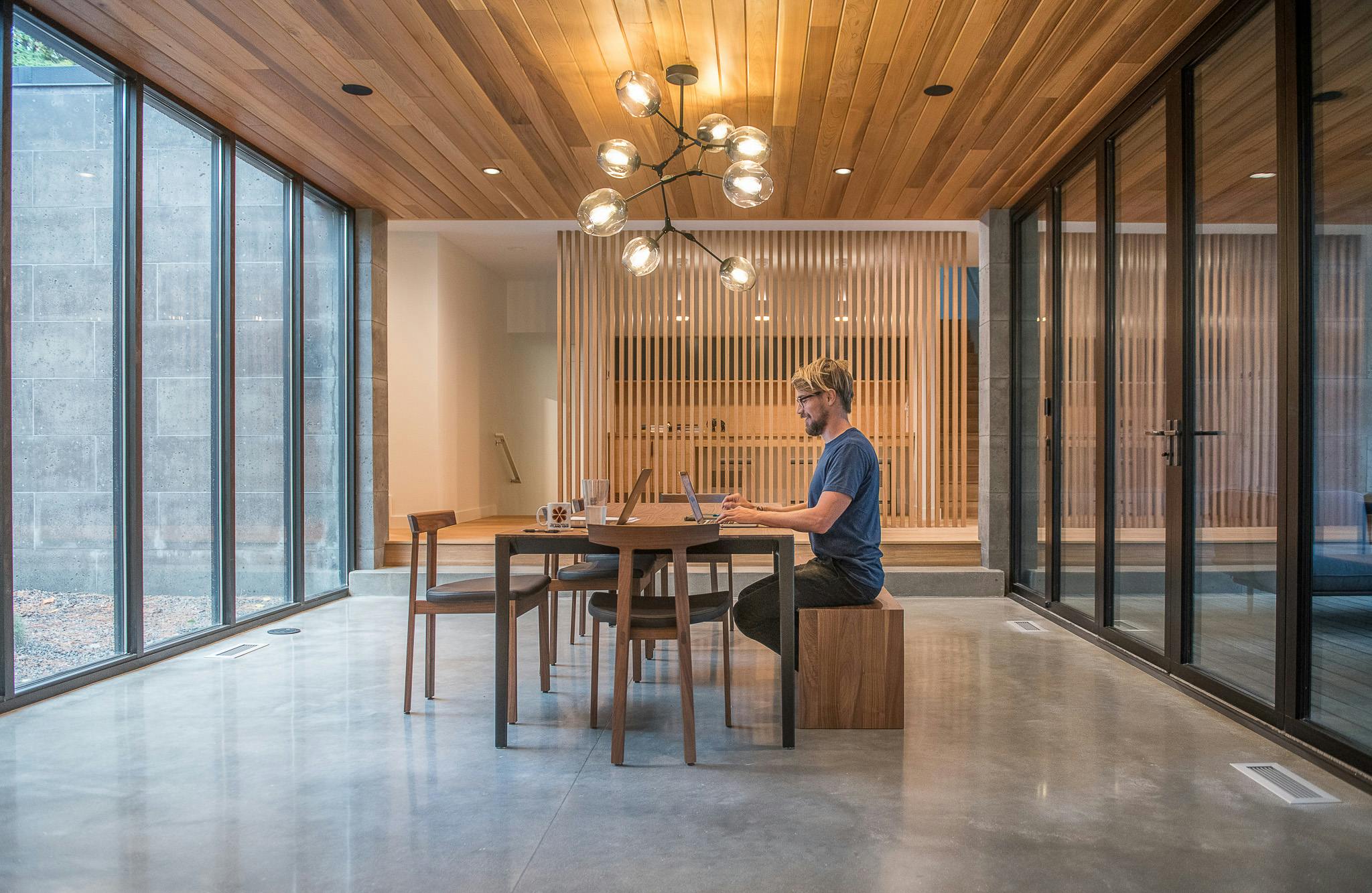 With more companies embracing a remote approach to working, many dining rooms have doubled as home offices, completely redefining the functionality of these spaces. At this Minnesota residence, folding glass patio doors offer the utmost flexibility for the family, opening the dining room to the adjacent four-season room for expanded social entertainment. The space can be closed off when not in use or when work (unfortunately) must be conducted.
Final Thoughts
Are you dreaming about calming alfresco dining nights? We don't blame you. These beautifully designed dining rooms offer plenty of design inspiration and ideas for elevating our homes. Customizable NanaWall moveable glass doors, whether they be folding or sliding, offer a flexible design solution that elevates your home with the indoor/outdoor experience as well as the health benefits and space maximization that come with them. With over 200 powder coating options available, you can also customize your wood or aluminum frames to best complement your design aesthetics. So, what are you waiting for? Get on renovating!
Discover how other homes leverage NanaWall folding glass patio doors in their dining room in our extensive project gallery!