Designs that Inspire: 5 Glass Wall Design Ideas for Office Interiors
By NanaWall Systems , July 1, 2019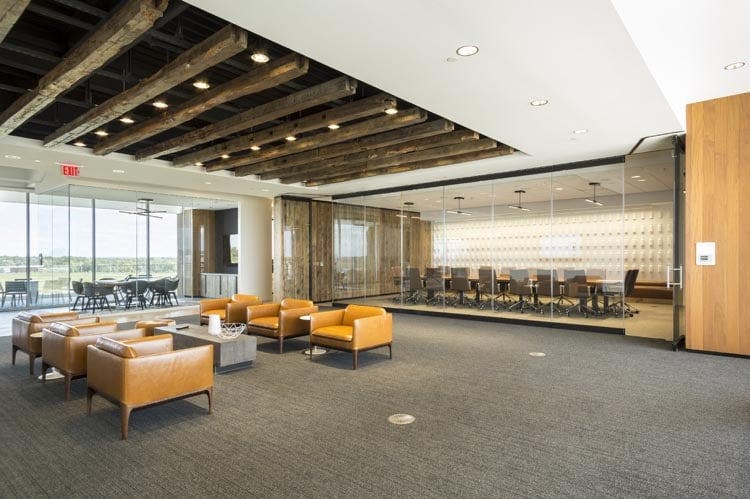 Glass wall designs are made from glass walls or a partition comprised of glass panels and typically offer property owners extra privacy and safety benefits, like soundproofing. Most glass walls for office interiors are made from tempered glass and on occasion, are laminated. Glass wall designs are made to enclose all types of spaces and accommodate open floor plans.
The number of commercial office buildings using glass wall designs is increasing because research has demonstrated that glass partitions have several employee benefits at work, including increased productivity and better focus.
Not only do glass wall designs provide employee productivity benefits, they also offer affordable flexibility for commercial buildings, which often evolve in size and design based on the company's growth rate. Some offices will need to expand and require design options that offer them flexibility later, which is something that glass walls for office interiors do provide.
Why Is Office Interior Design So Important?
Nowadays, most companies derive a sense of pride from inspiring employees and customers, and office interior design has become an important part of that process. After all, the appearance of one's office tells customers a lot about that business, and often makes the first impression that can be imprinted later. That's why it's important to create an office interior design where the client feels comfortable and interested in what the office has to offer.
A person's work environment can affect that individual's productivity and mood, meaning the way an office appears can also affect the daily experiences of the office's employees. This leads to employee retention. If an office is well-maintained, updated, and offers plenty of interior sliding walls and glass walls for natural light, the result is typically happier, more productive employees. Adding glass walls and opening glass walls also offers the office a design option that can look wonderful with any office's already existing interior design.
Glass Wall Designs and Office Space
Glass wall designs are currently rising in popularity for a variety of reasons. Offices receive many benefits from installing operable glass walls onto their commercial buildings, including better privacy, boosting the health of their employees, better productivity, cutting back energy costs, promoting openness in the office, bringing better collaboration, and improving sustainability. Plus, opening glass wall designs are attractive, adding a touch of modern ambiance to a building's appearance, and offer a lot of flexible choices when it comes to designing office interiors. One of the reasons glass walls are so popular is that they offer a wide variety of design options and can match just about any pre-existing interior design scheme. This functional design element can be added to existing interiors to add flexible multipurpose space and open, close or divide conference rooms or independent offices.
To give you some other ideas about what glass wall designs can offer to your potential customers, we'll cover five operable glass wall design ideas you can bring into any office.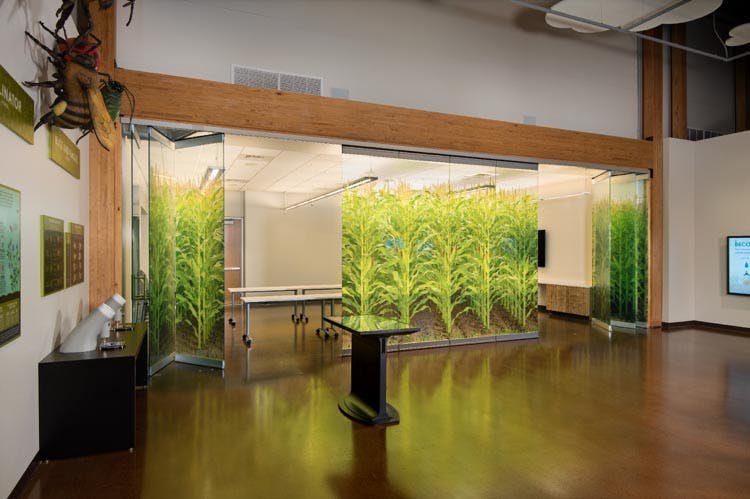 1. Open Concept without the Noise
An idea that's becoming increasingly popular is an open concept office that also helps to reduce noise. First, glass office walls and doors create the feeling of openness in a building, which is important considering that the average size of an office has decreased by nearly a third over the past decade. Since many office buildings seem to be taking up smaller sections of real estate, opening glass walls for office interiors help create a more spacious feel is through the open concept. Glass walls make even the smallest of offices appear larger, making the open concept capable of creating the illusion of owning a larger office.
Plus, interior glass allows office buildings to be more open while still keeping conversations private. NanaWall opening glass walls are able to be glazed with acoustically enhanced glass options to control STC (a rating of sound transference between space.) This helps cut back on echoes, making phone conversations and other work discussions a person might have in his or her office a private matter.
Since it's important for employees to obtain a certain amount of privacy when conducting their business in an office, glass walls do help provide this as far as keeping conversations private. In fact, NanaWall offers two unique interior acoustical products, NW Acoustical 645 and PrivaSEE, which achieve this very goal. However, some workers might find the glass walls unsettling and feel like the transparent walls expose too much. Employees may occasionally feel like they are in a fishbowl and monitored at all times. However, after most workers get used to glass walls, they typically fully enjoy the benefits provided by glass wall designs.
With that said, if a customer is concerned about the "fishbowl" affect, one option you can offer as an architect is a selection of different types of films or tints on the glass. Visual privacy can be achieved through customized glass with frost, or patterns and colors to darken the glass a bit and make the office feel more private.
2. Flexible Spaces for Growth
Operable glass wall designs also offer an adaptable environment for growing companies. Not only is it more affordable to create rooms with glass partitions when compared to building with traditional walls, it is easy to create a flexible or adaptable work environment where spaces can be simply opened or closed. This type of flexibility makes it easy for you to change your office space with built-in options as your needs change and create an entirely custom work environment. Think ahead to the variety of different workspaces that employees should be able to utilize at will in order to take advantage of the environment that best suits their needs at any given time.
3. Private Spaces with a Sense of Openness
Having a private space with a sense of openness becomes necessary in today's workplace, and opening glass wall designs can offer just that. Since the modern office relies heavily on teamwork and collaboration to achieve success, creating a sense of openness with the illusion the windows create helps promote more face-to-face interactions between employees daily. By using glass wall designs, a company can create a feeling of camaraderie that those old-fashioned cubicles simply don't offer.
When employees are getting along well, they are usually happier at their jobs and more productive. Glass walls in an office help create the feeling that everybody is in the same company building together, making the idea of a team more visible. Also, though, the office's glass wall designs still provide plenty of privacy, since the walls are designed to help buffer the sound.
4. Bring in the Light with Glass Walls
Opening glass walls can be customized to create unique spaces of all sizes, offering a bevy of interior design choices. And yet, bringing in the light is probably one of your most important design choices. Letting in more natural light not only makes the office look more modern, but it also offers plenty of employee benefits. While the clean, up-to-date appearance of an office does help boost employee morale, having more natural light and getting rid of old cubicles helps boost the positive feeling present in the office, giving everybody a happier outlook when on the job. Boosting the availability of sunlight in the office has been shown to put employees in better moods, and that increases productivity. When people in the office are happier, they get along better, they do better work, and they become more productive. Since there are so many added employee health benefits to adding extra natural light into an office building, it's easy to see why so many office building owners are moving to include glass wall designs and operable glass walls in their buildings.
5. Respond to the Need of Different Functionalities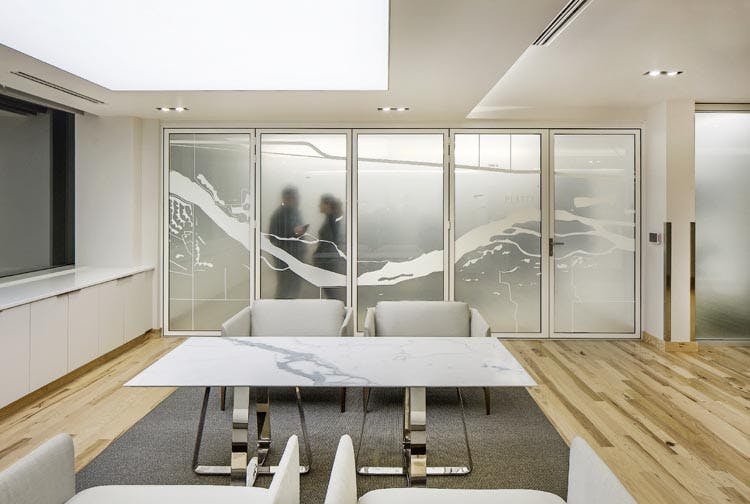 Another important design choice operable glass wall designs can offer is the ability to respond to the need of different functionalities. Since glass walls are made to be long-lasting and can also complement just about any already existing design, your customers should be satisfied for years with the outcome of their product. Glass can retain its like-new appearance for much longer than other wall material options. Plus, the customizable nature of the NanaWall opening glass wall system allows you to incorporate any customer's current design choices and color scheme.
Conclusion
Glass wall and opening glass wall designs help inspire both motivation and focus in the workplace. By increasing employee's access to natural light throughout the day, your commercial business customers can get more out of their workers by installing glass walls in their buildings. With our glass wall designs, you'll be able to meet your customer's needs, and wind up providing a service full of health benefits that you can take pride in.
To discuss how NanaWall opening glass walls can transform your office space, please contact your local representative.