Explore the Transformative Nature of Floor-to-Ceiling Glass Walls
By NanaWall Systems, November 10, 2022
There is nothing that screams modern architecture more than expansive floor-to-ceiling glass walls. Rooted based on minimalism and contemporary aesthetics, these systems offer clean sightlines, barely-there transitions, and ease of operation that is sometimes assisted by automation. The result? Light-filled interiors that capitalize on the indoor/outdoor experience with uninterrupted views of natural landscapes and picture-perfect views. When open, the lines between indoors and outdoors are blurred, and fresh natural air is welcomed for a fully immersive experience with nature. Let's celebrate these triumphant modern architectural styles with these six impressive residential designs featuring NanaWall minimal sliding glass walls.
Top 6 Contemporary Designs Featuring Floor-to-Ceiling Glass Walls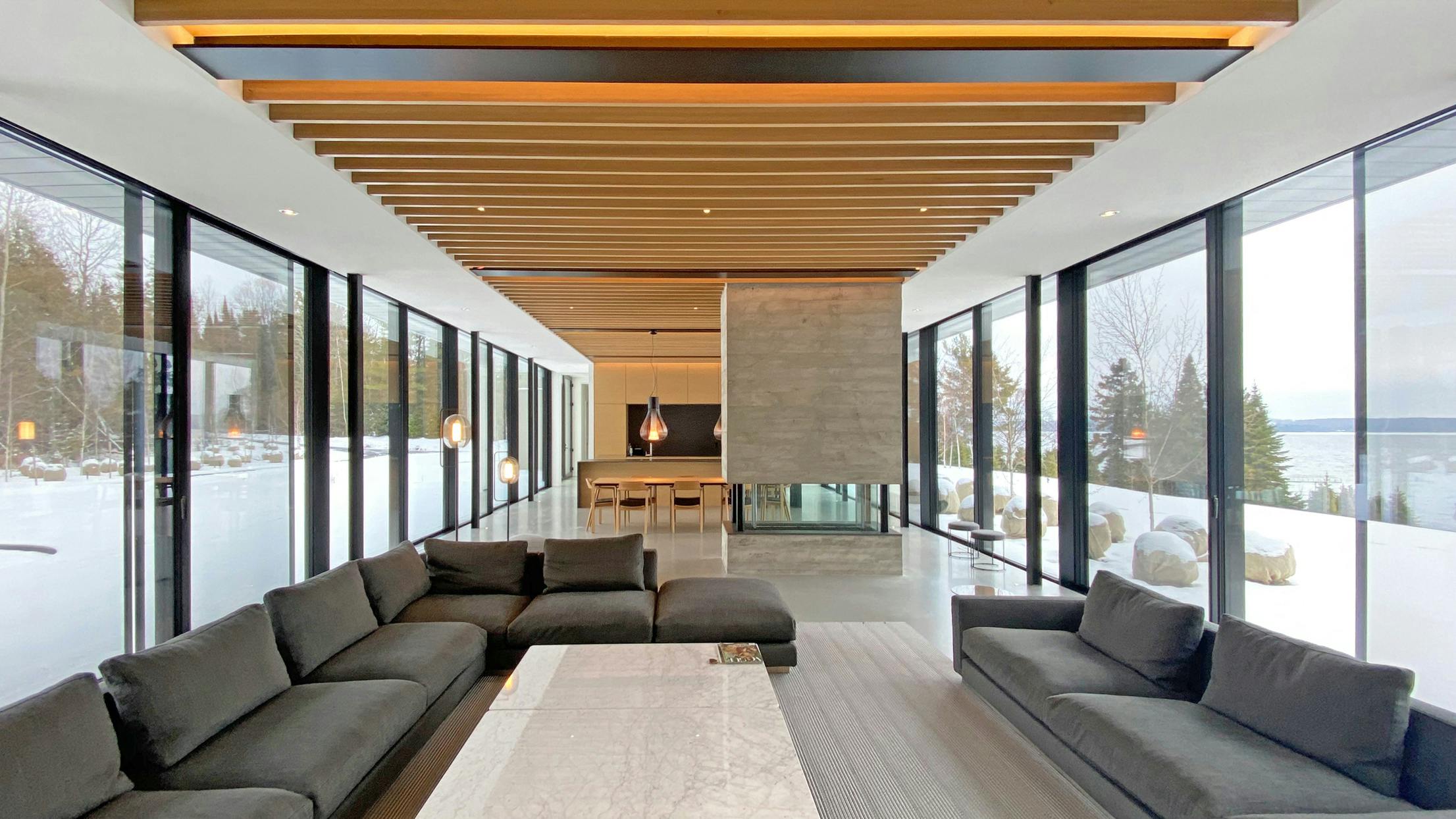 Charlevoix Residence: Living in A Winter Wonderland
Talk about curb appeal. This contemporary residence in the township of Charlevoix is nested atop a hilltop overlooking the peaceful waters of Lake Michigan. All primary living spaces seamlessly spill into one another with a meticulous open-concept design. Even more striking are the floor-to-ceiling glass walls at either side that extend from one end to the other. As a NanaWall system, these minimal sliding glass walls offer advanced weather performance and energy efficiency in extreme climates. Despite the heavy snow that blankets the landscape, interiors are kept warm through the cold season, providing comfort even when lounging up against the glass.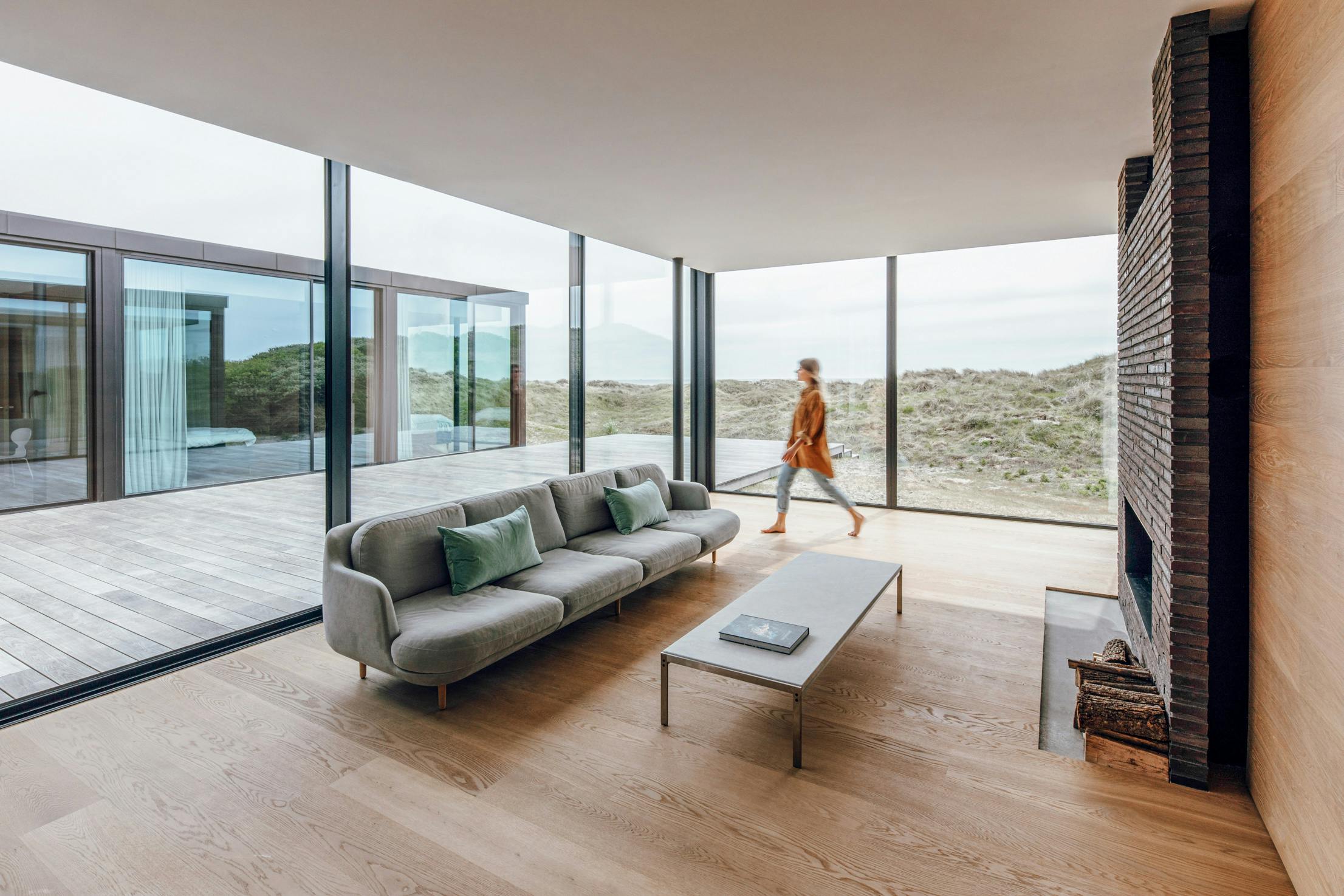 Seaside Retreat: An Escape to the Coast
Coastal dreams are made of fresh ocean breeze and floor-to-ceiling glass walls. Nestled within sand dunes and coastal grass, this contemporary architectural gem offers a serene seaside retreat for its homeowners. Minimal biophilic design was prioritized to allow the natural landscape to become the primary focus. To maximize the retreat's functionality and connection to the outdoors, operable folding systems and cero®minimal sliding glass walls were specified on the ocean-facing side of the home. NanaWall systems were the only option that could withstand the high winds, salty air, and moisture that frequent coastal environments. One can only imagine falling asleep to the sound of crashing waves and starry night skies above.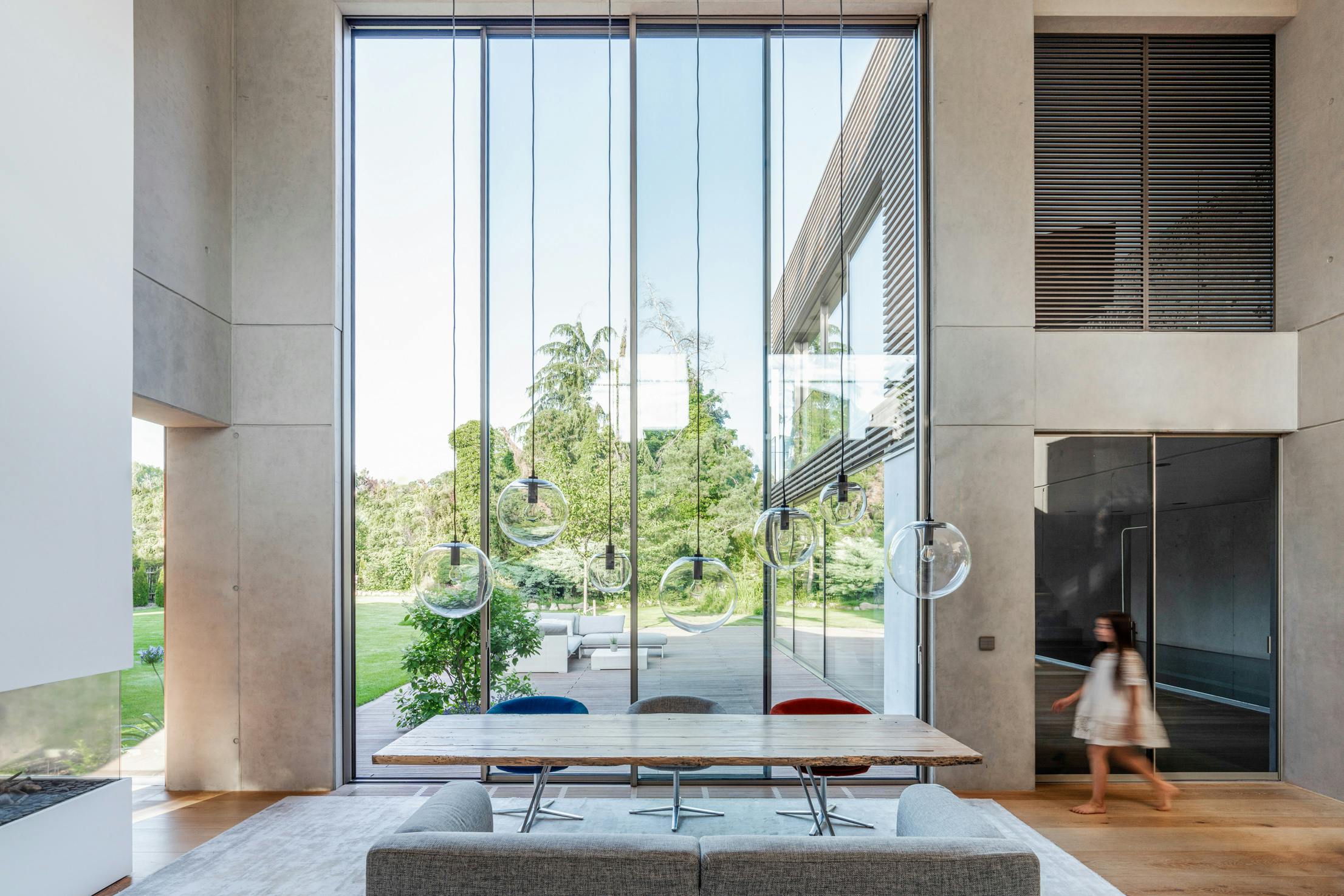 Leipzig Estate: Taking Floor-to-Ceiling Glass Walls to New Heights
With a jaw-dropping façade of multiple minimal sliding glass walls, this expansive family estate is the definition of contemporary architectural luxury. A striking concrete façade is interrupted by floor-to-ceiling glass walls, both fixed and operable, to create clean lines and modern aesthetics. Most striking of all is the nearly two stories tall sliding glass wall system overlooking the manicured, verdant garden. Despite its large size, the system is opened with ease through an automation system to immediately transform an ordinary dining room into an indoor/outdoor living space. The innovative design allows for a truly minimal look with barely-there frames without sacrificing the system's integrity. Quite the literal definition of "go big or go home."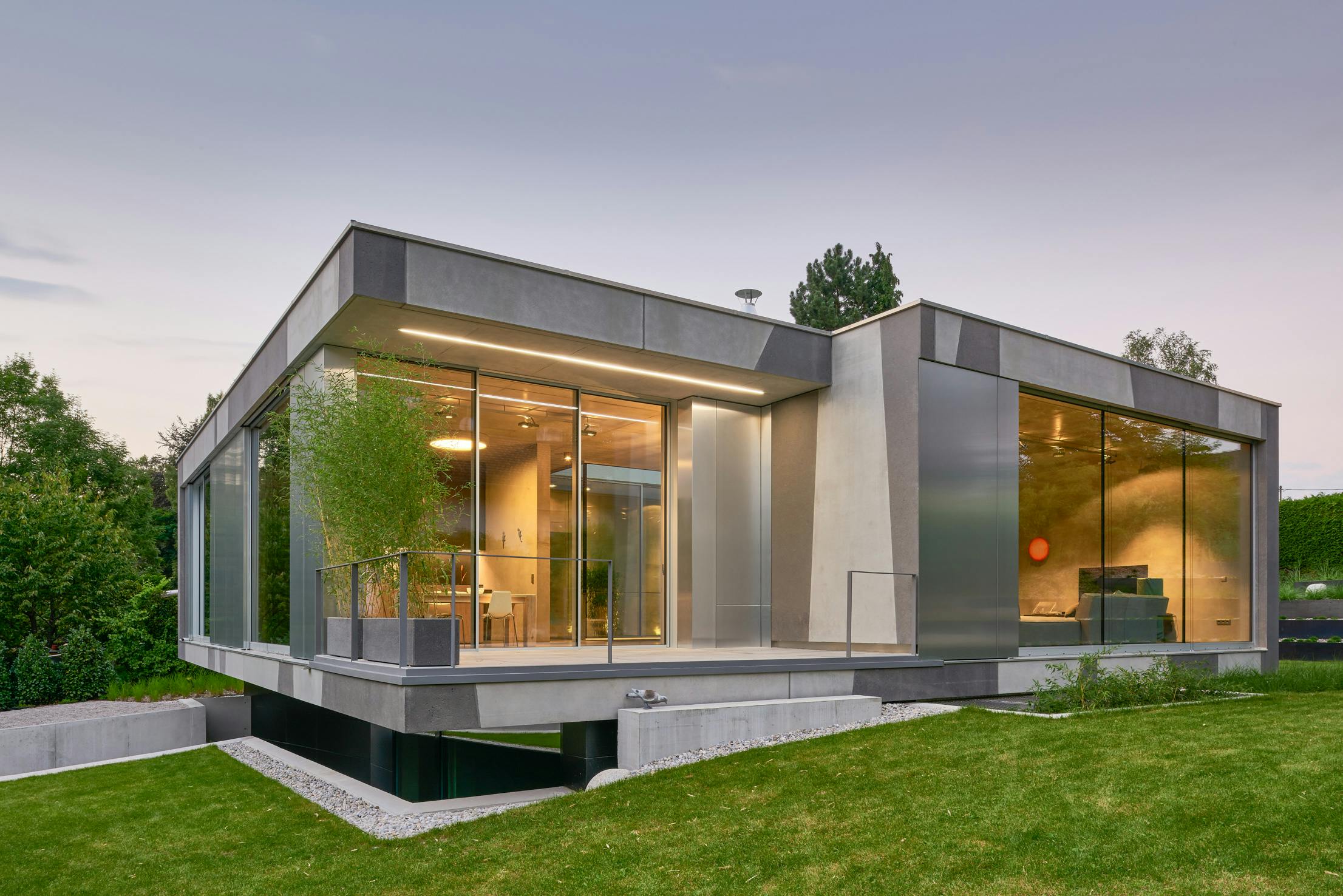 Cero 4: A Glass Box to Live In
The juxtaposing elements of concrete and glass give this ultra-modern residence a heightened edge over its neighbors. From an angle, the home seems to levitate, cantilevered above the ground. Its unique design is enhanced by an exterior envelope made almost entirely of minimal sliding glass walls. In addition, sharp lines and paneling create an effect like that of a glass box floating in mid-air. Interiors are flushed with plenty of fresh air and natural light during the day and at night, the home appears to glow like a lantern amidst the dark night sky. It's one illusion after the other that makes this residence a modern architectural gem worth celebrating.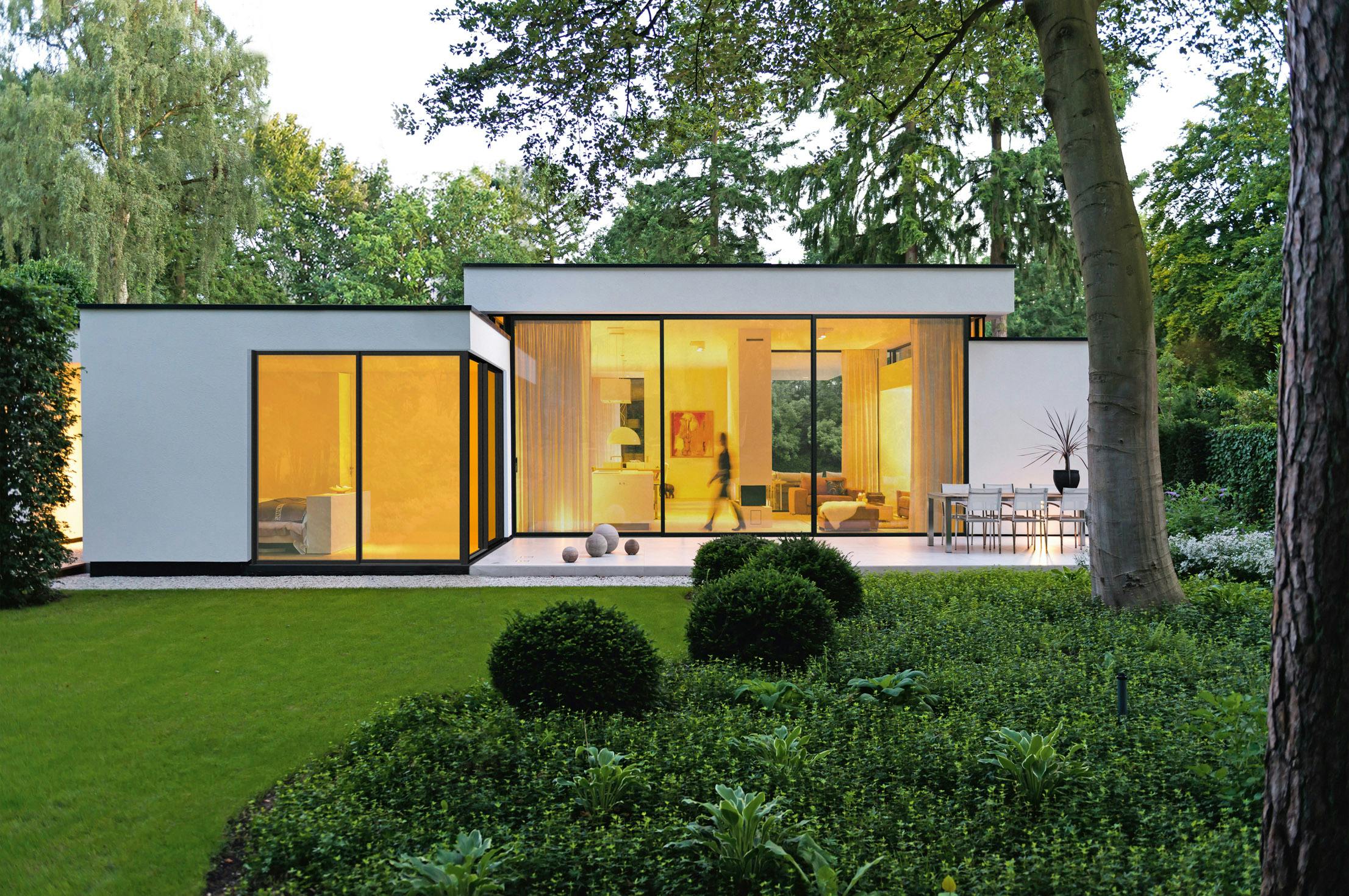 Tree House: A Crystal-Clear Window to the Outside World
Appropriately named "tree house," this single-story home celebrates contemporary design with an all-white façade and stark fenestration. The jet-black aluminum frames of cero floor-to-ceiling glass walls stand out drastically against the massive panels of glass—perfectly framing the indoor and outdoor living spaces depending on the homeowner's point of view. If it weren't for the thin frame profiles, you wouldn't be able to tell there was a wall there at all. Three panels take up an entire wall leading to the patio and when opened, the threshold between indoors and outdoors is nonexistent. The luscious trees and manicured yard enhance the overall experience of being one with nature, especially when the panels are opened to invite fresh air and natural sounds inside.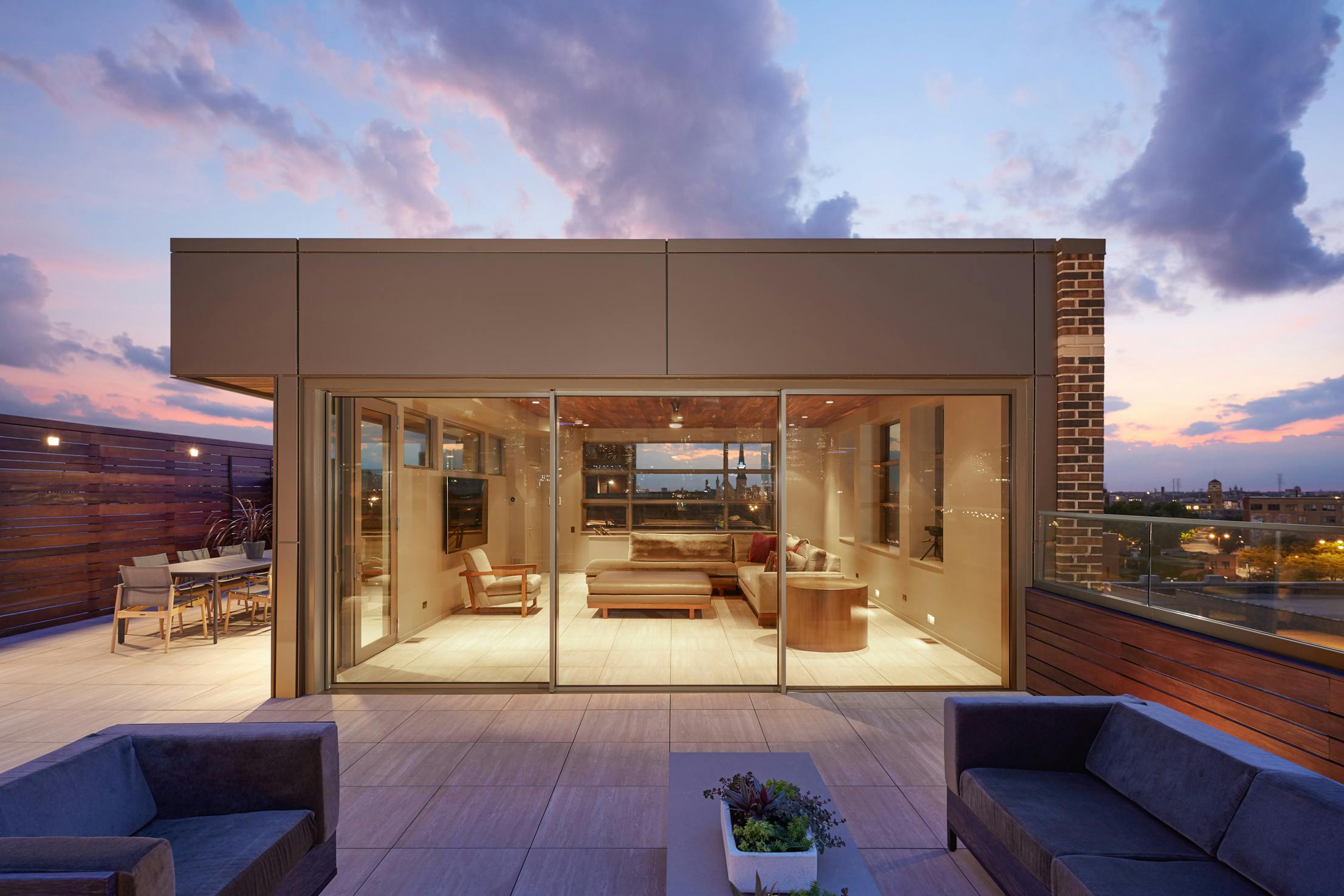 Above the Clouds: Cero in the City
Who says outdoor living spaces cannot be attained in the city landscape? Try a rooftop. For this homeowner, settling down in the heart of Chicago didn't require giving up precious outdoor living space. The solution? Transform a rooftop into the ultimate indoor/outdoor living space. Key to the transformation was the addition of an additional dwelling unit with minimal design and plenty of windows that offered sky-high views of the city landscape. Floor-to-ceiling glass walls add a luxurious touch to the space while maximizing its functionality and protection from the elements. NanaWall systems offered the weather performance and durability to sustain the strong winds and harsh weather extremes that come with high-rise building projects. Imagine entertaining on this rooftop!
Final Thoughts
Celebrating the best of minimal design and architecture, cero elevates contemporary aesthetics with clean lines, optimal glass, and advanced performance. As a NanaWall product, cero has been independently tested for air, water, structural, and forced entry with excellent results making it suitable for practically every climate. These floor-to-ceiling glass walls make for the perfect addition to complement modern, contemporary styles with streamlined profiles and the largest glass panels available. Each system is customizable to every project, from the frame colors and panel size to energy efficiency and floor track. Despite their large size, cero panels are easy to operate as they glide on a smooth, low-maintenance stainless steel track with a unique Gothic arch roller system. Everything you need to elevate your lifestyle with contemporary design and the indoor/outdoor experience.

Discover other modern architectural masterpieces with minimal floor-to-ceiling glass walls in our extensive photo gallery!