Exterior Glass Wall Systems: An Open-Air Bedroom Lookbook
By NanaWall Systems, May 12, 2021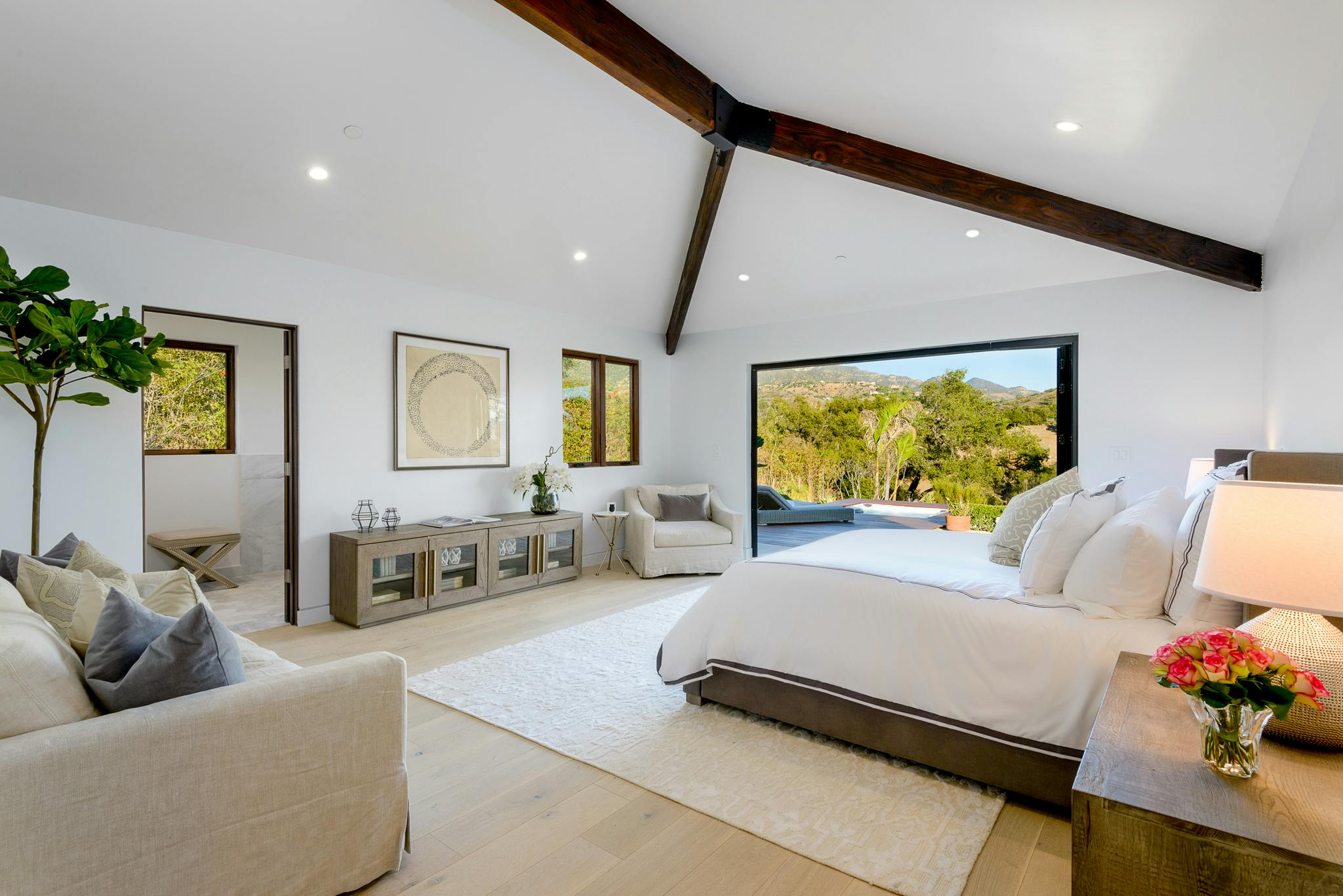 If you've ever dreamed of what exterior glass wall systems would look like in your bedroom, then this is the guide for you. Post-covid renovation trends have been geared at improving residential interiors with the health and wellness benefits of daylight and fresh air ventilation. And let's face it, we've all been spending so much more time at home fantasizing about home improvements and vacations—why not transform your bedroom into the ultimate place to recharge? Wide, operable openings not only optimize these natural elements but can also increase the value of your home by maximizing space and enhancing design aesthetics. Let's take a look at a few of our favorite bedroom projects featuring collapsible glass doors and take in all the design inspiration for your next renovation!
9 Open-Air Bedroom Ideas with Exterior Glass Wall Systems
1. Contemporary Glamour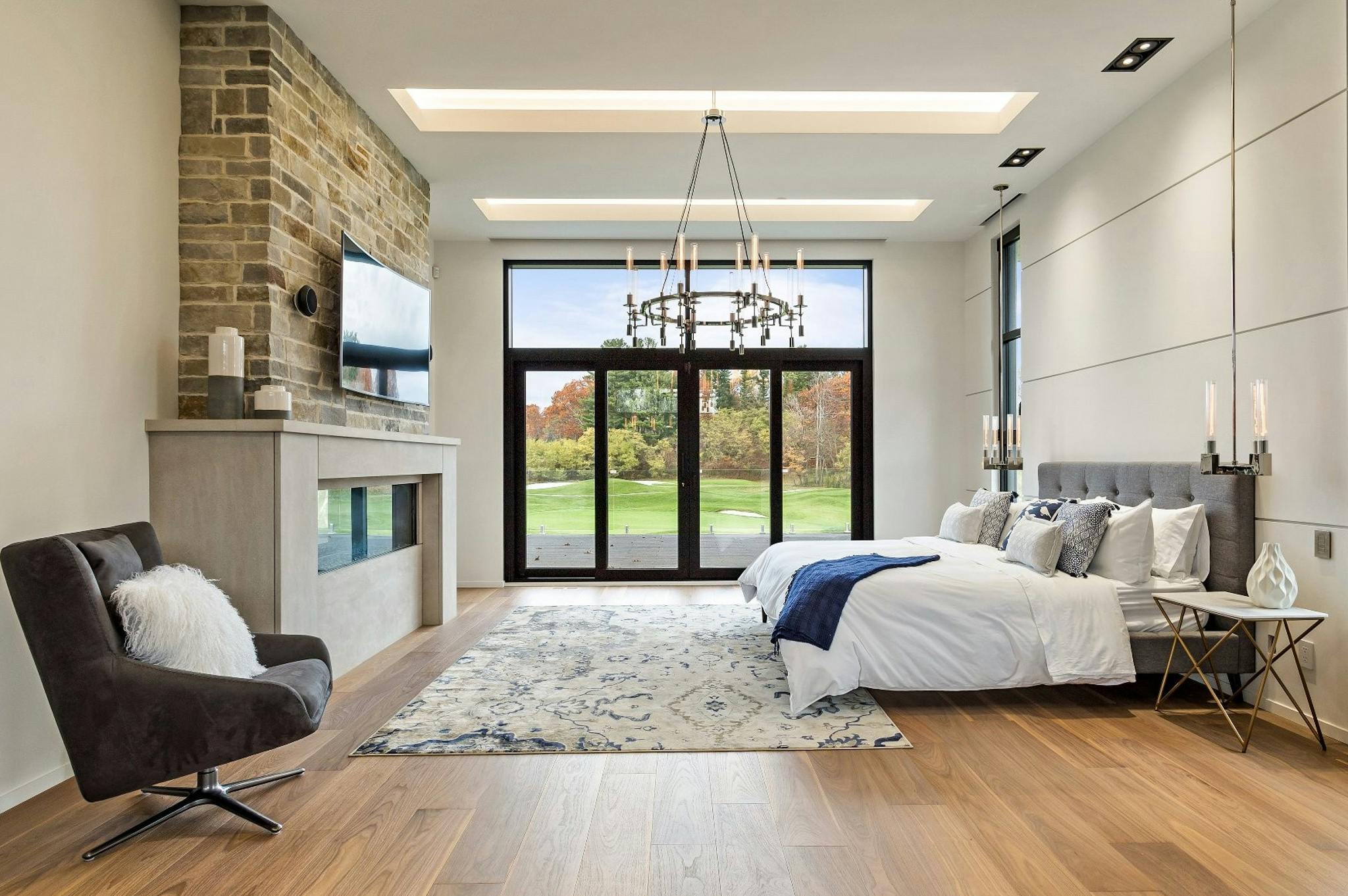 This contemporary bedroom is all about optimizing daylight. Skylights, clerestory windows, and collapsible glass doors work in unison to make the space feel bigger and brighter. The easily operable NanaWall system offers peaceful views and quick access to the backyard. Whether it's closed, fully, or partially open, exterior glass wall systems add a touch of aesthetic flair to any room.
2. Oceanside Serenity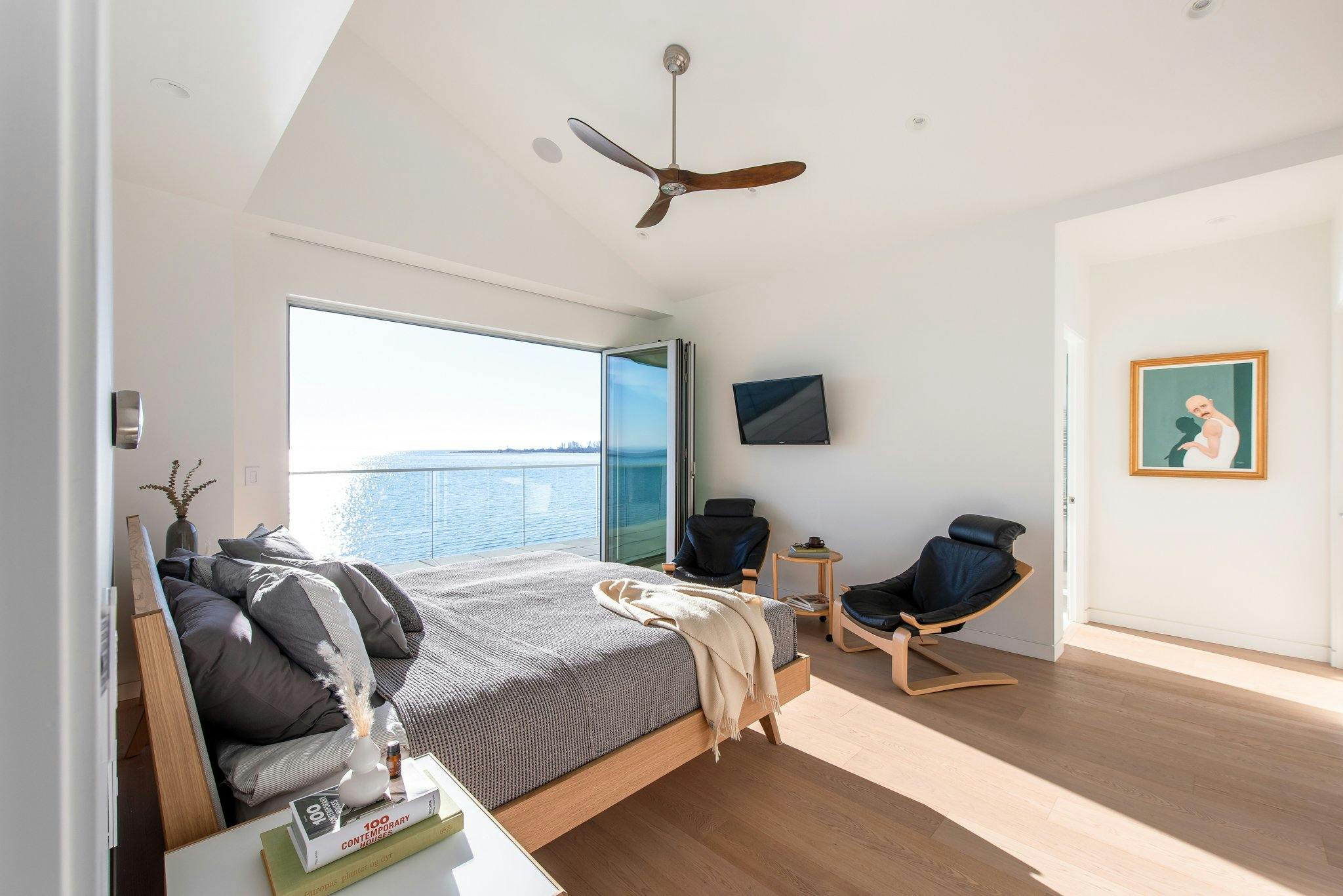 Imagine the fresh ocean breeze on a sunny Summer day flushing your residential interiors. Almost every room of this British Columbia residence enjoys views of the ocean and every single one features collapsible glass doors. The NanaWall SL70 is a thermally efficient system that offers heavy-duty durability, protection from the elements, and comfortable interiors year-round.
3. Open Corner Views to the Golden Gate Bridge
Indoor/outdoor living at its best. Making the best of its prime Bay Area location, this Tiburon residence elevates views to the Golden Gate Bridge to the next level while optimizing an indoor/outdoor connection. When the weather is nice, the HSW60 single track sliding glass walls glide away and around corners into inconspicuous stacks to maximize every square inch of their million-dollar home and optimized views with panels that completely disappear.
4. Warm and Cozy Atmosphere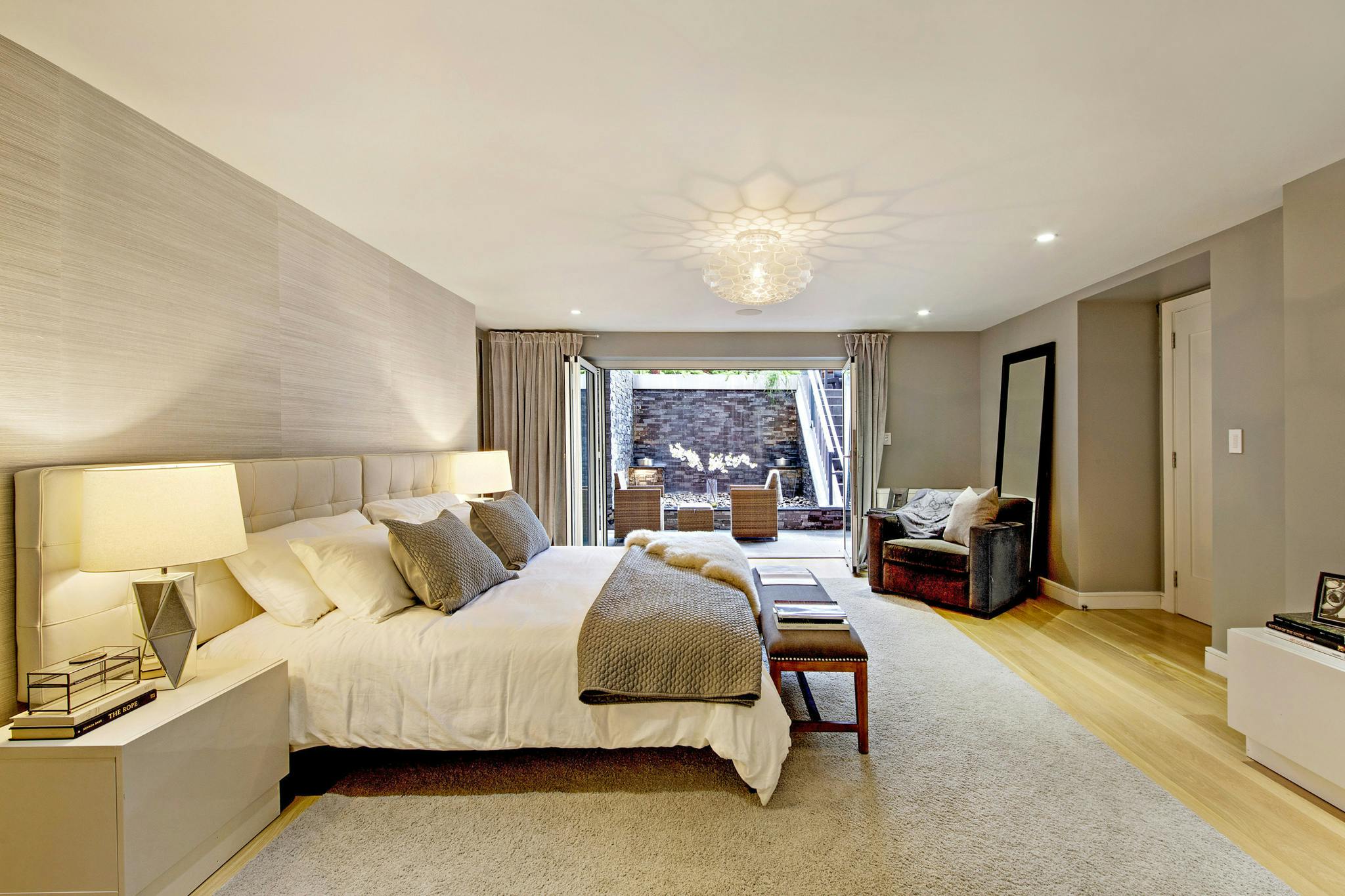 This NYC home keeps its master bedroom airy and cozy with a neutral color palette and a not-so-wide wall opening. The collapsible glass doors lead to a small outdoor lounge area perfect for a calming read before bedtime or an uplifting cup of coffee in the morning. The bedroom can be flushed with fresh air during the day for a healthy night's sleep at night.
5. Resort-Like Dreams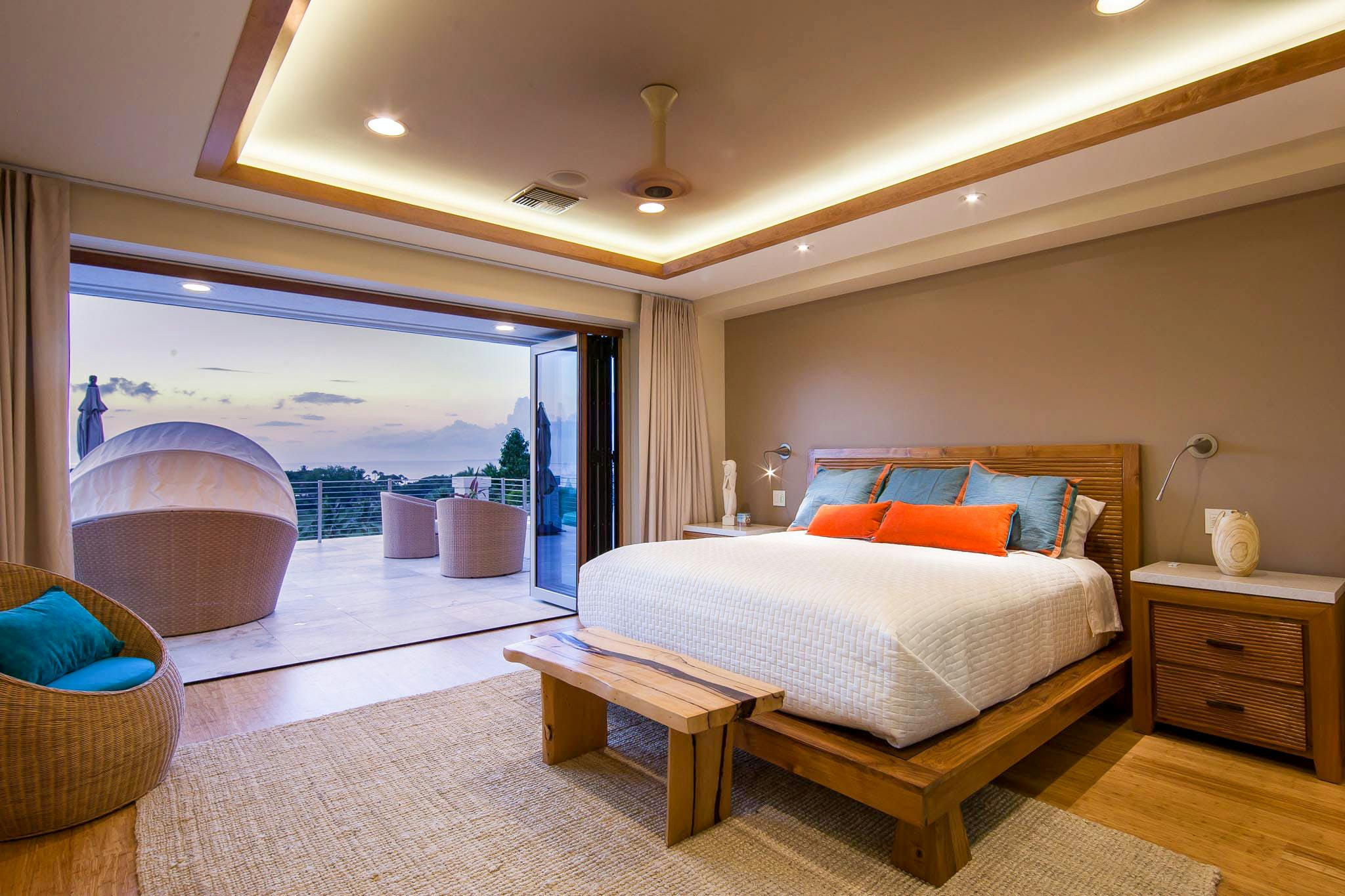 This resort-like residence enjoys picturesque Hawaiian sunsets with collapsible glass doors specified throughout the property. In the bedroom, a NanaWall WA67 clad opening glass system offers a solid wood frame on the inside to complement the aesthetics while the aluminum framing on the outside protects interiors from the elements. These durable glass doors are low maintenance allowing homeowners more time to enjoy this seaside location!
6. Industrial Modern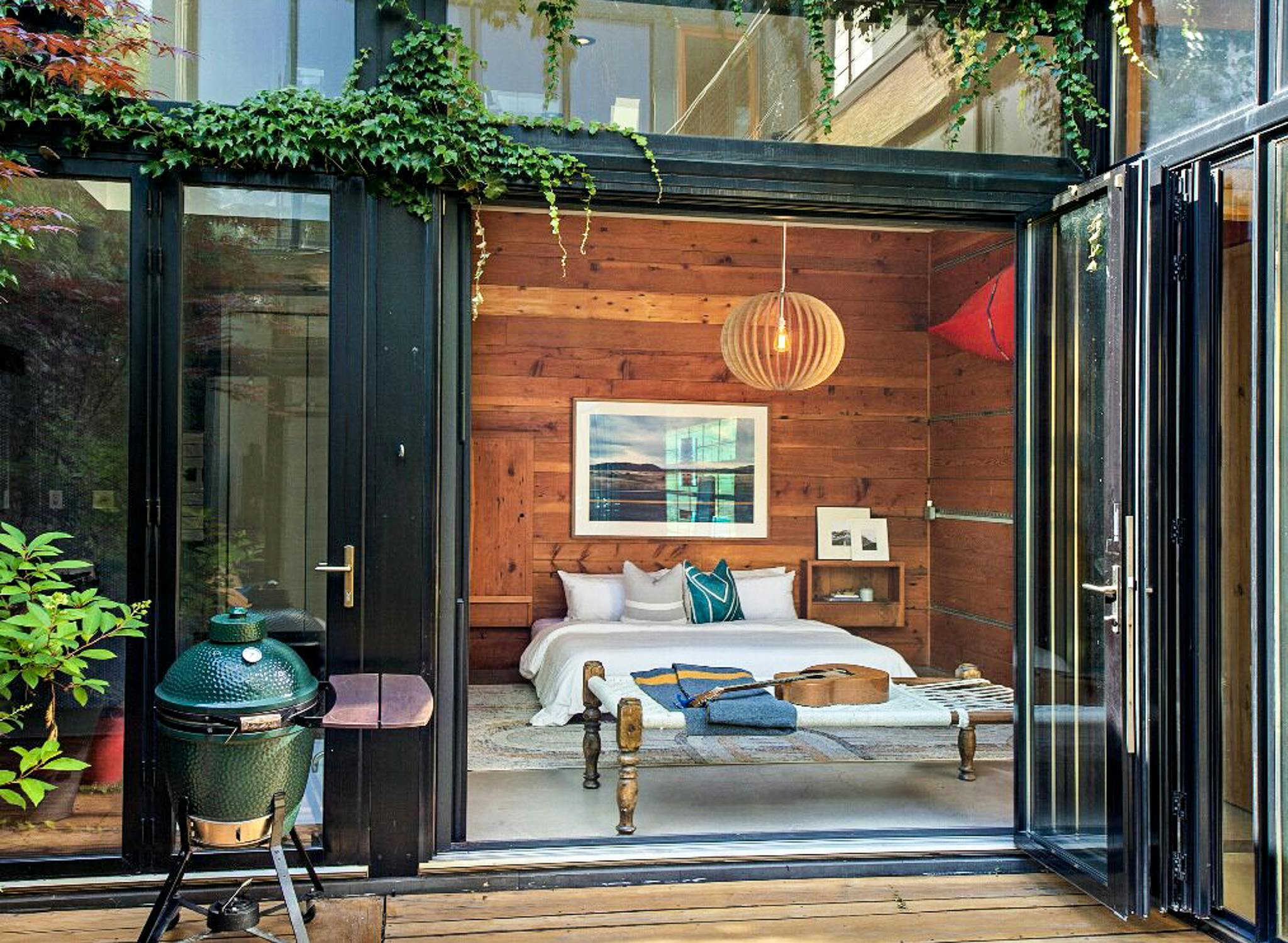 An extensive renovation transformed this home into the ultimate indoor/outdoor living space with almost every room of the property facing the patio—including the bedroom. Multiple aluminum framed exterior glass wall systems facilitate transitions to a fully outfitted outdoor area, going hand in hand with the industrial-modern aesthetic of the home.
7. Uninterrupted Views of Los Angeles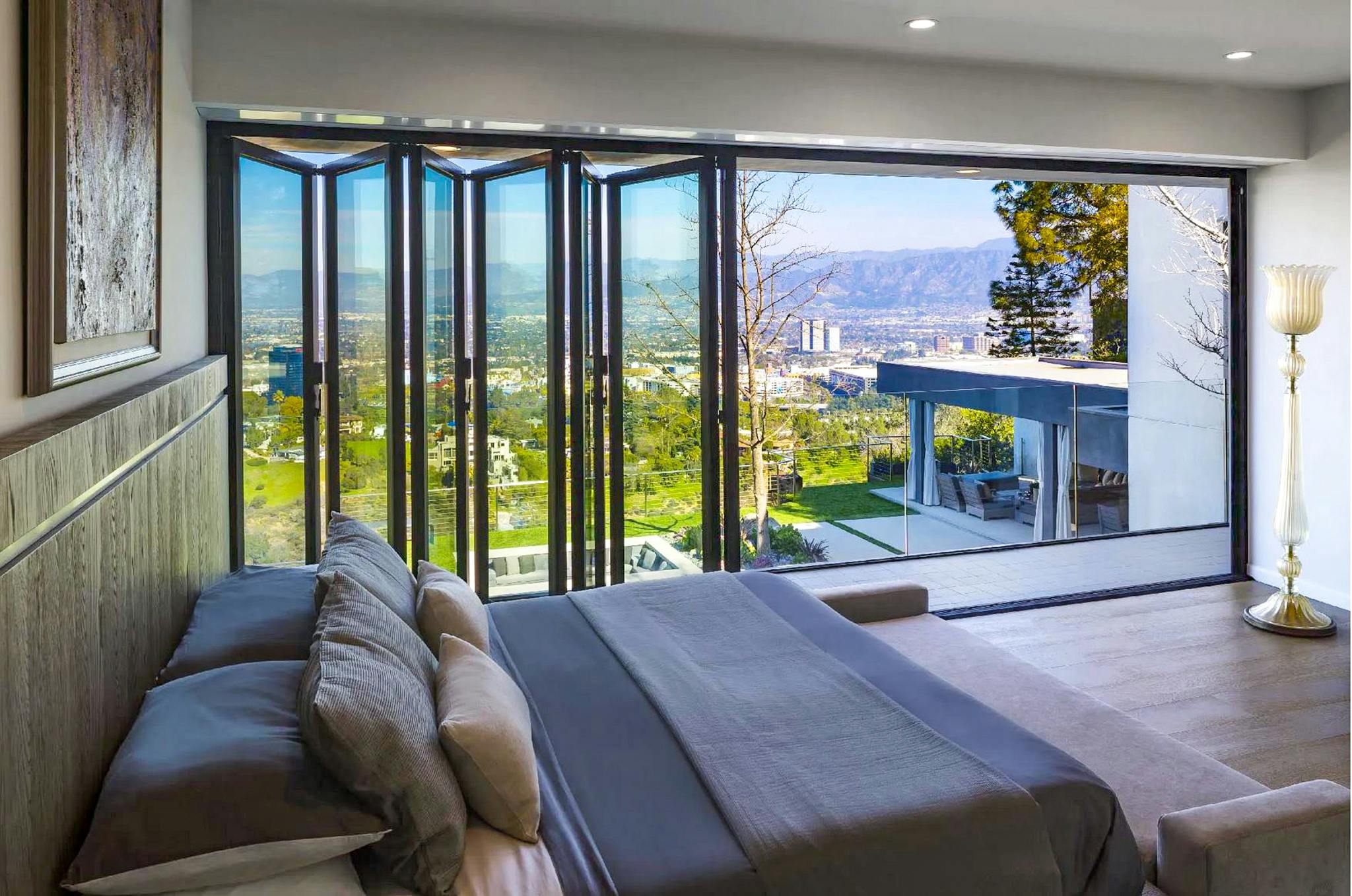 This hilltop Los Angeles residence optimizes views of the city with wide operable openings. NanaWall collapsible glass doors feature barely-there frames for clean sightlines that add to the appeal of every home aesthetic. The panels open and glide into inconspicuous stacks to allow an ideal indoor/outdoor connection—almost as if you were sleeping outdoors.
8. Barn Remodel Turned Home
Out with the old, in with the new. What was once an old, dilapidated barn was transformed into a spacious residence that preserved its connection to the outdoors with exterior glass wall systems throughout. In the bedroom, a clad NanaWall system pairs well with the interior natural wood aesthetic while durable aluminum framing on the outside reinforces durability, excellent thermal performance, and low maintenance.
9. Minimalist Design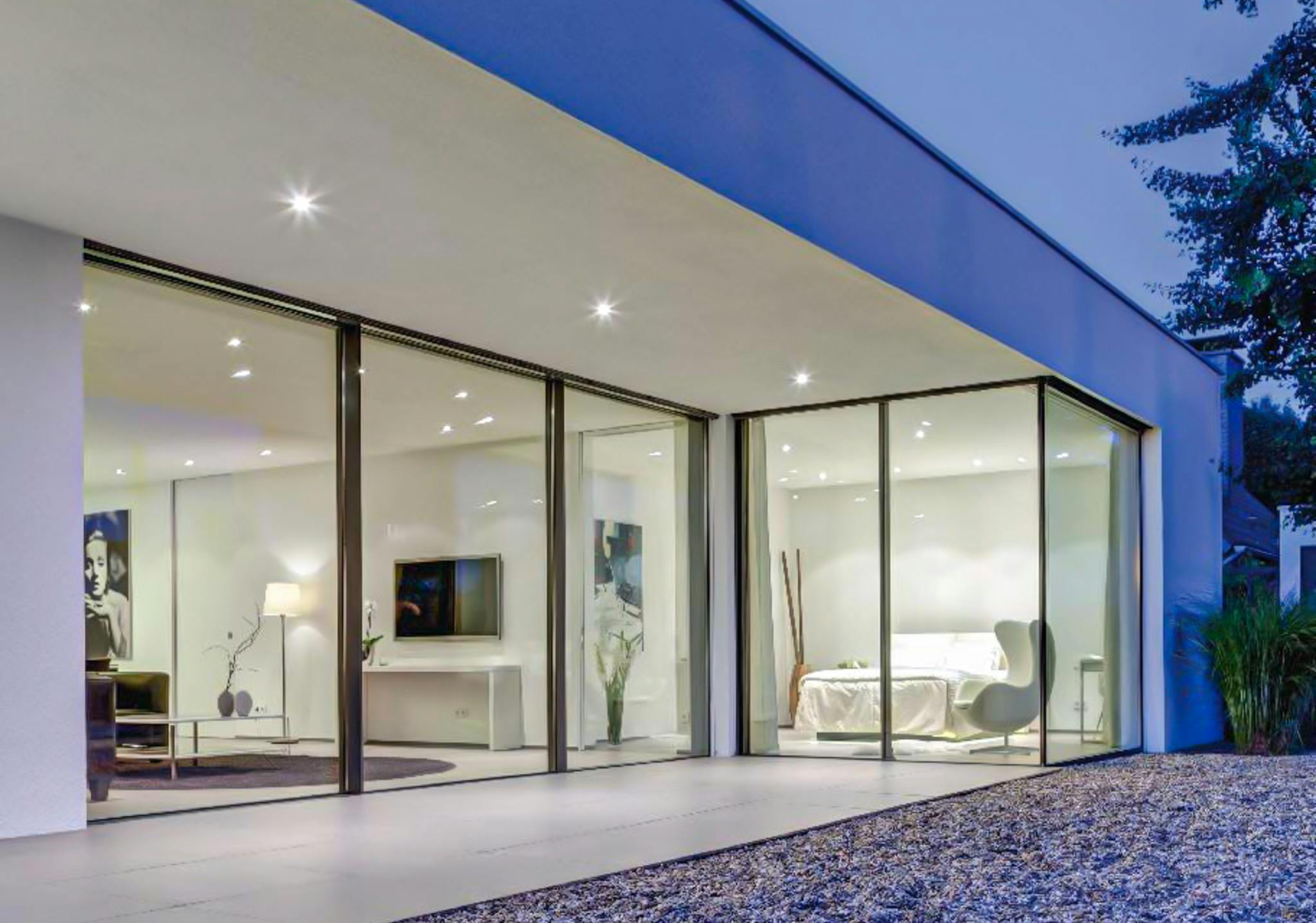 Immerse yourself in the full indoor/outdoor experience with minimal floor-to-ceiling sliding glass walls. Despite their large size, the exterior glass wall systems in this bedroom are easy to operate due to their innovative stainless steel Gothic arch roller system. Despite being associated with minimalist design, these operable glass walls effortlessly blend with every home style while enhancing interiors with the benefits of the outdoors.
Final Thoughts
Ready to fully embrace an indoor/outdoor lifestyle? We hope this lookbook offered plenty of design inspiration for your next bedroom renovation. NanaWall exterior glass wall systems are engineered to simplify and meet the needs of every lifestyle with customizable features, ease of operation, and advanced security mechanisms. In bedroom design, these long-lasting solutions offer sound attenuation and thermal performance against harsh climates—facilitating the ideal space for a good night's sleep. Complement aesthetics with aluminum, wood, or clad systems and invest in a durable design solution that enhances interiors with mood-boosting daylight and fresh air ventilation.
Learn more about the benefits of NanaWall exterior glass wall systems at NanaWall.com/products!