Folding Glass Wall Systems Elevated to New Heights
By NanaWall Systems, August 11, 2021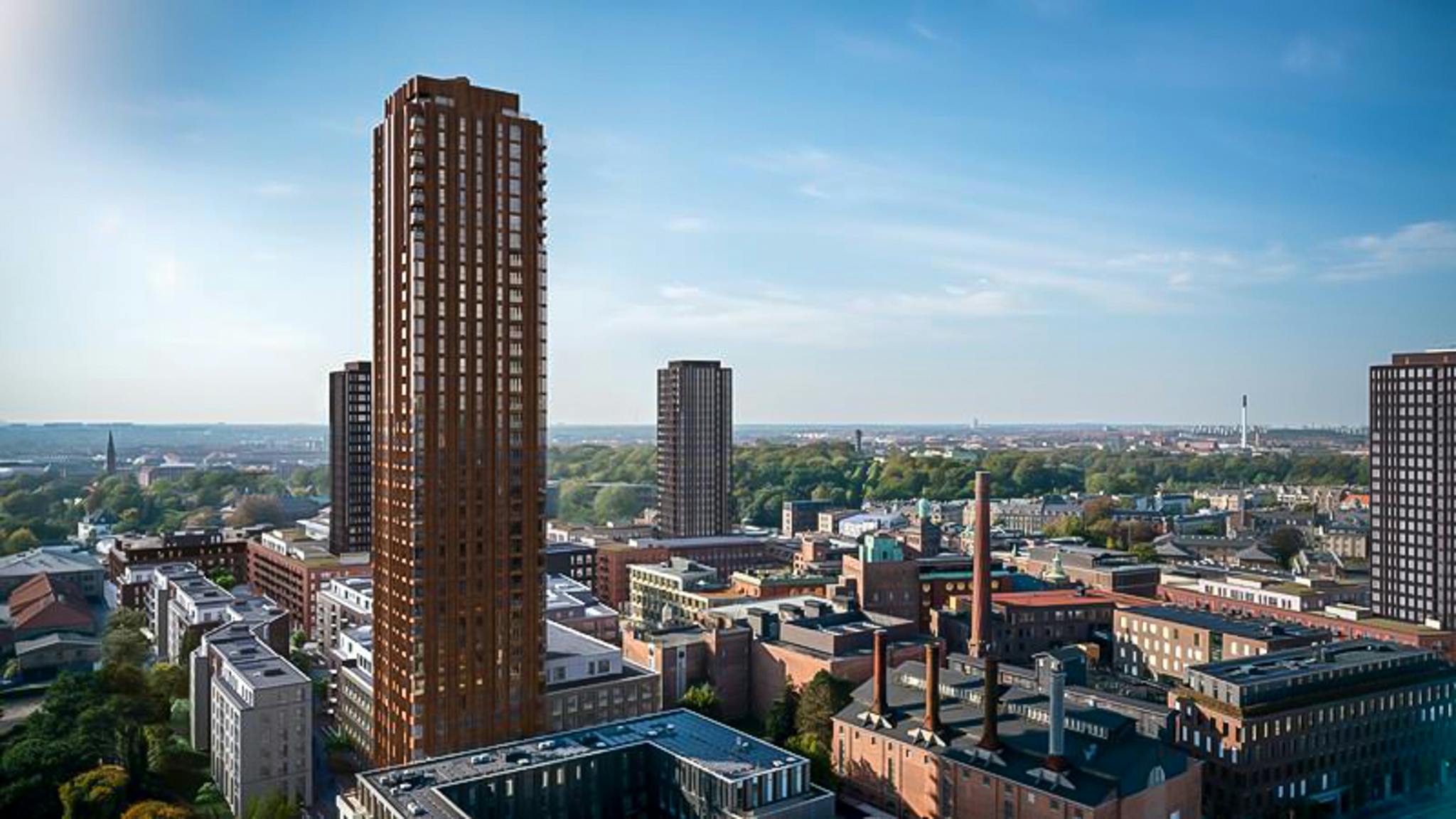 In the heart of Copenhagen lies a pulsing new district called Carlsberg City. Once the home of the world-famous Carlsberg Breweries for 160 years, the historic brewery site is now being transformed into a vibrant, sustainable city center. As part of Danish culture and heritage, the site, which the brewery vacated back in 2008, houses many architectural treasures and the birth of the tallest buildings in Denmark's capital city.
Modeled after medieval towns, Carlsberg City won "Best Master Plan" at the World Architecture Festival in 2009. When the project is fully completed by 2024, it will encompass 618,000 square meters (roughly 6.6 million square feet) of residential property, businesses, cultural and educational spaces, and 25 separate public spaces and parks.
The program includes a mix of old industrial and historic brick buildings and new modern architecture. Of the many mixed-use and residential buildings, the most ambitious is the four high-rise residential towers that have been erected: Bohrs Tower, Vogeluis Tower, Dahlerup Tower, and Pasteurs Tower.
4 Residential Towers, 493 Folding Glass Wall Systems Installed
The first to completion was the 100-meter Bohrs Tower (328 feet – 29 stories) in 2016 followed by Dahlerups Tower in 2021 (80 meters or 262 feet – 23 stories). Vogelius Tower due for completion in 2022 will also be 80 meters (262 feet – 24 stories) and the grand pinnacle will be Pasteur Tower due for completion in 2022 at 120 meters (394 feet – 37 stories).
The central theme to all four of the high-rise residential towers is the creation of living spaces that are full of light, air, and open space to connect with the outdoors and natural environment. The inclusion of large operable bifold doors on balconies and terraces make these residences highly sought after—with most units already being sold out. Properties that embrace a more modern lifestyle with spaces full of light, fresh air, views, and a connection to the outdoors sell quickly and for top dollar.
Bohrs Tower
Bohrs Tower consists of 4 apartments on each floor from floor 8 to 29 with open floor plans and large panoramic windows to embrace the city views. The corner windows are large 3-panel folding glass wall systems on Juliet or French balconies that retract easily in the warmer months for fresh air. For the remaining seasons, the folding systems keep the cold, wind, and rain on the outside where it belongs, even on the 29th floor. A total of 176 folding glass wall systems are installed in this building.
Vogeluis Tower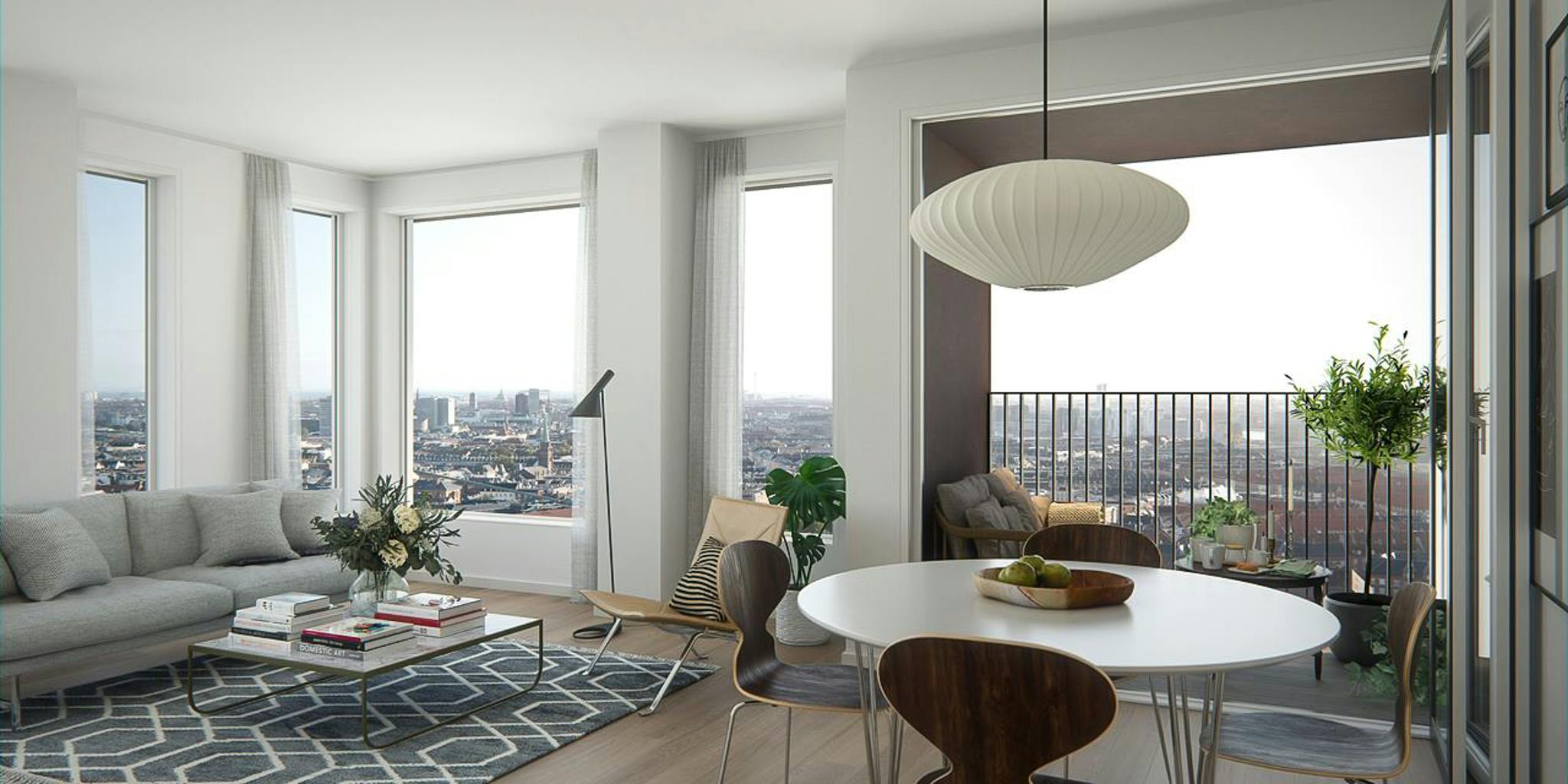 Designed by architectural firm Schmidt Hammer Lass Architects, Vogeluis Tower offers 100 apartments from floors 5 to 24. With a total of 80 folding glass wall systems, these properties offer a portal for ventilation and air circulation with either a Juliet balcony for the smaller units or a small, recessed balcony for a private outdoor retreat. Operable bifold doors are an integral part of the design offering the occupants an expanded sense of space with a large opening that provides abundant natural daylight, expansive and expensive views.
Dahlerup Tower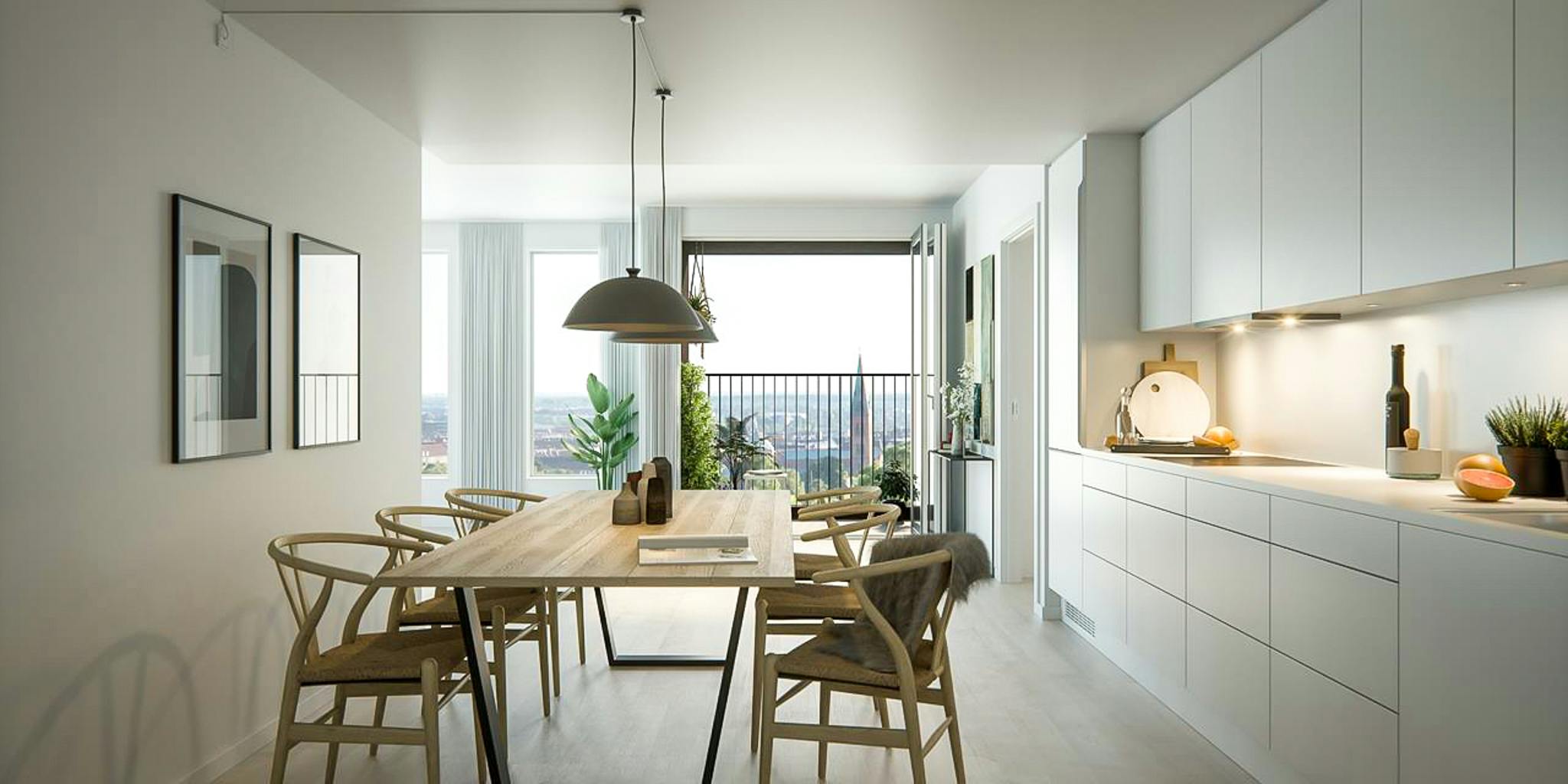 Dahlerup Tower, also designed by Schmidt Hammer Lass Architects, has dwellings situated on floors 4 to 23. With 82 performance-driven operable bifold doors installed throughout the building, it is clear that the key design element is the integration of floor-to-ceiling operable glass openings to embrace the stellar city views and to provide the outdoor connection, fresh air ventilation, and natural light which is highly sought after in today's market.
Pasteurs Tower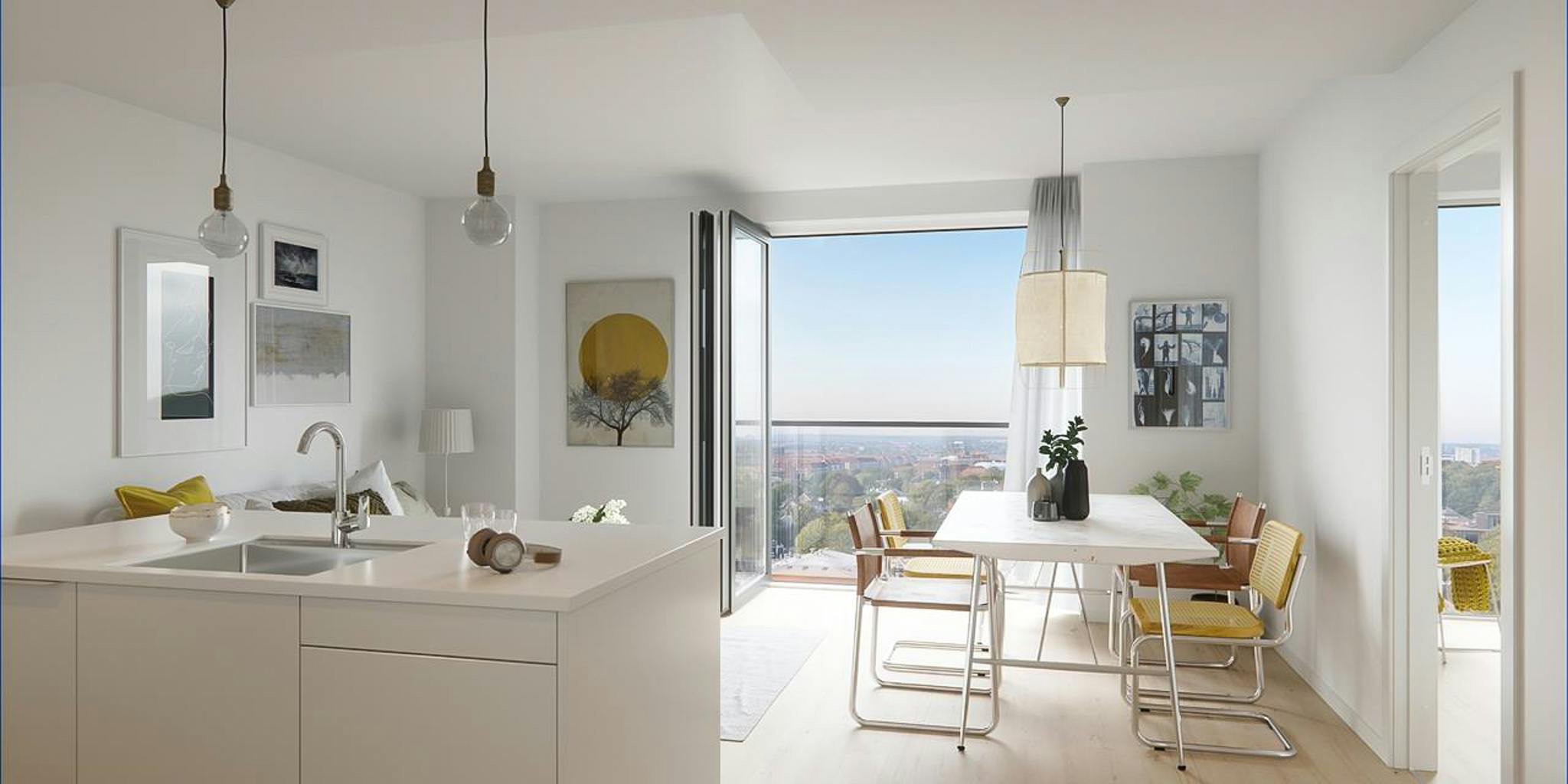 Pasteurs Tower, the largest residential high-rise at 37 stories, has 172 exclusive apartments and three penthouses atop. Units range from 2 bedrooms to 6 and all have large floor-to-ceiling windows. The smaller middle units are outfitted with a Juliet balcony with 3-panel inward swinging folding glass wall systems. Juliet balconies are increasingly popular, particularly for midrise and high-rise buildings where the interior may offer smaller square footage. A big advantage of a Juliet balcony is that it enables a folding glass wall to be chosen instead of a conventional fixed window, filling the room with light, increasing ventilation, and creating a greater sense of space in smaller rooms. The balcony itself provides a safety barrier by means of the glass railings shown in the image above.
For the larger corner units, functional balconies are equipped with 3-panel outward swinging folding systems for the occupants to step out into a sheltered outdoor space for enjoying the sunlight or the nighttime city sparkle.
Pasteurs was designed by the Swede architectural studio Wingårdhs. To integrate this modern high-rise into the historic setting, the architect referenced the area's brick buildings and chose a reddish-brown facade in corten steel. Corten steel, a copper chromium alloy steel, exhibits rust to dark brown oxidation that resists the corrosive effects of rain, snow, and fog. This allows the building to harmoniously integrate with the historic site.
"The pervasive geometry and the corten steel façade give Copenhagen's tallest tower a special elegance. The large operable bifold doors, balconies, and Juliet windows seamlessly connect the apartments and their residents with the city life outside." Gert Wingårdh, Architect, Wingårdhs
This grand high-rise incorporates 155 folding glass wall systems into its façade.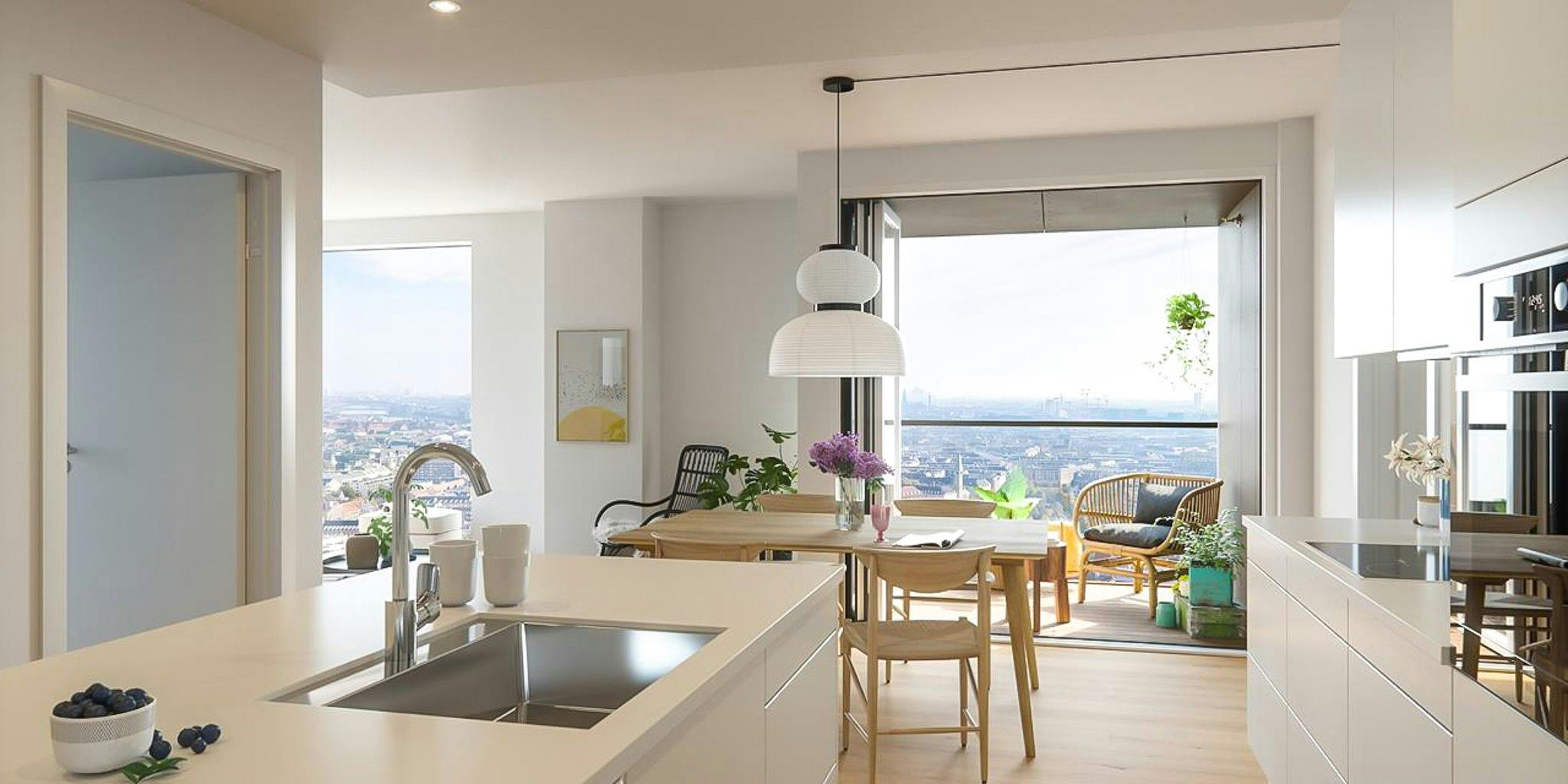 Folding Glass Wall Systems—The High-rise and Midrise Solution
Product testing and performance results are paramount when specifying the correct product for any project. The demanding environment created 37 stories up requires performance standards to be met. Generation 4 Folding Glass Walls by NanaWall, NW Aluminum 640, and NW Aluminum 840 (known as Ecoline / Highline in Europe), have been rigorously tested and meet or exceed all European standards for air, water, and structural load which was essential in these four high-rises within Carlsberg City. Although performance criteria differ between Europe and North America, all NanaWall products have been independently tested by accredited laboratories with excellent results. Review the performance results of NW Aluminum 640 and NW Aluminum 840.
For more details on this project story and European testing, please review this PDF.
For more multifamily living success stories visit our application gallery.
Images: Carlsberg Byen/Cadwalk