How Folding Glass Doors Help Create a Bigger Family Home When Space is Limited
By NanaWall Systems, October 27, 2022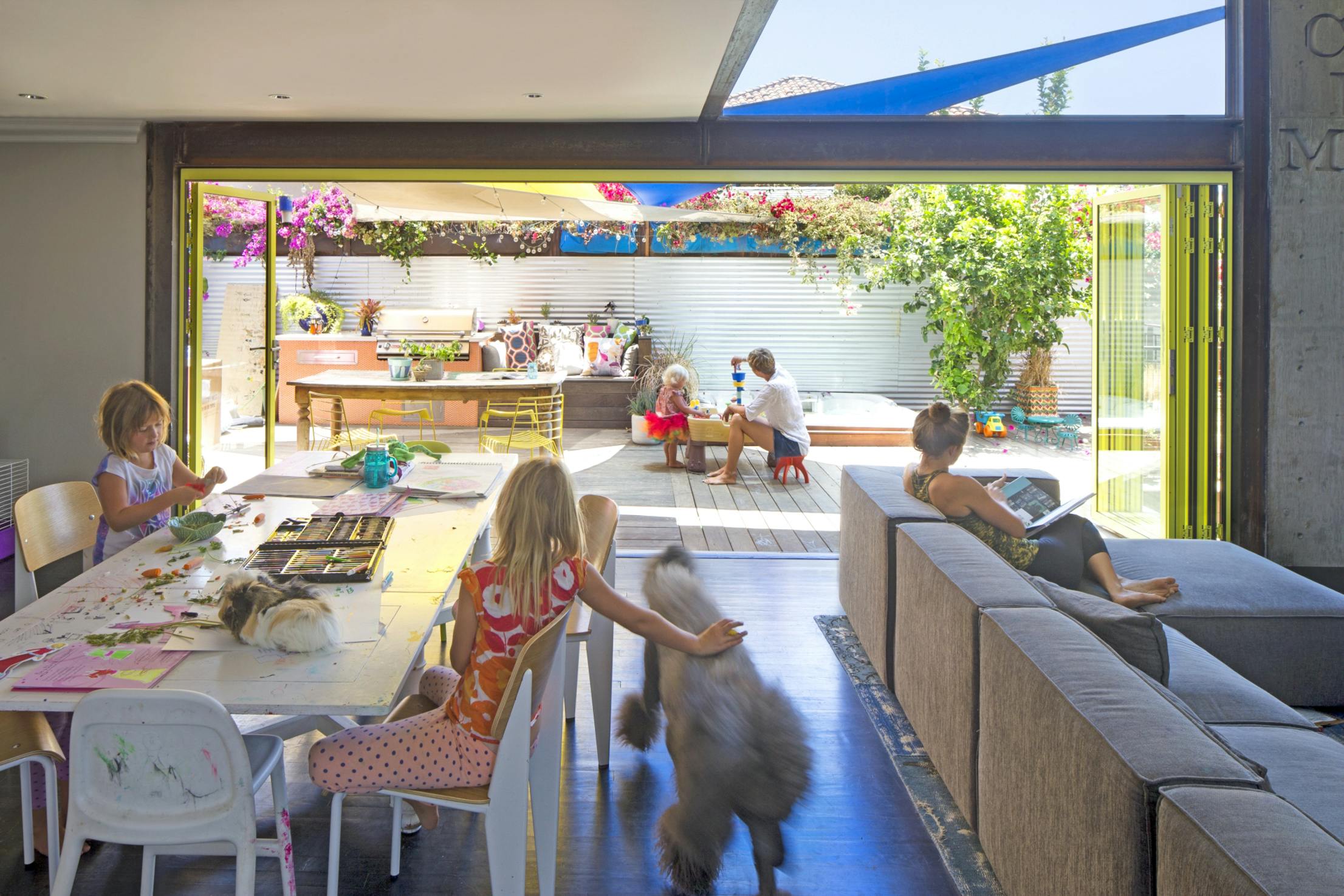 Creating a bigger family home doesn't have to mean building on costly extensions or adding additional floors–it can be as simple and dramatic as opening spaces using folding glass doors. By replacing an underutilized fixed wall with an operable glass wall, homeowners have the transformational ability to create a larger living space/kitchen that will flow directly to the outdoors. Homeowners are drawn to these modern renovation design enhancements due to the beautiful natural light, fresh air, tranquility, and increased functionality afforded by their proximity to the outdoors.
Design Inspiration: Create More Family Space with Folding Glass Doors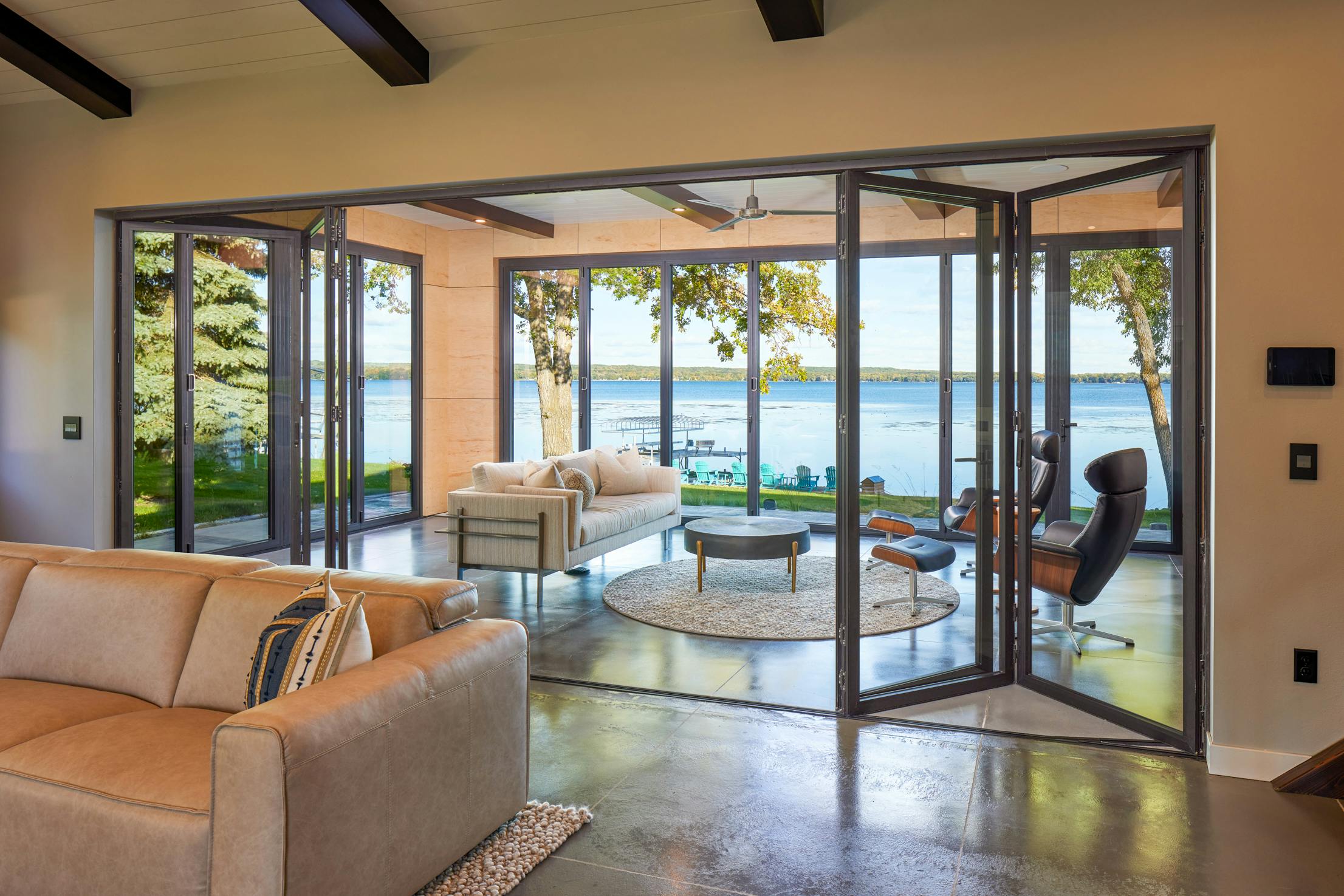 Increase the Functionality of Your Current Space with an Open Concept
Eliminate traditional fixed walls and create a functional open concept family home where the family can convene. Smaller homes are often limited by a floor plan that is composed of small, divided rooms. By using NanaWall folding glass doors, different areas of the house such as the living room or dining room can expand and open to an enclosed porch or 4-season room becoming one unified open room, maximizing the use of light and space. This creation of a larger and more dynamic room can adapt to changes in the family's needs. The folding glass doors allow for more living space yet also provide the option of closing off the room to allow for different functions to occur at once, all while maximizing natural light and open views of the outdoors.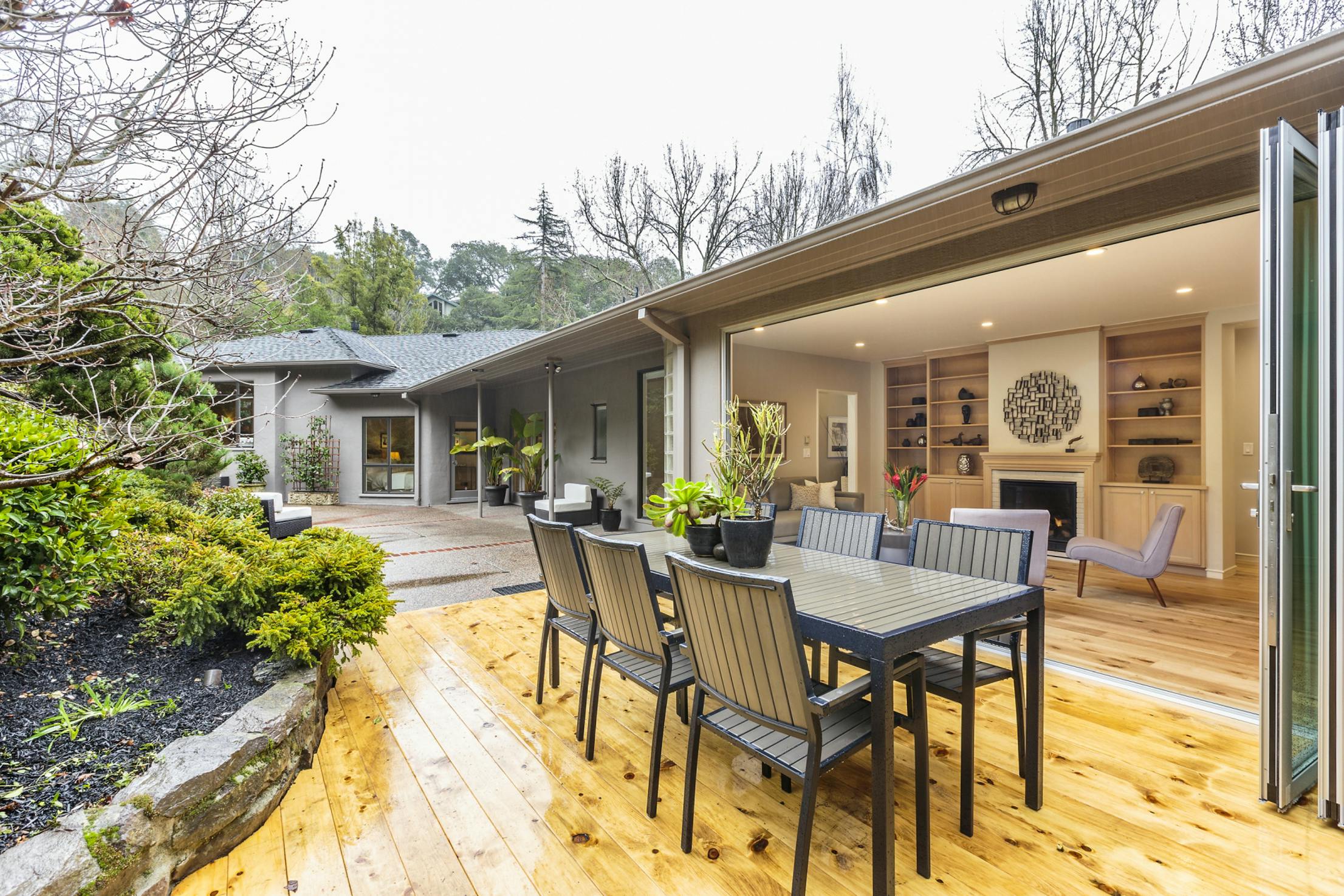 Extend to an Adjacent Patio for an Outdoor Living Room or Dining Room
Older homes were designed to keep the household separate from the outdoors, typically by placing small fenestration and large fixed solid walls as a barrier. Opening and extending your indoor living space to the outdoors increases viable square footage for day-to-day activities. Folding glass doors allow homeowners to create seamless transitions and as seen above, a space for outdoor dining or a spot for the kids to do school projects. Additionally, these operable glass wall systems allow for the diffusion of natural light to make smaller rooms feel much larger all while promoting fresh air circulation within the living spaces.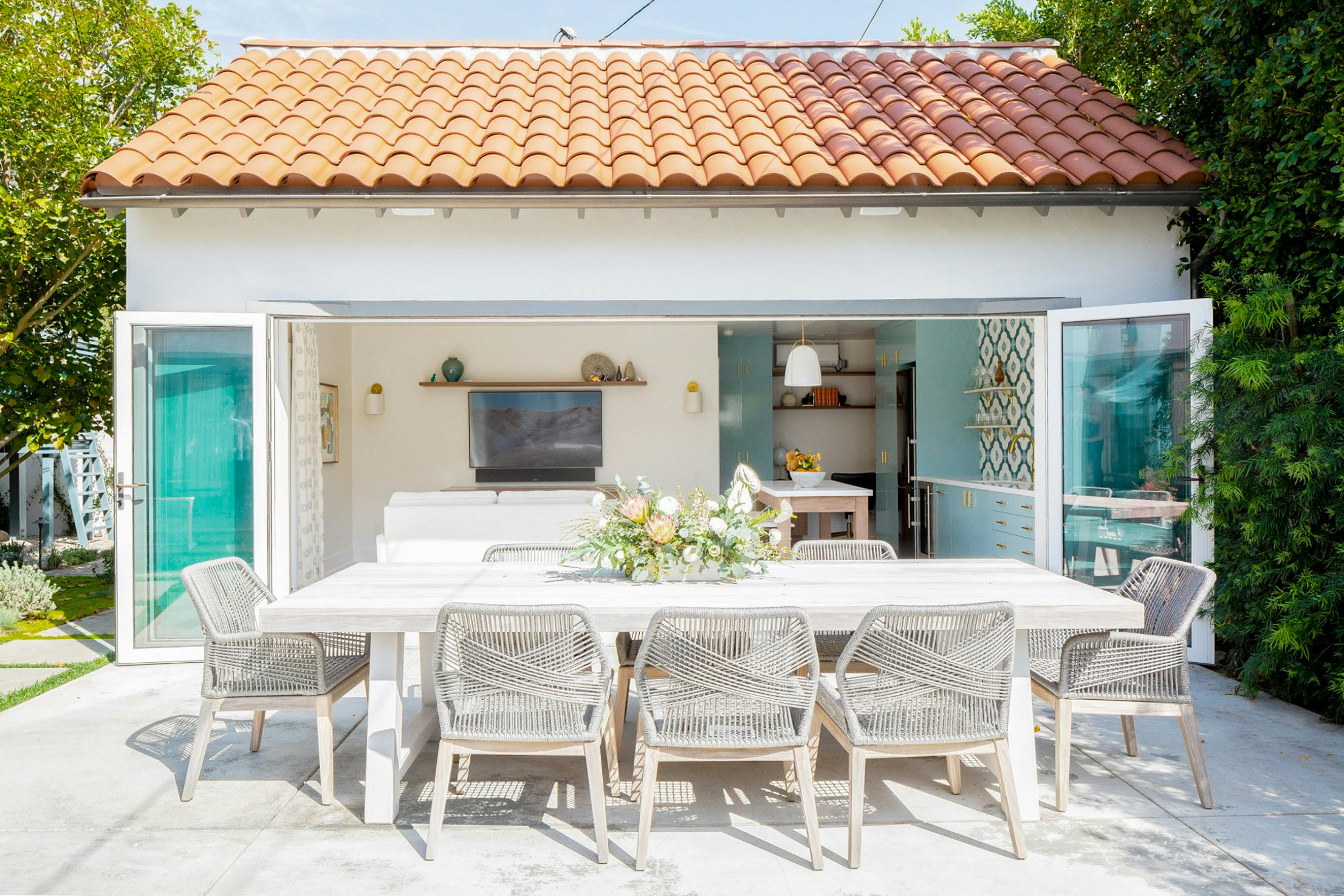 Repurpose an Underused Garage
Get ready for a garage sale, clear out all that unused clutter, and transform that unused garage into the ultimate multifunctional room. Garages often hold sporting gear and seasonal decorations but think outside the box. Swap the traditional garage door for folding glass doors and maximize the use of that dwelling. Once a garage, now a family den/guestroom/home office all while designating a storage closet for all the family overthrow items. Folding glass doors fill the space with natural light and configuration options allow for easy everyday swing door access into the space.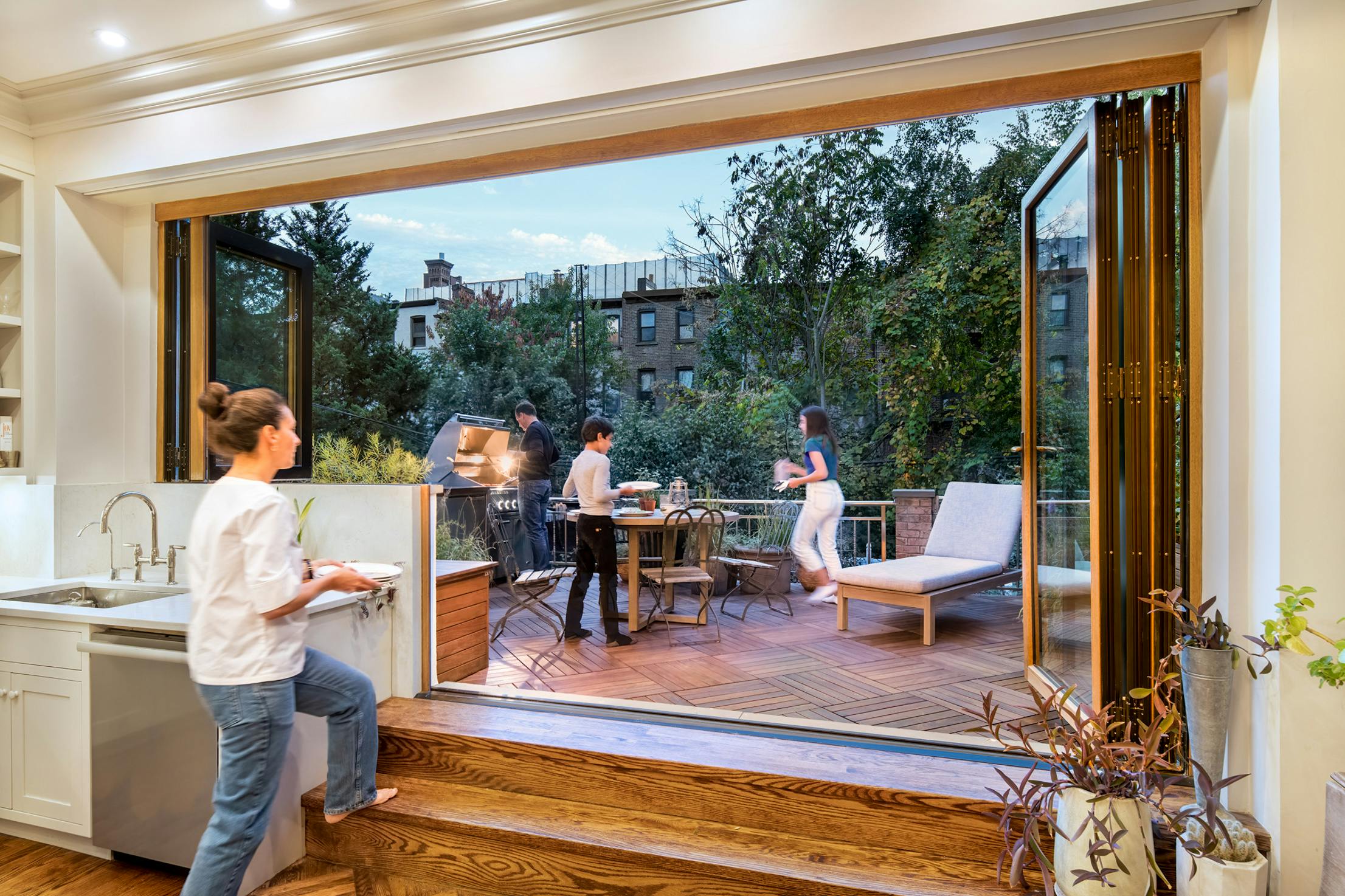 Customization Options to Fit Your Space: Kitchen Transition
The modern kitchen is used for more than preparing food; it's an entertainment room. No longer just for food preparation, the kitchen has morphed into a multifunctional space used by the whole family. It is the life center of the home. NanaWall has a solution that allows a kitchen to serve a modern purpose in a single installation: The Kitchen Transition. By blending with the outdoors, dual-height folding glass doors and folding glass windows combine to create an indoor-outdoor kitchen that seamlessly transitions to the outdoor living area—always at a premium in the city. As seen in the Brooklyn row house (above), by combining the kitchen/dining area with the once underutilized deck, this home now has extended living for outdoor dining, entertaining, homeschooling, and even work-from-home-conference-calls. This renovation capitalized on increased floor space, natural light, airflow, and energy efficiency by replacing an old solid door and poorly functioning windows with an operable glass wall.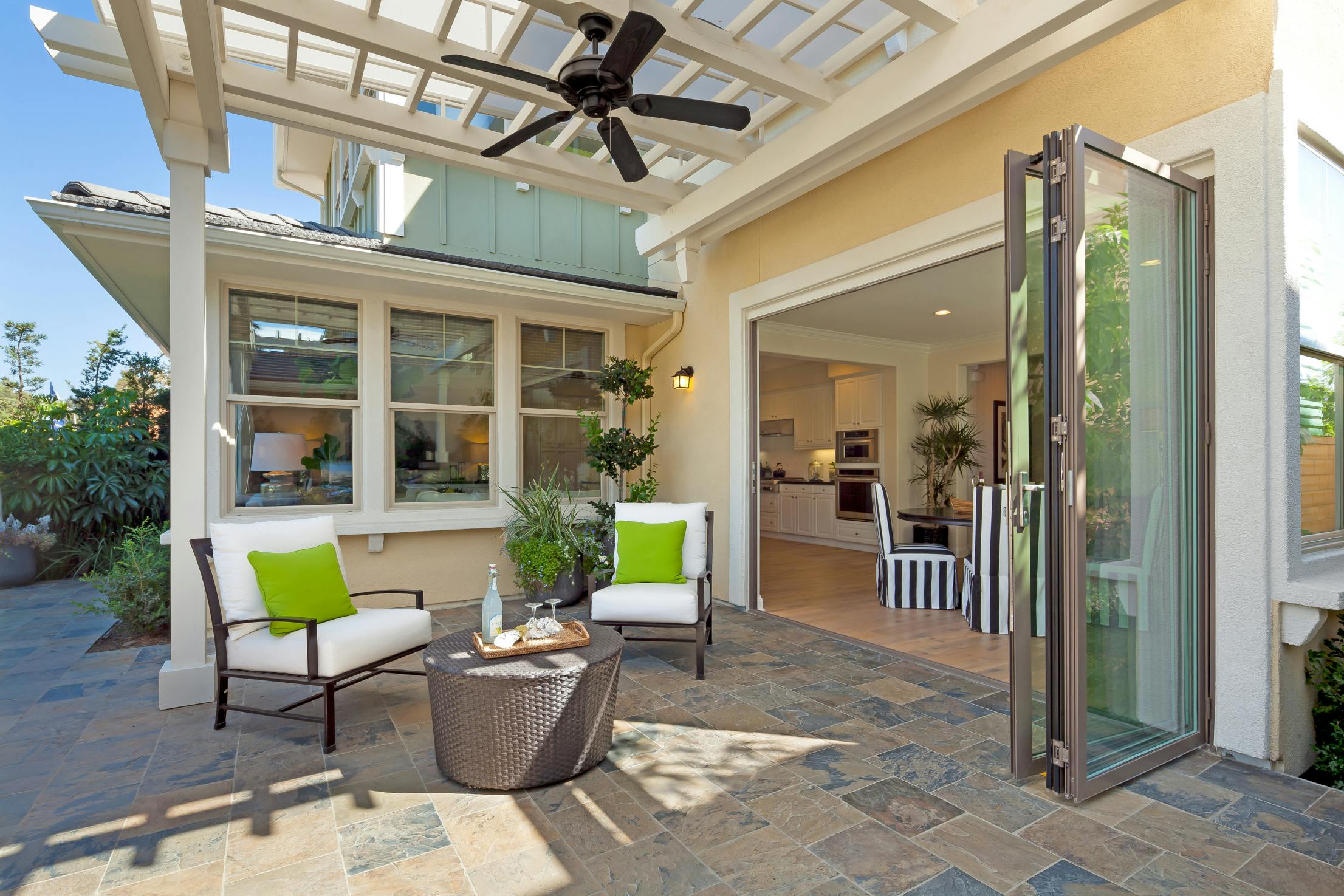 Final Thoughts
Folding glass doors are easily one of the most transformative features you can add to your home, no matter the size. Energy-efficient NanaWall operable glass wall systems will not only keep your home warm in the winter and cool in summer, but they provide a host of additional benefits. Increased natural daylight creates an airy atmosphere enlarging the interiors while folding glass doors provide a seamless connection with the outdoor area whether open or closed. Sustainable improvements including reduced energy consumption and improved indoor air quality is a bonus. But, most importantly, folding glass doors increase useable floor space in your home by opening to adjacent indoor or outdoor rooms providing more functional family space.

Explore the many uses of NanaWall folding glass doors for your home here.