Incorporate Sustainability and Biophilic Design with Folding Glass Walls
By NanaWall Systems, April 19, 2023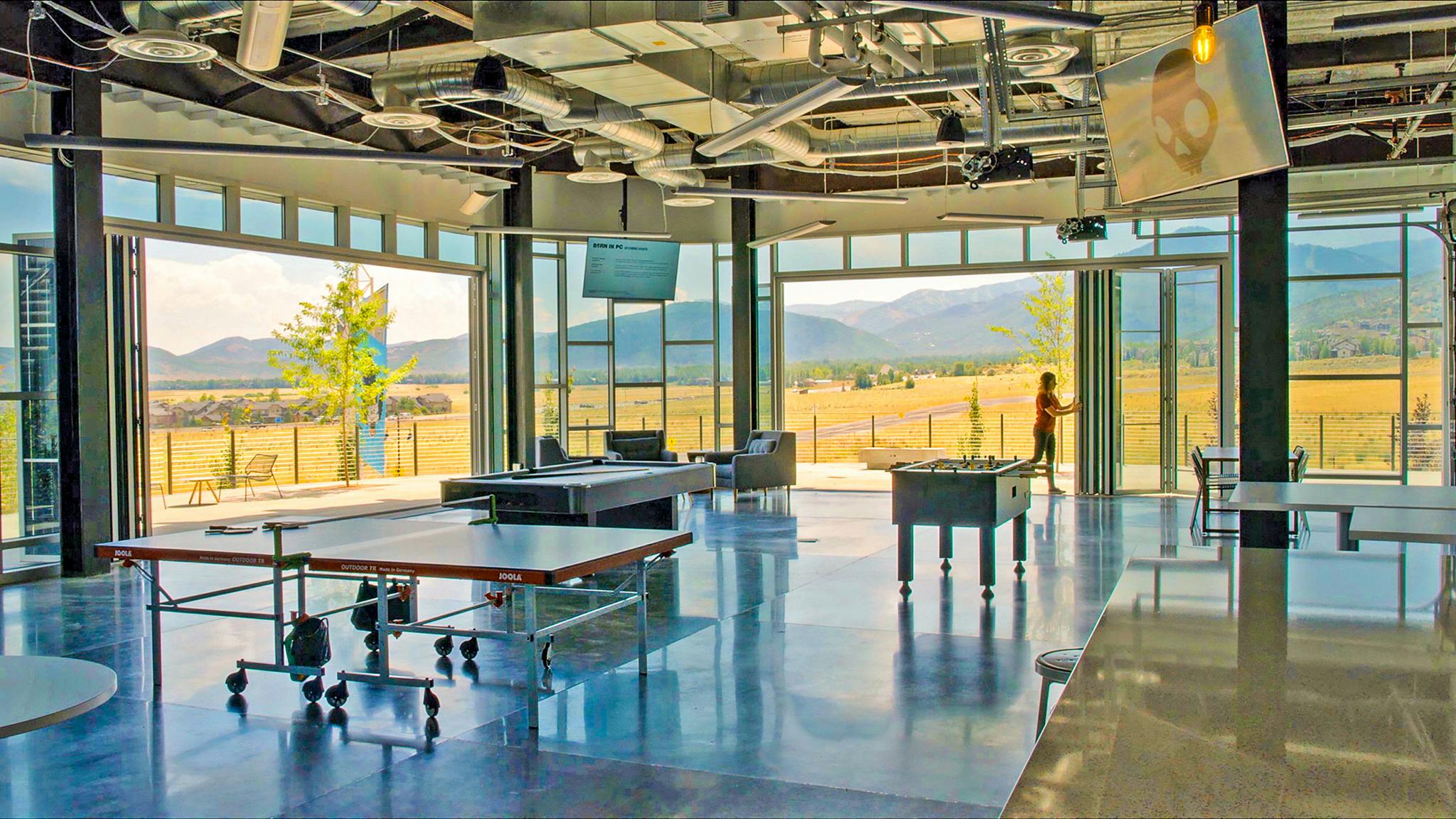 As we approach Earth Day, it's important to reflect on our impact on the planet and consider ways to reduce carbon footprints. Architects, designers, and developers play a vital role in creating sustainable buildings that benefit the planet and the people who occupy them. With customizable glass wall systems, the power is yours to connect indoor and outdoor living spaces seamlessly while reducing energy consumption, promoting biophilic design, and a closer connection to nature.
But it's not just about doing right by the planet - it's about creating spaces that benefit both the people living there and the environment. Utilizing NanaWall glass systems, you can have the best of both worlds: a sustainable and biophilic design that enhances any space. Explore how folding glass walls can help you create beautiful spaces that are environmentally conscious.
Biophilic Design in Commercial and Residential Architecture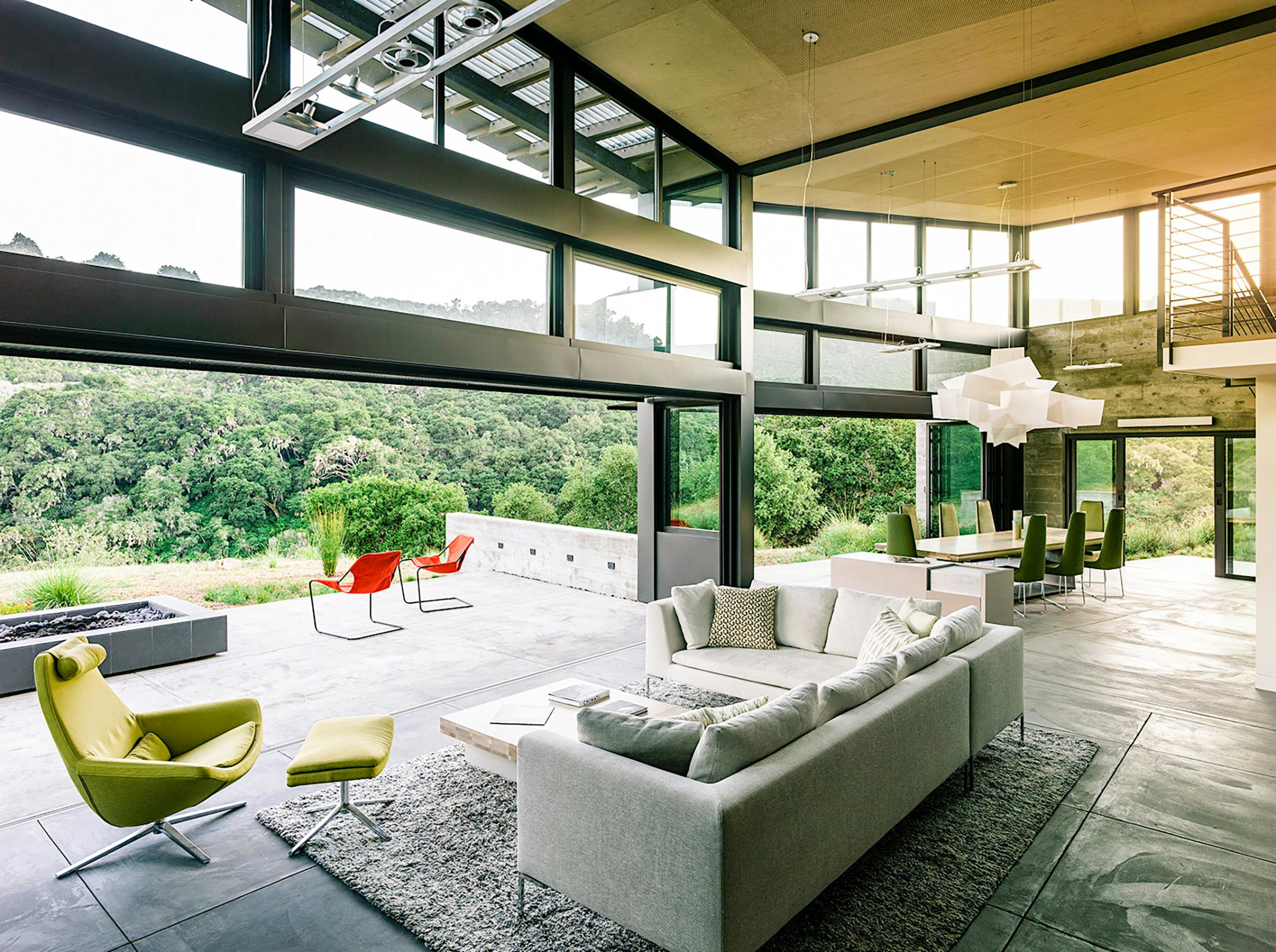 Creating Immersive Experiences with Glass Walls for Sustainable and Biophilic Design
There's no better way to celebrate the outdoors than by bringing the beauty of nature into your work or living space. With customizable glass walls, you can create indoor/outdoor experiences that allow you to enjoy fresh air and natural light without leaving the comfort of your home or commercial space. This seamless space transition can increase your connection with nature and help you harness the benefits of biophilic design.
Biophilic design utilizes natural materials, patterns, and phenomena to cultivate a connection to nature within a built environment. Innovative Generation 4 folding glass walls can help achieve these design dreams and bring the outdoors in. NanaWall performance systems help to promote the numerous benefits of this design style like psychological well-being, increased cognitive function, reduced stress levels, increased productivity, and improved physical health for the occupants.
If you have an outdoor area, folding glass walls can help you create an immersive experience that brings the beauty and benefits of nature right to your doorstep. Performance folding glass doors can open any space, providing a seamless indoor/outdoor experience for relaxing and entertaining. The flexibility of Generation 4 systems allows you to create all-season open-air environments. They are not only aesthetically pleasing but are also energy-efficient so developers and designers can take advantage of biophilic benefits while promoting sustainable design.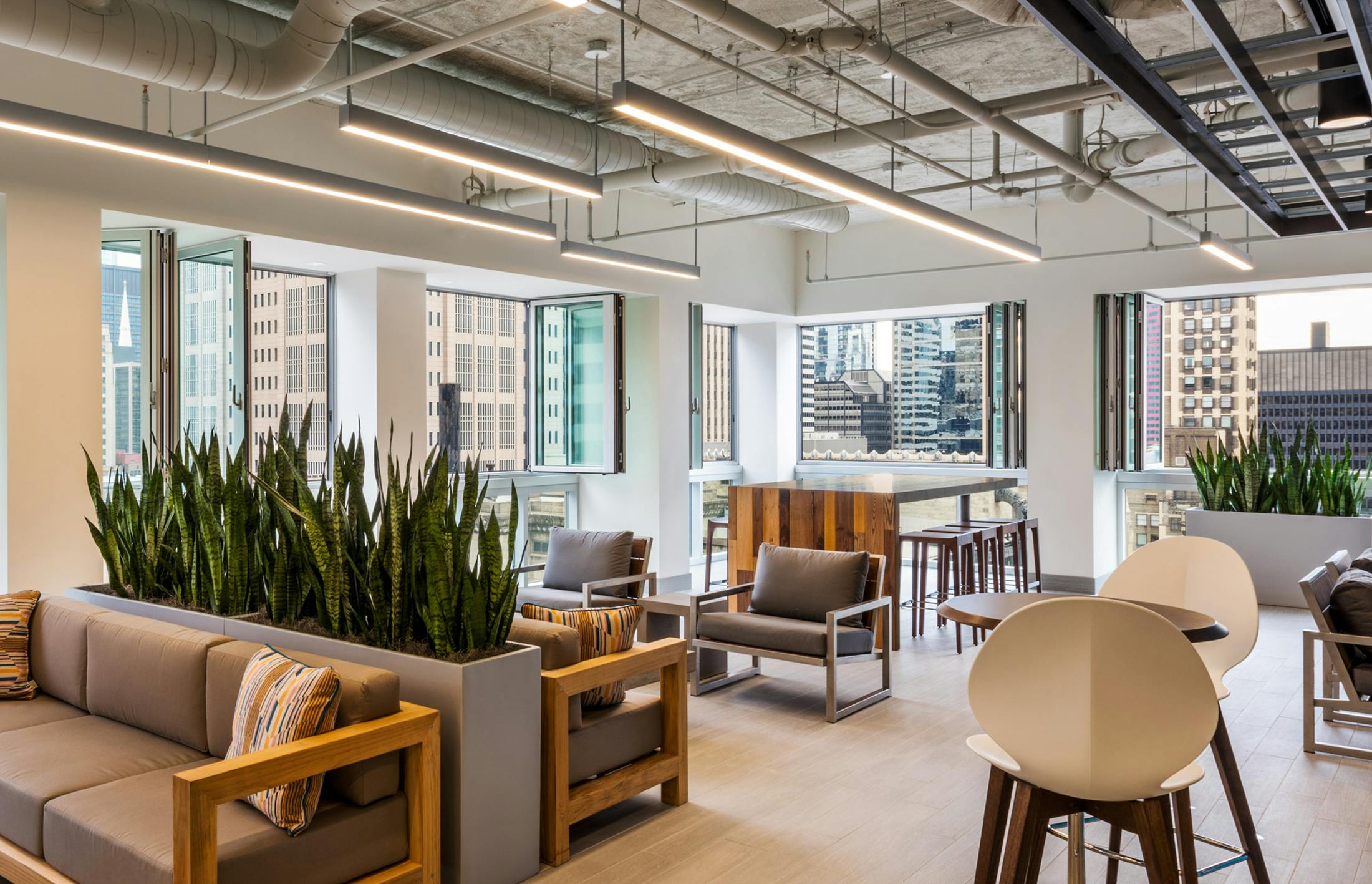 Achieving Sustainable, All-Season, Indoor/Outdoor Spaces with Weather-Performance Systems
Innovative Generation 4 weather-performance systems provide all-season comprehensive solutions for sustainable indoor/outdoor spaces. These systems are performance-rated, weather-resistant, and engineered to withstand high winds, water, and inclement weather. The durable, long-lasting, all-season technology of NanaWall also provides a draft and rattle-free system that can stand the test of time.
Engineered for thermal efficiency and to perform when closed, NanaWall systems feature double and triple paned glass options, reducing the need for heating and cooling and leading to significant energy savings and a smaller carbon footprint. These systems also offer modern fenestration options, including dual glazing, a variety of coating options including Low-E coated glass, and numerous weather-performance sill options. Choosing products that last, like the durability of the Generation 4 system, not only benefits the environment but also improves the quality of life for occupants.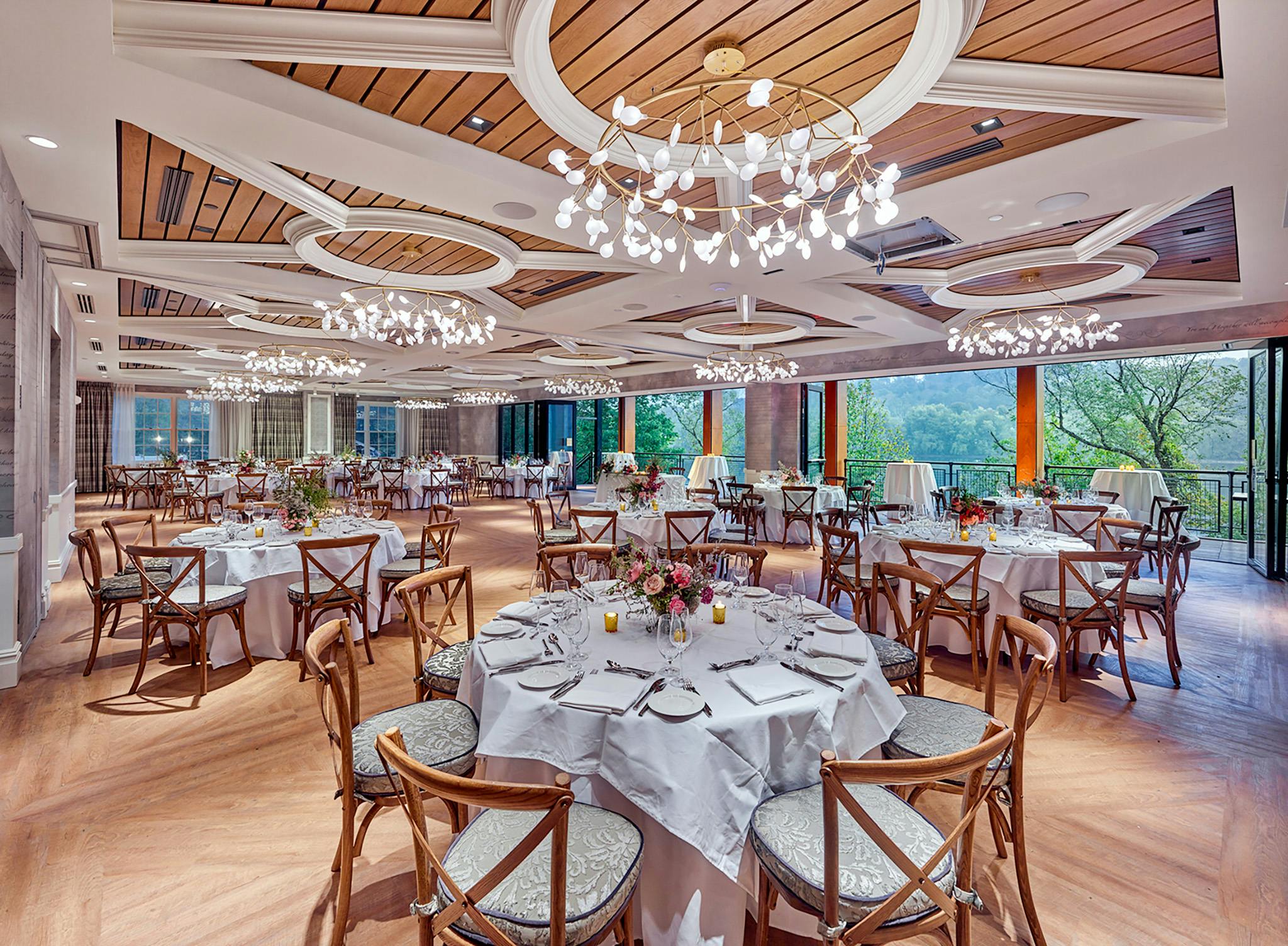 Prioritizing Energy-Efficient Design for Sustainable Buildings: How Glass Walls Can Help
Energy-efficient design is essential to creating sustainable buildings. Architects and developers are prioritizing energy-saving measures in order to reduce their carbon footprint. One way to achieve this is by incorporating folding glass walls into any residential or commercial design project.
NanaWall systems are specifically designed to optimize performance and energy efficiency in any space, making them an excellent investment for eco-friendly building projects. These systems feature customizable options for energy-saving, glass coatings, and insulation options, which can significantly reduce heating and cooling costs, resulting in more sustainable and cost-effective spaces.
Performance glass walls promote the benefits of biophilic design and can increase the overall sustainability of any building. These glass walls optimize stunning outdoor views and ample natural light, reducing the need for artificial lighting and improving the occupant's quality of life. This is a great opportunity for homeowners to finally replace those old, drafty, and inefficient windows and fixtures with energy-saving, cost-effective, and sustainable solutions that can match any aesthetic. Advanced Generation 4 systems offer durable all-season weather performance, limitless configuration, and customization options. This system is the perfect sustainable building solution for architects, developers, and homeowners alike.
Types of Sustainable Buildings in Commercial and Residential Architecture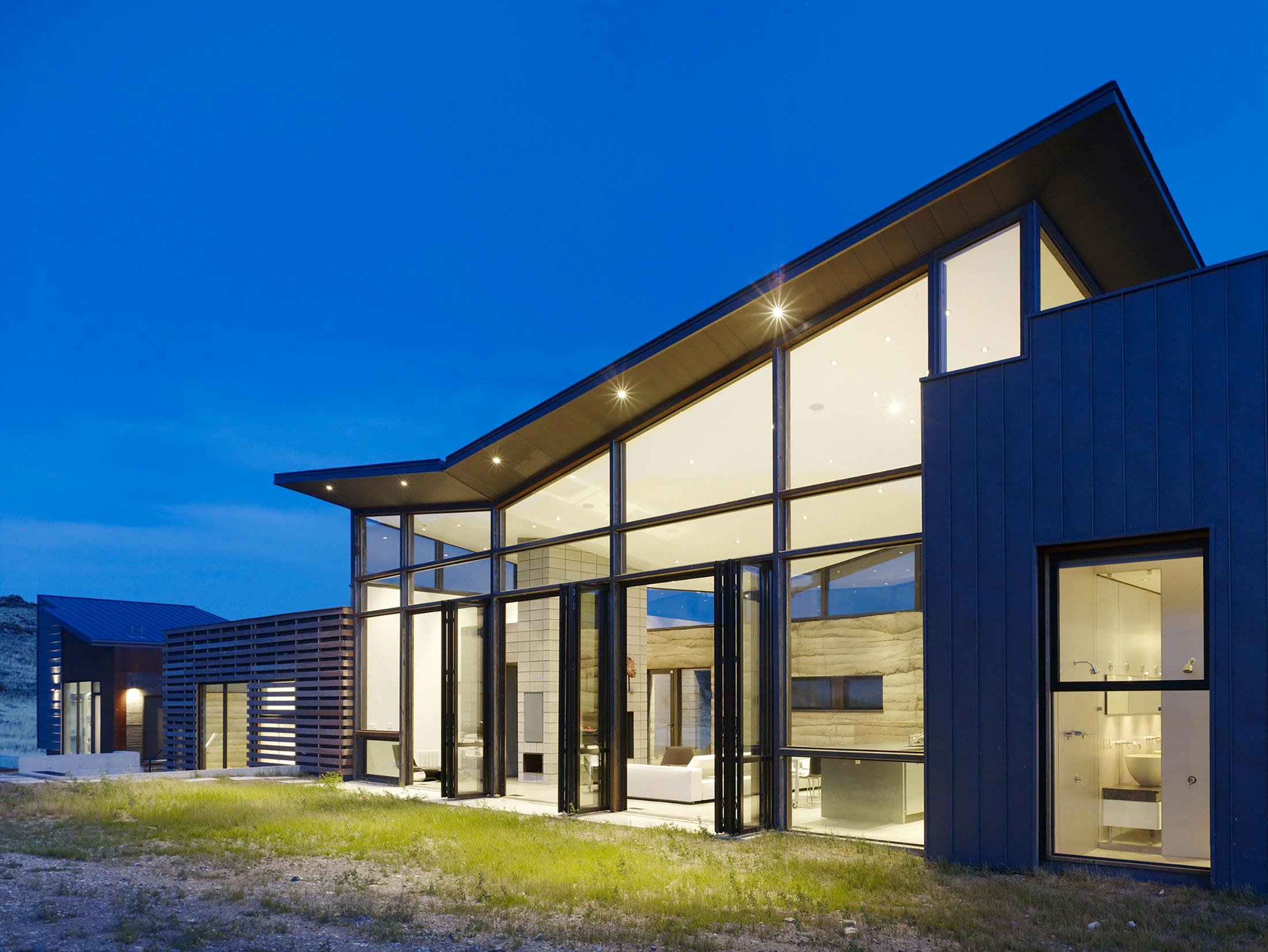 Achieving Net Zero Carbon Footprint: The Role of Glass Walls in Sustainable Architecture
Net Zero is crucial for sustainable design. Essentially, Net Zero means having zero carbon footprint in your home or commercial building. That is, your home produces as much energy as you consume. This allows you to do two very important things: reduce your electrical bill and help to preserve our environment. Architects are designing incredible buildings that not only look beautiful but also have a positive environmental impact. Achieving a net-zero carbon footprint is becoming increasingly important. With customizable options for energy-saving glass, coatings, and insulation, performance folding glass systems are an excellent choice for sustainable architecture. NanaWall glass systems offer customizable options for energy-saving and sustainable materials like recyclable aluminum or sustainably harvested wooden frames. By investing in Net Zero measures like NanaWall systems, you can create sustainable buildings that save money on energy bills and contribute to a better future for the environment and the people who inhabit your buildings. Net Zero design is becoming increasingly important in regions like California that have ambitious goals for the development of zero net energy building in all new residential and commercial properties.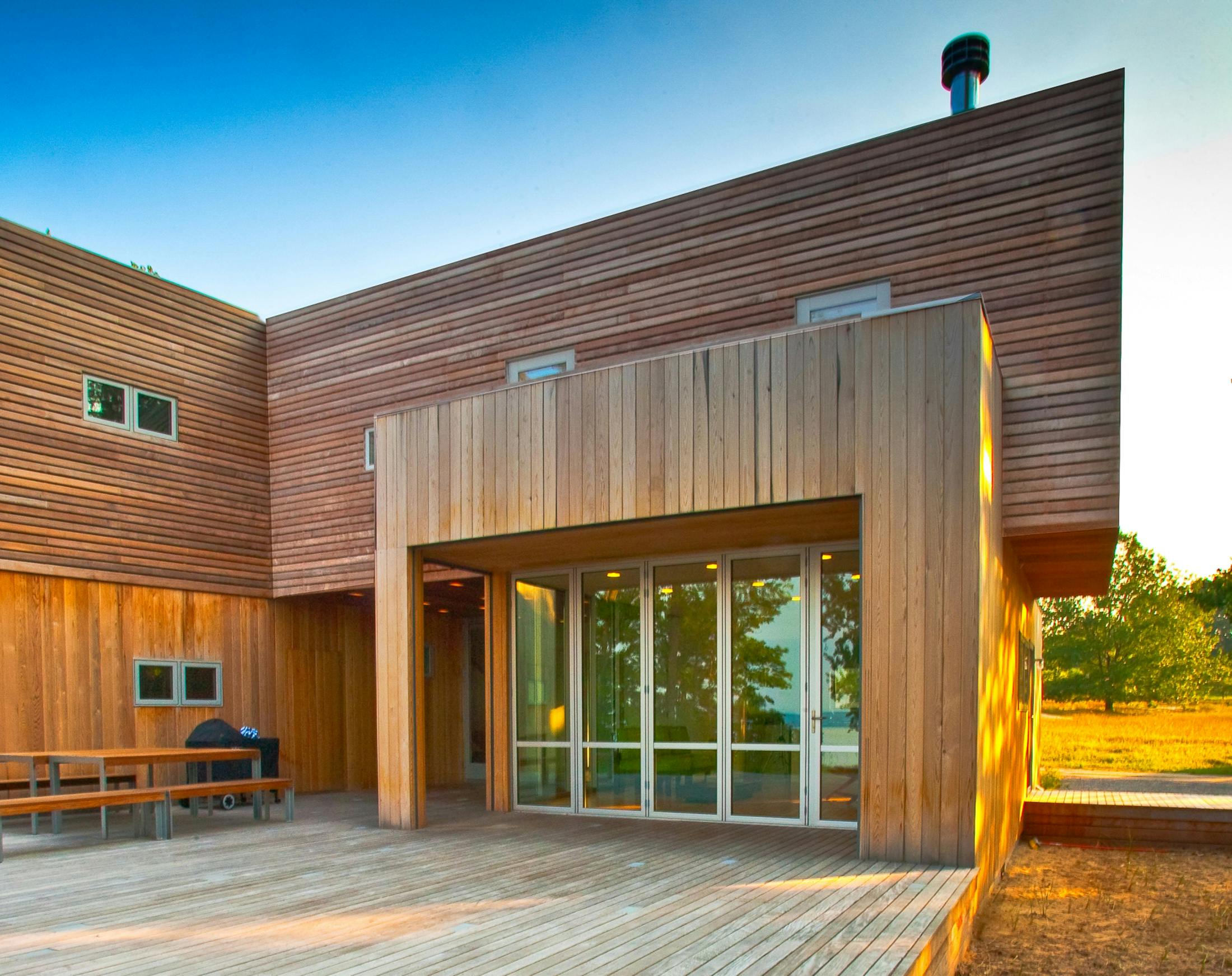 Passive House Standards: Leading the Way in Sustainable Building
NanaWall is proud to be the first folding door system to meet Passive House standards, the highest standard for energy performance in the world. A Passive House is a well-insulated, airtight building that can reduce energy use by up to 90% without the use of active technologies. Meeting these standards requires creating an extremely well-insulated, airtight space, and controlling all energy use in a building. NanaWall systems meet Passive House standards, offering an innovative solution that can significantly reduce energy consumption. Take inspiration from this stunning private residence, the first in Northern Michigan to achieve LEED-gold certification. Built by Architect Danny Forster and homeowner Michael McDonald who harnessed sustainable design principles to reduce energy load, used thick walls, strategically placed insulated glazing, and efficient water, and heating generation.
Sustainable Renovation with Glass Doors: The Living Building Challenge Certification at Loom House
Renovating existing structures to meet sustainable standards is a crucial step in protecting our planet and improving the quality of life for occupants. The Living Building Challenge (LBC) is a certification program defining the most advanced measure of sustainability. Living Buildings are regenerative buildings that connect occupants to light, air, food, nature, and community. They are buildings that are self-sufficient and remain within the resource limits of their site. Most notably, Living Buildings create a positive impact on the human and natural systems that interact with them.
The Loom House, a mid-century home recently featured in Dwell Magazine, is an excellent example of achieving the LBC certification. Architect Brian Court from The Miller Hull Partnership renovated the property, incorporating natural resources to achieve net-positive water and on-site water treatment.
Architect Brian Court from The Miller Hull Partnership introduced other green building programs with what he describes as "the Holy Grail at the end" being the Living Building Challenge.
The house also meets net-positive energy requirements through the installation of solar panels and wall-mounted batteries. The use of NanaWall weather-performance triple glazed glass and skylights allow for connection with the environment while reducing reliance on electricity. NanaWall systems can enhance the aesthetic appeal of any space and provide energy, efficiency, and strong weather performance. This type of sustainable biophilic design demonstrates how we can work more efficiently towards preserving the planet for future generations.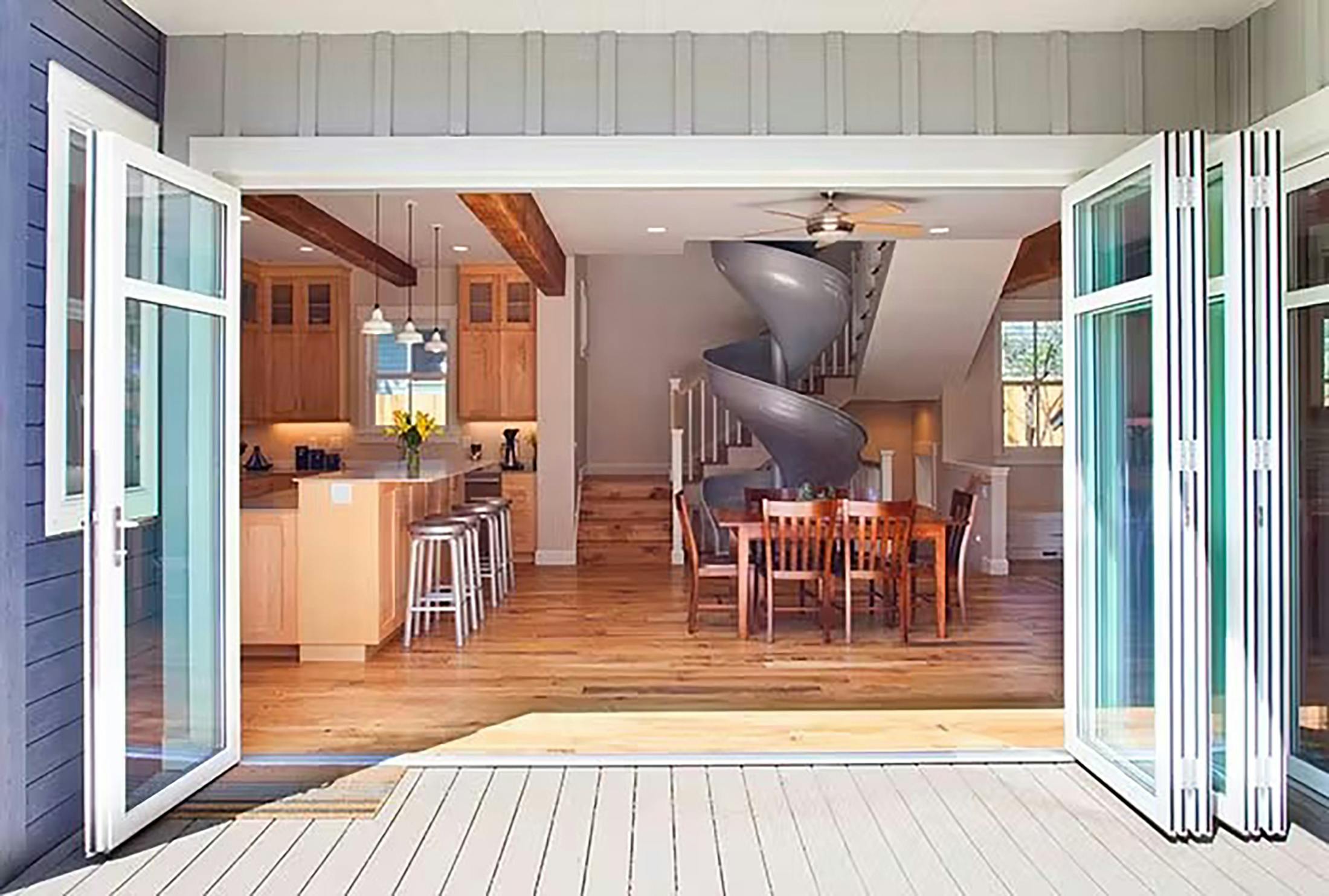 Incorporating Eco-Friendly Biophilic Design Elements: Boulder Home LEED Gold Case Study
Architects, developers, and designers are always looking for innovative ways to incorporate sustainable elements into their projects while also creating unique and appealing designs. The Shire family's home in Boulder, Colorado, is a perfect example of how sustainability and creativity can go hand in hand. This LEED Gold certified case study showcases a range of eco-friendly design elements that reduce the carbon footprint of the house while also adding fun and unique features.
LEED certification is a symbol of sustainability achievement and leadership. It provides a framework for healthy, highly efficient, and cost-saving green buildings. This design certification offers numerous environmental, social, and governance benefits including tax incentives, saving on annual operational costs, attracting tenants, improving indoor air quality, and reducing energy use and carbon emissions.
One of the most striking elements of the Shire family's home is the steel indoor slide that doubles as a laundry chute. This playful feature adds an element of fun to the home while also being practical and functional. NanaWall opening glass walls also create a breezeway into the dining space, adding another room to the home and seamlessly connecting the indoor and outdoor spaces. By taking inspiration from this project, designers can create their own sustainable and biophilic design creative spaces that benefit both the environment and the people who inhabit them.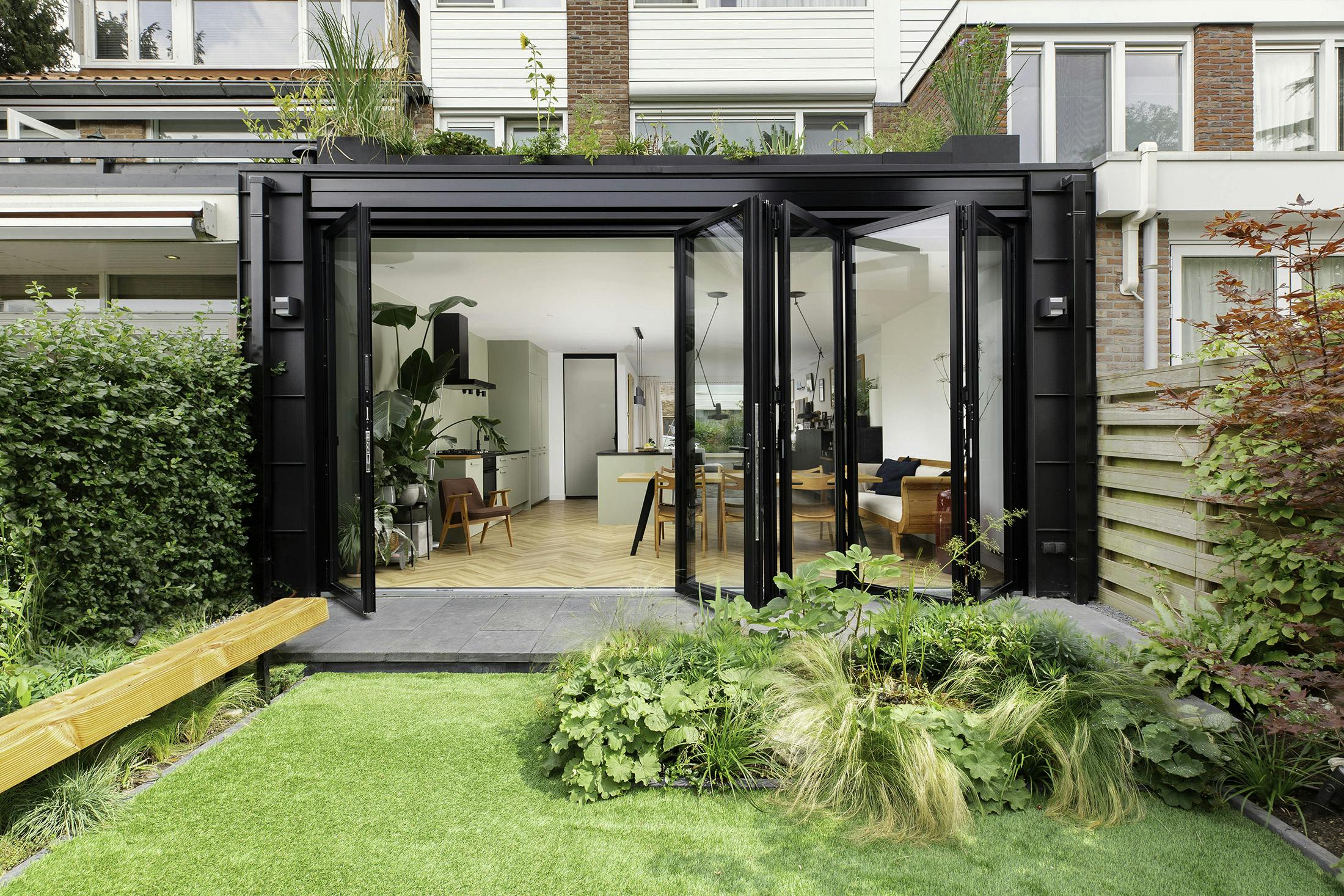 Customize Any Sustainable Biophilic Design Project with Eco-Conscious Design Options
Designing a sustainable building doesn't mean compromising on style or functionality. With versatile systems and fully customizable options, architects and developers can create designs that fit a variety of specific project needs while contributing to a better future for the planet.
Commitment to preserving the environment is made easy using NanaWall. The aluminum and aluminum clad products offer recyclable frames and are powder-coated with eco-friendly finishes. Performance wood systems offer sustainably harvested wood options with proper Chain of Custody Certification, ensuring that the wood is responsibly sourced. These customizable solid wood systems offer water-based finishing options that are also sustainable. Sustainable custom options make performance glass walls and doors an excellent choice for any eco-friendly building project. In addition to sustainable building materials, NanaWall packaging is made from recycled materials, reducing waste, and promoting sustainability.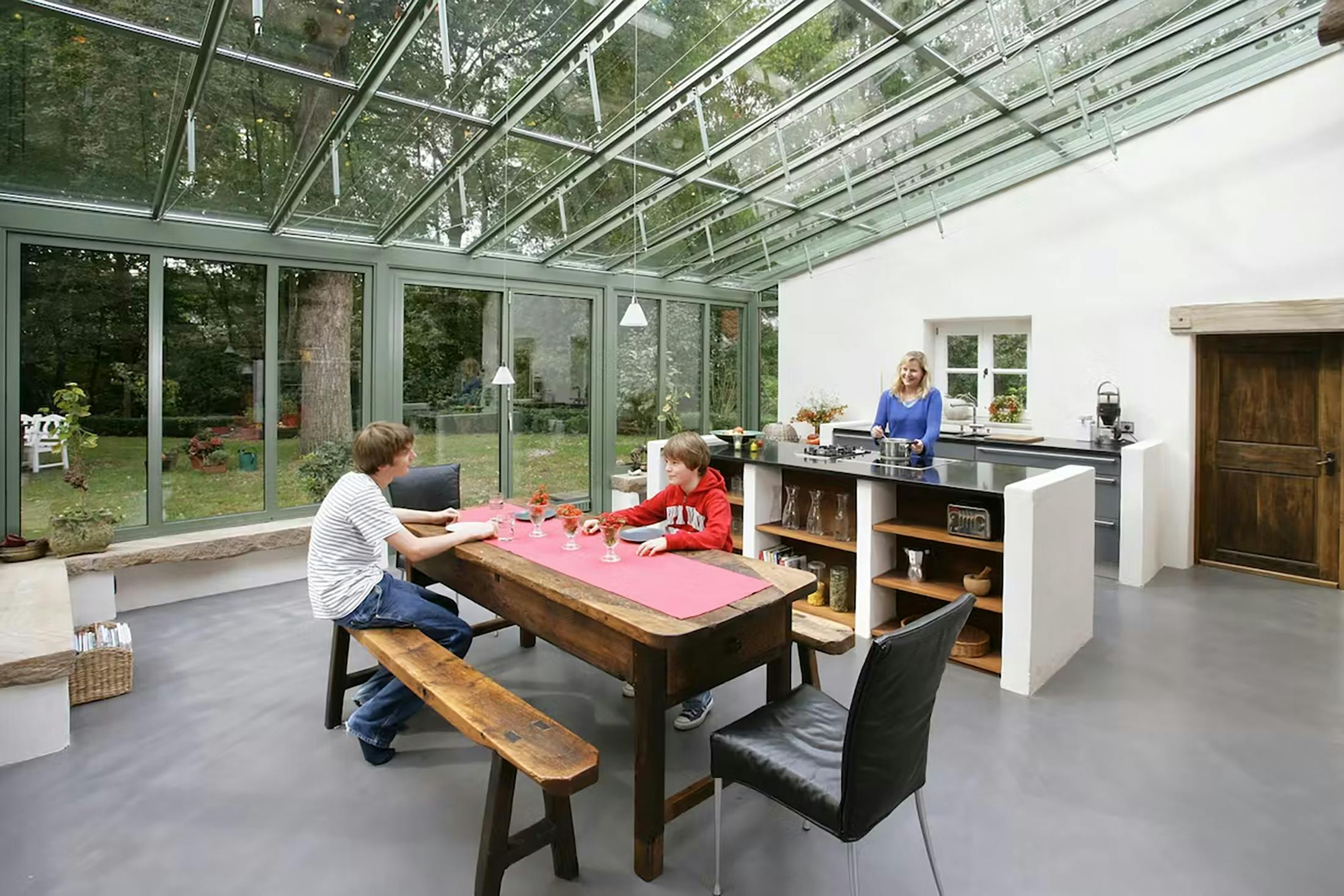 Final Thoughts
Building for sustainability and biophilic benefits is more than just a trend; it's a way of life that benefits both people and the planet. With NanaWall customizable glass wall systems, you can seamlessly connect indoor and outdoor spaces while reducing your carbon footprint. By incorporating sustainable design elements into your home or commercial space, you can make a positive impact on the environment and enjoy the benefits of a more eco-conscious lifestyle. When choosing folding glass walls, you can have the best of both worlds: enjoying the biophilic benefits of a seamless indoor-outdoor connection while doing right by the planet.
Designers choose from a wide range of customization options, including folding, sliding, and even frameless systems to suit any building, space, or design. Choose from a variety of custom configurations, colors, and finishes to match any aesthetic preference or project. This Earth Day, consider taking a step towards a more sustainable future by choosing performance opening glass walls for your next project!
Discover how architects and designers everywhere are creating sustainable buildings using biophilic design principles with NanaWall Generation 4 systems in our inspiration photo gallery!