Innovative Materials Found in the Anatomy of Opening Glass Walls
By NanaWall Systems, August 13, 2021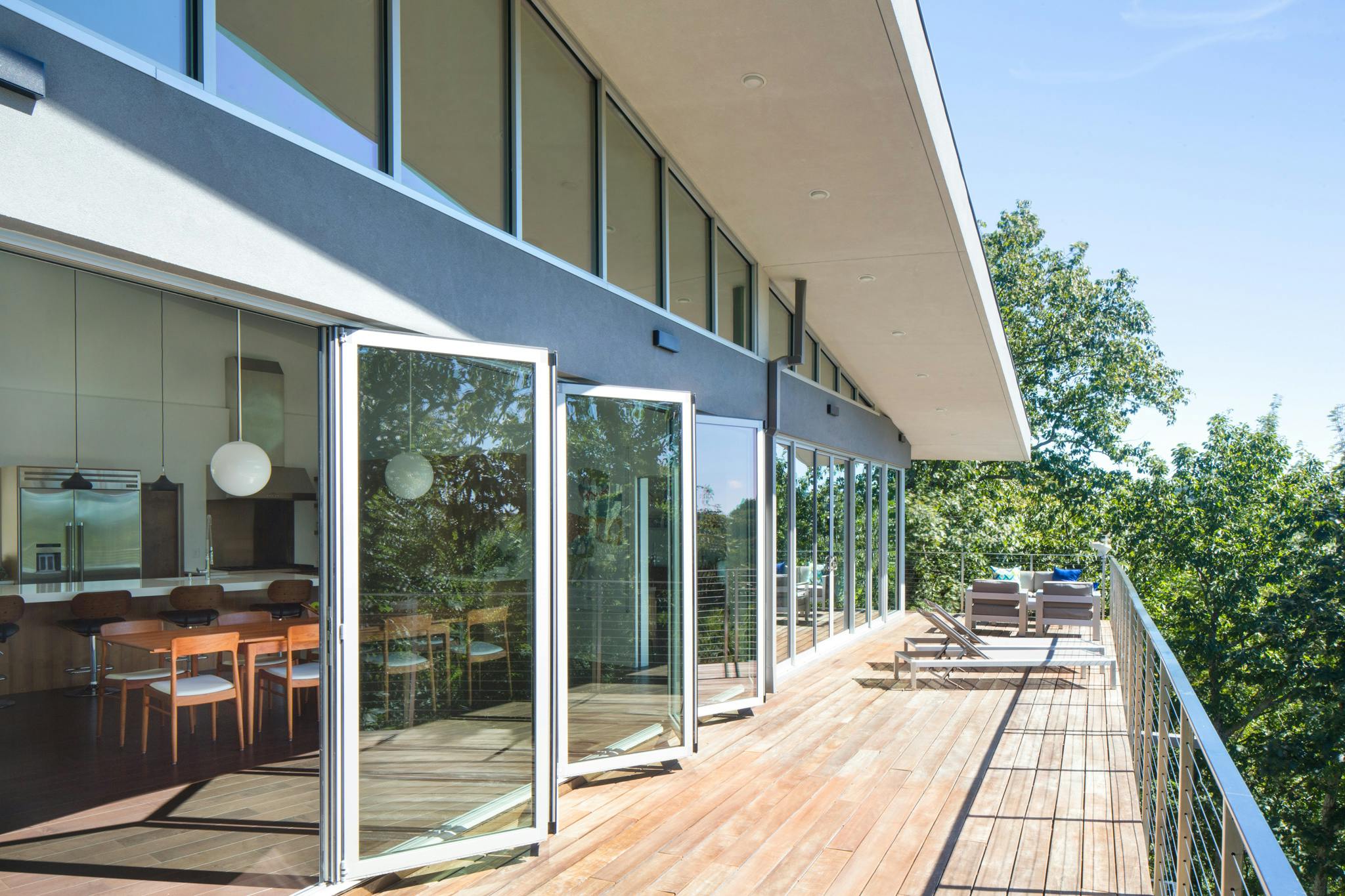 Opening glass walls have become a staple in today's building and design market as the highly coveted indoor/outdoor experience continues to captivate residential and commercial owners. As the industry becomes more saturated, how can you as a builder, architect, designer, or homeowner ensure you are getting the most for your buck? As a single-source supplier, NanaWall Systems manufactures every single aspect of their moveable glass wall systems locally in California with a few specialty systems manufactured in Germany. That means every single manufacturing component is carefully selected and tested for performance and durability. Let's take a look at some of the most commonly used materials in NanaWall systems.
Understanding Glass in Opening Glass Walls
Advancements in fenestration have significantly improved performance. Through the tempered glass, lamination, and glazing processes, moveable glass wall systems are more than just aesthetically pleasing décor pieces but rather architectural solutions that improve the overall function of buildings. From thermal efficiency to sound-dampening capabilities, understanding how these innovations work is instrumental in determining which options are best for your specific project.
Glazing refers to the layers of glass that make up the frame's infill. Selecting the glazing for opening glass walls requires a few considerations: insulation, impact, sound, and climate. The spaces between each pane of glass can be filled with air or even argon gas to improve thermal performance and insulation.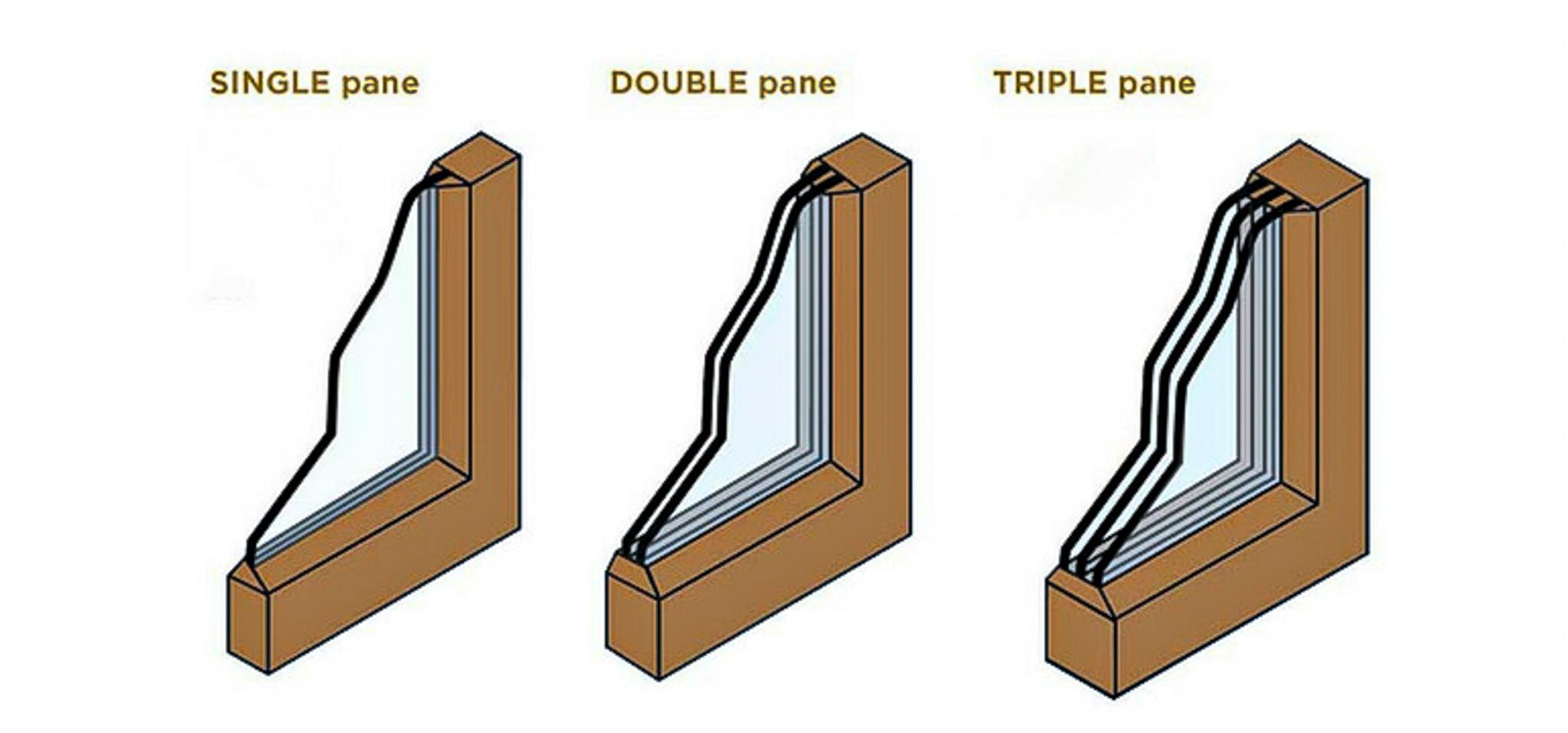 Single glazed fenestration consists of a single pane of glass and is the most basic option available. This is probably not the best choice for exterior applications in extreme weather climates but does work well for interior applications like glass wall dividers. Single glazed options for interiors offer glass thickness from ¼" to ½". NanaWall Systems also offers single glazing for balconies that allows the space to be used during all seasons.
Double glazed fenestration consists of two separate pieces of glass with a space between the two panes. This option offers better insulation in extreme weather climates, especially if the space between the two panes is filled with argon gas.
Triple glazed fenestration consists of three separate sheets of glass within a frame. This is the best choice for achieving utmost thermal efficiency in extreme weather climates but without sacrificing ease of operation and performance. Argon gas can also be used with this option.
Laminated glass refers to two or more sheets of glass bonded together with a plastic interlayer, offering superior strength and durability. This interlayer holds the glass together and will be retained in the frame in the instance of breakage. Because of this, laminated glass is ideal when security and safety are of priority. The plastic interlayer also acts as a sound barrier that causes noise waves to become disrupted and thus improve sound attenuation. NanaWall opening glass walls offer single, double, and triple laminated glass, depending on the needs of the project, that can reach sound control ratings up to STC 45.
Tempered glass, also referred to as toughened glass, is processed by controlled thermal or chemical treatments to increase its strength and overall safety. When broken, this type of fenestration shatters into small granular chunks less likely to cause injuries than jagged shards. Tempered glass is often used in moveable glass wall systems to withstand impact and weather.
Frame Materials for Moveable Glass Wall Systems
Aluminum framed opening glass walls are designed to provide long-lasting performance and combat extreme weather conditions. As a building material, aluminum is an extremely versatile, lightweight metal known to be corrosion resistant and low maintenance. Recognized to be an excellent conductor of heat and electricity, NanaWall aluminum framed moveable glass wall systems are built with insulating thermal barriers that ensure thermal efficiency and comfortable interiors year-round. These attractive aluminum frames are favored for their streamlined aesthetics, durability, and low maintenance—not to mention aluminum is also a highly sustainable material. Choose from NanaWall Systems' 50 standard color options or an additional 200 selections including anodized and custom.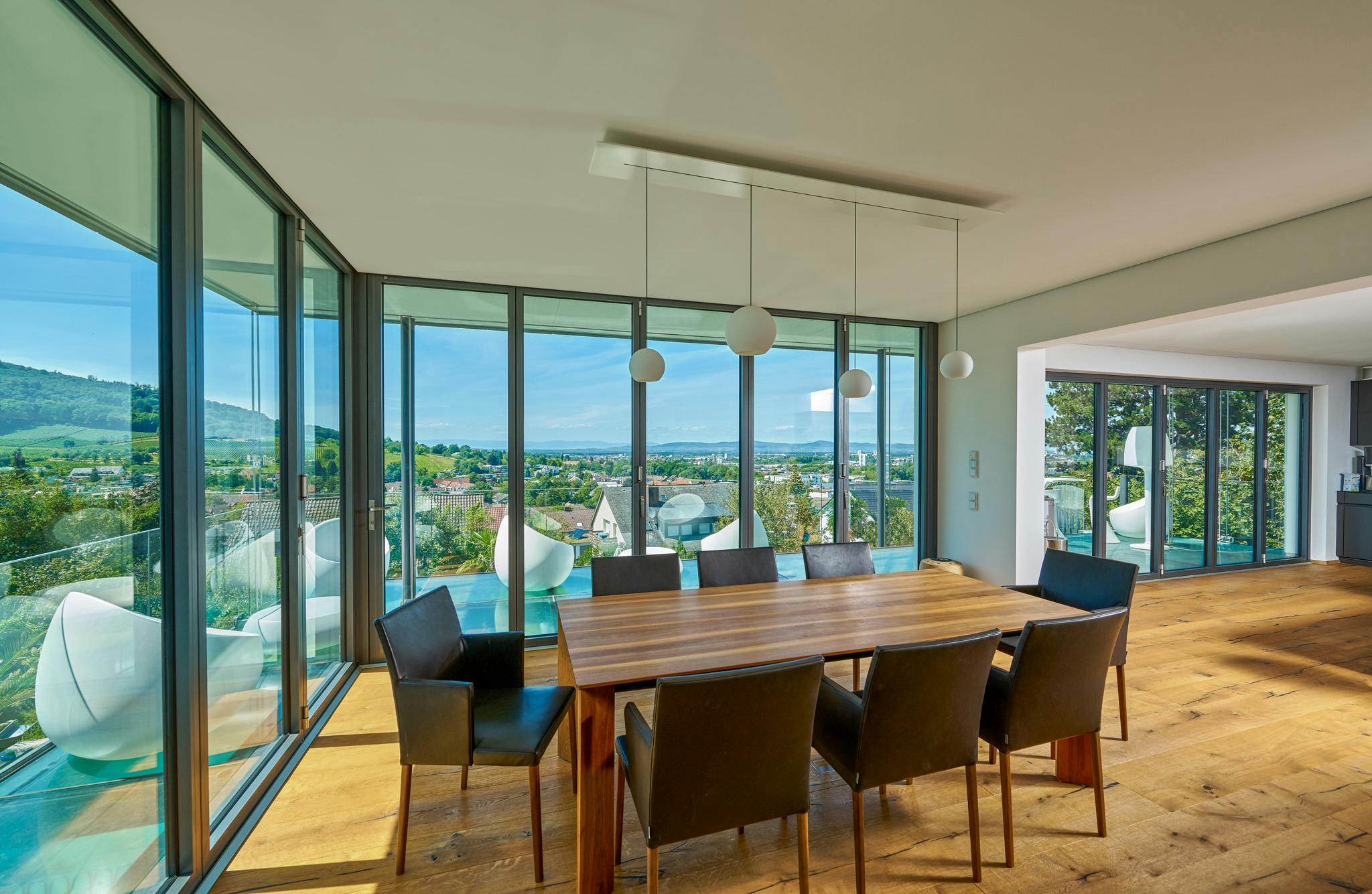 Wood is notorious for its adaptability and strength, not to mention its aesthetically pleasing elegance. Unlike other systems on the market, NanaWall wood framed systems are built on solid single-species wood frames and are not veneered over inferior wood, allowing for sanding and refinishing down the road as needed. The latest design innovation in the next generation of opening glass walls is quadruple laminated cross-grained wood. This design feature adds strength and allows for larger panel sizes, creates structural integrity, and provides long-term durability. Choose from standard wood options of Sapeli Mahogany, Pine, Spruce, Meranti, and Western Hemlock with other specialty woods available upon request.
Specialized Seals, Brushes, and Thermal Breaks
NanaWall systems are reinforced with specialized weather and brush seals as well as thermal breaks between panels to enhance performance against harsh weather and improve thermal efficiency. The patented Bionic Turtle® thermal break is a polyamide single piece insular design that provides outstanding energy efficiency while serving as a concealed channel to house a system's locking rods. Some moveable glass wall systems feature brushes on their rollers to remove debris from the track and ensure continuous smooth operation.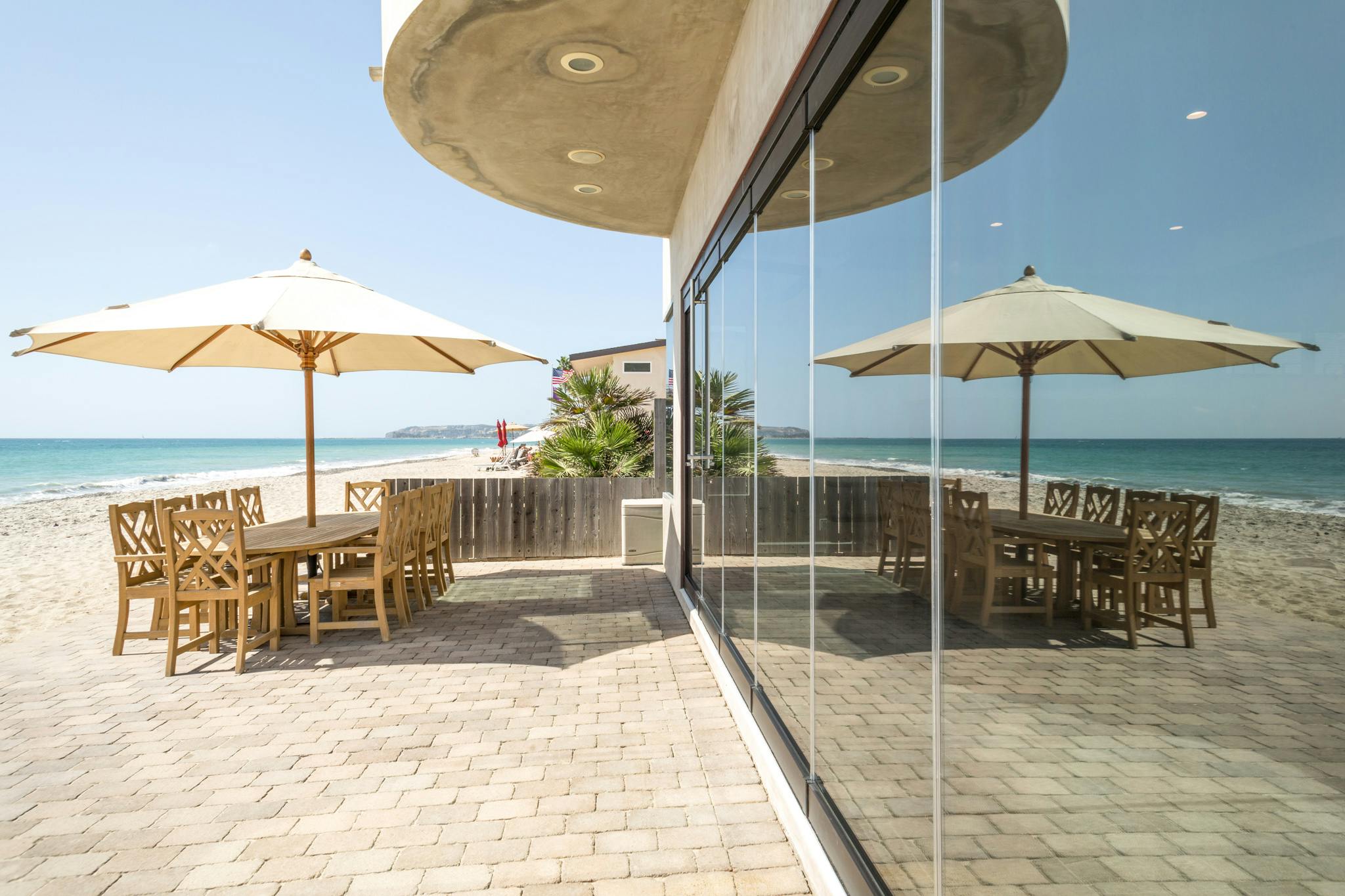 Stainless Steel Tracks and Rollers
NanaWall floor supported opening glass walls glide on stainless steel rollers on a stainless steel track. What's so special about stainless steel? This highly durable and strong material is corrosion resistant and thus capable of performing in humid and rainy climates. Stainless steel is also easy to clean and maintain, making it the ideal material for floor tracks. This low maintenance material also contributes to improved smooth operation allowing moveable glass wall systems, regardless of size, to be opened and closed with ease, even with the simple push of a finger.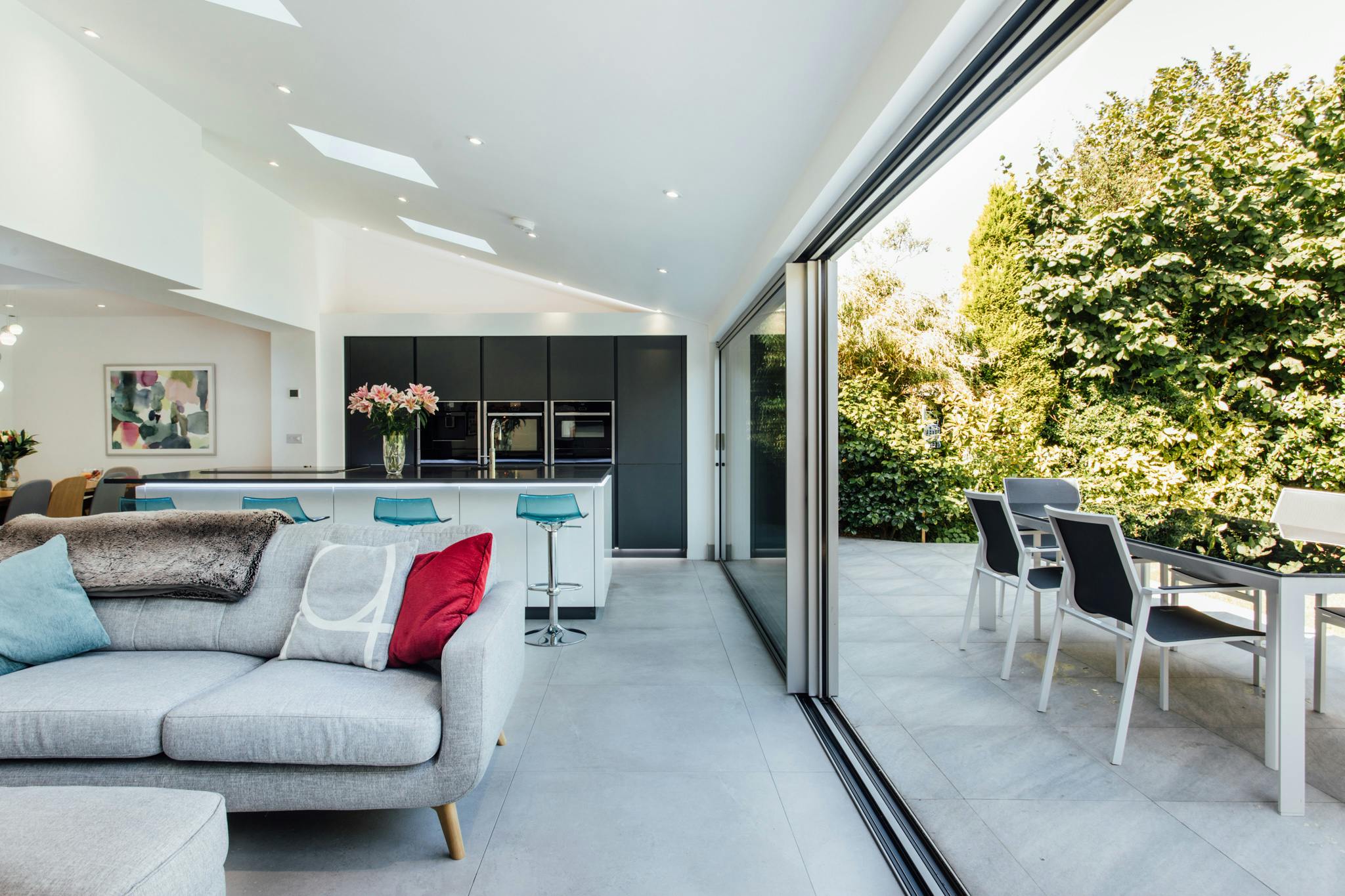 Final Thoughts
Compared to other NanaWall alternatives in the market, our systems are German engineered with high-quality materials to ensure our opening glass walls withstand the test of time. As a single-source supplier, each material utilized in the manufacturing of our moveable glass wall systems is carefully selected for durability, strength, and performance. Our systems are manufactured locally in California as well as in Germany. Each NanaWall system has been independently tested in accredited labs for air, water, structural, thermal, operation, and forced entry with excellent results. These systems are designed to offer a specific architectural solution and every aspect is tailored towards that solution. Your local NanaWall representative will help you customize the perfect opening glass wall system for your project, including glass glazing options and frame materials. How will you customize your NanaWall system?
Learn more about what sets NanaWall systems apart from the rest and browse through our extensive family of opening glass walls at NanaWall.com/glass-walls!