Inspiration: Showering Outdoors to Let Nature In
By , October 11, 2011
Outdoor showers are reminiscent of summer, when taking a shower outside was a refreshing way to wash off salt, sand, or suntan lotion after a long day at the beach. But an outdoor shower is no longer just a fun and functional means of keeping sand at bay. They are appearing in master bath suites and homes with beautiful natural surroundings, in order to bring the outdoors in. People love outdoor showers, because it allows them to spend time in their natural environment for at least 10-15 minutes out of the day. In their busy daily lives, people are constantly surrounded by a virtual world, including TV, cell phones, computers, and cars. A master bath is becoming more and more of an area where people let the outdoors in to their lives. A NanaWall folding system makes the bathtub at this Menlo Park home feel like it's outside. The bathtub and vanity area can be linked to a private master suite garden any time the clients wish, or closed when they crave privacy.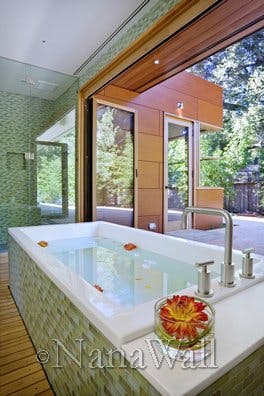 In another California home, in the woodsy hills of Mill Valley, a NanaWall operable glass wall separates the indoor shower from an outdoor bathtub, taking advantage of views of heritage oak trees and the San Francisco skyline.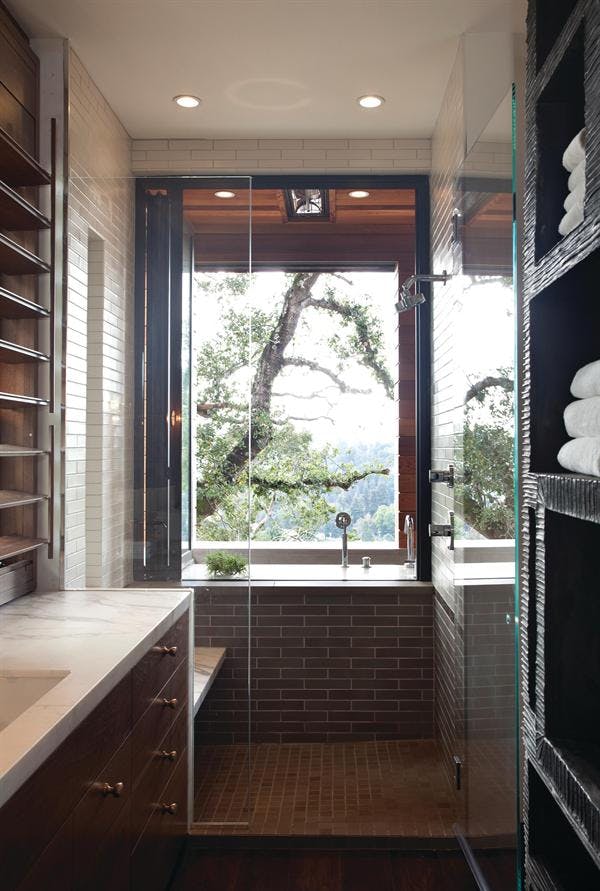 Outdoor showers aren't limited to warm weather states like California; they have also been used in cold regions, where people can enjoy a hot shower in the chilly air then go inside to their warm, inviting bed. And although an outdoor shower is ideal for a home in a rural setting, with no neighbors close by, those who live in a suburban area or are concerned with modesty can create privacy by building a screen or fence around the shower. Just be sure not to enclose it too tightly. Part of the fun of having an outdoor shower is the primitiveness of baring it all in nature. The owners of this home did an excellent job designing an outdoor shower with privacy. They used a NanaWall system to connect the outdoor shower with the indoor area of their bathroom.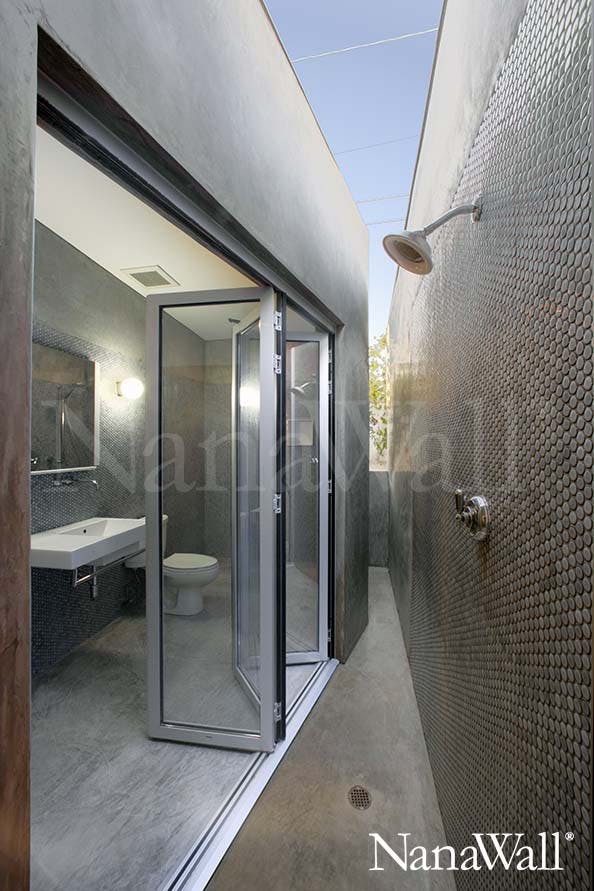 For an even more seamless transition, the design of the shower can be integrated with the surrounding landscape, using pebbles, plants, natural stone, bamboo, teak, and blend of warm and cool earthy tones, like green and slate.