Inspiration: What Homes Will Look Like in the Near Future
By , January 18, 2012
As the beginning of a new year brings us closer to 2015, it feels like we are coming closer to the "future". We expected it to be a modern utopia like the Jetsons, with flying cars and robots to make our lives easier. But will the near future really be that different from the world we live in today? One thing is for sure; pretty soon we'll be dealing with inevitable crises like population growth, global warming, and natural resource depletion. This sounds pessimistic, but our future is not devoid of hope. We can already see a major shift towards green, with a rise in sustainable homes in recent years. There's reason to believe that as the cost of renewable resources and green technology gets lower, future homes will be built with greater consideration for the environment. Homes will definitely be more efficient, not only in terms of energy efficiency, but also in terms of size and functionality. So what exactly will homes be like in the future? Well first off, we predict that they'll be smaller. We can already see that the average square footage is decreasing due to the recession, and in the future we'll also be facing condensed building space. Here are some of our other predictions:
No more formal areas: In the future, we will see homes built without unnecessary space. They won't have stuffy living and dining rooms, cathedral-like ceilings, and grand foyers. Instead, family rooms and kitchens will be larger, with eat-in dining and bar stools in the kitchen.
Flexible, multi-use space: Not only will family rooms be larger, an open layout with re-configurable pods and movable walls will create an adaptive space for multiple functions.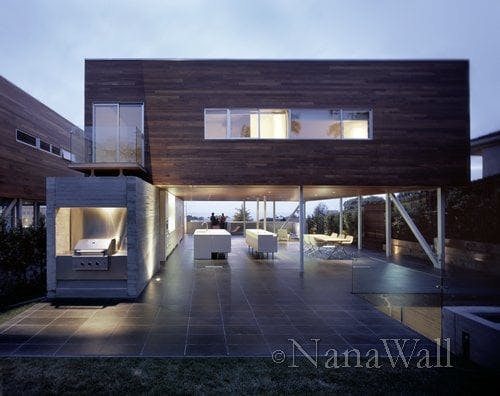 Outdoor living: With less square footage, homes will have fewer boundaries between indoor and outdoor. The interior living space will extend outdoors through large openings, like NanaWalls.
Better Insulation and glazing: Even if homes of the future are designed entirely of glass, it will have to be triple-glazed gas-filled glass.
Living Roofs: Gardens on top of the roof will absorb heat through vegetation, keeping the home cool. With these "green roofs," rain water can be harvested for efficient water recycling. Whether you would love to live in one of these futuristic homes, or whether you have a different idea of what homes will look like in the future, leave your feedback below. We want to hear what you think!