Inswing or Outswing Bifold Glass Doors: Which is Right for My Home?
By NanaWall Systems, November 18, 2022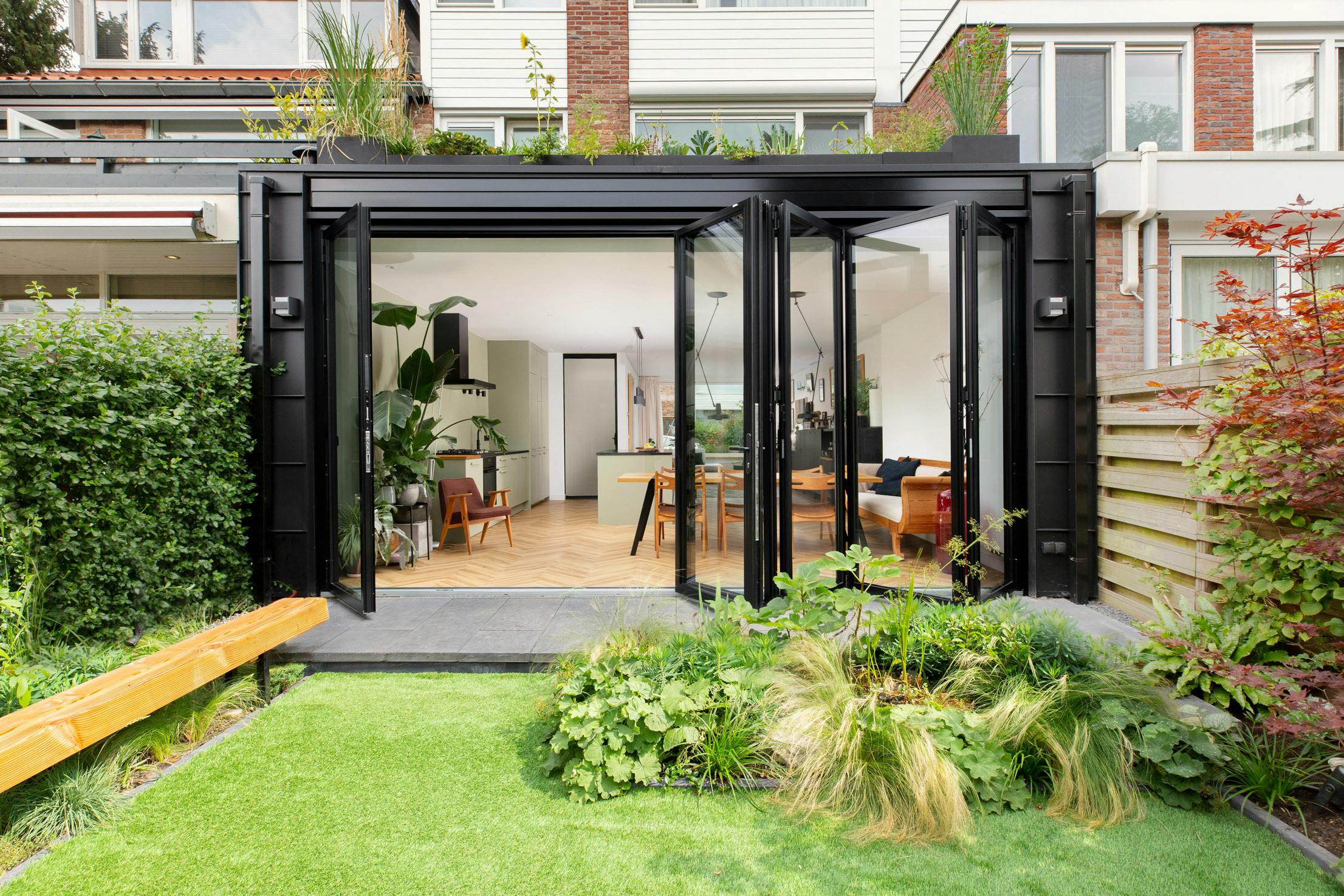 Built with the customer's needs in mind, NanaWall bifold glass doors offer a plethora of customizable features to meet the needs of every project. When it comes to panel stacking, why might an inswing system be preferable to an outswing option and vice versa? Different projects have different specifications and the occasional building restraints. The forward-thinking engineering and design of NanaWall systems deliver maximum flexibility for homeowners to take full control of their residential spaces. But which option will benefit your indoor and outdoor living spaces the most? Let's look at the benefits of both inswing and outswing stacking to determine the best specification for your home and lifestyle.
Choosing Between Inswing and Outswing Bifold Glass Doors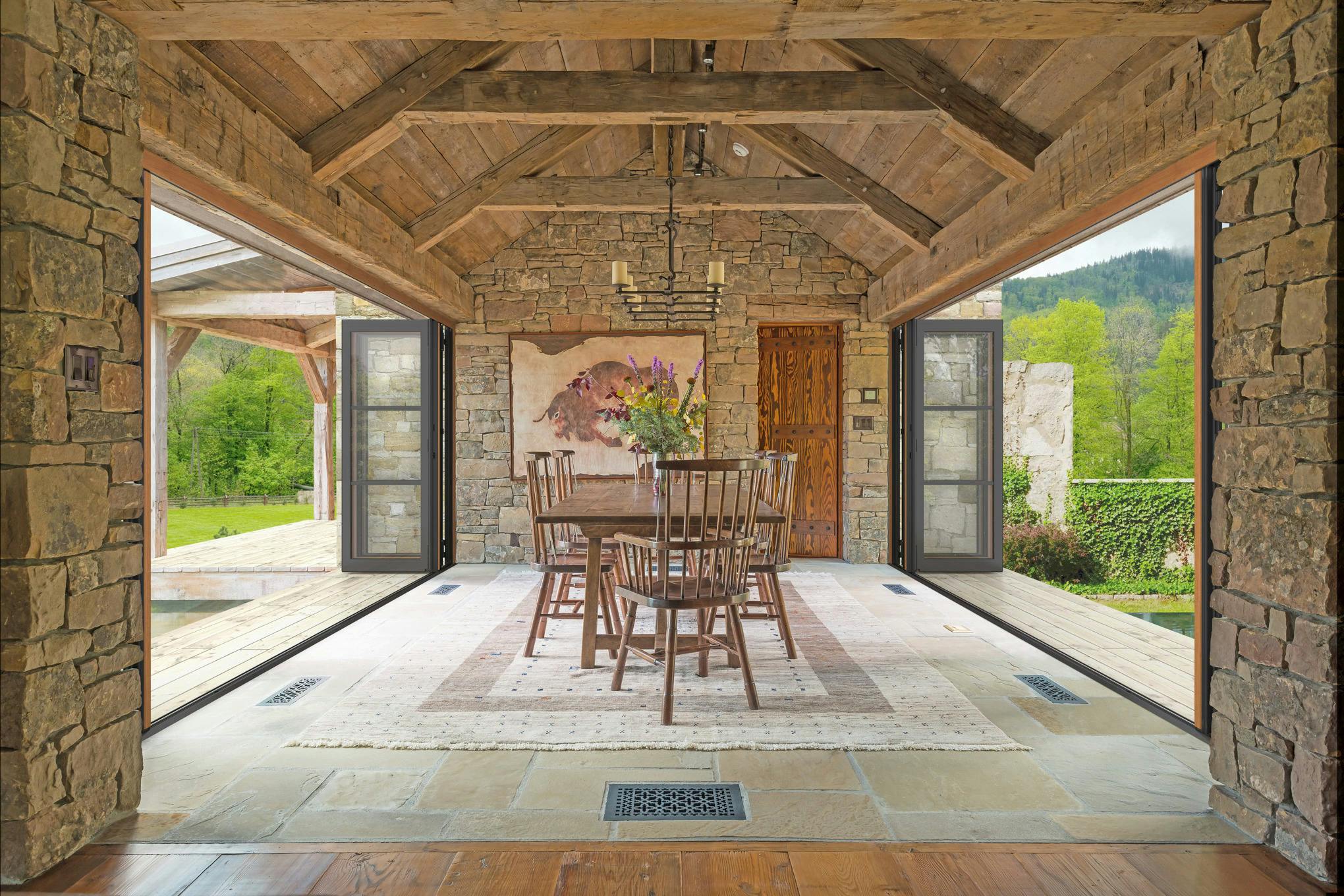 Outswing Bifold Glass Doors in Residential Spaces
Outswing applications are ideal when interior space maximization is of concern. Smaller spaces may benefit from panels that stack outwards, optimizing the square footage of the interiors and allowing for greater furniture placement flexibility. Indoor/outdoor entertaining areas like kitchens and dining rooms will benefit from outswing opening glass walls to maximize room occupancy and lead the flow of traffic to the outdoors. Accessory dwelling units (ADU), often limited with regard to space, could also greatly benefit from outswing panels as well as garages for maximum storage space availability. Although the thin stacks of NanaWall systems do not take up much space, it is helpful to have various options available for homeowners as they design their living spaces. Consider tucking the panels next to an adjacent wall for neat out-of-the-way stacking.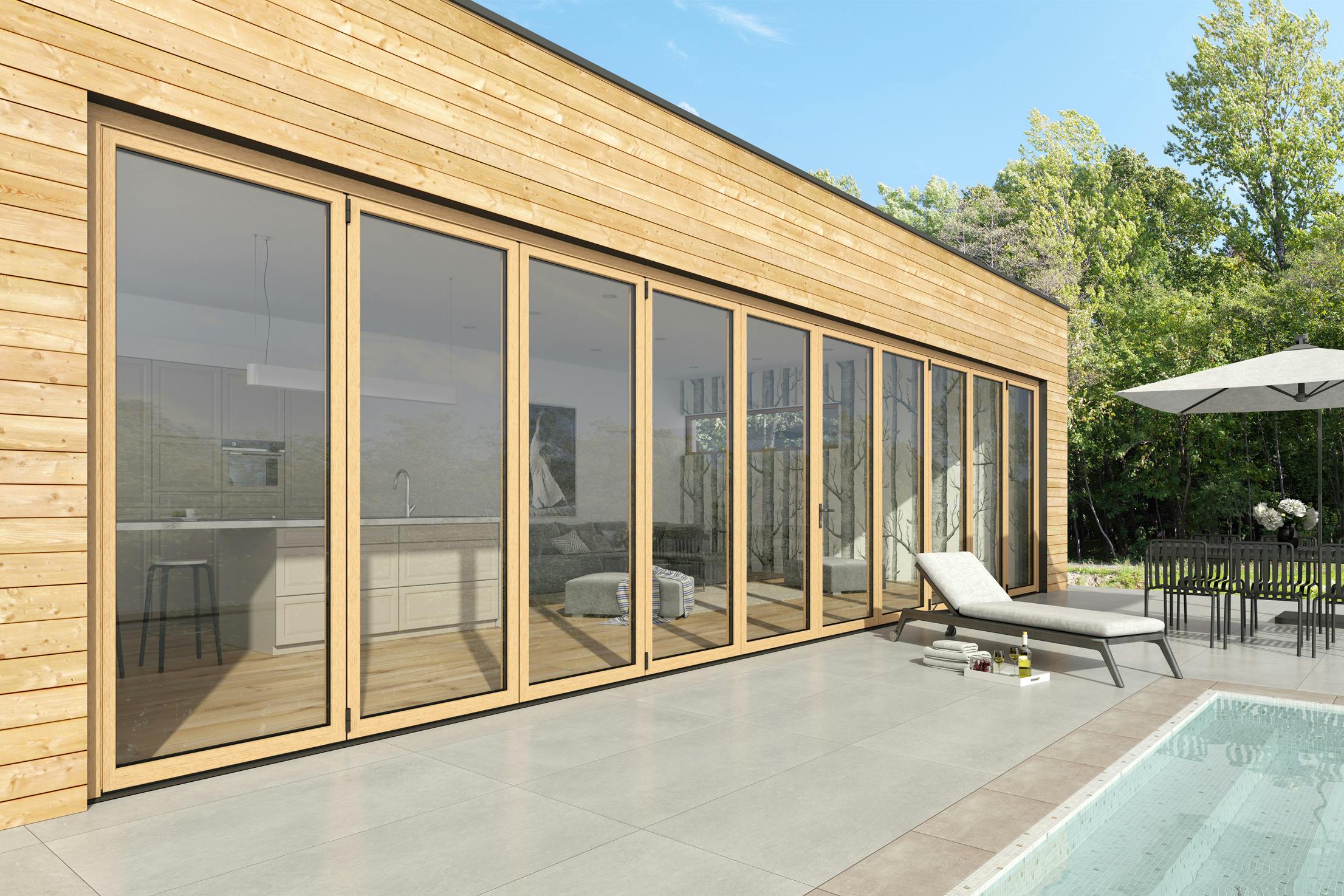 Inswing Bifold Glass Doors in Residential Spaces
Inswing system specifications allow panels to completely stack inside of the opening. This option is ideal for homeowners who want full use of their outdoor living spaces, like patios, decks, and balconies. Pool houses, for example, would greatly benefit from inswing stacking to remove any potential obstruction and allow for smooth transitions in and out of these continuously trafficked living spaces. Inswing panels can be specified to stack to the right or left of the opening where it is most convenient without sacrificing space or furniture placement. Inswing opening glass walls are also highly recommended for mid-rise and high-rise residential spaces. Let's discuss why.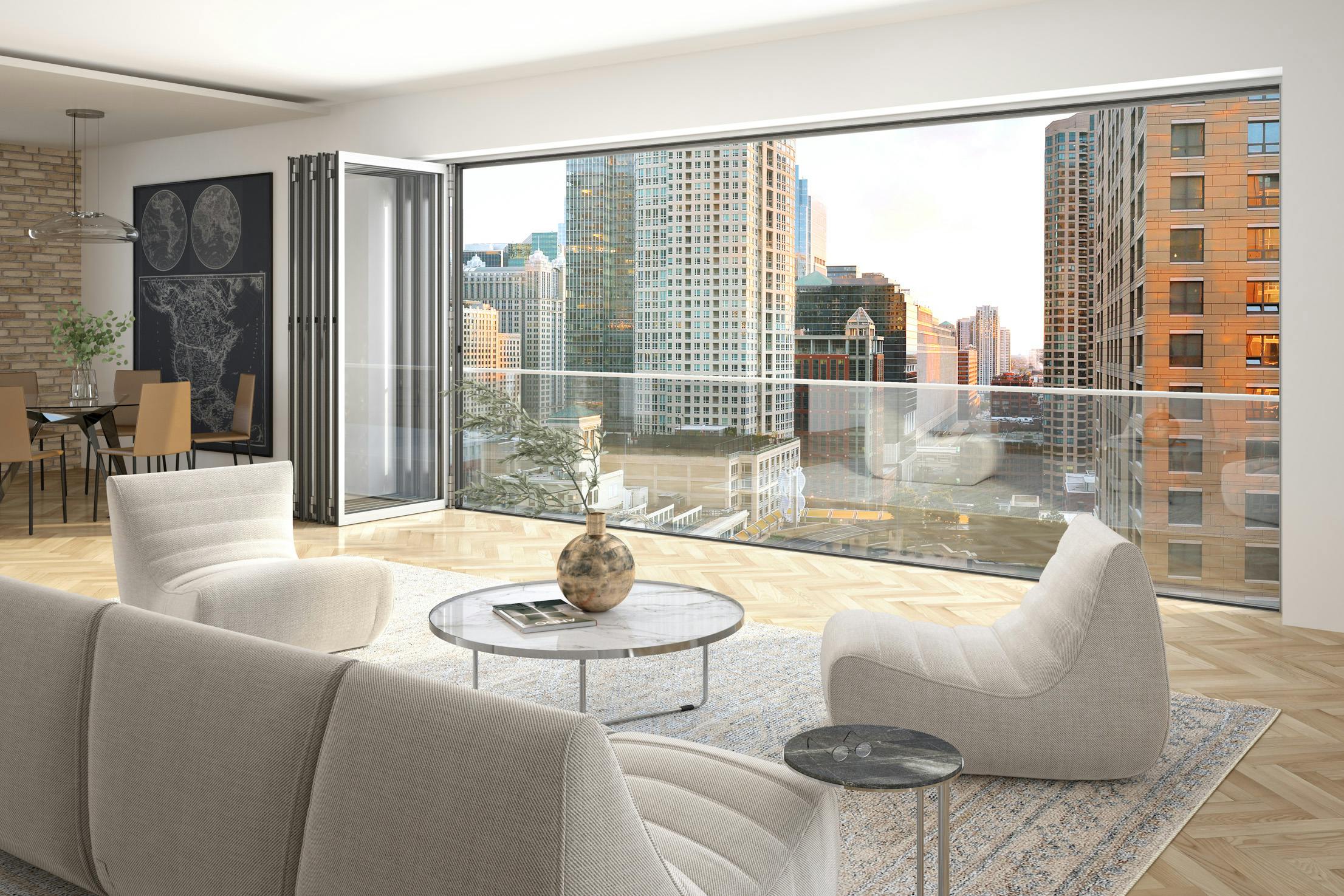 Greater Flexibility for Vertical Living Environments
For mid-rise to high-rise buildings, the benefit of inswing is optimal performance and protection and maximizing the coveted outdoor space. Who wouldn't want a touch of indoor/outdoor living five, ten, fifteen, or more stories up? Specifying inswing panels at higher elevations which often are prone to heavy wind gusts, is recommended to ensure safety, comfort, and long-lasting durability. Inswing bifold glass doors will also maximize the available space of your balcony as the panels stack indoors and allow for every square foot of outdoor living space to be accessible. In addition, inswing opening glass walls are the only viable option for Juliet balconies that are often used in multifamily settings as they are too narrow and require panels to open to the inside.
Window Door Combinations Increase Functionality
Looking to revamp your kitchen space? Inswing and outswing panels can also be specified for window door combinations to optimize the functionality of your kitchen space. A window door combination, or NanaWall Kitchen Transition, combines NanaWall opening glass windows and opening glass floor-to-ceiling panels that instantly transform an ordinary kitchen into the ultimate entertainer's room—or an indoor/outdoor bar area for al fresco dining.
Folding windows in the kitchen can be specified to stack outwards to avoid obstruction over kitchen sinks and countertops while adjacent bifold glass doors can be either inswing or outswing depending on the needs of the space—a definite must-have for the avid entertainer.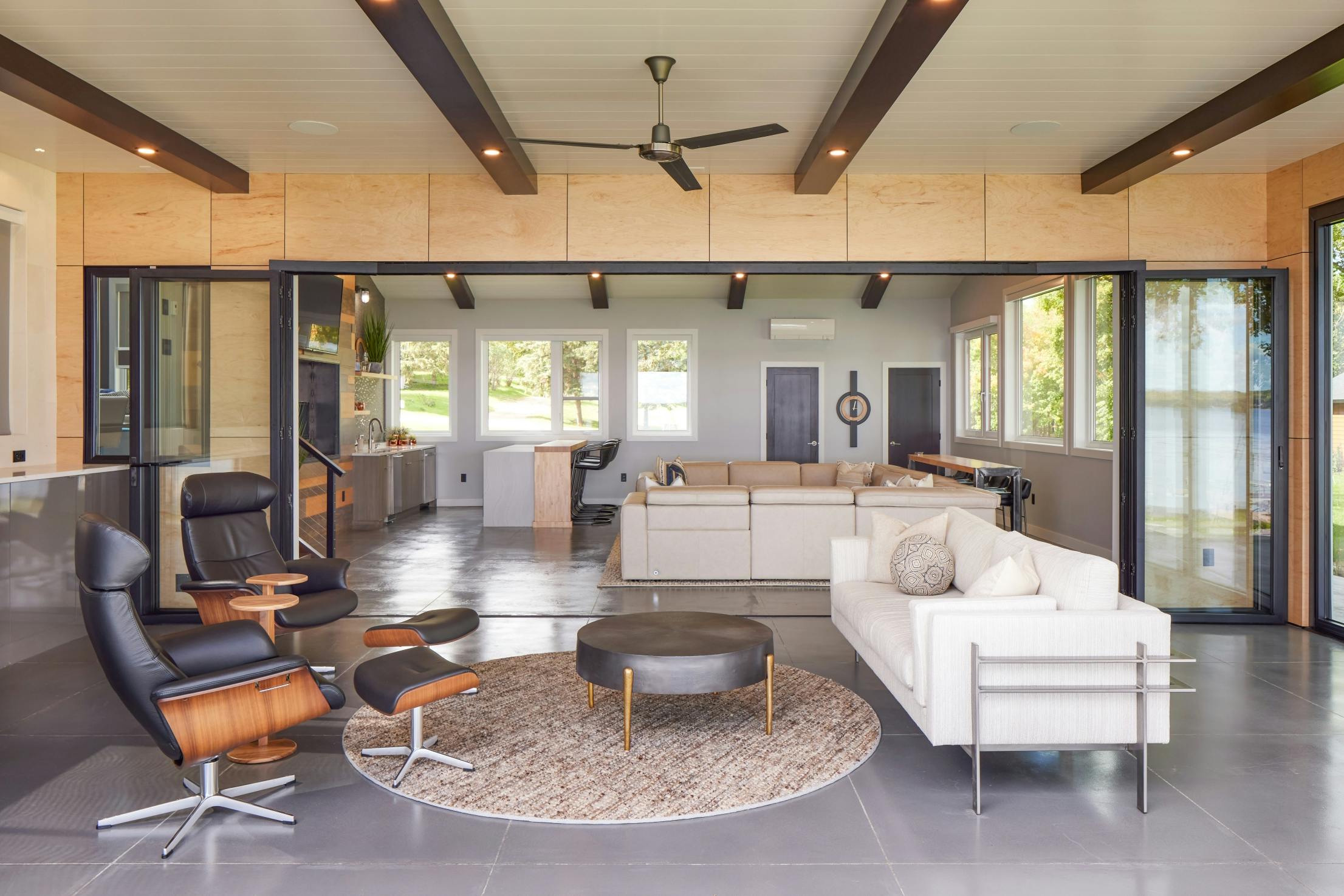 360-Degree Stacking for Maximum Views
Take inward and outward stacking to the next level with panels that glide all the way back and parallel to the opening. NanaWall FoldFlat® technology allows panels to go past the traditional 90-degree stacking to maximize views, space, and functionality. FoldFlat can also be specified to Kitchen Transitions to make full use of the opening and to create extra counter space for entertaining. Because the panels are fully stacked away from the opening, views of the outdoors are unobstructed when open, creating a literal window to the outside world. Panels can be inswing or outswing depending on the needs of the project and can be customized to the aesthetics of any home.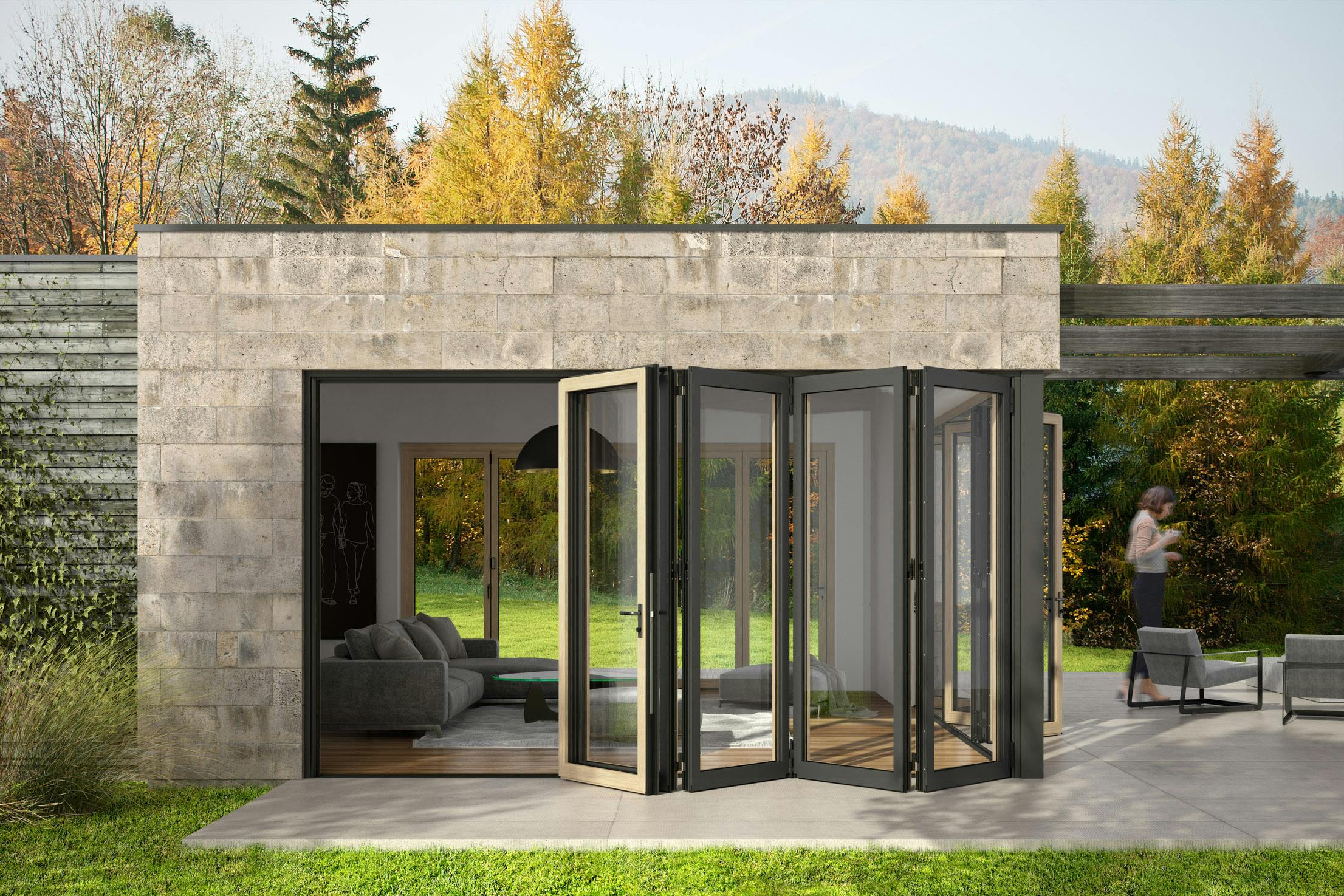 The Customizable Panels of NanaWall Opening Glass Walls
NanaWall bifold glass doors are fully customizable to the needs of every project, aesthetic, and lifestyle. Choose between wood, aluminum, or clad frames as well as over 200 powder coating options to enhance any space or complement interior design elements. In addition, these opening glass walls can be specified with swing doors to facilitate indoor/outdoor transitions when the system is closed. The latest innovation of Generation 4 Folding Glass Walls allows for wider openings with FourFold and SixFold panel sets that stack to the right, left, or center of the opening. Thinking about whether to outswing or inswing? Why not both? Take full control of your living space and optimize every square foot with both inswing and outswing configurations like in the residence pictured below. Why not enjoy the best of both worlds?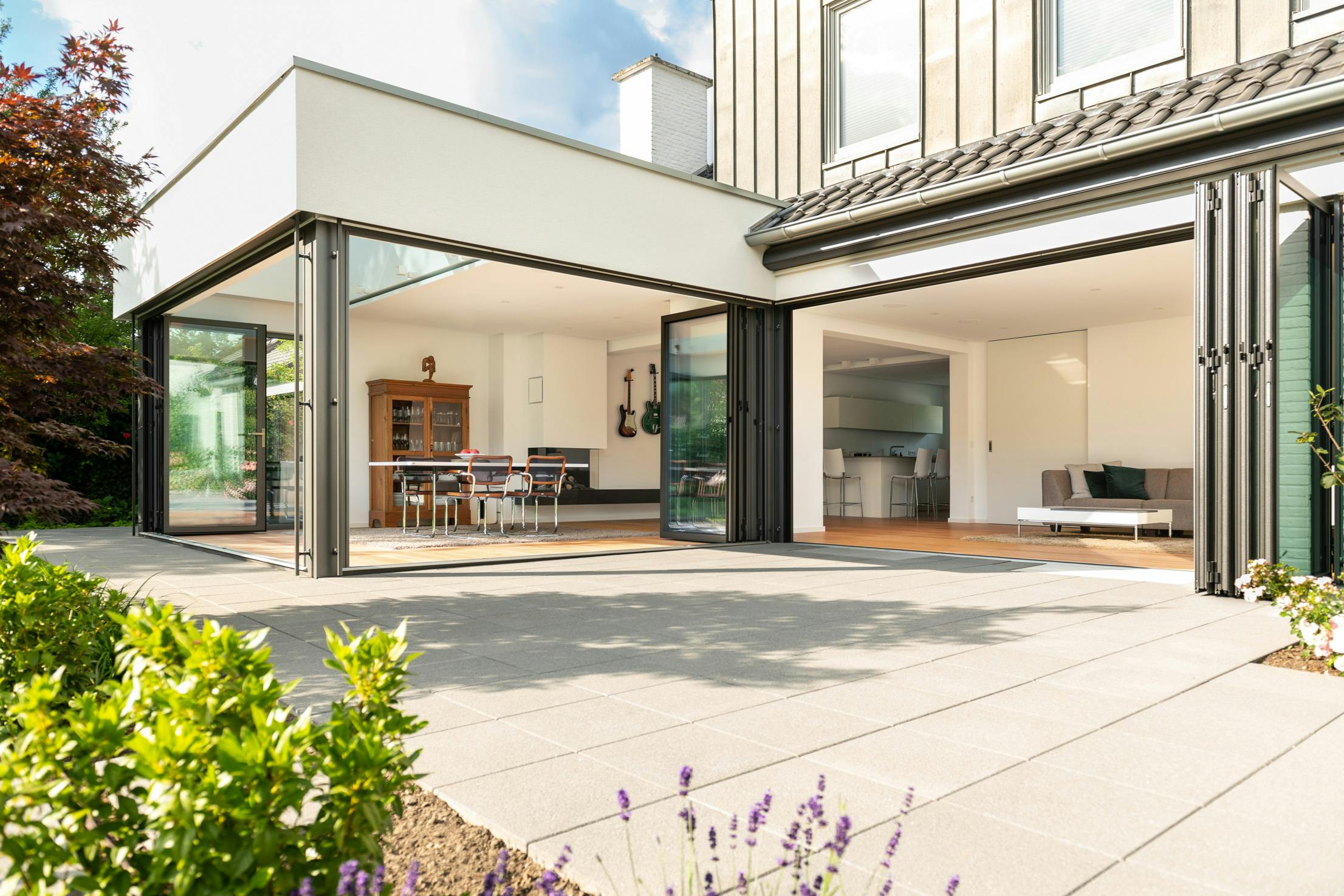 Final Thoughts
NanaWall opening glass walls are independently tested for air, water, structural, forced entry, operation, and sound attenuation with excellent results. Whether they are stacked inwards or outwards, systems offer ease of operation and advanced weather performance for any climate. Smooth transitions are made possible with barefoot-friendly, ADA-compliant floor tracks for the ultimate indoor/outdoor experience. When closed, thinner frames prioritize more glass to maximize natural light and when opened, interiors are flushed with plenty of fresh air for a truly immersive experience. The true definition of indoor/outdoor living.

Discover other inswing and outswing bifold glass doors in residential spaces in our extensive project inspiration gallery!