Interior Folding Glass Doors in Commercial Applications
By NanaWall Systems, March 10, 2021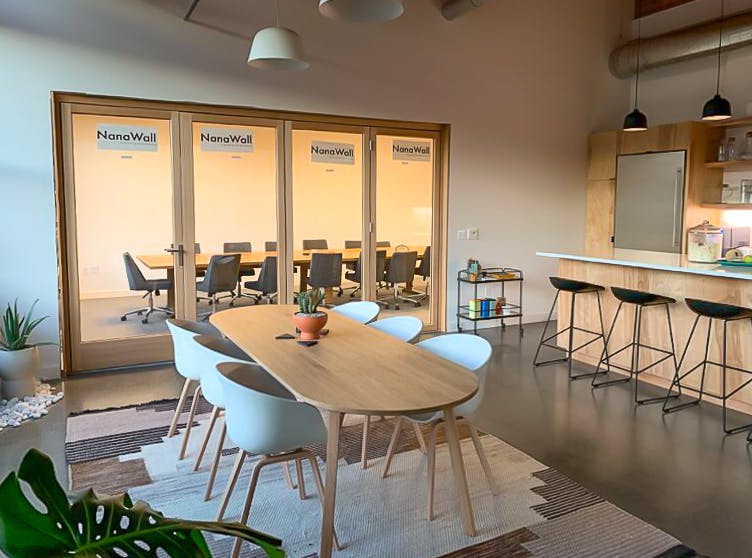 Business establishments, from offices to retail stores, highly benefit from space-improving solutions like interior folding glass doors. The transparency and flexibility of these systems meet the daily demands of collaborative, high-trafficked areas with amplified visibility and optimized wall openings. In these spaces, unobstructed openings eliminate the undesirable traffic congestion that is often associated with restrictive doorways and instead offer operable, multipaneled entrances that adjust to the flow of various establishments. Through the years, innovative engineering has focused on delivering effective design solutions to meet the needs of such commercial spaces. Let us explore how proprietary technology, FoldFlat®, redefines the capabilities of commercial folding glass doors.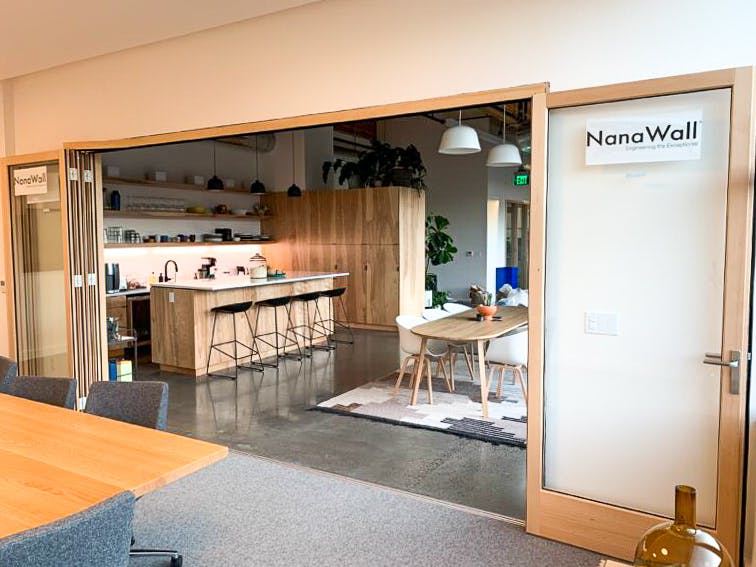 FoldFlat® and Interior Folding Glass Doors
FoldFlat® is a patented technology by NanaWall that enables glass panel stacking to pivot and fold back at a 180-degree angle parallel to the opening. This inconspicuous stacking enables unobstructed openings that facilitate broadened views and most importantly, space optimization. Operable glass doors that fold entirely against the wall allow full use of space—offering an easily operable solution for businesses. FoldFlat® offers single-handed operation and moves smoothly with little to no effort despite system size. This innovative technology is available with interior design compatibility and aesthetics with options in wood or aluminum frames. For spaces that demand acoustical privacy, sound attenuation up to STC 34 is possible.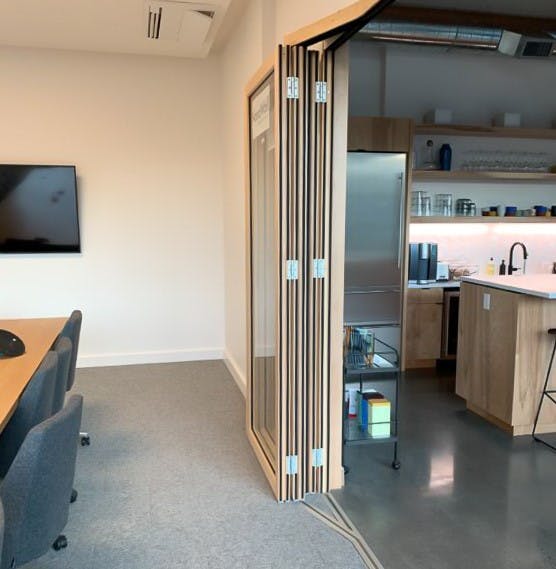 FoldFlat in Office Spaces
Office spaces are constantly changing and adjusting to meet the daily needs of the workplace. Employing flexible design solutions like commercial folding glass doors that adapt to these demands on the fly is key to ensure a productive, collaborative space where ideas and floorplan layouts are interchangeable. With FoldFlat® technology for interior folding glass doors, large wall openings are optimized as the panels stack and fold flat against the wall. A single workspace or conference room is seamlessly linked to another to accommodate larger groups—almost as if there wasn't a wall to begin with at all—while the opening is free of obstruction to facilitate smooth traffic flows and visibility into and out of the room.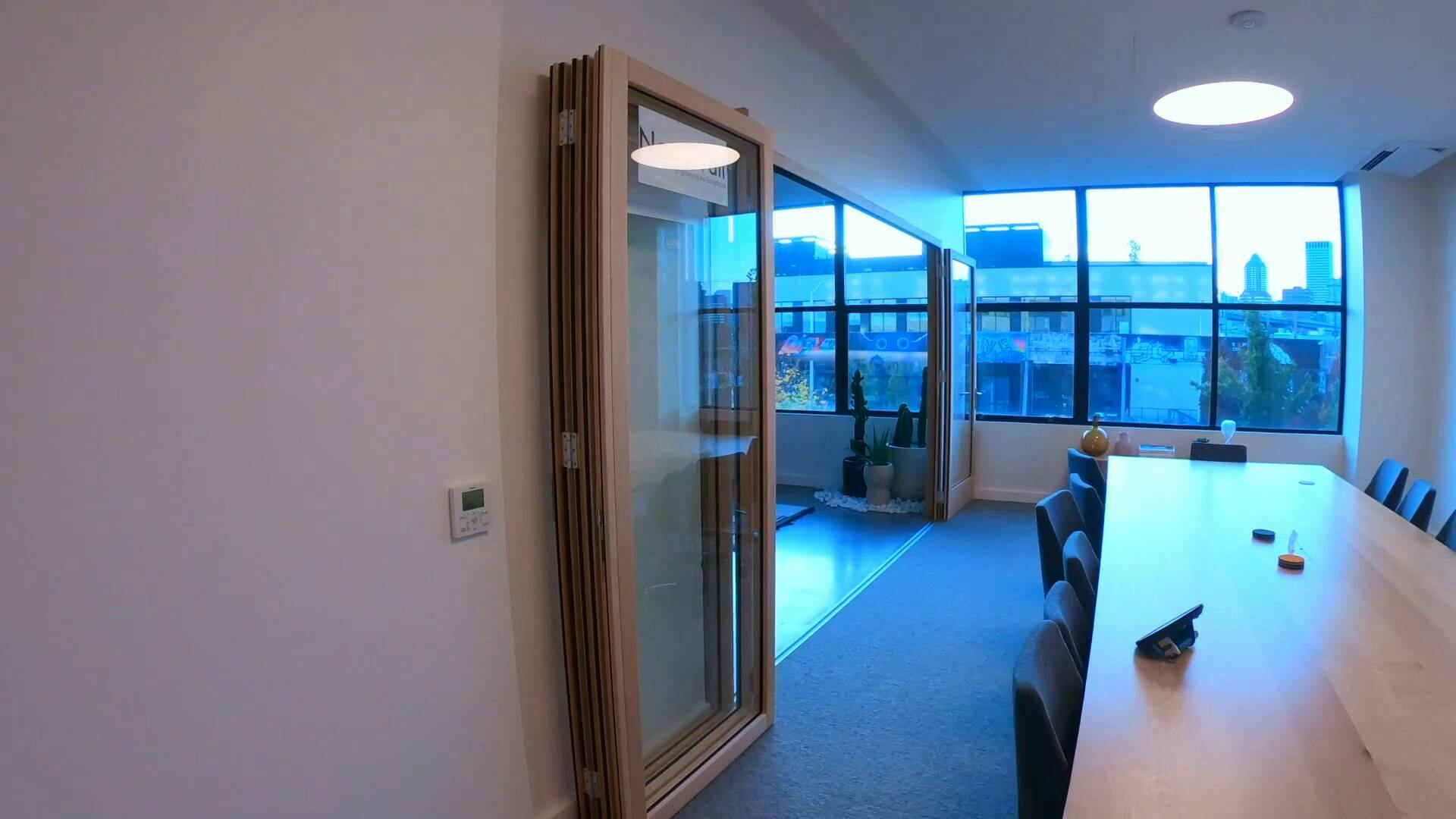 In Educational Interiors
In school settings, where the safety of students is prioritized, FoldFlat® provides unobstructed wall openings with panels that stack out of sight. In crowded, limiting spaces like classrooms and passageways, 180-degree panel stacking allows teachers to seamlessly extend traditional school rooms into hallways and collaborative hubs. Students and instructors can walk fully around openings that offer free-flowing traffic and a clear walkway. When needed, single-handed operation can close the system to provide privacy or separation as educational activities shift throughout the day.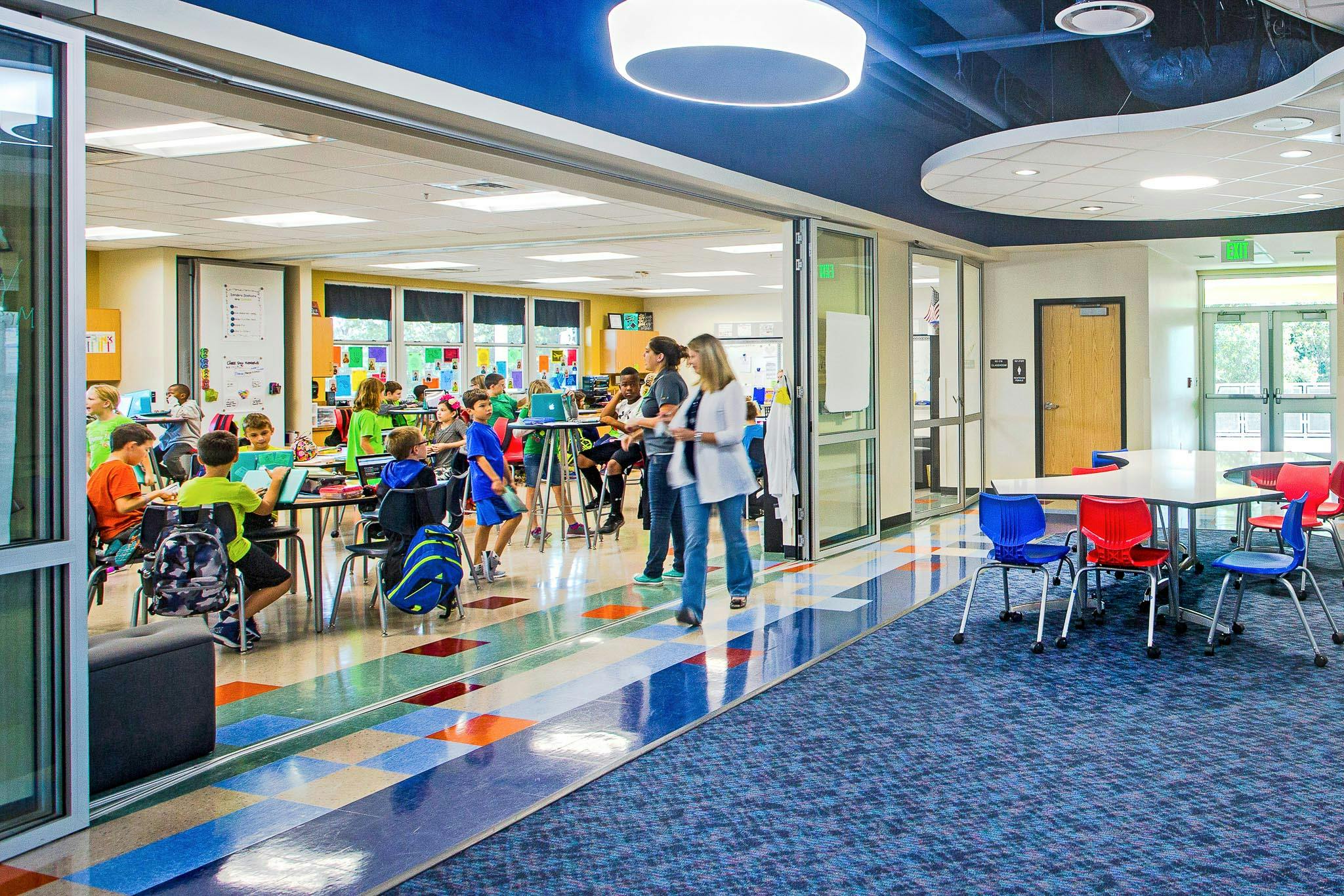 Limitless Design Capabilities
The capabilities of interior folding glass doors are only limited by the needs of the commercial environment. The benefits of FoldFlat® technology extend further than just office and academic settings. Retail stores, restaurants, and even hospitals benefit from the space optimization of large commercial folding glass walls that stack out of and parallel to the opening. In restaurant and retail applications, staff members have a constant view of the customer to immediately address their needs regardless of whether the systems are open or closed. In hospitals, these openings can immediately eliminate walls for unobstructed, free-flowing traffic on busier patient intake days.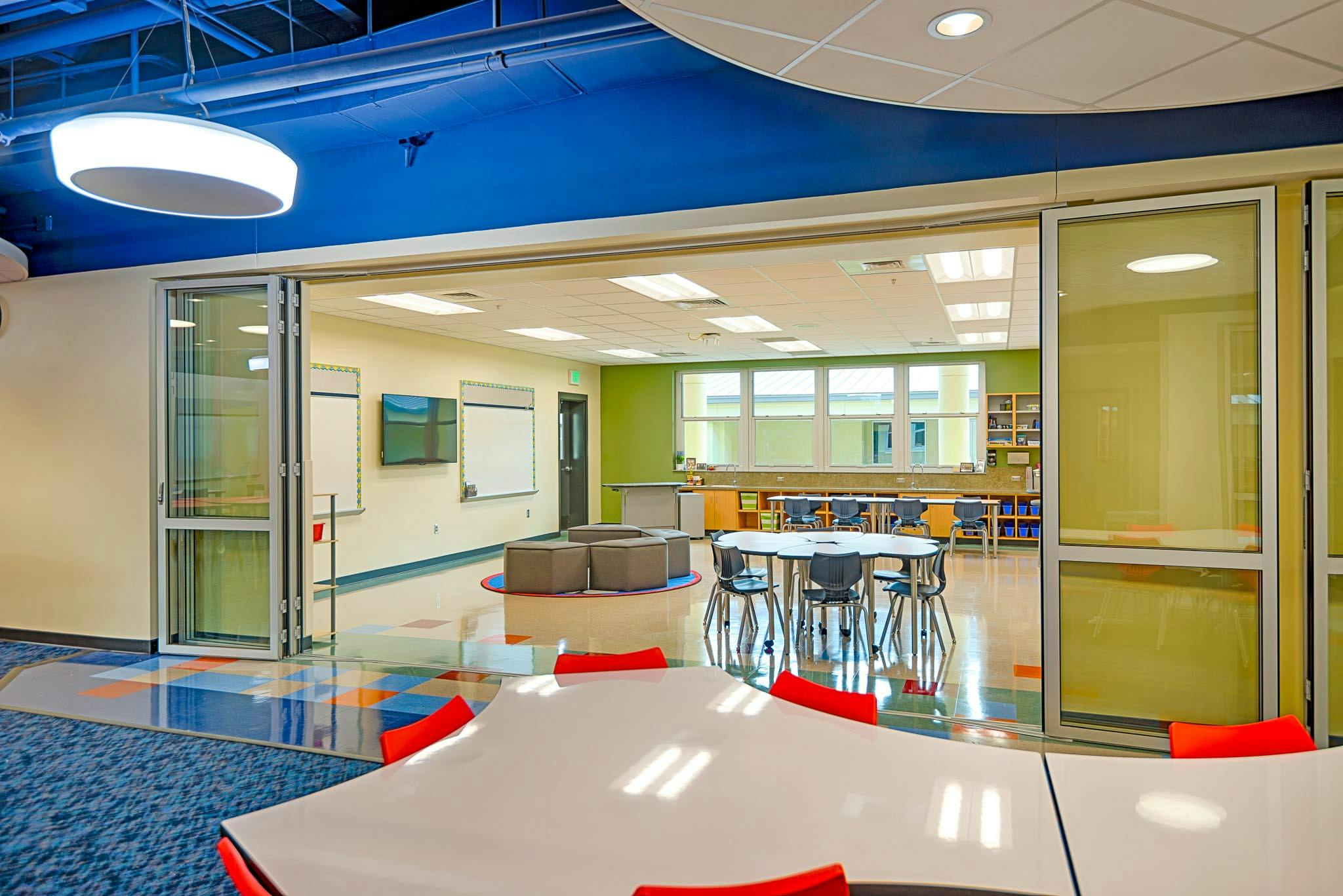 Final Thoughts
In commercial environments where space optimization is paramount, NanaWall FoldFlat® Technology fully optimizes large glass wall openings. As true innovators in the interior folding glass doors industry, NanaWall offers the most comprehensive family of products to suit the design requirements of commercial interiors—from panels that offer maximum glass and completely disappear from the opening to sound rated acoustical solutions up to STC 45. Say goodbye to restrictive doorways and enhance the efficiency of your business space with these space-savvy commercial folding glass walls.
Learn more about other specialty glass wall options at NanaWall.com!