Master Bathroom Design and Renovation Trends Continue
By Liz Snyder and Matt Thomas, February 3, 2016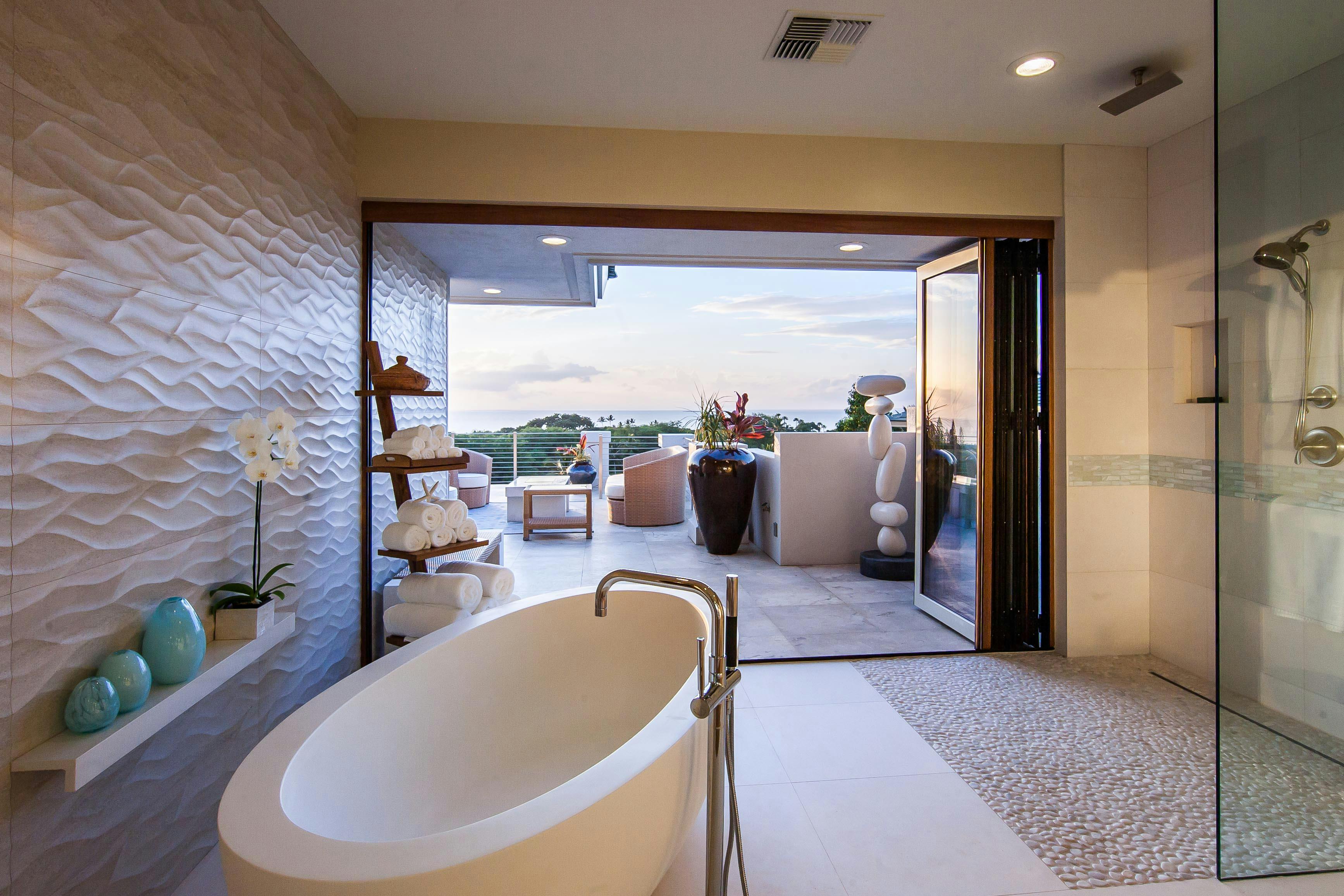 In today's modern homes, the master bathroom is transitioning into a sanctuary. This trend includes the bathroom becoming more spacious and incorporating more unique features. The newest trend in master bathroom is to turn the room into a spa where you can relax, decompress, rejuvenate, and pamper yourself. Below are a few of the more popular master bathroom design and renovation trends that many homeowners now want for their master bathrooms.
Free Standing Bathtubs
A free standing soaking tub is a great focal point for a master bath. It brings sculptured elegance to the room and creates feelings of luxury, relaxation and self-indulgence.
Showers as Spas
Showers stalls are getting larger and offer amenities such as two shower heads, shower benches, body sprays, and lighting. There is also a growing trend with walk-in showers and showers with large frameless panes of glass for the enclosure.
Bath Flooring
For bathroom floors, the most popular materials are ceramic or porcelain tiles.
Heated Floors
For true luxury, install heated floors in the bathroom. This is a popular must-have for homes in colder regions, and the warmth reduces overall heating bills because homeowners can turn down the temperature in the house a bit.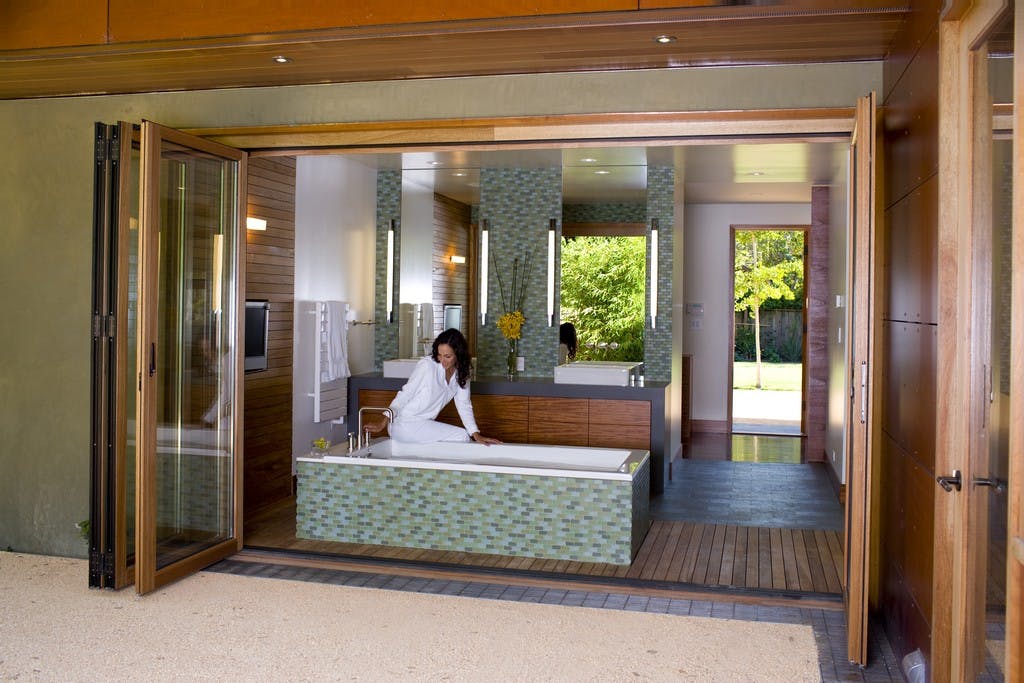 Wall Tiles
Subway tiles for bathroom walls are now more common. The most popular colors are white, cobalt blue and medium gray, although bright colors are also used. Some designers mix and match tiles to create unique floral designs and interesting patterns and shapes.
Metallic Hardware
The faucets in the bathroom are now modern metallics such as polished chrome, brushed nickel, polished nickel, bronze, and oil-rubbed bronze. The faucets also come in different textures for added variety.
Temperature Controls
There are now products that control the temperature of shower heads and bathtubs using LED display panels.
Music Systems
A new trend is water-resistant music systems in the bathroom. You can listen to your favorite music using a smartphones or other audio devices.
Touchless Faucets and Toilets
With the newest technologies, it's now possible to flush a toilet or turn on a faucet with just the wave of your hand. This smart uses sensor that have infrared lights.
Large Windows
Oversized windows bring in natural light, views of nature and opens up the bathroom space. This helps to make the bathroom feel more like a spa experience. Another option is a wall of glass to give the bathroom a modern and spacious look.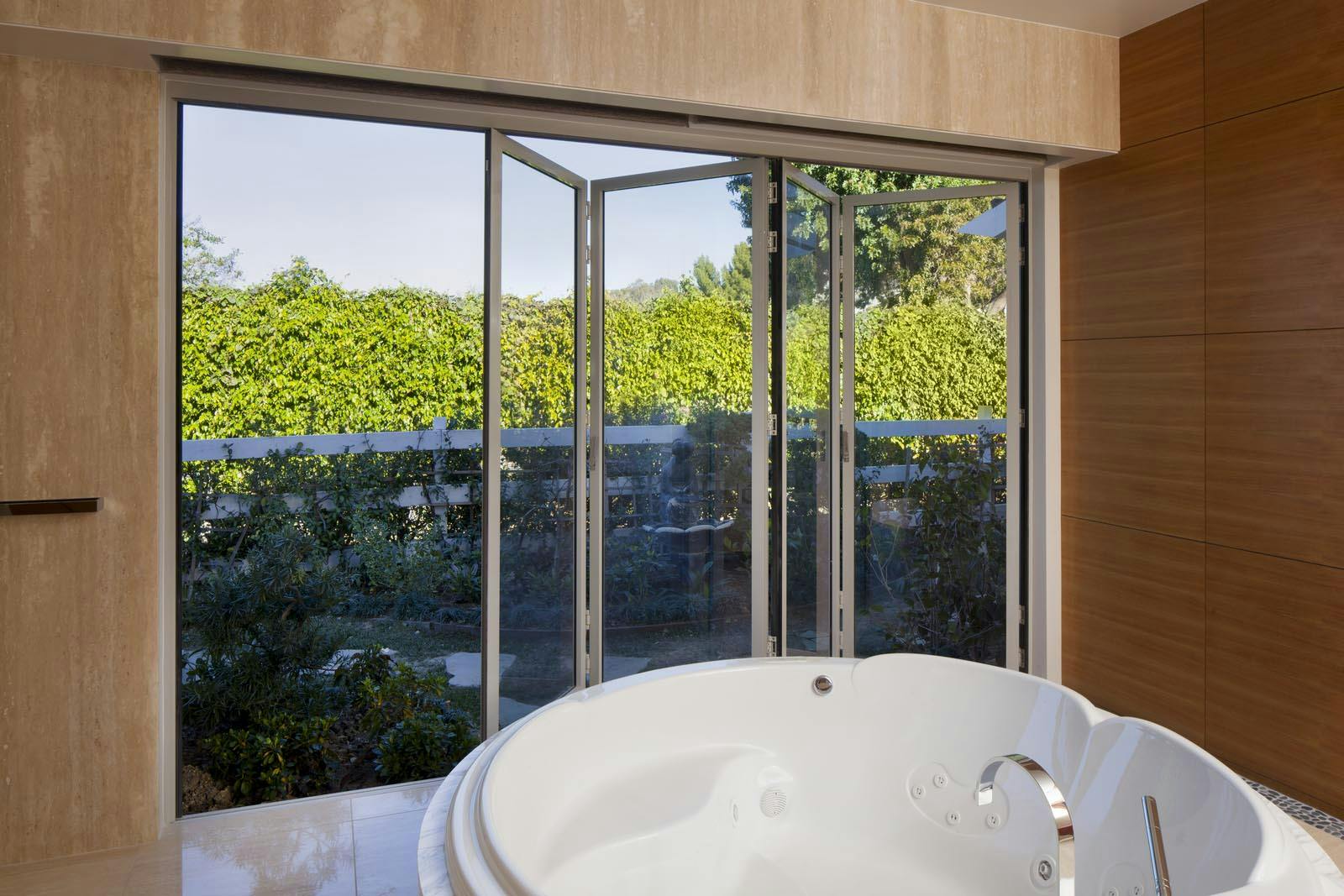 Opening Glass Walls
Opening glass walls can be at window height or wall height and provide natural daylight, fresh air, and views that connect to the outdoors creating a Zen-like spa setting. Moveable glass wall options include both bi-folding and single track sliding products and are available in both wood and aluminum finishes.
Custom Cabinets
Wood vanities are still the norm, but floating vanities are now very trendy. For vanity tops, quartz and granite are the most popular materials.
The newest bathroom trends are not only functional but luxurious and aesthetically pleasing to the senses. There are many options to choose from to suit your lifestyle. For homeowners, builders or architects looking to use opening glass walls systems in home designs, contact NanaWall today to learn more about our products.