Moveable Glass Storefront Reflects the Essence of Iconic SoCal Brand
By NanaWall Systems, February 3, 2021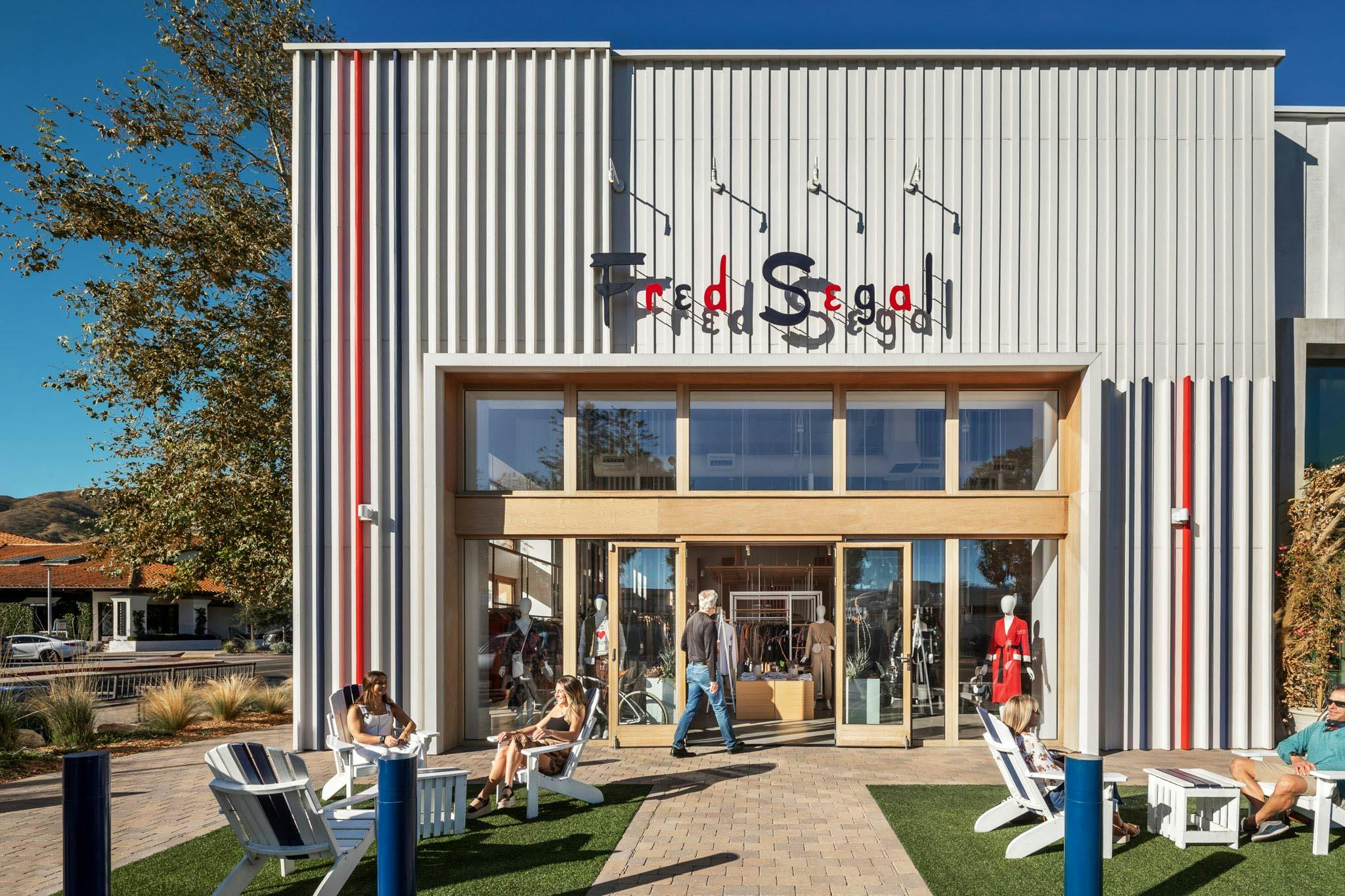 A decades-old brand makes a comeback with style—and floor-to-ceiling wood framed moveable glass storefront. In 1961, Fred Segal opened its doors as a jeans-only retailer and quickly became a major influencer of the Southern California fashion scene. Today, the brand boasts a total of nine stores worldwide, including its latest flagship store just a couple of miles from its birthplace. On the inside, the new Malibu store has stocked its shelves and racks with curated pieces reflecting the distinguishable, laid back SoCal style. On the outside, the location makes a statement all on its own with a near all glass façade that allows the beachside essence of Malibu to transcend into interiors—elevating the customer experience and pioneering a new era of in-store shopping.
Wood Framed Glass Walls: The Need for a Moveable Glass Storefront Design
The retail industry has undergone a significant change with in-person customer traffic. Online shopping may be the primary culprit, but other overlooked factors may deter shoppers from coming back into stores. As health and wellness become a priority in our everyday lifestyles, commercial design is addressing these newly developed consumer concerns by employing flexible design solutions to achieve safe retail environments. Taking a nod from biophilic design principles, Fred Segal's new flagship store leverages a moveable glass storefront design that gives way to well-lit and ventilated interiors—embracing the Malibu outdoor lifestyle alongside an array of health benefits. "I think the way forward for retail is customer experience," says Brand Manager Molly Segal. "When you can really connect with the consumer, it can create a totally different environment."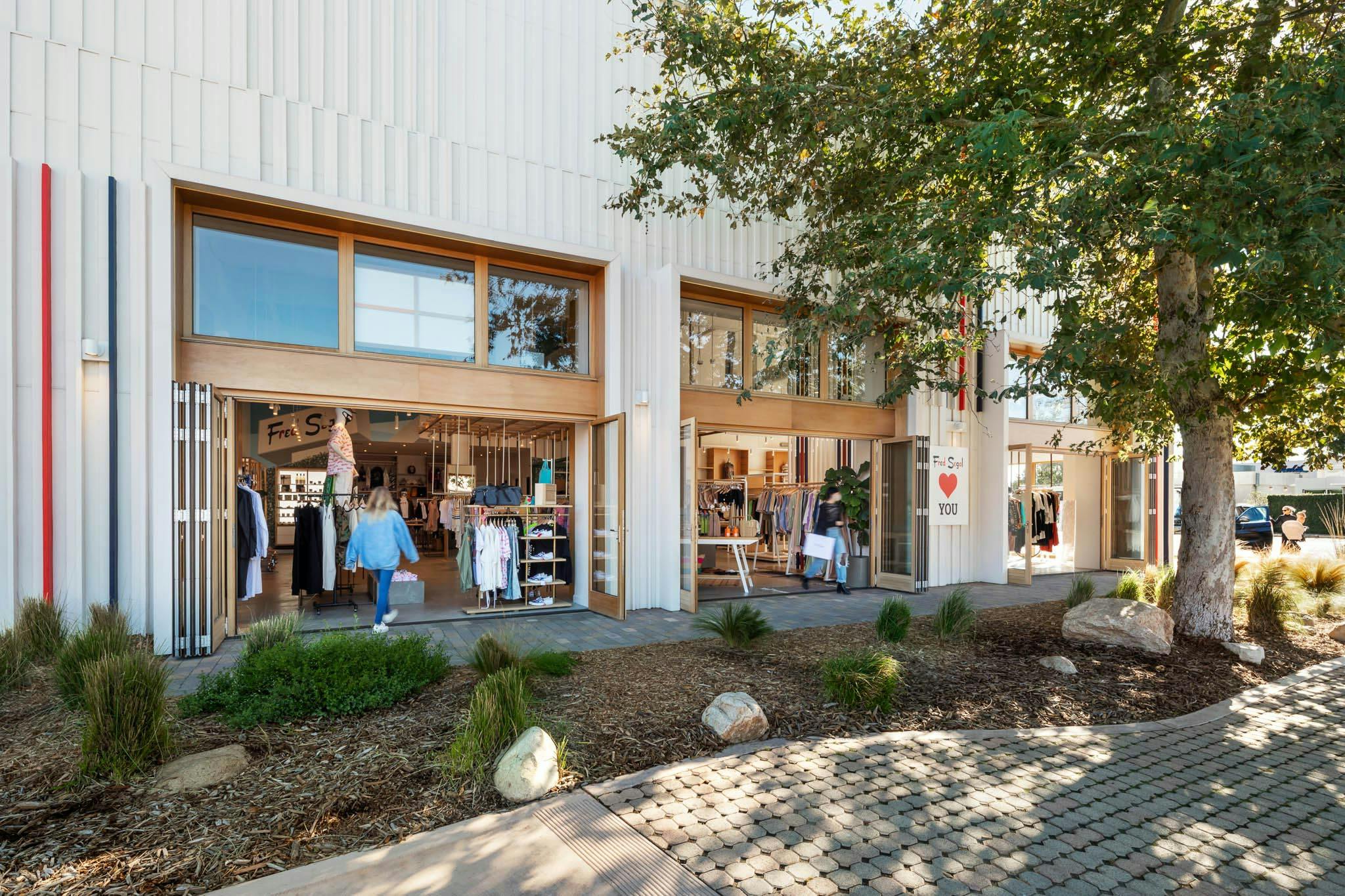 A Dynamic Duo of Windows and Walls
At first glance, this store location is a sight to behold with its California-cool curbside appeal. A corrugated metal façade is offset by four NanaWall WD66 wood framed glass walls and matching wood framed fixed windows. The nearly nine-foot-tall folding systems open the two street-facing sides to passersby, offering a sneak peek of the merchandise both when opened and closed. Above, the roughly five-foot matching fixed windows accessorize their operable counterparts and further embrace the southern California sun. Aside from its infamous logo, artwork and advertisements are deemed unnecessary. Transparent doors on all its streets and sidewalk-facing walls, as well as floor-to-ceiling windows, give passersby a clear view into the store. That alone is enough to lure customers in without the need for extensive marketing.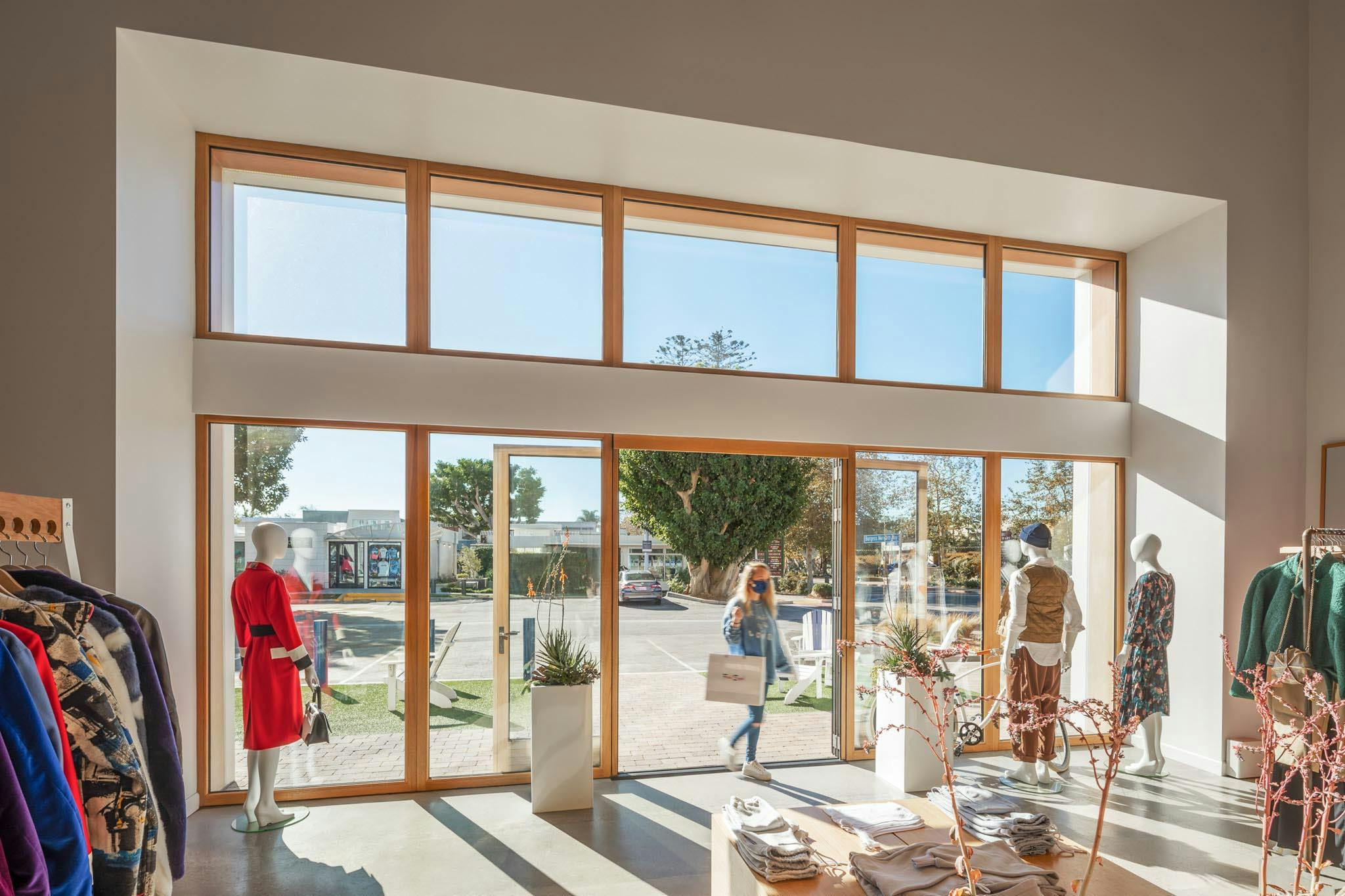 Space Maximization for a Smaller Footprint
At 4,000 square feet, Fred Segal's new Malibu store is only one fourth the size of its Sunset Boulevard location. According to the brand's CEO, Allison Samek, Malibu is the first time the brand has done its signature shop-in-shops in a smaller footprint. Despite its compact location, the floor-to-ceiling glass additions immediately give off a larger sense of space. The wood framed glass walls further extend the available square footage by blurring the lines between indoor and outdoor. Furthermore, the panels were designed with an outside stacking configuration to ensure every inch of commercial space was utilized.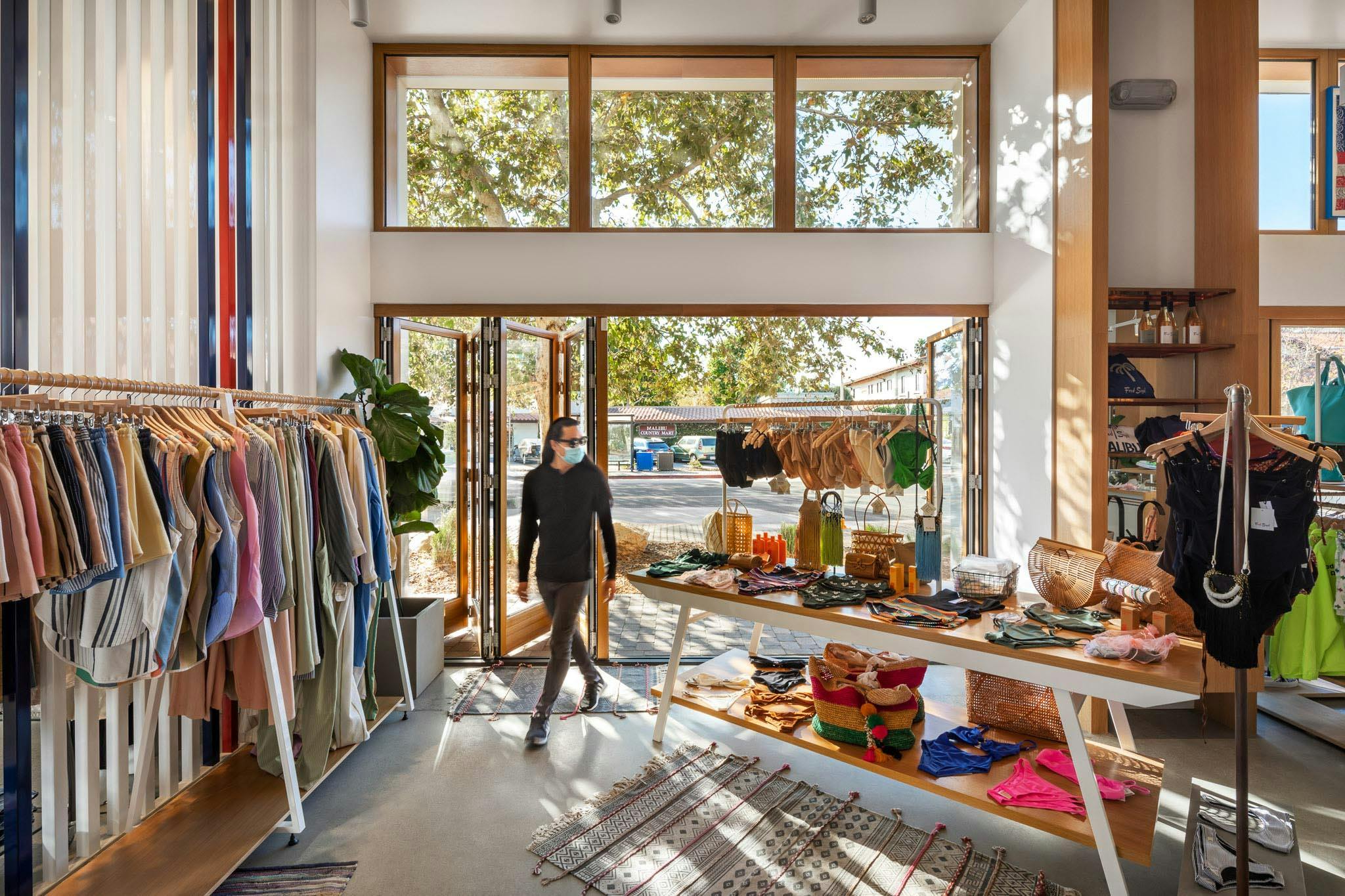 Moveable Glass Storefront Creates Indoor/Outdoor Boutique
Retail therapy has never had a deeper meaning. Retailers are leveraging wellness design elements derived from biophilia to draw in a more conscious consumer. By leveraging large retractable openings, Fred Segal offers its customers a memorable shopping experience that differs from most retailers of today—for the business, a positive ROI. The open doors invite fresh ocean air and daylight to create what Fred Segal CEO describes as an indoor/outdoor boutique.
"We really wanted an open feel from the store to the street, a completely open structure," says Samek. "We really wanted the whole feeling of the community, so the doors are open and welcoming to people coming in and shopping."
Traffic Control and Social Distancing
The four dynamic wide openings improve the flow of traffic into and out of the store and facilitate social distancing within customers. Store employees have the flexibility of assigning entry and exit doors to manage various sized crowds throughout the day. The top-hung wood framed glass walls have each been configured with a swing door to facilitate egress and egress when the systems are kept closed. The entire system has been independently tested to open and close over 20,000 times without failure, ensuring longevity and durability. The thermally broken low profile saddle sills achieve ADA compliance and provide unobstructed transitions into and out of the store.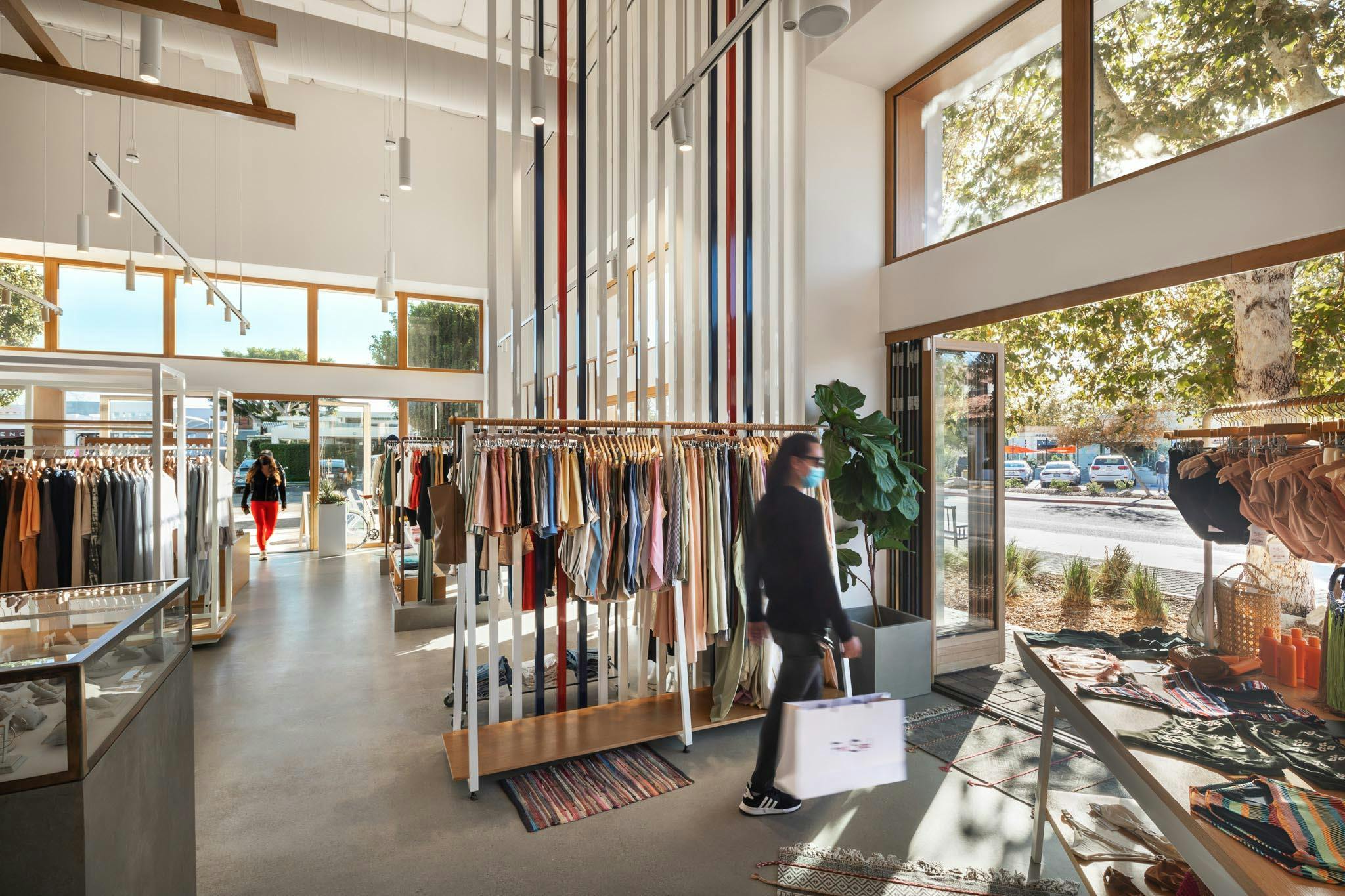 Easily Operable System Engineered to Perform
WD66 is a solid meranti wood folding glass system engineered to offer utmost protection from harsh weather. These wood framed glass walls have been independently tested for air and water penetration, structural deflection, and forced entry with successful results. Stainless steel rollers on a stainless steel track facilitate single-handed operation regardless of panel size—easy and safe to utilize for employees and customers alike. Long-term ease of operation is also assured with compensation and adjustment features.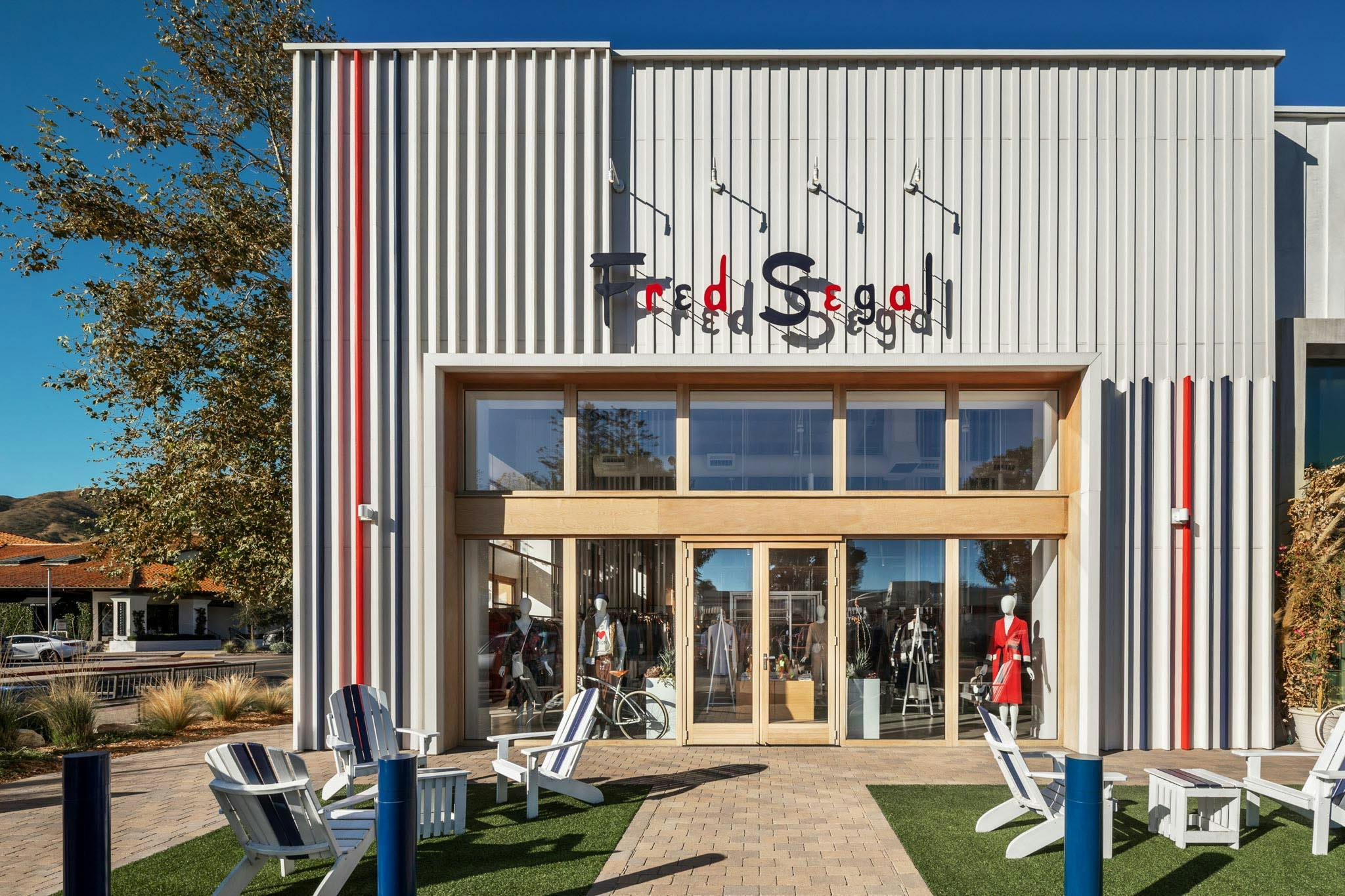 Final Thoughts
The legacy of Fred Segal's iconic brand can be seen reflected upon its latest SoCal location. From its contrasting façade of corrugated metal and wood to its curated merchandise enhanced by the sunlit interior. The iconic brand is staying on top of the retail game with flexible design solutions like a moveable glass storefront design rooted in biophilic design elements and overall customer experience. As a long-lasting solution, the NanaWall wood framed folding glass walls welcome long-term customers, as well as newer generations, into a new era of in-store shopping for years to come.
Discover how other prominent retail locations are leveraging NanaWall moveable glass walls in our extensive Retail Applications Gallery!