NanaWall Reinvents the Kitchen
By Liz Snyder, January 29, 2016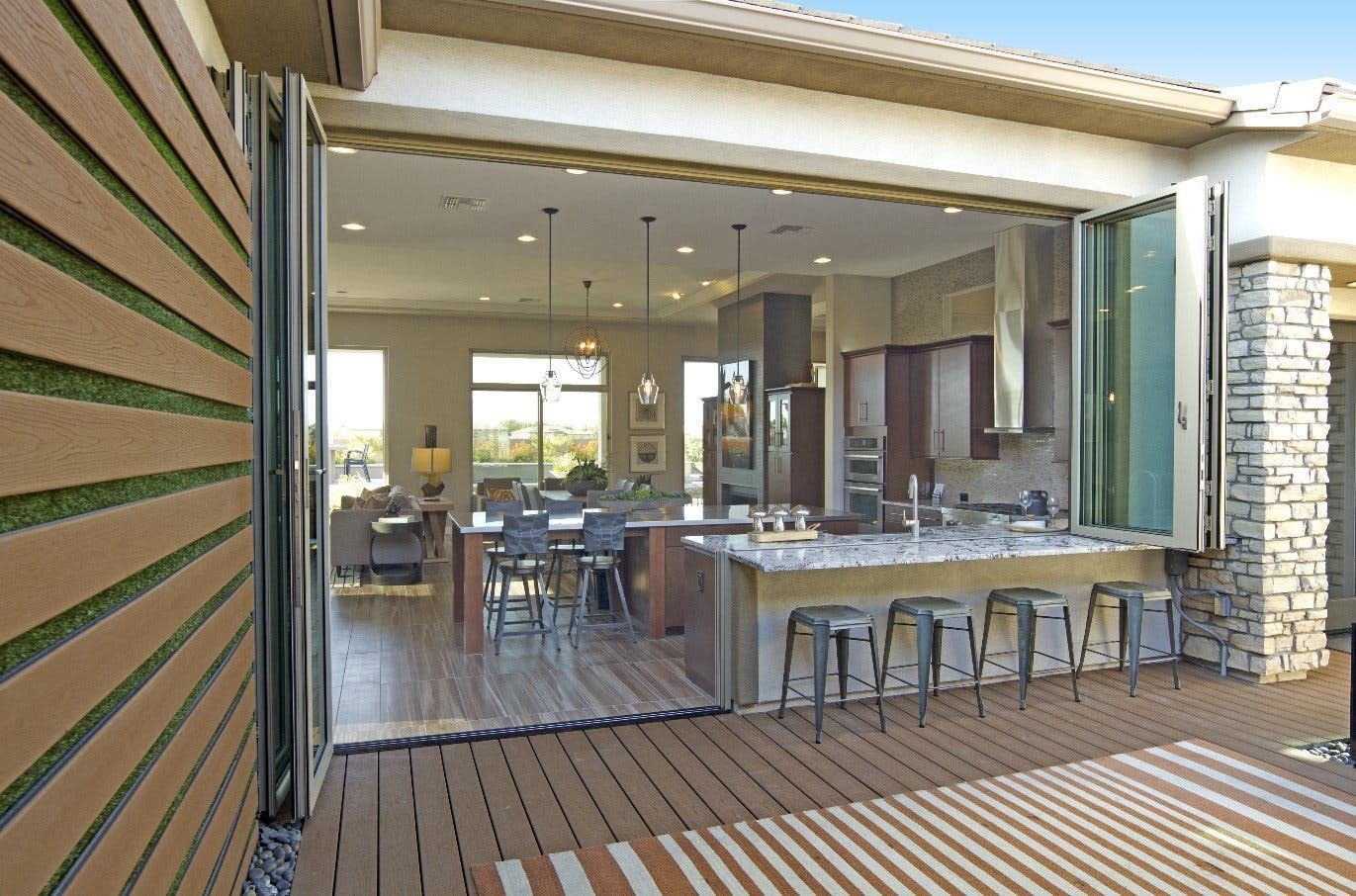 NanaWall Systems caters to homeowners just like you who want the best of both worlds―blending the comforts of indoors with the beauty and openness of outdoor living. As the leading innovator in the opening glass wall industry, NanaWall reinvents the kitchen with their quality window-door combinations that open to connect your indoor kitchen with your outdoor living. The award-winning Kitchen Transition and Kitchen Transition 2.0 systems let you magically open windows and walls to create a fluid, comfortable living area that can be customized to meet your lifestyle and entertainment needs.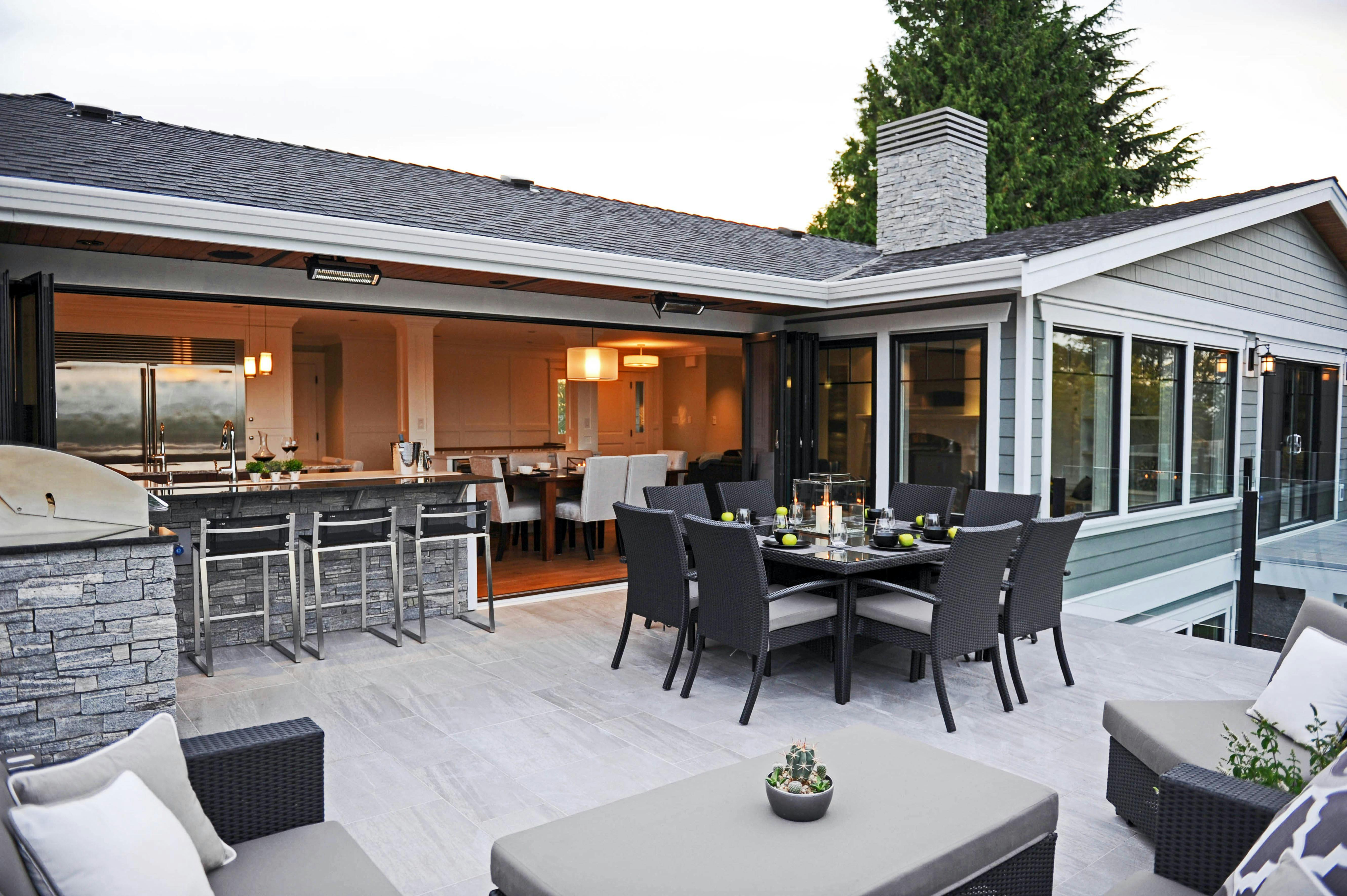 Seamless Spaces
Both the Kitchen Transition and Kitchen Transition 2.0 systems are a combination of opening glass windows, which replace traditional windows over a kitchen countertop, and floor-to-ceiling walls, which replace a fixed wall or a typical sliding glass door. The two meet seamlessly, creating a high-style look, enhancing, and expanding living space. The panels are easy to open and, when opened, either stack to the side of the opening or can slide into a hidden pocket where they disappear completely.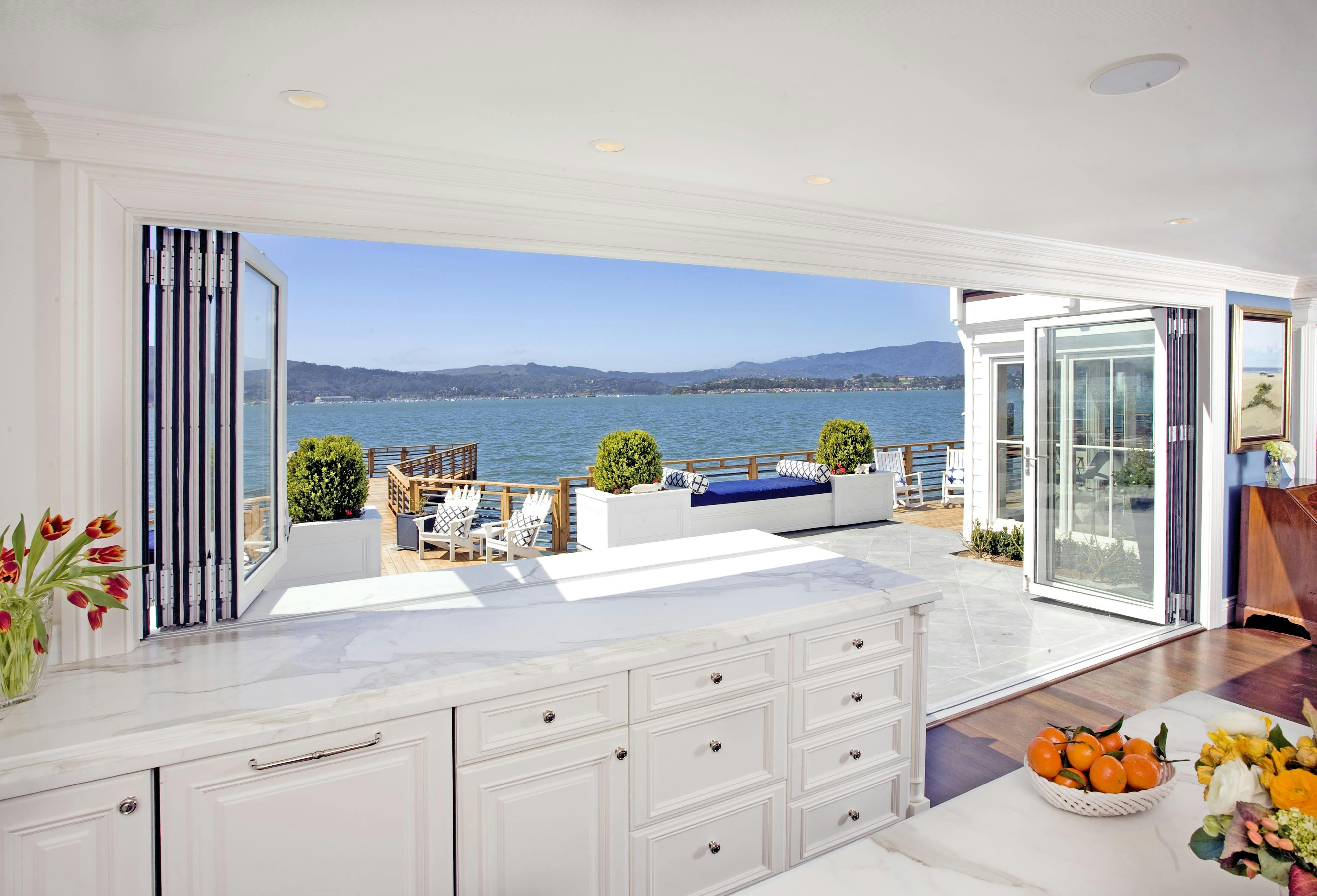 The dual height options -- window or wall -- give you more flexibility in designing your layout. Smart design allows homeowners the open just the window section, the wall section, or both when desired. For everyday use, a swing door can be added to the system for convenient passage between indoors and out. An additional benefit of these systems is that it is no longer necessary to install both an indoor and a separate outdoor kitchen space to meet your needs. With Kitchen Transition/2.0 you can use all your appliances and interior counter space while preparing meals, eating, and relaxing in the comfortable outdoor air.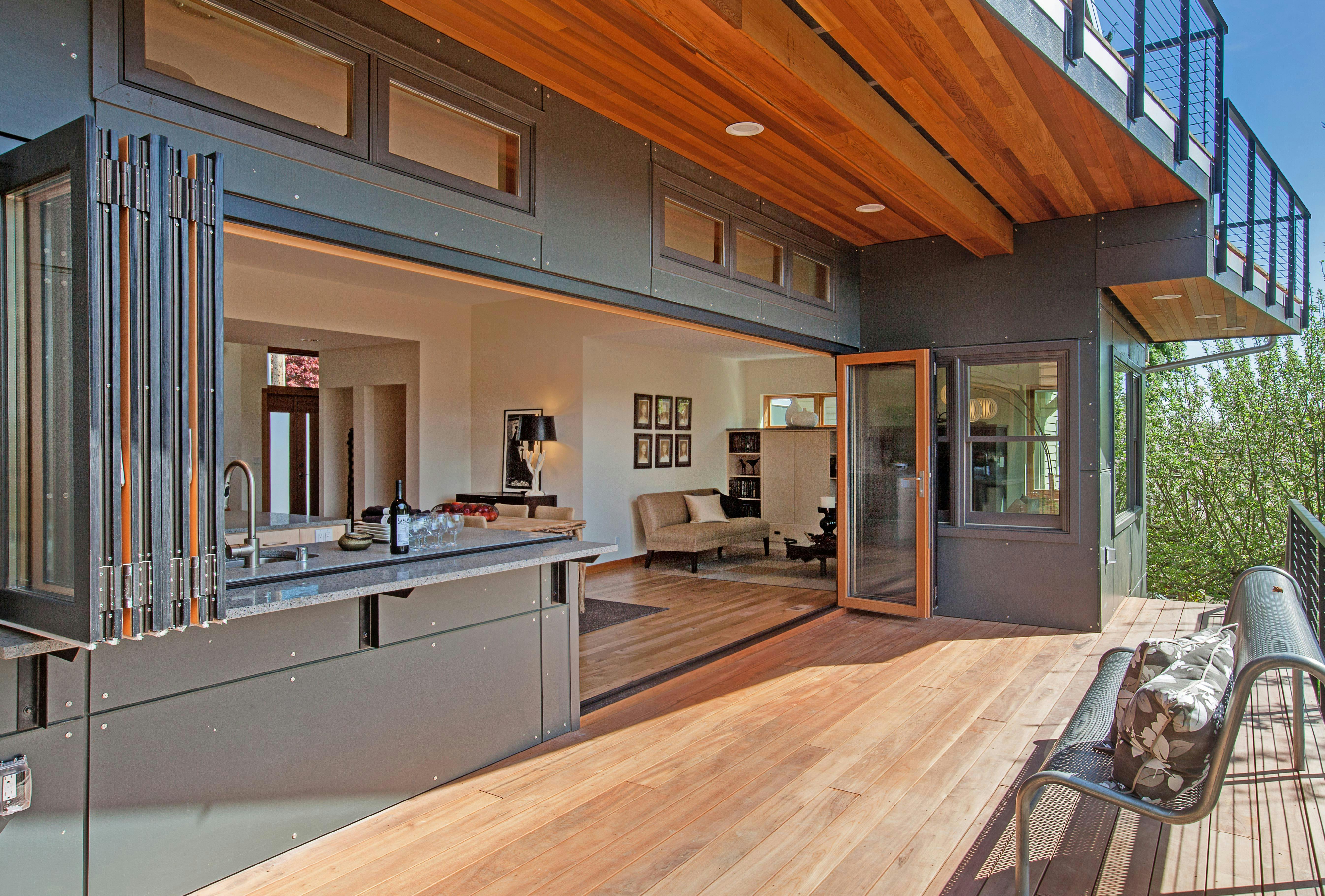 With flexible design solutions, homeowners have:
Opened a kitchen up to a deck. Homeowners with beautiful views don't want walls getting in the way of what they see. Walk with ease from the kitchen out to the deck space where you can enjoy the scenery by flooding the interior of the home with natural daylight and fresh air.
Made the kitchen and backyard one big space. This gives homeowners a lot of area for entertaining, as everyone can easily congregate around the food and enjoy the outdoor space without feeling cut off or cramped. Food preparation and kitchen work can get done without missing a beat.
"When closed, Kitchen Transition and Kitchen Transition 2.0 provide secure weather protection and durability in all climates from tropical coastal homes to wintery ski cabins."
Newest Updates
You can get more counter space and cabinet area open to the outside with the Kitchen Transition system. Watch our video showing the Kitchen Transition system to see the possibilities for designing the open kitchen and outdoor space of your dreams.
Curious about the differences between the standard Transition system and Transition 2.0?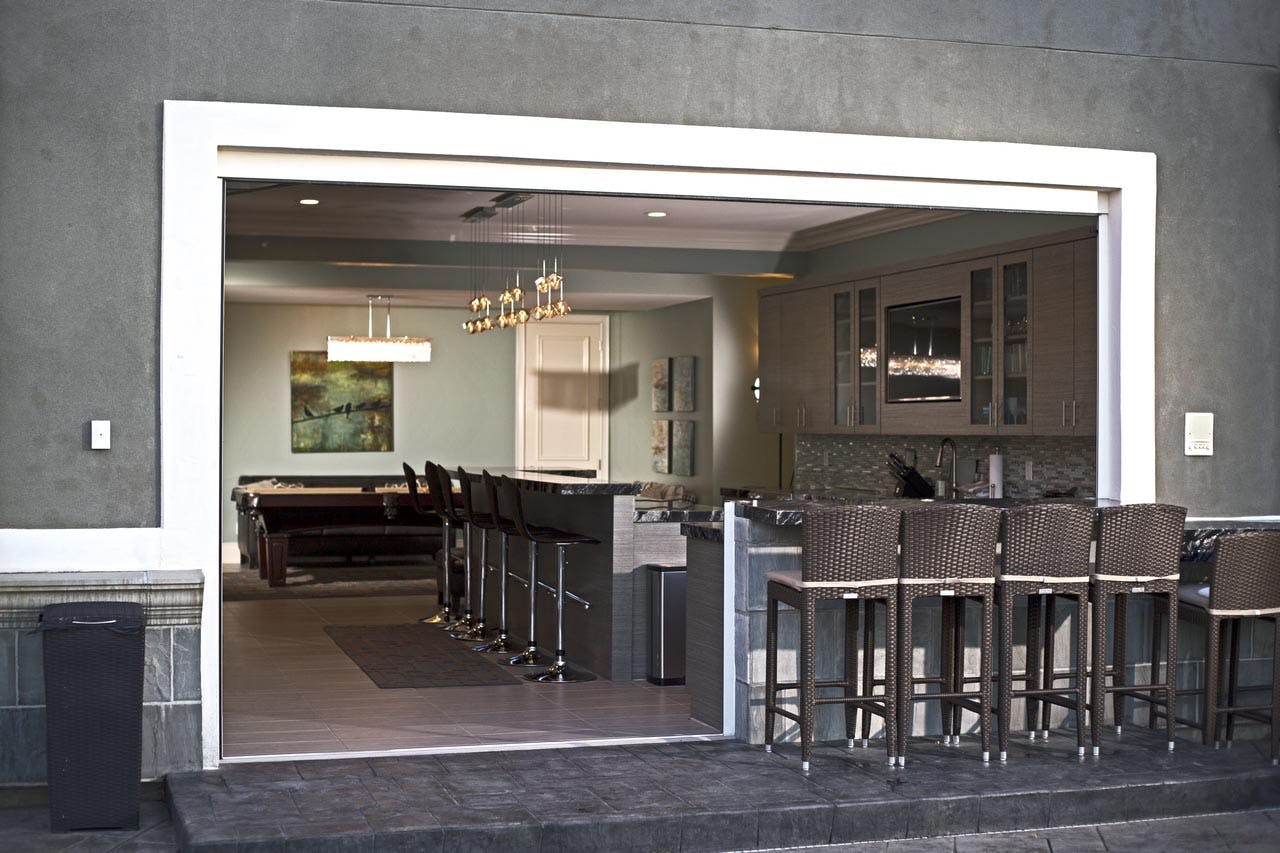 The newest offering from NanaWall gives a no floor track option so countertops don't show any groove or channel when open. Kitchen Transition 2.0 also allows you to fully open corners and to better hide your open panels in a pocket. It will look like it is always supposed to be open, with no traces of the windows or walls. See how it works in this video from NanaWall.
Options to Match Your Decor
Both NanaWall Kitchen Transition systems are available in wood or aluminum. Choose wood options to match your interior cabinetry, including oak, mahogany, pine, spruce, and more. Or select a powder-coated aluminum system that matches your kitchen's color palette; more than 200 gloss and matte color options are available.
To learn more about how NanaWall's Kitchen Transition and Kitchen Transition 2.0 systems work, and how they would fit into your entertaining and outdoor-focused lifestyle, contact us today.