NanaWall: The Obvious Choice for Green Building Projects
By NanaWall Systems, August 23, 2017
In 2016, design builder Eric Woodhouse built a net-zero home in Mill Valley, California. The home was built with such green features as a standing-seam "cool" roof, Nest thermostat, salvaged old-growth redwood lumber, numerous fruit trees, cellulose-insulated walls, a greywater system, and solar panels for generating all the home's energy. The design of the home exceeds California energy efficiency standards (Title24) by 52.5 percent.
The inclusion of the NanaWall system was always a given, according to Woodhouse:
"I think everybody, whether they know it or not, likes indoor/outdoor flow. Buildings that have a connection to the outdoors feel better. Surprisingly, a lot of people come down here and don't expect that [the NanaWall system] to open up, and that's a "wow" moment for a lot of people. The truth is the NanaWall [system]'s sort of a no-brainer."
Eric must have had the right idea – this house went into escrow its first week on the market and sold for over asking! How's that for a quick return on investment?
To watch the full testimonial and learn more about the Mill Valley Residence, play the video below.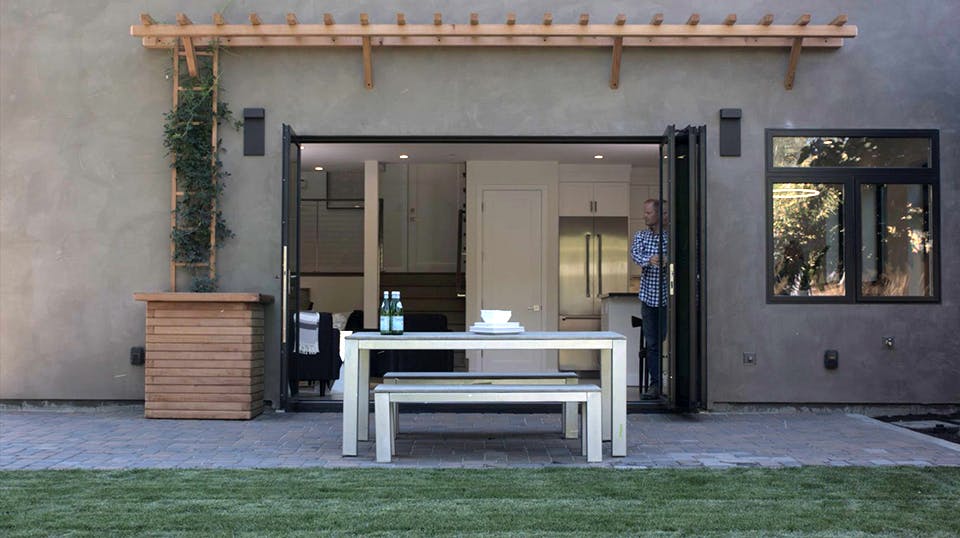 Questions about NanaWall Systems and sustainability? Contact us at info@nanawall.com to learn more.