New Dwell House: Versatile ADU with a Clean Aesthetic and Opening Glass Walls
By NanaWall Systems, May 23, 2023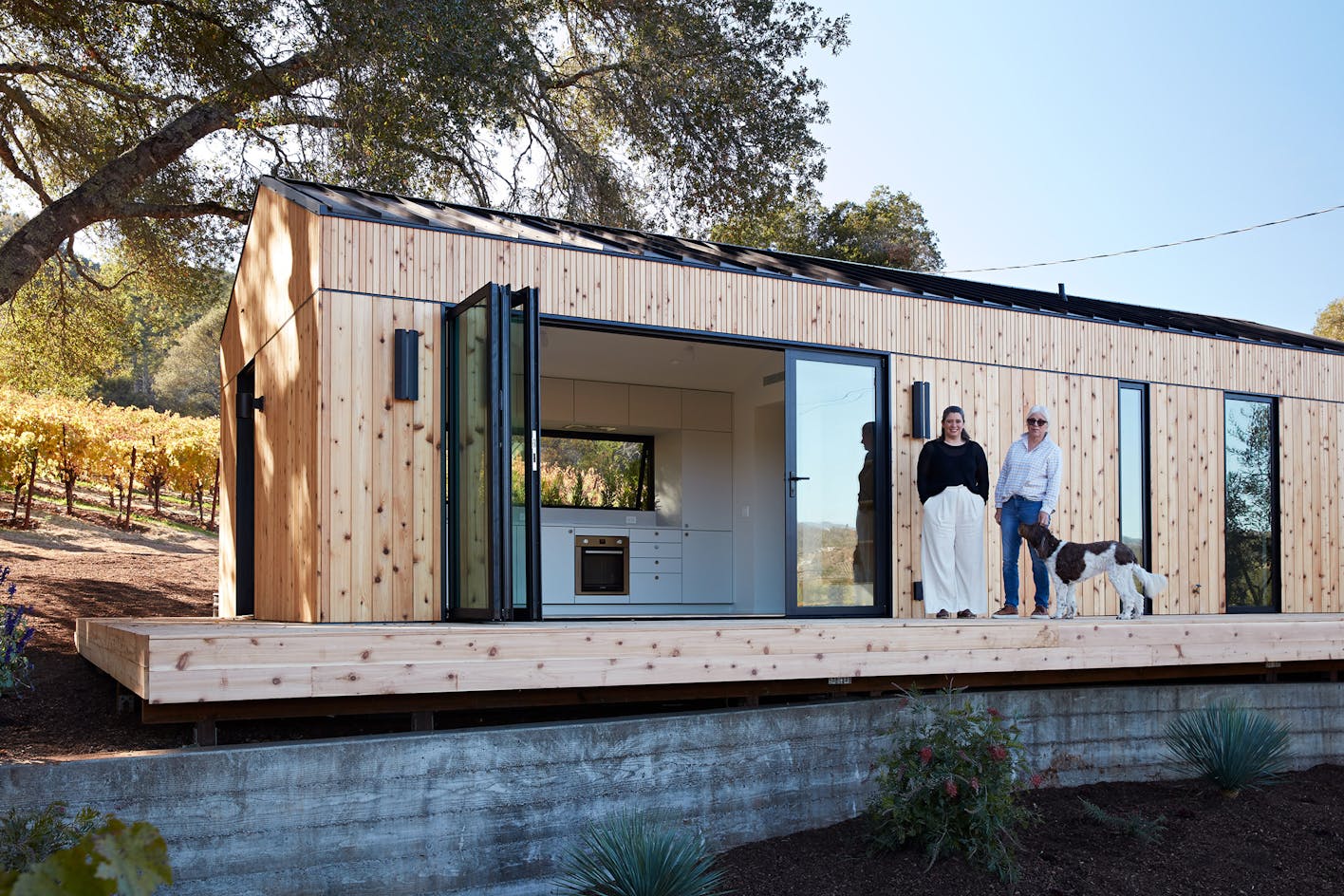 Versatile indoor/outdoor living has taken the world by storm. In the face of multifunctional homes and eco-conscious alternatives, the architectural and design world is finding innovative ways to adapt. Enter a revolutionary solution: The DWELL House. For more than 20 years, Dwell has served as an influential entity in the world of residential design and architecture. The Dwell House, designed by award-winning Danish studio Norm Architects, is a culmination of celebrated design approaches, state-of-the-art appliances, and prestigious design solutions like NanaWall opening glass walls. The contemporary structure offers the next big thing in prefab building for those seeking to increase their available living space at a lower cost and in a timely manner but without sacrificing aesthetics, durability, and the highly coveted connection to the outdoors.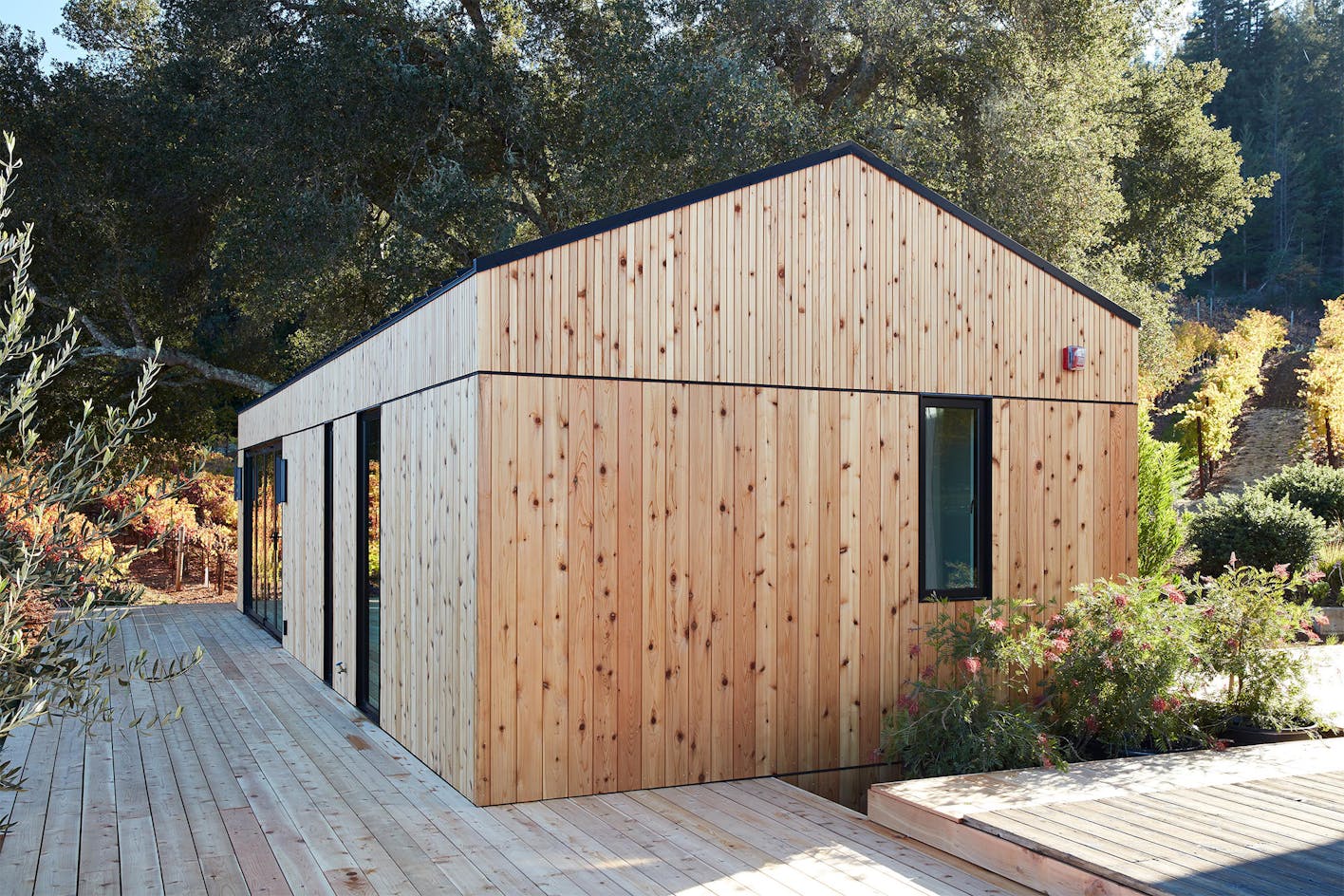 The Dwell House: A New Kind of ADU for 21st Century Lifestyles
Multifunctional living spaces that cater to dynamic lifestyles are all the rave right now. In recent years, our homes have become the hub of everyday activities, from work-from-home and homeschooling to exercising and hosting guests. The need for dedicated spaces to ensure privacy and productivity has never been more relevant. These accessory living spaces have also been adapted as homes for aging parents or as affordable rental properties that bring in extra income for homeowners. ADUs present a speedy and affordable solution to increase available living space while offering a multifunctional space outside our primary dwellings. Innovative building solutions like opening glass walls significantly increase the sense of space in these minimal structures while reaping the benefits of an indoor/outdoor environment. Dwell House takes all this into account and improves it with design-forward elements and immaculate details at this Healdsburg, California installation—surrounded by an awestriking landscape and the infamous vineyards of wine country.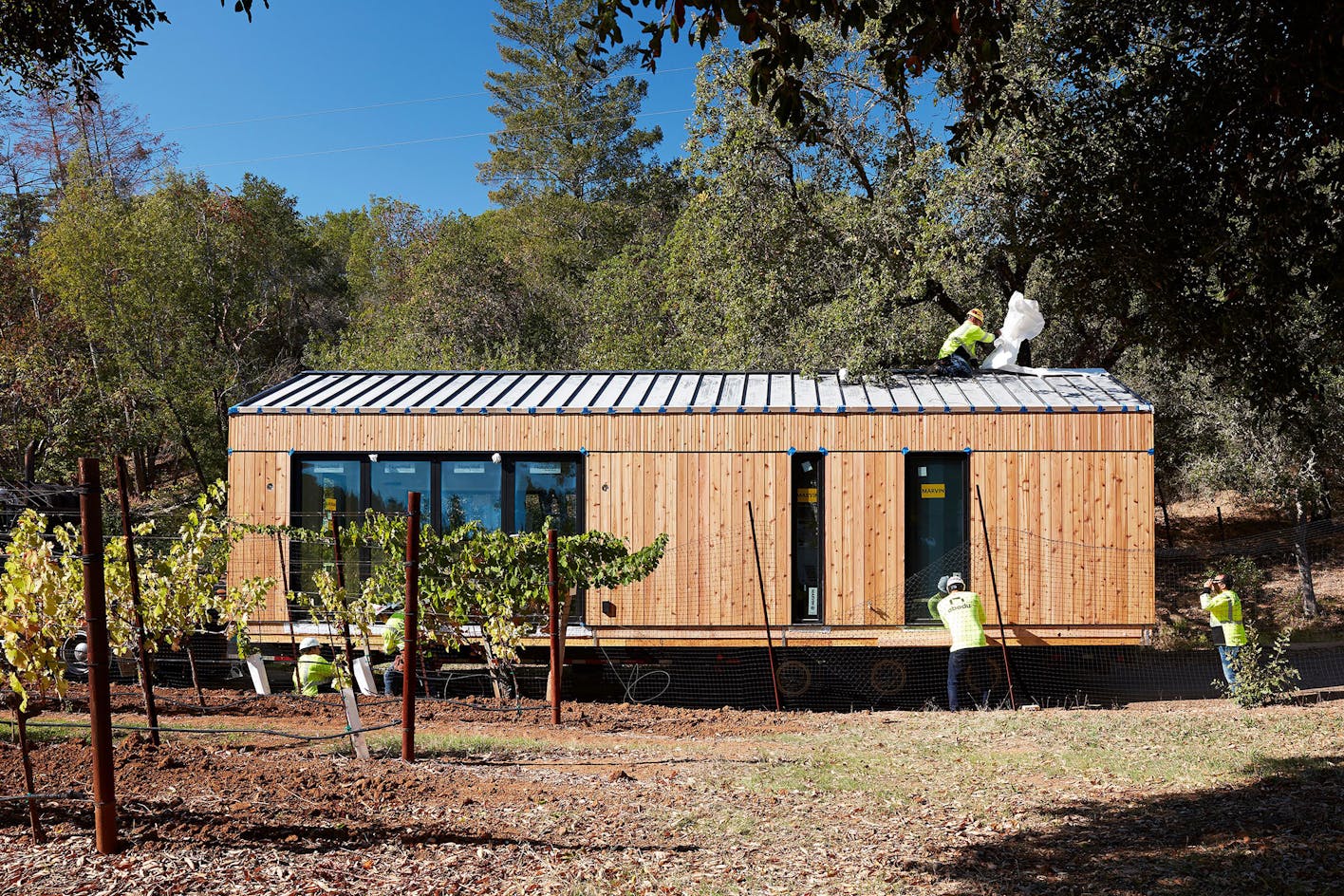 Industry-Disrupting Design for the Future
The Dwell House is a 540-square-foot ADU (accessory dwelling unit) practical enough to fit in most backyards and home aesthetics. The entire structure is constructed off-site and transported to any property in partnership with prefab building company Abodu. Paying homage to minimal Scandinavian architecture, Dwell House features an elegant envelope of cedar cladding with bold, black details on its gabled roof and the frames of its expansive windows and doors. "In the living room, one of the main features is a large [NanaWall] folding glass wall that opens to the outside to create a cross-breeze through to the kitchen window and offer an unobscured view to nature," says Norm Architects partner Sofie Thorning. Even the sleek profiles of the operable glass wall system were customized to match the rest of the ADU's fenestration.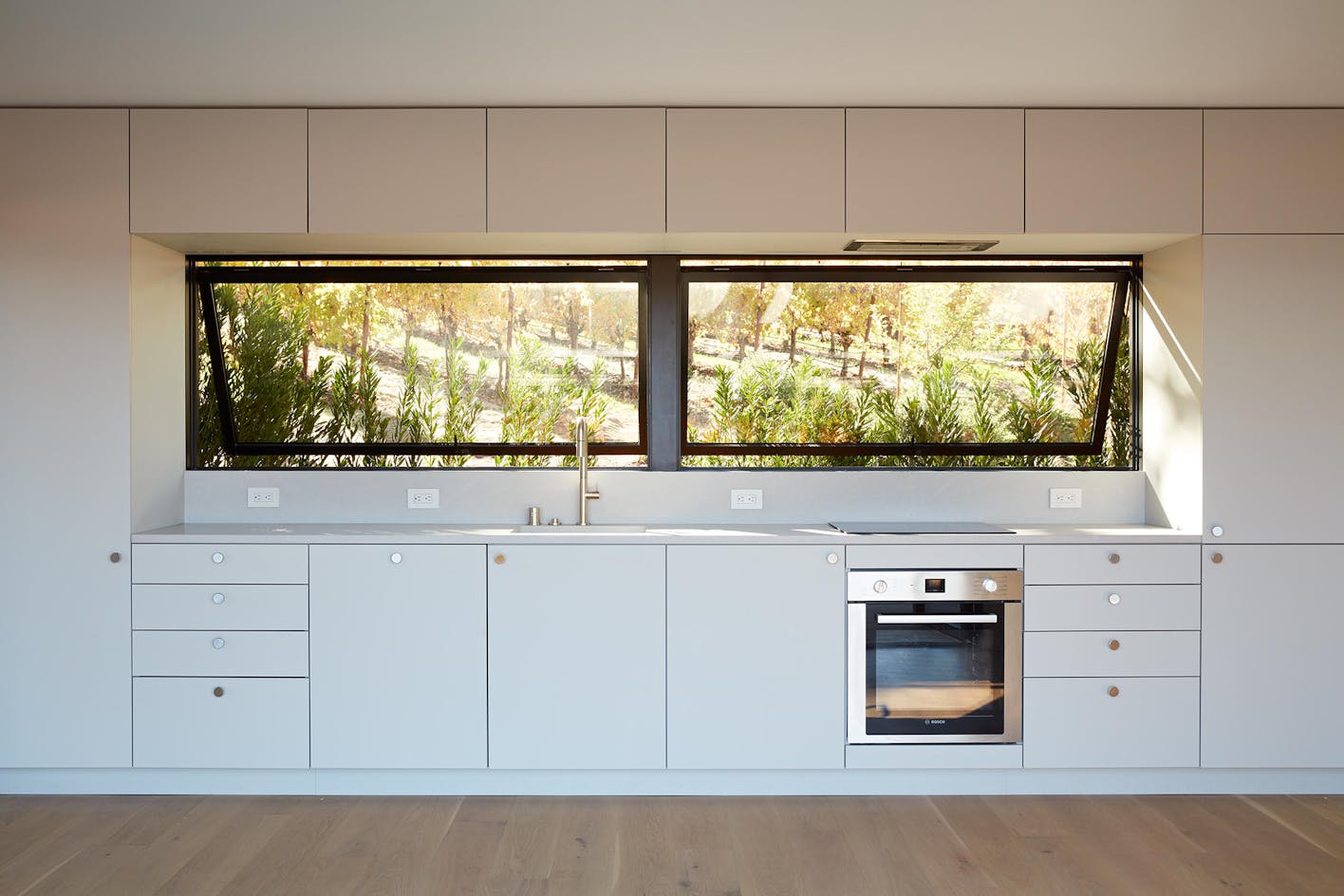 Redefining Minimalism One Amenity at a Time
"It's about creating a space where you can have those simple moments—enjoy a coffee and the summer breeze of California," adds Thorning. In the interior, minimalism reigns supreme in a serene space enhanced by sleek white walls and natural wood floors. Despite its modest size, Dwell House features a spacious living space with a decked-out kitchen, full bathroom, one bedroom, and plenty of storage space. Essential appliances and utility systems were carefully selected to ensure performance, durability, and sustainability for years to come. Extensive use of windows throughout the ADU, including the sleek operable glass wall system enhances minimal aesthetics while creating a sense of openness and endless landscape views. Interiors are flushed with natural daylight, decreasing the need for artificial lighting and overall energy consumption for a more sustainable living approach.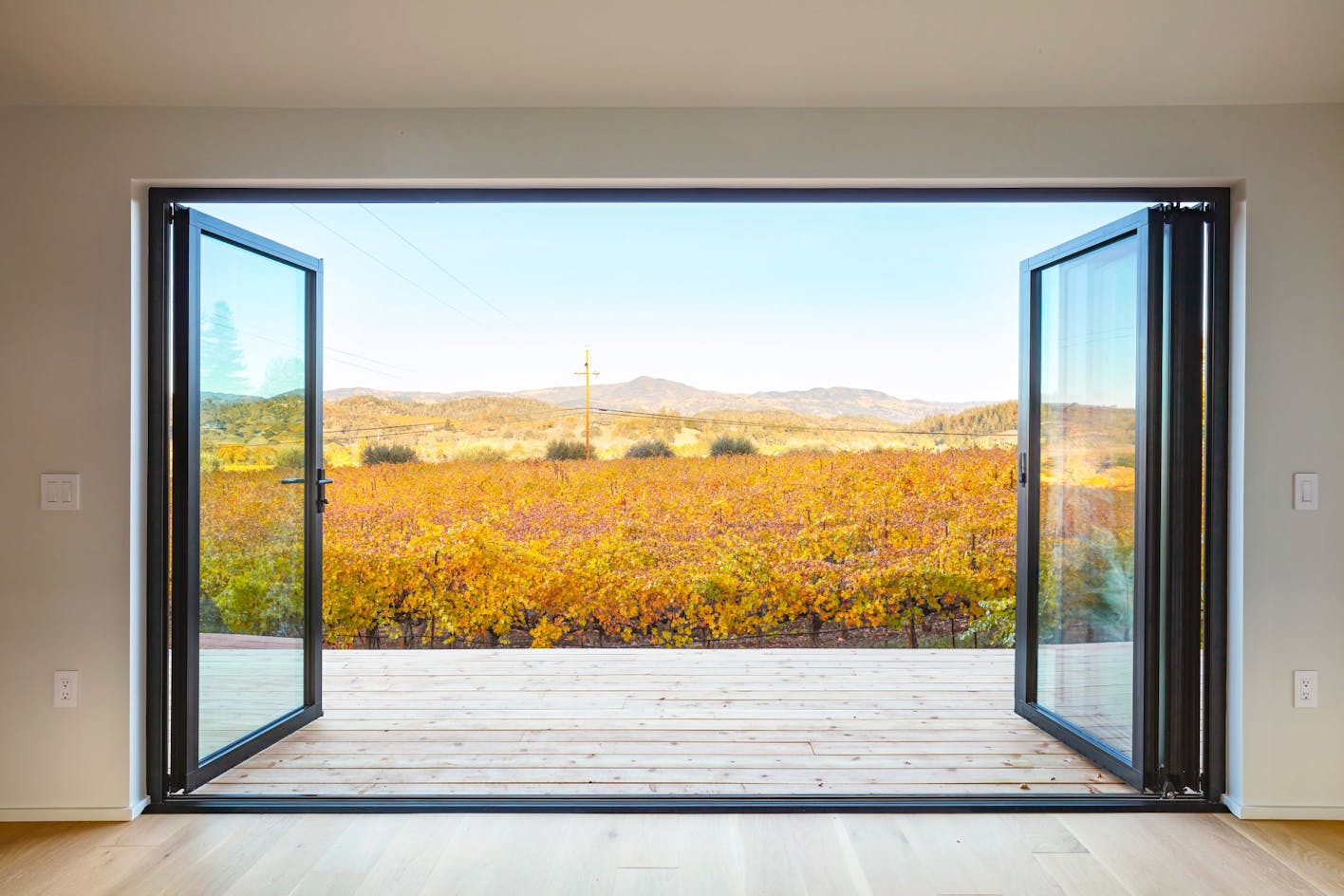 Enhanced Functionality with NanaWall Opening Glass Walls
Each Dwell House unit is outfitted with a four-panel operable glass wall system to maximize space and optimize the indoor/outdoor experience. With nearly forty years leading the opening glass wall industry, the architects turned to NanaWall to deliver a durable, weather-performing system to achieve an ambitious 12-foot-tall opening. Whether opened or closed, the system increases the sense of space, making the primary living spaces feel much more extensive than what is offered. The opening glass walls feature an outswing configuration that extends the usable square footage to the outdoor deck. The space immediately transforms to give way to outdoor seating for alfresco dining, exercising in the open air, lounging against a soft breeze, or enjoying a calm night of stargazing. Similarly, Dwell House makes for a great pool house/cabana with quick access to the pool.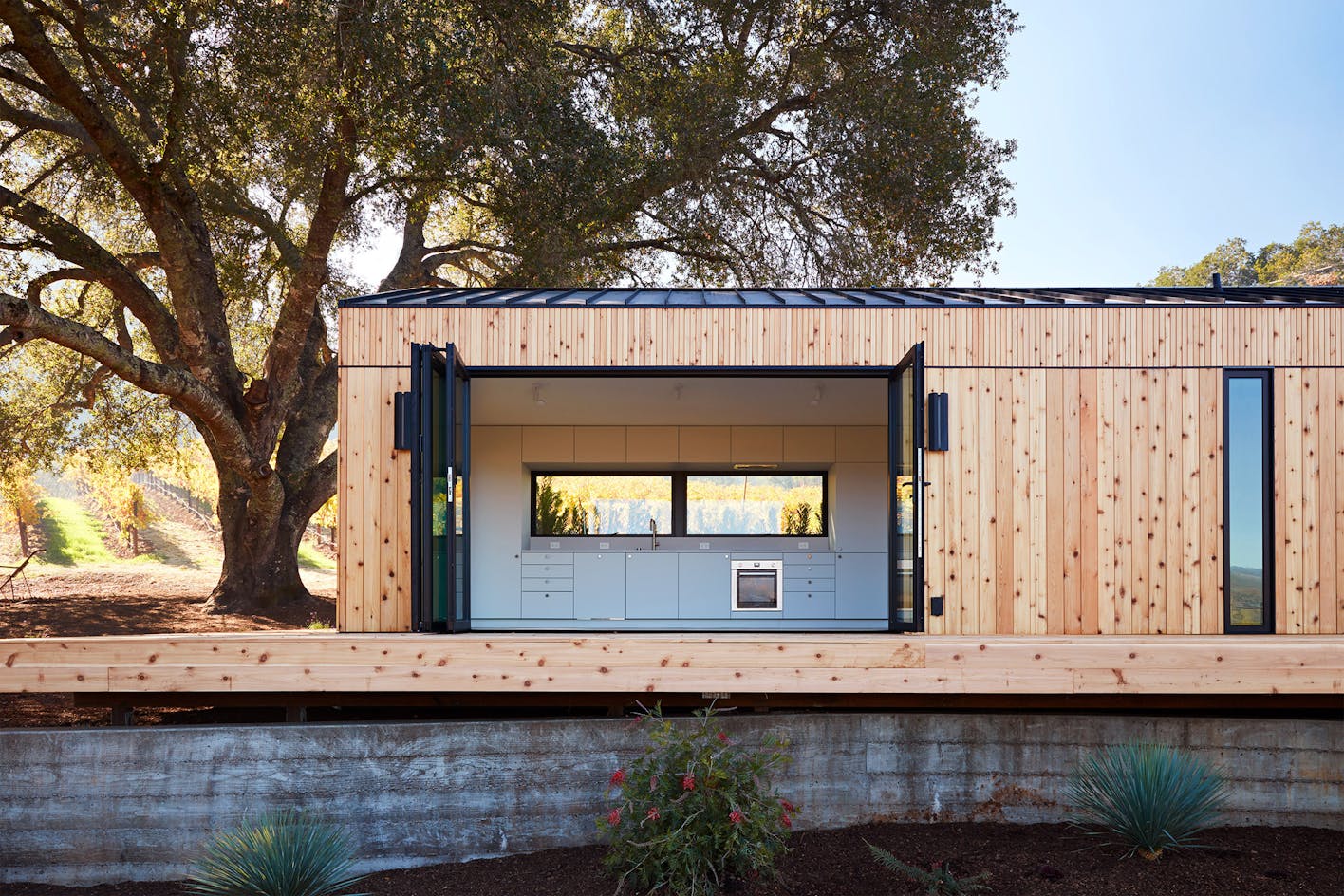 Biophilic Design to Boost Health and Wellness
The NanaWall SL60 offers the durability, energy efficiency, and aesthetics needed to elevate any residential living space. Featuring barely-there frames, large floor-to-ceiling panels maximize daylight to naturally brighten interiors—a factor that has been proven to improve serotonin levels and overall mood. When retracted, the wide opening flushes the ADU with fresh air ventilation, removing harmful toxins from stagnant air as well as cooking odors that can get trapped on surfaces. Delivering impeccable biophilic design elements, opening glass walls are also ideal for optimizing natural views for a more immersive experience with the outdoors even when the panels are closed. At this Healdsburg location, the floor-to-ceiling operable panels create an immersive experience with the landscapes with endless sunset views and rows upon rows of grape vines. In a world where health and wellness are highly prioritized, Dwell House checks off all categories to deliver a healthy living space for the entire family—or guests.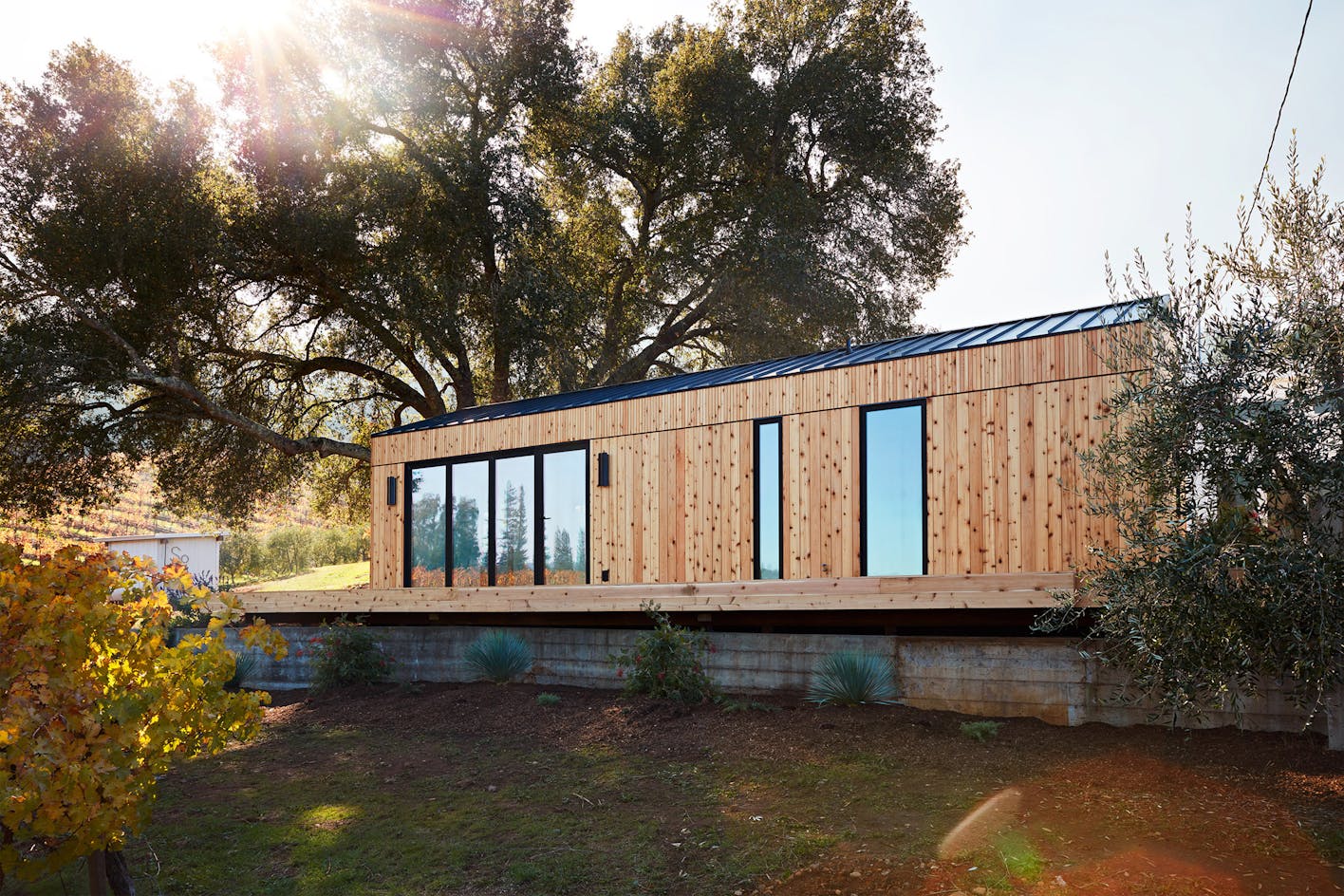 Weather Performance for Four-Season Living
Naturally occurring insulative wood wraps the entire façade of the Dwell House, improving the ADU's thermal efficiency throughout the seasons. The unit's fenestration was also carefully selected for its high performance and thermal efficiency—including the aluminum framed operable glass wall system. NanaWall SL60 was built to withstand the demands of every climate with a low-maintenance finish to ensure long-lasting performance. An energy-efficient design keeps the cold on the outside while maintaining warmth inside with specialized seals that provide efficient humidity and water control—keeping the elements outside the ADU. As with all NanaWall products, SL60 has been independently tested for air, water, structural, forced entry, and operation with excellent results. The included swing door at the jamb provides easy everyday access and has been tested to 500,000 opening and closing cycles. These elements together create an ideal ADU for year-round functionality and comfort with the additional benefit of ease of operation and beautiful aesthetics.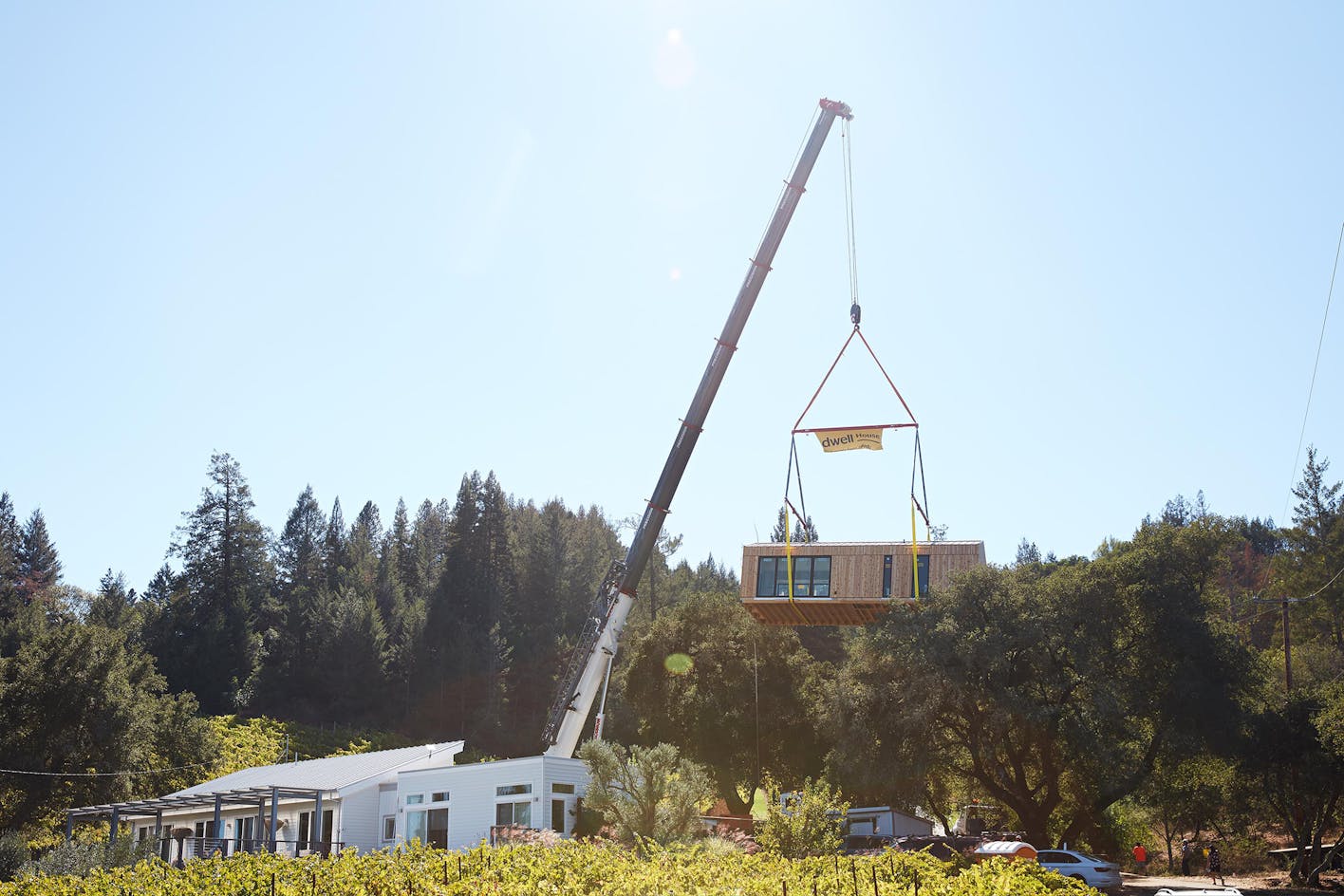 Final Thoughts
Without a doubt, The DWELL House is a major disruptor within the ADU industry. A multifunctional and durable additional dwelling unit delivered straight to your door—quite literally—has been facilitated through thoughtful design, architectural ingenuity, and state-of-the-art solutions like easily operable NanaWall opening glass walls. Whether it be a guest house, home office, or poolside cabana, Dwell House was designed to meet the needs of every lifestyle and space requirement. A dedicated dwelling where minimal Scandinavian design works in synergy with the outdoor environment is rarely descriptive of an ADU—until now.
Discover all that Dwell House has to offer here on dwell.com. To learn more about how NanaWall opening glass walls are redefining 21st Century living spaces check out our expansive case study library!
The Dwell House by Dwell

Architect: Norm Architect
Construction Partner: Abodu
Folding Glass Wall: NanaWall Systems
Product: NanaWall SL60