New Products: Meet the Ultimate French Door
By , March 9, 2012
For years, NanaWall has understood the importance of collaboration in design. As a product manufacturer, we have learned much through our relationships with architects and designers. Whether it's our folding or single-track sliding systems, we constantly see design requirements that demand innovative solutions. We are very proud of meeting these challenges; it's a passion that pervades our entire company. For example, take a look at the photo below. Typically, those who witness a folding system open and close for the first time are quite impressed, wow'd in fact! But, the architect or design professional will ask questions such as, "Where do the glass panels reside once they are open? How do they stack? Inside, outside or both?" They are concerned for aesthetics, clean lines, and symmetry.

Take a look at the folding system photos again to see how NanaWall addressed these concerns. Notice how the panels are symmetric, all the same size. Notice how when closed, there is a single panel that can swing open for daily use, and not require that the entire system open at once. Lastly, notice how the panels when open, stack perpendicular at a 90 degree angle to the opening. Similarly, architects asked us the following question: "Can NanaWall make a four-panel system, with equal-sized panels and two swing doors aka "french doors" in the middle?"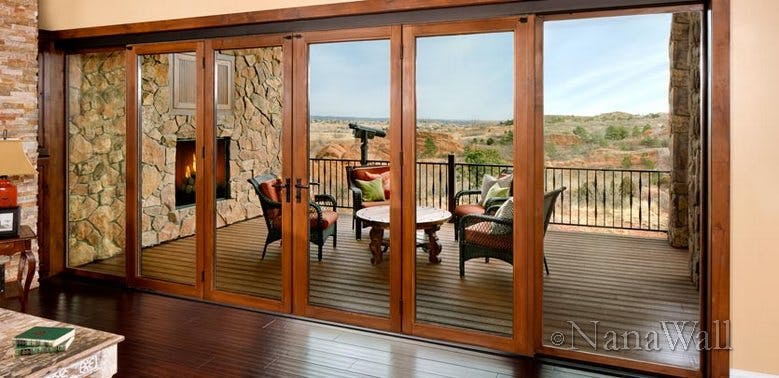 A French door with sidelights can be found readily at a local hardware supply store or DIY warehouse store. It's basically a pair of swinging doors, sometimes with a colonial grid pattern to signify a "traditional" look. For wider openings, a french door adds sidelights, but they remain fixed in place. Functionally, what architects and designers like about this option is that the french doors can stack or store parallel to the plane, or at least very close to it. The drawback or tradeoff for this function is, unlike our folding operable glass wall systems, almost half or more of the opening cannot be utilized and is wasted. Do we offer a French door system that can utilize the entire opening and store all four panels flat against a wall or even within a pocket? Five years ago - we did it! We patented the design for a system with two swing doors in the center that can slide and stack neatly parallel to the opening. Nothing else on the market today can do this. And the story doesn't end there. The 4-panel design is fantastic, but limits its appeal to smaller size openings, no wider than around 14'. With some major advancements in our track and roller hardware systems, we can now offer what we call the SwingSlide, with as many additional sliding sidelight panels as you need, to accommodate the widest openings. Take a look at the animation of our new SwingSlide with 8 panels neatly stacking into a pocket, or simply against the wall. Learn more about this system on our website here.