Put the Cool in Pool House Design with Accordion Glass Doors
By NanaWall Systems, June 23, 2021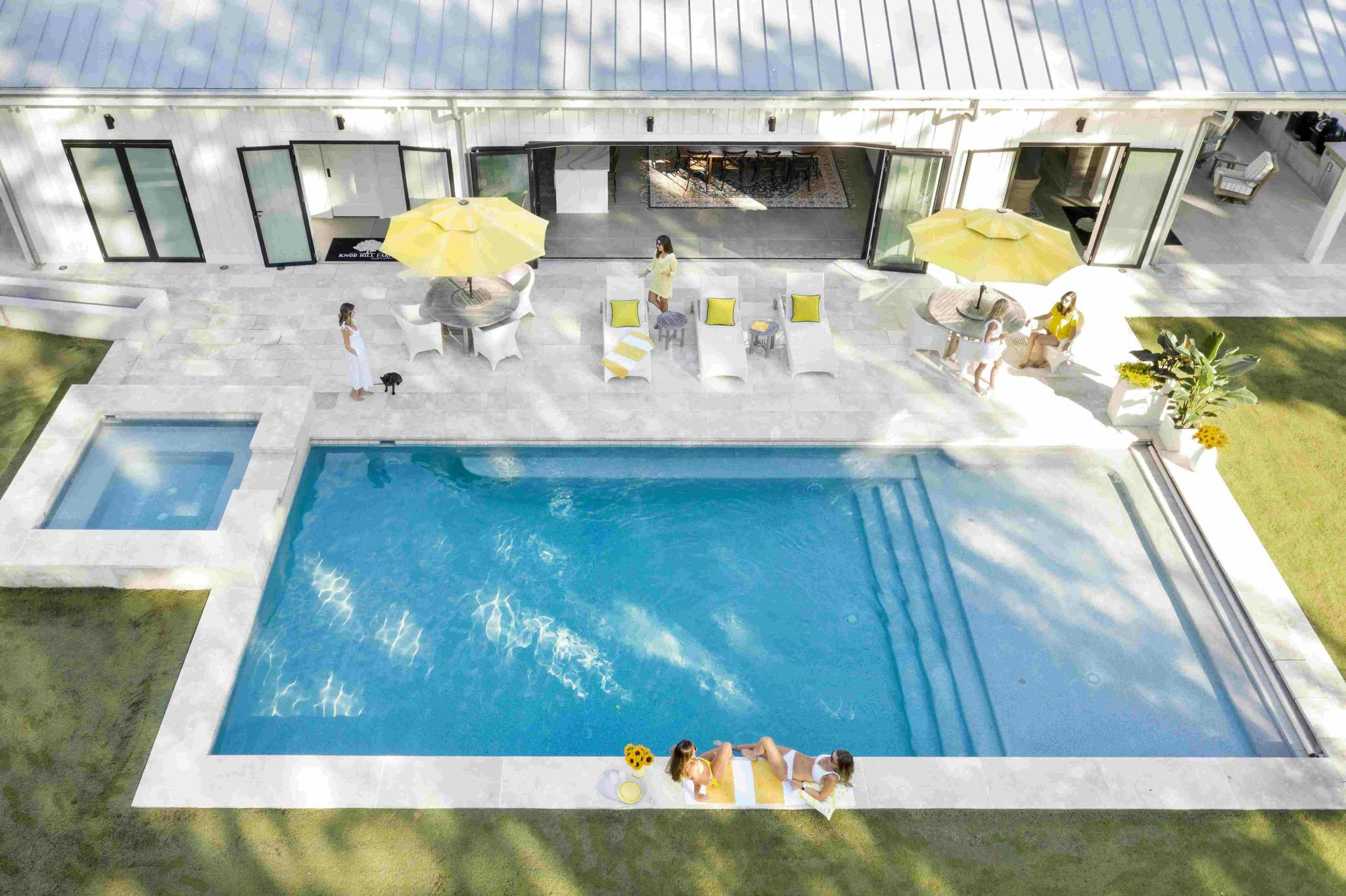 Sometimes, the best vacation is a staycation. A poolside retreat presents an ideal, easily accessible getaway for those hot summer days and lively nights of entertaining. Elevate the experience with accordion glass doors that facilitate multifunctionality while offering durability and low maintenance. Aside from providing a shady lounge area by the water, pool houses can double as guest houses, al fresco dining rooms, indoor/outdoor bars, and even open-air theaters. Imagine watching a movie while cooling down from the pool! With collapsible glass doors, you can enjoy the flexibility of a dynamic, wide opening to fully immerse in the perfect indoor/outdoor retreat.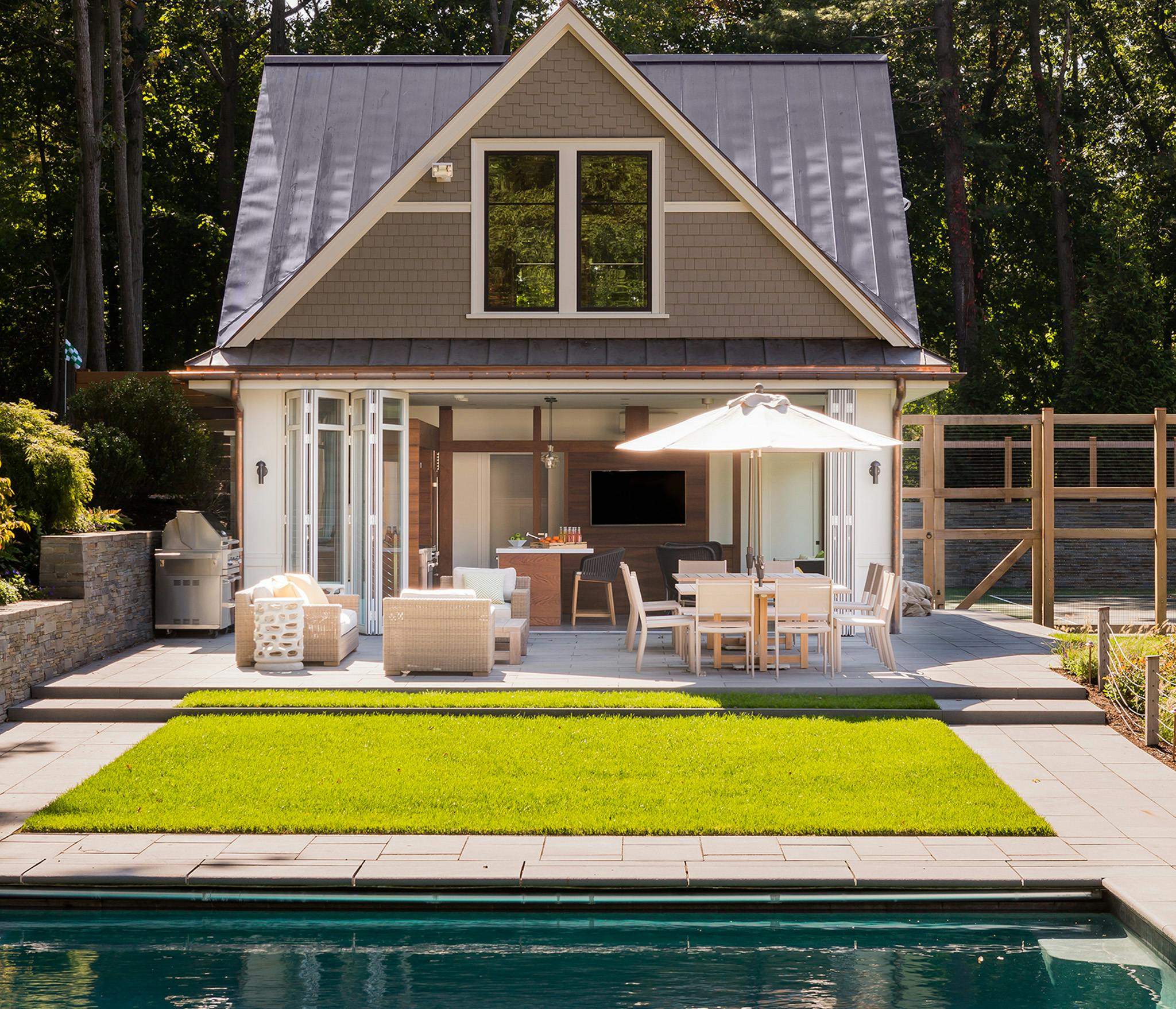 Pool houses are little getaways of their own and offer the perfect backdrop for entertaining guests and family members alike. A large opening is ideal to provide unobstructed transitions to and from the pool but having these openings can limit the overall function of the space—not to mention rendering your pool house completely useless during harsh weather. With easily operable collapsible glass doors, panels can be completely opened to facilitate indoor/outdoor transitions to and from the pool house and be closed off at night to protect interiors from the elements or to offer privacy when used as a guest house. Keep in mind, your pool house might be so cool your guests may never want to leave!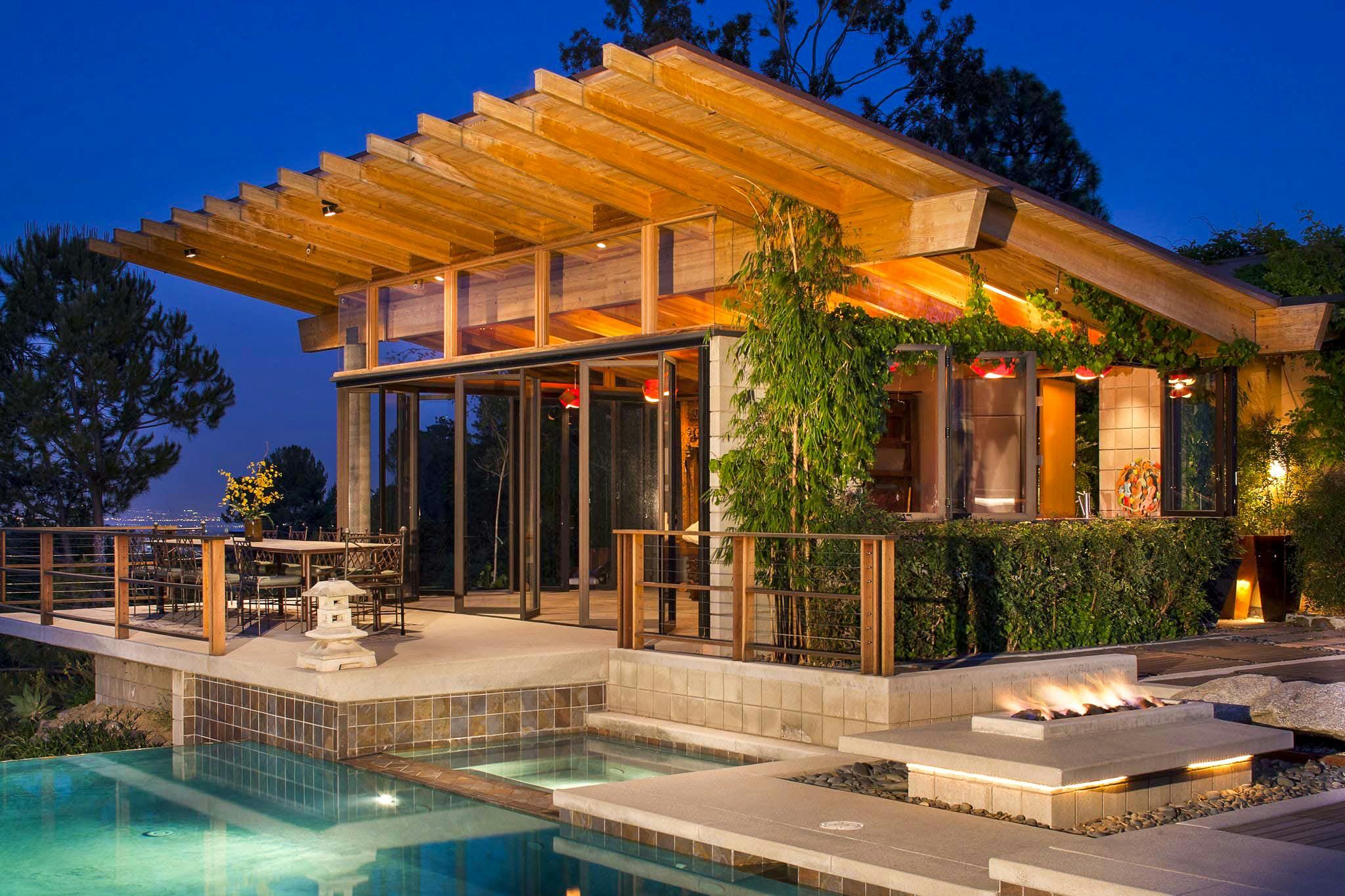 Accordion Glass Doors Optimize Space
After finding ourselves working from home, homeschooling, and even exercising, the need for dedicated multifunctional rooms became apparent—and so did the lack of them. Pool houses offer additional residential space and for many homeowners, these otherwise recreational areas successfully double as workspaces. To equip pool houses for the various needs of our day-to-day activities, improvements focused on adding amenities, technology, and yes, even collapsible glass doors. The ability to optimize the space and overall experience in pool houses can easily be achieved with easily operable glass walls that adapt to the needs of homeowners.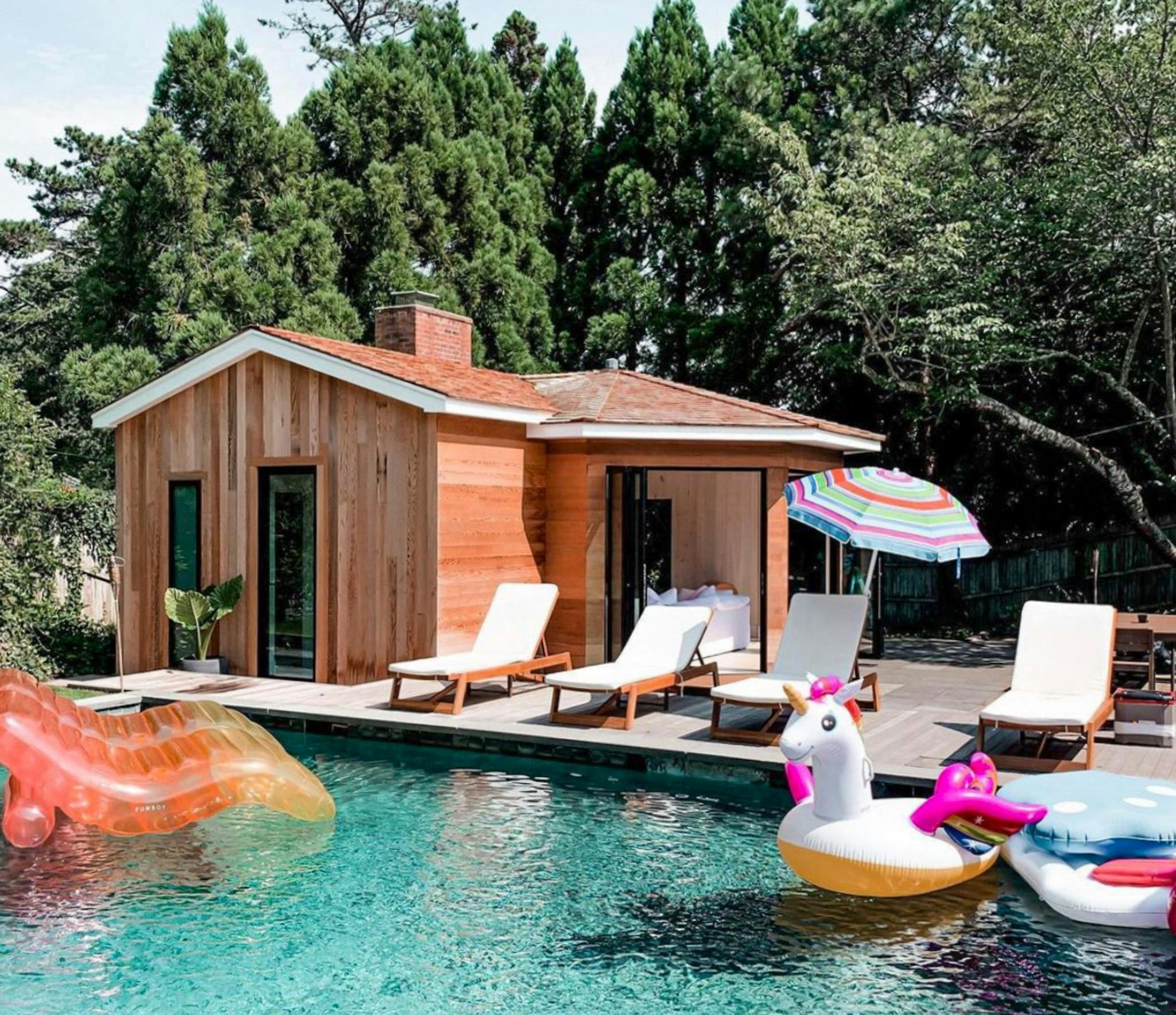 Photo Courtesy of North Haven Builders
Accordion Glass Doors Offer Low-Maintenance
Compared to the traditional alternative, collapsible glass doors are easier to maintain while offering both durability and ease of operation. Conventional doors tend to break down and become drafty over time, while sliders become harder to operate with jamming and dirty tracks. To decrease the need for constant maintenance, most systems for exterior applications have been engineered to perform against the elements as well as to offer smooth and easy operation every time. A heavy-duty roller design on stainless steel rails ensures smooth single-handed operation, even with up to 3/8" of debris—even a pencil in the floor track will not cause the system to bind. Take less time cleaning and enjoy more time relaxing poolside.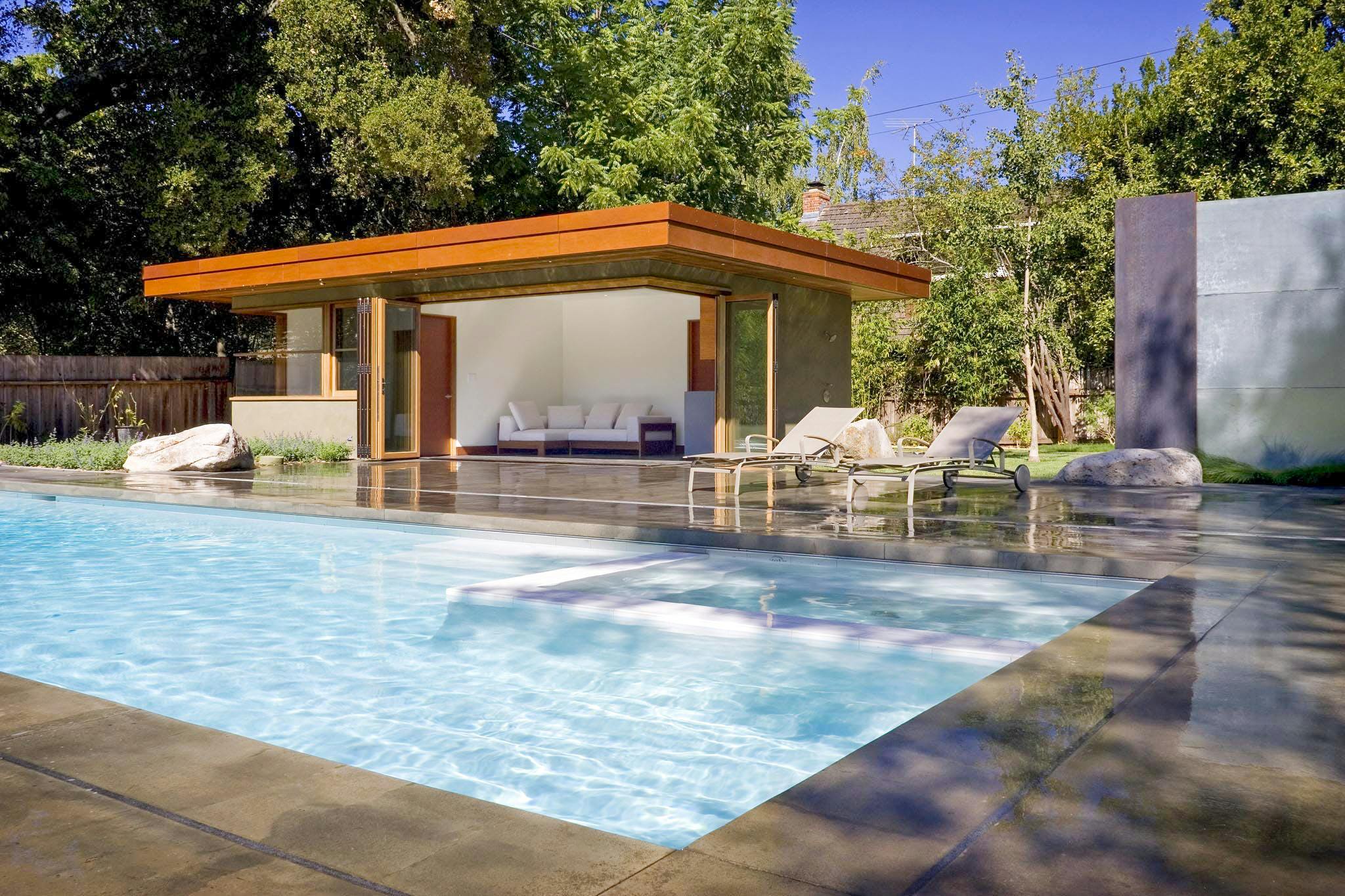 Accordion Glass Doors are Customizable
Collapsible glass doors are not one size fits all. Built with the needs of homeowners in mind, these easily operable systems come in all shapes and sizes alongside an array of other customizable specifications to ensure long-lasting satisfaction. You can even bring the pool indoors! From aluminum, wood, or clad frames, to open corners and curved walls, there is a design solution for every home aesthetic. For high trafficked areas, 180-degree stacking folding glass walls with FoldFlat technology can be specified to create barrier-free transitions as well as ADA compliant sills—or no sills at all on select systems.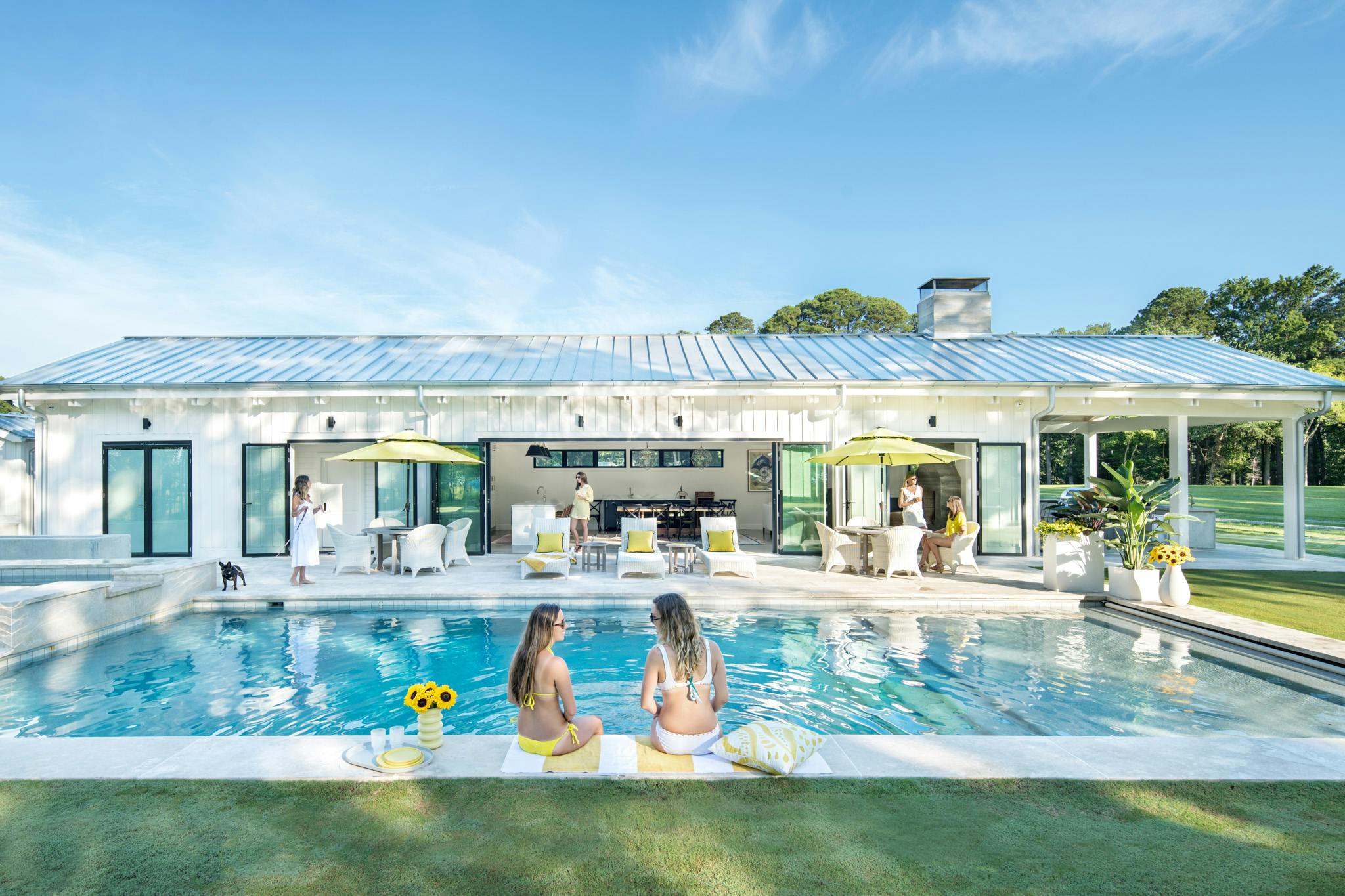 Final Thoughts
How will you be upgrading your pool house this season? Consider leveraging the flexibility and long-lasting durability of accordion glass doors to elevate the experience of these outdoor living spaces. With collapsible glass doors, pool houses are elevated and reimagined to be more than single-purpose spaces while maximizing functionality through wide, operable openings. Better yet, these ever-improving design solutions are easy to operate and maintain so you can spend less time fixing or cleaning and more time relaxing by the pool.
Discover additional pool house design inspiration with accordion glass doors and more in our extensive project photo gallery!