Reduce Aerosol Spread—Office Design with Interior Glass Walls
By NanaWall Systems, May 19, 2021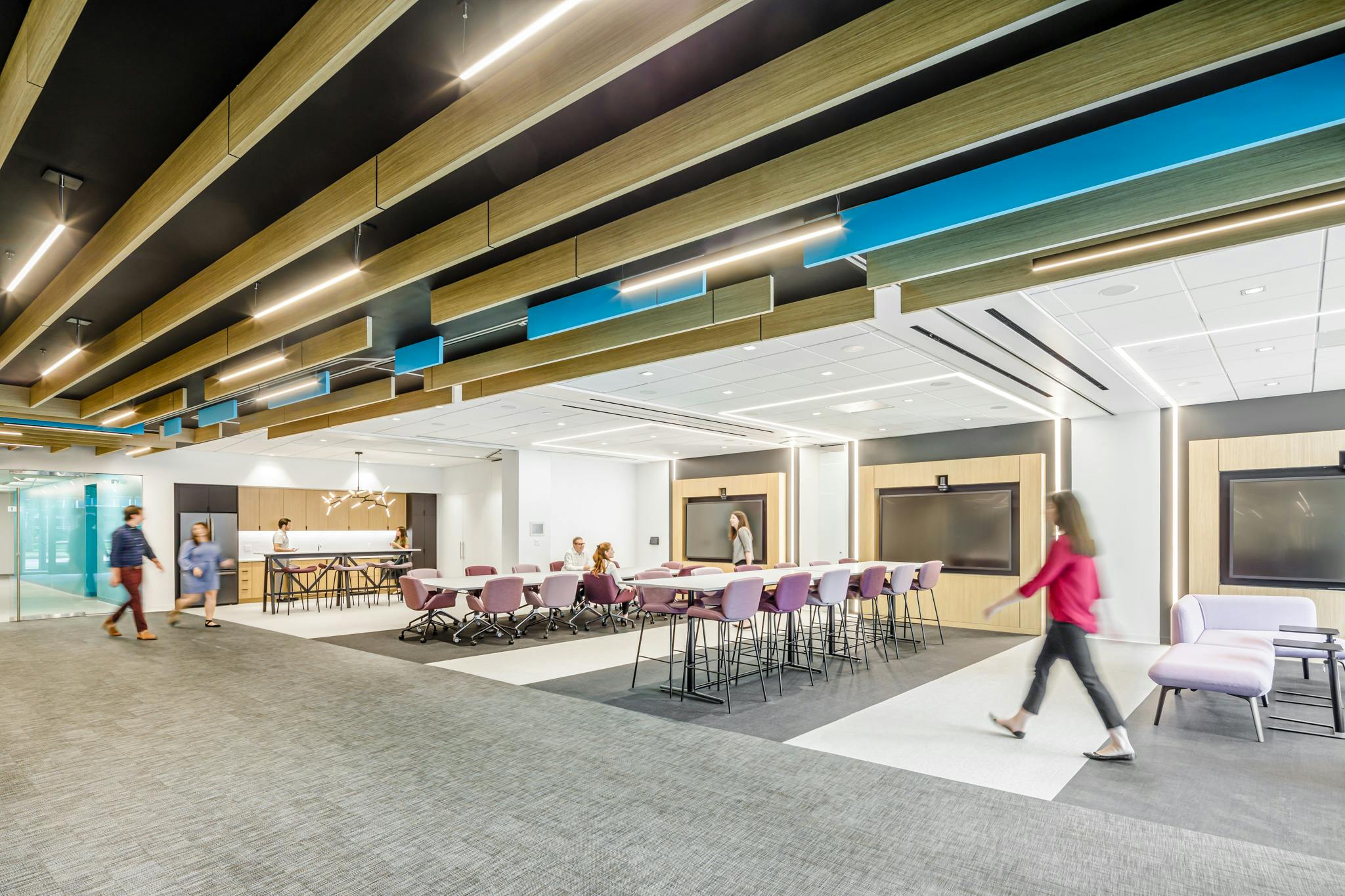 The role of retractable interior glass walls as post-covid design solutions is redefining the way we look at commercial spaces. Social distancing efforts adopted creative ways to keep the spread of illness at bay with transparent films, tape marks, and signs to direct one-way traffic. These efforts, however, proved to be temporary and at times futile after the CDC suggested that Covid-19 could be spread through "aerosols." How, then, can businesses safeguard the wellbeing of their employees as they return to the workplace? Glass partition walls for office spaces present a permanent and effective solution that not only maximizes space but also provides effective separation where the health of employees is of concern.
Interior Glass Walls in Post-Covid Office Design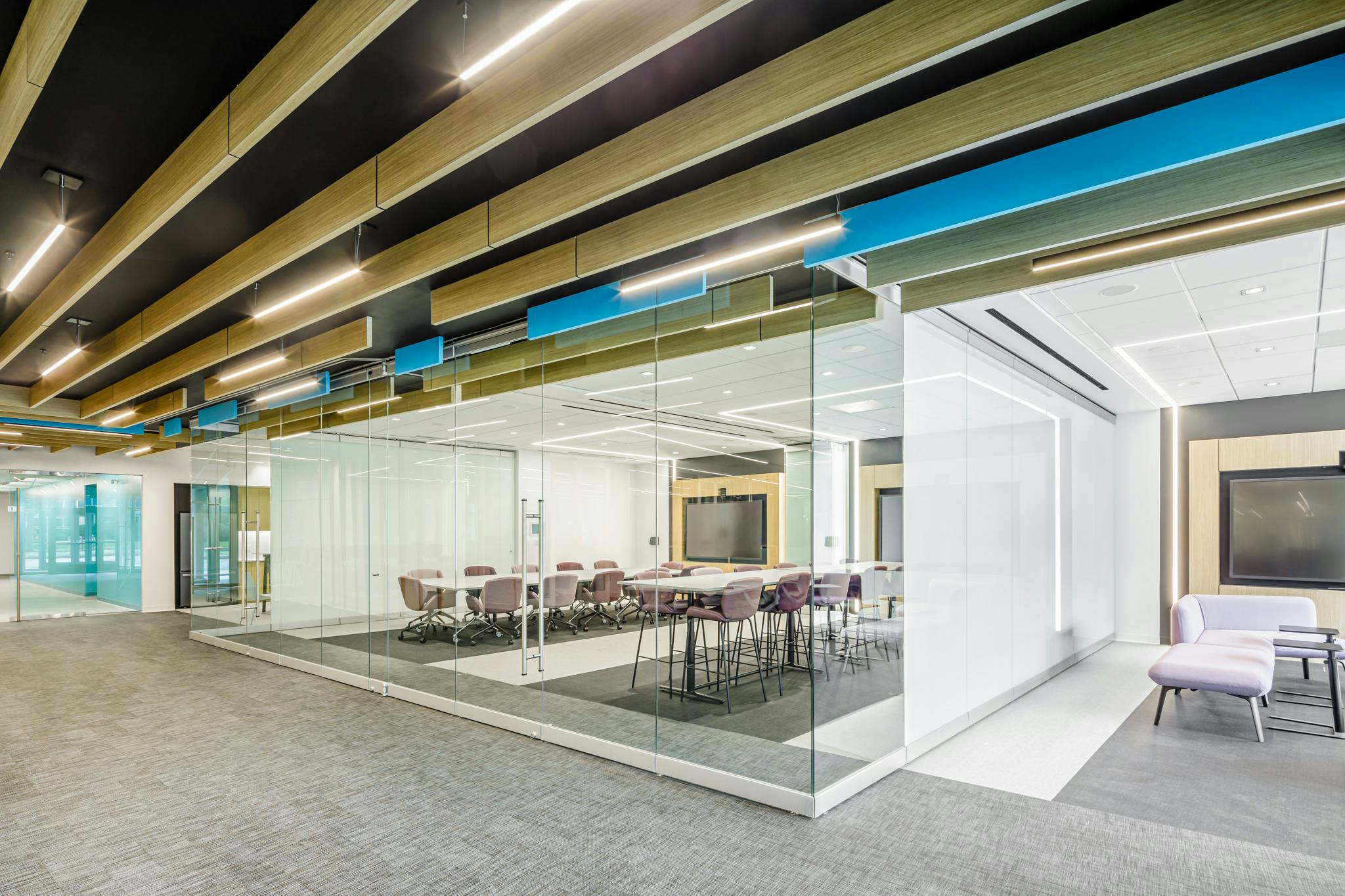 Understanding the Spread of Aerosols
Aerosols are tiny particles that can float or drift around in the air for up to three hours and can travel further than the six-foot distancing suggested. Indoor environments that lack adequate ventilation pose a risk for infection as these aerosols remain trapped for hours within one space. At the height of the pandemic, the CDC recommended that offices install transparent shields or other physical barriers where possible to separate employees and visitors in all areas of the building, including work areas, meeting rooms, break rooms, and even entrance areas. These methods, however, are not 100% efficient as potentially harmful air could still travel into and contaminate other spaces. As an alternative, retractable interior glass walls pose an effective solution to facilitate efficient separation and health in the workplace. Let's discover how.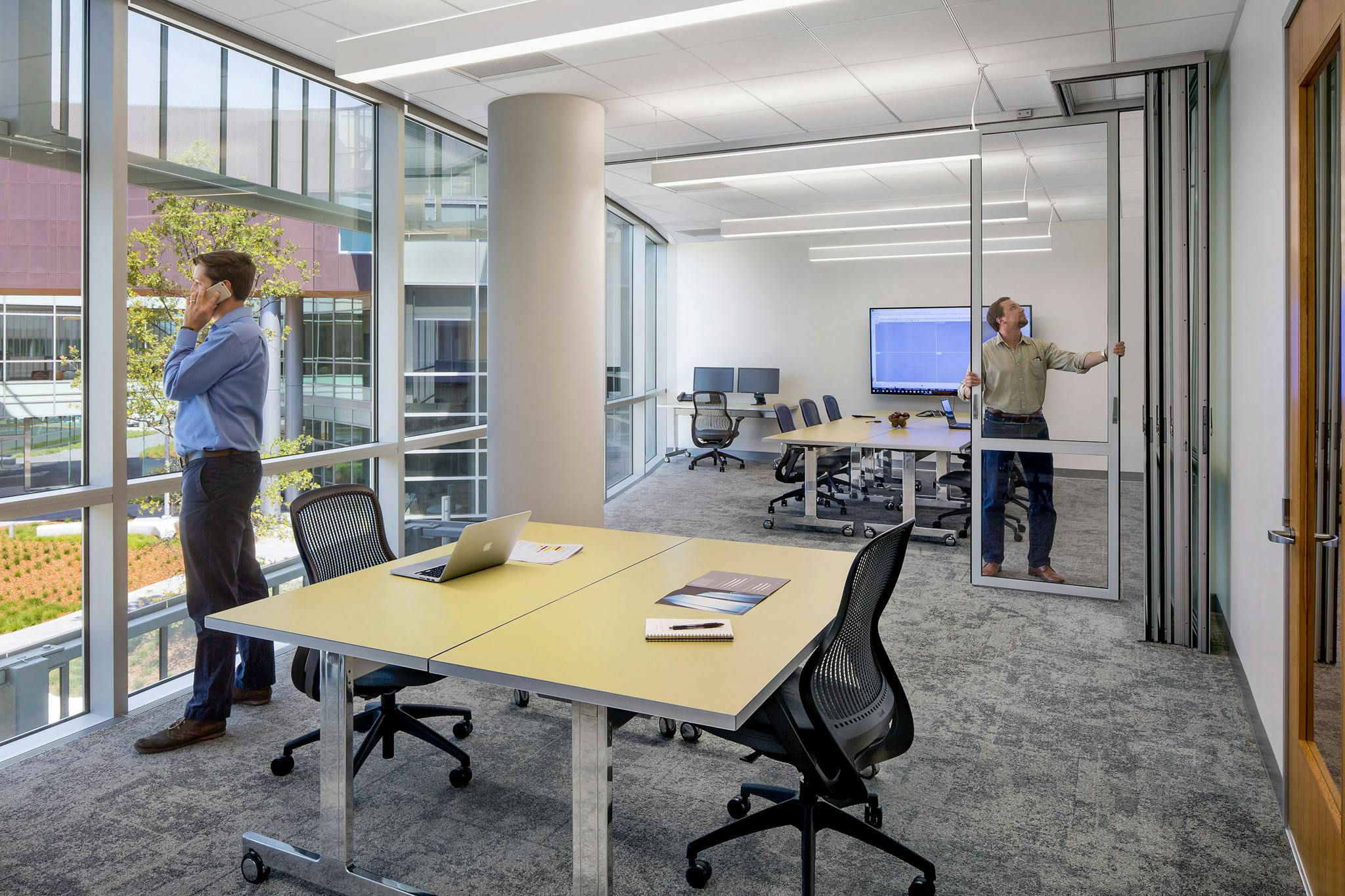 Operable Glass Partition Walls for Office Spaces
Moveable interior glass walls offer separation without sacrificing flexibility and collaboration. As interior glass solutions for the workplace, frameless all-glass systems feature no vertical profile for clean sightlines that optimize transparency—suitable for any space in the workplace from offices to amenities floors. But how exactly do these dynamic systems decrease the risk of aerosol exposure? NanaWall Systems' ClimaCLEAR, for example, was originally designed to be a fully transparent, structurally secure, weather-rated system for large openings. Unlike others in the market, ClimaCLEAR, alongside its companion system, PrivaSEE, features patented technology to ensure long-lasting performance and enhanced protection against permeability.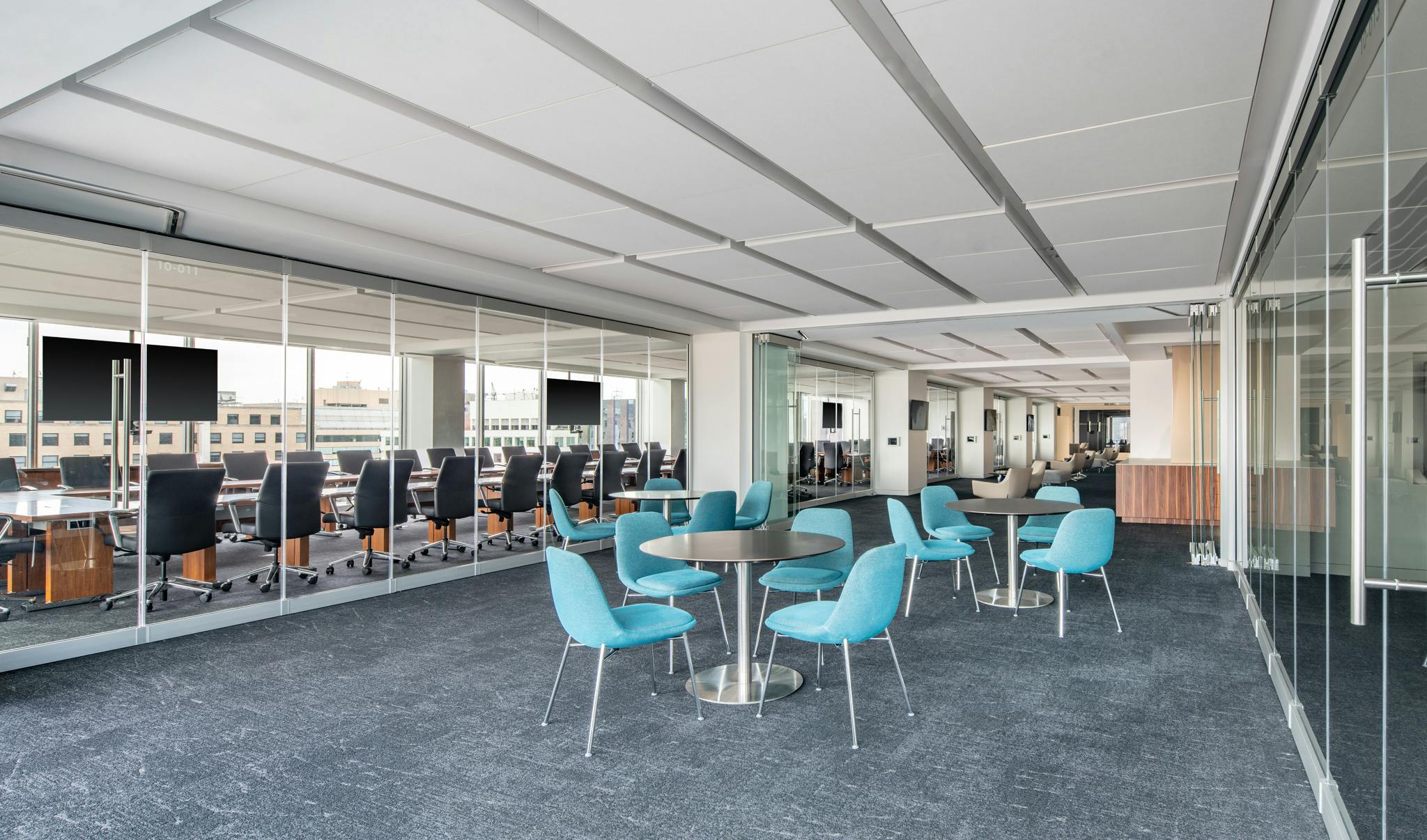 Patented Technology for Heightened Performance
Standard between all sliding panels is super clear vertical seals that block wind-driven rain and air infiltration. Compared to others in the market that feature permeable gaps within the panels, patented panel interlocks at the top and bottom rails of ClimaCLEAR are designed to reduce air streams and increase sound attenuation. For improved ease of operation, both interlocks and compressions seals are self-activating, effectively locking the panels into place without the need to kneel down. These retractable interior glass walls successfully diminish permeability, preventing the spread of aerosols within interior spaces. Intelligent rollers ensure quiet, smooth, and simplified single-hand operation allowing employees to change spaces on the fly, from private office rooms to large collaborative spaces.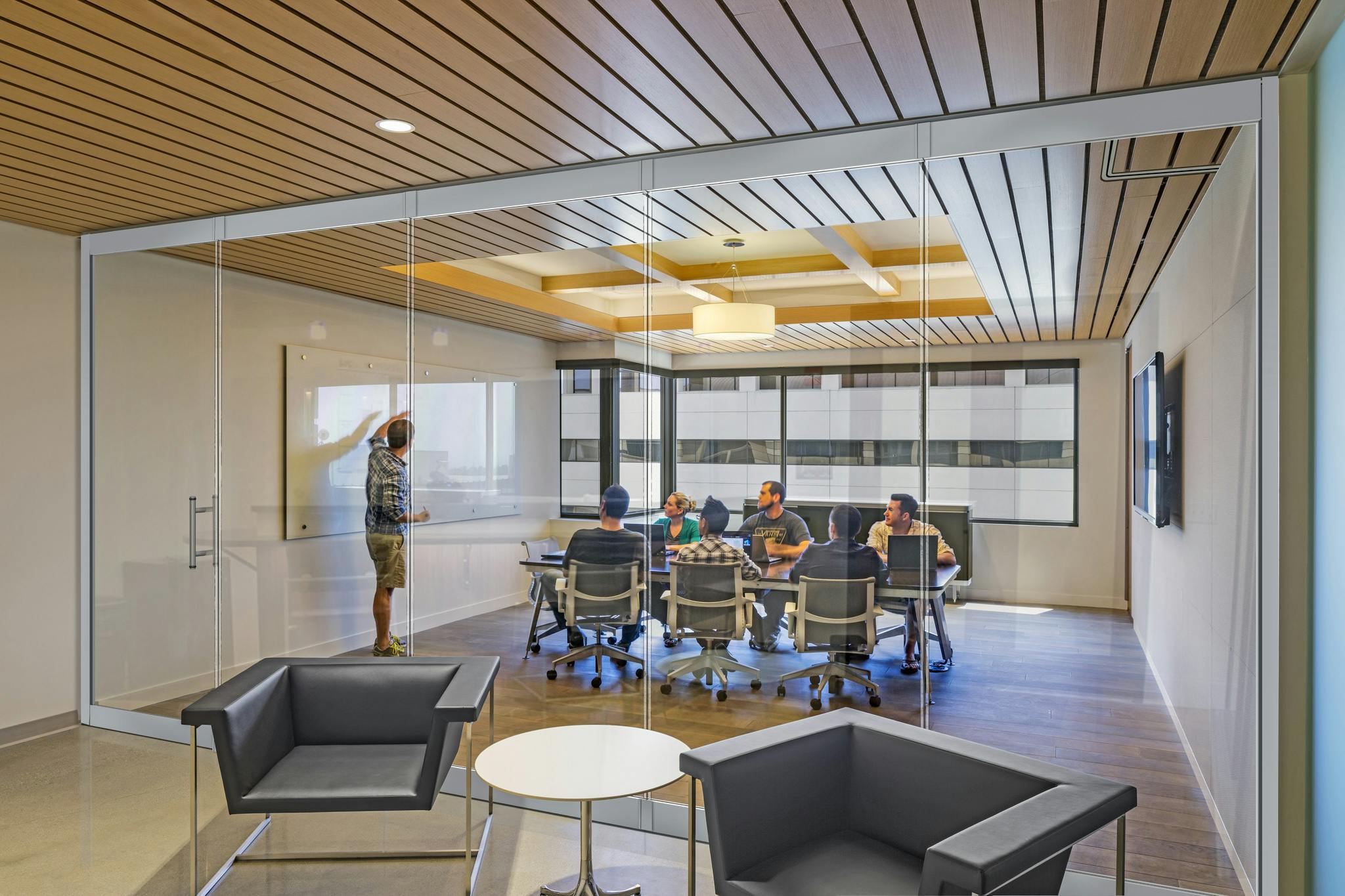 Sound Attenuation and Heightened Productivity
Operable glass partition walls for office spaces offer much more than just stopping the spread of aerosols. ClimaCLEAR has undertaken extensive testing for both air infiltration and sound attenuation with excellent results. NanaWall System's retractable interior glass walls can reach sound control ratings up to STC 45. Multiple activities could be happening at once without one disrupting the other. With retractable partitions, sound attenuation, and flexibility of space work hand in hand to facilitate privacy as well as distraction-free offices to improve employee productivity. Clean sightlines maintain visibility while providing the healthy benefit of natural daylight to flood interiors.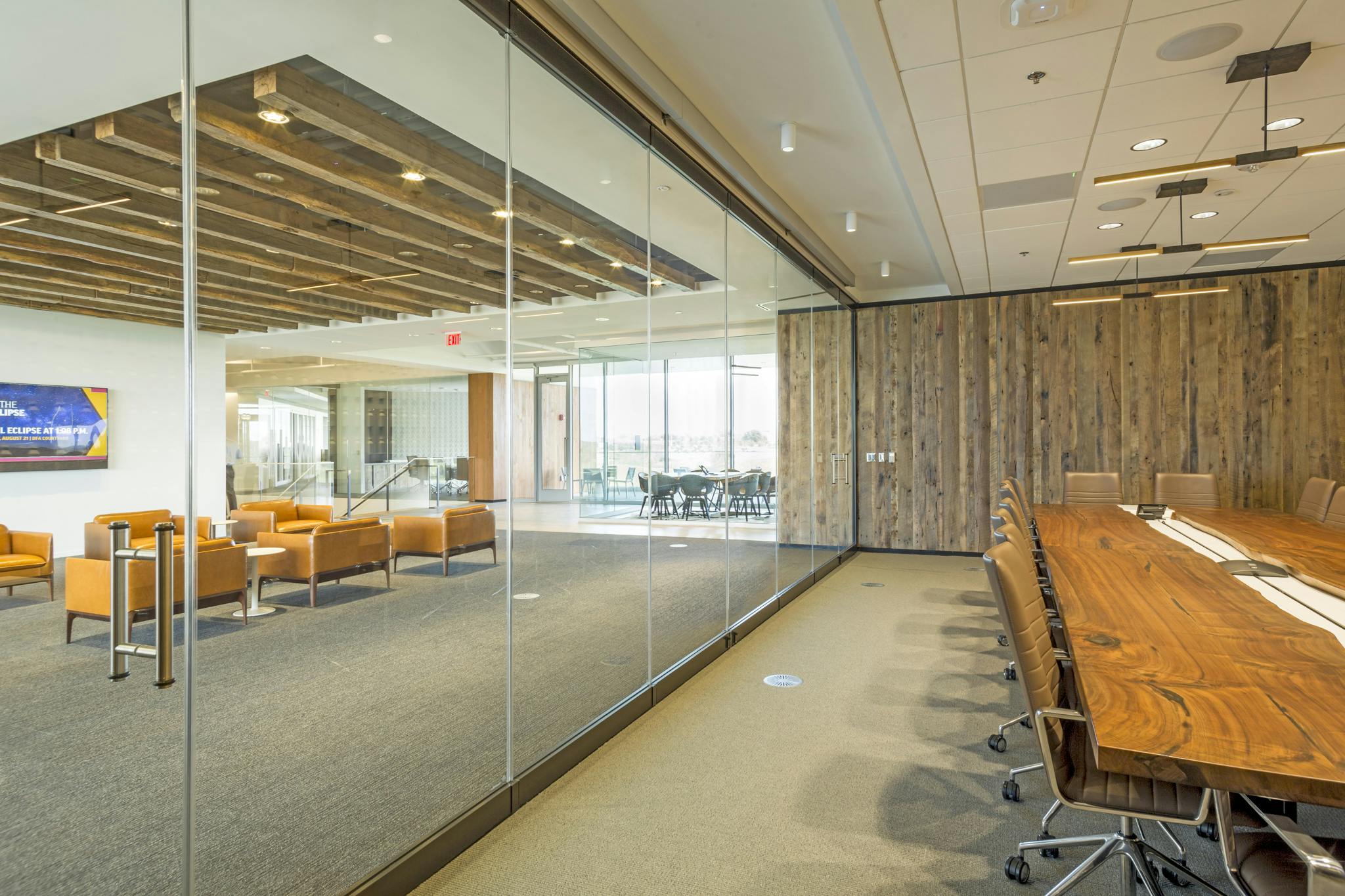 Final Thoughts
Moveable glass partition walls for office interiors offer long-lasting solutions that minimize the spread of illness in the workplace. These dynamic systems present separation without having to sacrifice transparency or collaboration. Interiors can be easily transformed on the fly depending on the daily demands of the workday and the needs of employees. The innovative engineering presented by retractable interior glass walls features advanced sealing mechanisms that not only safeguard from infectious aerosols in the air but also offer sound attenuating features and flexibility for a productive, safe office.
Learn how other office spaces leverage interior glass walls to create flexible, healthy interiors in our extensive office applications library!