Stunning Adaptive Multifamily Spaces with Glass Wall Systems: The George
By NanaWall Systems, May 3, 2023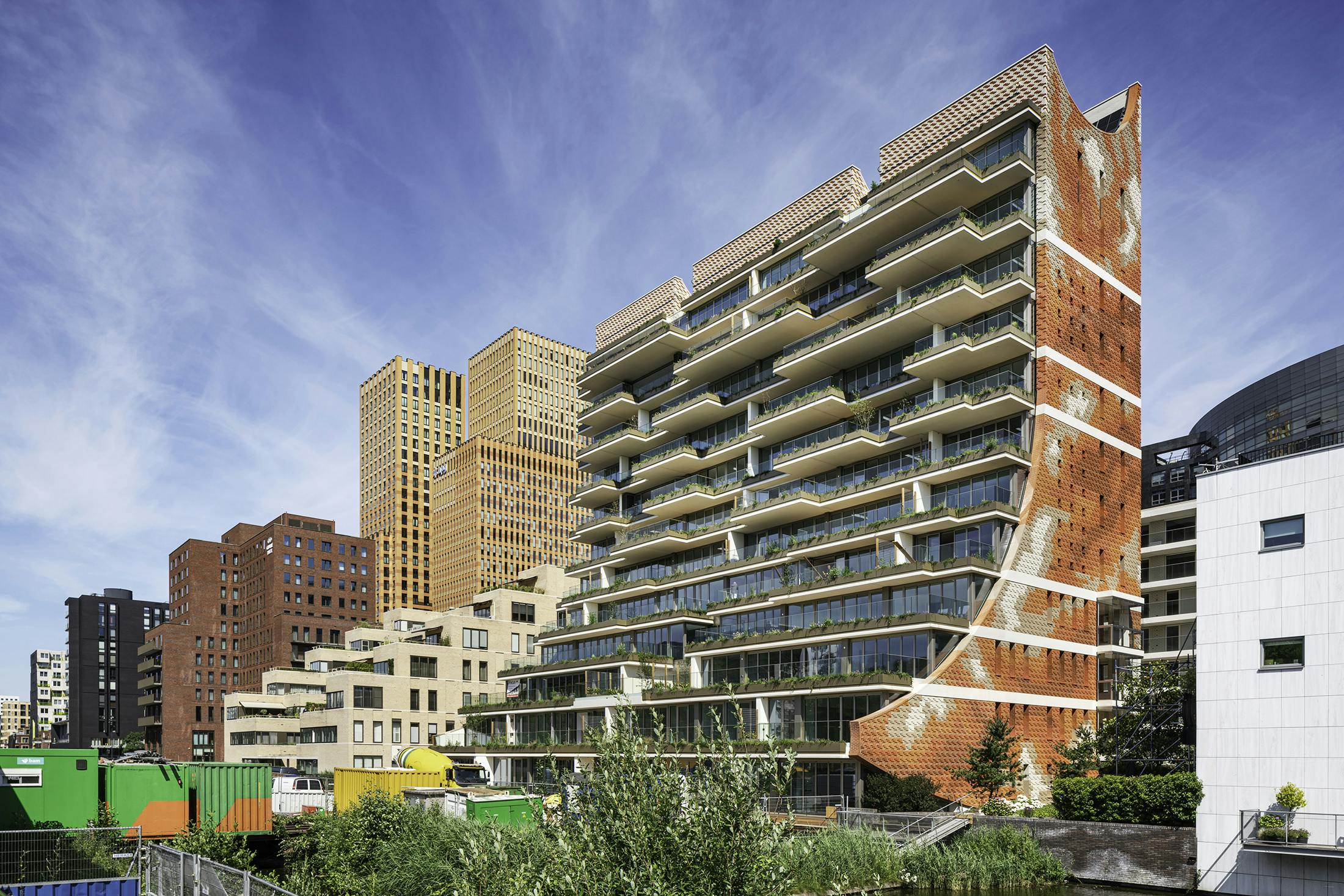 The George, designed by renowned architect Liesbeth van der Pol of Dok Architecten, is a stunning mid-rise apartment building in Amsterdam's prestigious Zuidas district. Completed in 2020, this multifamily complex features a unique stair-stepped design and 47 luxurious apartments. The building's innovative and artistic use of Generation 4 glass wall systems is a standout feature that enhances its aesthetic appeal and contributes to its sustainability and energy efficiency.
A Contemporary Multifamily Complex with Unusual Residential Building Design
The multifamily complex boasts a contemporary sustainability concept and offers residents a high-level quality of life. The extensive use of glass wall systems throughout the building creates stunning adaptive spaces that bring the outdoors in, blending form and function seamlessly. The building's north-facing façade is fully glazed with triple-paned glass, providing spectacular views and plenty of daylight. All the terraces are easily accessible via the NW Aluminum 840 glass wall systems, which offer occupants both passive ventilation and expanded living. This system not only provides a slim profile and crisp angular design but also effortless operation and exceptional thermal performance with a U-value as low as .20, making them the perfect solution for energy-efficient buildings.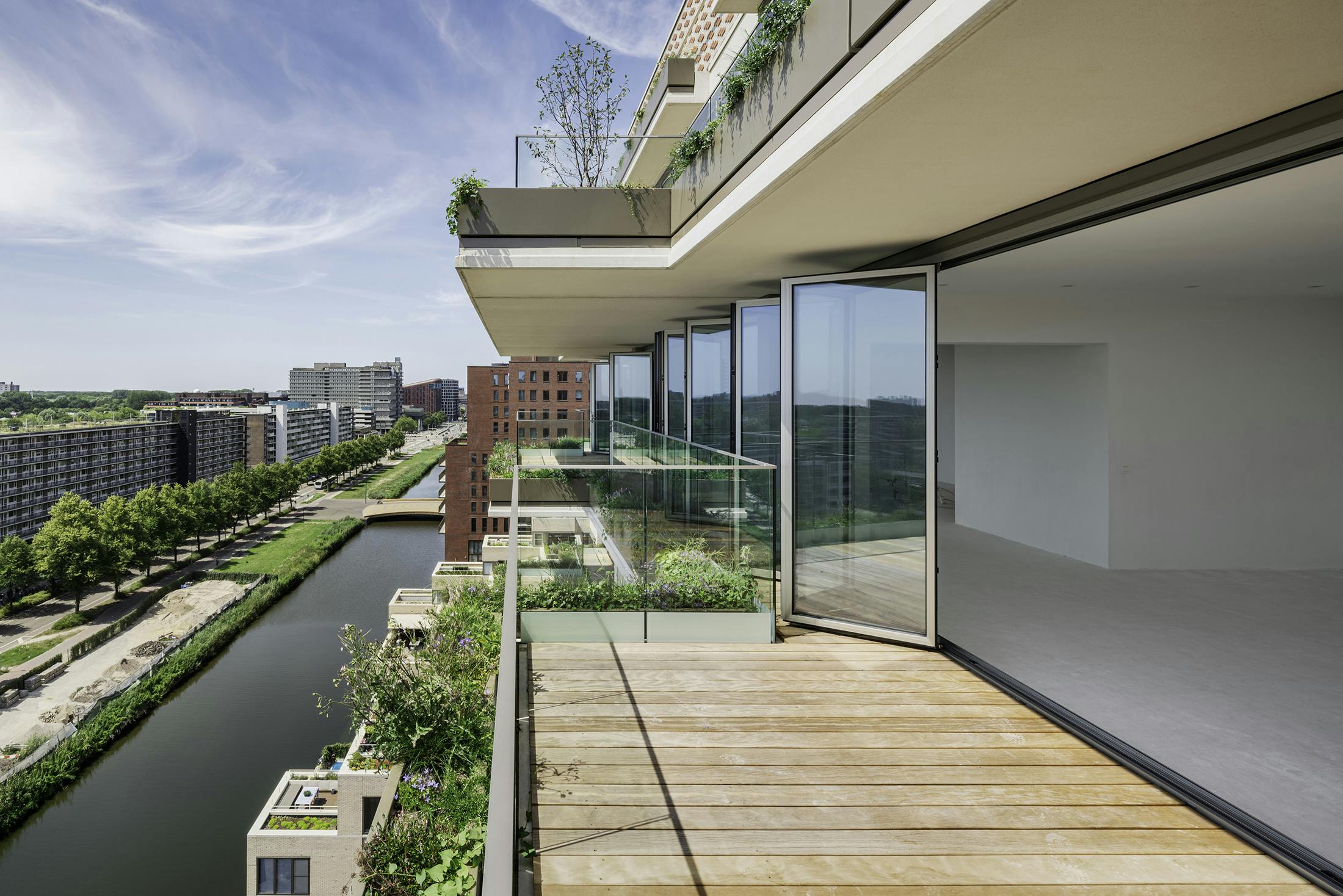 The Heart of the Design: Crisp Angles, Slim Profiles, and Energy-Efficient Glass Wall Systems
The multifamily mid-rise seamlessly blends contemporary design with the Amsterdam School architectural style, with a mosaic pattern of bricks creating the impression of a summer breeze, reminiscent of the song 'Summertime" by George Gershwin, after whom the building is named. The building's bowl-shaped roof collects rainwater in water storage and is filled with PVC panels, while solar power supplies the central parts of the building with electricity. The George is a perfect example of how glass wall systems can be used to create sustainable, functional, and aesthetically pleasing multifamily buildings. The slim profiles, crisp angles, and energy-efficient glass wall systems are truly at the heart of this remarkable design.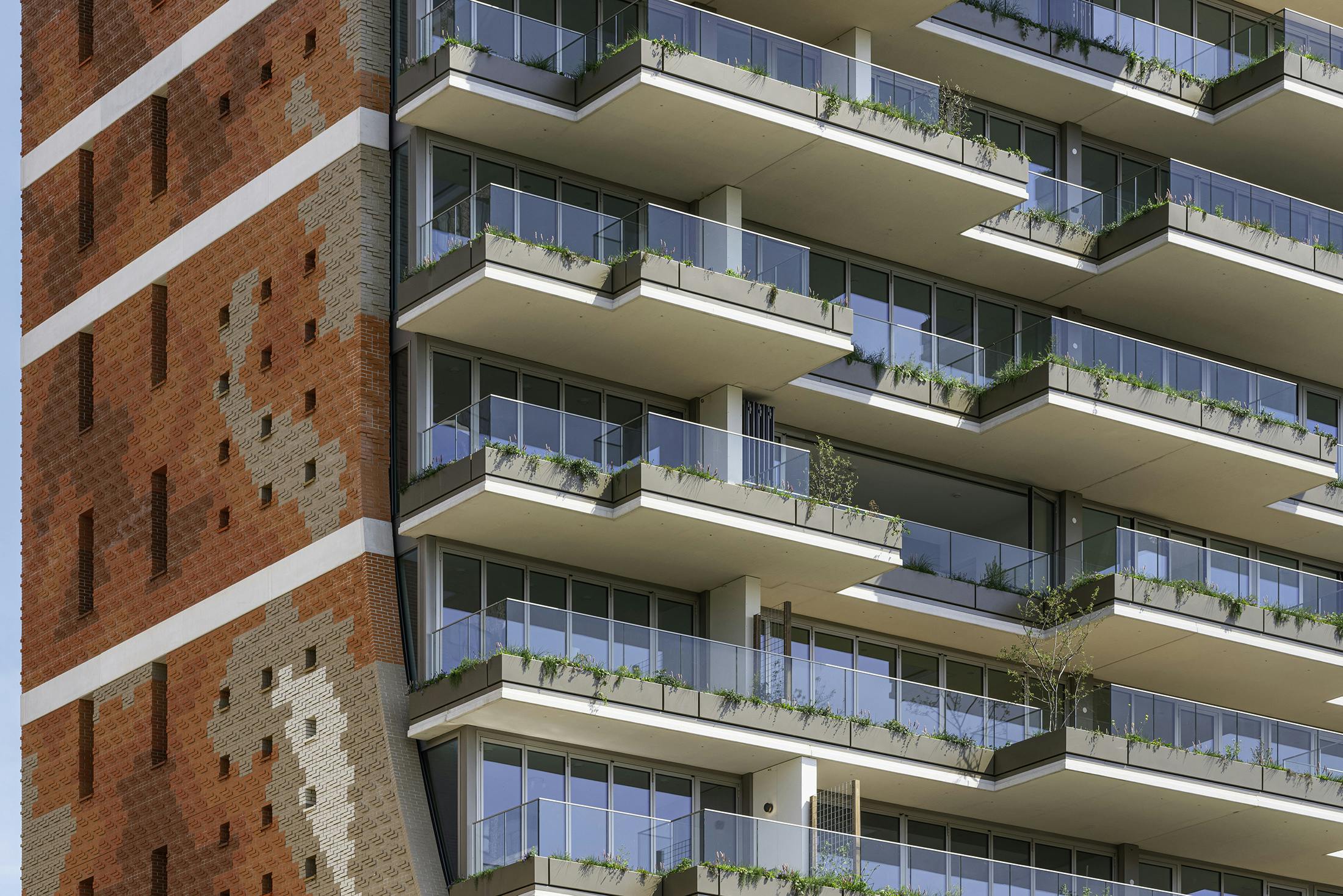 Designed with Sophistication and Sustainability: Meeting Needs of Multifamily and High-Rise Living
The demand for high-rise and mid-rise buildings in urban areas has increased significantly, and architects and designers must create buildings that are not only functional but also aesthetically pleasing and energy efficient. Performance glass wall systems offer a sustainable and sophisticated solution to meet these needs.
The innovative Generation 4 glass wall systems offer several benefits for high-rise and mid-rise applications, including exceptional energy efficiency, flexible panel stacking, 500,000-cycle-tested swing doors for daily access, and floor supported technology for long-term durability. The slim profile of the aluminum frame provides a minimalistic look and feel to the multifamily building's exterior, complementing the modern architecture and creating a unique, high-end experience for occupants. Performance glass wall systems are engineered to withstand demanding structural and wind load requirements, making them the perfect solution for taller buildings. The glass walls are also compliant with AAMA standards for air, water, structural, and forced entry, providing peace of mind to builders, owners, and occupants alike.
By incorporating energy-efficient glass walls, developers can differentiate their properties from others on the market and create premium appeal for potential buyers. The flexible configurations of glass wall systems allow limitless designs for custom-built architectural solutions, creating adaptive spaces in multifamily buildings that embrace views, natural daylight, and fresh air.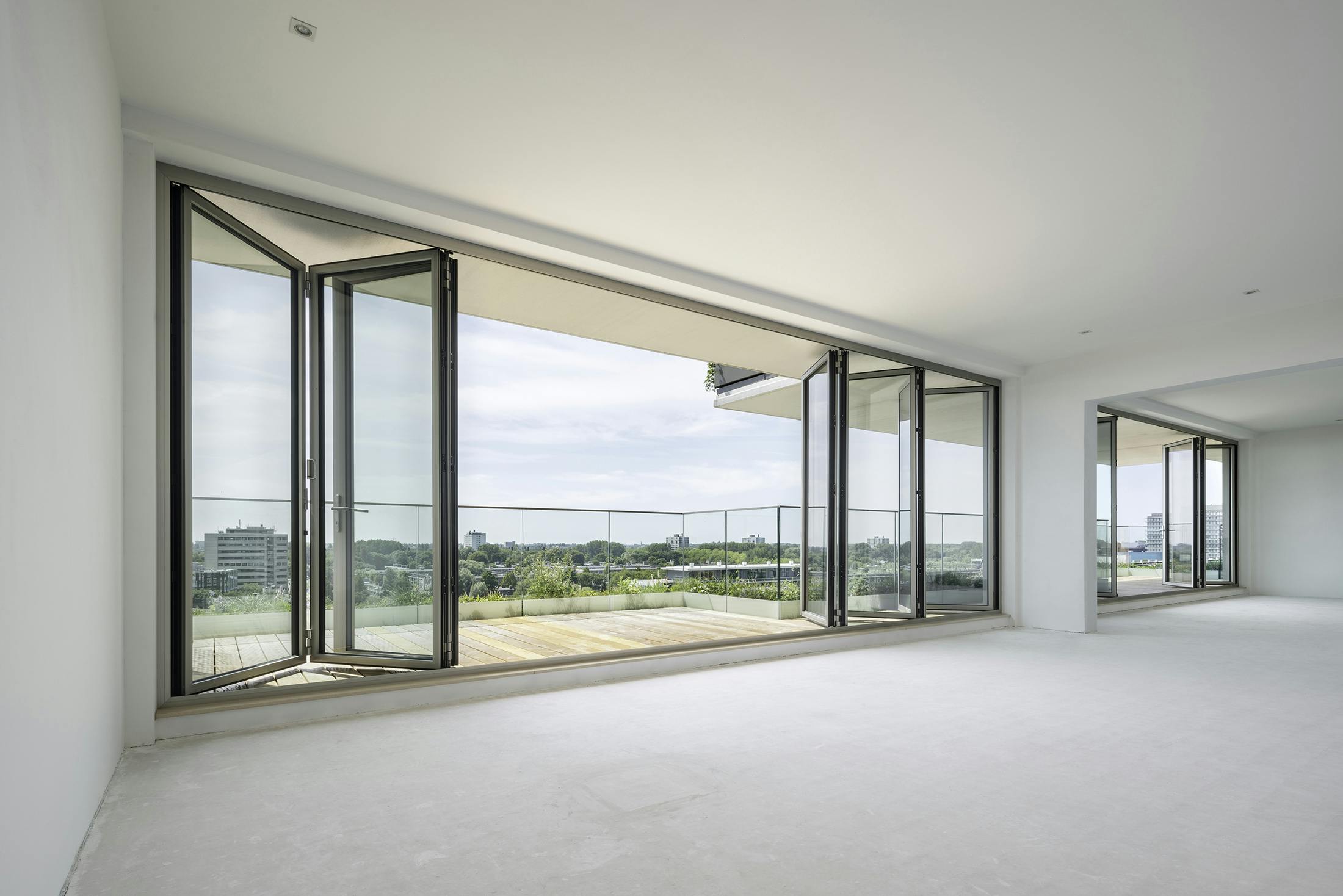 Seamlessly Connect Indoor and Outdoor Living Spaces to Nature and Surrounding Environment
Modern design emphasizes the importance of Biophilic benefits like creating a sense of flow and connection with the surrounding environment, especially in urban areas where outdoor space is often limited. The glass wall systems designed in The George not only provide exceptional thermal efficiency when closed but also the extensive glazing across all 47 luxury apartments can be opened entirely, maximizing transparency, daylight, and panoramic views of the city.
When fully opened, the glass wall systems transform The George's living room into an expansive indoor-outdoor recreational space, ideal for family gatherings or simply enjoying the fresh air. The possibilities for outdoor living are endless with this innovative glass wall system. In addition, the multifamily building features landscaped open-air spaces that bring greenery into the urban environment. Each apartment has access to vertical gardening, which improves air quality. The perfect private outdoor getaway for lounging, al fresco dining, and all-season entertaining, seamlessly connecting residents to nature and promoting a healthier living environment.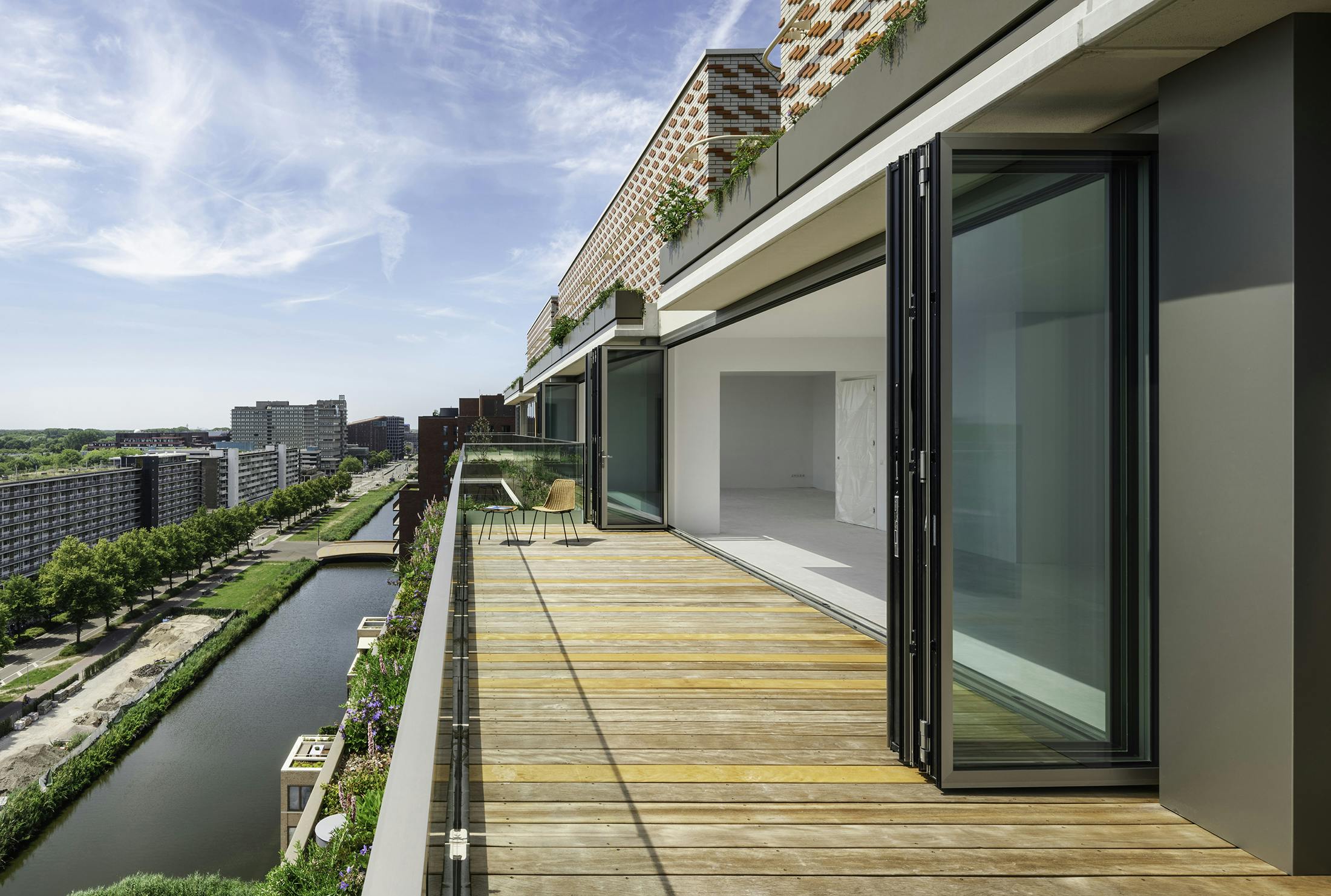 Benefits of Innovative Glass Design for Enhancing Quality of Life: Expanding Space and Bringing in Light
Innovative glass wall systems have the potential to transform modern architecture and elevate its design, offering numerous benefits that can significantly improve the quality of life. The George is a testament to how innovative glass walls can enhance living spaces, by providing additional space, brightness, and transparency to each apartment. With innovative glass system technology, the interior and exterior areas seamlessly merge, creating a unique and immersive experience that integrates the surrounding environment in a novel way.
The architect chose this award-winning design and patented technology because it could be integrated into different apartment layouts. The folding glass walls not only expand the available living space but also allow natural light to flow in, creating a sense of openness and brightness. The innovative glass designs of Generation 4 not only enhance a building's aesthetic appeal but also allows for custom configurations such as the unique floating FourFold or SixFold panel set option that allows panels to stack right, left, or even on top of a swing panel to maximize primary views.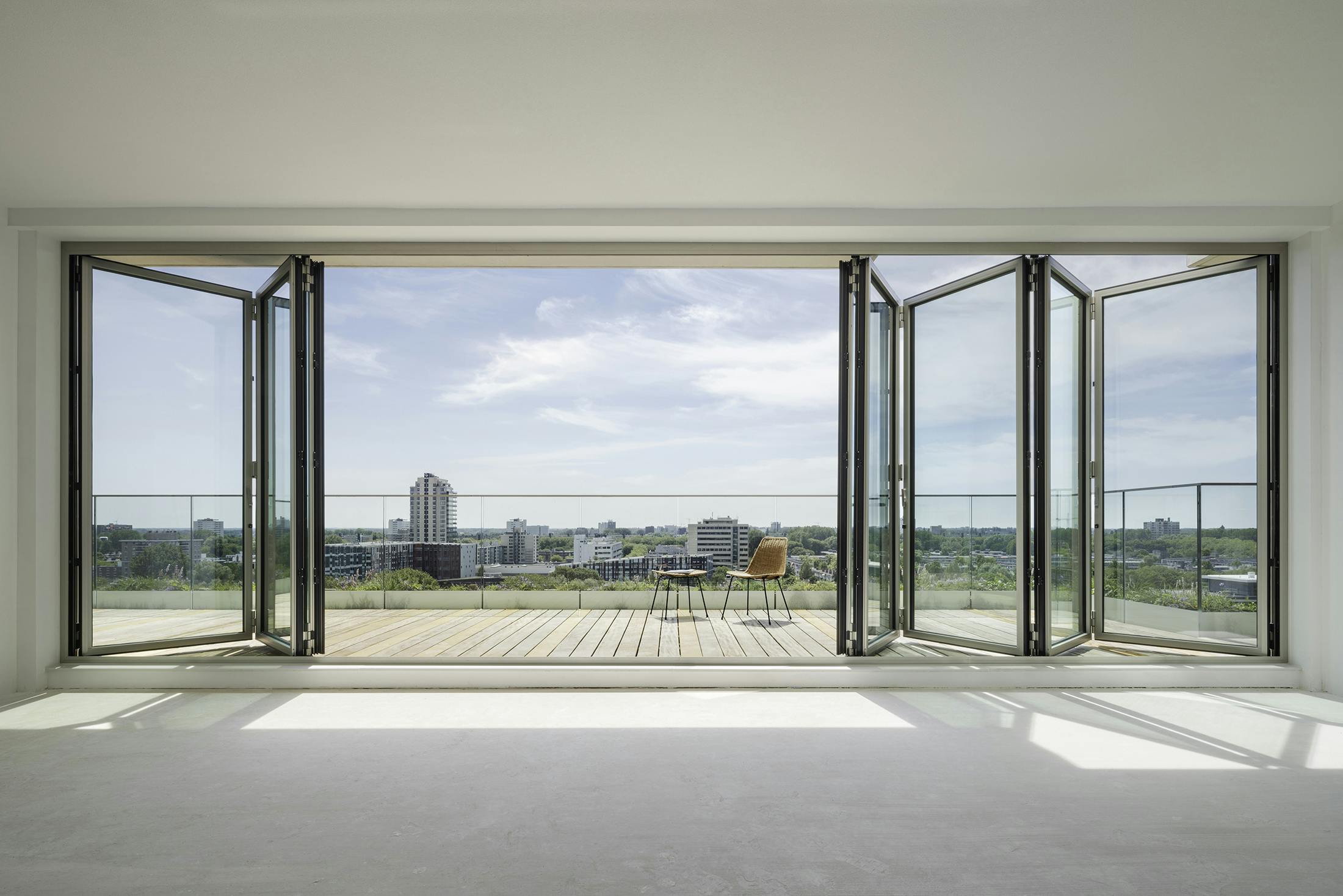 Endless Design Possibilities of Glass Walls: Creating Adaptive Spaces with Performance Systems
Opening glass walls have revolutionized modern architecture by creating adaptive spaces—seamlessly. The George is a shining example of this innovative technology, showcasing the endless possibilities of performance glass walls in transforming indoor spaces into stunning flexible ones.
By incorporating a folding glass wall system into a balcony of a mid- or high-rise building, the space is instantly transformed, and the property's ROI is increased. The southern facade of The George features balconies and terraces that can be opened completely, providing maximum transparency and daylight with breathtaking views of the city. The thermally insulated NW Aluminum 840 system used throughout the building meets special technical requirements and provides certified burglary protection, ensuring residents' safety and security.
Final Thoughts, Upgrade Your Next Project with Glass Walls
The George demonstrates how opening glass walls can create breathtaking adaptive spaces that significantly improve the quality of life for residents while also providing the ability to meet the performance requirements of taller luxury buildings. Whether you are an architect, developer, or designer, NanaWall offers products that have been fully tested by independent certified laboratories to meet the needs of even the most demanding environments. With performance-driven NanaWall glass walls, transform your next multifamily or high-rise project into a unique masterpiece. Upgrade your design today and discover the endless possibilities of NanaWall glass wall systems.
Don't hesitate to request a quote or check out our extensive multifamily inspiration gallery for more innovative glass products and design ideas.