Super Bowl LI: The Architect Approach
By , February 3, 2017
Super Bowl LI: The Architect Approach - 4 Things to Consider When Designing a Stadium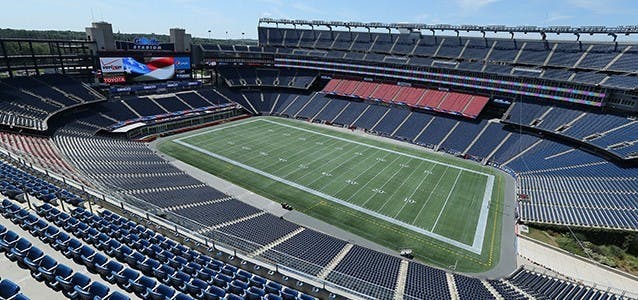 We're two days away from Super Bowl Sunday where the New England Patriots will take on the Atlanta Falcons for the Vince Lombardi trophy at Houston's NRG Stadium. Many of us will view this stadium (along with other stadiums) through the lens of our TV's and, unfortunately, we won't able to take in the entire size and scope of the arena, which will serve as a popular destination for thousands of fans.
In this blog post, we'll be summarizing Peter J Arsenault's article Play Ball: High-Performance System Solutions for Stadiums and Arenas where he tackles the stadium life from the lens of an architect.
When it comes to stadium architecture and design, there's no doubt that it has to cater to thousands of fans. As the years progress, millions of dollars are being invested in making these facilities larger and more sophisticated than in the past. Architects and design professionals are tasked with the challenge of renovating and/or designing stadiums that are responding to the ever-changing needs of fans with high performance products suitable for large activity crowds—products that are durable and stand the test of time and use.
Here's are four things to consider when designing a stadium:
1. Flooring: When it comes to flooring and finishes available for stadiums, from a design standpoint, one must consider which color scheme will enhance the team's logos, assist with way-finding, and will reflect nicely on the overall impact of the stadium experience. Durable and easy to clean surfaces are a must!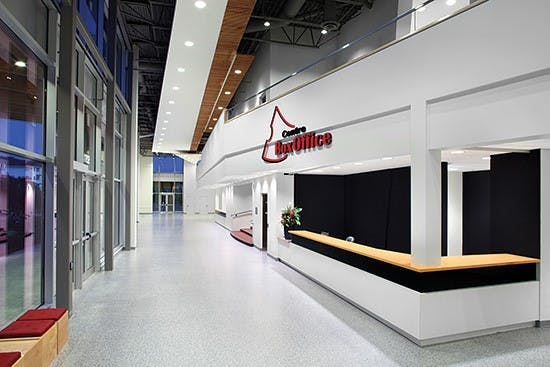 2. Operable Walls: Peter writes "Those seeking innovative design solutions in stadiums or arenas can use operable glass walls to bring spectators together. Operable glass wall systems provide an innovative and unique design solution that brings wide-open connections, flexible space management and natural daylight to all types and sizes of space." Used to enclose/open suites, restaurant entrances or press boxes, operable glass walls provide unique spaces that can be readily opened or closed on demand.
3. Circulation: Whether fans are walking right, left, forward or backwards to their seats, to the lounges or to the restrooms, designing for circulation matters. "Circulation needs to be a safe one that allows people to keep moving." Peter continues to write that, "Recognizing that the pedestrian traffic in arenas or stadiums is extremely heavy, particularly at specific times, is the first step to designing adequate and appropriate circulation into the facility". One should consider heavy traffic times and which equipment to use to divert people into different directions i.e. elevators, escalators or moving walkways.
4. Safe Stair Design: "Fixed stairs will always be required and desirable" writes Peter. He continues, "Serving as a means of egress in case of emergency, stairs are regulated in great detail by building codes and standards as a result. From a safety standpoint, they are one of the most common locations for people to trip, fall and be injured. The importance of designing safe and code compliant stairs cannot be understated particularly since architects are sometimes held liable for damages to people injured on those stairs." Whether you decide making them a design statement or keeping them simple, keep the codes and regulations in mind.