Take Pool House Season to the Next Level with Operable Glass Walls
By NanaWall Systems, May 25, 2022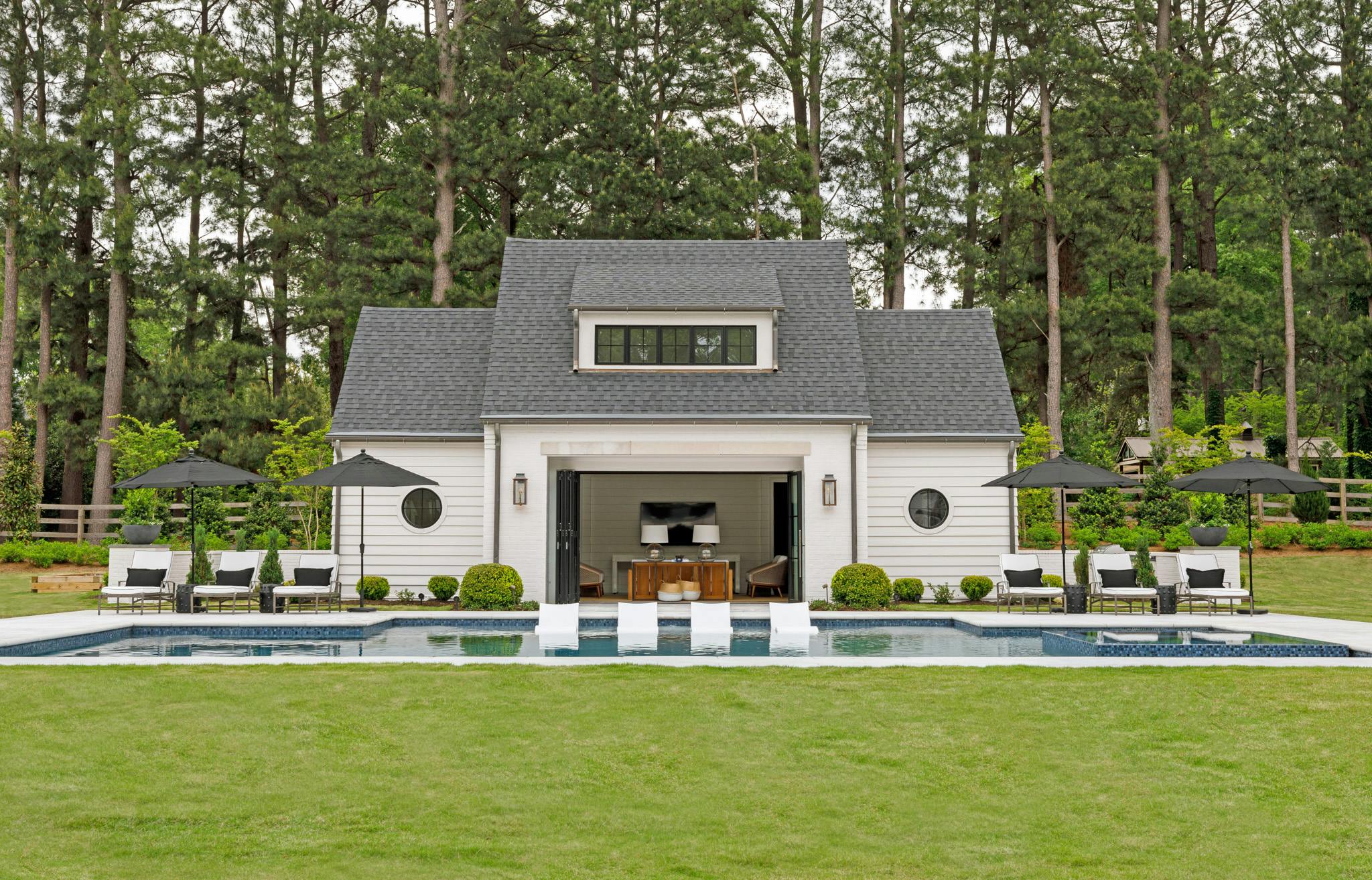 There's no better time to inflate those floaties and enjoy warm Summer days from the pool. Let your pool house take center stage with operable glass walls that optimize functionality, transparency, and year-round weather performance. Let's take a look at how other homeowners have leveraged these flexible design solutions to take their pool houses to the next level of cool. From folding to sliding to massive panel size, from aluminum to wood frames, from traditional to contemporary, we've got examples sure to inspire.
Design Lookbook: 10 Pool Houses with Operable Glass Walls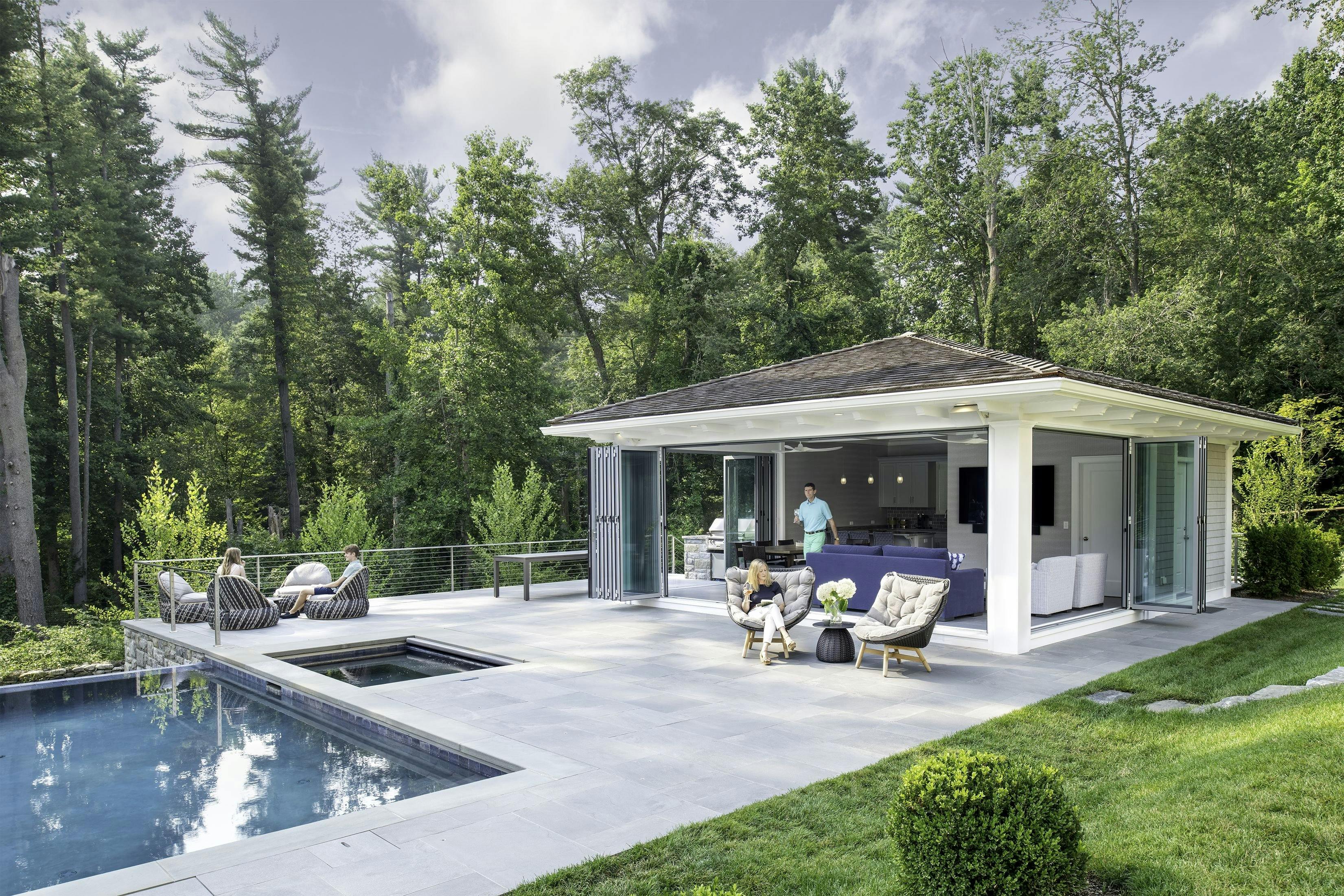 1. Multifunctional Pool House
The homeowners at this New York residence had one goal in mind when building the ultimate outdoor living space: to optimize views of the protected woodland adjacent to their property. Unlike others in the market, the NW Aluminum 840 offered the thinnest frames available allowing for more glass to maximize vistas to the outdoors. This, according to the homeowner, was the primary selling point that convinced him to choose NanaWall folding glass walls for his pool house blueprint. That and the flexible stacking offered by FourFold/SixFold panels sets.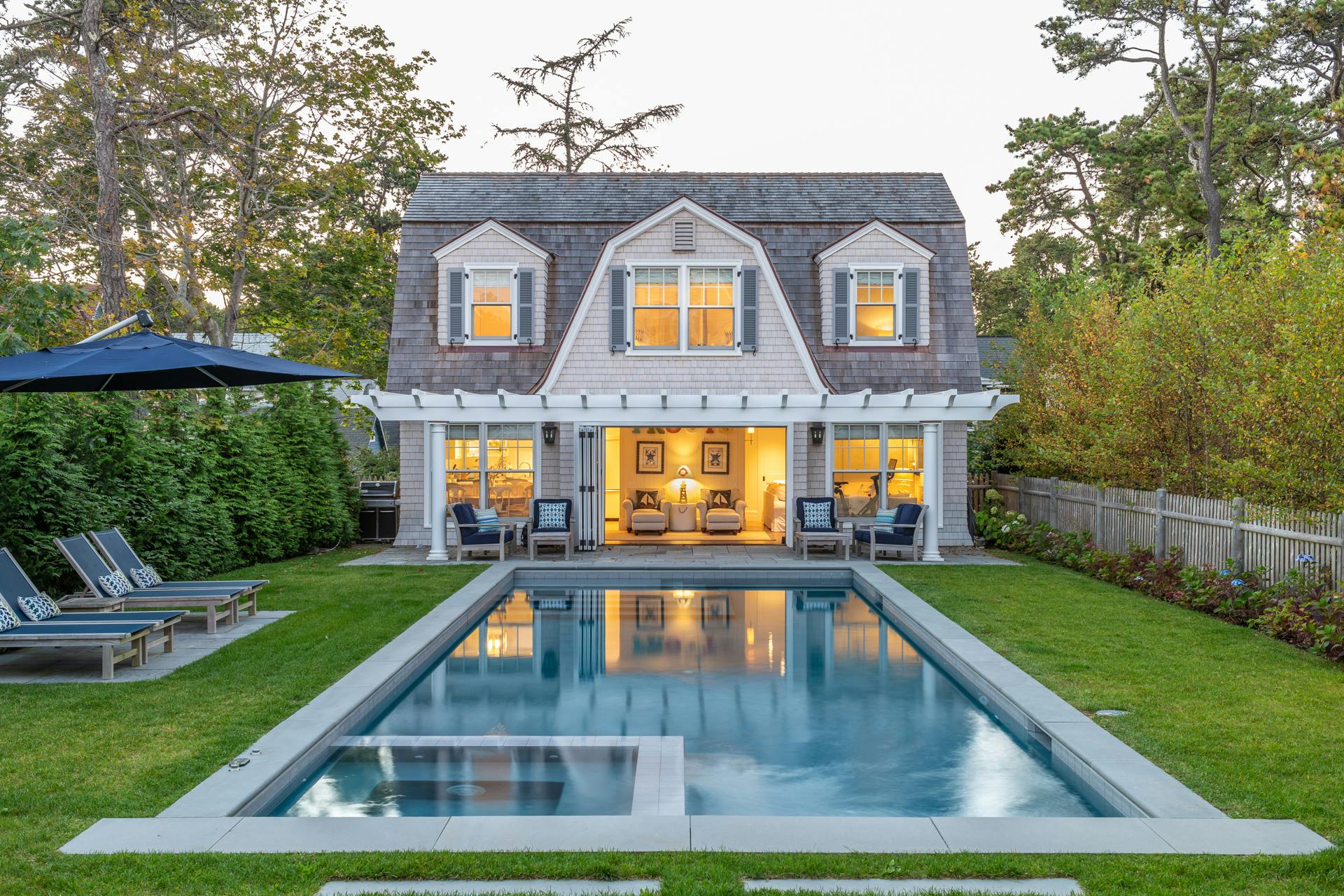 2. From the Pool to the Ocean
At this Scarborough residence, the distance between the ocean and the pool is a short walk away. The seaside residence perfectly blends traditional New England design with nautical touches that pay homage to its breezy environment. This design extends to the pool house, its interior design, and the aluminum clad operable glass walls that match the rest of the fenestration with customized simulated divided lites. We can only imagine the fun family gatherings hosted here!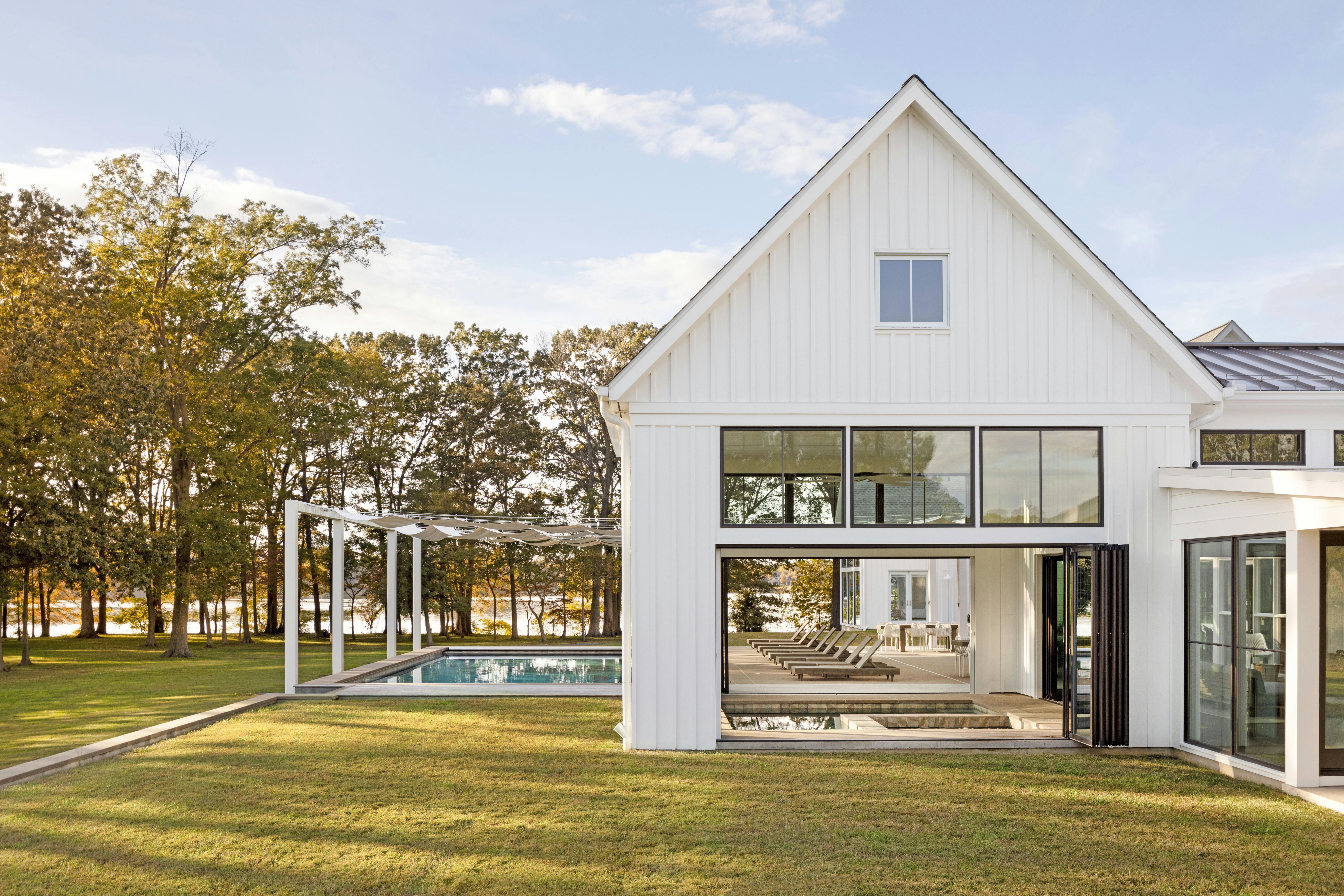 3. Splash Pool Brings Family Together
A family looking for the ideal multi-generational family home in Maryland landed on a verdant patch of land overlooking the waters of a sparkling river. Each room of the house connects to the outdoors, including the kitchen and dining room that seamlessly transition to the indoor/outdoor "splash pool" and the lap pool outside through a series of weather-performing folding glass walls. The enclosed splash area is perfect for enjoying a swim at any time of the year and regardless of the weather!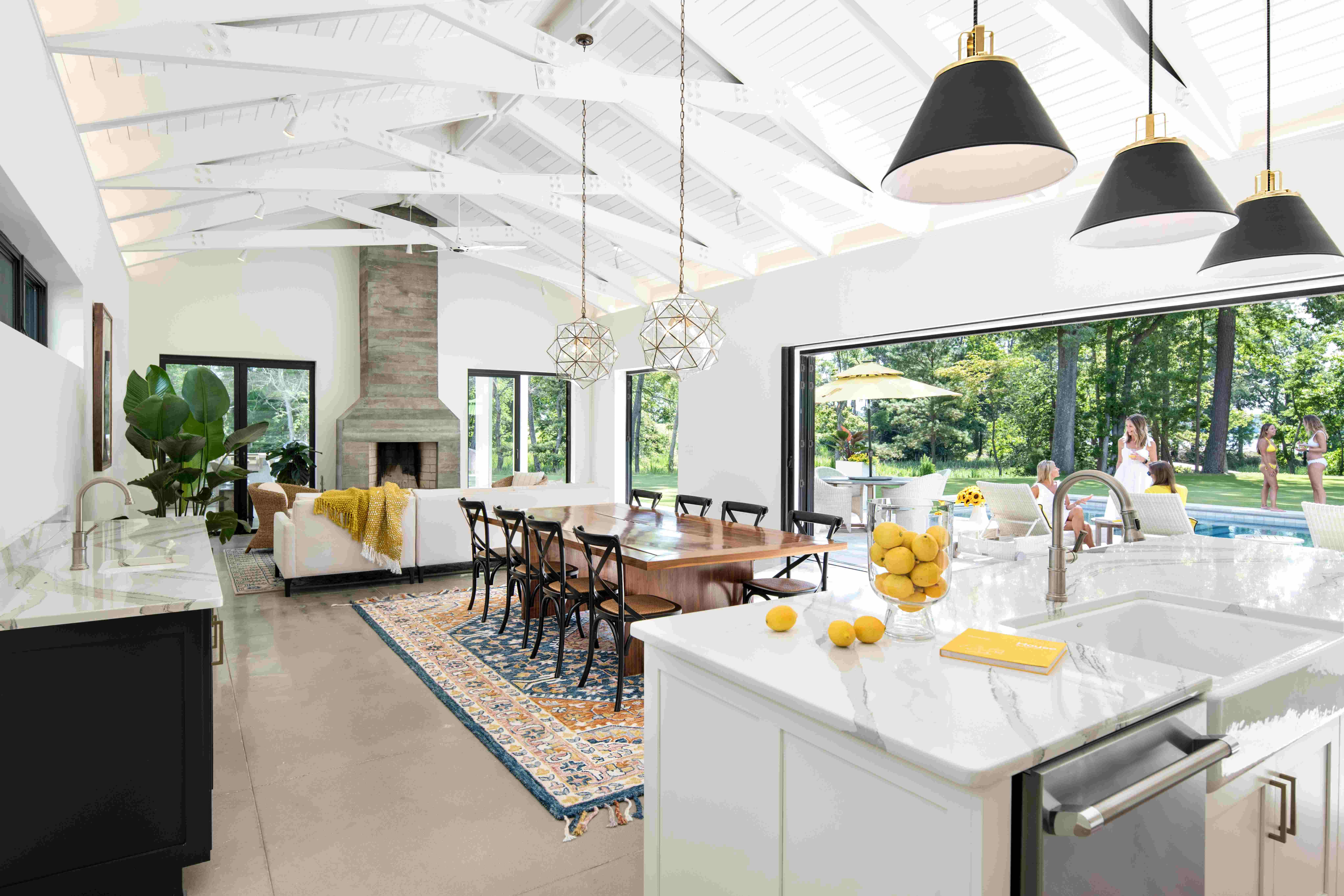 4. The Ultimate Entertaining Space
Give your guests something to remember and let your house become the go-to entertaining space with the ultimate pool house getaway right in the comfort of your home! This impressive pool house is fully equipped with a kitchen, dining table, bathroom, and a lounge area complete with a fireplace. Folding glass walls with FoldFlat technology fold all the way back and completely disappear from the opening, creating a smooth, unobstructed transition in and out of the space.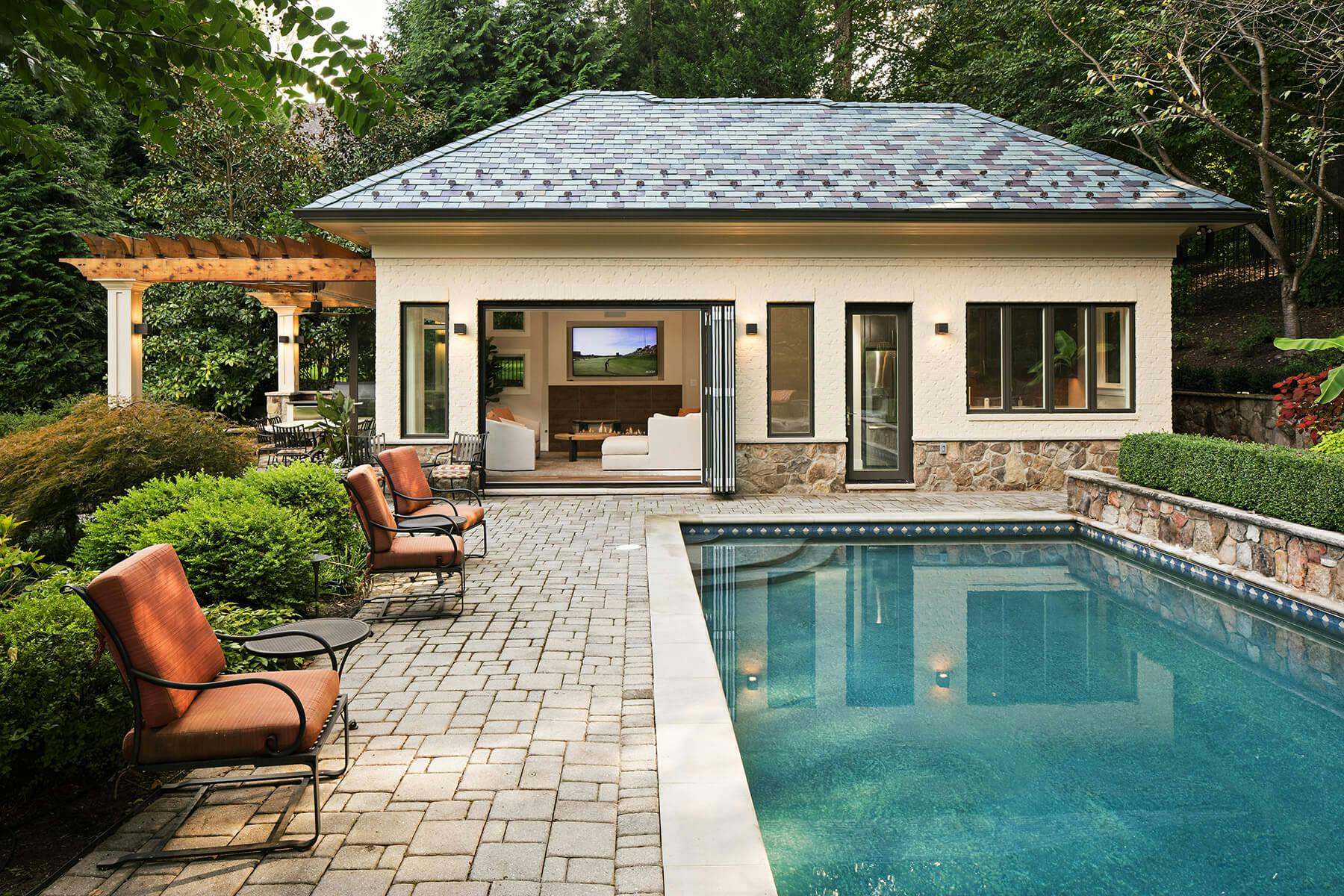 5. Enjoy Game Night from the Comfort of Your Pool
Take a traditional game night to new heights with flexible, wide openings that allow you to keep score from the outside, including when in the pool. From facilitating unobstructed views to creating seamless transitions, the operable glass walls in this pool house optimize functionality and space with a fully customizable solution. During cold weather when the pool is not in use, the space can be utilized as a guest house, home office, or whatever else the homeowners may need.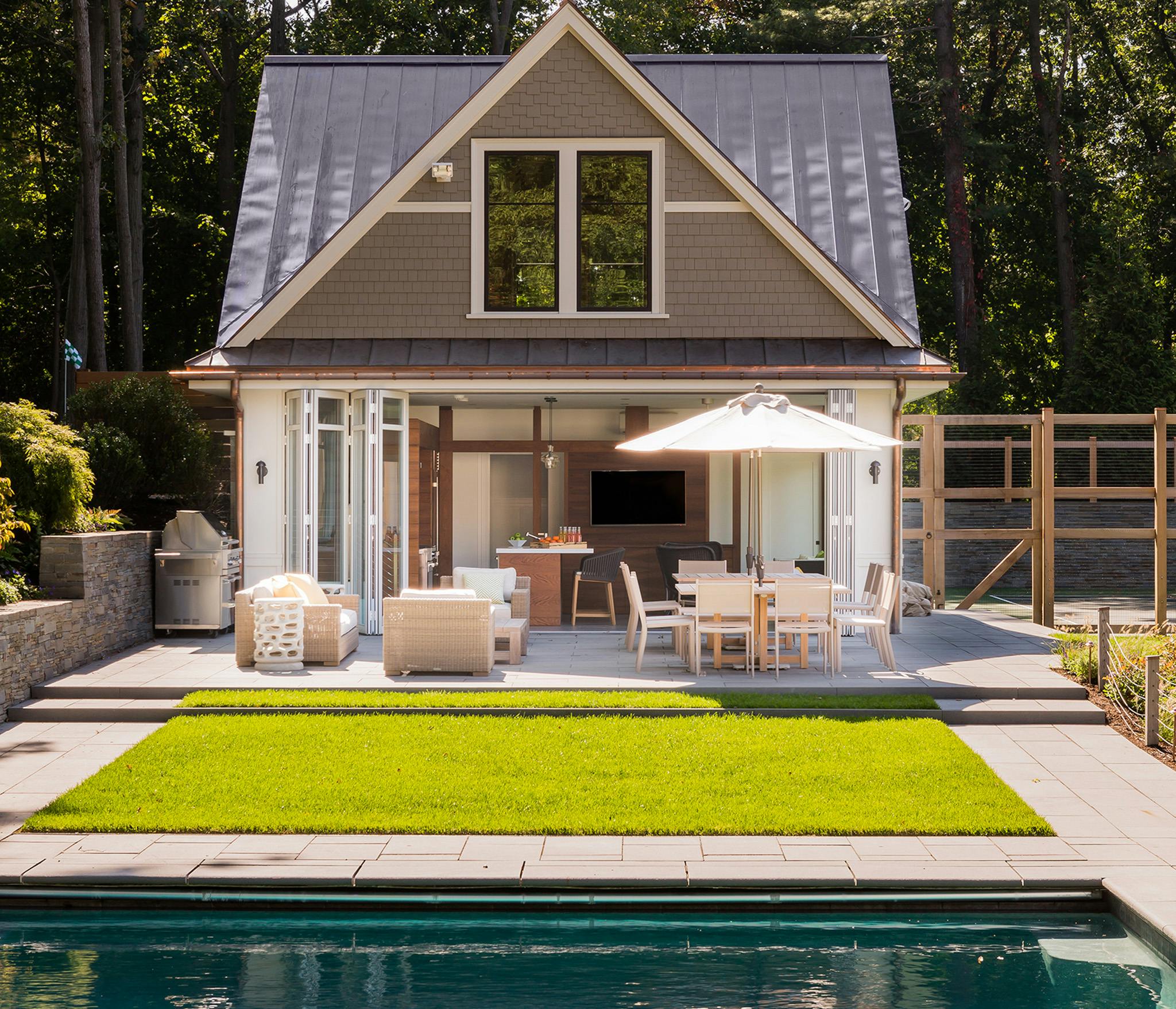 6. Guest House or Pool House? Why not Both!
The attention to detail in this pool house's design is sure to take center stage at every backyard party. The floor-to-ceiling folding glass walls open like curtains to reveal a multifunctional, two-story living space that doubles as a guest house and a pool house cabana. Because of this, it was important to equip it with the essentials: a fully stocked kitchen, upstairs bedroom, bathroom, and a lounge area complete with a TV. We certainly wouldn't mind lodging here for a few days this Summer!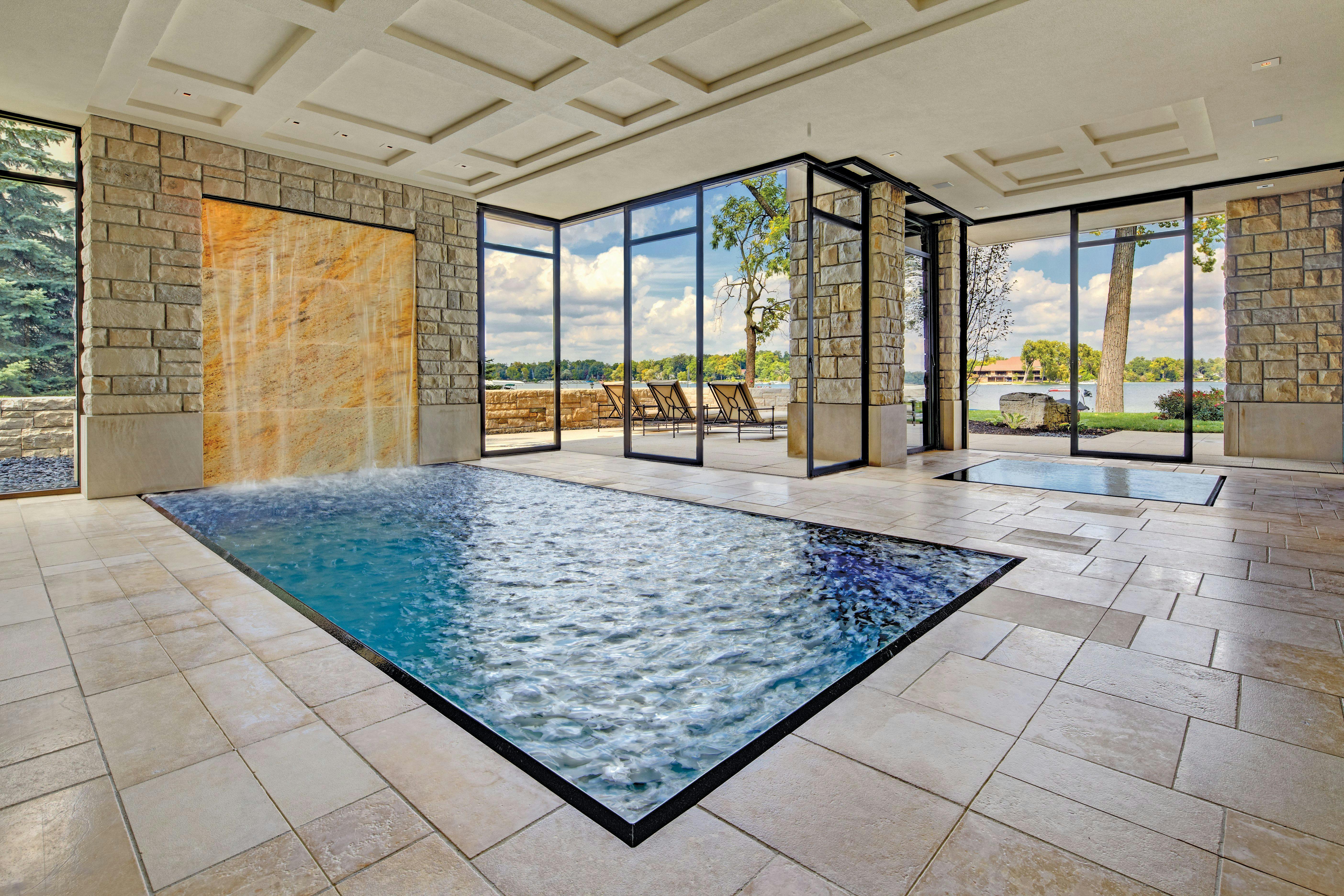 7. Four-Season Pool with Single Track Sliding
Indoor waterfall anyone? This impressive indoor pool area offers the perfect year-round space for relaxation, even in the heart of a snowy Winter. Weather-performing single track sliding glass walls protect the indoors from harsh temperatures without sacrificing views of the changing landscapes or ease of operation. Better yet, the individual panels can be specified into various configurations, move around corners, and glide into remote stacks that are out of the plain of the opening. How would you customize yours?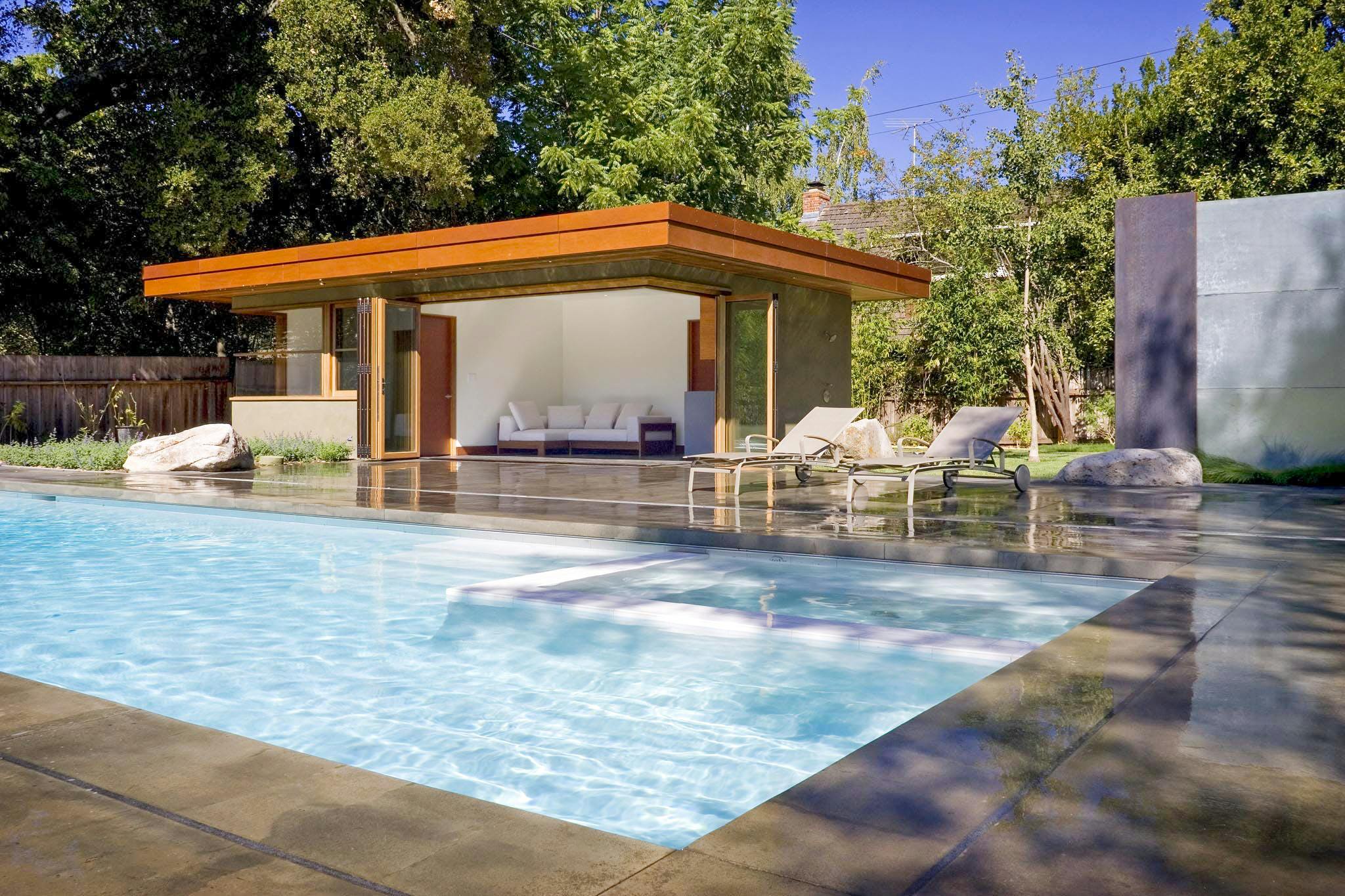 8. Weather-Performing Wood Frames
Bring the timeless elegance of wood to the pool house with wood framed folding glass walls like at this Menlo Park cabana with a 90-degree open corner design. The weather-performing wood offers the minimal maintenance and ease of operation needed for an indoor/outdoor space, not to mention space optimization for small spaces. The customizable wood frames were selected to match the rest of the residence's aesthetic as well as the additional NanaWall wood framed systems in the main living space.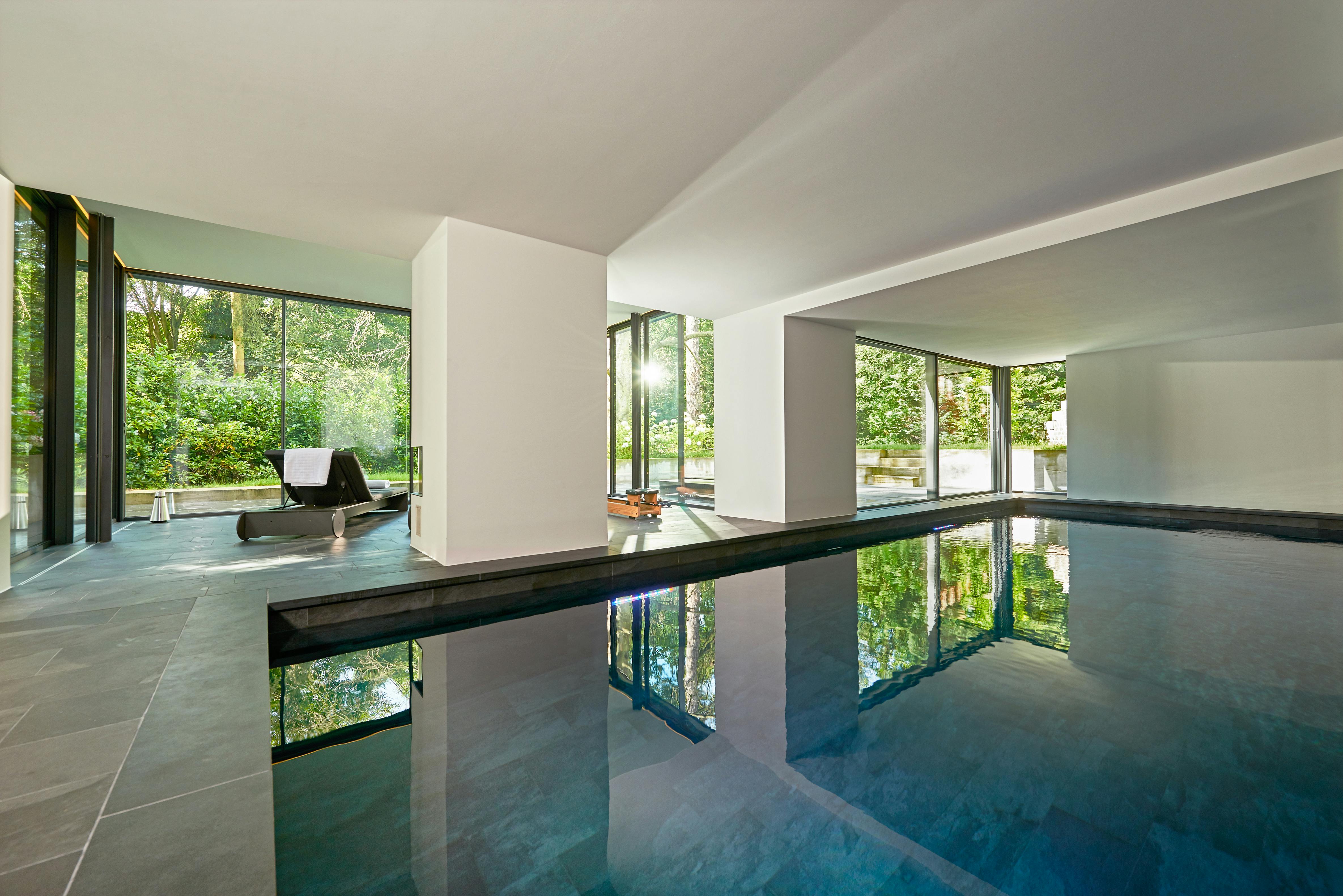 9. A Spa in the Comfort of Your Home
Can you believe this is someone's home? You too can recreate the effect of a spa-like room with floor-to-ceiling minimal sliding glass walls that invite the outdoors in while creating a sense of serenity and calm—all year round. NanaWall Systems' cero® offers minimalism at its best with advanced engineering for ease of operation and durability. Stainless steel rollers glide on a stainless steel track above the water table for continued long-term operation. Imagine opening those walls and enjoying an immersive evening of relaxation!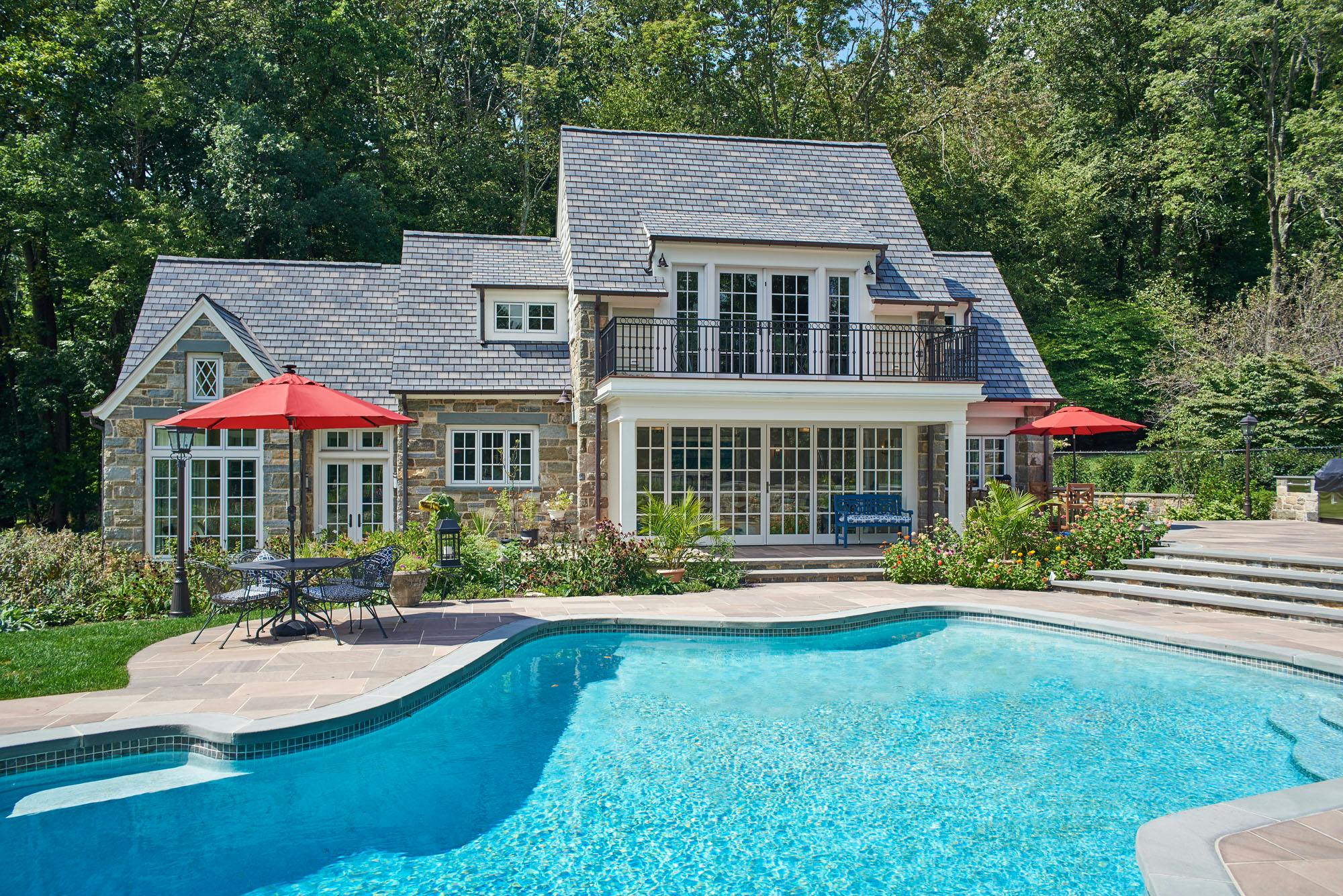 10. Divided Lites for the Win
Both homeowners at this New Jersey residence enjoy swimming so when it came to building the ideal pool house no amenity was left out—including the addition of folding glass walls. To preserve the charm of the original residence, the pool house had to match its 20th Century aesthetic with a matching roof and fenestration. When the NanaWall operable glass walls are open, bar-style seating is available at the kitchen counter for the ultimate indoor/outdoor kitchen experience.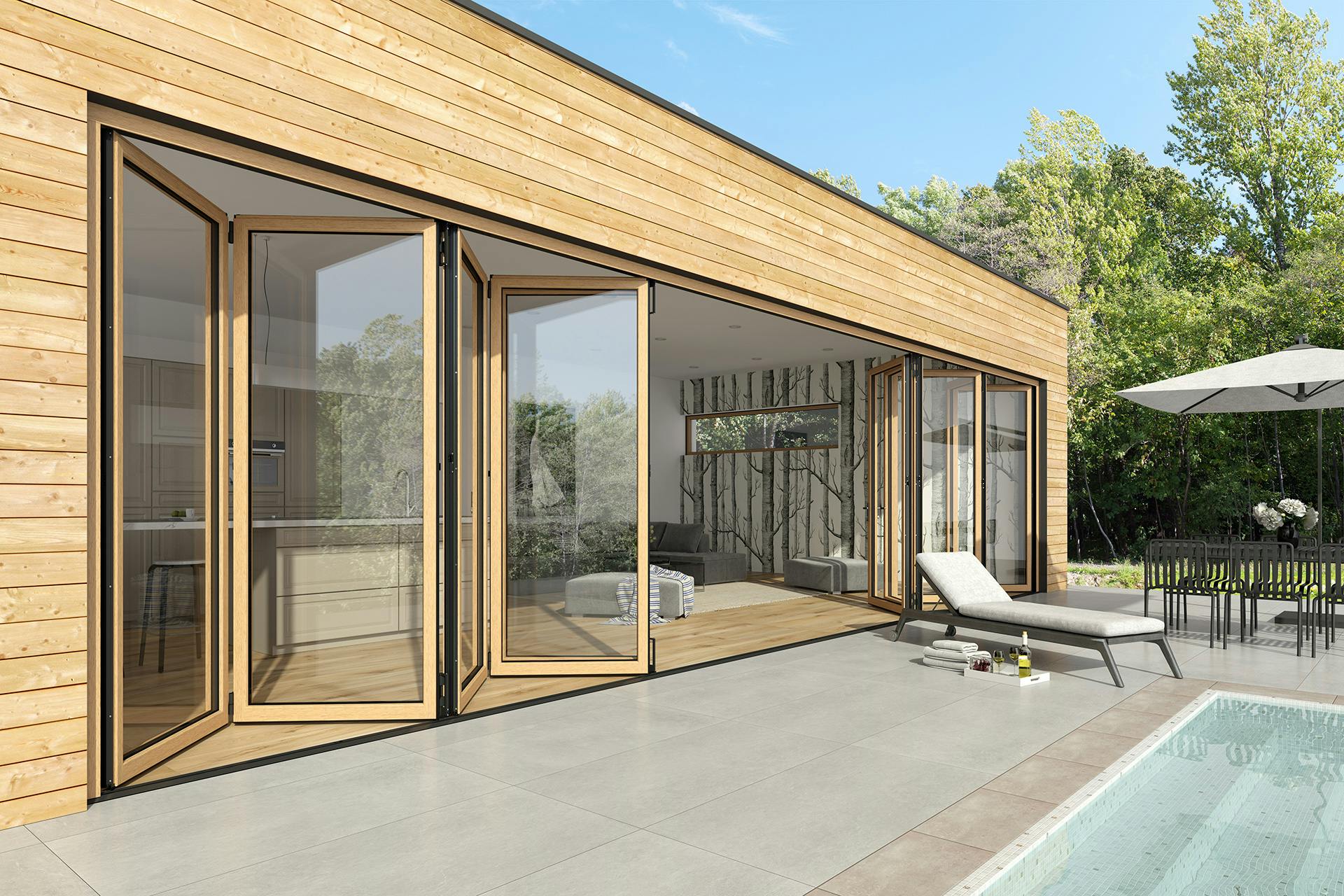 Final Thoughts
How will you be upgrading your pool house this Summer? If you're looking to optimize that indoor/outdoor experience, NanaWall operable glass walls can help you take your pool house to the next level. Advanced weather performance, ease of operation, customizable features, and new innovations like the slimmest frames available and FourFold and SixFold panel sets from the newest Generation 4 Folding Glass Walls product family will take an ordinary pool house into a multifunctional getaway—all in the comfort of your home. Who wouldn't want that?
Discover more design inspiration and how others have elevated their pool house experience with NanaWall operable glass walls in our extensive gallery of projects!