The 5 Unexpected Benefits of Using Glass Wall Designs for the Home
By NanaWall Systems, June 24, 2019
It's hard to deny the popularity of glass walls in home designs since we see more of them popping up on buildings every day. So, just what is it about glass walls that makes them so attractive and appealing? Exterior glass walls offer a modern appearance as well as a feeling of transparency in whatever room a person decides to decorate. However, that's just one of many reasons for the boom in residential exterior glass walls. If you're a builder or contractor that is offering or thinking about offering exterior glass walls as an option, then you'll want to know what to tell your customers when they ask you about the benefits of using glass wall panels designs for houses. So, we'll cover the definition of a glass wall, and the five unexpected benefits of using glass wall designs for houses below.
What is a Glass Wall?
If you are a builder or architect who is thinking about offering glass walls, or you already offer glass walls to customers, then it's inevitable that you'll come across one common question from your customers. That common question is, "What is a glass wall?" While it may seem like a simple question that has a simple answer, you want to make sure you'll be prepared to respond with enough knowledge to be effective.
Glass walls offer several designs including sliding glass doors, exterior sliding walls, large windows, and glass room dividers. The glass elements and opening nature of glass walls can be designed to use in any room, including living rooms, kitchens, or even master bathrooms. Glass walls and sliding glass doors help create a feeling of spaciousness that's both modern and appealing. Also, glass walls help to provide more natural light inside of houses and increasing the natural light inside of a house offers plenty of health benefits. Glass walls provide people with more access to picturesque views and help add a modern feel into houses.
There are also many hidden benefits most of your customers may not know about. For instance, many people are unaware that using glass walls to increase natural light inside of homes or offices provides health benefits. We'll break down a bit more about the health benefits of natural light, as well as several of the other unexpected benefits of glass walls.
Unexpected Benefits of Exterior Glass Walls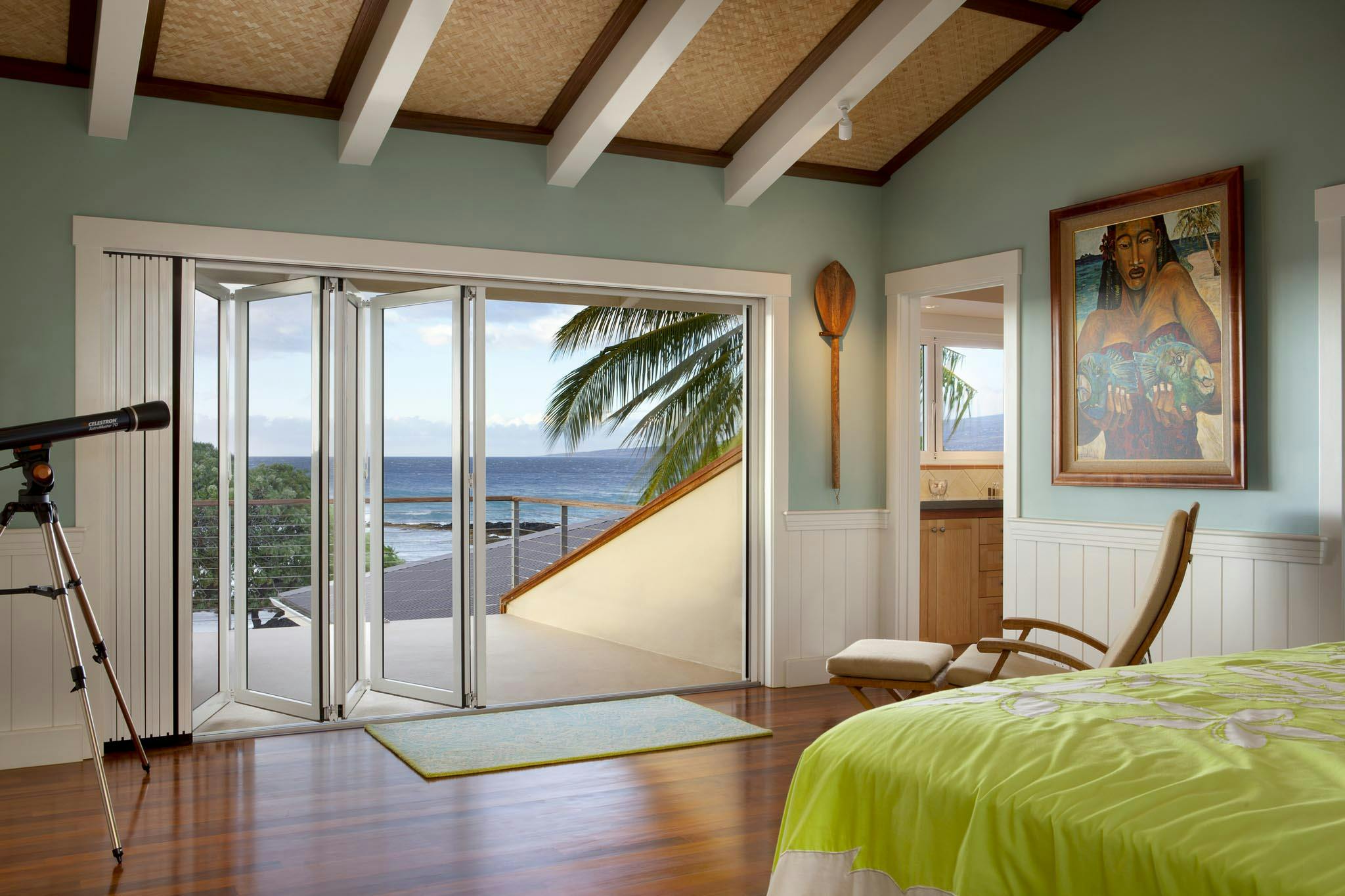 Exterior glass walls promote several important health benefits. Installing a glass wall can promote a healthy environment by increasing people's ability to focus, boosting productivity, and improving sleep patterns.
Exterior residential glass walls are products you can take pride in offering your customers since you'll be helping to make their lives better every day with a new glass wall. Since glass walls bring better lighting into rooms both at home and in the workplace, people are experiencing productivity during the day, while achieving better sleep at night. Having more daylight exposure throughout the day has been shown to bring better sleep, improve one's mood, lower blood pressure, and increase physical activity.
Better Sleep
Glass walls can help to produce a better sleep. One of the major health benefits of exterior residential glass walls, is that they provide light with an unobstructed opportunity to flow into the interior area of the building. Providing more natural light has been linked to a boost in people's psychological and physiological well-being. Science has demonstrated to us time and time again that people do better when functioning in natural light than when functioning in fluorescent light environments.
But what, exactly, is it about natural light that is boosting people's psychological and physiological well-being? Much of natural light's power has to do with its ability to regulate our circadian rhythms, leading to a better sleep cycle and deeper sleep. Basically, our ancestors were used to using natural light to regulate their days for generations, so it seems our bodies adapted to relying on natural light. Thus, the more natural light exposure a person experiences, the better the person's sleep cycle.
Better Mood
Yet another important benefit of natural light for your clients is that having more access to natural light in a room can also help boost mood throughout the day. In fact, studies have shown that bad lighting in a home can affect a person's mood. In fact, there are physical reasons for this. Poor lighting can make it difficult for a person to see things, affecting vision and posture. If somebody's vision is affected, they are more likely to experience eye strain and migraines.
When people are operating in rooms with well-lit interiors, they also experience enhanced productivity, which in turn helps create a positive mood. Patients in hospitals with a window in their room recover faster than patients in hospital rooms without a window, which shows you how natural light helps enhance one's positive mood.
Smaller Electricity Bill
While your customers will receive many health benefits by installing energy-efficient glass walls, promoting a healthy lifestyle won't be the only advantage. Your customers will also find some monetary benefits as well. Using a glass wall to provide more natural light in a room can help save money because it could lower the cost of electricity bills. After all, if you can get more light into your home, you won't need to turn the lights on as often, helping to save money on electricity.
Customization
Exterior glass walls can be customized to fit a home or specific project. For instance, most opening glass walls can stack to another. These stacking glass walls provide limitless potential for design ideas and can even be designed with decals or frosting to add a bit of personality to the appearance. Frosting one's glass walls also provides a bit of privacy while still getting plenty of access to natural light. So even your most creative customers will be able to have their needs met with a glass wall.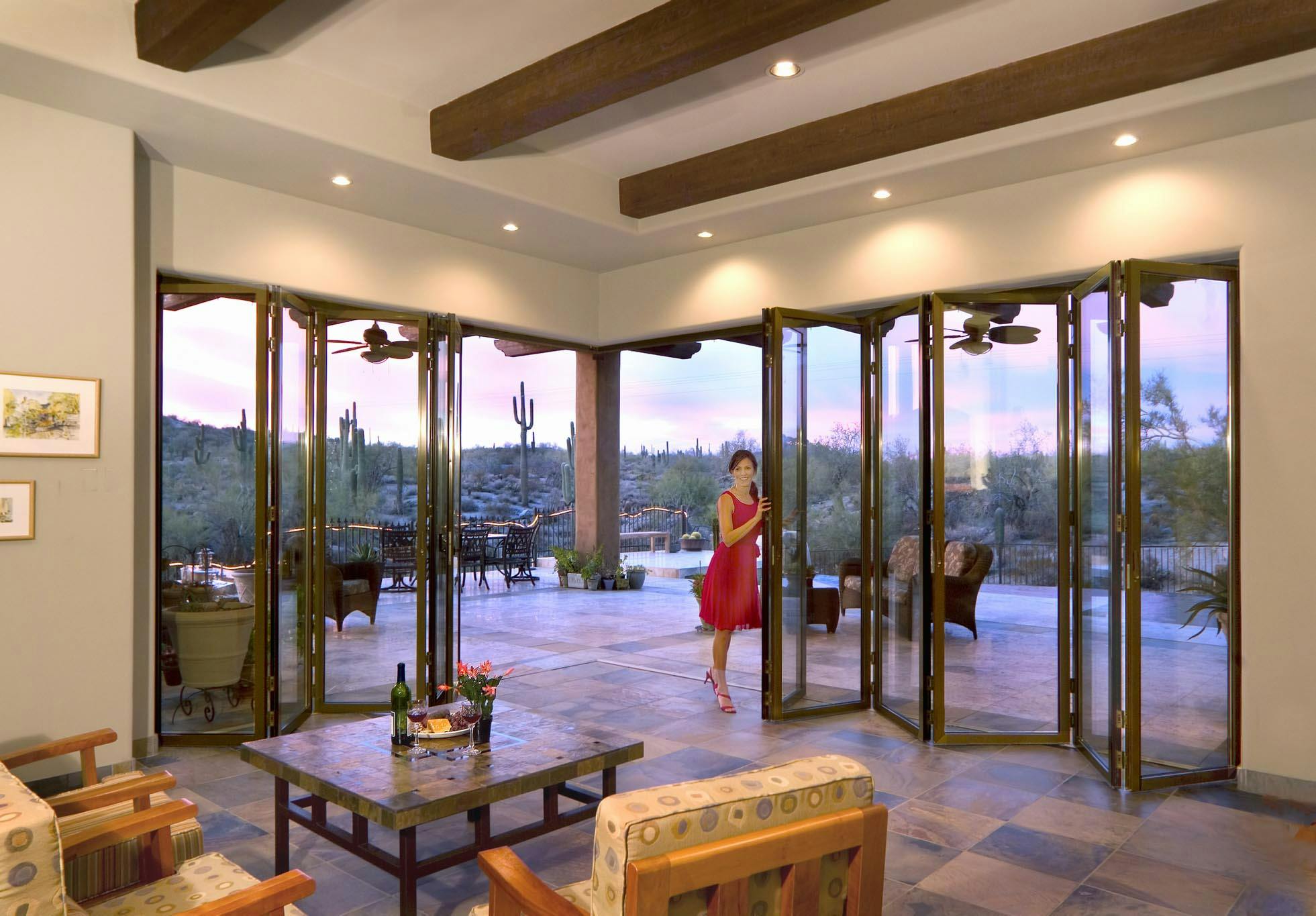 Flexible Modern Aesthetic
Glass walls offer plenty of flexibility when expanding usable space. If you come across customers that are planning on expanding their spaces in the future, you can remind them that glass walls are very adaptable. Folding glass walls can be used to incorporate an outside space, or even divide a space.
For example, think of the outdoor kitchen. A well-placed glass wall can eliminate the need for an outdoor kitchen and create an open kitchen that can transform and expand into the outdoor space. This is just one example of how a folding glass wall can be used to incorporate an outside space and adhere to the flexible modern aesthetic which lends well to how people live today.
Final Thoughts
Customers often choose glass walls because they offer a modern appearance and the ease of transparency that only glass can offer. Plus, glass walls offer plenty of design choices, and can be designed to coordinate with the look of a home, or even a specific set of furniture. Glass can be coordinated with a variety of different fabric types, wood frames, stone, and just about anything else. Plus, glass walls are starting to represent innovation and forward-thinking, since they add a hint of modern ambiance to both private and commercial dwellings.
Many of your customers will enjoy the option of transparency provided by glass walls, whether they purchase them for their home or office. Since glass walls offer so many surprising health benefits linked to an increase in natural light, they offer your customers plenty of advantages, and should be a product that you can take pride in selling.
To discuss how NanaWall opening glass walls can transform your residential space, please contact your local representative.