The Prelude to Winter is Perfect Time to Consider an All Seasons Room
By Liz Snyder and Matt Thomas, November 2, 2015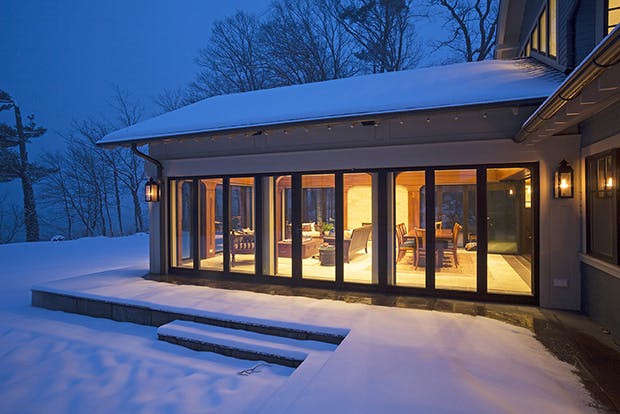 The fall and winter landscapes are spectacularly beautiful, yet weather reports of an upcoming El Nino winter are enough to make you shudder. It was only seven months ago that the Northeastern portion of the U.S. was slammed by record-breaking cold and snow. Billed as one of the coldest and longest winters on record, New England was pounded for three weeks with winter storms that left Boston's Logan Airport buried in 80 inches of snow while other northern locations experienced frigid Arctic air from January until March. Imagine enjoying the awe of a winter storm while comfortably relaxing in your favorite all seasons room. It is truly a reality with NanaWall's performance-tested, flexible opening glass wall systems which are German engineered to perform against Mother Nature's harsh winter months.
Performance-Driven Folding Glass Walls Provide Comfort in an All Seasons Room
Draft-resistant and providing an excellent see-through acoustical barrier, glass walls create a striking focal point in your home, expanding the sense of space while providing comfort throughout the year. Even with this winter's forecast predicting above average rain for the West Coast and frigid temperatures and precipitation along the South and Northeastern corridors that may result in large amounts of snowfall―owners of NanaWall opening glass wall systems can be assured that their closed NanaWall keeps the cold and moisture out. A NanaWall gives you the best of both worlds―an opening glass wall to enjoy a lifestyle usually associated with more temperate climates during spring, summer, and fall yet during winter, it creates a cold and moisture resistant barrier keeping your home warm and comfortable. The sleek and highly stylized design features add elegance to any room decor setting NanaWall above its competition.

Weather in Northern latitudes demands window and door structures that are proven against drafts and the transference of cold from the outside. Up to 25 percent of your home's heat can be lost through cracks in the windows and door frames. As this is the prelude to winter, consider options in home remodeling that allow the beauty of nature to be a part of your everyday living by creating a four-season room that adds ambient light while effectively shutting cold air out. Seamlessly integrate and connect with nature from season to season, while eliminating heat loss through drafty doors and windows.
Our cutting-edge thermally efficient wall systems provide defense against brutal weather conditions using state-of-the-art materials and construction while adding mood-enhancing sunlight that also saves electrical costs. Contact us to see how NanaWall all seasons room can create an open and spacious environment by transforming fixed walls into wide-view flexible openings that remove barriers to the outside world.