Tips and Tricks: "But What About a Screen?"
By NanaWall Systems, February 9, 2012
When considering large openings, sometimes the question "What about a screen" comes up, which is why we have retractable screening accessories. A common myth is that large openings can't be screened. Not true. Take a look here...
Concern for insects shouldn't keep you from opening up your walls to enjoy the outdoors - the Screen Classic (shown) or Screen ONE will keep bugs out, but will allow in natural breezes and clear expansive views.
Screen Classic is a series of collapsible panels that adjoin to create very wide screened openings. Typical screens are very limited in size even if they are special ordered, while the Screen Classic can have an unlimited width and a height of up to 10 feet high! The ability to screen such large openings makes the Screen Classic an ideal complement to NanaWall operable glass walls.
Unlike most screens, the Screen Classic and Screen ONE can retract and virtually disappear when not in use. Or a small portion of the screen can be opened for easy entry and exit. You don't have to fully retract the screen, only as little or as much as needed.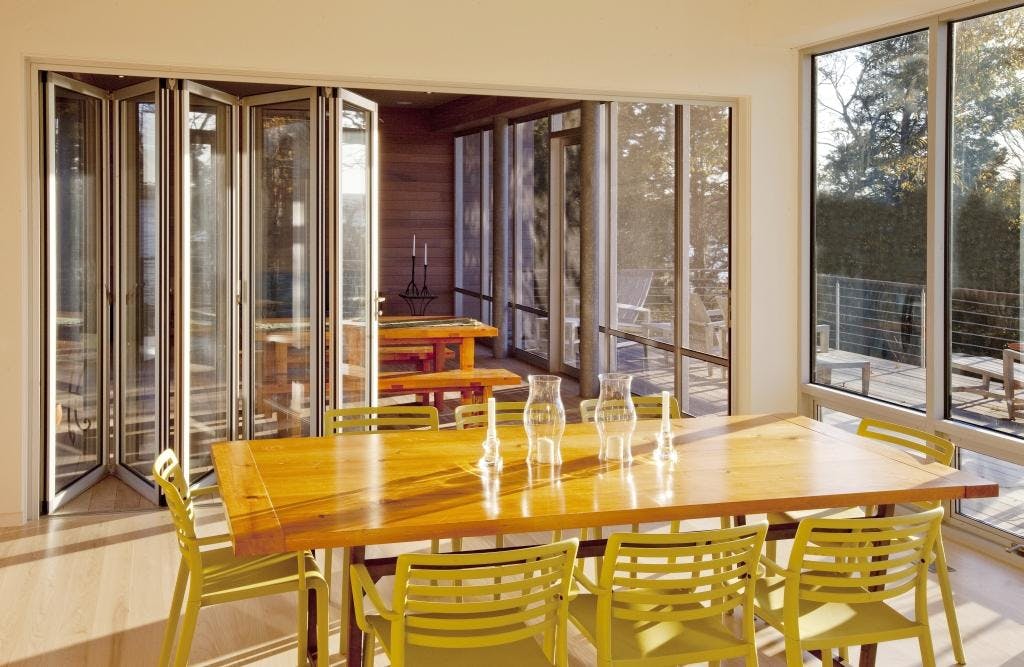 A unique application of the retractable screen is for a screened-in porch or outdoor patio protected from insects. This allows the screened porch to easily convert into an open porch in a matter of minutes. In this riverfront home designed by architect Will Ruhl, a NanaWall opens onto a screen porch, creating a combined sense of feeling between the indoors and the screen porch.