Tips and Tricks: Operable Glass Walls Make Excellent Interior Partitions
By , January 11, 2012
There are plenty of uses for a NanaWall that don't involve opening it to the outdoors. A glass wall is the perfect way to separate the interior of a building into distinct spaces, especially since laminated glass has excellent sound dampening qualities. You can create privacy and acoustic separation, without a visual barrier. Check out the following commercial buildings that used NanaWall as an interior glass partition.
At the high-tech Naperville pubic library, a NanaWall closes off the computer classroom during instruction. Patrons at the library can observe that a class is in session, without disruption. The room is opened up when not in use to allow people to come in and use the computers.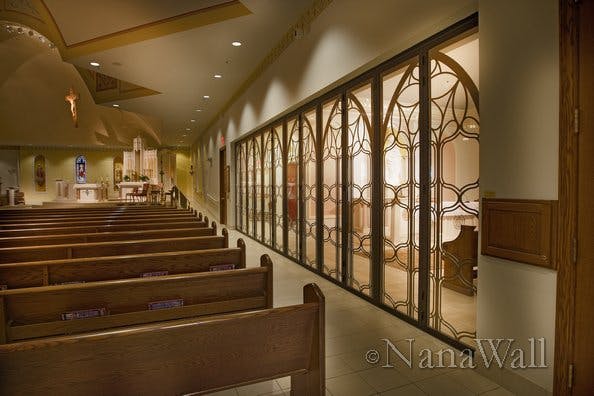 "Throughout most of the year the NanaWall remains closed creating two distinct worship spaces. However, at Christmas, Easter and other busy times of the year, when increased seating capacity is required, the wall can be opened to combine the nave and chapel into one large space." - James J Clearkin, general contractor for the St. Anthony church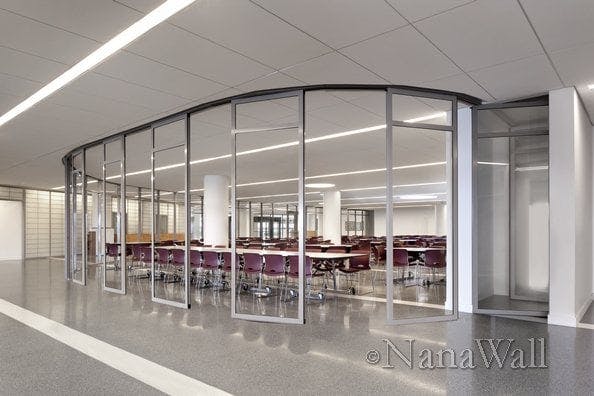 Flexible glass partitions can be used to reconfigure offices for changing activities and floor space requirements , like this conference space at the United Nations in New York.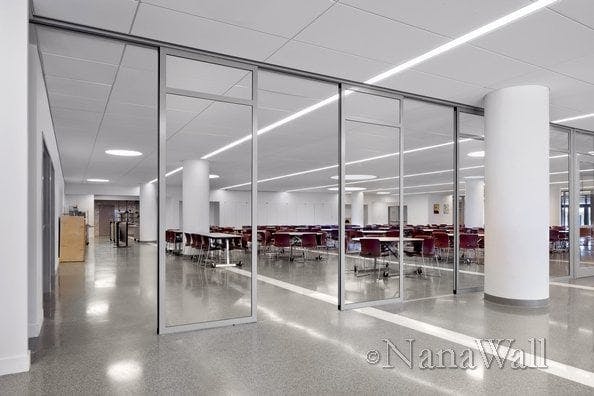 With interior applications, the NanaWall sliding systems are available with no floor track. When the panels are stacked, they literally disappear.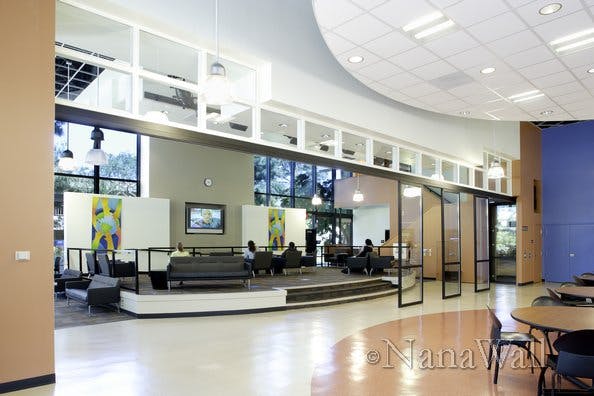 When the wall system is open, this space at Golden West College is a multi-purpose room with a stage. When closed, it creates space for two diverse functions. You can have an intimate student lounge on one side, with more active functions on the other such as dining, group meetings, club fairs, and assemblies. As it turns out, the best thing about using a folding or sliding glass wall as an interior partition is the flexibility it offers. You can create two private distinct spaces if you wish, but you can also hide those panels for one combined free-flowing space. Cause floor plans that isolate are out, and openness is in!