Tips and Tricks: So Easy to Use Even A Child Can Do It
By , January 25, 2012
In case you didn't believe us before when we said a NanaWall is easy to operate, check out this photo of an adorable four-year old pushing one open himself! The solid glass panels encased with sturdy aluminum seem quite heavy, and they are, but ball-bearing running carriages with polyamide rollers provide smooth operation - so smooth that even a child can easily use the NanaWall! Are you surprised by this photo?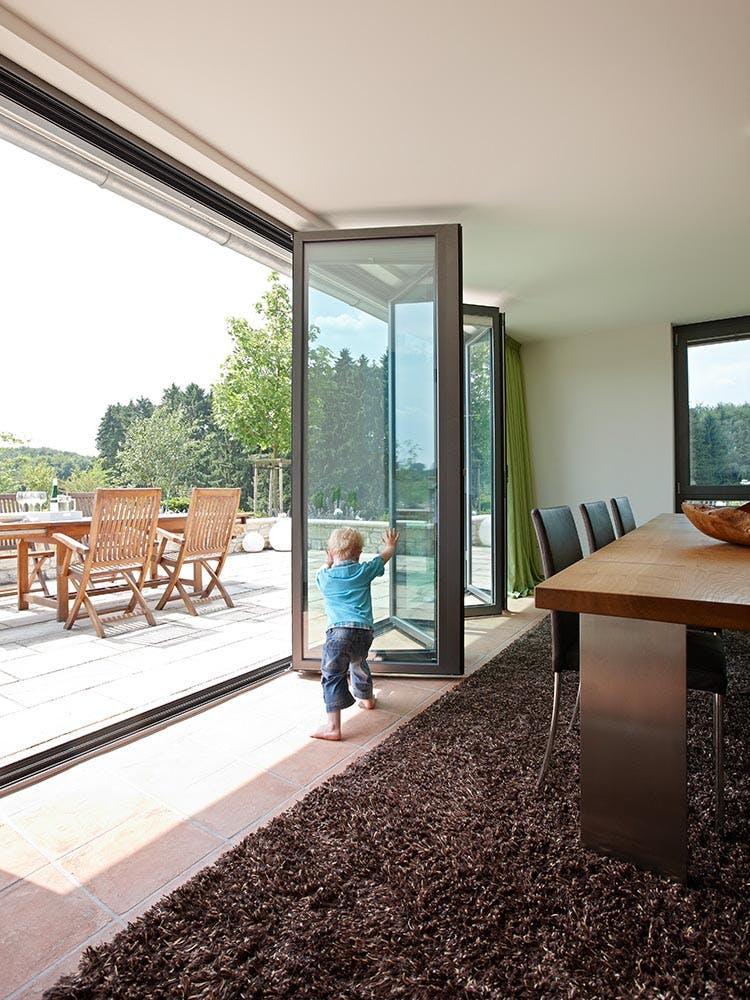 Original post:
Long before I became familiar with NanaWall folding and sliding door systems, I worked at a store with a sliding storefront. To be honest, my impressions were not very positive. Although opening up the entire storefront was wonderful, the panels were very difficult to slide open and the opening was 10' wide at the most. They used one of those multi-track sliders, where each panel is carried by the adjacent one. You start out pulling one panel and end up dragging the weight of three 8' tall glass panels.
It was often frustrating to operate the panels on a daily basis and I can see why others would expect the same from a NanaWall, but they could not be more wrong!
Myth # 4: NanaWalls Are Difficult to Operate
NanaWall panels are engineered for smooth operation. Although the dimensions are custom-made, height and width limitations exist to ensure that the weight of each panel allows minimal effort no matter the number of panels being operated. The folding walls can be operated single-handedly, while the sliding walls glide smoothly along a single track, each panel operated individually.
Smooth sliding and folding operation is possible even when the bottom track has some dirt and sand in it. This is achieved through state-of-the-art hardware with ball-bearing running carriages. On top hung NanaWall folding systems, the main weight is carried by the head track. On floor mounted folding systems, the lower carriage rides on top of the sill track. On NanaWall Single-Track Sliding Systems, a two carrier suspension system allows each panel to be easily slid and aligned. With uniquely engineered compensation and adjustment features, NanaWall offer long-term ease of operation.
If a picture is worth a thousand words, a video is worth a million! Boise State University's stadium features the largest single NanaWall opening at 325 feet wide. Watch all 98 panels slide effortlessly out of the plane of the opening, for natural ventilation during football games in warm weather.