Top Design-Forward College Learning Spaces with Interior Glass Wall Systems
By NanaWall Systems, September 20, 2023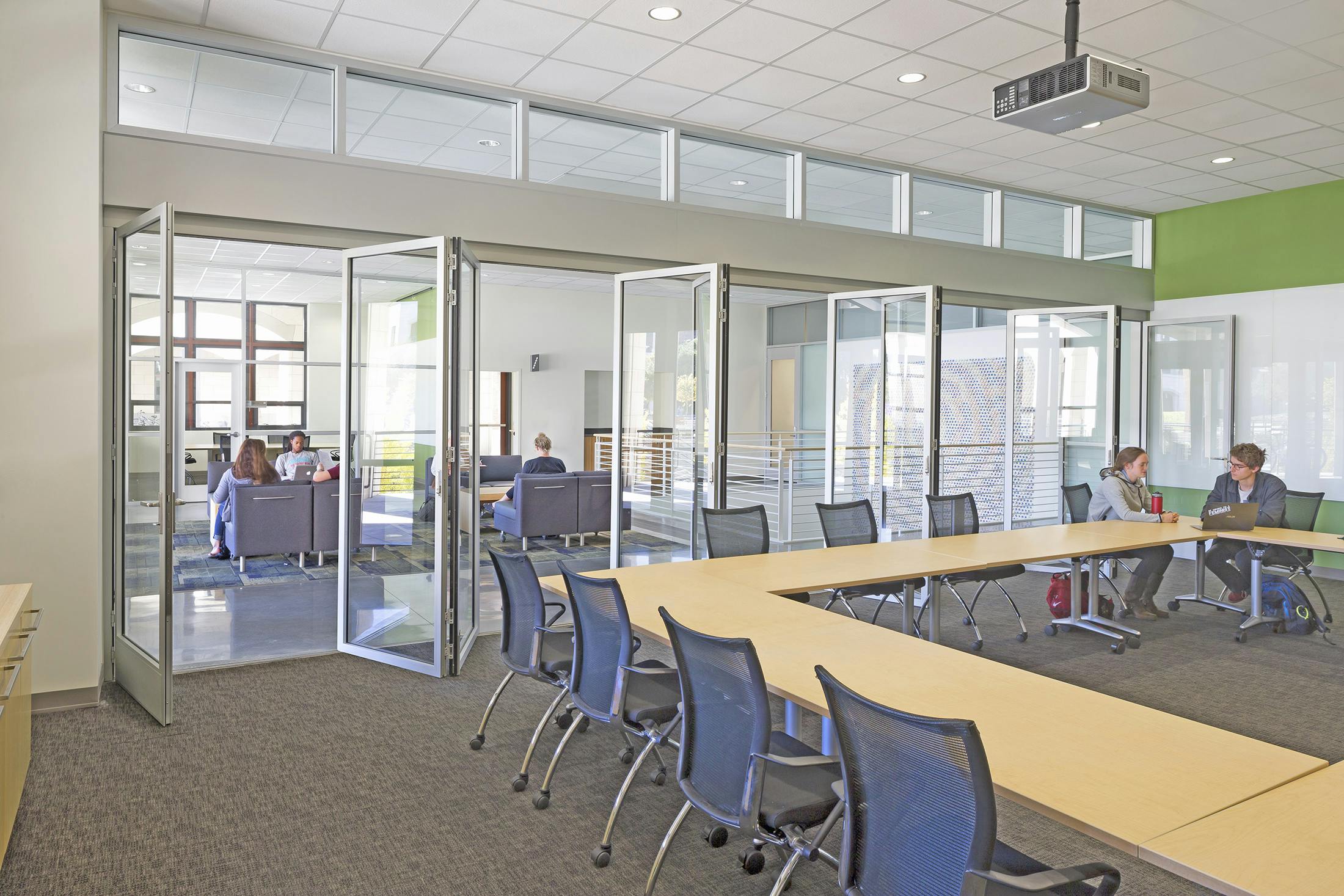 What makes a college classroom more functional than others? Advancing students' career success with 21st-century skills requires design-forward learning spaces that accommodate multifaceted curriculum. Flexible design solutions like interior glass wall systems promote these flexible spaces without sacrificing square footage, light optimization, and collaborative spaces. In addition, interior glass partitions offer advanced sound control and ease of operation, ideal for academic spaces that cater to the needs of both faculty and students. Let's take a look at how these seven colleges across the country leverage the innovative engineering of NanaWall interior glass wall systems.
Interior Glass Wall Systems and Academic Space Flexibility
College classrooms are often host to multiple subjects and students a day, and at times, even the furniture is constantly moving to adapt. Interior glass wall systems accommodate this constant change with dynamic glass panels that transform learning spaces on the fly. A single classroom immediately converts into two smaller classrooms, facilitating two completely different subjects simultaneously. In addition, these interior glass partitions can be customized with sound control rated up to STC 45 or frosted glass panels to diminish visual and sound distractions. Thinner frames that allow for more glass seamlessly diffuse natural light between spaces, which has been proven to elevate productivity and performance in students. Let's take a look at how these seven colleges are utilizing dynamic openings to maximize the college learning experience.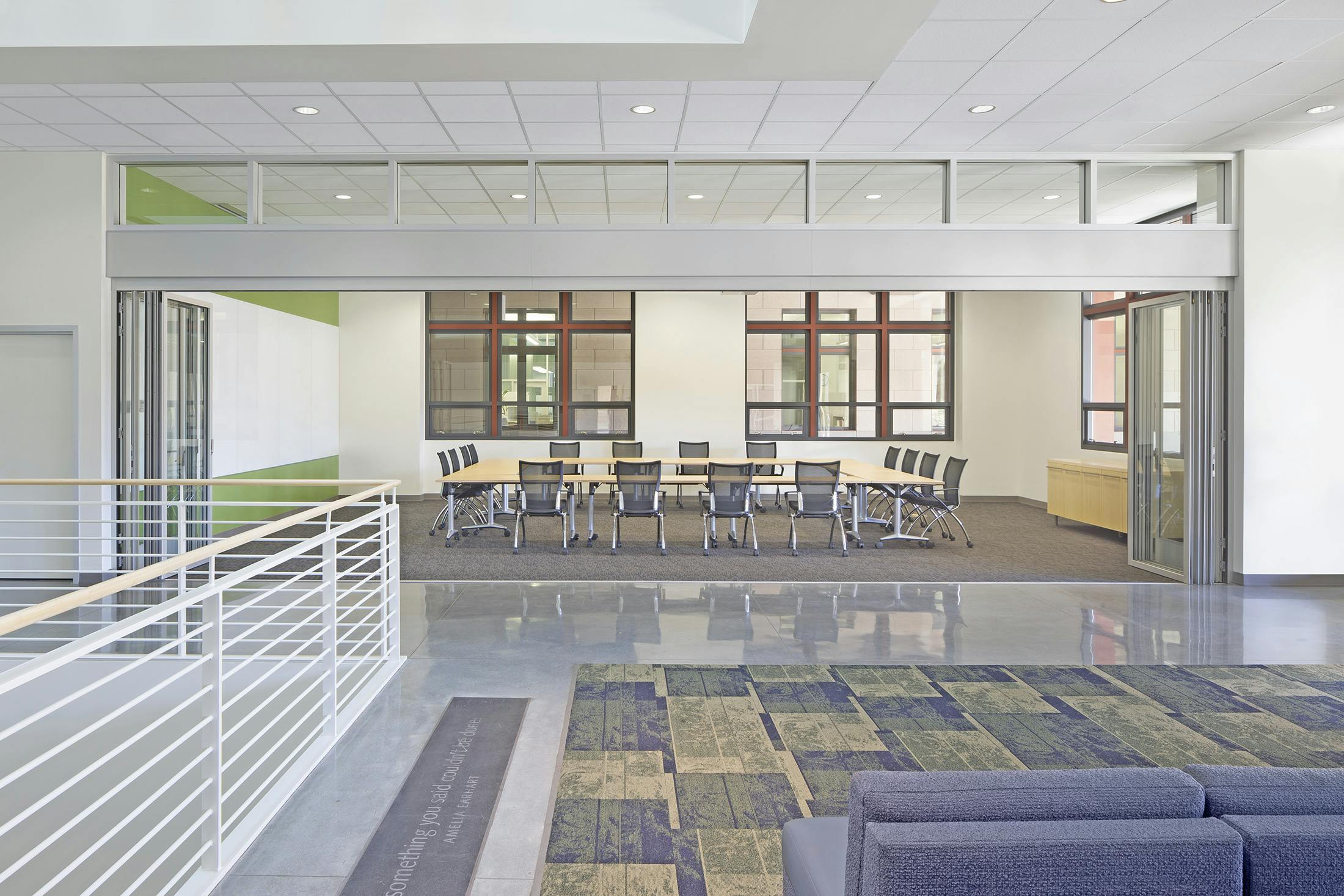 1. Collaborative Spaces at Stanford University
Many hands-on subjects require students to break off into small group work to promote collaboration skills. This often requires the re-arrangement of furniture or to migrate outside the classroom to find additional space. With interior glass partitions, traditional classrooms can instantly double their square footage or extend to underutilized hallways and communal areas. This Stanford University classroom space seamlessly connects to a quiet sitting area via a NanaWall SL45 for quick and easy transitions or when needed to adapt to various activities.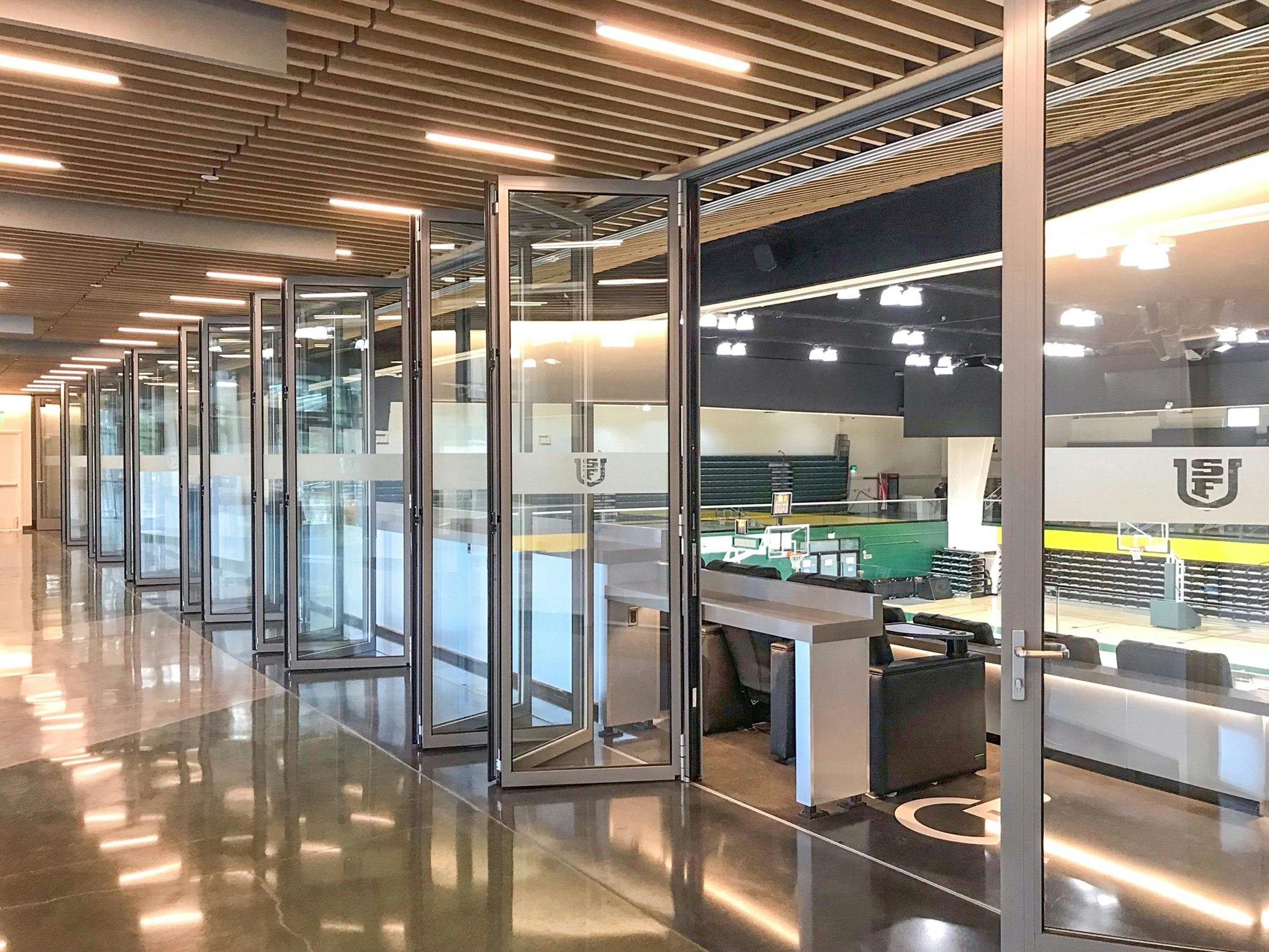 2. The Largest Interior Glass Wall Installation at USF
The University of San Francisco's new Sobrato Center takes indoor basketball games to the next level. Originally built in 1958, the space was overdue for a renovation that called for a new multi-use event space and the largest interior acoustic glass wall installation to date. The 102-foot opening features 34 panels specified with innovative Generation 4 FourFold Panel Sets that can be opened in the middle, at one end, both ends or entirely disappear into built-in alcoves. In addition to accommodating various opening configurations, the system also offers a sound control rating of unit STC 40—the ultimate flexible opening!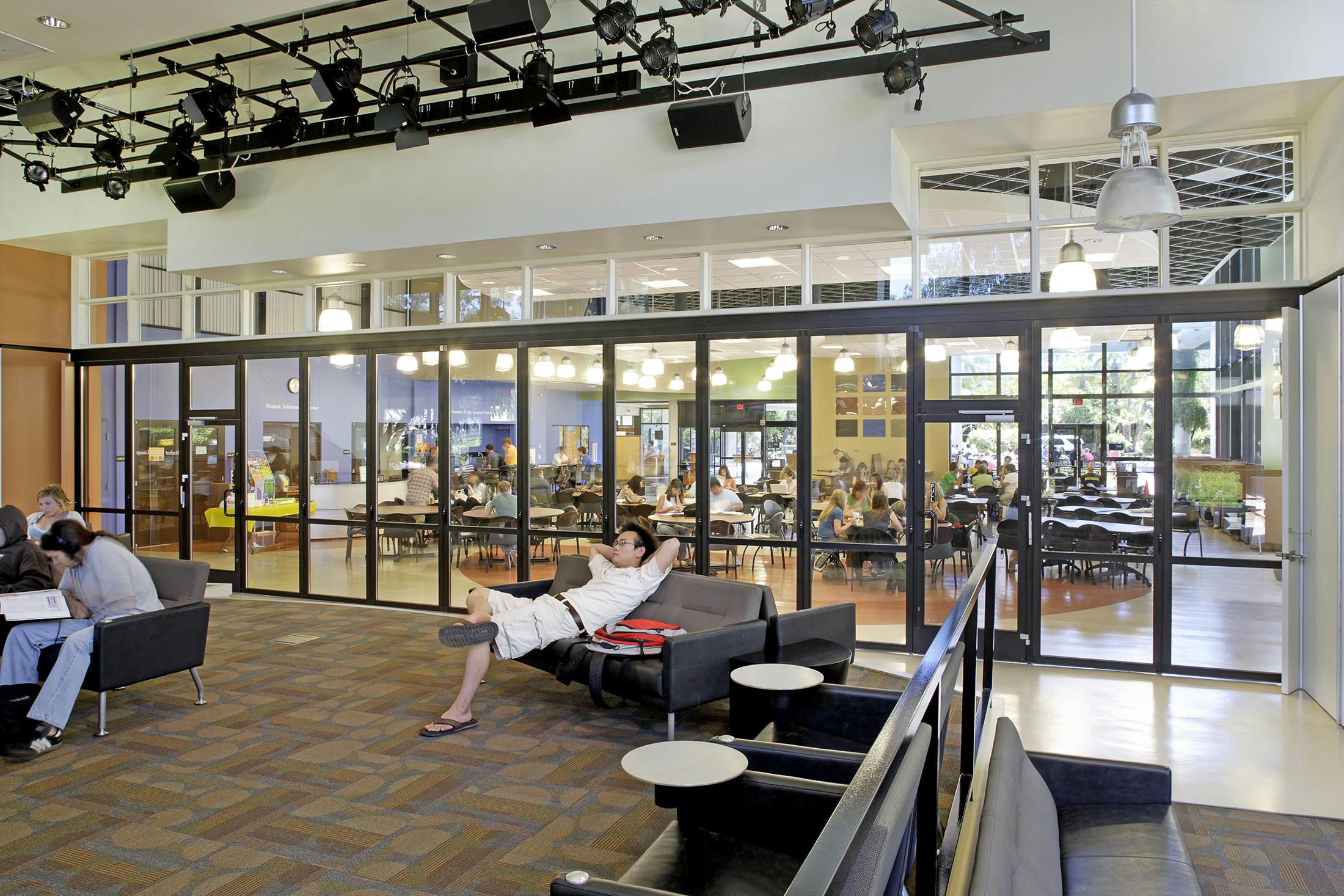 3. From the Cafeteria to the Classroom at Golden West College
Classrooms come in all shapes, sizes, and locations—even as multifunctional cafeteria extensions. Interior glass wall systems like the multipaneled system specified at Golden West College Student Center allow single-purpose rooms to transform on the fly. In this case, a lecture room can extend to the cafeteria for high-capacity events, conferences, presentations, and other student activities. The room itself features a raised platform that can even hold theater and musical performers when needed.
4. Multifunctional Spaces at UCLA
Who says interior glass wall systems have to always be transparent? Although floor-to-ceiling glass panels are often leveraged to provide unobstructed views, some college learning spaces may call for a bit more privacy. NanaWall interior glass partitions can be customized with frosted glass like this sliding glass system at UCLA for enhanced privacy but without sacrificing natural light maximization or aesthetics. In addition, this single-track system allows the panels to individually glide into remote stacks for a fully optimized opening.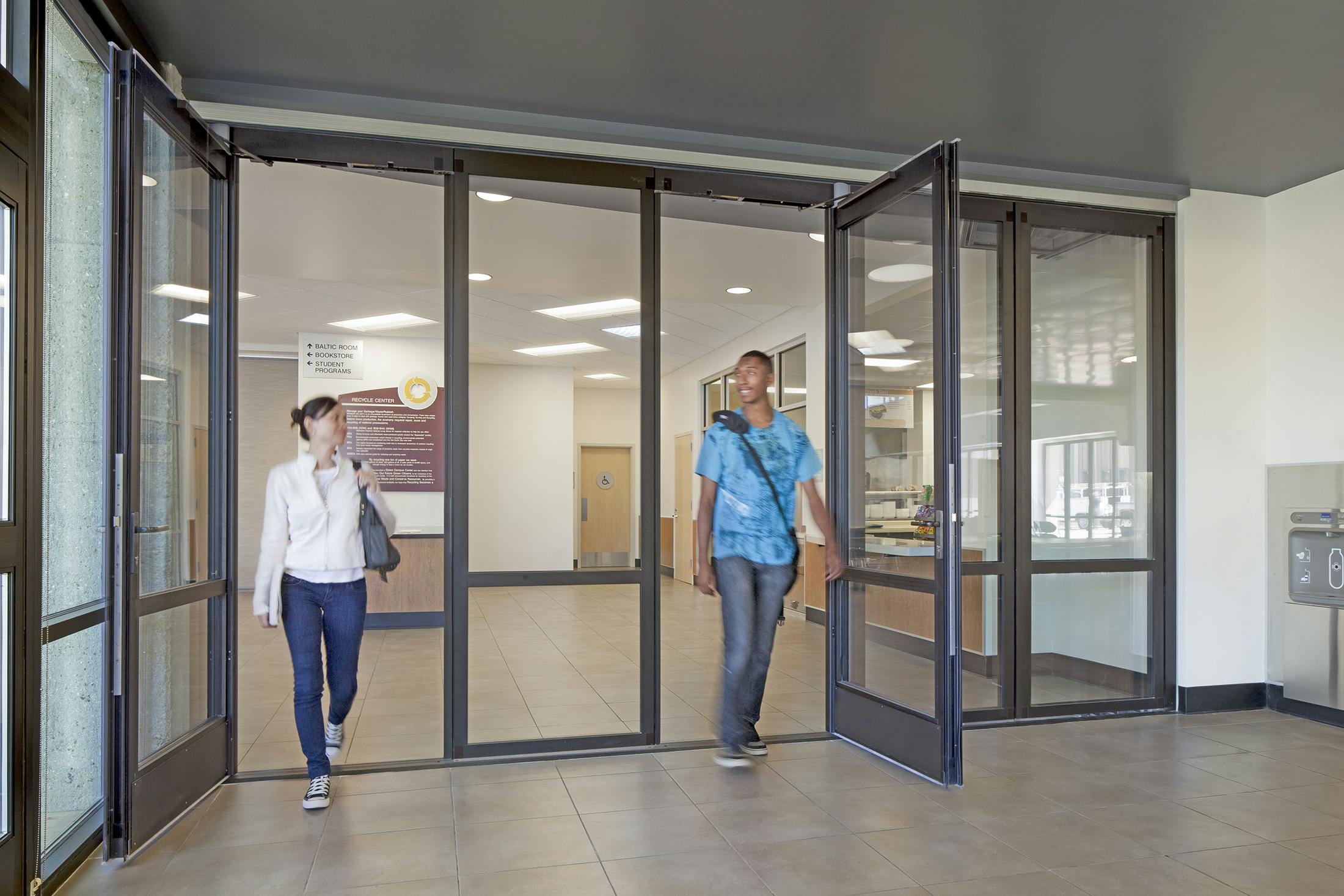 5. Leveraging Interior and Exterior Systems at West Valley College
West Valley College leverages both exterior and interior glass wall systems at its Campus Center to create the go-to, multifunctional spot for students. The previous building was completely closed off with poor circulation and low engagement. A much-needed renovation called for ten back-to-back exterior systems and a flexible interior glass wall partition to facilitate traffic in and out of the building. The new bright and airy space lures students in to socialize, enjoy their lunch, or purchase school supplies.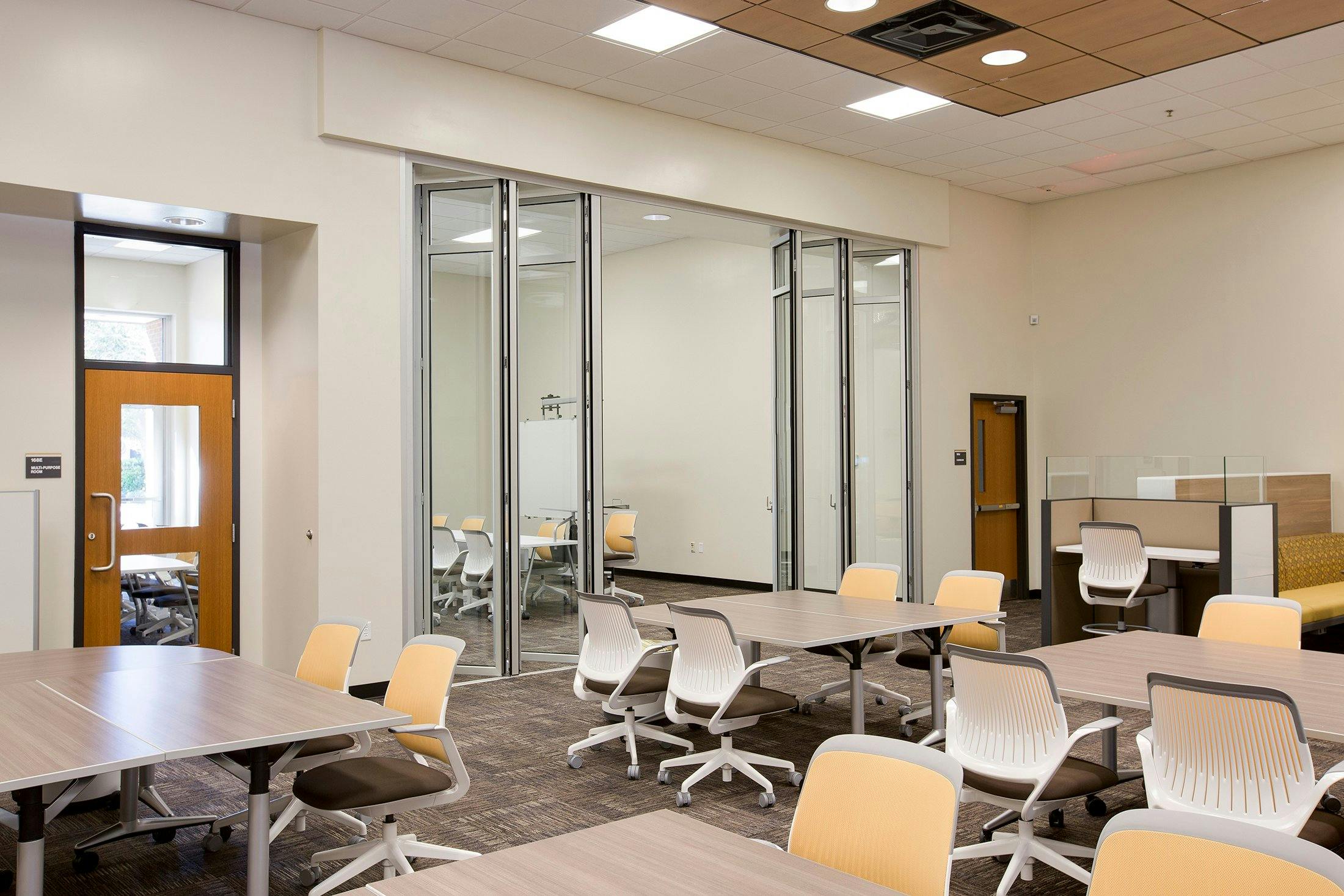 6. Floor-to-Ceiling Panels at the University of Central Florida
Even the not-so-wide application of interior glass partitions can greatly impact interior space dynamics. The thin panels at this University of Central Florida classroom facilitate a flexible threshold with panels that stack on both sides of the opening. Barely-there floor tracks offer unobstructed transitions to the adjacent classroom if needed to accommodate larger classes. Similarly, the panels can easily close to create a private quiet space for testing or collaborative work. Talk about the ultimate flexible space!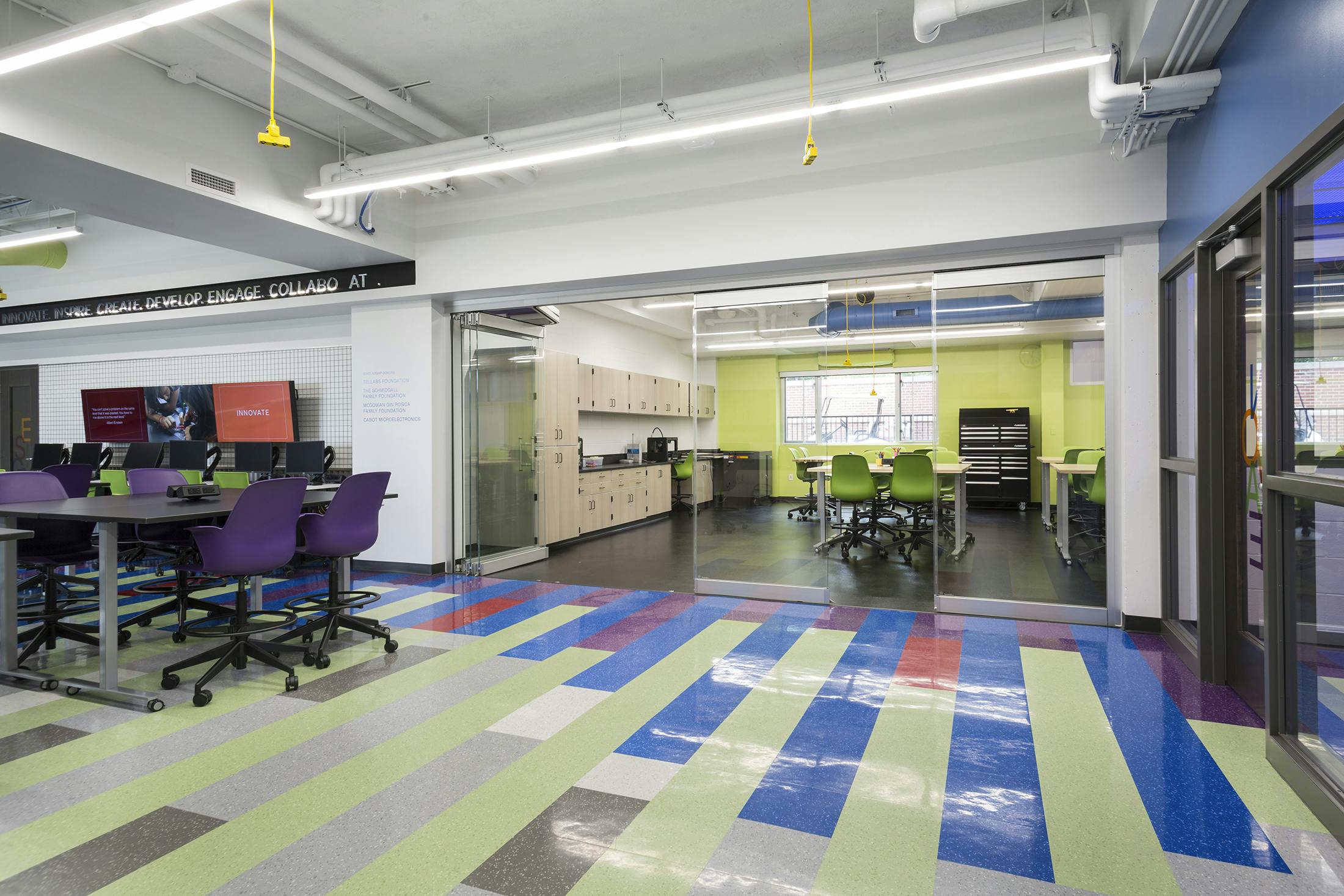 7. Aurora University: Optimal Transparency with Frameless Panels
Can you spot the sliding glass wall? From one classroom to the next, frameless panels create a disappearing threshold, quite literally, between the two learning spaces. Whereas one room can be utilized as a laboratory space for hands-on learning, the other can host lectures and team assignments at the same time. The frameless glass partitions at Aurora University can be easily moved to customize the opening depending on the needs of the day. Despite being frameless, the system offers sound control and durability alongside sleek aesthetics.
Final Thoughts
Multifunctional 21st-century learning spaces call for adaptable design elements to accommodate dynamic curricula and engaging environments. With NanaWall interior glass partitions, universities can leverage the benefits of multi-use academic rooms and common areas to accommodate more activities as needed. These systems are paired with barely-there sills that disappear within the floor for unobstructed, ADA-compliant transitions. NanaWall interior glass wall systems are also fully customizable to the needs of every academic institution, from panel size to frame color, optimizing square footage, meeting brand aesthetics, and much more.
Discover how other academic institutions leverage NanaWall interior glass wall systems in our extensive photo inspiration gallery!