Why Pet Owners Adore Generation 4 Folding Walls in Their Homes
By NanaWall Systems, September 1, 2023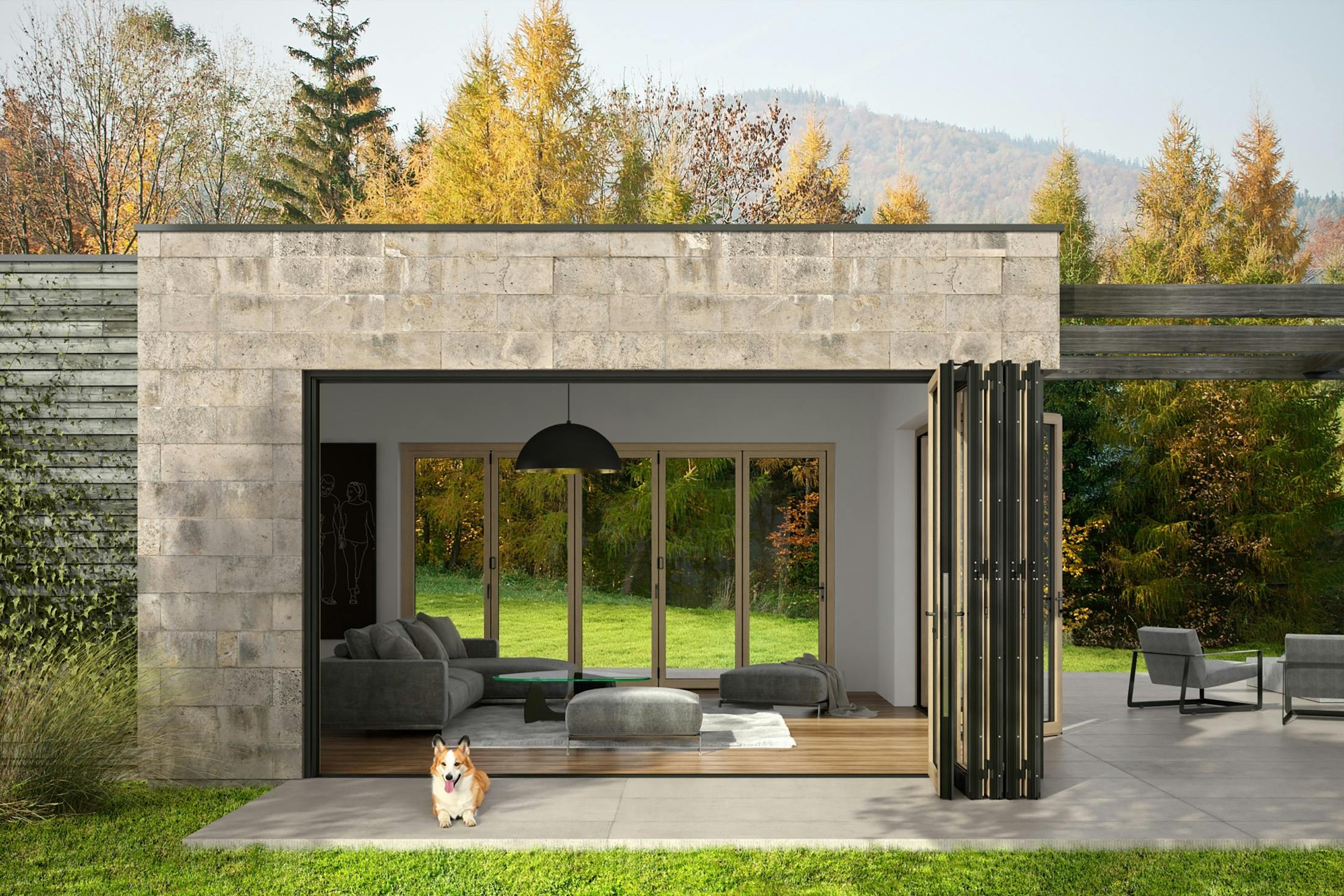 The need for flexible and creative space planning is increasingly important when designing a home for both family and pets to enjoy. Ensuring pets feel as comfortable and joyous as they can be is essential for homeowners. Discover how innovative Generation 4 folding walls are transforming living spaces, connecting both people and pets to the outside world.
Pet lovers strive to create an environment that feels as comforting to their furry friends as it is to themselves. A home, after all, should be a sanctuary for all its inhabitants. Indoor-outdoor living is not just a luxury but a necessity for pet-friendly households. Here are the top advantages of folding glass wall designs that homeowners love to keep pets front of mind and heart.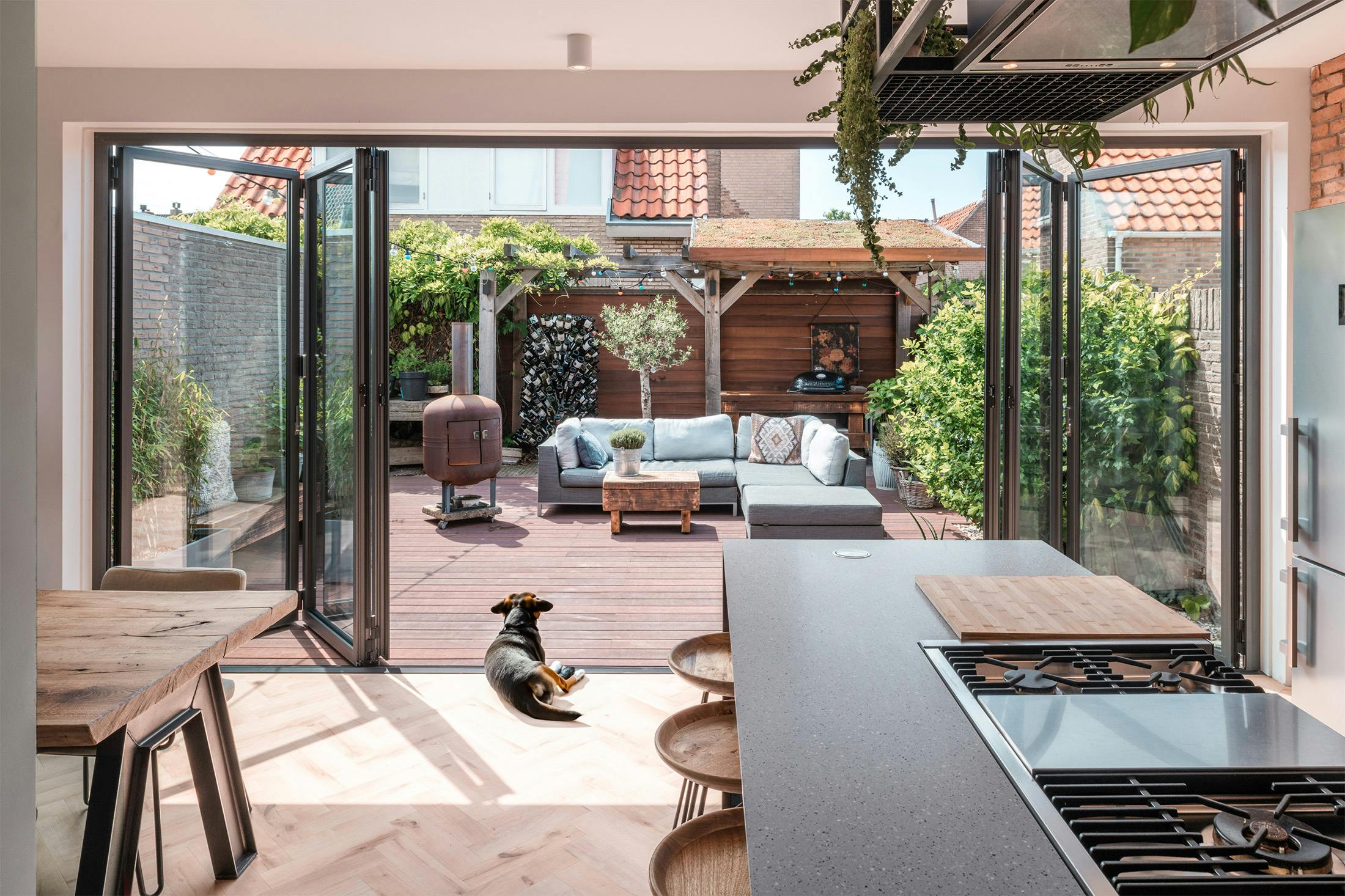 10 Key Advantages of Folding Walls for Pet Owners
The seamless merging of indoor-outdoor living spaces is increasingly popular, promising flexibility and connection with nature. Transform your living room into a captivating gateway to the outdoors, breathing life into your home. Experience natural light's health and space-enhancing perks and create a more inviting, versatile living environment for you and your pets.
Amplified Space Planning and Better Usable Access: Eliminate barriers and design adaptable spaces. Increase the space that you have and create more usable living space in your home. You can transform any single patio door or old sliders into wide openings that allow for fluid transitions. Systems provide up to 90% of the usable opening width and can fold in or out depending on your space planning. Enjoy the ultimate comfort of indoors while bringing in the outdoors so pets can move about more freely even when space is limited.
Barefoot & Paw-Friendly Sills for Indoor-Outdoor Transitions: When you have pets, providing them with an open area to move, play, and relax becomes vital. Folding and stacking panels ensure that you can quickly and effortlessly create an expansive space or confine certain areas when necessary. The beauty of nature becomes an extension of your living space. Whether your pets enjoy watching birds or lounging in the sunlight, these systems offer a safe and visually stunning gateway to nature.
Fully Configurable Folding & Stacking Panels: These panels are not just a design trend; they are about creating multifunctional spaces. They are fully configurable and allow for increased ventilation, ensuring your pets get fresh air regularly. Stackability means you can control how much space you want to give your pet to play, ensuring safety and space efficiency.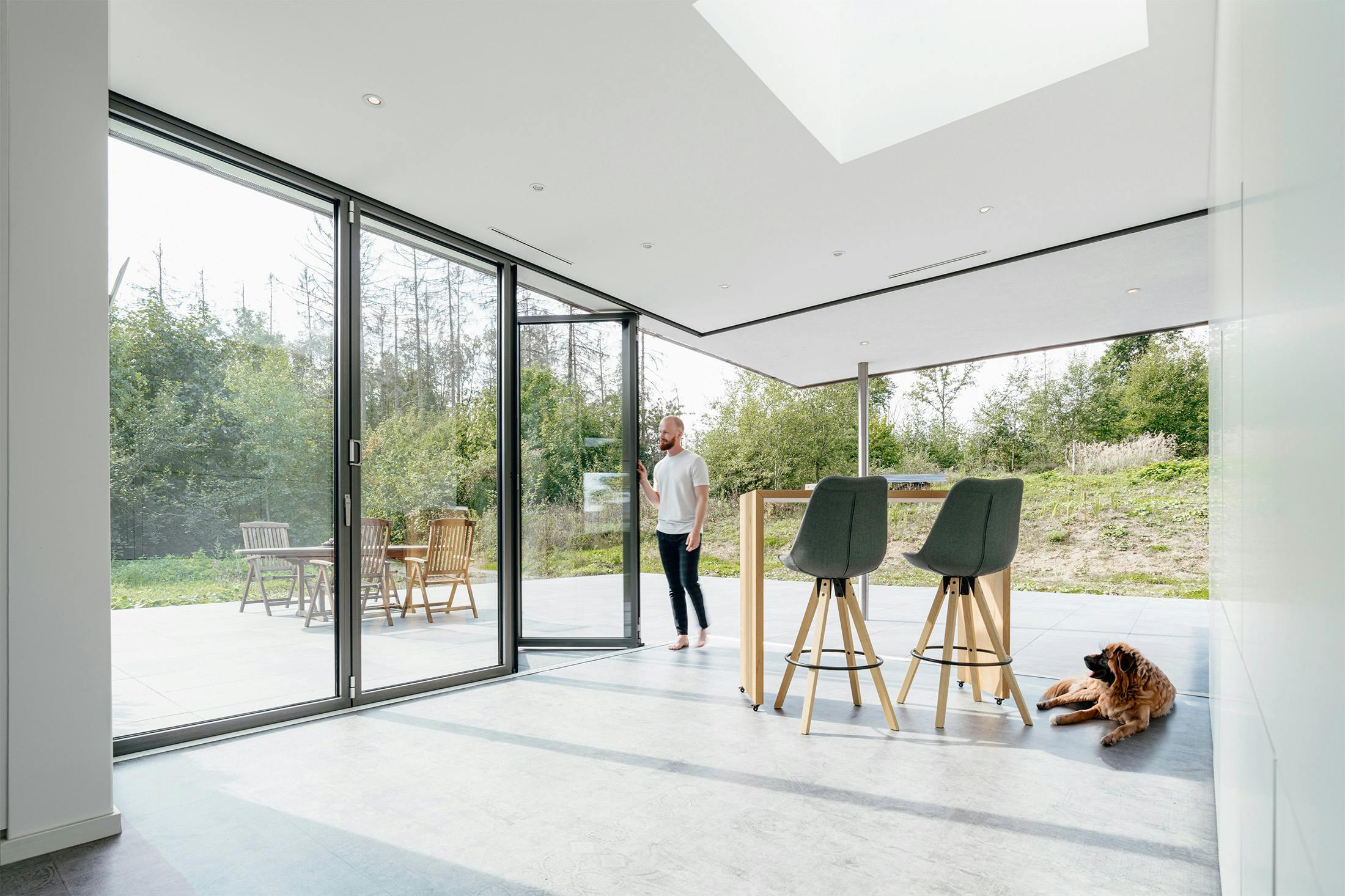 Improving Usable Access to the Great Outdoors: Give your pets more access and bridge the gap from indoors to the outside world. Regular exercise, sunlight, and fresh air play a vital role in keeping your pet happy, stimulated, and healthy. So, whether they're chasing butterflies or simply lounging in the sun, folding walls are their passport to wellness.
Safety First, Features of Generation 4: With the independently tested and certified features of Generation 4 systems, you can rest easy knowing that even if your pet is an escape artist, the safety mechanisms in place will keep them secure. Folding walls are easy to operate and are convenient for the entire family. Systems are vandal-resistant, tested, and passed Forced Entry Resistance. Their tamper-resistant locking is highly secure with a simple turn of a handle the system locks top and bottom.
Versatility & Flexibility on the Fly: These systems allow for total flexibility. Versatile swing doors provide year-round daily access. Generation 4 panels have the option of moving in stacks of four or six—unattached to the side jamb, and possessing the ability to stack to the left, right, or center of the opening. The benefits of the FourFold and SixFold floating panel sets are the extra-large opening sizes and the ability to have a door at the jamb with all the panels stacking to one side or the other when open. Easy swing panels have been tested to 500,000 cycles to meet the demands of those feisty pets who always want in and out. Just open the swing panel or the whole system.

Improve Health with Natural Abundant Daylight: Folding walls fill your home with natural light, and allow owners and pets alike to bask in the sun. This boosts mood and health by promoting vitamin D synthesis and healthy sleep patterns. By maximizing sun infiltration, these systems improve spaces, reduce dependence on artificial lighting, save energy, and lower your carbon footprint. Generation 4 systems create spaces that are not only beautiful but also promote well-being and a deep connection with nature for both pets and their human companions.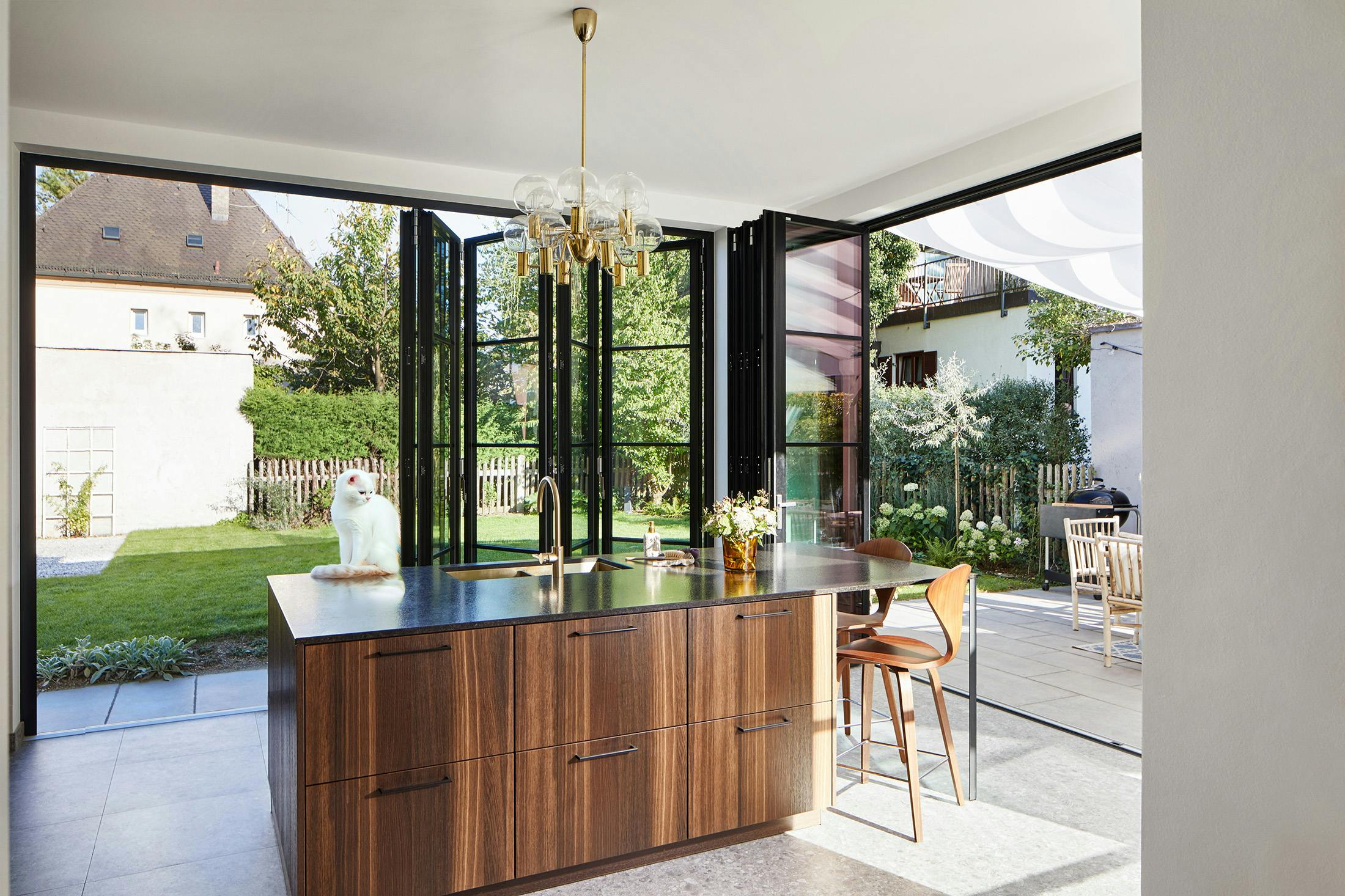 Fresh Air & Ventilation for Better Health: Spread fresh air throughout your home. With folding walls, fresh outdoor air quickly and efficiently floods the interior of the home. Outdoor air is generally cleaner, and to improve indoor air quality, you can bring outdoor air in. Placing strategic openings like folding walls around your home creates cross-ventilation. This natural ventilation also takes advantage of passing breezes and any scents that may drift upon them that pets will love. Dramatically improve indoor air quality while still offering the thermal performance needed for energy efficiency throughout the seasons.
The Benefits of Biophilia, Wellness with Glass Walls: Connecting indoor spaces with the natural world provides many biophilic benefits for both people and their pets. Benefits that significantly impact our mental and physical health include enhanced productivity, mood, sleep, circadian rhythm, and overall well-being. Exposure to natural elements boosts serotonin levels, the 'feel-good' hormone, which can lift spirits for both humans and animals. This integration of nature has shown marked improvements in concentration, cognitive abilities, and overall mood upliftment.
Reduce Pet Anxiety and Boredom: Put your pets at ease at home, in their sanctuary, and in yours. Opening glass-walled rooms have been proven to reduce pet anxiety and make pets more comfortable, space feel more open and natural, and it has been linked to reduced stress levels in both animals and humans. The connection to the outdoors can soothe anxious minds. Pets generally do not enjoy being stuck indoors. Modern homes are often sterile feeling, and their aesthetic can exist in stark contrast to the outside world that animals are accustomed to. This can feel closed off from the natural world and can be unsettling for pets. With folding walls, you can bridge the gap between indoors and outdoors, reduce pet anxiety and boredom, and improve temperament, behavior, and health. Giving your pet a place to stimulate their mind and senses has shown signs of better behavior, health, and contentment. For cats and smaller pets, these systems are constant floor-to-ceiling entertainment even while closed for pets to view passing birds and rustling trees. Both homeowners and their short-legged friends benefit from this year-round anxiety-reducing view of the outside.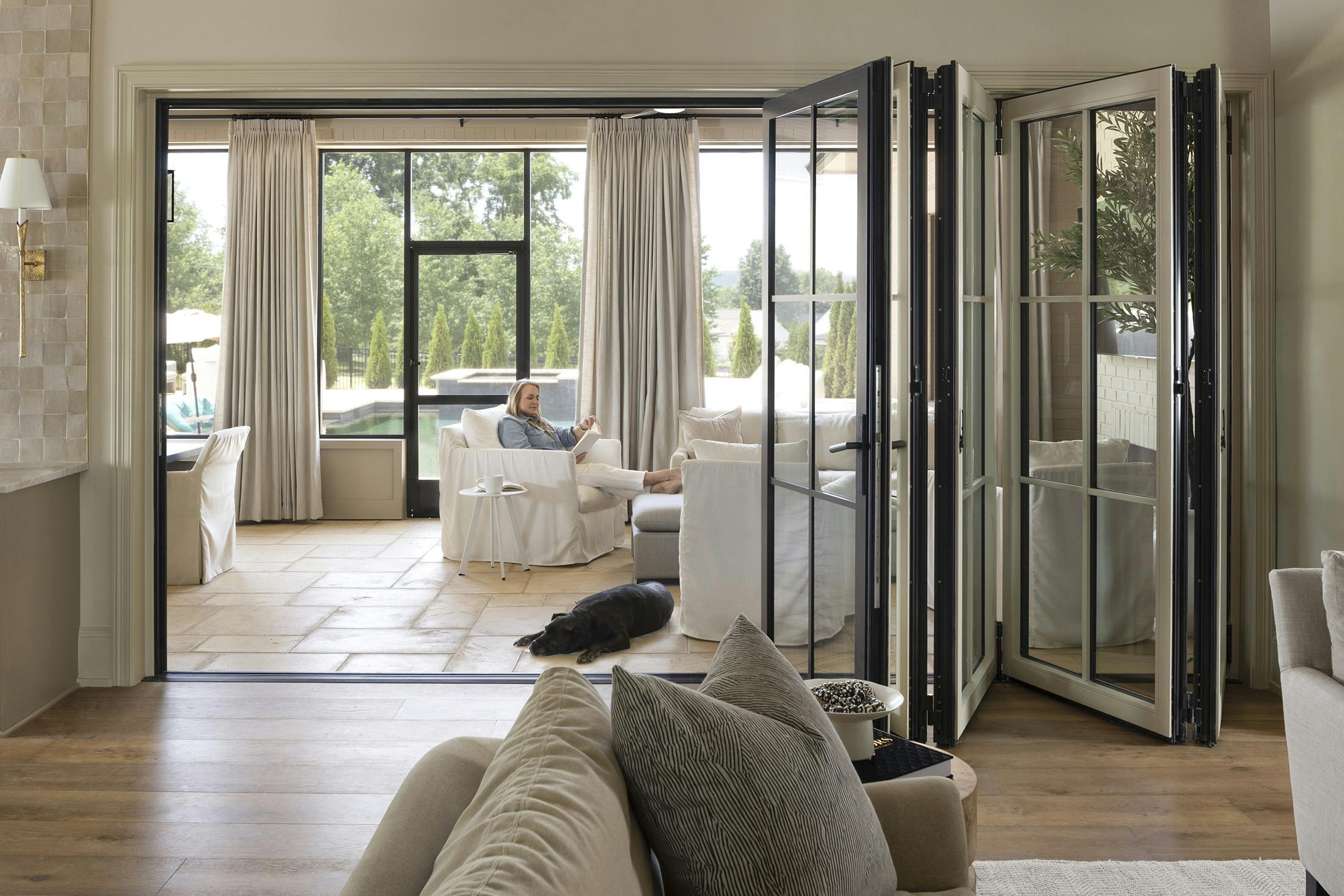 Elevating the Future of Pet-Friendly Living: Generation 4
Generation 4 folding systems are the epitome of design excellence and are engineered with even the smallest family members in mind. This innovative system offers a combination of performance and convenience that sets it apart from the rest. With truly seamless athletics, these systems allow for sleek space transitions, unobstructed views, and versatile areas for pets to play, relax, and enjoy. Systems are convenient and easy to use with their unique Gothic arch roller that makes operation simple for the whole family. These systems provide elevated aesthetics to match any style, the slimmest profiles available, and minimally exposed hardware for a sleek design appearance. NanaWall offers solutions from the ground floor to the rooftop including multifamily balconies and terraces.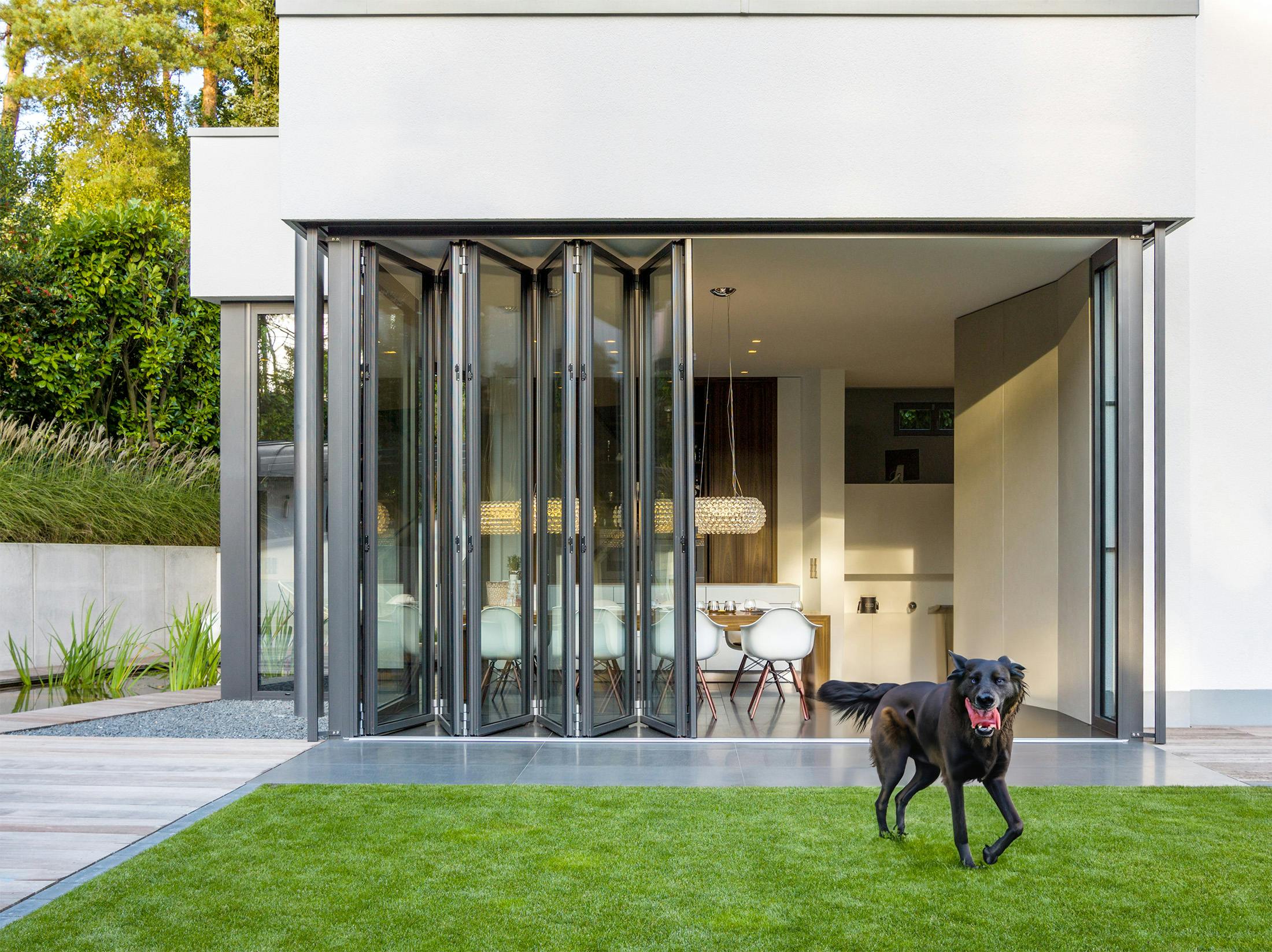 Adding Value to Modern Homes
All-season systems prioritize energy efficiency, provide top-notch insulation, lower energy usage and costs, and add value to your home. Durable systems keep harsh weather conditions out year-round. Performing even when closed, systems allow natural sunlight to warm your home during cold months; and in summer, open the walls to easily ventilate your home. They can also help regulate indoor temperature, reducing the burden on HVAC systems. More than a modern and sleek appearance, they can increase property value by creating a unique and desirable living space made from durable materials. With advanced safety, security, and locking features, these systems keep pets and their people safe and active. Whether designing a new home or refining an existing one, folding systems can significantly enhance the value of your home.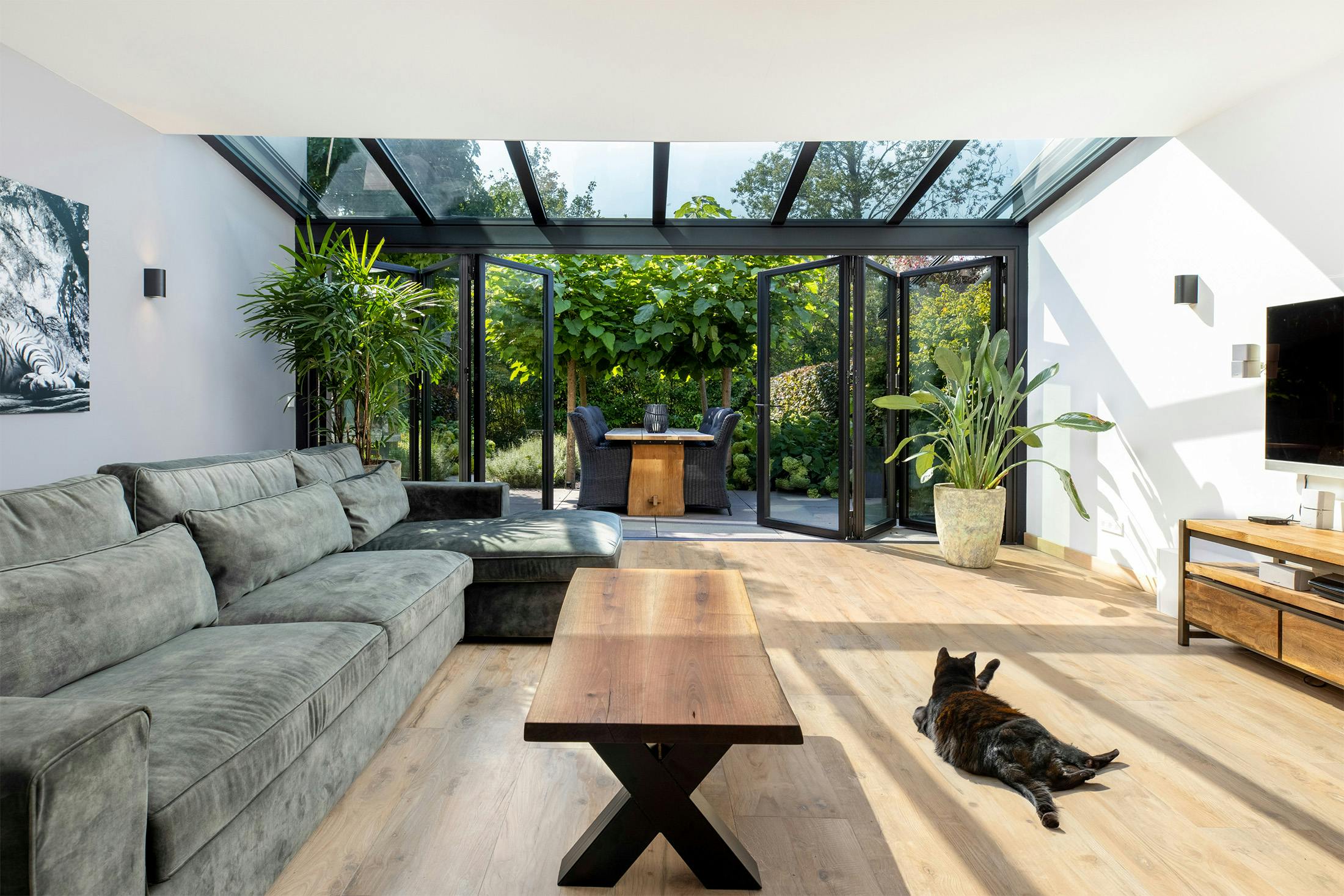 Tailor-Made Elegance: Systems Customized for Any Space
These folding wall design solutions are fully customizable and configurable, tailored to meet any of your home design needs. Choose from over 50 standard colors and 200 powder coats, and frame materials including aluminum, wood, or clad framed, as well as custom sill and sustainably harvested wood finish options. Systems are rated and tested for harsh climates no matter your location. An array of glazes, tints, privacy, and acoustical options are also available.
Final Thoughts
Homeowners can effortlessly craft spaces that prioritize the well-being and happiness of their pets, all while embracing modern design and efficiency. Generation 4 systems are more than just a design trend; they represent a holistic approach to architectural innovation, emphasizing harmony with nature, wellness, and the deep bond we share with our pets. Whether you're looking to remodel your home or design a new one, these systems redefine modern living.
Have questions or want design advice? Speak with experts to get a tailored solution today! Visit our inspiration gallery for more design ideas! Connect with NanaWall today and let us help you create the perfect indoor/outdoor living space for your family and pets.