Wrigley Rooftops' Innovative Solution for Watching Live Games
By NanaWall Systems, July 29, 2020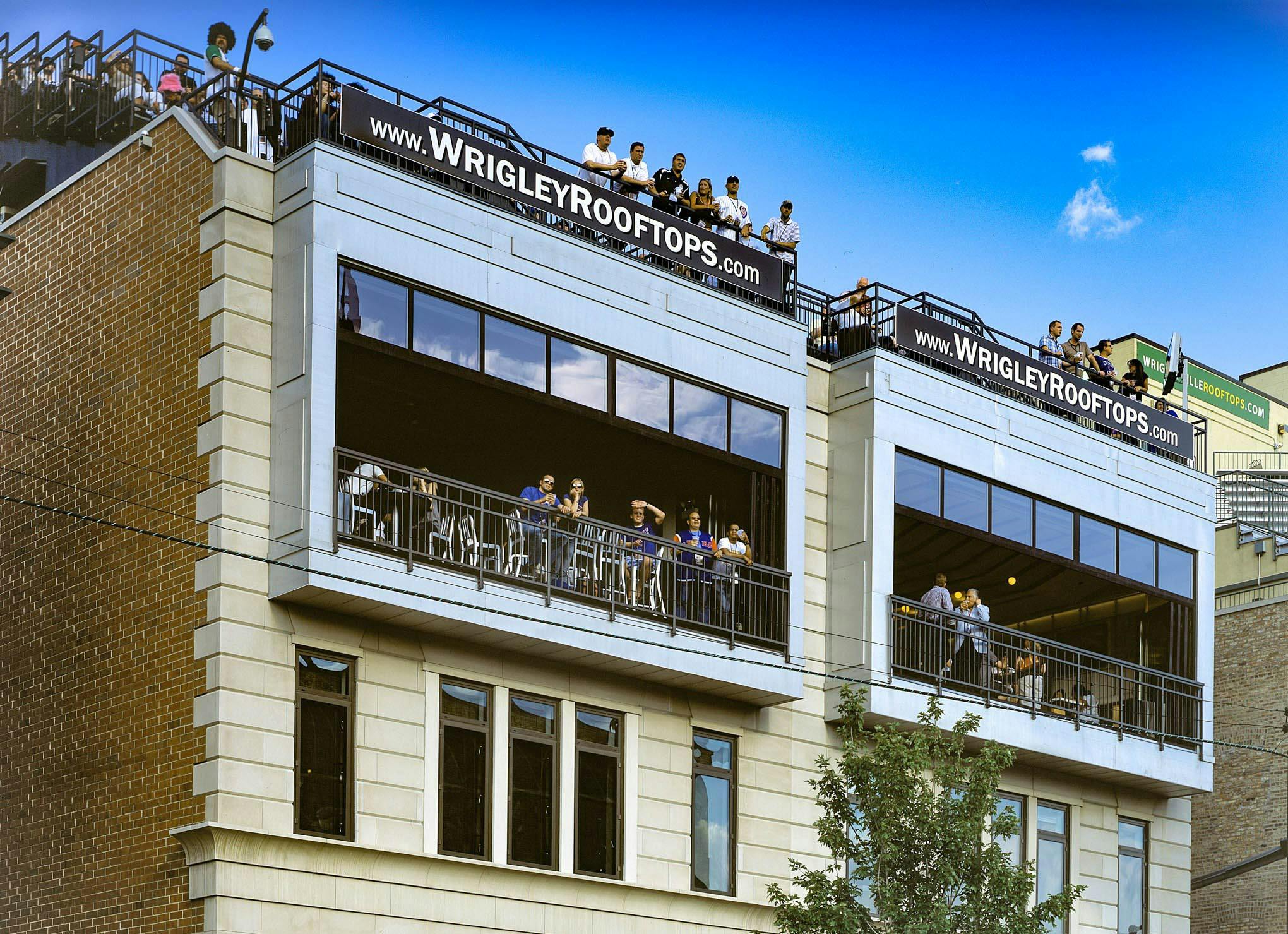 Baseball season has kicked off this year with a twist: live games with empty bleachers. Social distancing measures have led to strict health protocols that include playing without an audience. However, a renowned baseball fan destination is offering devotees the opportunity to watch their favorite team in person and revamping the American tradition of watching live games. The iconic Wrigley Rooftops line two streets adjacent to the historic Wrigley Field, home of the Chicago Cubs, and offer prime views to the field accompanied by an array of amenities. The coveted suites were approved for 25% capacity and it could well be due to their indoor-outdoor seating areas and opening glass walls that facilitate constant natural air filtration. With innovative design solutions, Wrigley Rooftops are ahead of the game—quite literally.
Hospitality Design Gives Watching Live Games a New Meaning
Club-level amenities derived from hospitality design are at the center of what attracts sports viewers to the Wrigley Rooftops. From state-of-the-art audio and visual equipment to their spacious indoor-outdoor seating and bar area featuring an all-inclusive menu. But perhaps what appeals to sports fans the most are the incredible views to Wrigley Field, completely upgrading the experience of watching live games into a private, less crowded, and luxurious event. Opening glass walls immediately transform suites into indoor-outdoor seating areas providing a genuine game watching experience for fans. The coveted tickets are selling out at a rapid rate, continuing to bring in revenue for the business in spite of restrictive health mandates.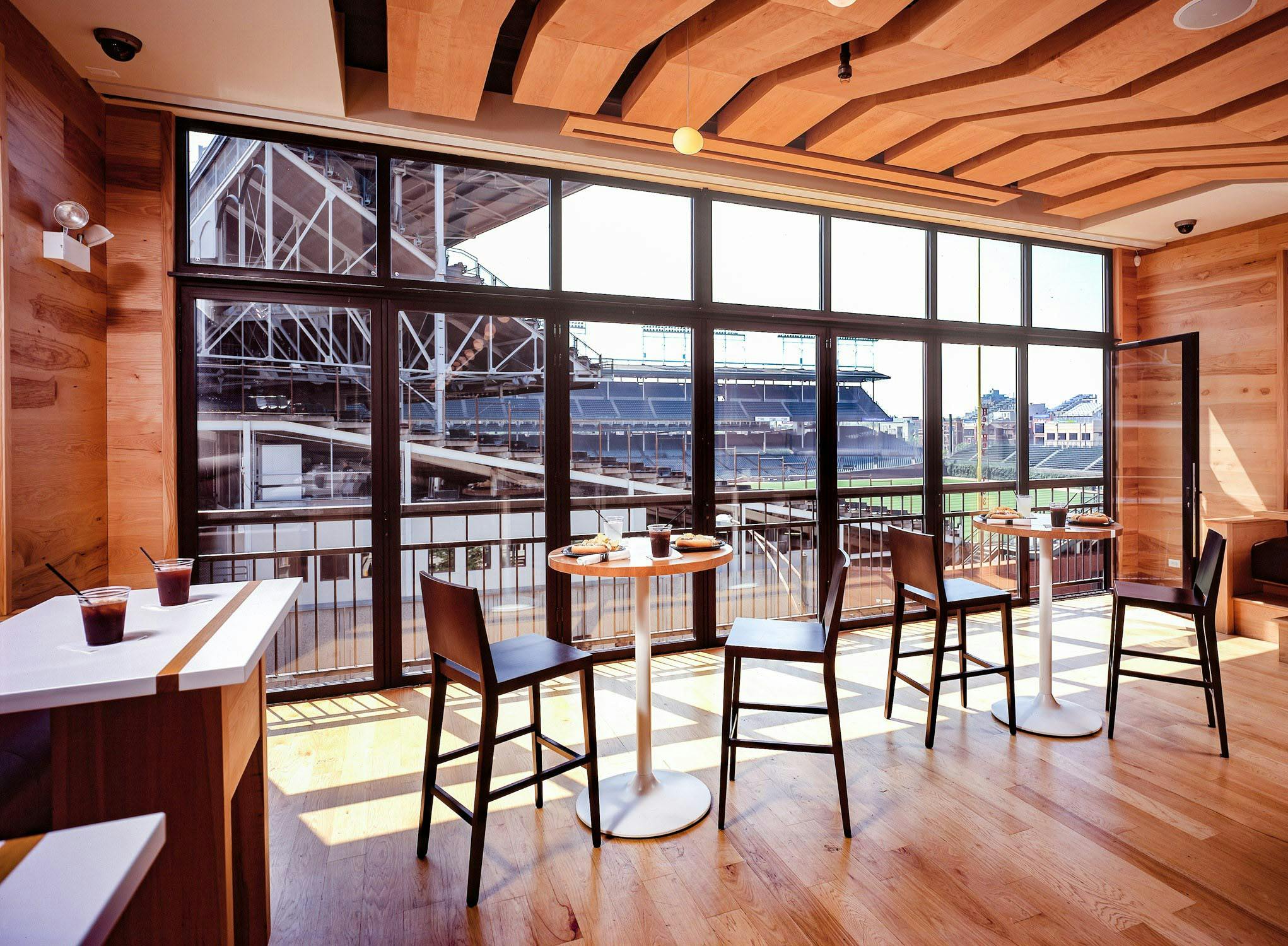 Luxury Lounges with Vanishing Glass Walls
Suites at both 3617 and 3619 Sheffield Avenue offer fantastic views to the right side of Wrigley Field, even when the walls are closed. Each location features one seven-panel unit of NanaWall SL70 folding glass wall system that replaces a solid stationary wall with a more flexible solution that adapts to the needs of guests. Standing at 8 ½ feet tall, each unit encompasses about a 24 ½ feet opening—a necessity for ultimate views to the live games that occur just mere feet away. SL70 systems are easy for employees to operate as their stainless steel rollers glide effortlessly on a smooth stainless steel track. The thermally broken higher weather performance sill ensures protection from the potential inclement weather of Chicago. Similarly, at 3637 Sheffield and 1010 W Waveland, a single track sliding glass wall allows the panels to be moved past the opening for optimum game views.
Adjacent to the Sheffield Avenue locations, 1032 W Waveland has earned the title of most famous rooftop according to Wrigley Rooftops. At just 600ft from home plate, the views to live games are up close and personal. This particular location offers a more spacious suite, enhanced hospitality design features, and four NanaWall SL70 units encompassing the frontal façade facing the field. As weather allows, the panels can be opened and stacked out of the way for uninterrupted views and a luxurious indoor-outdoor seating experience. The large opening offers constant fresh air circulation and daylight, which improves the overall ambiance and provides a sense of wellbeing for the patrons.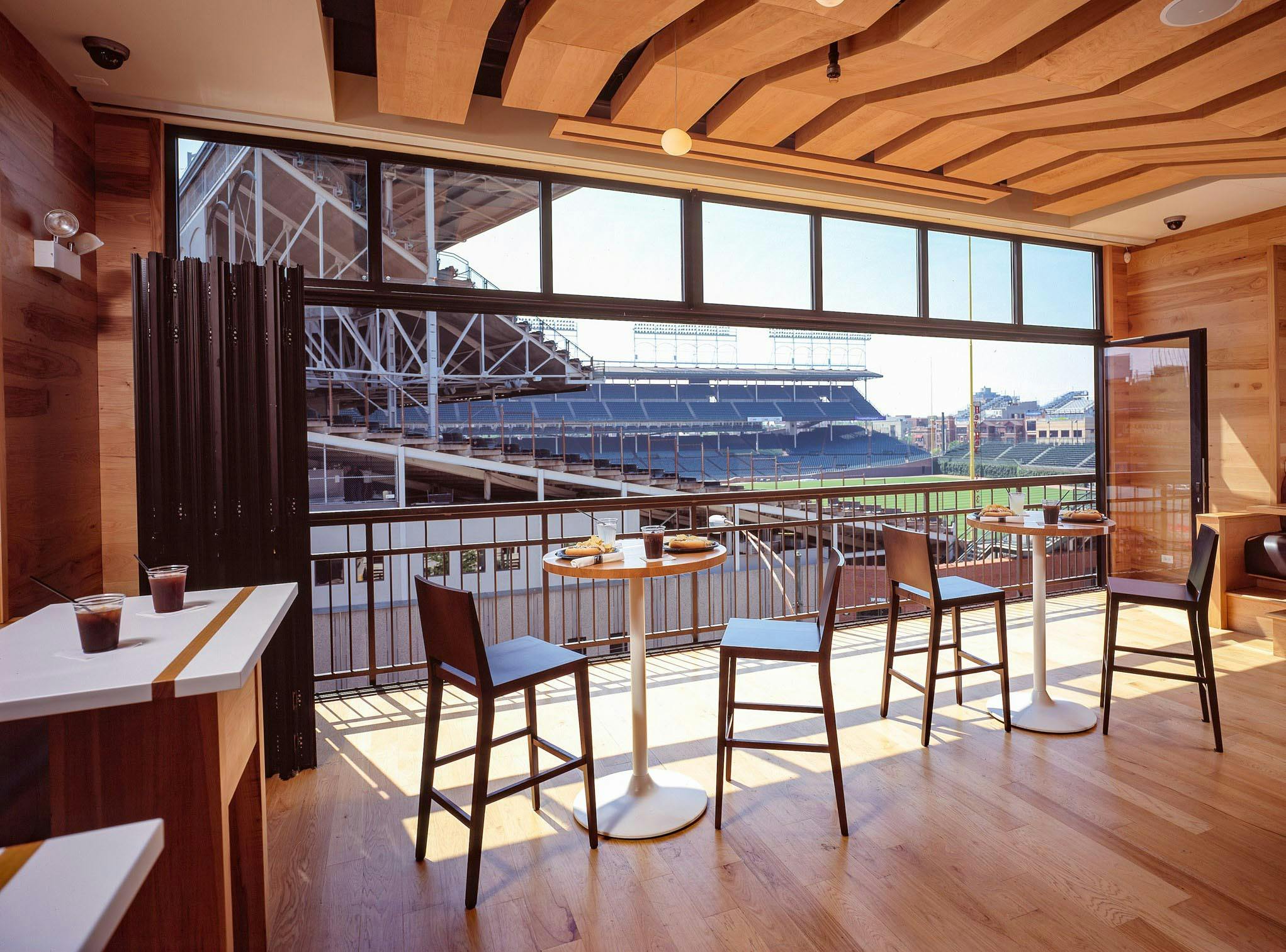 The Folding Glass Walls that Performs in All Seasons
Sports fans can agree that performance matters. NanaWall's SL70 folding glass wall system was built with performance in mind, especially in locations where harsh weather is of concern. An additional incorporated running post between each door panel adds structural strength allowing the system to perform in larger sizes and high-rise applications like the units within Wrigley Rooftops. Just like hospitality design focuses on providing comfort, the NanaWall SL70 offers comfort against cold climates and wind driven rain. As an NFRC certified product, it has achieved high ratings in both static and dynamic water testing.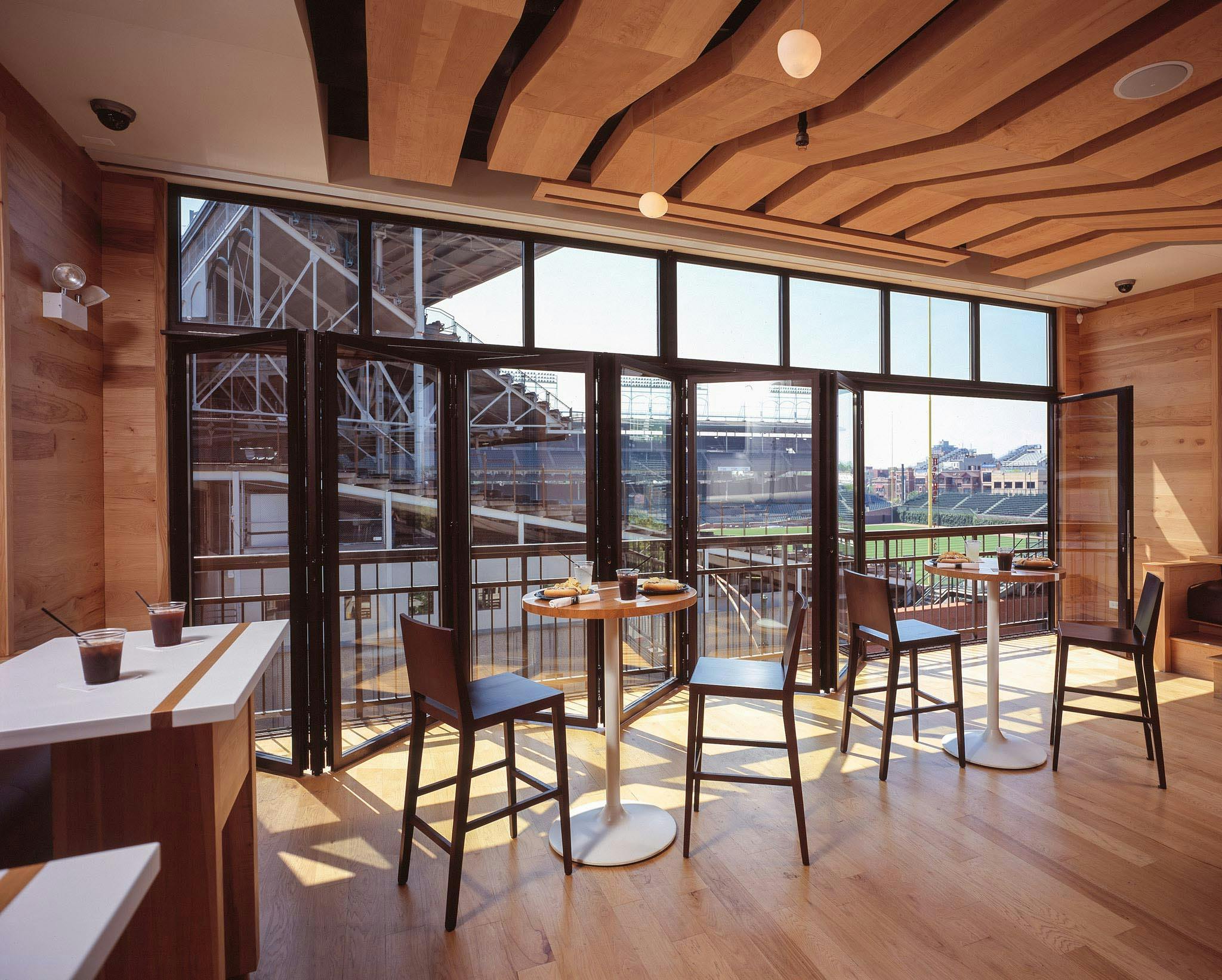 Final Thoughts
For years, the Wrigley Rooftops have been a gathering place for tourists and baseball fans alike. Hospitality design features offer guests a club-like luxurious experience while enjoying private views of live games through large wall openings. Rising social distancing restrictions and health concerns have left stadiums audience-free, but innovative solutions like the SL70 conform to these limitations and keep businesses running. The opening glass walls utilized by Wrigley Rooftops enable indoor-outdoor seating areas while flooding interiors with fresh air and daylight—the ideal space to celebrate the Great American Game of Baseball.
NanaWall opening glass wall solutions appear in baseball stadiums across the country like the Chicago White Sox, New York Yankees, and San Francisco Giants. Learn about these and other stadiums at NanaWall's sports venue applications page!