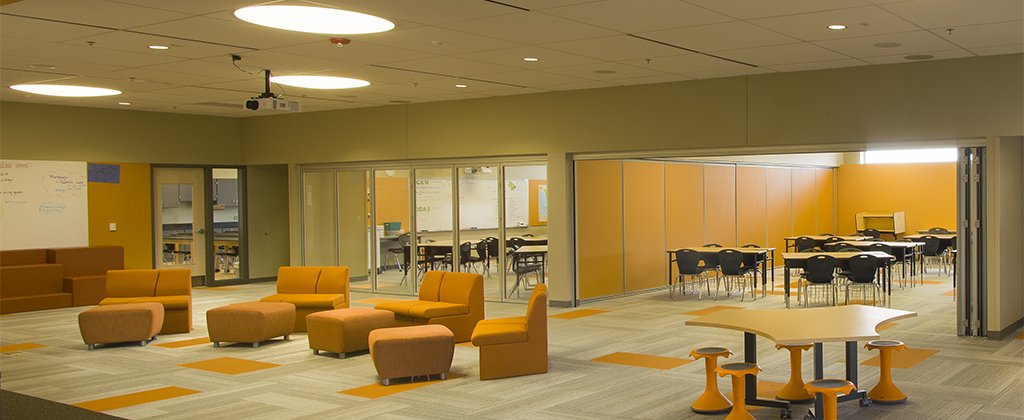 Promote Flexible Learning Environments In The Classroom And Beyond
NanaWall acoustic moveable glass walls installed within an educational environment create enhanced learning experiences for 21st Century Schools.
NanaWall FlexSpace offers the ability to create optimized floor plans and increase flexibility within classrooms, auditoriums, libraries, and student centers. This flexibility allows teachers to gain access to shared resources and adapt space for varying sized groups as well as project-based learning activities. Acoustic moveable glass walls enable multiple room layouts without costly building additions while providing interiors with increased natural daylight and private, transparent divisions when needed.
A Flexible Solution for Modern Day Classrooms
Creating a flexible classroom configuration with NanaWall FlexSpace solutions optimizes the limited floor space within the building envelope which translates into reduced construction costs. NanaWall acoustic moveable glass walls enable multiple room layout configurations within a single space, open transitional areas within campus traffic centers, and create light infused learning environments.
Enhance Learning with Collaborative Spaces
With NanaWall acoustic moveable glass walls, schools can craft learning environments that open young minds to new ideas and knowledge. Seamlessly integrated opening glass wall dividers give teachers the ability to extend their classrooms into collaborative learning spaces where students can explore their curiosity. Acoustic moveable glass walls allow increased visibility and access to daylight, but still reduce sound, for distraction-free learning.
Acoustic Moveable Glass Walls—A Long-Lasting Solution
All of our interior acoustic moveable glass walls are customizable to the needs of your school. Engineered with the success of students in mind, NanaWall acoustic interior glass walls can reach up to STC 45 while allowing maximal transparency and natural daylight to interior spaces. These walls open and stack out of the way completely eliminating barriers. Our interior sills, designed specifically for interior applications, achieves ADA compliance in school settings where the safety of students is paramount.
To see how some of the country's most innovative schools use NanaWall interior acoustic movable glass walls to create collaborative classrooms, read the use cases below:
BBS Architects, Landscape Architects and Engineers of Patchogue, N.Y., has completed a $2.08-million redesign and renovation of an 8,200-square-foot St. John the Baptist Diocesan High School library.
21st century school design typically revolves around creating open and shared use spaces that utilize brighter interiors and seamless transitions between various spaces.
Think back to when you were a student; was school stressful? At this moment you might say "no" because you've been exposed to the stress of adult life.