The storefront is the first line of branding that reflects a retail company's unique image.
Wide-open commercial glass entrance doors eliminate barriers by creating a seamless transition between street and store attracting customers inside, which in turn, can lead to an increase in sales.
First Impressions are Forever
A well-designed store engages customers and attracts prospective shoppers in, even when staff members are busy. Commercial glass entrance doors give passersby a clear look at what is on offer within the establishment. Facilitating an eye-catching strategy that captivates new customers and retains loyal patrons is essential. With commercial glass entrance doors, display areas and colorful merchandising can be extended right up to the entry, enticing shoppers deep into the store.
An Enviable Customer Experience
Customer experience is a metric that directly impacts a retail location's bottom line. When shoppers have a great encounter with a brand, they are more likely to make recommendations to friends and return to the store in the future. Commercial glass entrance doors system not only makes the show floor more visible from outside, but also lets in an abundance of natural light and fresh air to make the room feel more spacious.
Durable Commercial Glass Entrance Doors
The design of the retail storefront continues to work even after-hours. When time to close, a NanaWall storefront continues the showcase the interior and provides a secure, energy-efficient, transparent façade. Opening glass wall storefront systems allow retailers to create appealing window displays and develop new ways of appealing to shoppers.
Our folding, sliding, and frameless commercial glass entrance doors are fully customizable, based on the needs of the brand. To see how retail stores are using NanaWall products today, explore the use cases below:
A decades-old brand makes a comeback with style—and floor-to-ceiling wood framed moveable glass storefront. In 1961, Fred Segal opened its doors as a jeans-only retailer and quickly became a major influencer of the Southern California fashion scene.
Sometimes the biggest hurdle for retail sales is getting customers through the door. In a clever yet simple move, six shops widened its doors and increased sales resulted.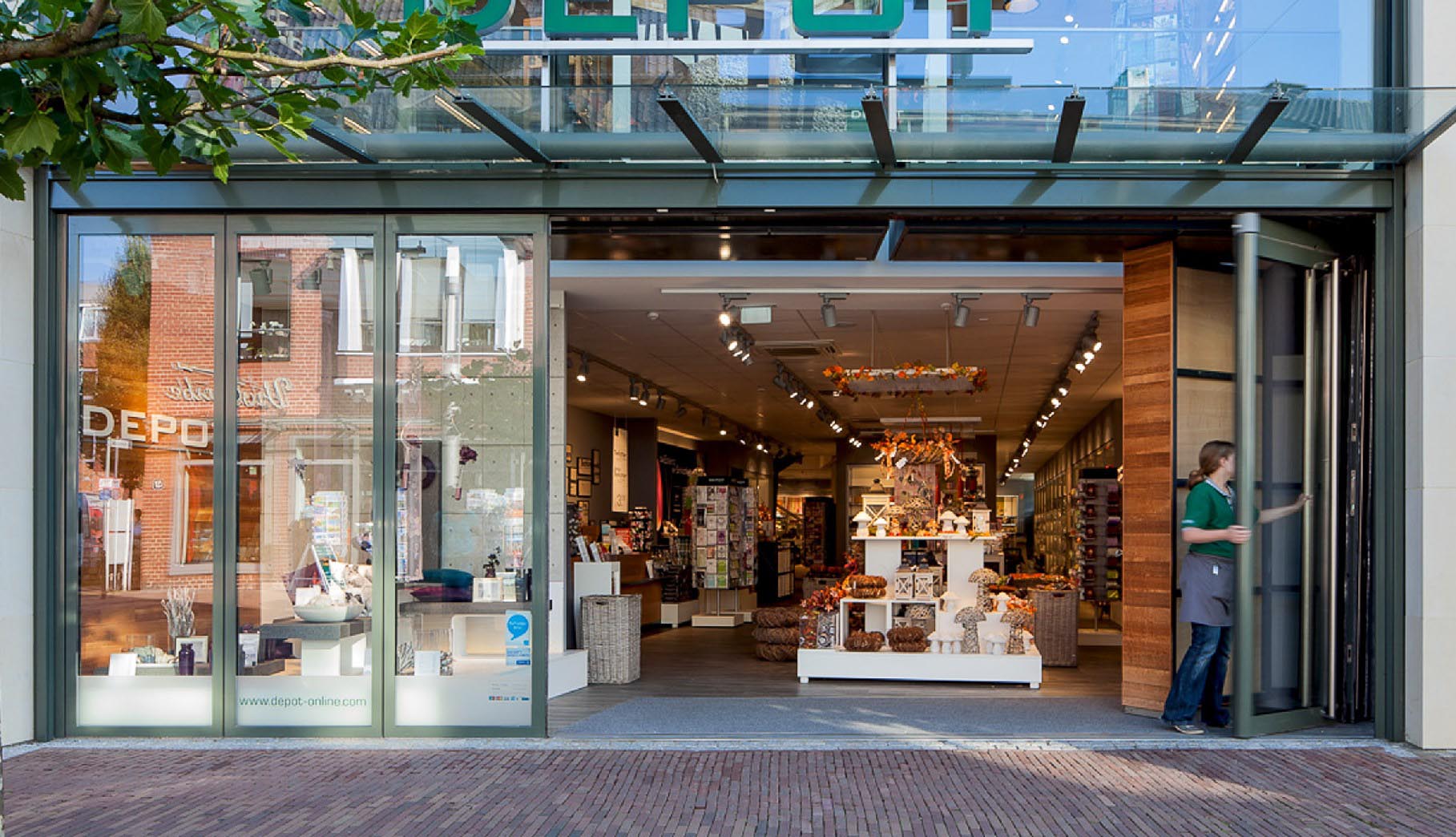 As commercial design shifts to adapt to new consumer trends, what role can retail storefronts play? From well put-together mannequins to bold attention-grabbing signs, an appealing storefront is key into luring people into a retail shop.
Creating an effective storefront experience can be daunting. It is the first thing a customer sees and can make their decision on whether to enter or not. Great doors can make all the difference, but it is important to make an educated decision.
The new architecture of financial institutions prioritizes light, open, and translucent design. The design of ATM vestibules can be tricky. Transparency is a convenient way to increase the visibility of vestibules while providing both a desirable banking environment and shelter from inclement weather.
The Whole Foods chain is a leader of premium grocery stores. The quality and nutrition of the food is excellent, but the company differentiates itself through the shopping experience.
When customers initially walk up to a commercial building, what is the first thing that they see? If you thought about that question fundamentally enough, you'd probably realize the answer is the front door.