2023 Design Inspiration: Spa-Like Bathrooms with Operable Glass Walls
By NanaWall Systems, February 8, 2023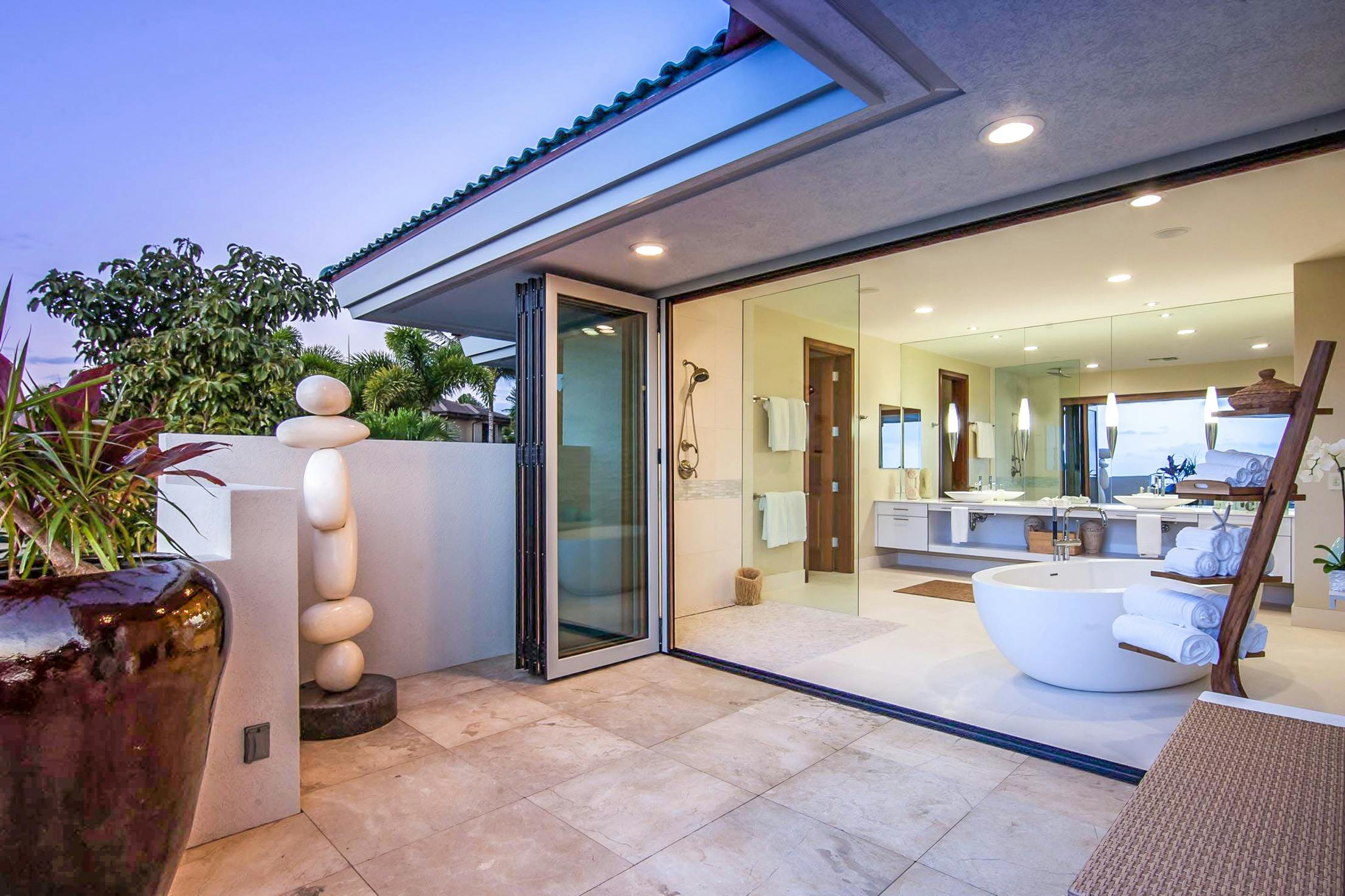 This is the year when you get to relax in your dream bathroom space. In fact, why not start picturing it now? Imagine coming home after a long day of work and heading straight to your restroom, opening the operable glass walls, filling up the bathtub, and enjoying a spa-like retreat. It may not often be thought about, but our bathrooms are perhaps one of our most frequented living spaces other than the kitchen. However, when it comes to renovations and home upgrades, these are often gone forgotten. So, if you're looking for ways to upgrade your bathroom space this year, look no further than these five unique projects with NanaWall moveable glass wall systems.
Operable Glass Walls: Why the Bathroom Should be Your Next Remodel
Although kitchen remodels remain the top home improvement projects year after year, it's time to give the bathroom a little TLC. One of the primary reasons to remodel your bathroom with moveable glass wall systems is to increase the overall value of your home. A newly renovated space that's both functional and aesthetically appealing will ensure a quick sale if you decide to place your property on the market. However, if you're not planning to sell your home quite yet, a bathroom remodel will allow you to reap the benefits of a spa-like experience.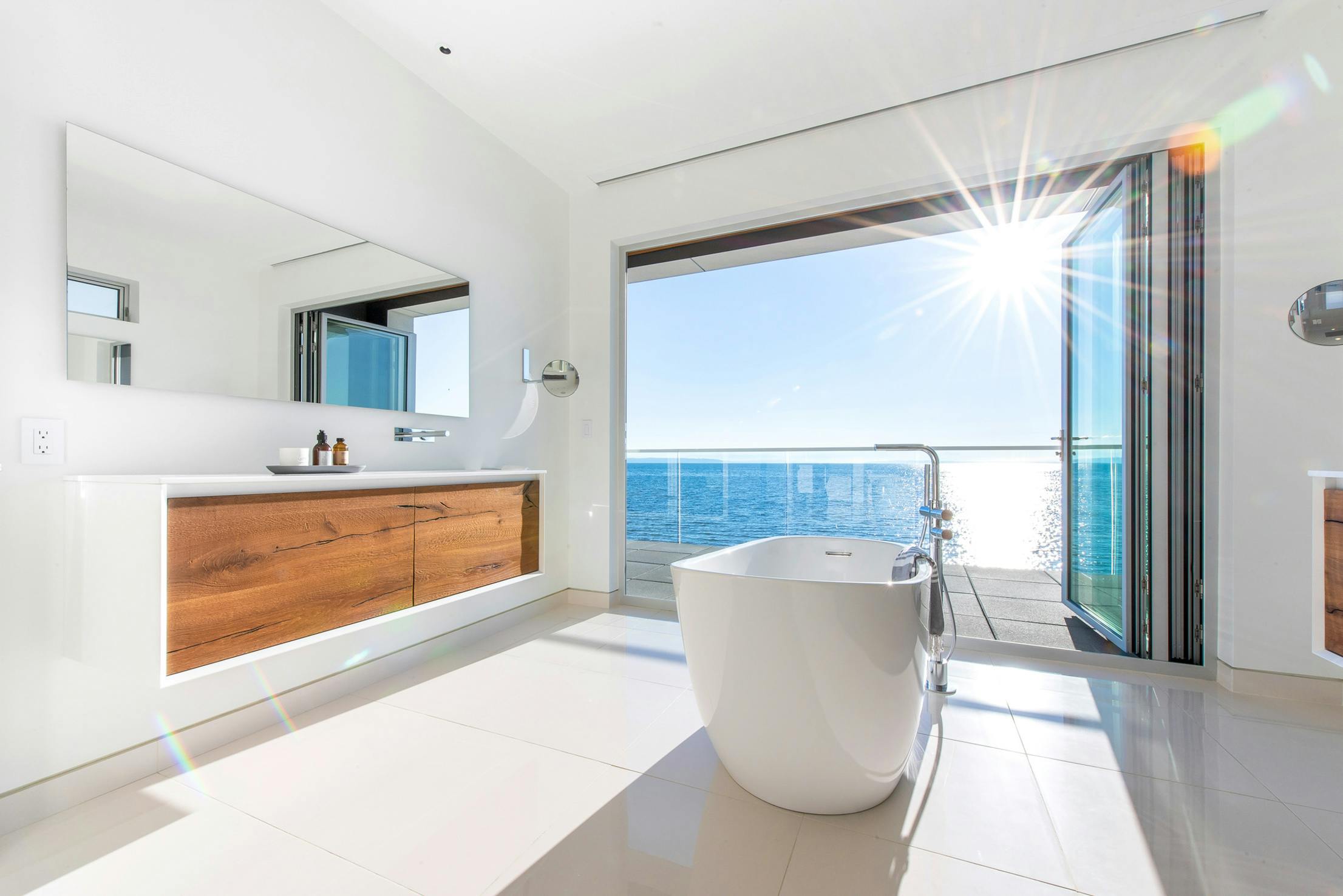 Renovating with NanaWall Operable Glass Walls
Renovating with NanaWall moveable glass wall systems is easier than you might think. Each system is customizable to the parameters of every project, daily lifestyle, and preferred aesthetics. In the case of floor-supported systems, the weight of the system is supported by a stainless steel track, negating the need for additional pre-cambering of the header. Compared to other conventional doors like sliders, these operable glass walls make full use of the opening and offer long-lasting durability and advanced weather protection. No more costly repairs or replacements and more peace of mind to fully commit to relaxation.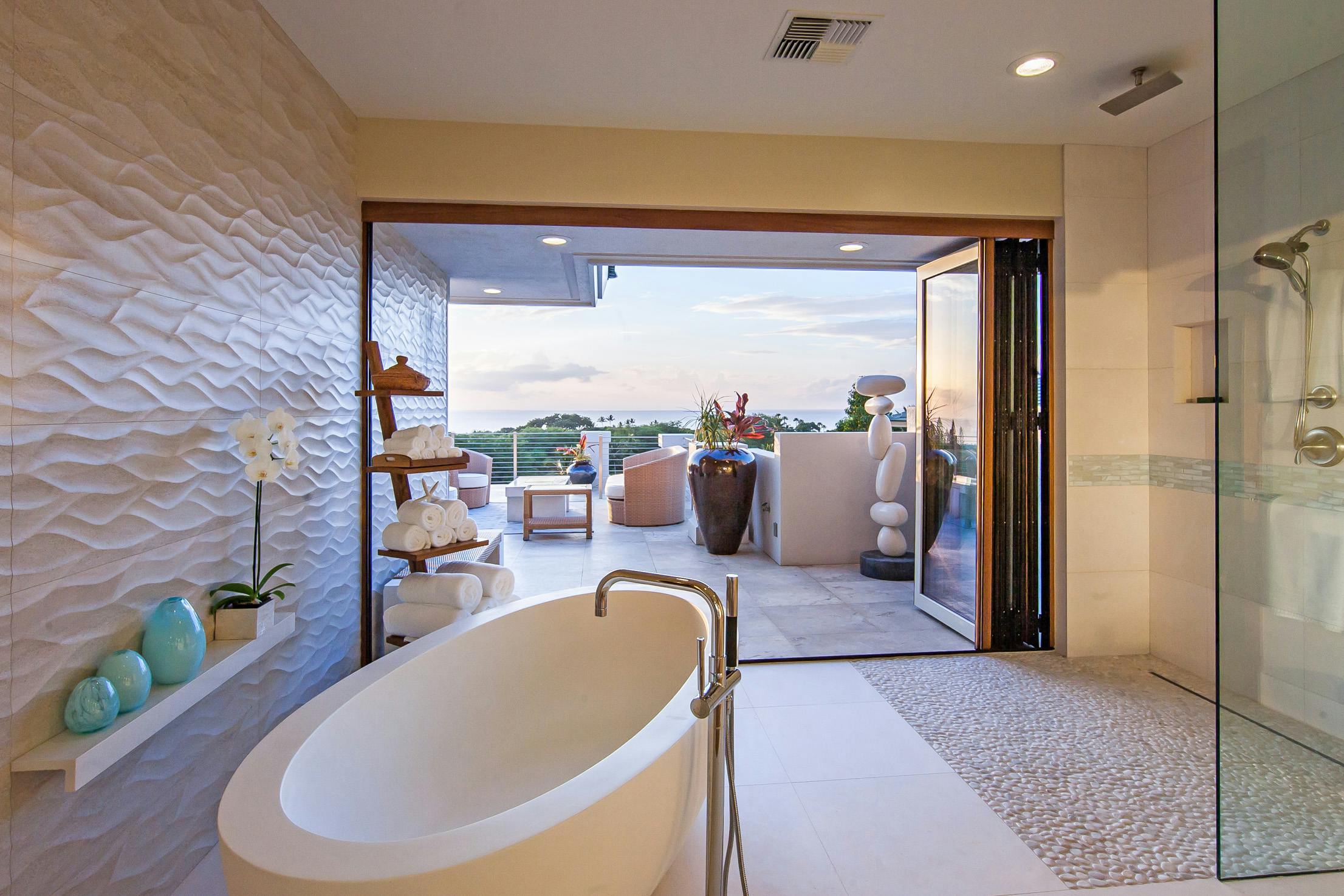 Create a Relaxing Retreat in Paradise
To take full advantage of their ocean-facing location, the homeowners of this Hawaiian retreat implemented multiple operable glass walls throughout the home—including the bathroom. The sliding wood framed system adds an authentic natural touch to the contemporary dwelling while optimizing views. The system also offers a barely-there threshold to the outdoor amenities, including the massive lap pool and lounge area. Complete with a shower and rinse area, this is the ultimate bathroom for enjoying a well-deserved tropical getaway. We can only imagine the relaxing feel of sitting in the bathtub while enjoying awestriking sunsets!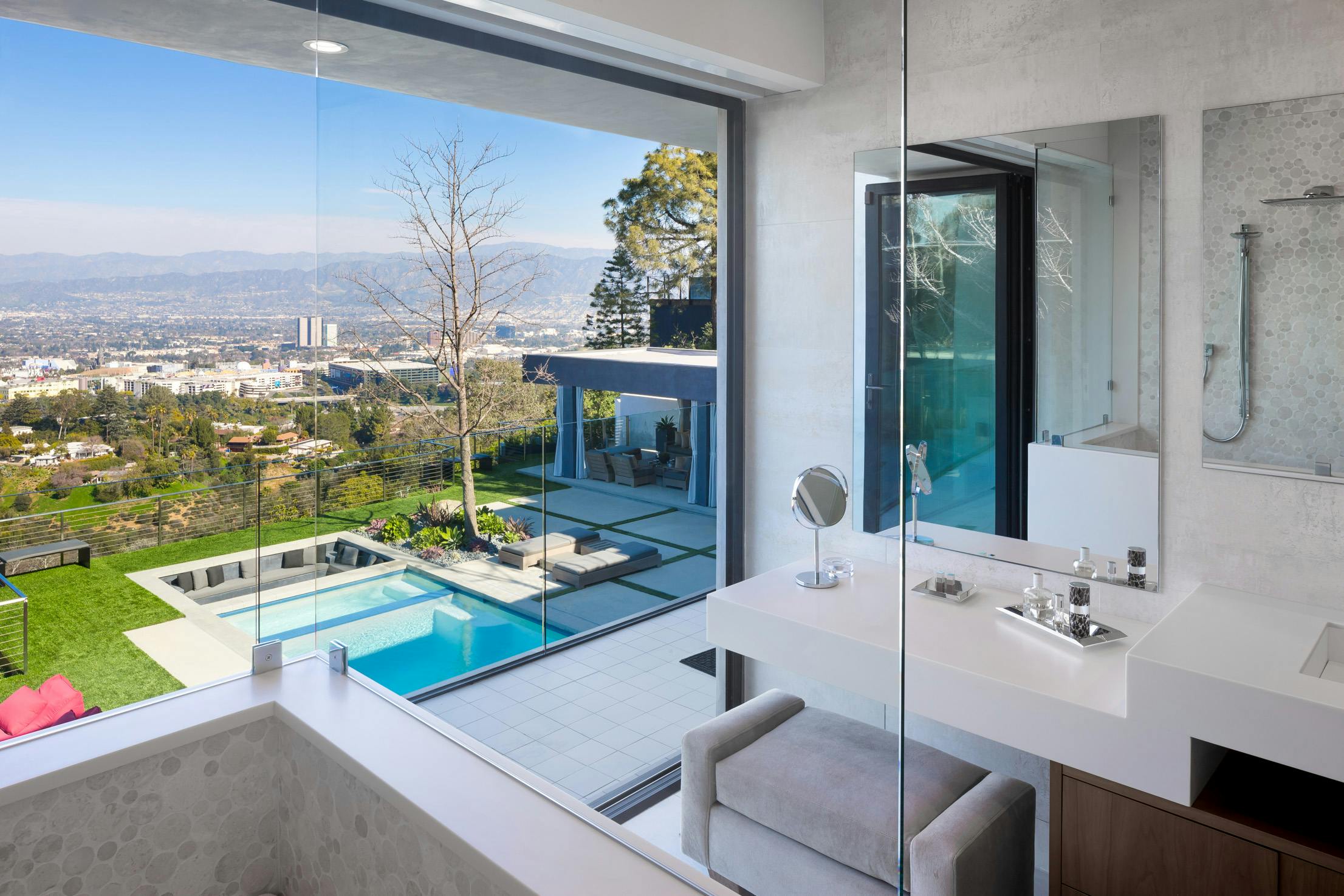 Optimize Natural Light and City Views
This Los Angeles residence knows a thing or two about indoor/outdoor living in the city. Nearly every primary living space features NanaWall moveable glass wall systems that offer picture-perfect views of downtown Los Angeles and the mountain peaks far ahead. The bathroom is the epitome of minimal design with white counters and see-through glass walls both inside and out. The wide opening makes the room feel like it is floating in mid-air, exposed to soothing natural sounds, and calming fresh air. At night, the city offers a multi-colored display of bright lights—a completely different experience than that of daytime.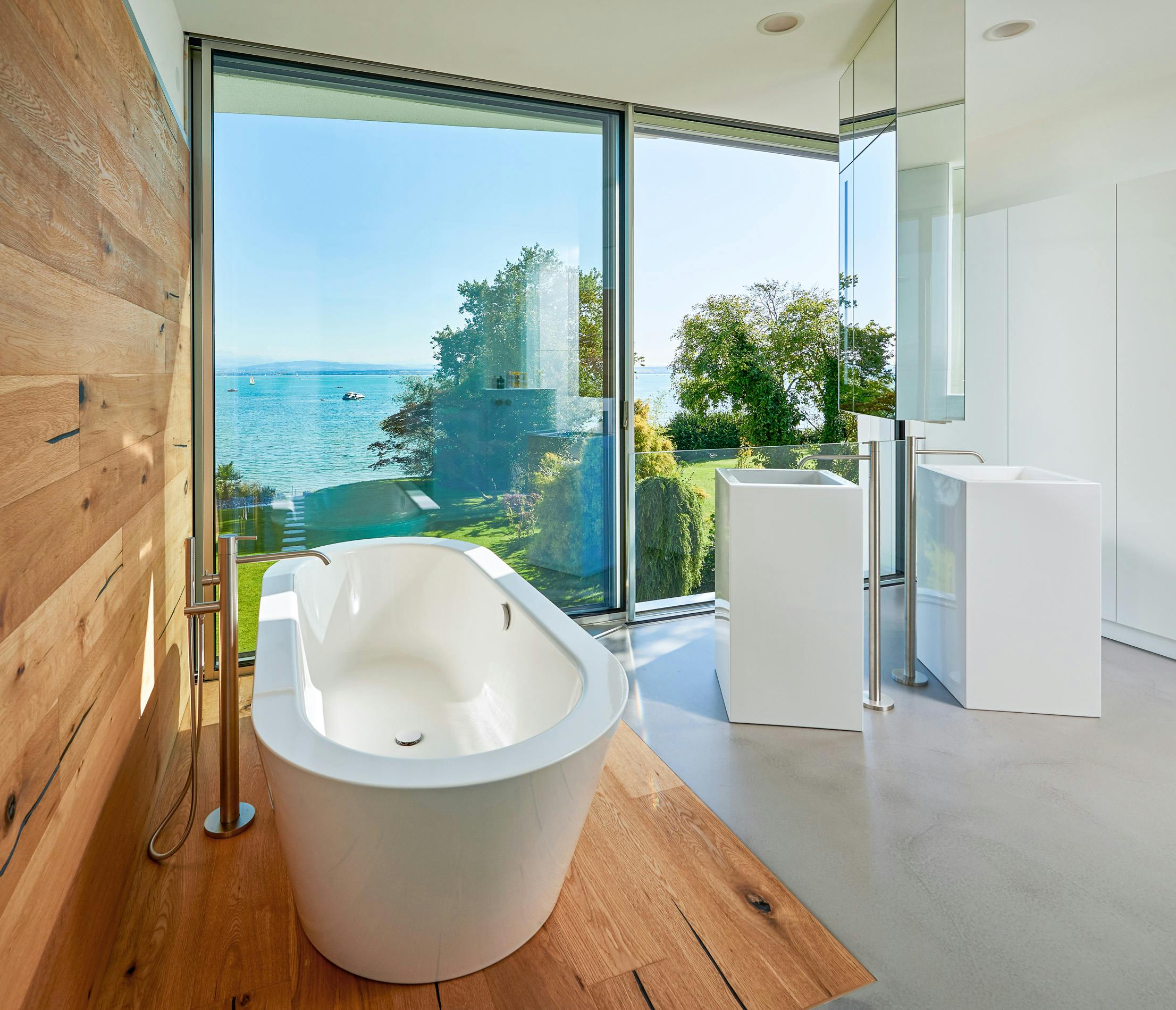 Floor-to-Ceiling Glass Walls Deliver a Dramatic Look
Minimal sliding glass walls offer the largest panels available in the NanaWall opening glass wall product family. These floor-to-ceiling moveable glass wall systems are easy to operate despite their large size and offer a contemporary, uninterrupted view of the outdoors. When specified in a bathroom space, interiors are immediately flushed with plenty of natural light and the immersive feel of bathing in the open air. Throughout the seasons, advanced weather performance ensures interiors provide the utmost comfort even when lounging right up against the wall. We certainly would have a hard time leaving the bathtub with that view!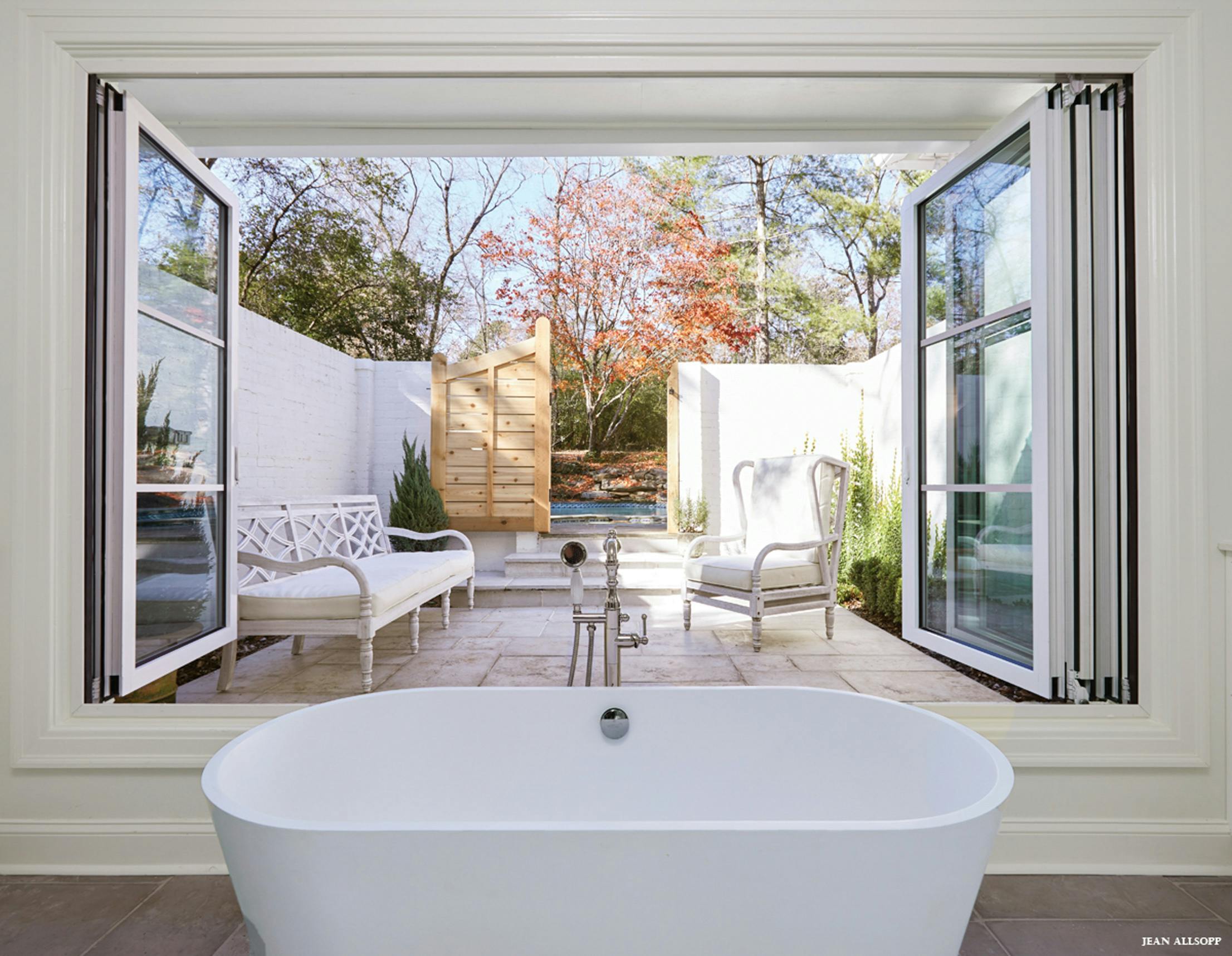 Opt for a Window-Sized System
Even the smallest openings can deliver big results. If your bathroom space simply doesn't have the parameters for full-sized operable glass walls, you can still achieve a similar effect with a window-sized system. Take the indoor/outdoor bathroom space above, for example. Placing a folding system right next to the bathtub allows homeowners to enjoy a relaxing bath with a view while still retaining privacy and security. Just like their floor-to-ceiling counterparts, these smaller systems offer advanced weather performance, durability, and the indoor/outdoor experience. We'll take one in every room of the house, please!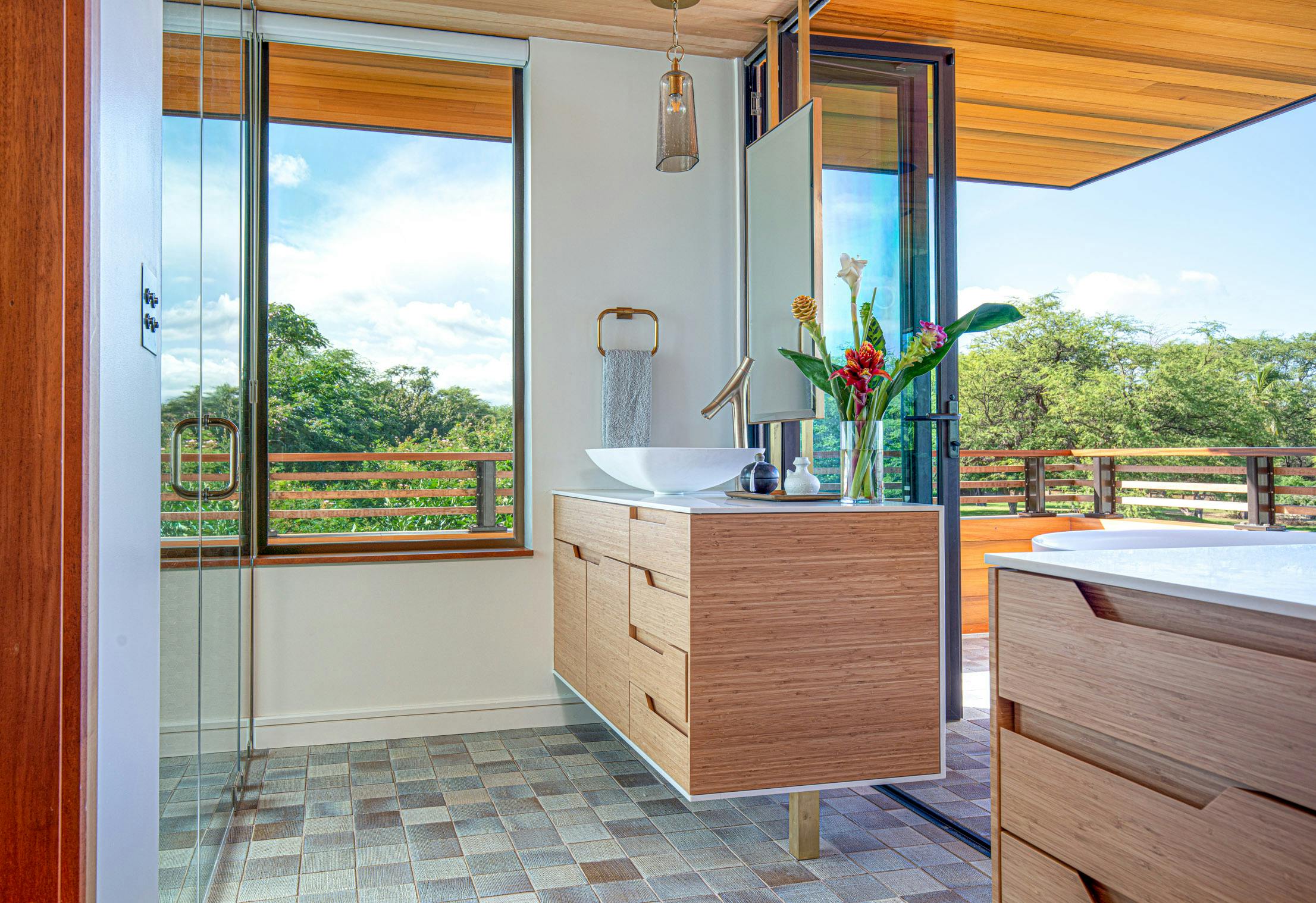 Elevate your Vacation with an Immersive Experience
Vacation rentals are a great way to earn extra income, especially if your home is nestled within a luscious Hawaiian island. When constructing this Puako Bay Airbnb estate, the homeowner wanted to take full advantage of its oceanside location with plenty of outdoor living spaces, easily accessible amenities, and operable glass walls for a fully immersive experience with the local environment. Nearly every bathroom was specified with these systems to recreate the feel of showering outdoors. In the master bathroom, floating vanities and mirrors achieve a whimsical floating-in-mid-air illusion emphasized by the vanishing moveable glass wall systems. We certainly wouldn't mind lodging in this tropical retreat!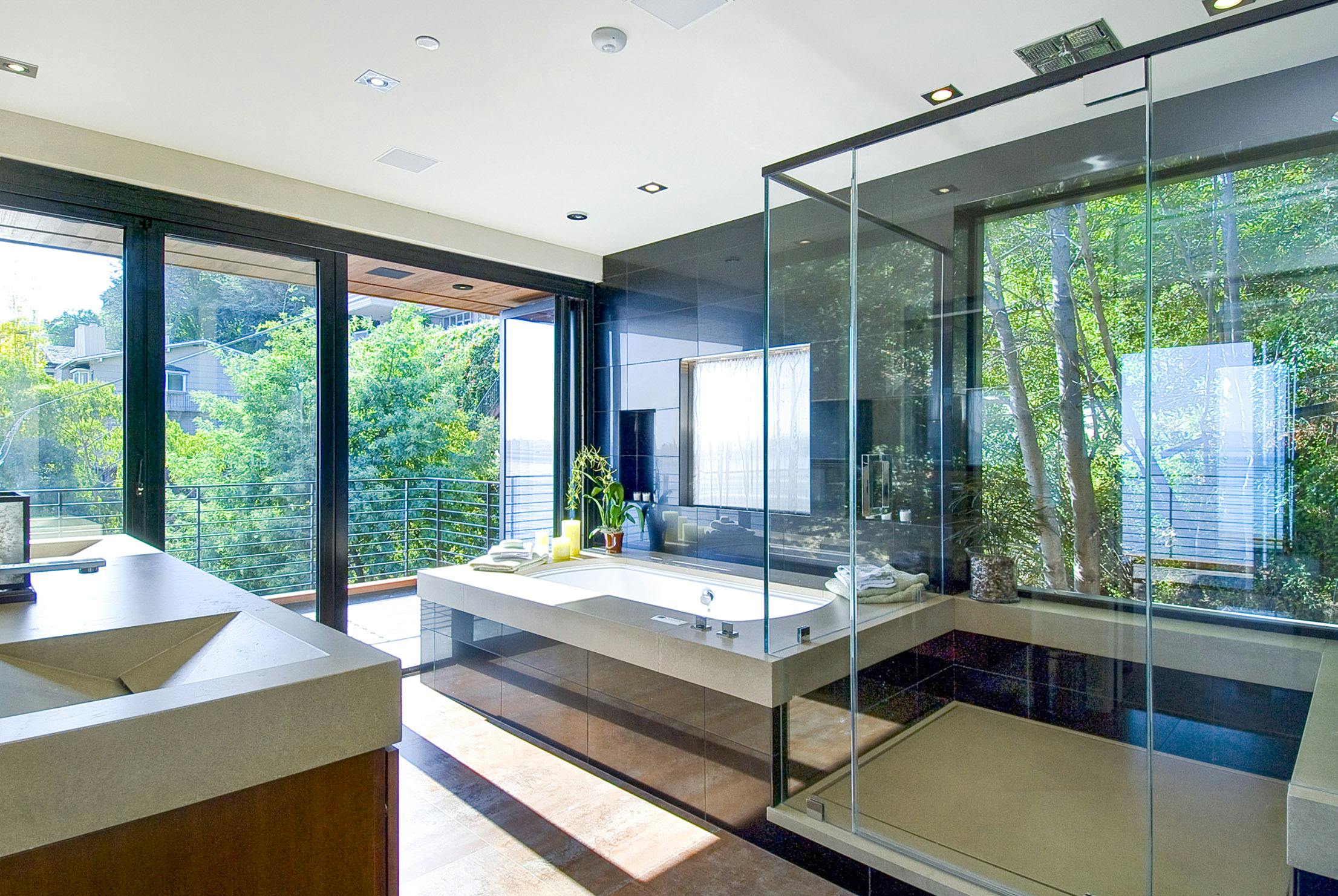 Final Thoughts
Ready to take your bathroom to the next level in 2023? Consider the benefits of NanaWall operable glass walls when planning your next renovation to recreate an authentic spa-like experience without having to leave the comforts of home. NanaWall systems are independently tested for air, water, structural, forced entry, and sound control with excellent results. This means you'll spend less time worrying about maintenance and repairs and more time relaxing in the bath. As our homes become the hub of our everyday activities, why not upgrade them with flexible design solutions that will improve our health and lifestyle?

Discover how other homeowners have transformed their bathrooms with NanaWall operable glass walls in our extensive photo inspiration gallery!