6 Unique Interior Glass Wall Designs that Transformed the Workplace
By NanaWall Systems, May 11, 2022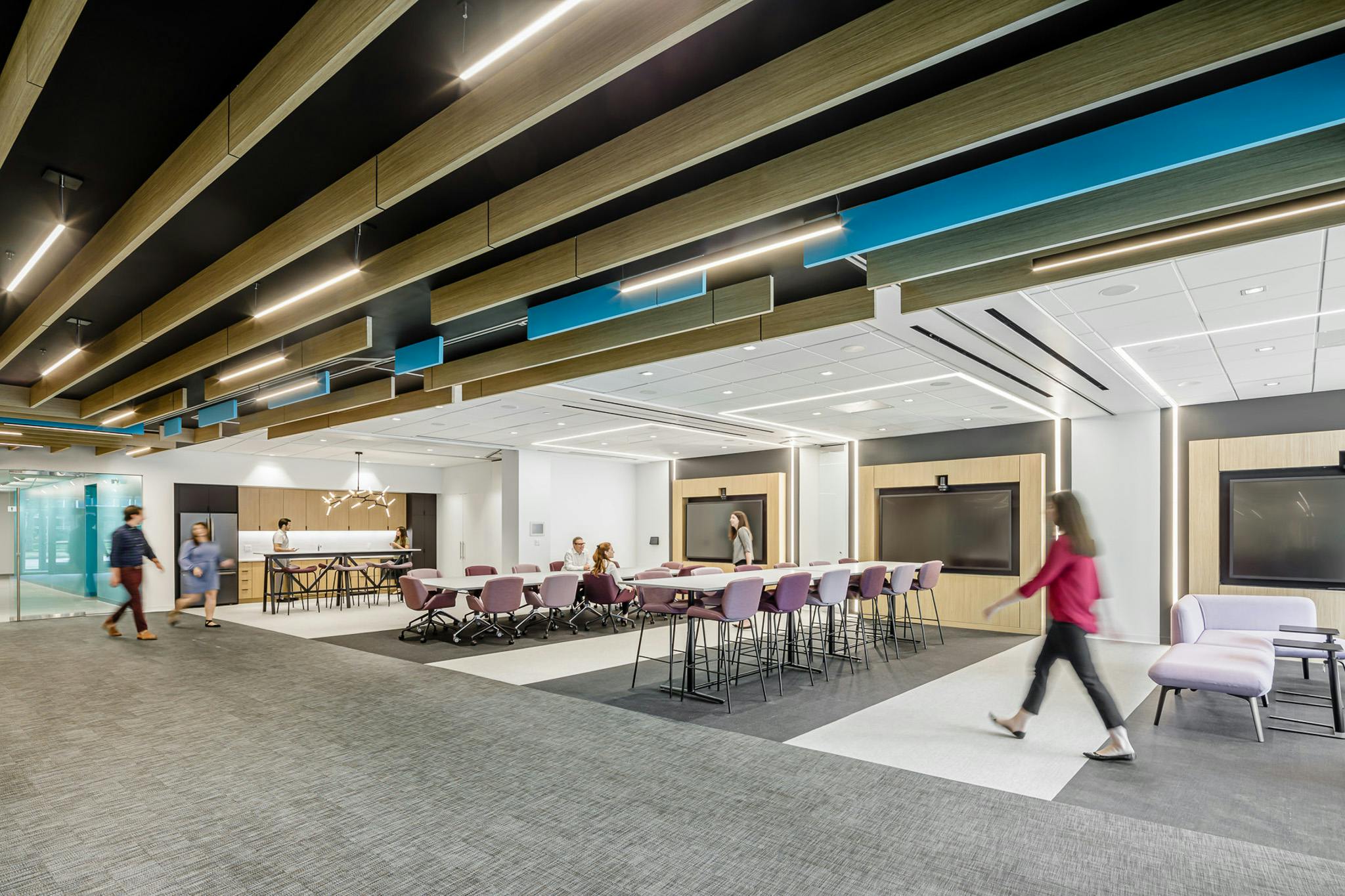 The modern workplace is changing. With more businesses employing a hybrid approach to working, offices need to develop solutions that enhance space adaptability in order to meet every day needs and maintain productivity. Moveable interior glass wall systems pose a flexible design solution that allows floorplans to be changed on the fly based on the needs of the workday. Think you need more proof? Take a look at how these six office spaces were completely transformed by the design-forward solutions of NanaWall operable glass wall partitions.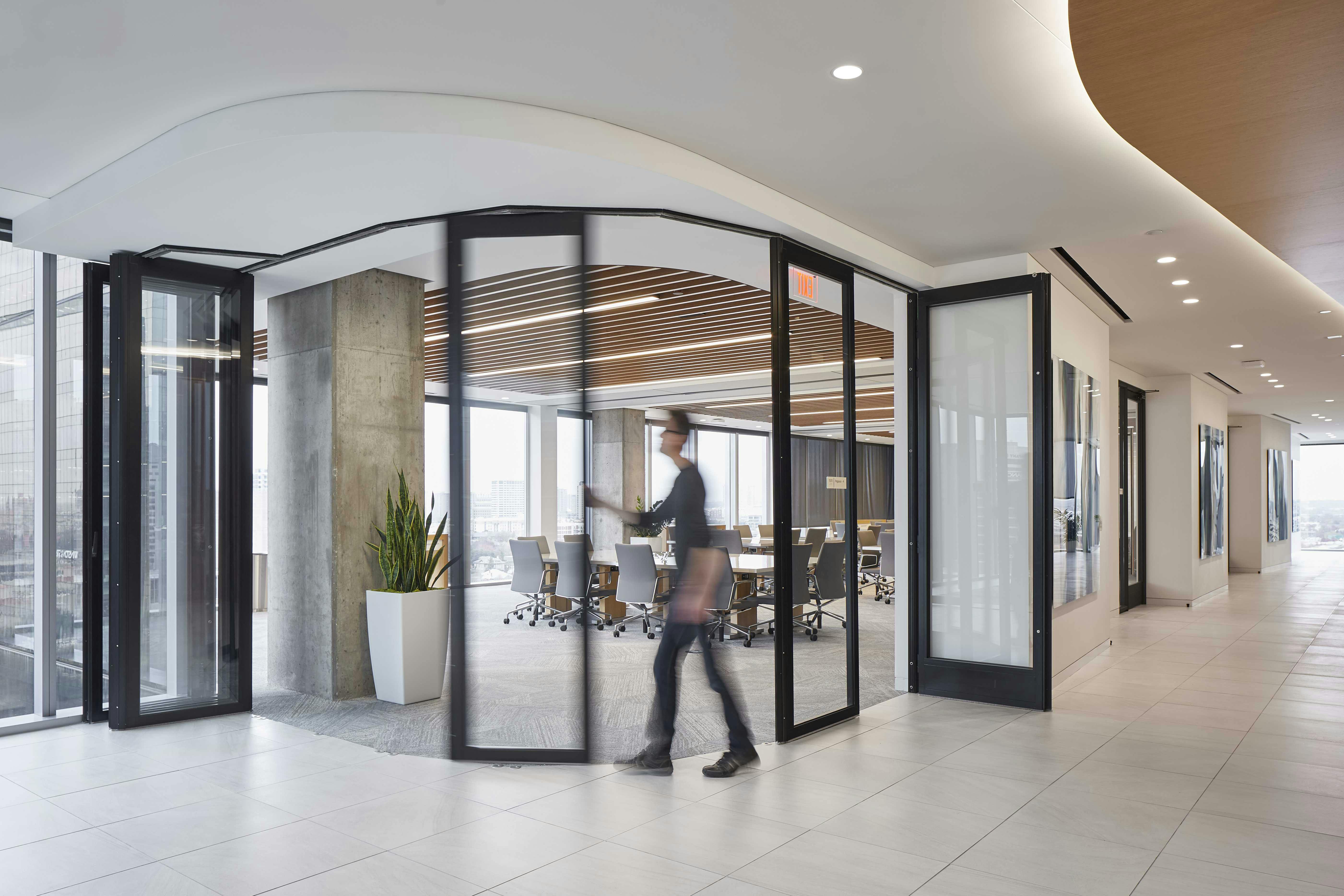 The Benefits of Interior Glass Wall Systems in the Workplace
Glass wall partitions offer a plethora of benefits like sound attenuation, enhanced visibility, and customizable options to enhance privacy. Sound control solutions are essential in workplace design where privacy and productivity are top concerns. NanaWall moveable interior glass wall systems provide options to reach up to unit STC 45 without sacrificing thin frames or ease of operation. Barely-there floor tracks, or the option of no tracks at all with top-hung systems, create smooth transitions when the doors are not in use. Choose between folding or sliding glass walls as well as aluminum or wood frames or no frame at all. Additionally, you can customize your system with swing panels to facilitate the easy transition between the inside and out.
1. Waters Cambridge Innovation Center (HSW75)
Waters Cambridge Innovation Center leverages frameless interior glass wall systems to transform an ordinary open floor plan into four different spaces. Two conference spaces in the middle can be easily closed off for private meetings while employees can work collaboratively or catch up in the social spaces or cafeteria. The HSW75 glides on a single track and disappears into specified hidden closets within the wall. Intelligent rollers and guide technology ensure trouble-free operation and allow panels to move around corners with ease. Standard to the system is floor sockets with built-in adjustability to help deal with tolerances and building settlements.
2. American Ag Credit (HSW60)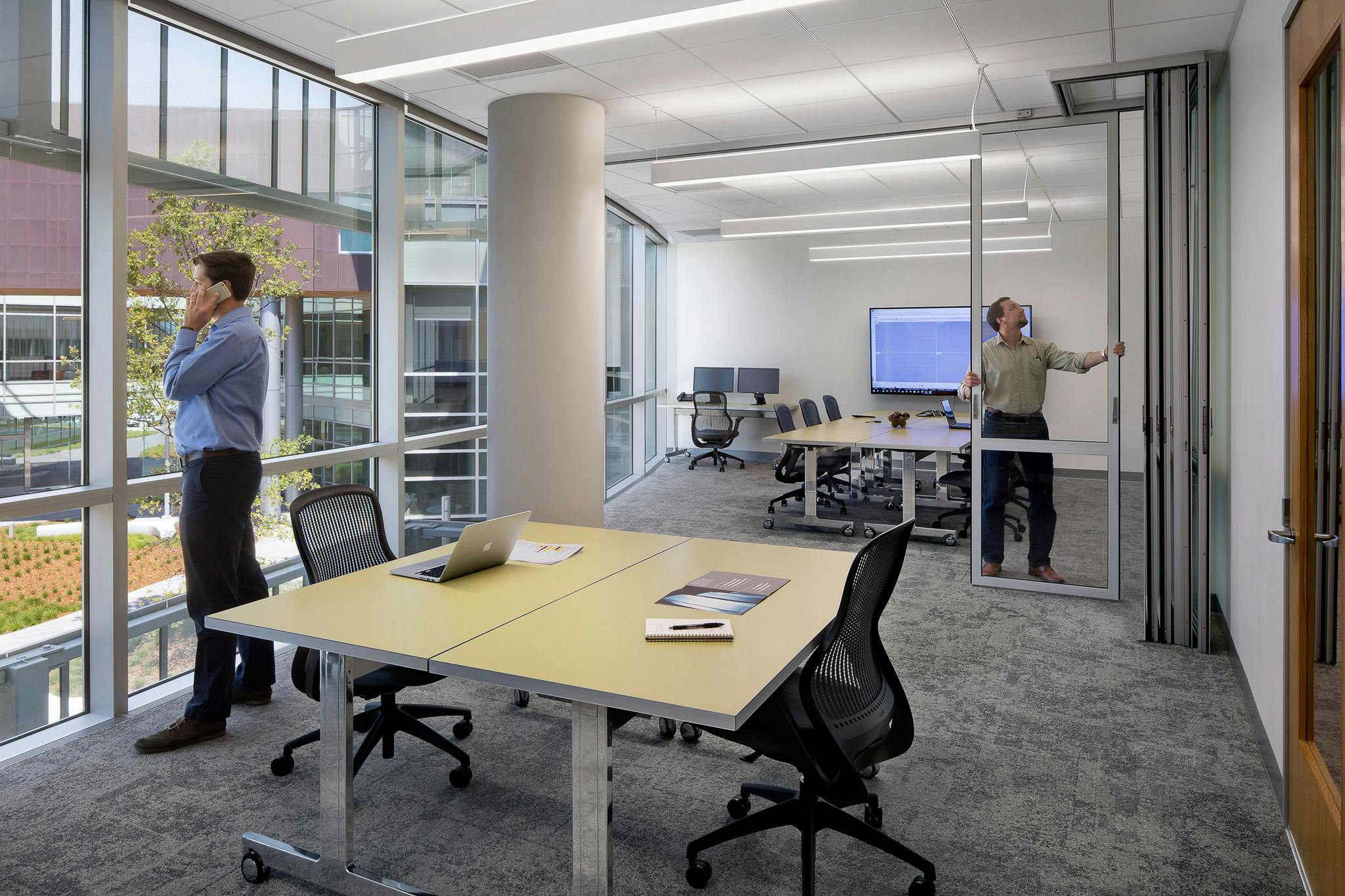 "We were looking for a product that was easy to operate, energy-efficient, very clean lines, and modern," says Don Tomasi, AIA, Principal of TLCD. The architect specified multiple acoustically rated NanaWall HSW60 single track sliding glass walls throughout American Ag Credit's headquarters building to achieve this. Two project meeting rooms were transformed with flexible interior glass walls that could be opened or closed to suit the needs of the workday. The 9 feet 9-inch-tall panels conveniently slide into a parking bay when open and close with simple operation when the space needs to be occupied by two groups working on different projects.
3. Gensler Office (HSW60)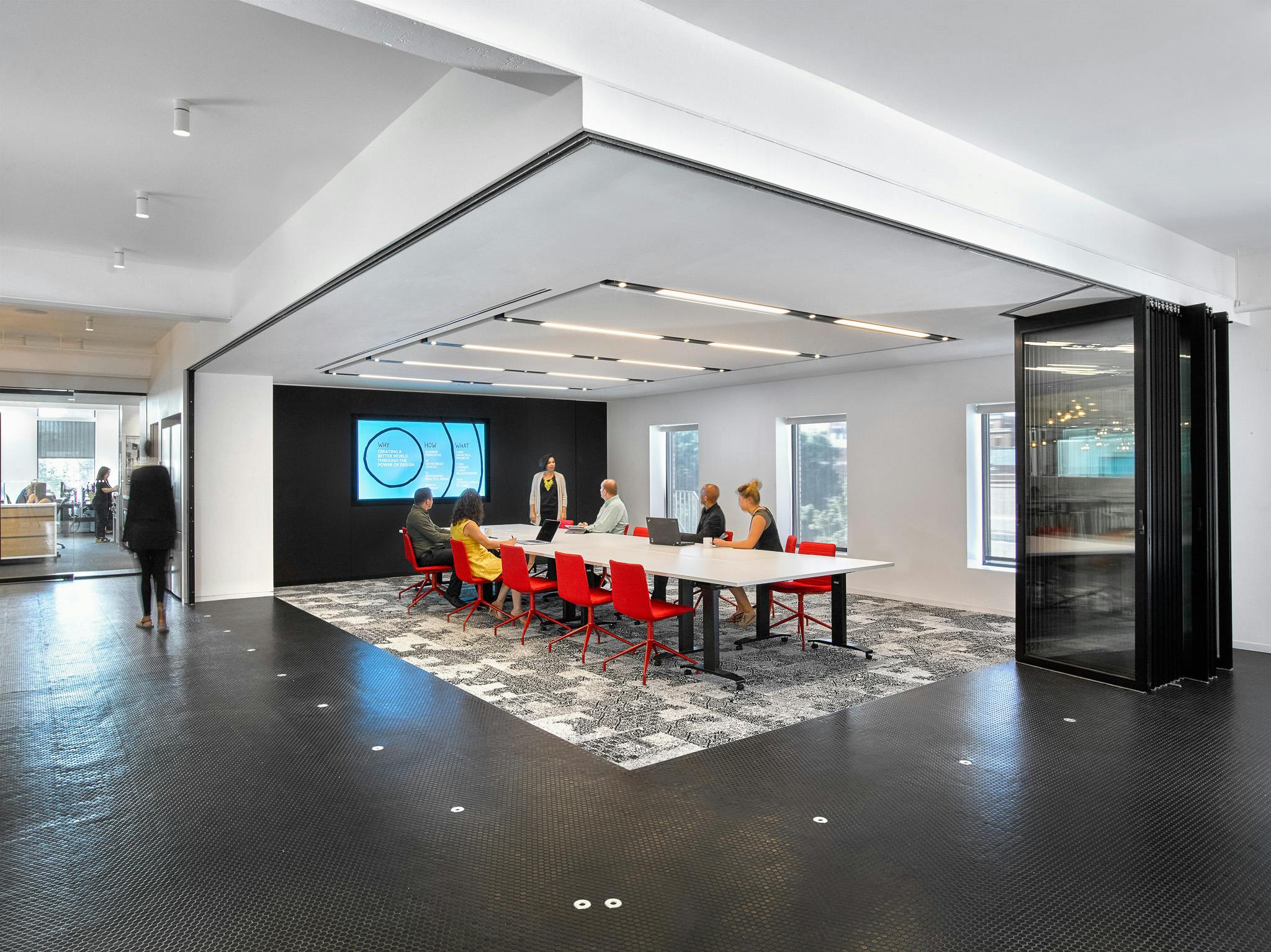 There are few that understand design better than Gensler, one of the most renowned architecture firms in the world, who see their Morristown, NJ 4th floor office as "a laboratory for testing ideas." The state-of-the-art facility offers flexibility and choice in how employees work. The open layout features flexible glass-enclosed spaces including a medium-sized conference space walled on two sides by a NanaWall HSW60 sliding glass wall. This 90-degree open corner design requires no floor track at all. These glass wall partitions can close off for private meetings or open to the surrounding area for large-group presentations using a screen built into the adjacent wall.
4. Private Management Firm (PrivaSEE)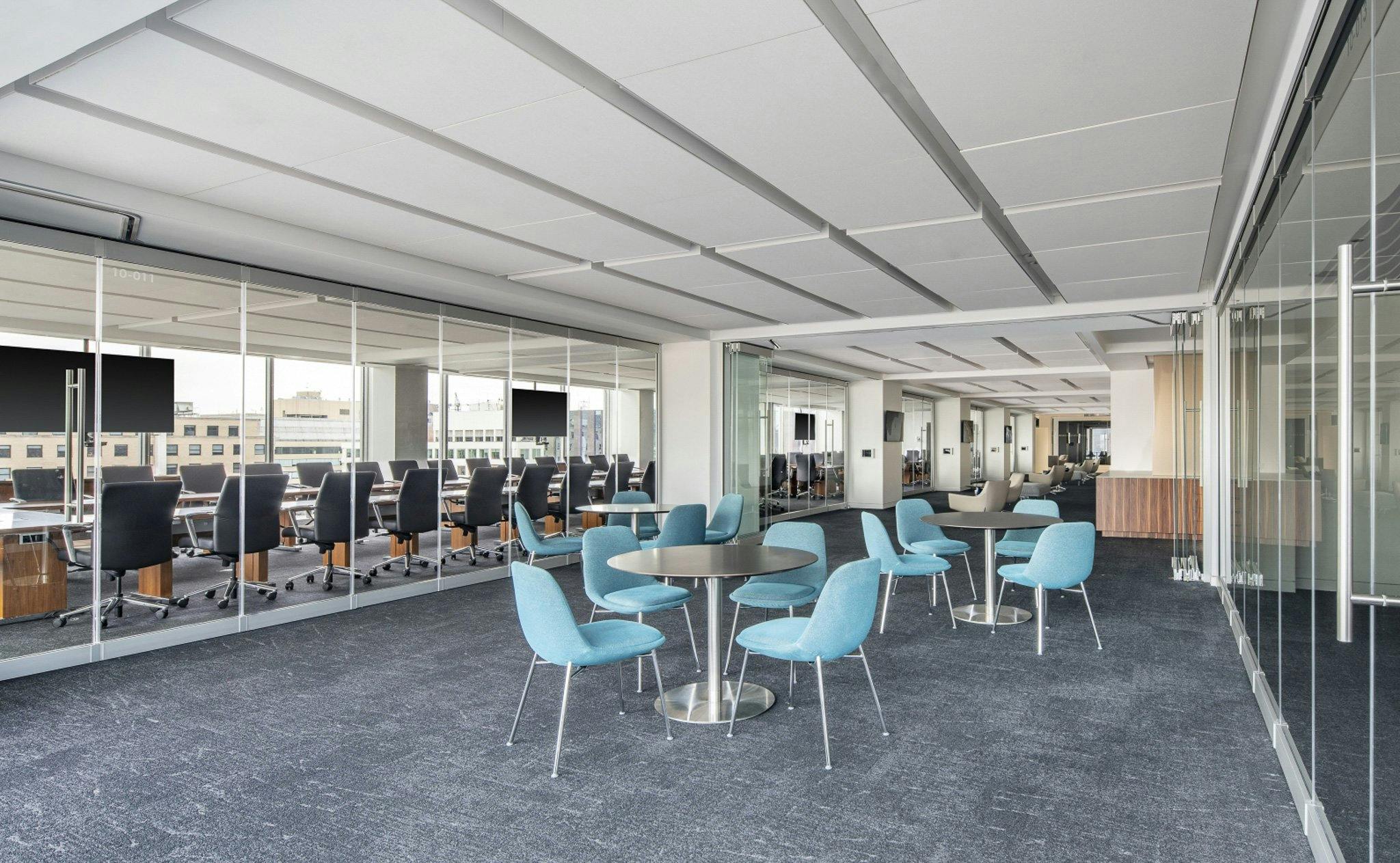 This project highlights the best of interior glass wall systems in multifunctional workplace design. The entire floorplan of the Firm's offices is one large open space separated by patented PrivaSEE® frameless sliding glass walls. These innovative frameless glass walls are sound control rated up to unit STC 36 featuring an interlocking design and transparent vertical acoustic seals between panels for enhanced acoustical separation. These easily operable systems compartmentalize the open floorplan into various-sized meeting rooms depending on the needs of the day, optimizing functionality without sacrificing visibility and privacy.
5. Visa One Market (cero)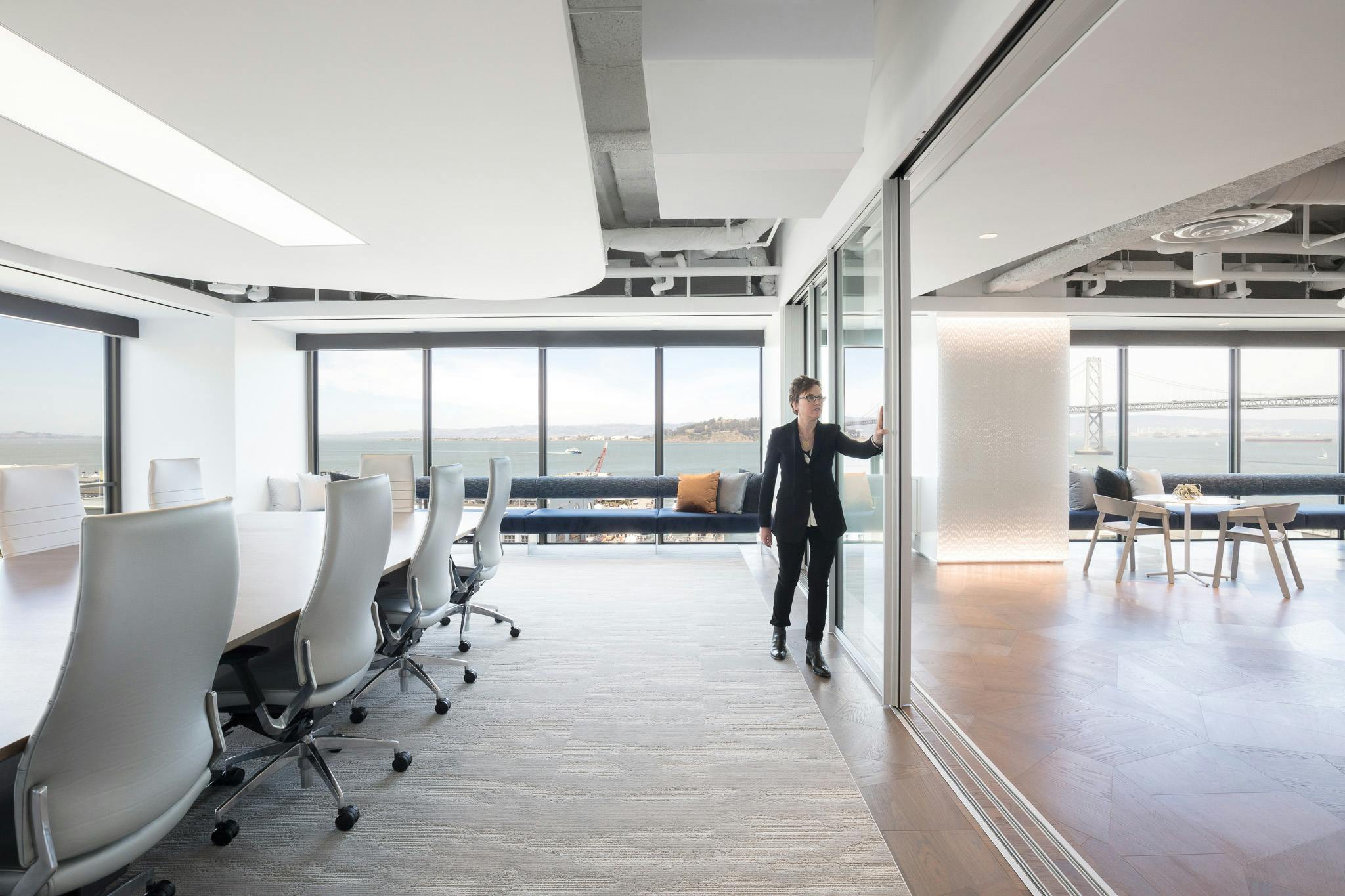 Visa's highly functional office in downtown San Francisco maximized the functionality of their office with NanaWall minimal sliding glass walls. "We selected cero for its clean lines and simple, minimal frame around the glass, and because of the center-opening option with no need for a closet or pocket for the doors to nest," says Melissa O'Rear, Gensler Design Director. The relatively small office space features a flexible floorplan with two executive conference rooms on either side and the open area in between used for social events or breakout space in between meetings. The interior glass wall partitions allow for more events, dining functions, and social gatherings to take place.
6. Law Office (NW Acoustical 545)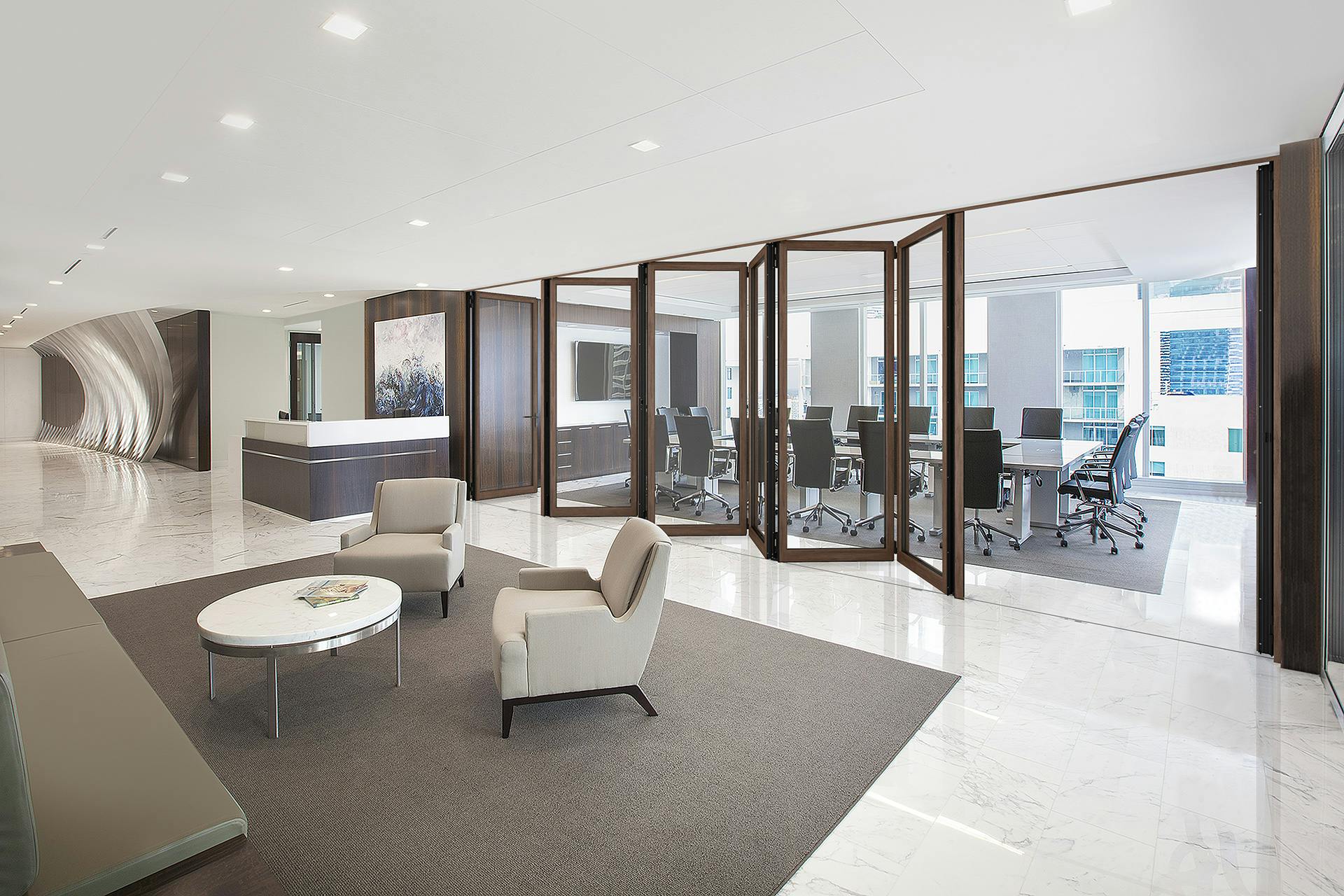 This law office adds a touch of flair to its work environment with wood framed interior glass wall systems. As a Generation 4 folding glass wall, NW Acoustical 545 is the first floor supported, wood framed folding glass wall to achieve up to unit STC 41. The thin frames are composed of sustainably harvested, single species wood for added strength and enhanced aesthetics. For utmost flexibility, this system features FourFold/SixFold panel sets that can stack either to the right, left, or center of the opening. Choose from two ADA-compliant tracks: the Flush sill option or the Minimal Surface Mounted Flush sill.
Final Thoughts
Multifunctional spaces that optimize space, natural daylight, and sound control will improve the productivity of employees and increase collaboration. NanaWall interior glass wall partitions are customizable to the needs of your workplace and aesthetics. Innovative solutions aimed to improve office and interior spaces have led to impressive sound control ratings of up to unit STC 45. As employees return to the office, let's present them with a healthy, flexible workplace for dynamic, productive workdays.
Check out how other office spaces leverage NanaWall interior glass wall systems in our extensive applications library!