7 Creative Outdoor Living Spaces Perfect for Spring Entertaining
By NanaWall Systems, April 6, 2023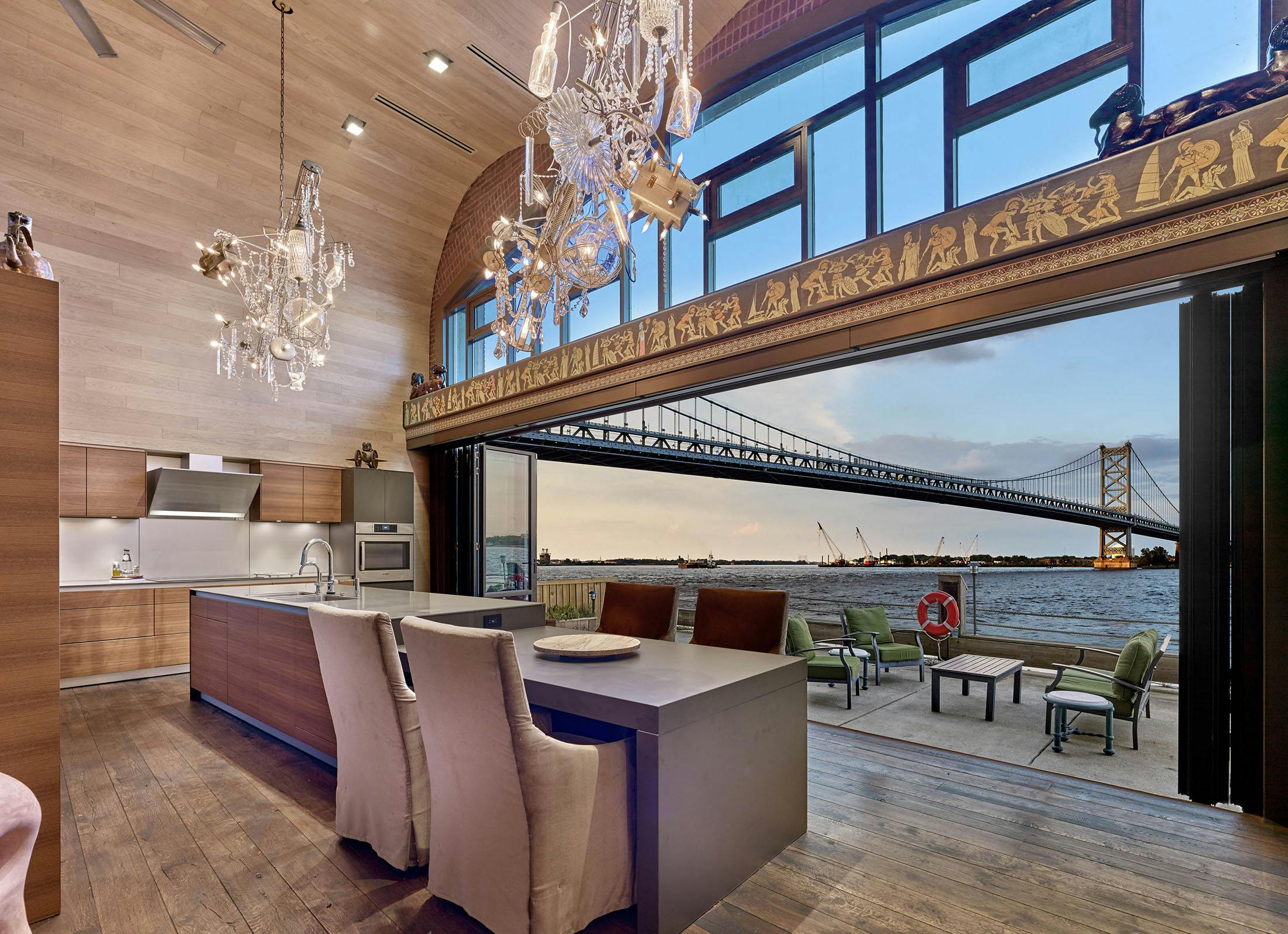 Spring is upon us, which means it's time to start thinking about outdoor entertaining! If you're planning on hosting guests this season, you'll want to create a space that is not only beautiful but also functional. Whether you're hosting a party or just want to enjoy the beautiful weather, opening glass walls offer a stylish and functional solution for seamless indoor-outdoor living. These innovative and modern glass systems allow you to create stunning outdoor living spaces that will impress your guests. Here are seven stunning outdoor living spaces that incorporate NanaWall folding glass walls and doors to provide design inspiration for your next remodel.
Transforming Your Outdoor Living Spaces with Folding Glass Walls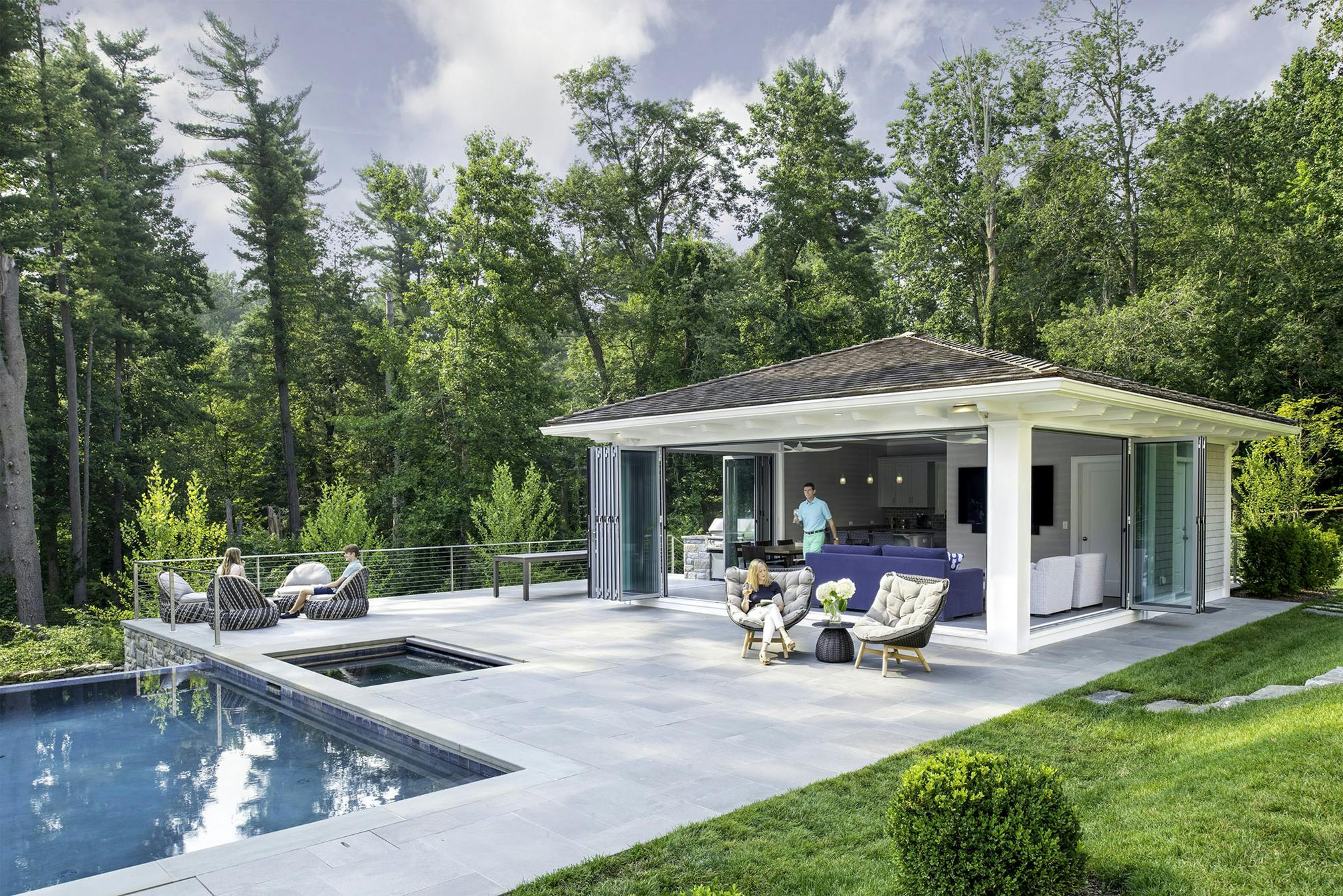 Contemporary Poolside Paradise
Make the most of your backyard oasis with easy-to-operate folding glass walls that transform your space and open to your patio. Create a luxurious poolside lounge with sleek modern glass walls, the perfect contemporary design complement to any backyard, pool house, and surrounding environment. Experience unobstructed views of your pool and the surrounding landscape while seamlessly blending indoor and outdoor living spaces.
Innovative Generation 4 FourFold and SixFold panel sets, allow for easy stacking on top of the swing door, ensuring smooth traffic flow and circulation in and out of your space. This is especially important for pool areas where people are frequently coming and going. Our easy-to-operate Generation 4 system provides superior thermal performance and weather protection, making it ideal for any outdoor environment. Read more about how folding glass walls transformed the stunning Knoll Residence.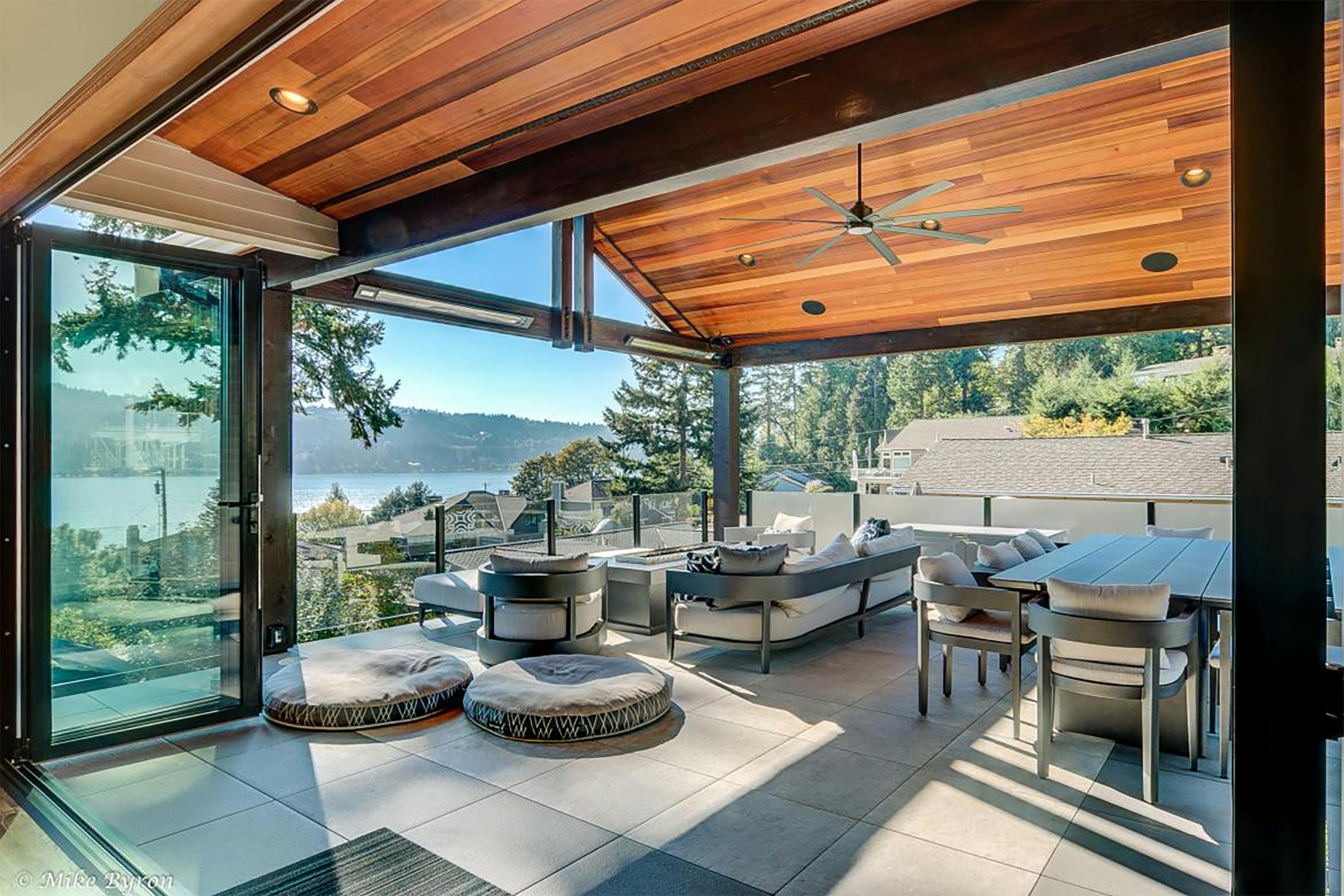 Indoor-Outdoor Living Room Remodel
Bring the outdoors in with glass walls and doors that open up to your patio or backyard, providing a seamless transition from your indoor to outdoor space. Enjoy entertaining guests in a contemporary indoor-outdoor living room while enjoying the beautiful weather and views like in this stunning lakeside home remodel that features a custom SL60 system. Custom inswing or outswing stacking and folding glass walls can transform a living room into the ultimate indoor-outdoor recreational space, perfect for family game nights, dinners, or quiet evenings enjoying the outdoors.
Replace those old, jammed sliders leading to the patio with NanaWall glass systems for a more efficient, easily operable, cost-effective, and durable alternative. Open doors will ventilate the interiors, mimicking the sensation of being outside and refreshing your home. Create luxurious indoor-outdoor living spaces that will enhance the quality of your life every day and boost your property value.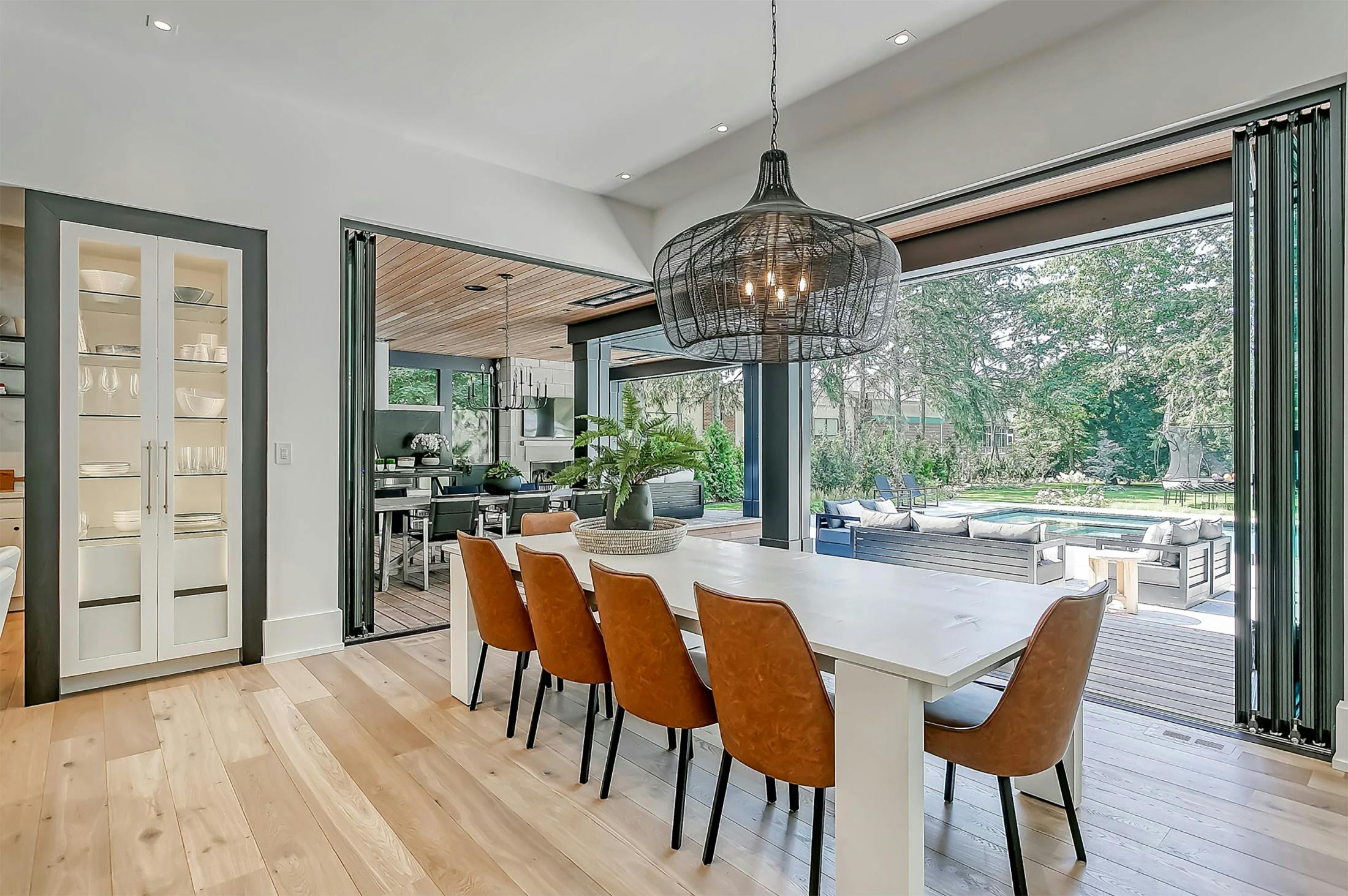 Elegant Indoor-Outdoor Dining Area Design
Host an elegant dinner party in your backyard with custom folding glass walls that open to the breathtaking backyard landscape, creating an effortless flow between the two spaces. This home beautifully showcases the use of a custom SL60 glass system that features an open 90-degree corner design, creating a perfect outdoor dining area that seamlessly connects with the surrounding environment. Folding glass doors allow natural light to flood in, illuminating the modern al fresco dining area and creating a picturesque setting for any occasion. If you love to cook and entertain, incorporate glass walls into your outdoor kitchen to provide a stunning backdrop to your culinary creations. Folding glass walls enable you to easily open the space while cooking and close it when you're not. With large custom panel sizes and slim profiles, glass systems offer maximum visibility and sturdy construction for enhanced durability and performance. Create stylish and functional outdoor living spaces for entertaining that will leave a lasting impression on your guests!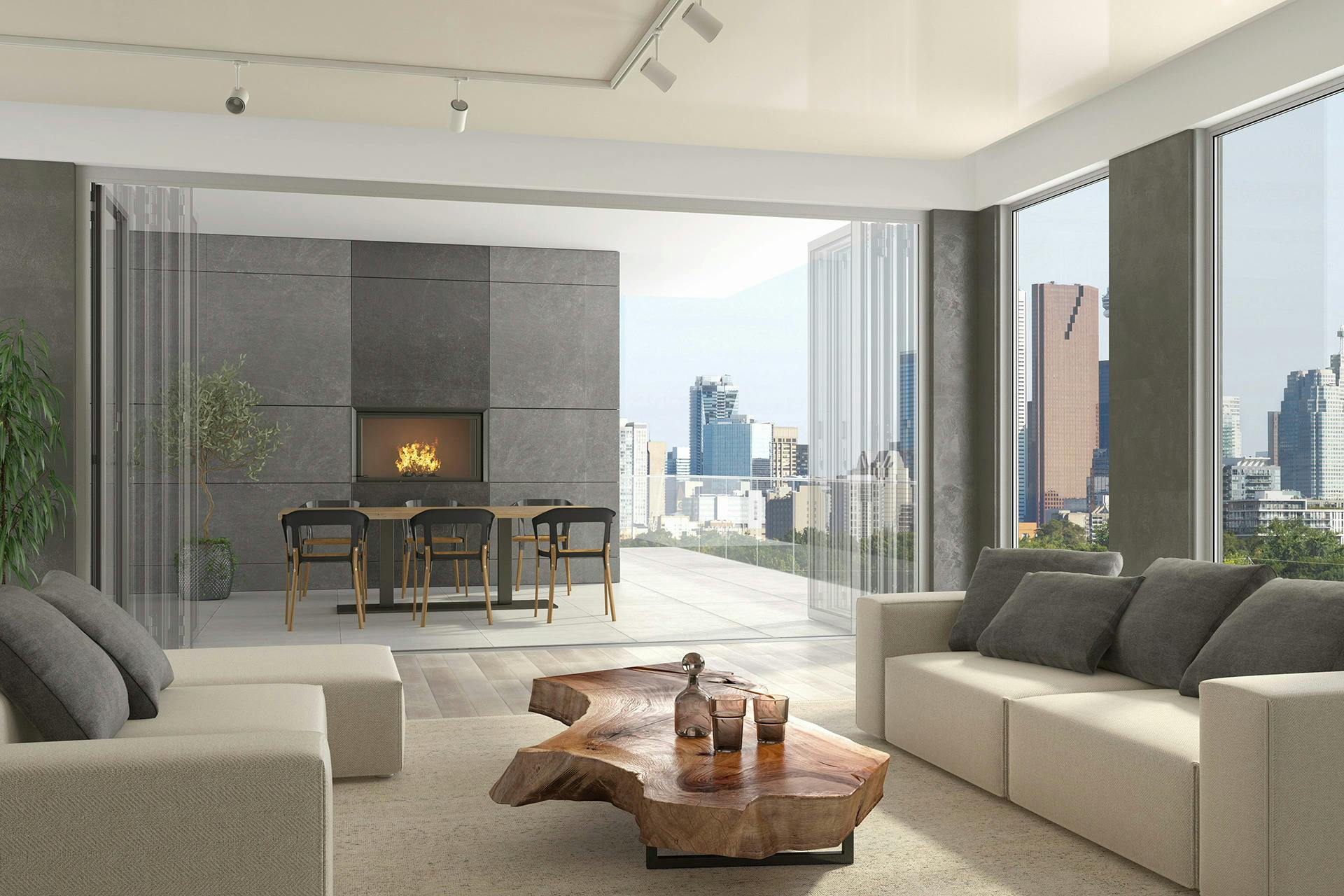 Versatile Urban Rooftop Terrace Enhanced with Outdoor Living
Transform your urban rooftop space with glass wall systems that can expand your living space and showcase stunning cityscape views. This beautiful high-rise design features performance-rated NW Reinforced 647 with a SixFold panel set that stacks on top of the door, providing an unobstructed view. The NanaWall system is perfect for any urban balcony, terrace, or rooftop space, making it a great addition to both residential and commercial projects. The Generation 4 reinforced performance glass and panel sets offer exceptional outdoor living spaces for mid to high-rise properties. Enjoy a sleek and modern design that complements the urban setting and creates a stylish, comfortable retreat. Choose from a variety of customization options to create a truly unique and personalized space that reflects your style and taste. The Generation 4 product family also features advanced thermal insulation and weather-resistant features, ensuring energy efficiency and longevity. Enhance your rooftop oasis with folding glass walls and experience the beauty of city living like never before.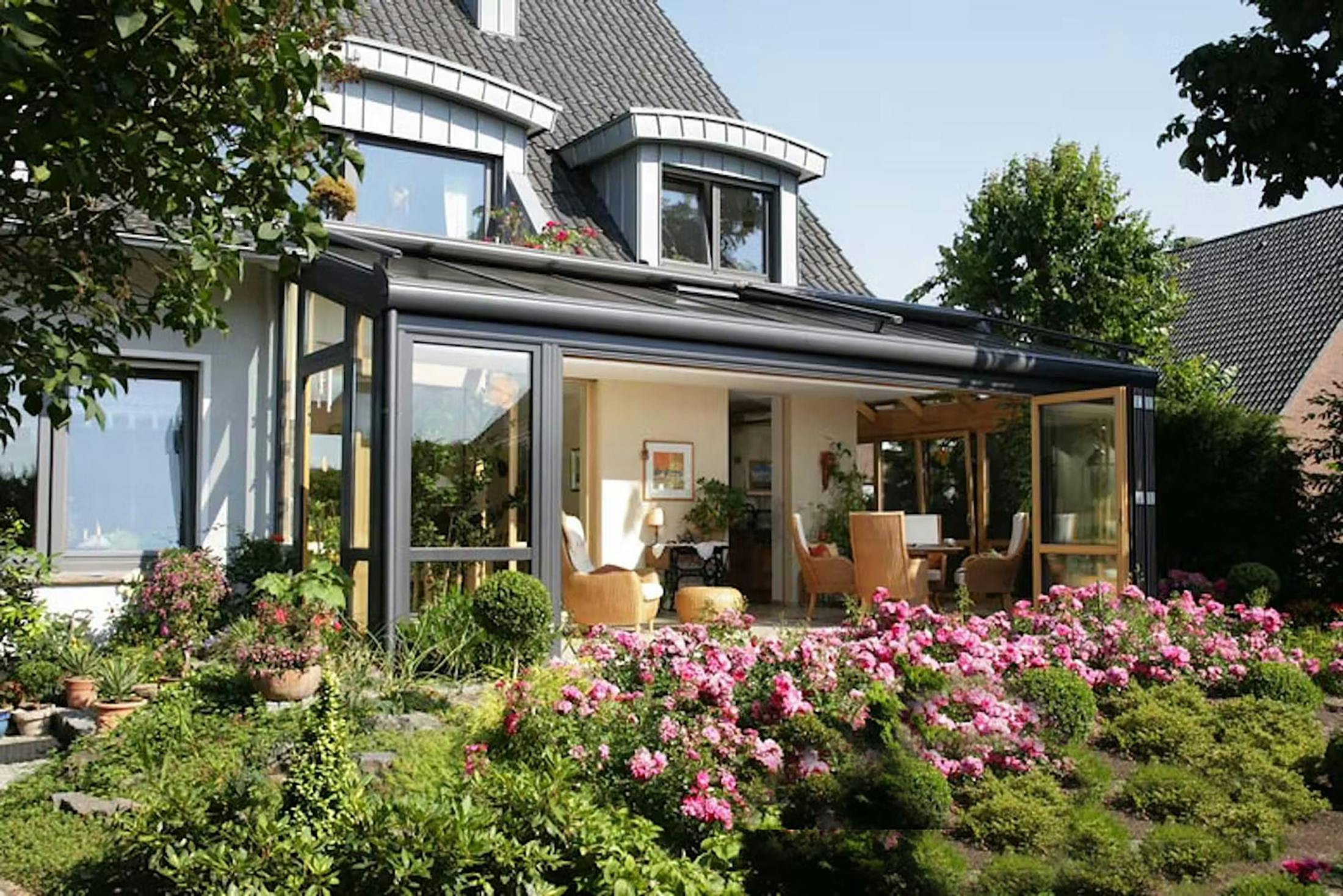 Rustic Garden Oasis Remodel
Transform your home into an impressive biophilic garden oasis with a custom glass wall system that creates a beautiful 4-season sunroom. This stunning home showcases the use of NanaWall glass walls to create a seamless connection between indoor and outdoor living spaces, allowing you to enjoy the natural world all year round. Design a spacious and bright indoor-outdoor living space that promotes good health and overall well-being, while also providing the stress-relieving advantages of connection with nature. Create a tranquil and versatile space perfect for activities such as relaxation, yoga, and gardening.
The warmth of wood on the inside with the durable powder coating aluminum on the outside provides a rustic and inviting aesthetic that complements the natural surroundings. The sleek design of the aluminum clad bifold doors adds a modern touch to your space and allows you to enjoy your peaceful garden oasis even when you're indoors. Folding glass walls offer improved energy-efficient features and weather-resistant design, making it an ideal choice for any outdoor environment to ensure long-lasting durability. Choose from a variety of customization options to create a truly unique and personalized space that reflects your style and taste.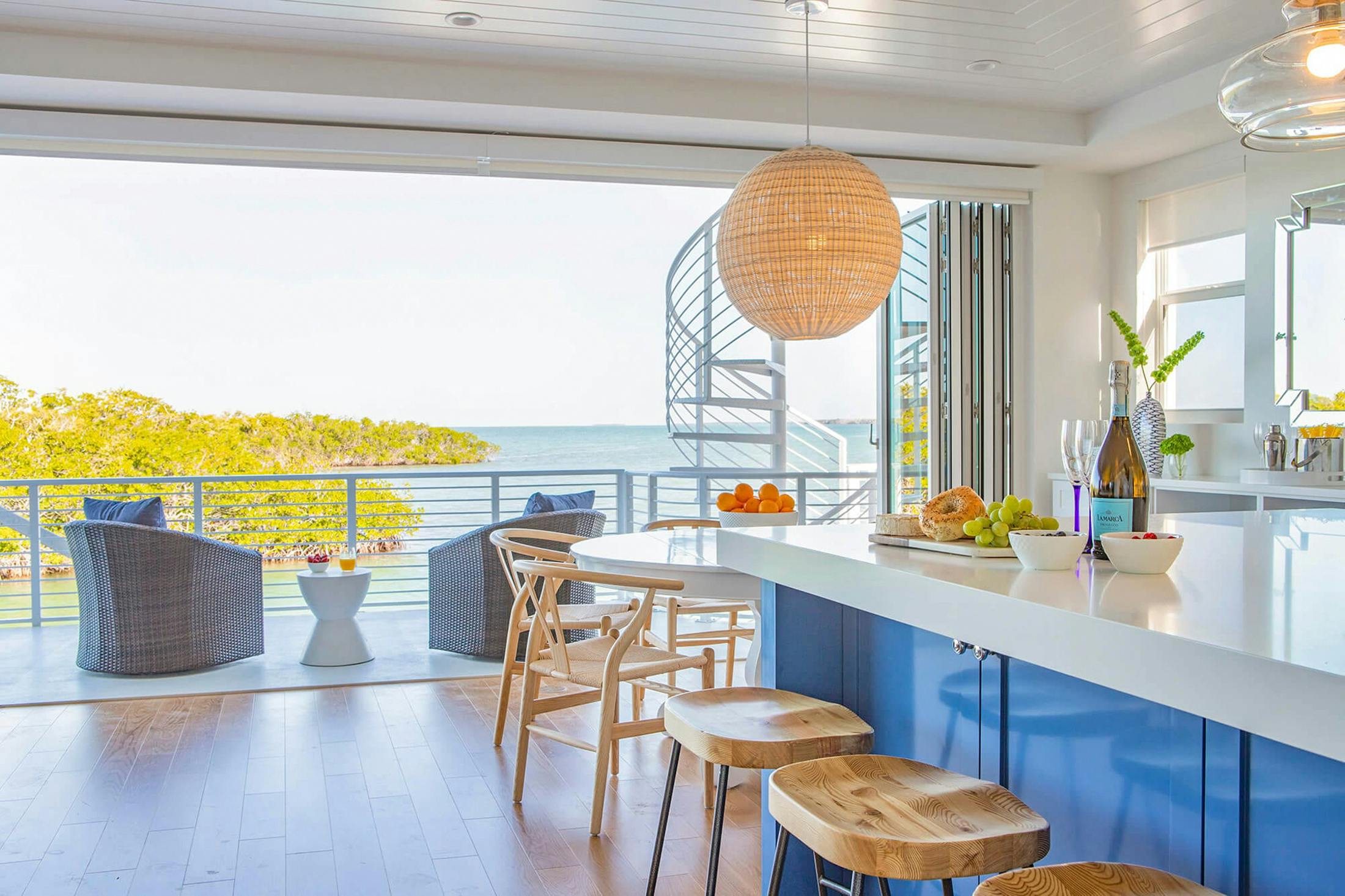 Beachfront Bungalow / Coastal Retreat
If you're fortunate enough to live near the beach, consider creating a stunning coastal retreat with the help of a custom folding and stacking glass system. Glass walls can provide unobstructed views of the ocean and allow the sea breeze to flow through your space, enhancing the coastal experience.
This beautiful remodeled beachfront home features folding glass walls that open to the sandy beach and breathtaking ocean views, creating the ultimate outdoor living spaces. Its energy-efficient features ensure year-round comfort, while its sleek and modern design complements the beachy vibe of your bungalow, offering a relaxing and luxurious retreat. Designed to withstand high winds and adverse weather conditions, these systems are durable and tested to perform seamlessly, making them the perfect solution for coastal homes. This inspiring coastal design features a NanaWall SL73 Hurricane system that optimizes stunning ocean views, adding an impressive touch to the coastal oasis.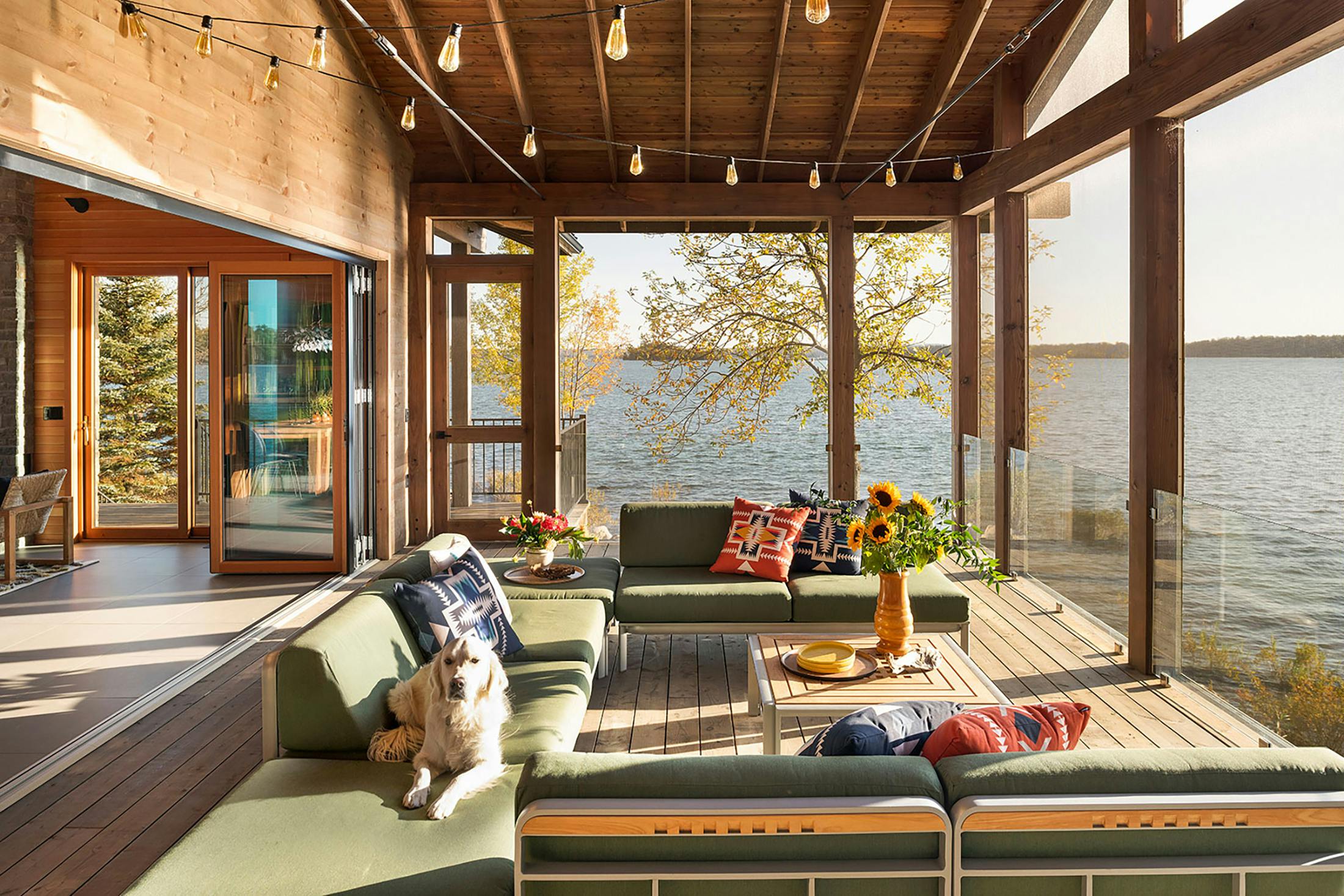 Modern Mountain Lakeside Escape
Experience year-round stunning mountain views with expansive clad bifold doors that create a seamless connection to the outdoors. This modern mountain escape features an expansive glass wall system that opens to breathtaking views, providing a panoramic experience of the natural surroundings. The sleek and contemporary design of the folding glass walls and doors complements the beauty of the mountain range with the warm wood frames and sets the perfect backdrop for any gathering or entertaining. With durable and seamless aluminum clad exterior and energy-efficient features, these bifold glass doors ensure longevity and year-round comfort in your modern mountain home.
Final Thoughts
Folding glass wall systems are a versatile and elegant solution for creating seamless indoor-outdoor living spaces. The design possibilities are endless, from contemporary poolside retreats to rustic garden escapes. NanaWall performance glass systems offer a range of customizable options to fit any design aesthetic, with choices in innovative aluminum, wood, and clad finishes. Homeowners and architects alike can benefit from the impressive heights, customization, and configuration options available, making folding glass walls the perfect choice for any project. These seven outdoor living spaces are sure to spark your creativity for your next remodel.
Don't hesitate to request a quote or check out our blog for the latest updates on innovative glass products and design ideas.