7 Striking Landscapes Through the Lens of Retractable Glass Doors
By NanaWall Systems, March 22, 2023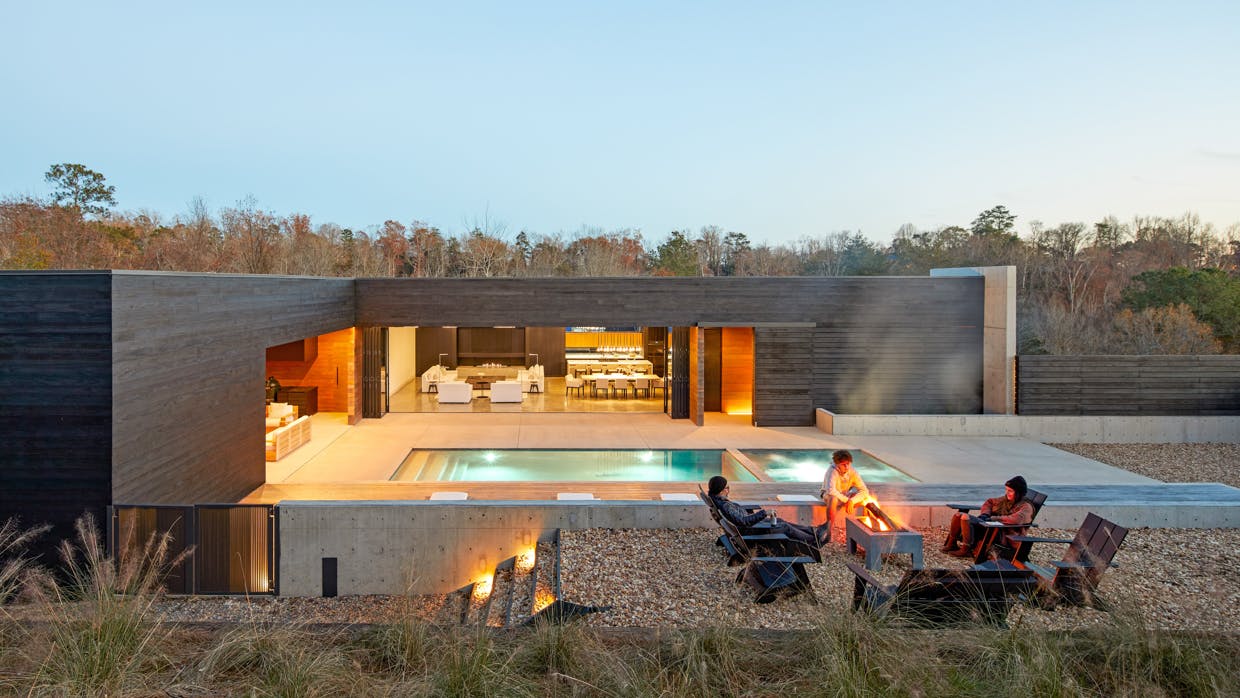 For many homes, location can be the primary selling point that increases property value and overall appeal. Whether it's a perfectly manicured garden or a sprawling natural landscape, there's no better way to take full advantage of million-dollar views than by leveraging the transparency of retractable glass doors. From folding to sliding, NanaWall opening glass wall systems offer a transparent window to the outside world, leveraging the thinnest frames that allow for more glass and less obstruction. So, take full advantage of the changing seasons, from snowy winter landscapes to blooming hills in spring, for striking year-round displays. Let these seven residences show you how.
Retractable Glass Doors: A Flexible Lens to the Outside World
NanaWall opening glass wall systems create flexible, transparent openings for easily accessible outdoor living spaces. Floor-to-ceiling panels allow for more mood-boosting daylight to naturally brighten interiors while optimizing views to the outdoors. Generation 4 Folding Glass Walls, for example, introduced thinner frames without sacrificing smooth operation and durability. The thinner the frame, the more glass there is to capitalize on the view. Additionally, you can achieve wider lengths with FourFold and SixFold panel sets for optimal landscape backdrops. Better yet, each system is customizable to every project parameter, aesthetic, and lifestyle. Choose between wood, aluminum, or clad and over 200 powder coating options for a fully personalized product. It's like getting to choose the best frame for your favorite art piece—the outdoors!
Top 7 Striking Landscapes Viewed through Retractable Glass Doors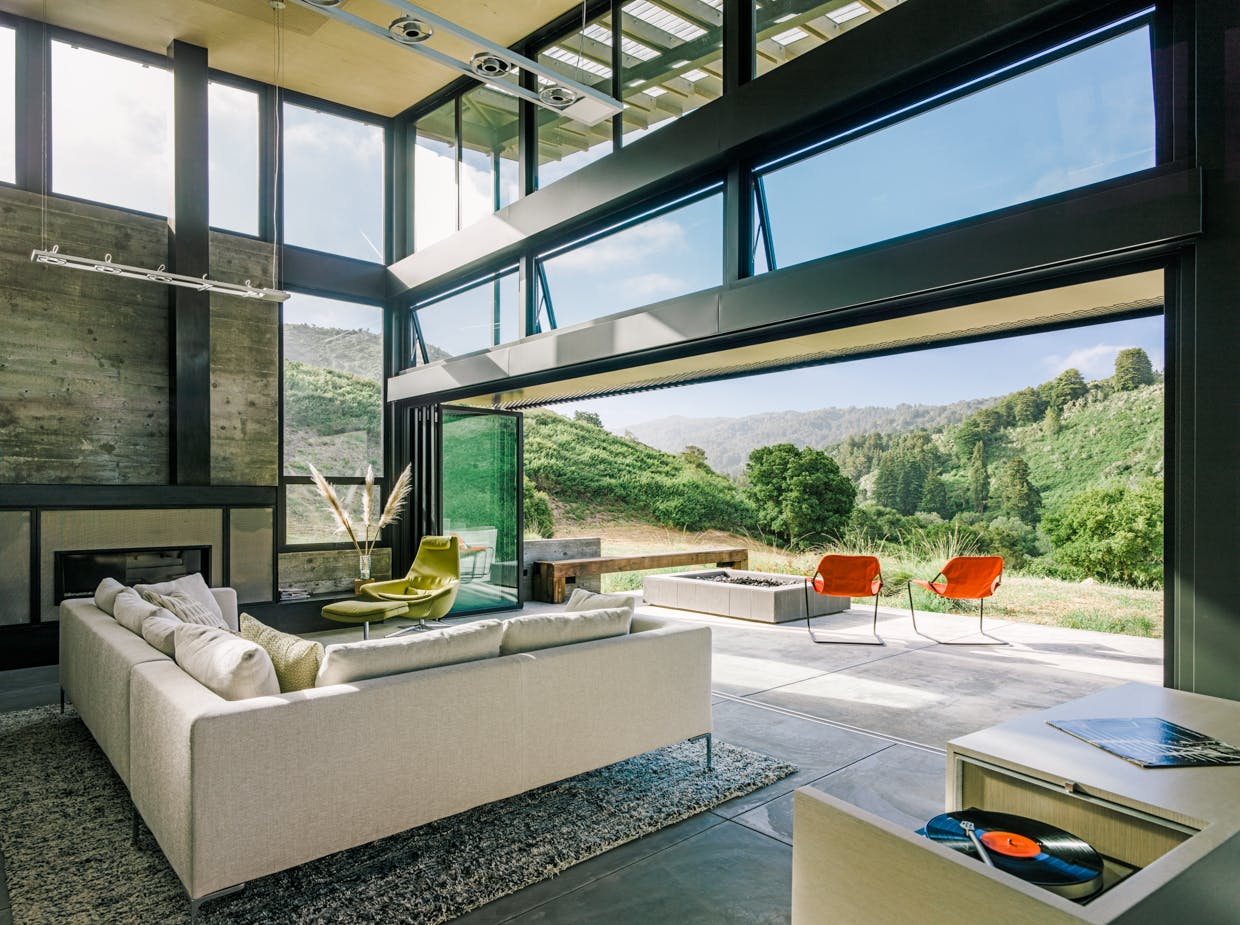 1. Endless Canyon Views Take Center Stage
Perfectly named "Butterfly House," this hilltop residence in Carmel, CA stands out on its own with bold industrial modern aesthetics. Taking full advantage of its verdant canyon landscape, the home was designed with plenty of windows that offer views at every corner. Most impressive of all are the NanaWall SL70 retractable glass doors that completely open the main living areas to the landscape. The sleek, black aluminum frames and the floor supported design perfectly blend with the home's existing fenestration for an effortlessly cohesive aesthetic. Talk about a relaxing spot to unwind!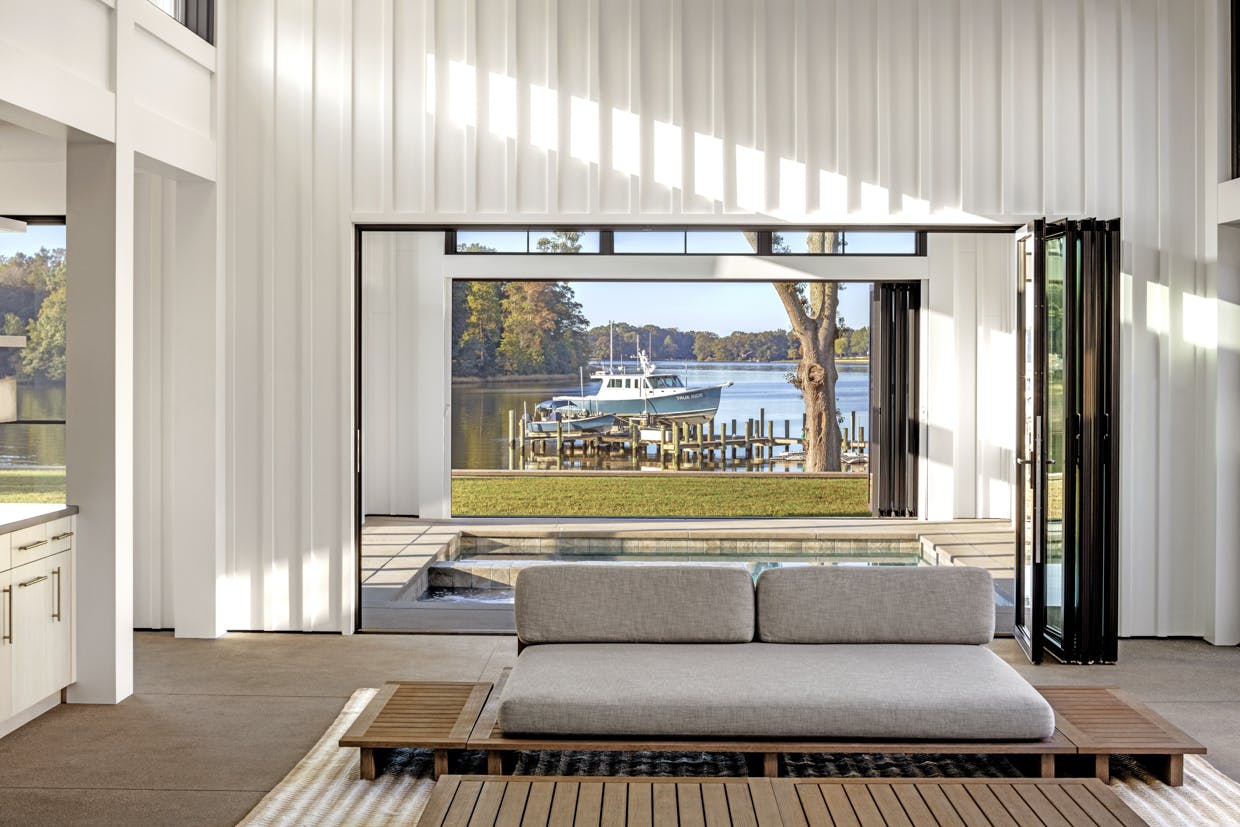 2. Farmhouse Modern Dreams
Painting or real-life landscape? The tunnel-like effect at this gorgeous Queenstown Residence creates a unique illusion of a painting hanging on the wall. Multiple NanaWall SL60 retractable glass doors connect the main living spaces to the outdoor living areas and serene views of the Wye River. The 14-acre property surrounded by vibrant green fields and tall trees lining the river's edge was designed to be a multigenerational home for the entire family. Most impressive of all is the four-season "splash pool" that is accessible through four opening glass wall systems.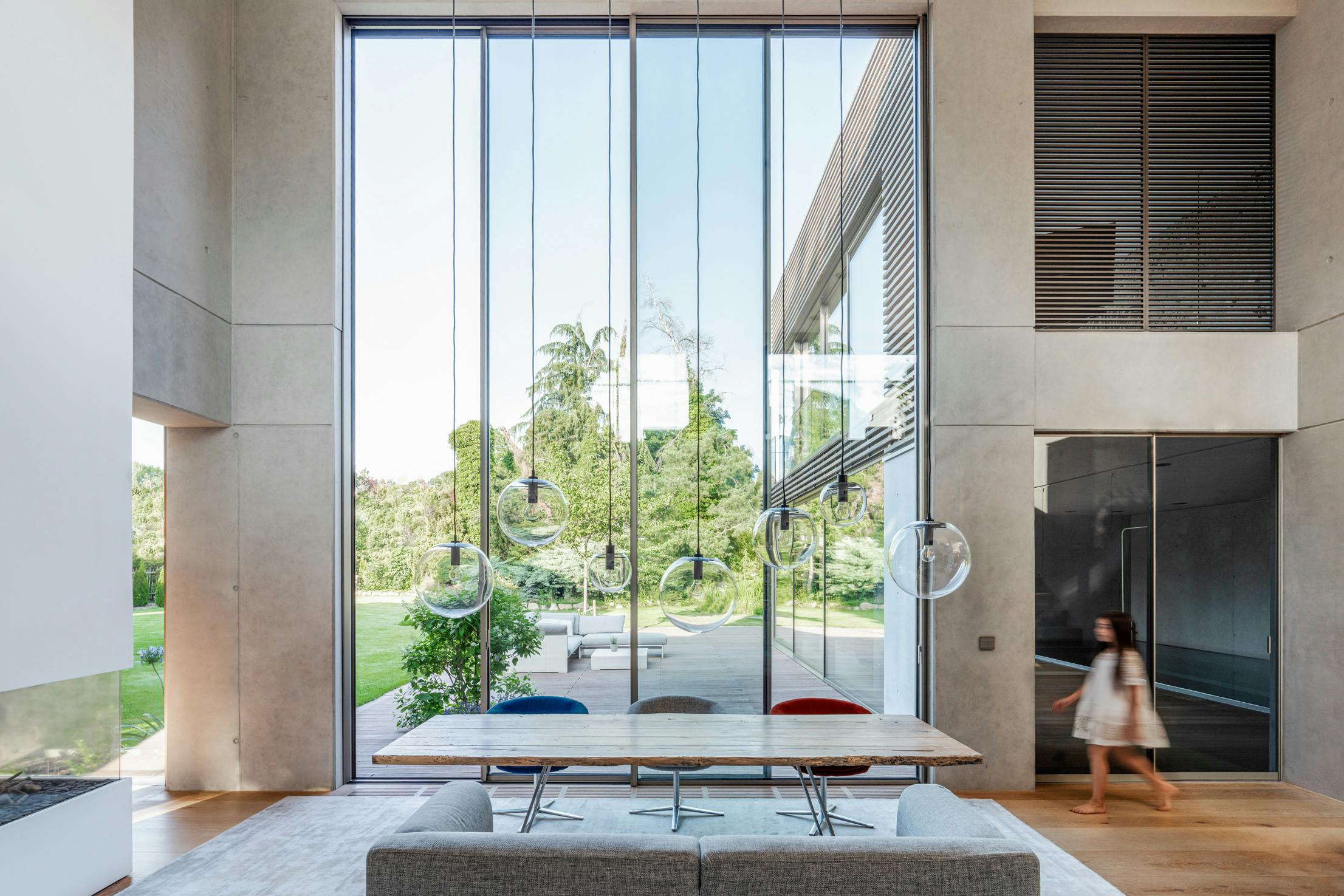 3. Taking Floor to Ceiling Heights to New Levels
Talk about a jaw-dropping entrance. This contemporary home takes landscape views to new heights with the tallest NanaWall panels available. cero® minimal sliding glass walls elevate modern aesthetics with thin profiles and more glass. The homeowners can enjoy a meal at the dining table while enjoying dramatic views of their expansive garden all year round. When opened, the system immediately immerses the dining area in the outdoors allowing the family to enjoy a meal al fresco from the comfort of their home.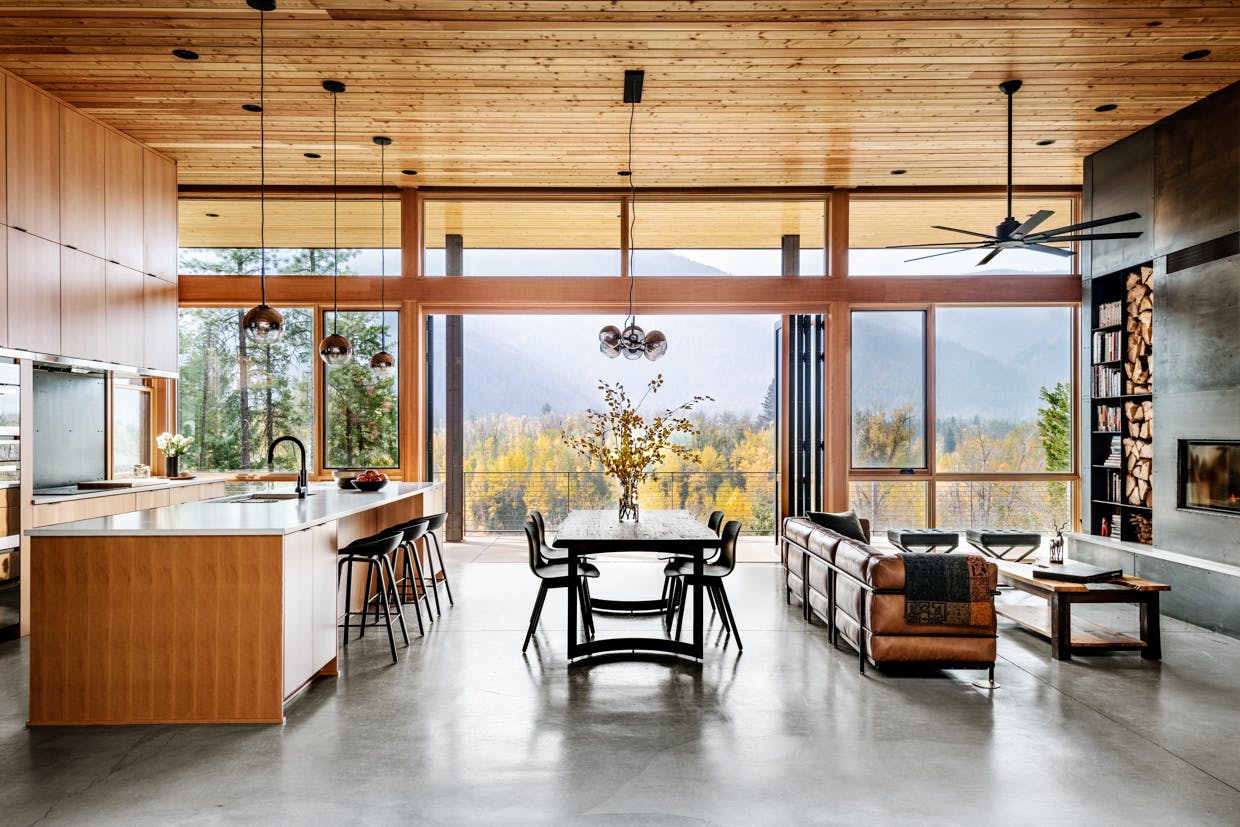 4. Endless Tree Canopies Optimize Cabin-Like Escape
Nestled within Methow Valley in Washinton, this contemporary home enjoys an endless display of changing tree canopies. Building from scratch, the homeowners wanted to take advantage of the magnificent meadows and mountain views by installing opening glass wall systems at the front and back of their main living spaces. The clad folding systems feature wood on the inside to complement the natural wood aesthetics while aluminum on the outside adds a bold industrial feel to the elevates architectural design. Check out those views!
5. Nautical Design Enhanced by Ocean Views
The sparkling waters of the North Atlantic Ocean can be seen from nearly every room of this Scarborough Beach Residence. From the beginning, the homeowners wanted to pay homage to the coastal environment and reflect it within the design of the home. Pristine New England architecture perfectly blends traditional elements with contemporary features like aluminum clad retractable glass doors in the primary living areas and even the pool house. The systems seamlessly immerse interiors with the sea, inviting the ocean breeze indoors while optimizing views at every corner.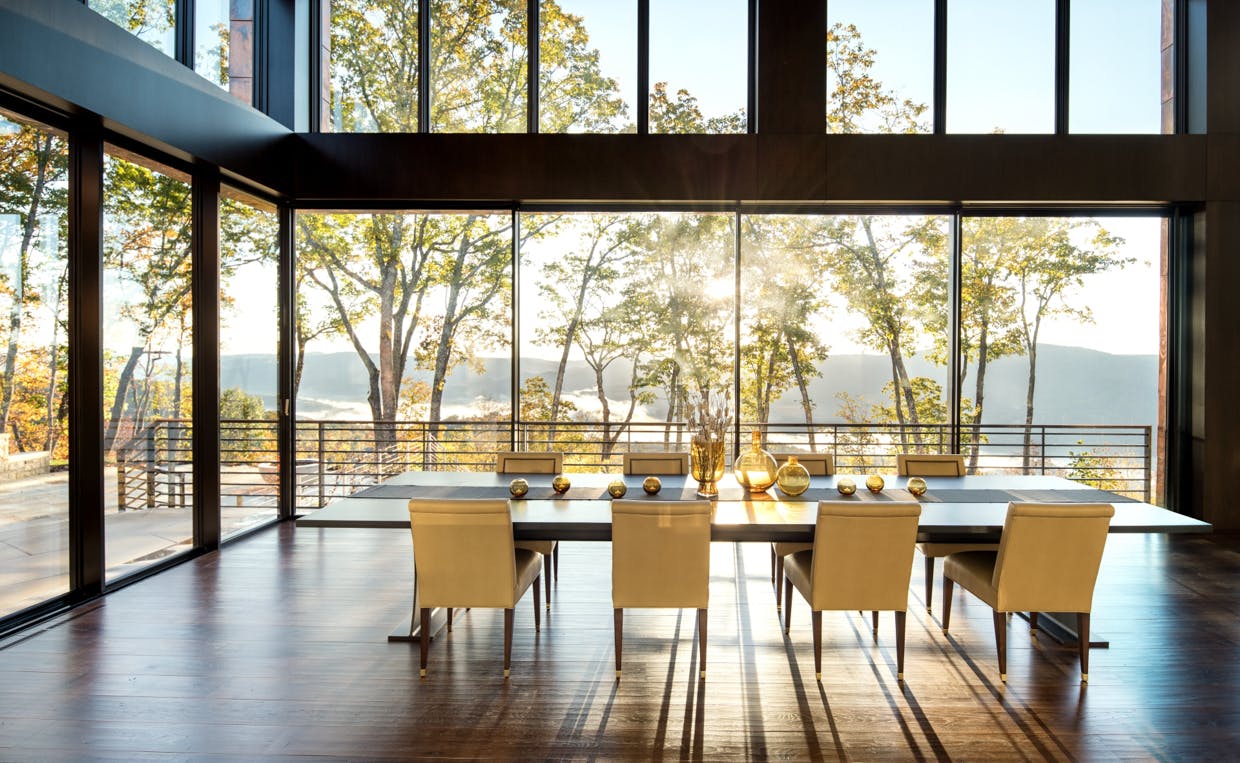 6. An Endless Display of Changing Seasons
Let's take a moment to acknowledge that view. From the bright yellow autumnal canopies to the mountain peaks far ahead, this landscape is truly awestriking. Perched atop a tall hilltop, this contemporary residence embraces its million-dollar location with minimal floor-to-ceiling opening glass wall systems and fixed transom windows. The system's Jet Black frames perfectly complement the home's industrial touch while framing views to the valley below and serene sunsets. The open corner design, when open, allows for a fully immersive experience with the outdoors. Talk about bright and airy!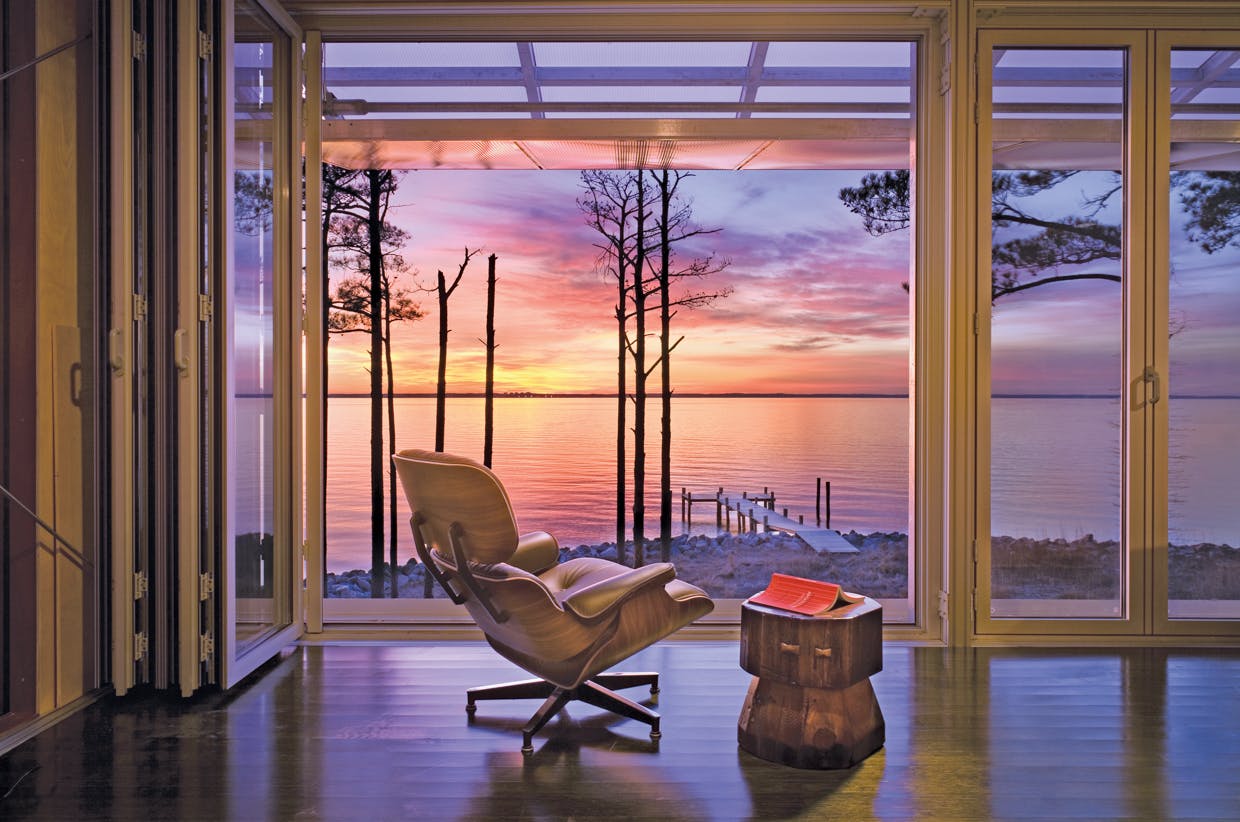 7. Whimsical Lake Views for Ultimate Relaxation
Just looking at that picture makes us feel relaxed. No sunset is ever missed at this lakeside residence thanks to the aluminum framed retractable glass doors facing the water. Despite its proximity to the lake, the weather-performing NanaWall opening glass wall systems offer protection from climate extremes, including thermal efficiency, to maintain comfortable interiors—even when lounging right up against the glass. Imagine enjoying a nice book after a long day of work with that view!
Final Thoughts
Ready to maximize million-dollar landscape views with a flexible, fully transparent solution while elevating your at-home experience in the process? With NanaWall opening glass wall systems, beautiful landscapes become the art, taking center stage at every corner. As an energy-efficient, year-round product, retractable glass doors are the ideal floor-to-ceiling solution to enjoy changing landscapes throughout the seasons. NanaWall opening glass wall systems are independently tested for air, water, structural, forced entry, operation, and sound control with excellent results. This means you'll be able to enjoy the changing landscapes without worrying about climate extremes or constant maintenance. A win-win!
Discover how other homes optimize striking landscape views with NanaWall retractable glass doors in our extensive inspiration photo gallery!