7 Things to Know for Choosing Retractable Glass Walls
By NanaWall Systems, September 3, 2019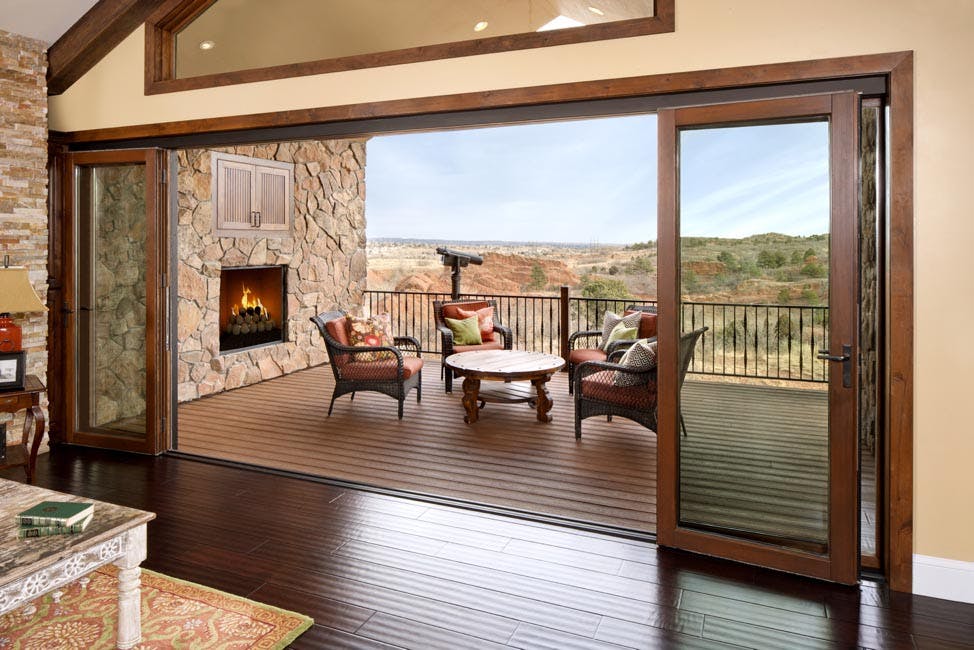 A retractable glass wall is a great way to bring in natural light, make a small room feel larger, or seamlessly integrate two separate spaces. Selecting the appropriate wall for your project comes with a lot of decisions. Outside of moving glass wall system costs, room function, noise reduction and security are additional factors to consider.
In addition to technical considerations, aesthetics also plays a big factor in deciding. For example, there are inswing and outswing options, top-hung and floor supported or hinged as well as finishes and hardware to consider. Here is our pick for the top seven things to know when choosing a retractable glass wall system.
1. Selecting Swing Doors to Accompany Retractable Glass Walls?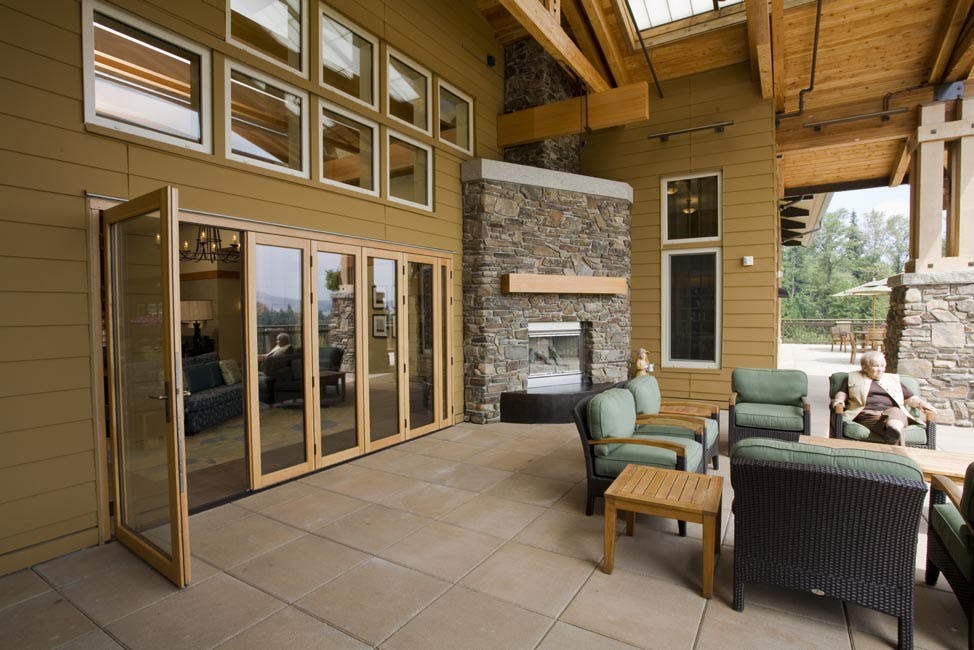 Selecting a swing door to accompany your retractable glass wall system is an important decision when it comes to aesthetics, functionality and the purpose of the room in which they are installed. Specifically, choosing the correct swing door is related to traffic flow and use of space. It is this reason that NanaWall systems offer both inswing and outswing doors for your consideration, unlike many competitors.
2. Room Function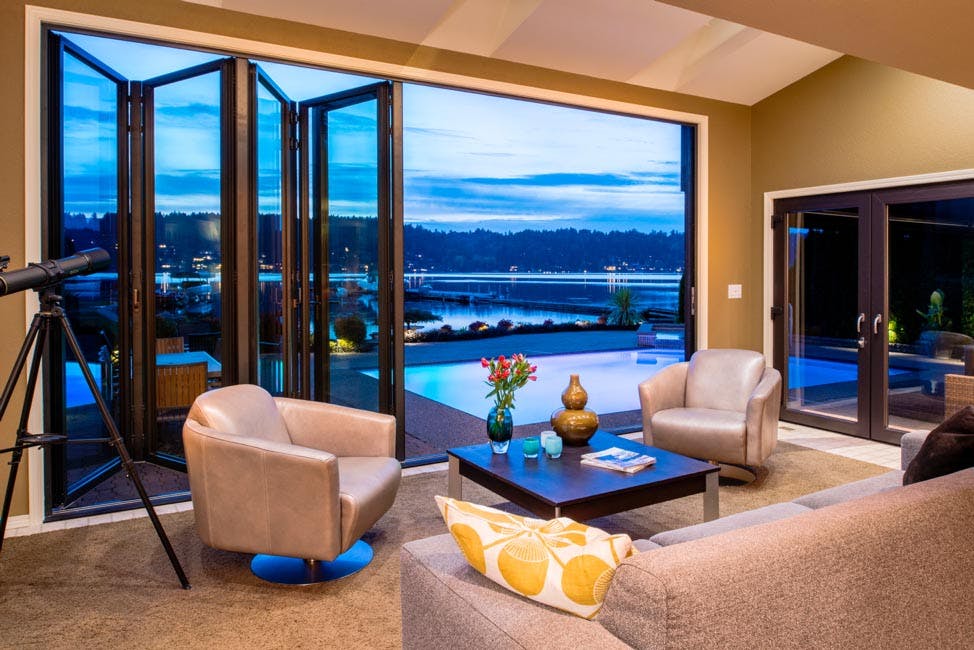 One of the key components in selecting a retractable glass wall system is the function of the room. When selecting a door to take advantage of an outdoor view, choosing one that provides the most unobstructed view is best. That means selecting a glass wall that can accommodate the wide openings required to give a panoramic view. The NanaWall products can be used for openings of 39' or wider. Additionally, a frameless glass wall provides no visible vertical profile to allow a seamless view outdoors.
When making access to an outdoor area one should consider the durability and ease of use. Such common access doors must stand up to the wear and tear of daily use. Additionally, they must be easy to operate. Each of the NanaWall Systems retractable glass walls offers single-handed operation, allowing them to be quickly opened or closed with little effort. For doors that require daily use, it is important to select one with a daily access door. The NanaWall System SL60, designed for energy efficiency and strong weather, offers a swing door that allows entry and egress without the need to open the entire glass wall.
3. Exposure to External Conditions
Exterior retractable glass wall systems must not only stand up to daily use but must be able to withstand exterior weather elements. Products such as the SL60 features an aluminum insulation barrier that protects from exterior elements. Additionally, this product comes with a triple-paned glass option for enhanced thermal performance.
For areas prone to hurricanes, the SL73 is an impact-rated system. Both the inswing and outswing options protect from water penetration and we have the testing results to back this claim. Please see the performance section of the product offerings.
When it comes to optimizing views while keeping out predators and unwanted individuals out, selecting a glass wall that can stand the test is critical. All NanaWall Systems products are tested for forced entry and NanaWall Systems even offers a bear-resistant folding wall. With this option, architects can provide a full view of the outdoors without compromising safety.
4. Consider a Top-Hung Retractable Glass Wall System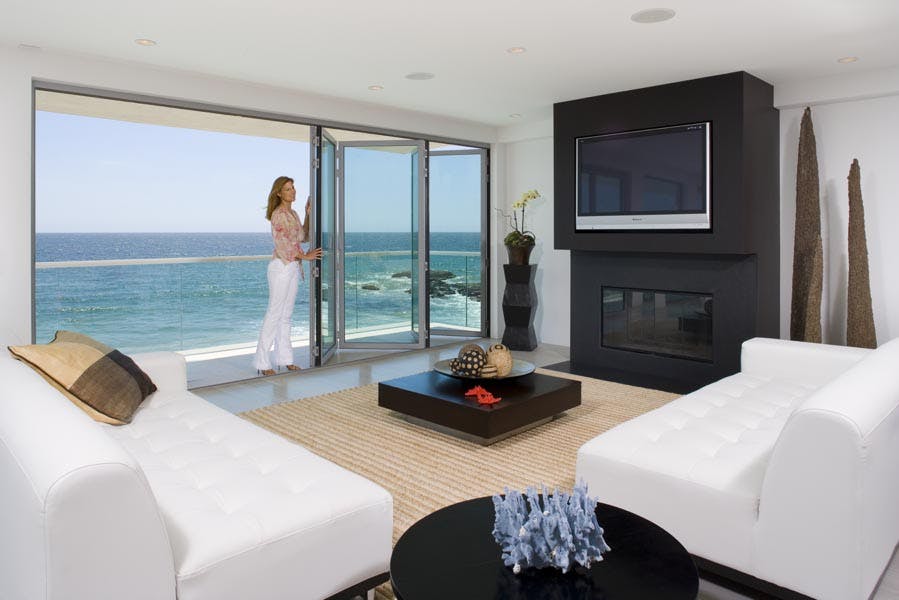 A top-hung retractable glass wall is ideal where aesthetics is of top concern. By using a top-hung door, architects can provide a seamless transition outdoors giving the illusion that the two areas are one. Another key feature of top-hung doors is their ability to follow curves. Spaces that wish to take advantage of this design feature would benefit best from this type of door. In the instance above, the clean lines of the SL45 creates a seamless transition between spaces.
The top-hung SL45 also has the ability to add unhinged paired panels for even wider openings as well as have optional FoldFlat center pivot stacking segmented curves. It is important to note that not all areas can accommodate a top-hung door. If there is not enough ceiling space due to load-bearing issues, this type of door will not work. In this case, consider our many floor supported options.
5. Noise Control / Acoustical Rating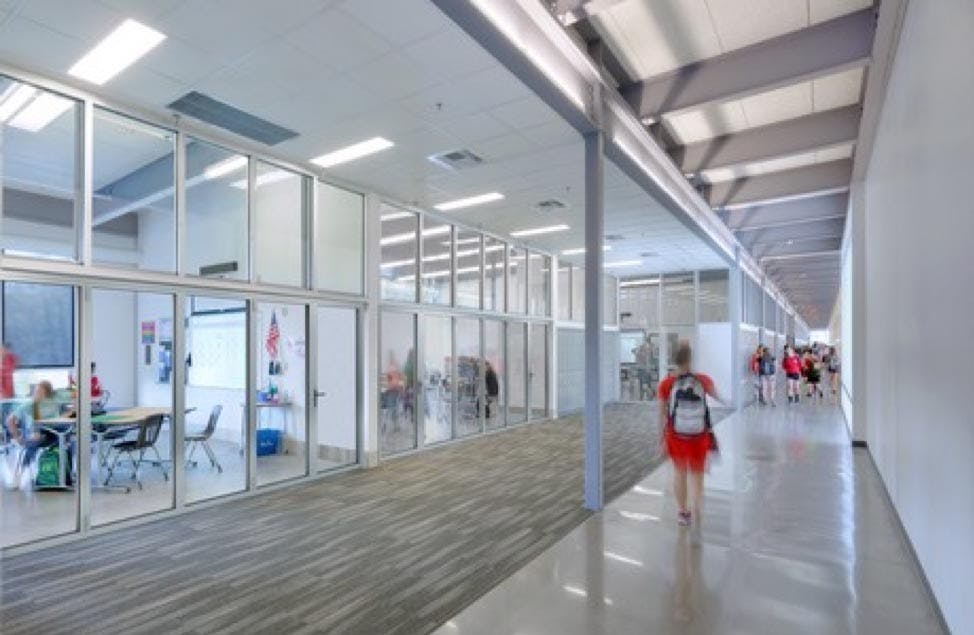 Acoustical considerations are another element to retractable glass wall and folding glass wall selection. Both indoor and outdoor applications each have specific factors which must be addressed. For example, STC is the value that measures indoor sounds and OITC is for exterior sound. Our performance charts for our products indicate the tested values.
When dealing with exterior walls and doorways, the challenge is to integrate the interior and exterior of a structure without sound leakage. Also, interior environments such as schools or businesses, require sound control and privacy between rooms. Given that, it is important to choose a product that can meet those requirements. Products such as the SL60 have achieved STC and Rw values of 36 with STC 38 laminated glass. NW Acoustical 645 is another example of this which has of STC 45.
6. Security Considerations for Retractable Glass Walls
Retractable glass walls provide security and strength as a traditional entryway. Security for glass wall systems extends beyond door hardware. The NanaWall Systems products feature multipoint locking. What this means is that the handle must be depressed to withdraw the latch that opens by either turning a key from the outside or an inside thumb turn. Additionally, each product features extra-long tamper-resistant, dual point locking rods between panels. As a result, NanaWall products exceed forced entry testing.
7. Hardware and Finishes
Hardware and finishes should not be overlooked when choosing a retractable glass wall. NanaWall systems come in a variety of finishes and hardware that complement any design. The aluminum frames come in a wide array of powder coating finishes. Also, there are over 200 gloss powder-coated and over 200 RAL matte powder-coated finishes. Wood framed glass walls are also available in multiple finishes and wood species such as Pine, Spruce, Sapelli Mahogany, and Oak.
When it comes to hardware, there are also many finish options. There are stainless steel lever and flat handle options. There are also options for solid brass handles. When extra security is a concern, there is also an option for custodial hardware which protects from the unauthorized movement of the panels.
Final Thoughts
Selecting a retractable glass wall system comes with a variety of decisions. Items to consider include the function and layout of the room to determine the best location for the wall. Additionally, exposure to the weather elements is a big factor that determines the style and model of opening glass wall chosen. Outside of function, additional features to consider include hardware and finishes that can match nearly any design style.
To discuss how NanaWall glass door systems can transform your space, please contact your local representative.