7 Unique Design Features Achievable with Operable Glass Walls
By NanaWall Systems, January 19, 2022
One of the best things about operable glass walls is that they offer the design flexibility to meet the needs of every household, business, and lifestyle. From space management options to maximizing indoor/outdoor living, NanaWall systems works with architects, builders, and homeowners to customize the perfect door for every project. With nearly four decades since establishing the opening glass wall category into the marketplace, NanaWall has innovated new technologies and design elements that have improved the design flexibility of these systems. Let's explore a few of the unique design specifications you can request with your NanaWall moveable glass door.
Seven Unique Features of NanaWall Operable Glass Walls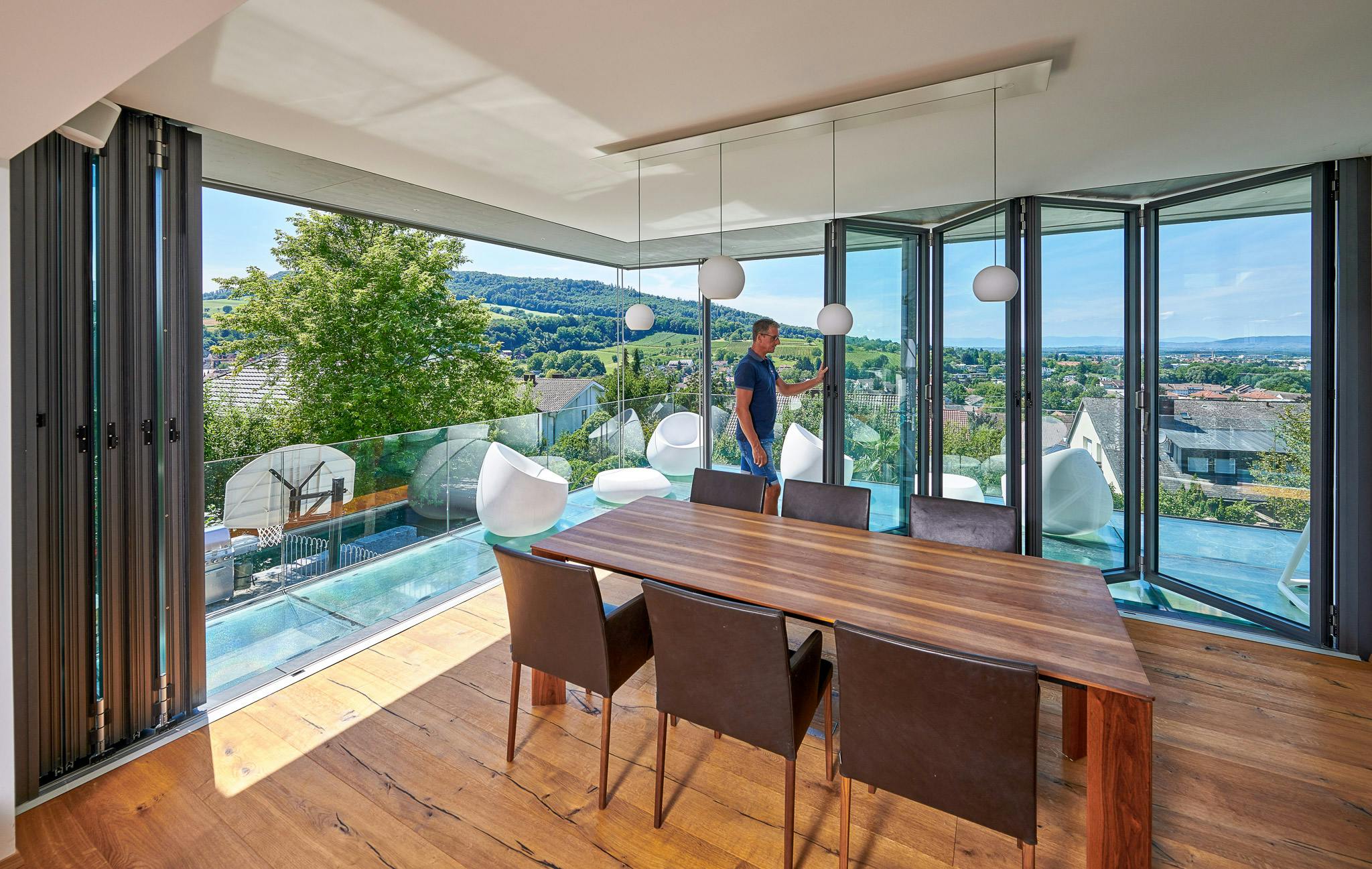 1. Open Corners
An open corner configuration allows two or more adjacent walls to completely disappear for the ultimate indoor/outdoor residential space. An open corner configuration maximizes the functionality of operable glass walls by allowing them to operate past the traditional linear wall application. Homeowners have the option of opening one, two, or more walls within the same room to create an outdoor area on the fly. This can be achieved with both folding and sliding glass walls. NanaWall Systems' single track sliding glass wall HSW60 features an enhanced horizontal roller and guide track design that allows each individual panel to move effortlessly around corners. Meanwhile, folding glass walls connect at the corner when closed and open to stack on opposite sides.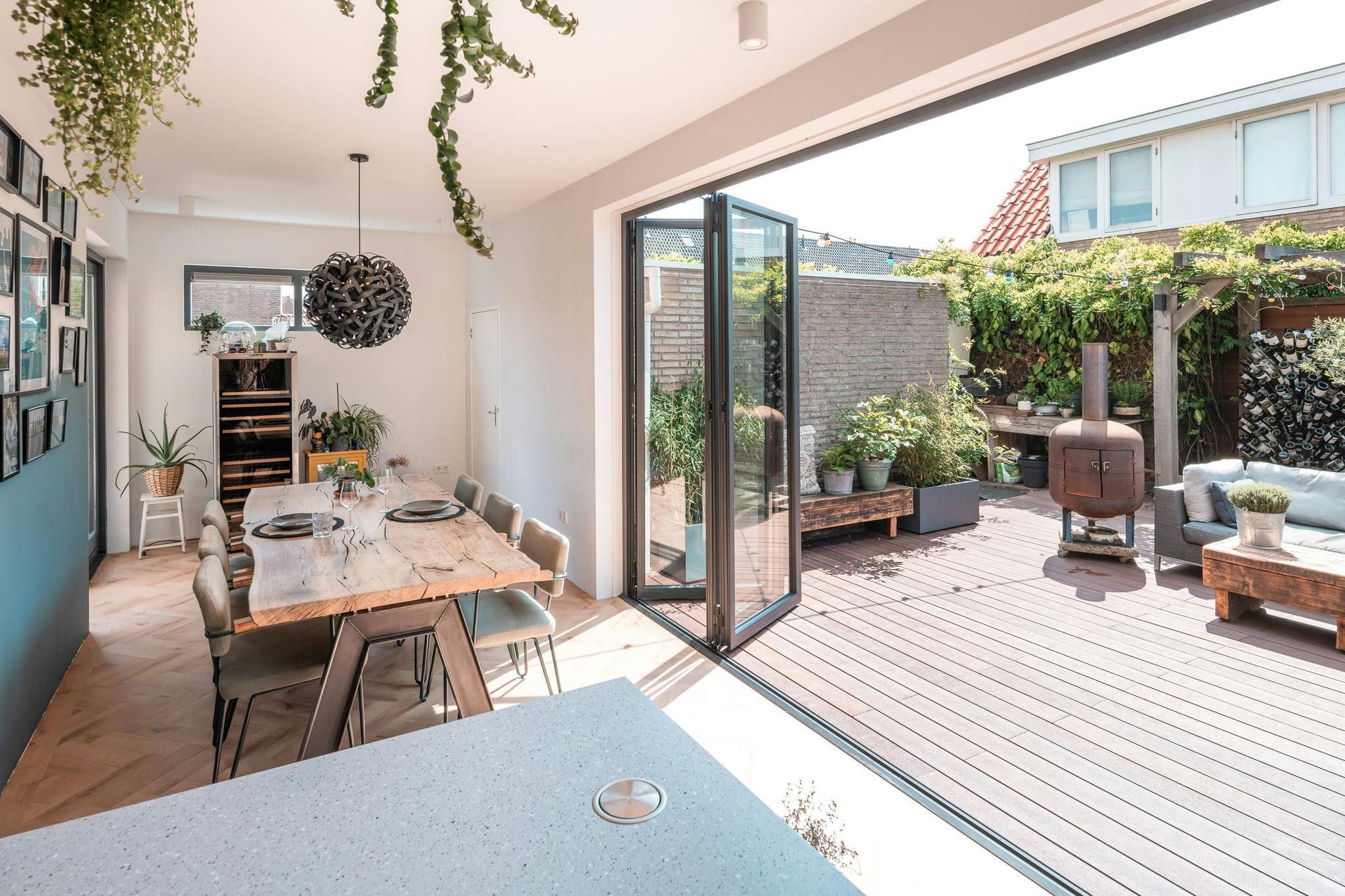 2. Inswing and Outswing Configurations
NanaWall offers both inswing and outswing configurations, which refers to the direction the panels fold towards and where they stack. There are a few design elements to take into consideration when selecting the ideal moveable glass door configuration, like space management and state building codes. For interiors where space is limited, an outswing system might be the best choice to optimize the indoor space. Certain applications where harsh weather is of concern like snow-prone areas and mid-rise projects are likely to be restricted by building codes that require an inswing system.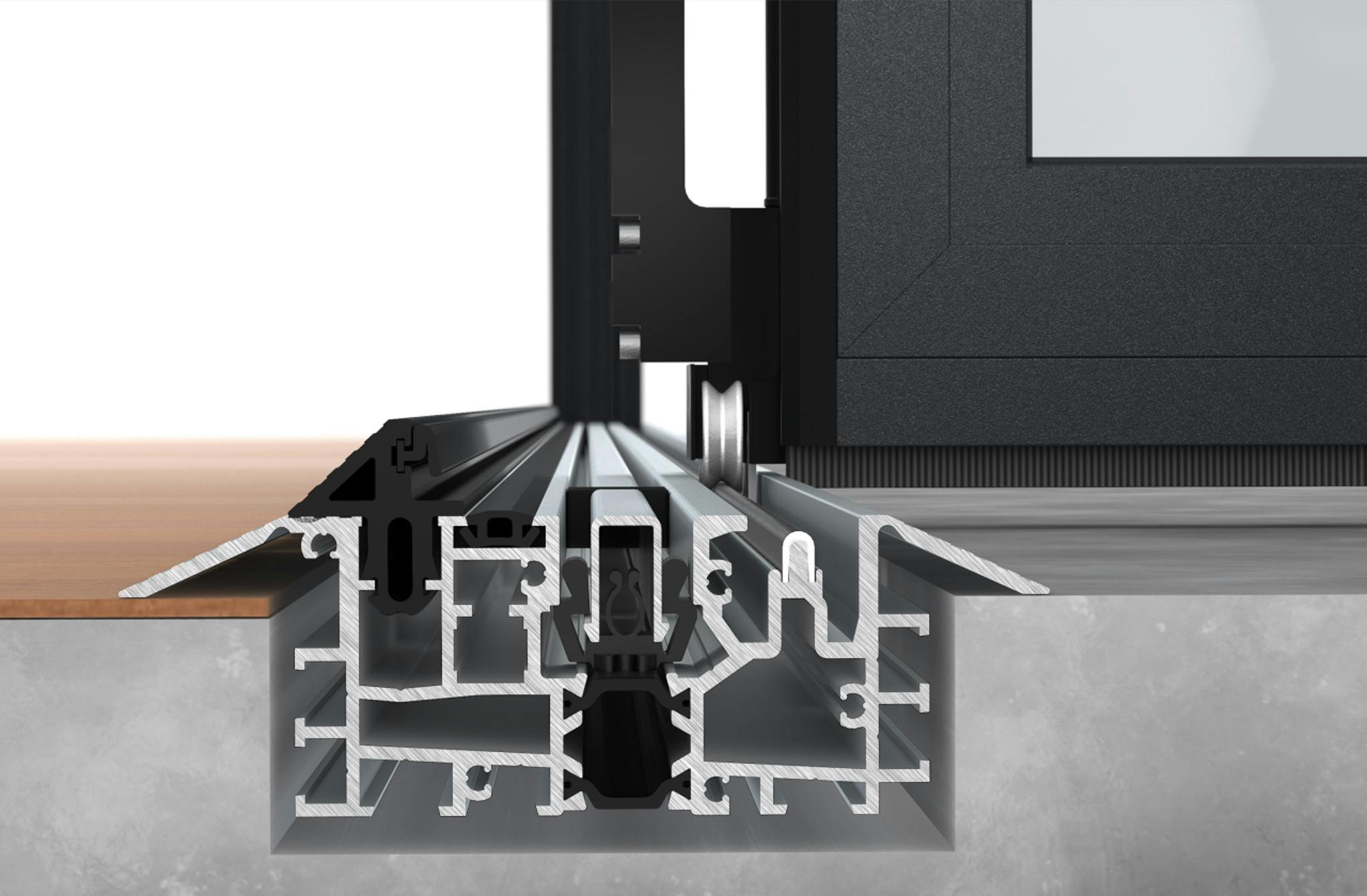 3. Customizable Weather Protection with UniverSILL®
NanaWall designed the patented UniverSILL®—a flexible sill adaptor that allows for a fast, user-installable weather performance upgrade for the Low Profile Saddle sill that replicates the innovative design of the Hybrid sill. This addition is possible for outswing units. When installed, UniverSILL offers near raised sill weather performance during harsh weather. After removing the flat gasket on the inner channel of the NanaWall Low Profile Saddle sill, the UniverSILL is inserted in its place. When the system is closed, UniverSILL provides the advantage of continuous sealing compression between the folding glass wall panels and sill. This achieves the four-sided sealing seen with the Hybrid sill.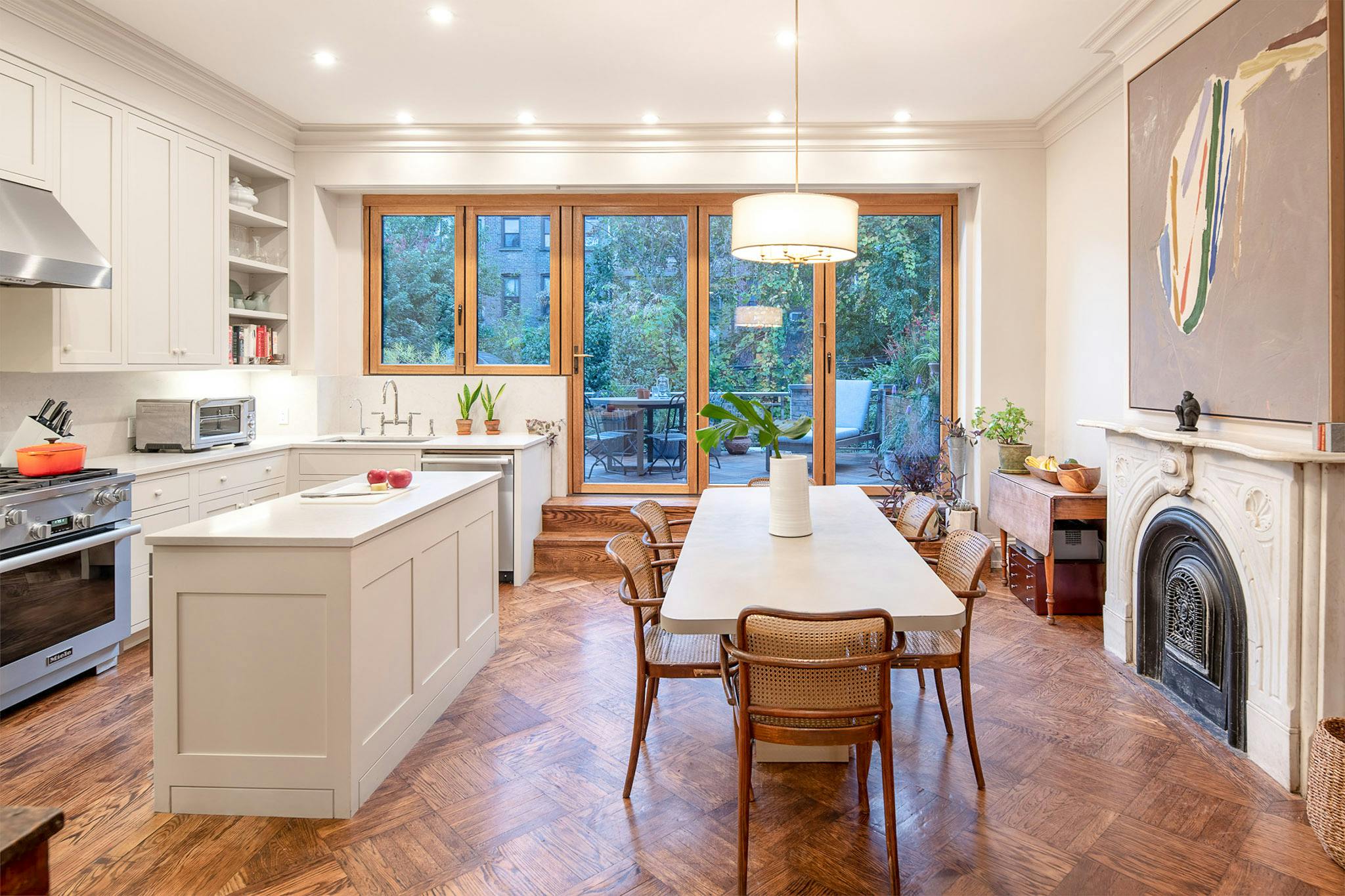 4. Window/Door Combinations
Kitchen Transition is a unique and effective design application to optimize the functionality and feel of your kitchen. By pairing a full-size moveable glass door with a window-sized system, homeowners are given the flexibility of customizing their kitchen space to their daily needs. Open the full-size wall for an al-fresco dining feel, the window-sized system for an instant indoor/outdoor bar, or the entire system for a fun night of entertaining friends and family. Kitchen Transitions can also be specified with swing doors to facilitate transitions inside and outside when the system is closed. This specification is available for both folding and sliding glass walls.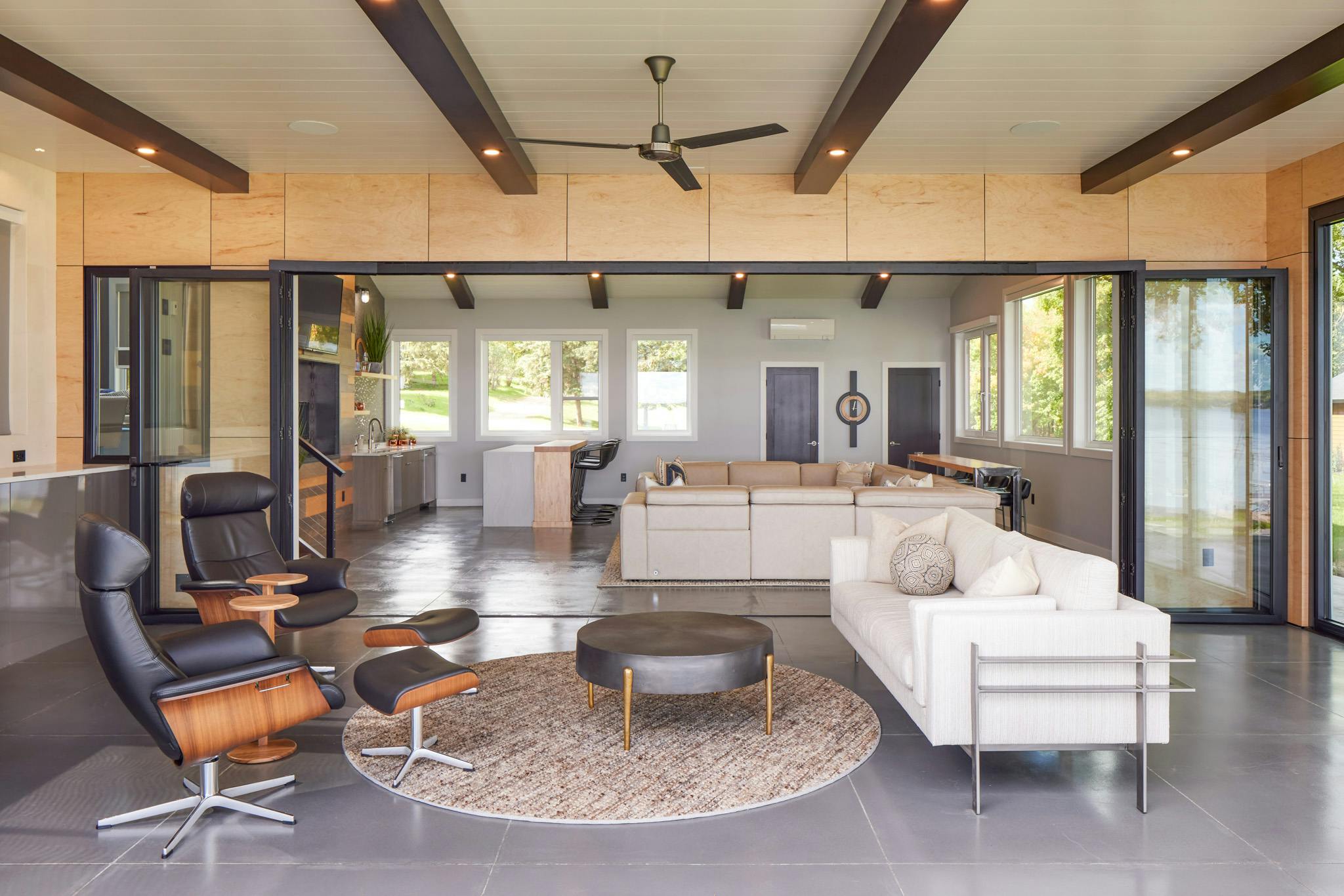 5. 360-Degree Panel Stacking
Space optimization is a primary benefit of opening glass systems, and their design is a testament to that. FoldFlat® Technology takes operable glass walls beyond the traditional 90-degree stacking by allowing the panels to fold then stack all the way back and parallel to the opening. Almost as if there were no doors at all, the panels disappear out of sight to maximize views and eliminate any obstruction from the threshold for a cleaner, barely-there look. This specification can be applied to indoor or exterior applications where space management is needed. FoldFlat Technology is available with the SL45 and WD65 folding glass walls and can be offered in inswing or outswing specifications.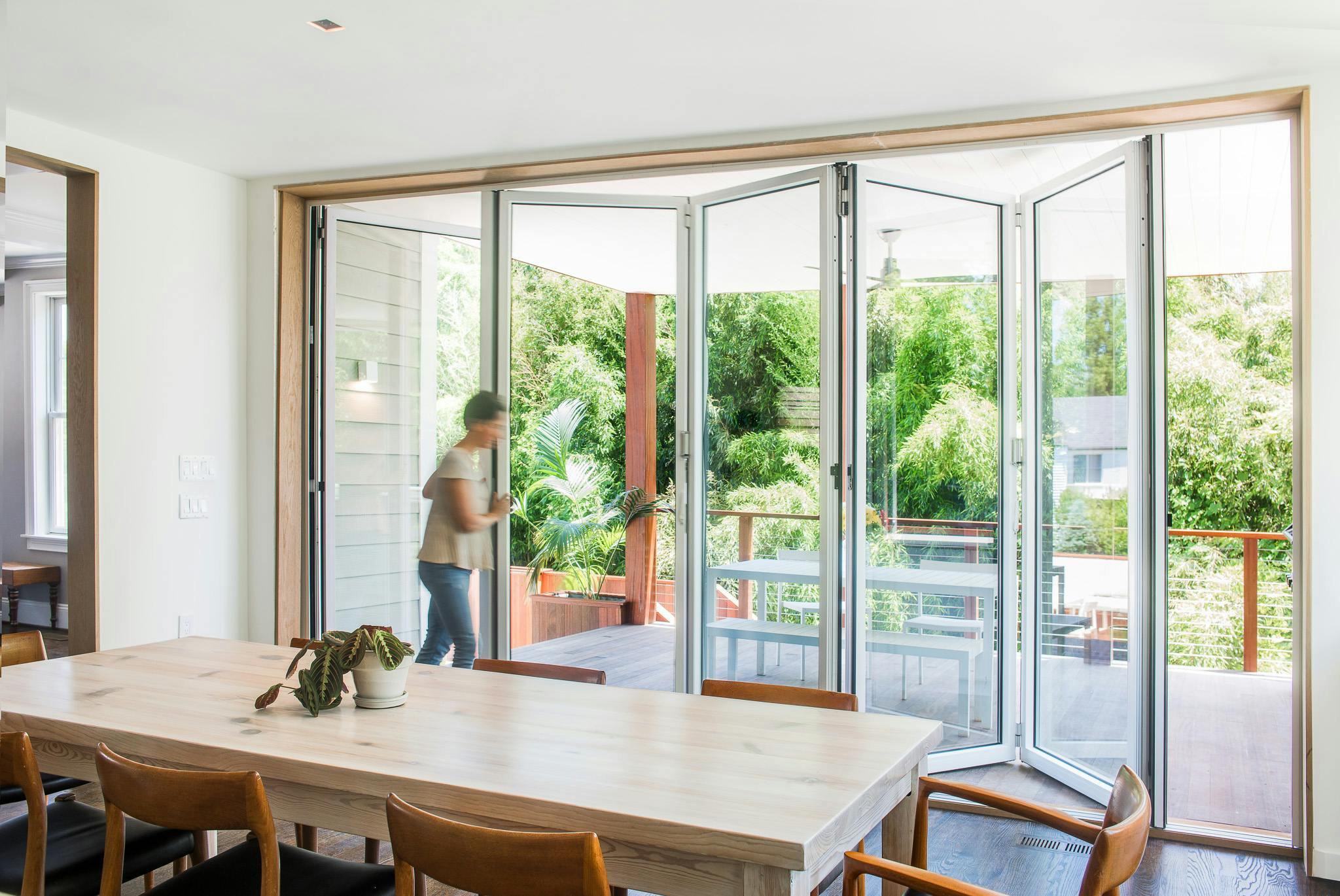 6. FourFold and SixFold Panel Sets
As part of the Generation 4 Folding Glass Wall product family, FourFold and SixFold panel sets are the latest space optimizing innovation by NanaWall Systems. These new design-forward products offer the only floor supported operable glass walls available that allow for larger opening sizes and flexible space management with the integration of these stacking varieties. These panel sets can move and stack either to the right, left, or center within the same track allowing the panels to be stacked in the most convenient location as needed. The largest interior installation inside the University of San Francisco's Sobrato Center features 32 acoustic panels and spans an outstanding 102 feet wide. This could only be achieved with multiple specified FourFold panel sets.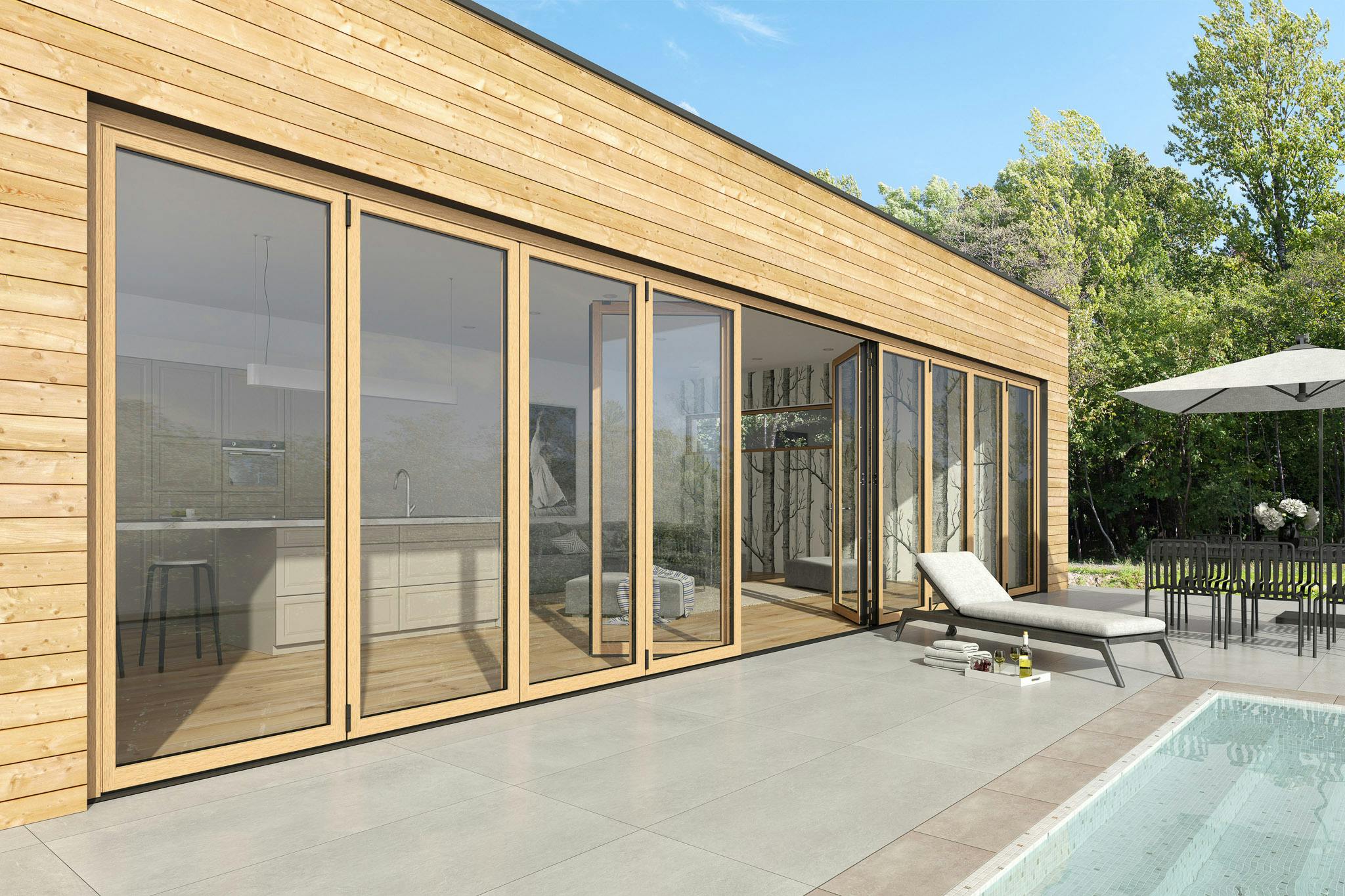 7. Swing Doors
To achieve easy transitions when the system is closed and to accommodate traffic flow, swing doors can be specified either to the end of a chain of panels or hinged to the side jamb, depending on unit height and configuration. A pair of swing doors in the middle of a 5L5R specifications achieves a French door arrangement for a more traditional aesthetic. Swing doors are ideal for when the system is best kept closed, such as in harsh weather or after hours, facilitating transitions indoors and outdoors, especially when entertaining friends and family. Depending on the system size, multiple swing doors can be specified in a single system.
Final Thoughts
With a range of health and wellness benefits, operable glass walls are a worthy investment and design solution that enhance residential spaces and the overall value of our homes. From open corners and 360-degree panel stacks to Kitchen Transitions and inswing/outswing configurations, these unique specifications give way to customizable systems that meet the needs and demands of every lifestyle and architectural challenge. Curious about what you can accomplish with your project? Your local NanaWall representative will be able to guide you through the selection process to ensure all your design needs are met!
Discover how other homeowners leverage unique moveable glass door applications in our extensive gallery of projects!