Generation 4 Folding Glass Walls: ADA-Compliant, Performance Sills
By NanaWall Systems, November 10, 2021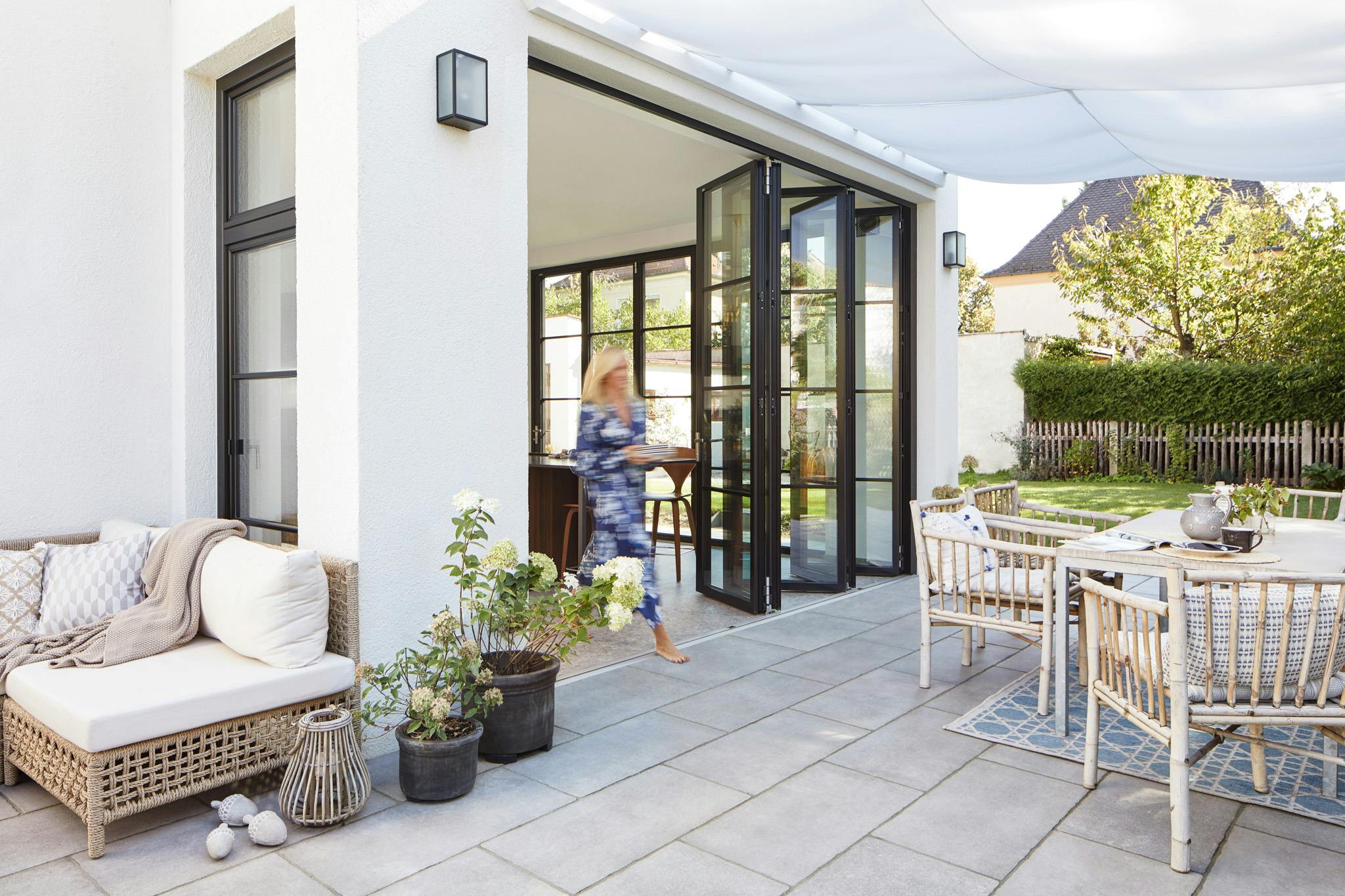 In our previous blog, we discussed the role of glass in energy-efficient folding glass walls, but a weather-performing system requires more than just thermally efficient glass. NanaWall Systems engineers every aspect of our folding glass wall systems, from the sills to the frames, with durability and security from the elements in mind. Floor tracks are an important component of these operable systems in determining a system's performance against wind and water penetration. Building codes and requirements, such as ADA compliance, also emphasize the importance of sills to safeguard accessibility and smooth transitions for all. Let us explore what NanaWall systems has to offer.
The Sills Offered with Generation 4 Folding Glass Walls
Why Sills Matter
We all cringe at the idea of stepping on a LEGO, now imagine accidentally stepping on a raised metal door sill. Doesn't sound too fun either, does it? Most traditional sliders are paired with monstrous floor tracks that not only get jammed but also obstruct the opening, having to subconsciously step over the threshold every time we cross it. Another thing you might notice about lower-end sills is that they tend to leak in water and air into our homes, especially if there is no overhang on the structure. In harsh weather environments, this could be a problem and add up in repair and energy bills. So, what would the ideal sill look like? NanaWall Systems has engineered weather-performing, ADA-compliant, water-rated sills to make every transition as smooth and seamless as possible without sacrificing performance.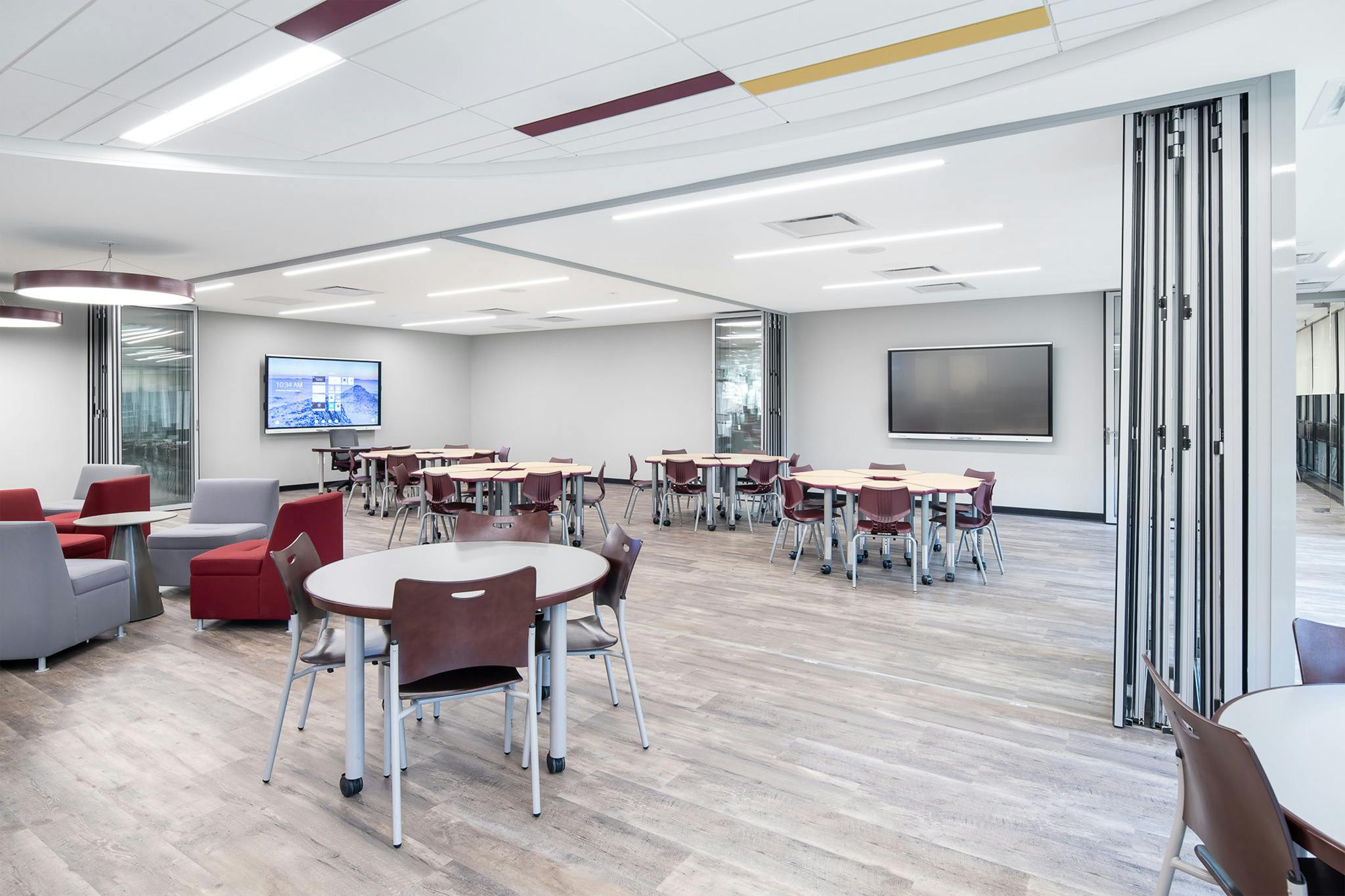 Folding Glass Walls and ADA Compliance
The Americans with Disabilities Act, or ADA, requires that all new facilities built by public accommodation, including small businesses, must be accessible to and usable by people with disabilities. When it comes to folding glass wall systems, or any newly installed entrance threshold, the floor track cannot exceed half an inch in height. Similarly, ADA code #1124B requires gaps in walking surfaces to be no greater than ½ inch. Although these rules may seem only applicable to commercial applications, ADA-compliant sills can significantly impact the experience in residential spaces too—think barefoot and high-heel friendly transitions.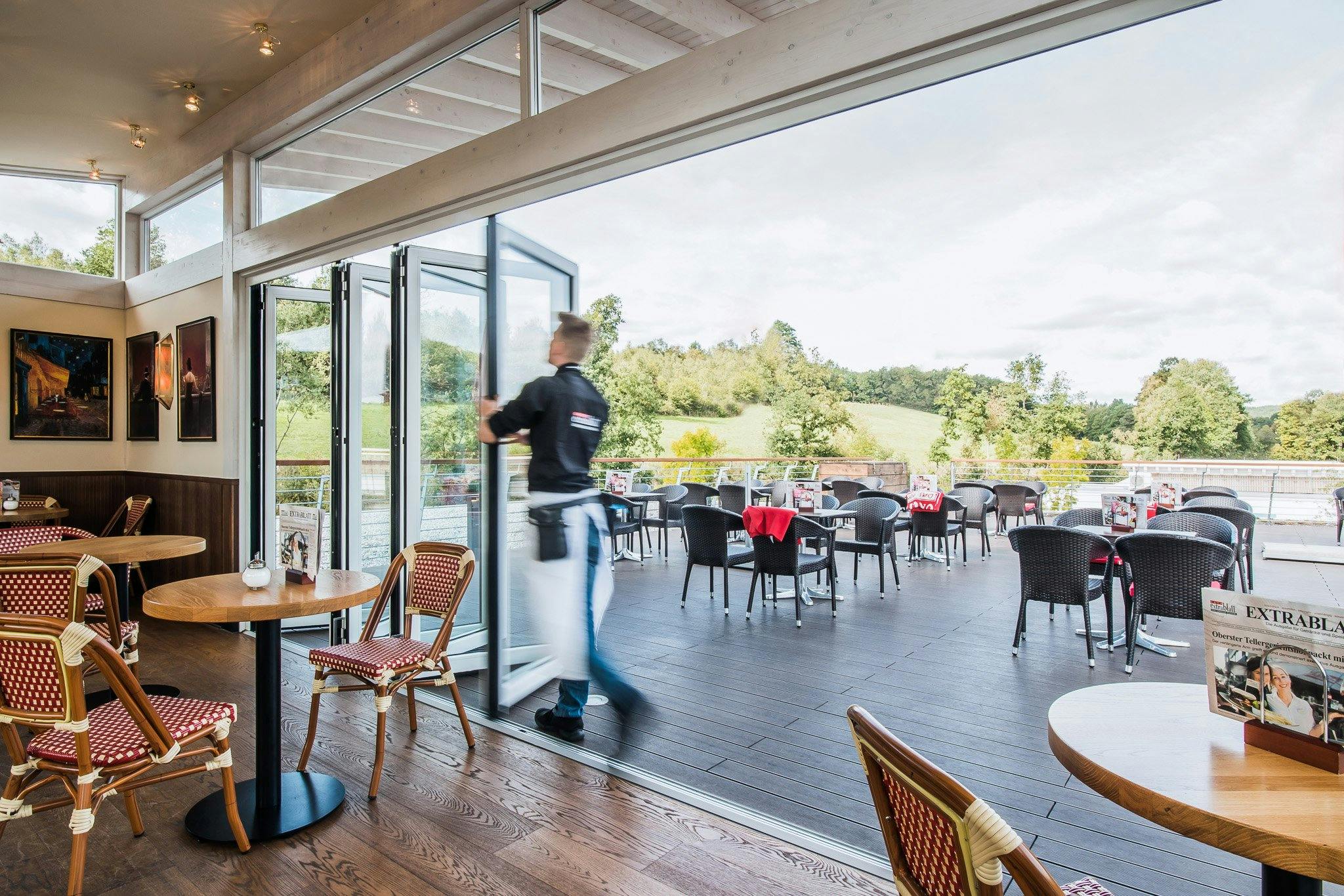 The NanaWall Difference
When we talk about seamless transitions, we mean it. Our folding glass walls roll-on stainless steel tracks to offer smooth operation, low maintenance, and top-of-the-line performance so you can worry less about the elements getting in and focus on what matters most. Unlike others in the market, NanaWall is the only company that offers independent lab testing with water ratings for ADA sills. In the state of Florida, NanaWall is the only company that offers an inswing Florida Product Approved rating with our sills. Depending on your project needs, location, and system selected, the ideal sill will ensure barely-there thresholds and meet ADA compliance in commercial spaces. NanaWall offers the only true thermally broken ADA sill that's floor supported where the stainless steel wheels ride above the track and water table. This will keep your system's wheels from riding in the water and away from any debris.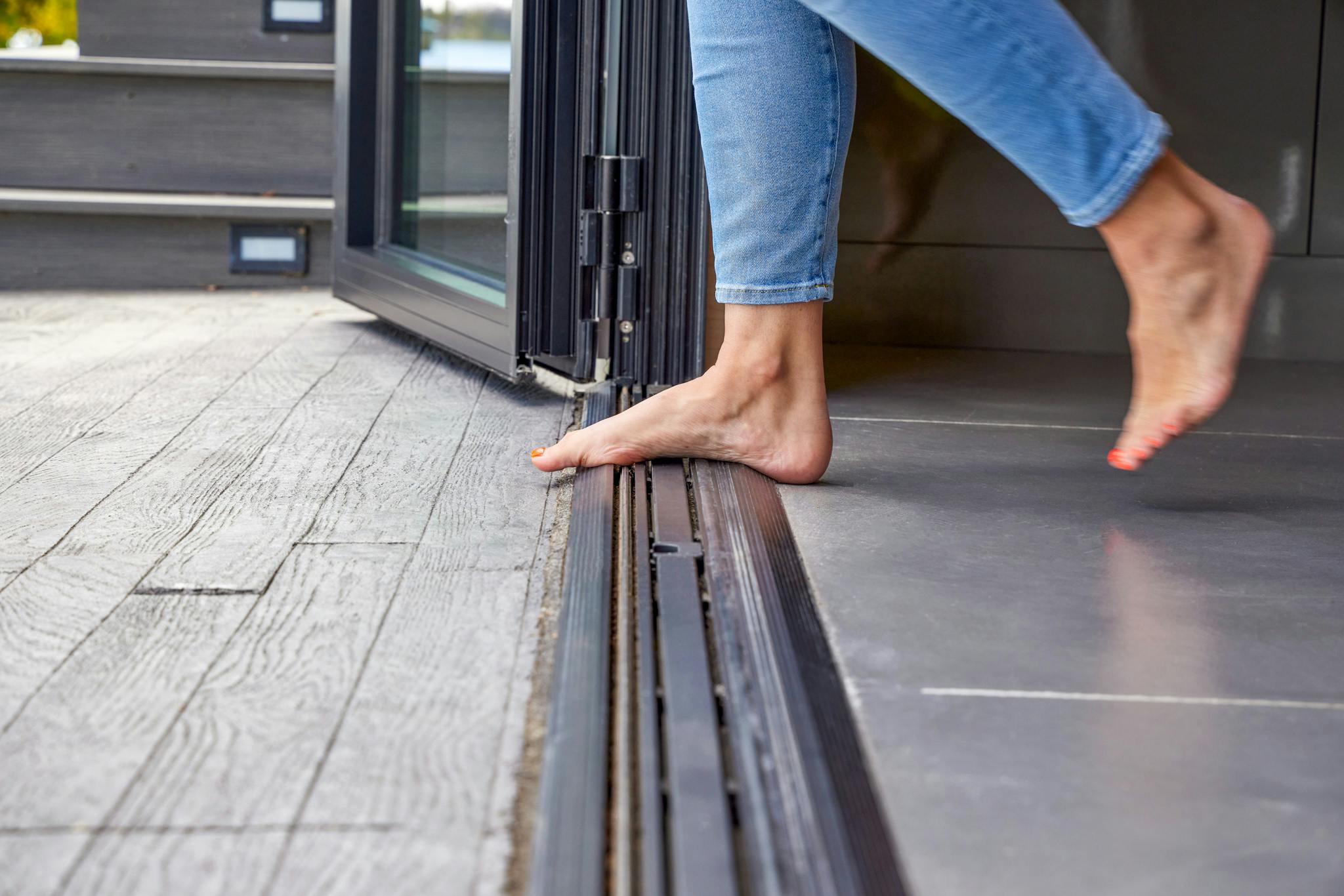 Barefoot Friendly Transitions
Standard to all sills in Generation 4 folding glass wall systems are removable aluminum high-heel resistant sill inserts. These inserts provide ADA compliance for the Low Profile Saddle and Flush sills and create a very barefoot-friendly transition as they fill in the U-shaped channel within the sill. Furthermore, the inserts offer protection from dirt and debris collecting in the bottom track. In return, this decreases the need for constant maintenance, prevents jamming, and ensures smooth operation every single time. For a lighted option, LED rope lights by others may be run under the sill insert to illuminate the way. Let's take a look at the options.
Low Profile Saddle Sill: Featuring a ramp design with flanges that create smooth barefoot and ADA-compliant transitions, the Low Profile Saddle sill is thermally broken for better insulation and energy efficiency. This sill features a unique Gothic arch roller design for effortless operation and an insert is provided for ADA compliance, ideal for commercial spaces. With the UniverSILL® adapter (see below) this sill can easily convert into a Hybrid Sill for enhanced water rating and air protection as needed.
Low Profile Saddle Sill with UniverSILL: NanaWall created patented UniverSILL®—a flexible sill adaptor that allows for a fast, user-installable weather performance upgrade for the Low Profile Saddle sill that replicates the innovative design of the Hybrid sill. This addition is possible for outswing units. When installed, UniverSILL® offers near raised sill weather performance during harsh weather. After removing the flat gasket on the inner channel of the NanaWall Low Profile Saddle Sill, the UniverSILL® is inserted in its place. When the system is closed, UniverSILL provides the advantage of continuous sealing compression between the folding glass wall panels and sill. This achieves the four-sided sealing seen with the Hybrid sill.
Hybrid Sill: The Hybrid sill achieves the best of both worlds. With a lower physical profile, this sill has been thermally broken with excellent performance results. Though exceeding the ½ inch requirement to meet ADA compliance, the hybrid sill was built for higher water ratings and weather resistance with compression gasketing and seals on all sides.
Flush Sill: The Flush sill is ideal for interiors or protected interiors where water performance is not needed. This option is thermally broken for better insulation and energy efficiency and is ADA compliant. The stainless steel Gothic arch roller design with two points of contact on a stainless steel rail, unique to all Generation 4 Folding Glass Walls, offers effortless operation.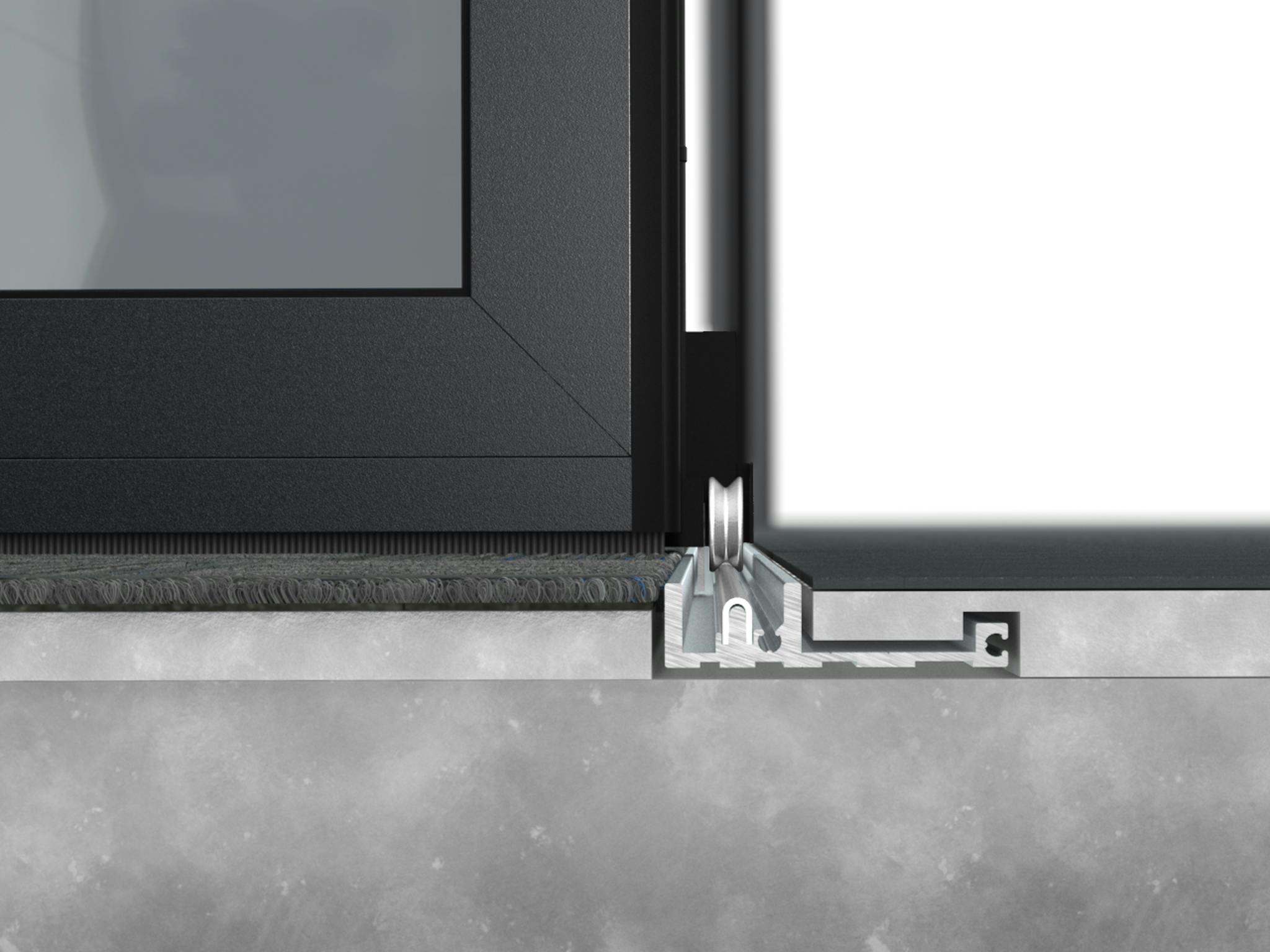 Minimal Surface Mounted Flush Sill for Interiors: Designed specifically for interior applications, this sill is ADA compliant and when installed with finished flooring, has only a mere 15/16" visible grove. This sill can be installed on the foundation or sub-floor and finished flooring can butt up to the floor track creating a seamless integration between interiors. This sill does not require an insert.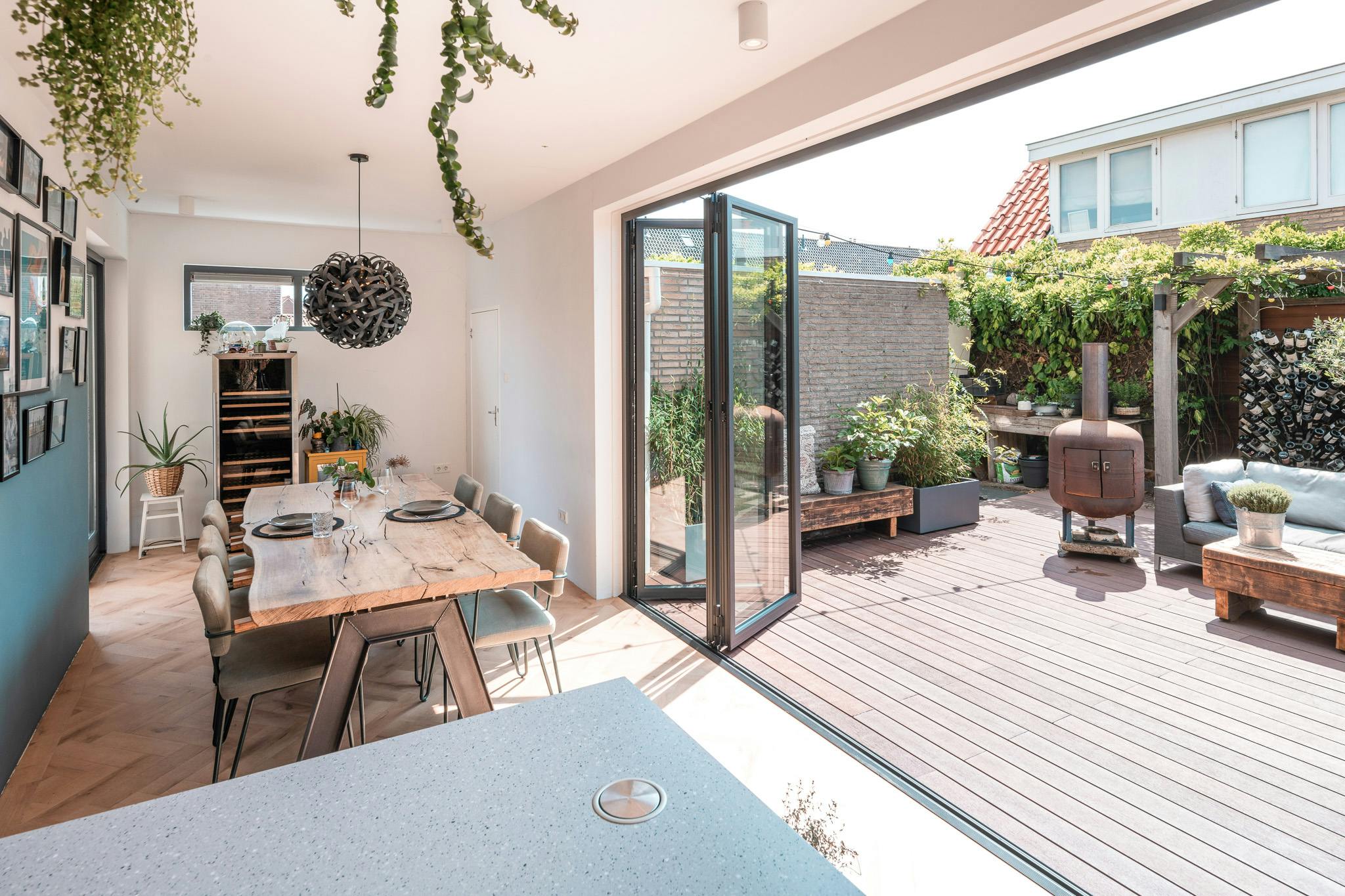 Final Thoughts
Which sill is best for my project? The answer is ultimately determined by your project needs and parameters. As revealed above, an interior application will not need a weather-performing sill much as an exterior application would, but it might still require ADA compliance, especially in commercial and educational buildings. NanaWall Systems has designed and engineered sills to meet these requirements, ensuring safe and seamless thresholds without sacrificing smooth operation and weather performance. NanaWall sills are independently tested for water, air, structural, operation force, and even acoustics with excellent results. Design-forward components like the UniverSILL® and Gothic arch roller design ensure NanaWall folding glass wall systems maintain both commercial and residential interiors protected from the elements when needed most.
Learn more about how others leverage thermally efficient and weather-performing folding glass walls in our extensive cold weather climates applications page!