A Quick Guide to NanaWall Wood Framed Opening Glass Walls
By NanaWall Systems, July 21, 2022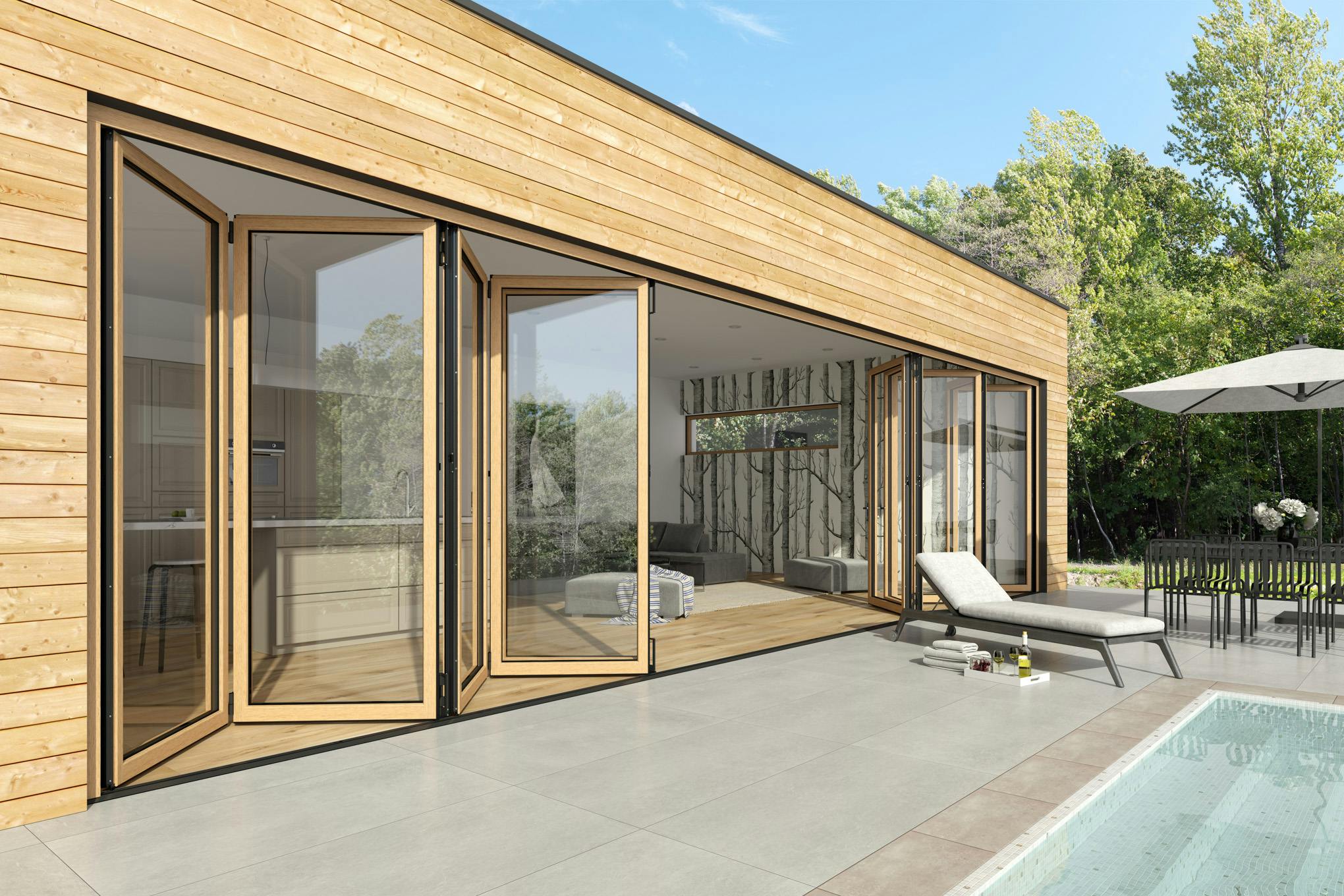 What's so great about wood framed opening glass walls? This timeless building material is highly sought after for its strength, durability, and naturally occurring thermal efficiency. In both commercial and residential spaces, wood dominates as the preferred material for furniture, décor pieces, and yes, even frames for moveable glass wall systems. These natural frames complement both traditional and contemporary aesthetics, especially with a variety of customizable wood options. NanaWall has redefined the traditional wood framed window into high-performing, flexible solutions for a plethora of applications, climates, and lifestyles. Let's take a look at your options.
Generation 4 Wood Framed Opening Glass Walls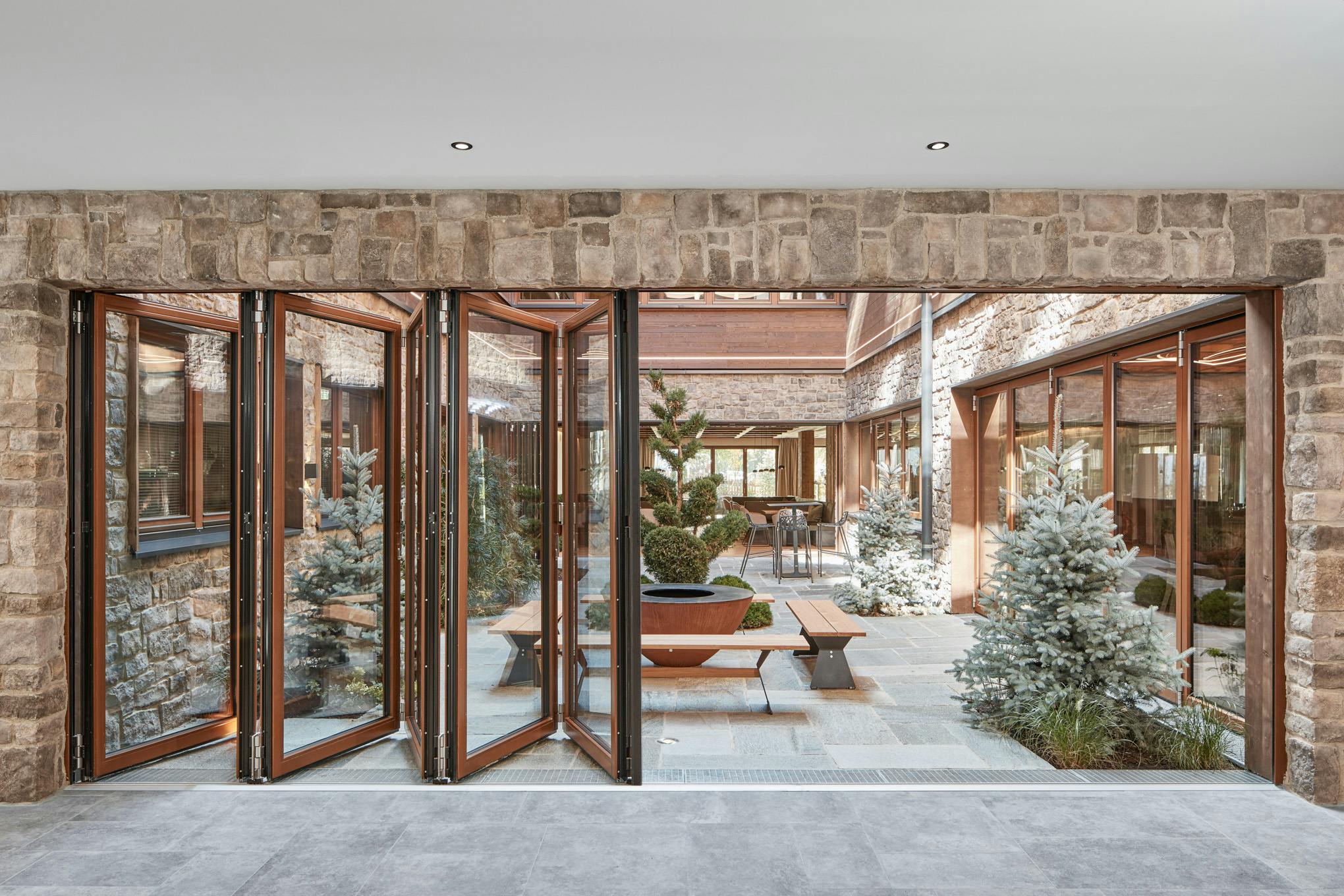 With nearly 40 years of leading the industry and innovation after innovation, Generation 4 Folding Glass Walls by NanaWall is a culmination of every achievement and design-forward engineering. These systems feature an array of original technologies that take conventional moveable glass wall systems to the next level of performance, durability, and operability. The result? Systems that can reach longer widths, smoother operation, and the slimmest frames on the market with no surface-mounted hinges. When it comes to the wood framed opening glass walls in the Generation 4 family, these systems offer a more durable wood frame without sacrificing slim sightlines and ease of operation.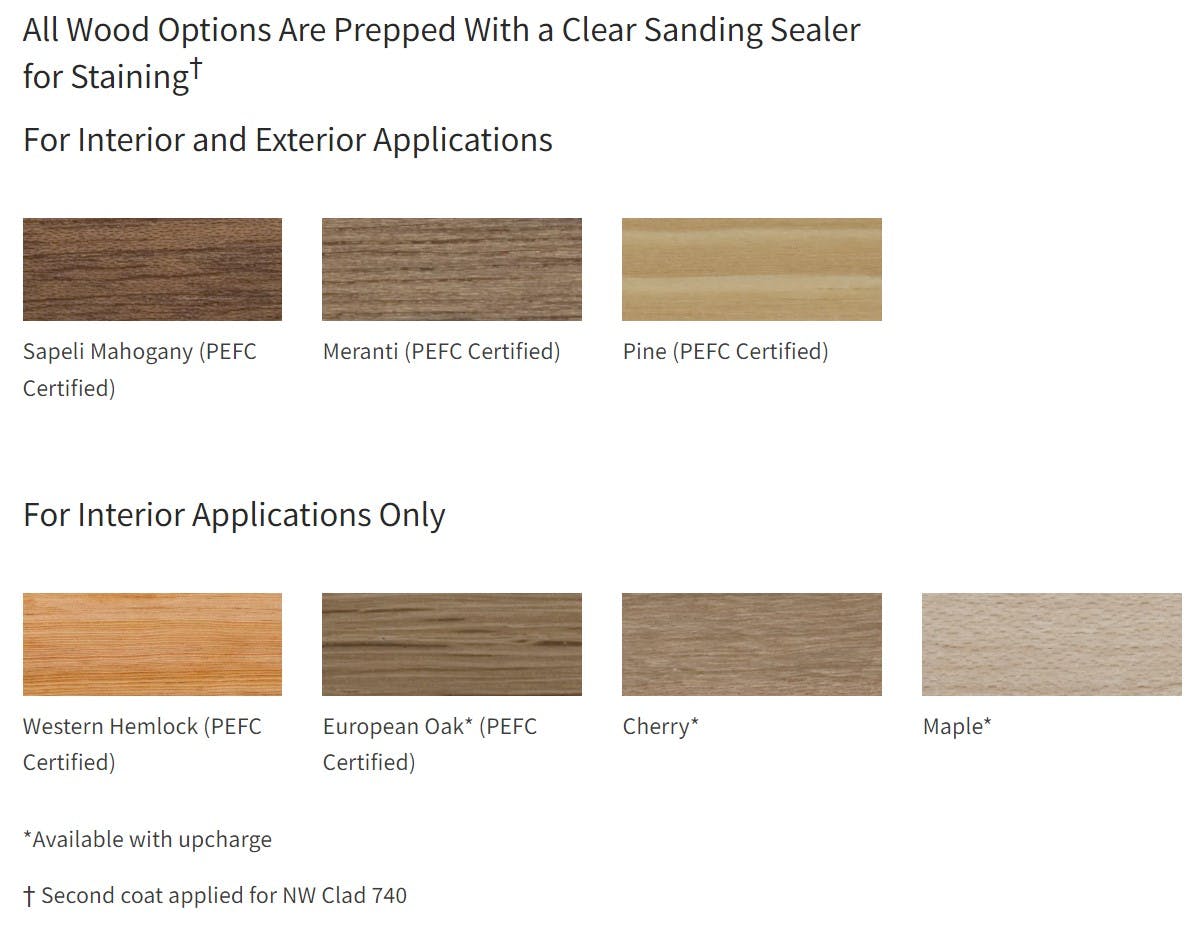 Sustainable, Quadruple Laminated Wood
Unique to Generation 4 wood framed opening glass walls is quadruple laminated cross grained solid wood. This adds additional strength for larger panel sizes, structural integrity, and long-term durability. Additionally, NanaWall manufactures its moveable glass wall systems with sustainably harvested wood that meets the international standards of the Programme for the Endorsement of Forest Certification (PEFC). The wood is never veneered over inferior wood, allowing for sanding and refinishing when needed. Choose between Sapeli Mahagony, Pine, Meranti, Western Hemlock, and other additional wood finishes available upon request.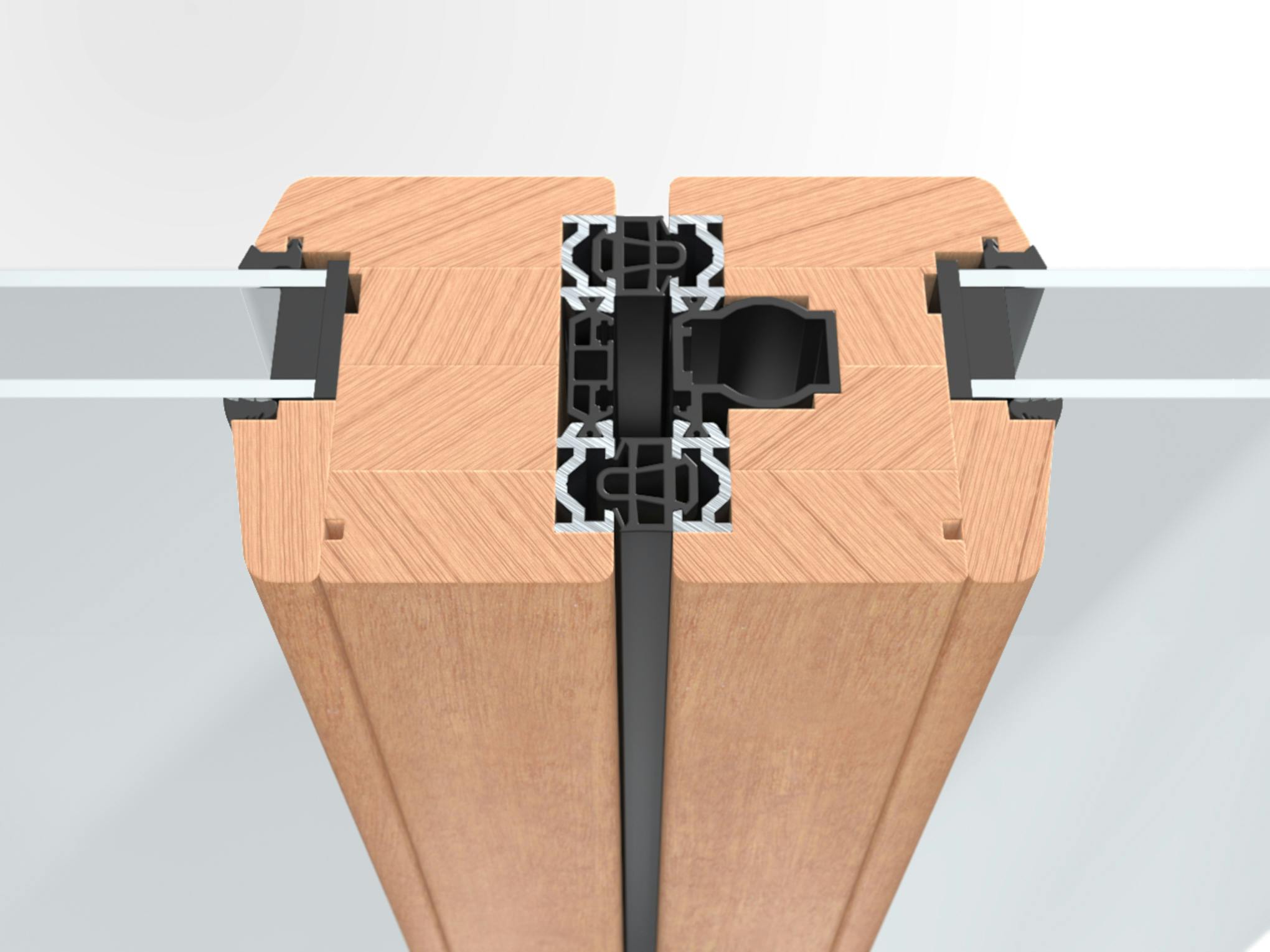 NW Wood 540
NW Wood 540 provides the slimmest wood frame in the folding door industry. With a quadruple cross-grained wood frame profile styled in a subtly rounded design, the intersection of the two folding panels is a mere 5 11/16" (144 mm). As a Generation 4 system, these wood framed opening glass walls can be customized with FourFold or SixFold panel sets that stack to the left, right, or center of the opening. Depending on glass type and glazing selection, NW Wood 540 offers thermal performance values as low as .19 U-Factor, making the system ideal for harsh weather climates.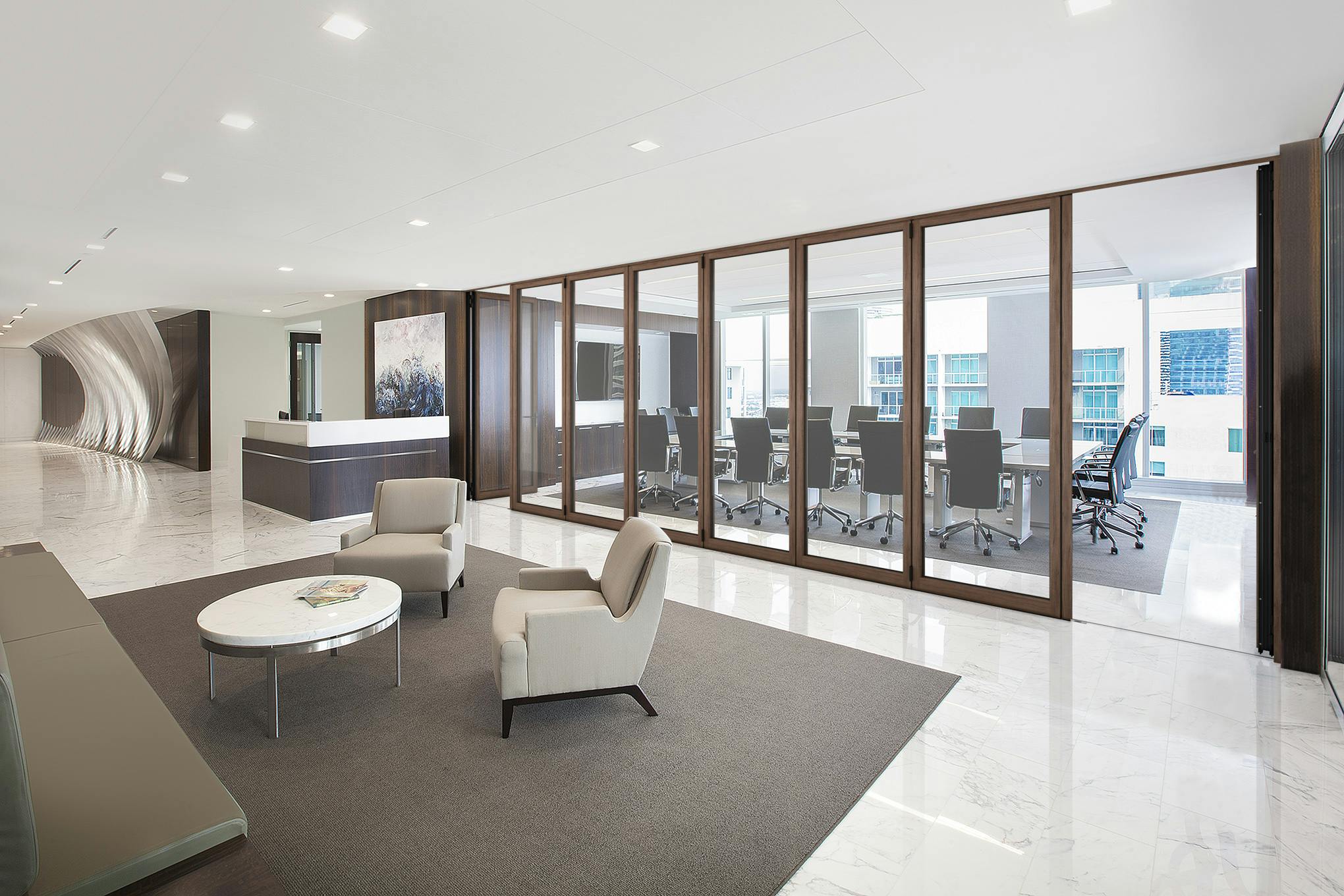 NW Acoustical 545
NW Acoustical 545 is the first floor supported wood framed folding glass wall able to achieve sound control up to unit STC 41. This system was specifically engineered for workplace environments and interior spaces where acoustical privacy and ease of use are of utmost priority without sacrificing minimal sightlines. These transparent panels diffuse natural light into interior spaces for bright, productive environments. As an interior system, NW Acoustical 545 can be paired with ADA-compliant, barely-there floor tracks for smooth transitions and clean aesthetics. The best part? Employees can have full control of their workspace, changing layouts on the fly with no effort.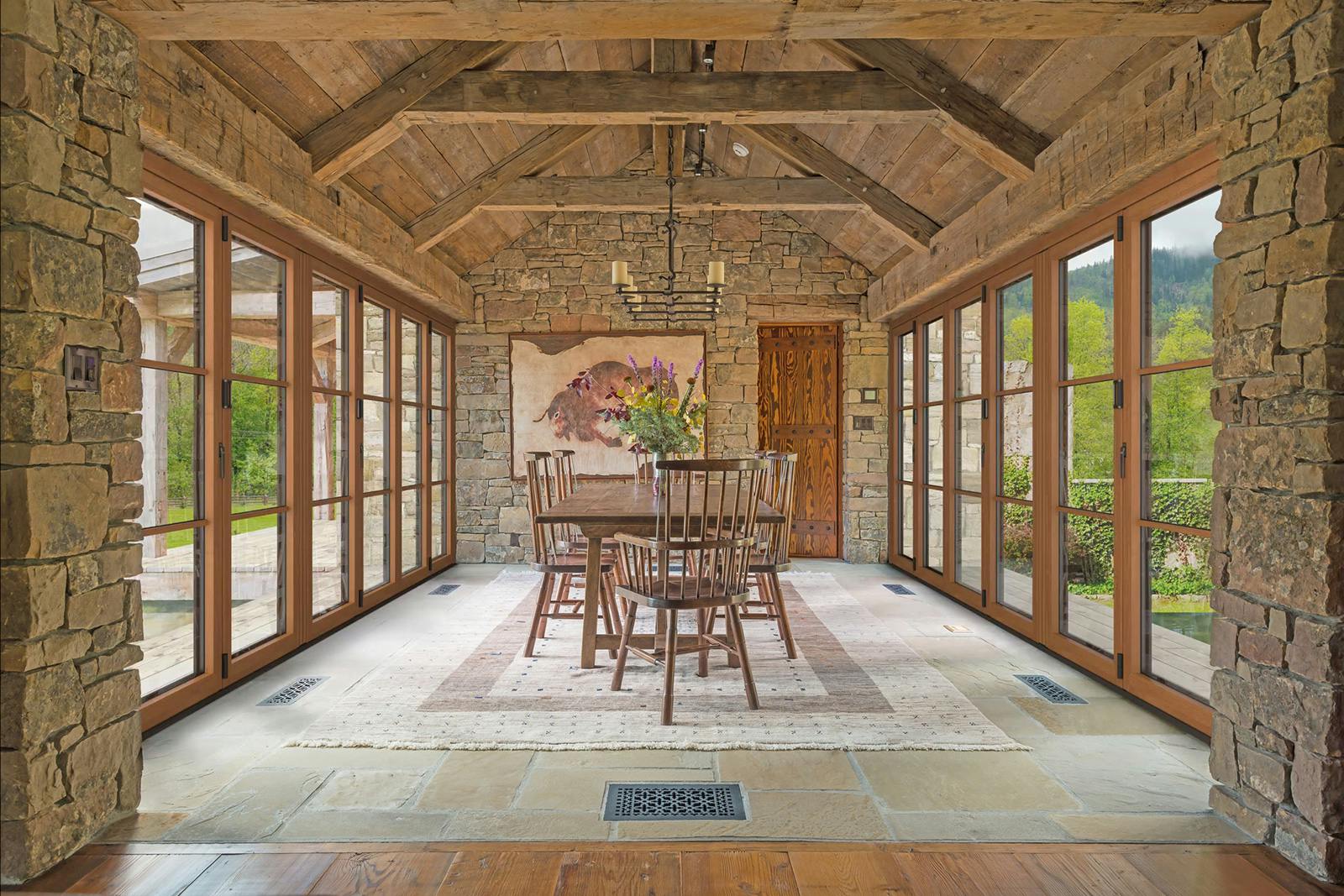 NW Clad 740
The warmth of wood on the inside is enhanced by the durability and low maintenance of aluminum on the outside. NW Clad 740 provides the slimmest aluminum clad frame in the folding door industry with an intersection of two folding panels at a mere 5 13/16" (148 mm). Compared to others in the industry, NanaWall Clip-on Cladding Technology offers ventilation between the two materials, allowing them to expand and contract during temperature fluctuations. This permits moisture to dissipate, which is needed in environments where temperatures are extremely hot, humid, or cold. Depending on glass type selection, NW Clad 740 offers thermal performance values as low as a .21 U-Factor and features continuous weather seals for ultimate protection.
NanaWall Wood Legacy Systems
The first opening glass wall that NanaWall introduced into the market was wood framed. Since then, NanaWall's wood framed product offerings have only expanded and improved. Compared to their Generation 4 counterparts, these moveable glass wall systems are triple laminated for enhanced durability. Let's take a look at the legacy wood systems and what they have to offer.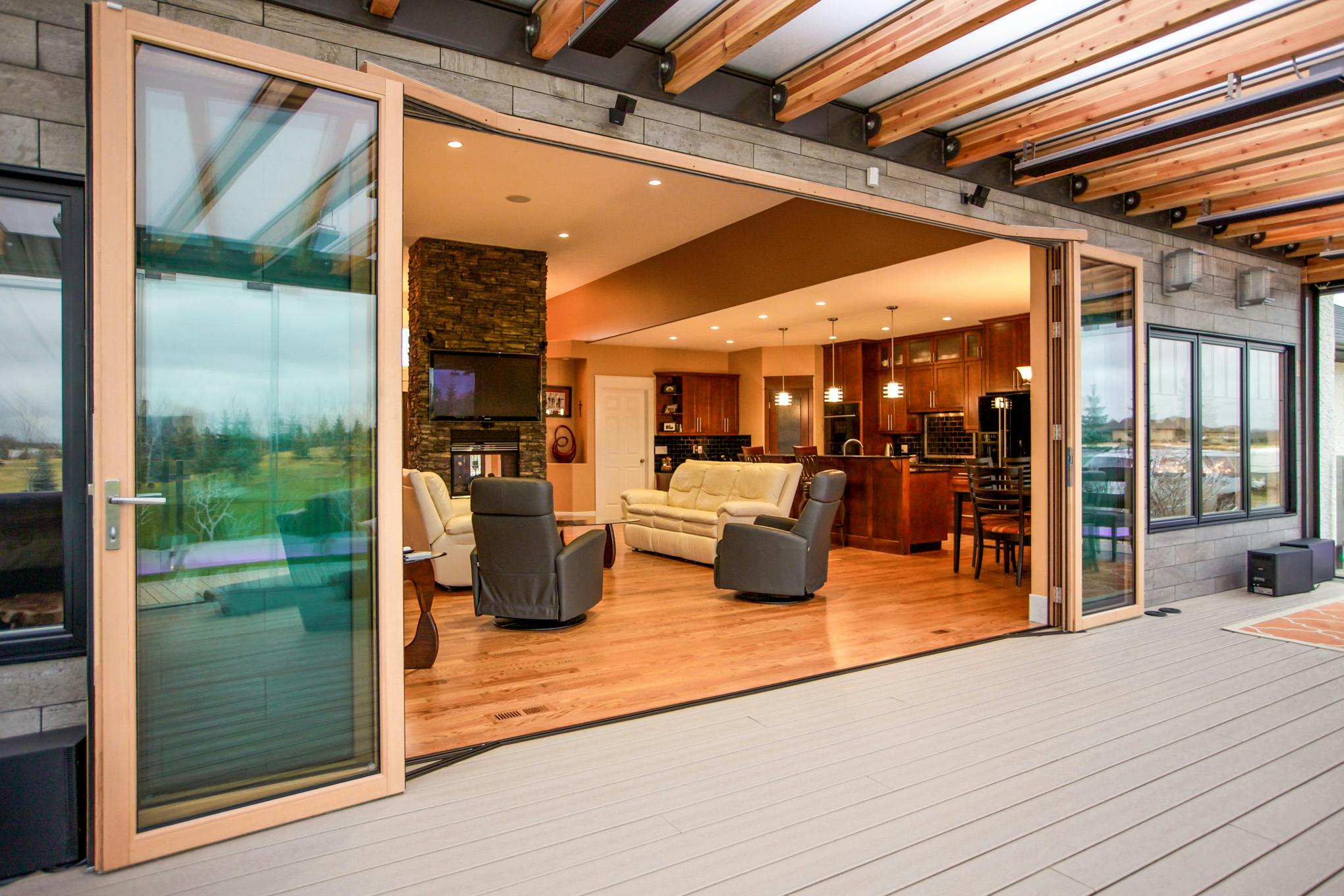 WD65
The NanaWall WD65 features all the standard configuration options of a wood framed folding glass wall plus many specialty design options. The sculpted all-wood design features detailing around the frame and door panels to form a picture frame-like appearance. Additionally, all folding and locking hardware is integrated within the frame profiles for a clean look with no surface-mounted hinges just like in Generation 4 systems. All NanaWall wood framed opening glass walls have been independently tested for air and water penetration resistance, structural deflection, and forced entry with excellent results, including the WD65. Better yet, this system can be customized with specialty configurations like a Window Door Combination or FoldFlat® where the panels stack 180-degrees parallel to the opening.
HSW66
HSW66 is the only wood framed sliding glass wall in the NanaWall product family and with it comes an array of other design possibilities, including unique shaped openings. The system is a completely top-hung design therefore the number of panels is only limited by the supporting structure in your design. Featuring an enhanced horizontal roller design and guide track, HSW66 allows each panel to glide around corners and posts for more flexible building options and to meet other design demands. This folding glass wall also features single-handed locking that is hidden inside the panel. The locking rod engages both top and bottom for added security and is rated to protect from forced entry.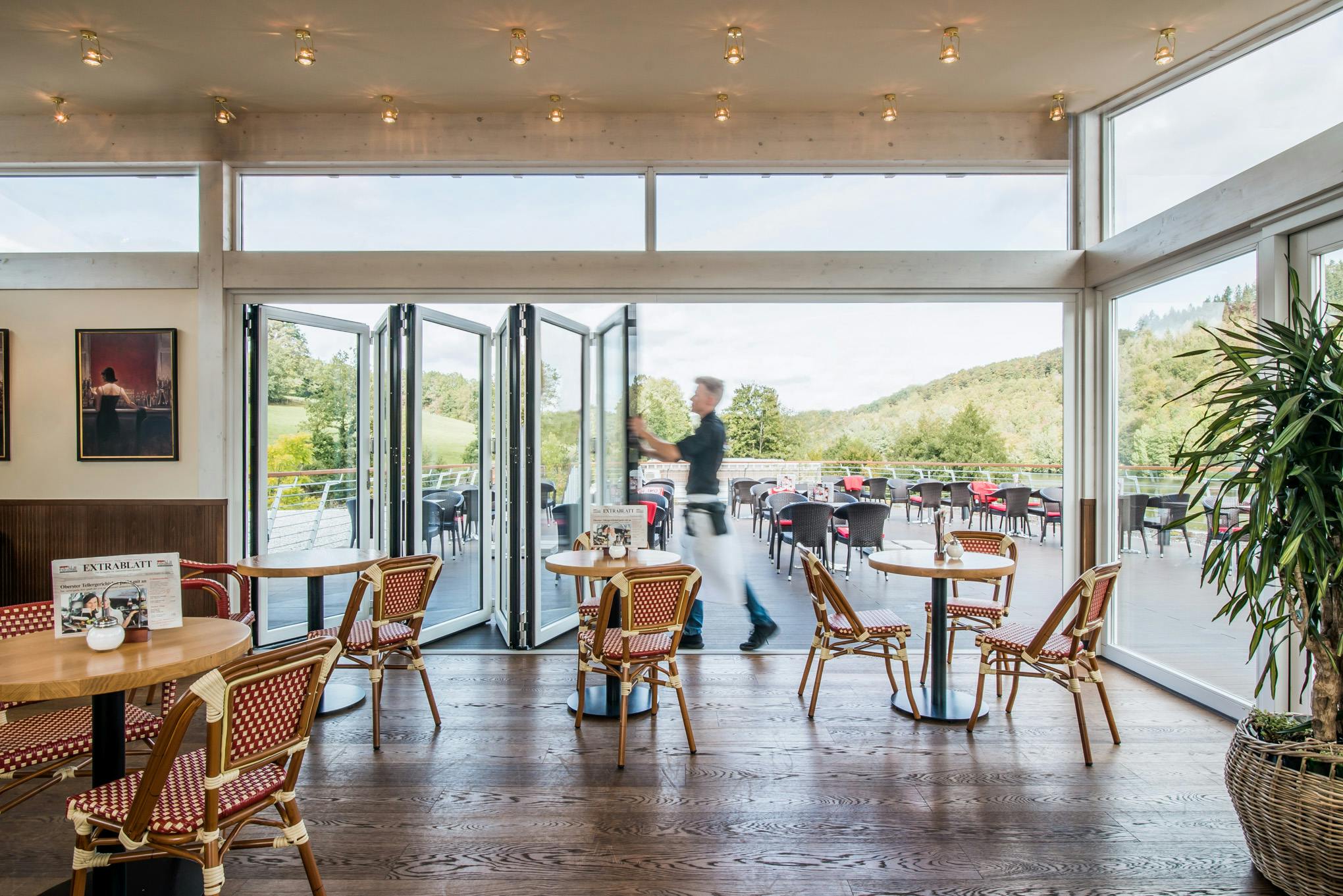 Final Thoughts
Without a doubt, the timeless elegance of wood has the ability to complement any living space or commercial environment. With a plethora of proprietary innovations and patented designs, NanaWall wood framed opening glass walls offer ease of operation, utmost flexibility, and long-lasting durability. Additionally, you can customize each system with swing panels, various wood species, stacking options, and other specifications to best meet the needs of your home or commercial space. So, which wood framed opening glass wall will you choose?
Discover how others have leveraged NanaWall wood framed opening glass walls in our extensive gallery of projects!